The MOST comprehensive Costco grocery list, which includes my favorite healthy foods at Costco. From fresh to frozen, snacks & drinks, this list covers it all! This Costco list has all the staples I replenish on a regular basis.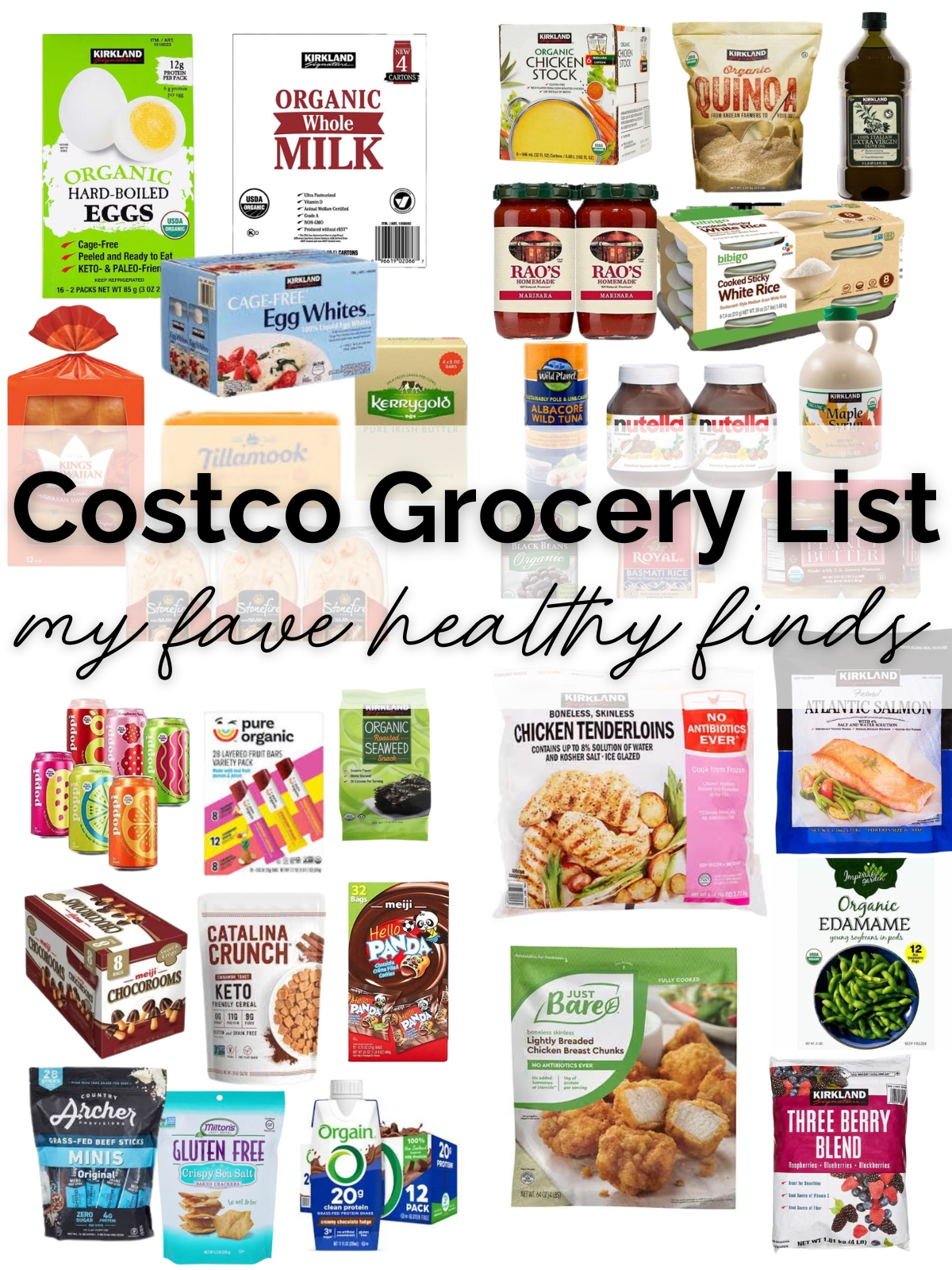 Like many families and business owners, we have been shopping at Costco for years. If you've got multiple mouths to feed, as well as some storage space in your cupboards and freezer, it's a no brainer for saving money and getting high quality products.
The Costco screening process to accept items is said to be stringent, so you can rest assured that you'll be happy with the vast majority of items you purchase. And if you don't love it, their generous return policy will let you get your money back! You just have to wait in line haha!
Over the years I have loved how many healthy foods at Costco are available! While this list is in no way exhaustive, and I know there are some *not so healthy* items included, for the most part this is my basic Costco shopping list I return to each visit.
Jump to:
Costco Shopping List – Fresh Meats & Deli Items
Costco meat, poultry, seafood and deli items are usually delicious and a good value. My local Costco usually always has an organic and non-organic option available in many categories including poultry and sandwich meats. Their selection of minimally processed deli meats and sausages is fantastic.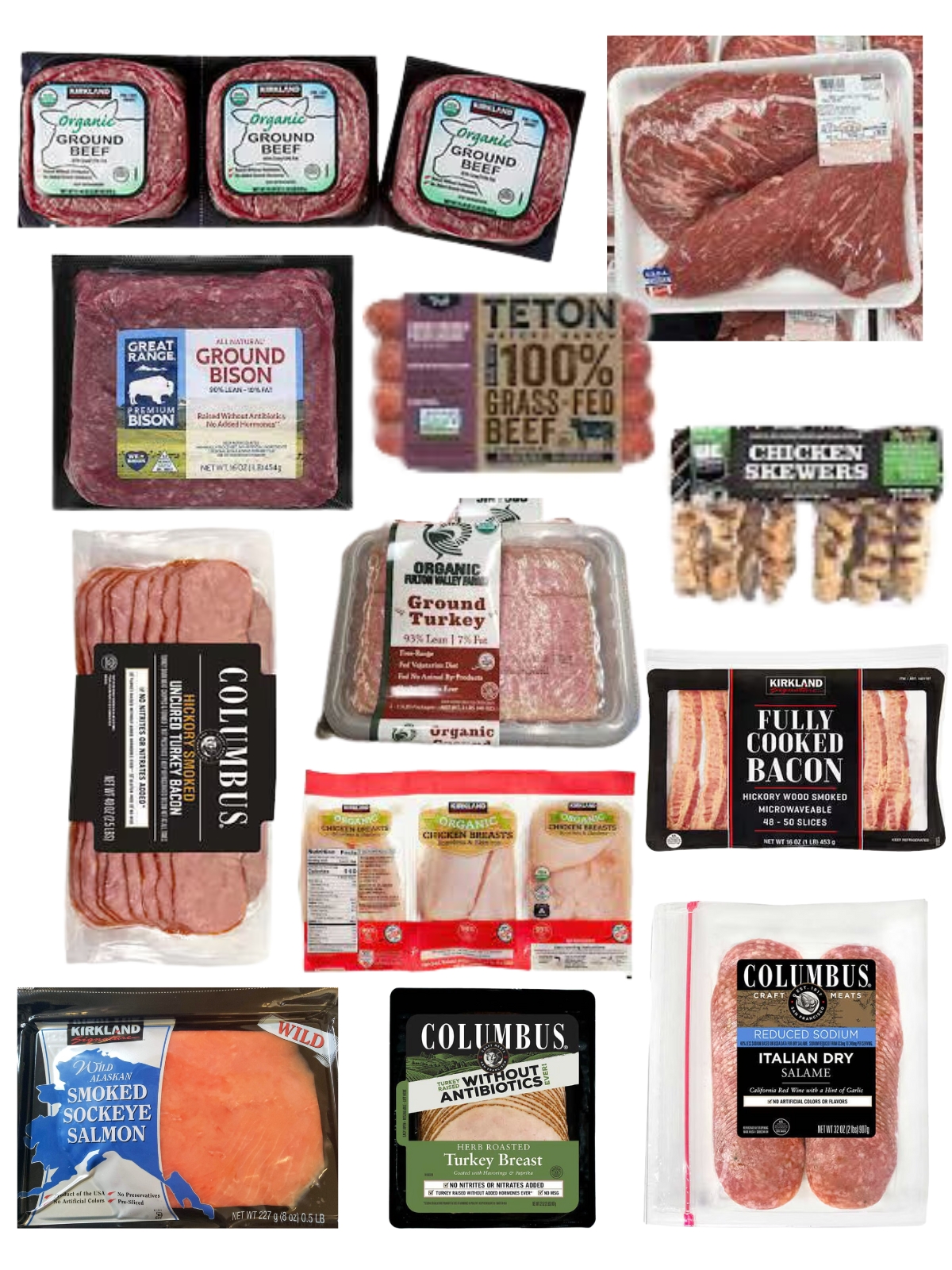 The items I typically only buy at Costco and not at my local market includes:
Costco Grocery List Frozen Must Haves
I don't buy a ton of frozen items from Costco, mainly because of the freezer space constraints. But these items below, I always make room for.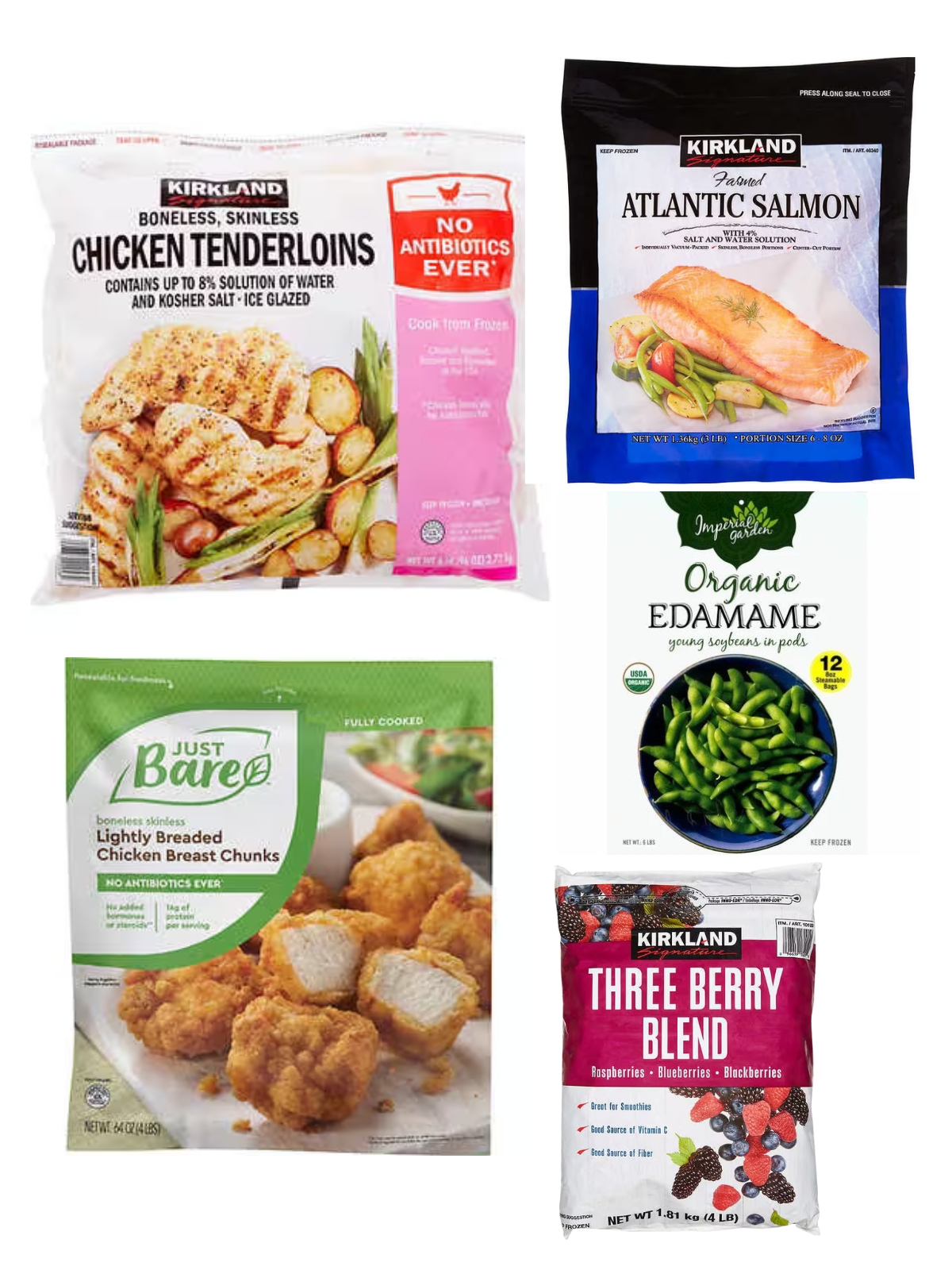 Frozen chicken tenderloins – these are simply boneless skinless tenderloins in a salt water solution (aka brine), and the thing I love most about them is how quickly the defrost. They don't dry out when cooking and always come out moist and flavorful. I simply spray with some cooking spray, sprinkle with salt, pepper and garlic salt, and grill up on our Ninja Indoor Grill.
Atlantic salmon – I switch between buying the farmed and wild caught, primarily depending on what the budget is when I shop. If I'm restocking the freezer with a lot of meats and poultry items, I'll save a bit and buy farmed. If I can splurge, I'll buy the wild caught. These defrost quickly so I can get dinner ready fast, and are great for meal prep. I use them to make my garlic butter salmon or pesto salmon.
Edamame – this is not just one big of edamame, but individual packs you can steam in small batches. Making this the perfect high protein, high fiber snack food or appetizer.
Just Bare Chicken Breast Chunks – while homemade usually tastes better, I don't always have the time to make my healthy chicken nuggets from scratch. These fit the bill though and taste a lot like Chick-Fil-A nuggets.
Three Berry Blend frozen fruit has been a staple in our house for years. We make smoothies several times a week, so these berries are a must. Great price and always good quality.
Costco Staples – Dairy & Bread
These dairy items are always stocked in our fridge and replenished every 3 weeks or so. Yes, we eat a lot of eggs in our house!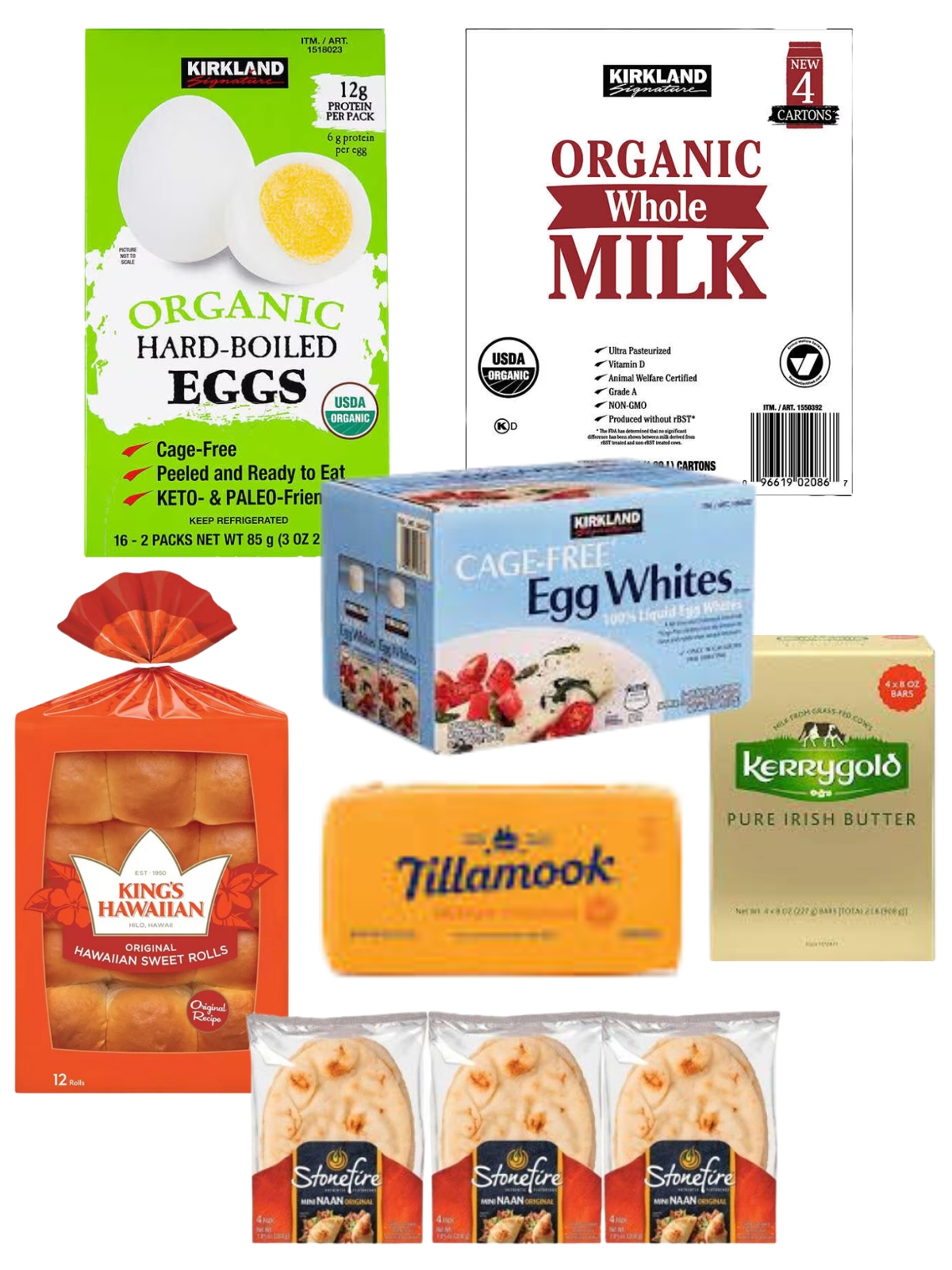 Costco organic hardboiled eggs are the best value around, and are always fresh and delicious. We all love hardboiled eggs on their own, or add them to salads, including this high protein tuna salad! The only thing I don't love is all the plastic packaging.
Organic whole milk needs no explanation really 🙂
Egg whites – we add egg whites to smoothies, scrambles, use the to make egg bites and we even cook them with oatmeal! Seriously, check out this high protein egg white oatmeal and give it a try, you won't regret it!
Kerrygold butter is hands down the best tasting butter you can easily source (of course not as good as French butter, but until Costco starts stocking French butter, Kerrygold is the best). Costco definitely has the best price on our family's favorite butter, and the package easily lasts us 9-12 weeks.
Tillamook cheddar cheese – again, another great product at an exceptional value. We slice it for cheese and crackers and shred it to top on tacos and chili.
Hawaiian rolls and naan are just nice staples to have on hand. Sure, not the healthiest items but they taste good and make life more enjoyable and lunches easier to pack!
Fave Costco healthy(ish) finds – Snacks & Drinks
Definitely healthy-ish snack foods here, but the kids love all these items and they make school lunches a little less boring. By the way, the kid's teen friends especially love those chocorooms for some reason, and raid our pantry every time they come over.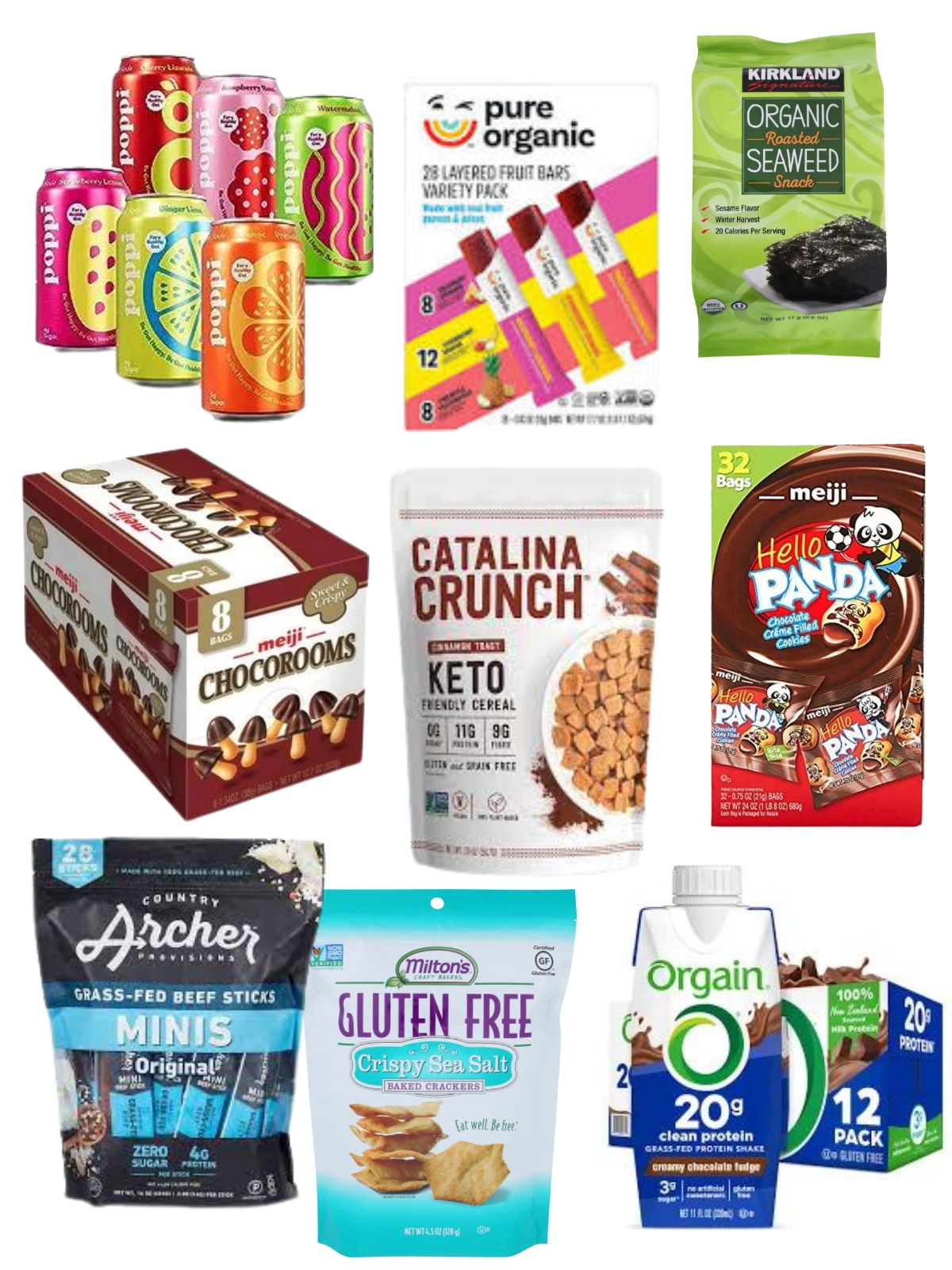 Poppi or Ollipop prebiotic/fiber soda is fun to have on hand, and I usually buy a case of whichever brand they have in stock that day.
Pure Bar Organic fruit strips – slightly lower sugar content and better ingredients than fruit gummies, but still a sugary treat that we limit to pre-game or lunch snacks.
Seaweed – all 3 of my kids love seaweed and so we always have this stocked on hand. Surprisingly, seaweed is a good source of protein and fiber!
Chocorooms and chocolate Hello Pandas – both sugary cookies but they aren't too sweet and come in small little packages I don't at all worry about the kids having.
Catalina Crunch cereal – this one is for me. Great price and I love it topped on my yogurt or when I have a after dinner cereal craving.
Archer Farms beef stick minis (and not pictured, beef jerky) – again, these are a great price and size for adding to lunches or a quick grab and go snack.
Milton's gluten free crackers are so addictive I almost hate bringing them in the house. Seriously the best tasting gf crackers.
Orgain chocolate protein shakes – good price and great for rushed mornings or an on-the-go high protein snack.
Costco List Must Haves – Dry Grocery Goods
Pantry staples I ALWAYS have on hand can all be found below. These are all a great value and are eaten on a regular basis in our household.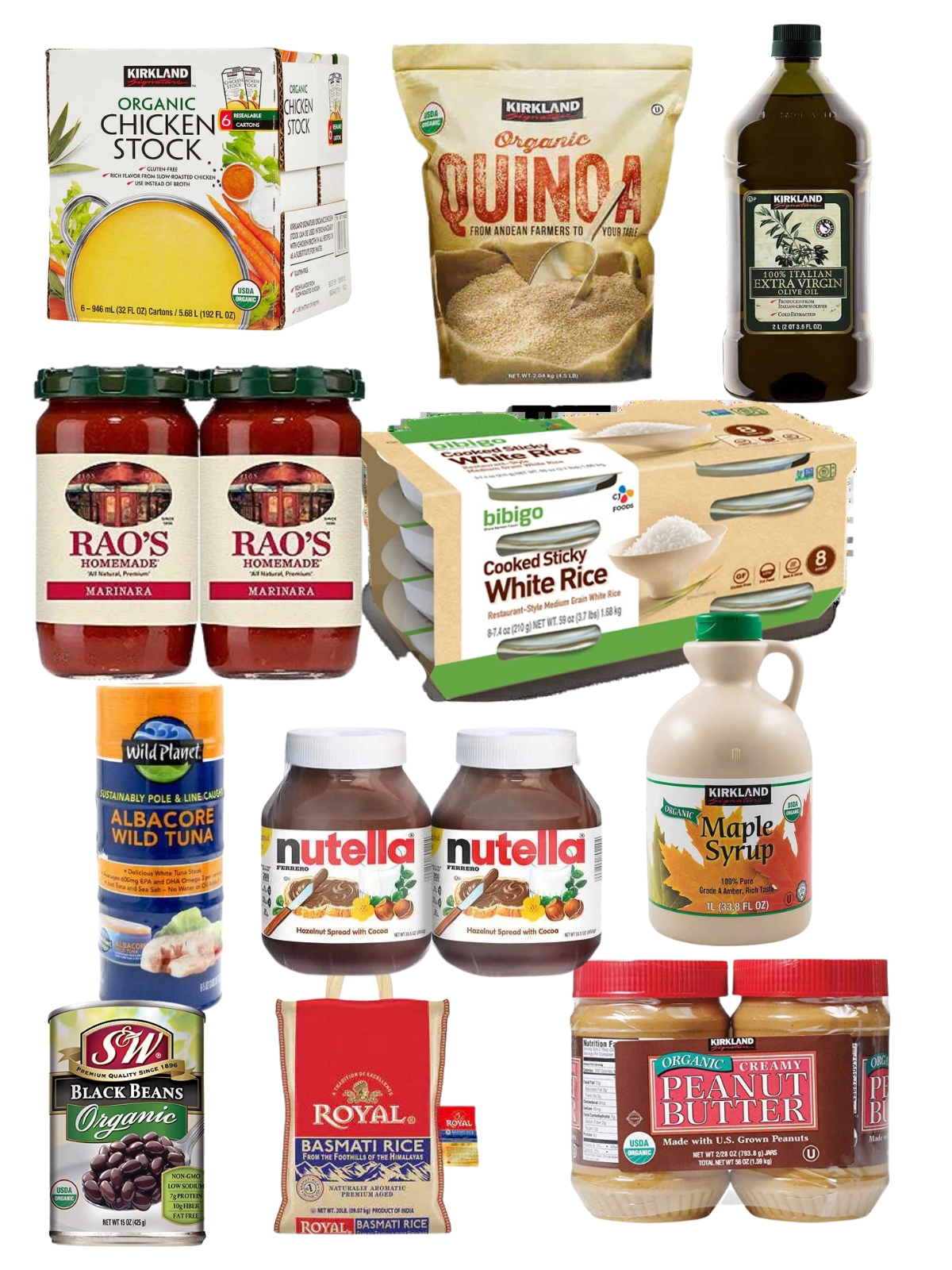 Chicken stock – this stock never fails me and we go through a case every few weeks. It's the base for many of my soups, including the best white chicken chili in the Instant Pot.
Quinoa – I make a pot of quinoa every week and this package is a great value and not too large that it is hard to get through.
Olive oil – hands down the best tasting best value olive oil around. I use it every day!
Rao's tomato sauce – my Costco doesn't always have Rao's in stock, but they'll at least have a good organic option in its place.
Microwavable sticky rice – these little containers are great for busy rushed weeknight dinners and are super convenient.
Albacore Wild Planet tuna – delicious and sustainably caught! It's always the base for my no-mayo tuna salad.
Nutella – I know, I know! Super unhealthy, but you've gotta live sometimes! 😉
Maple Syrup – delicious and a great price! I add it to everything from pancakes to overnight oats.
Black beans and rice – my boys would live on black beans, rice and chicken bowls every day of their life if you let them. I often pack for lunches too.
Peanut butter – delicious, creamy and a great way to add yummy healthy fats to smoothies, oats and French toast.
Fresh Foods Not Included
I didn't include things like berries, romaine lettuce and apples because these are pretty self-explanatory. Plus, while I often do buy those things at Costco, I don't exclusively shop for them here. But do know that Costco has great prices and awesome quality for these items. Their watermelons are notoriously good too, so I never miss an opportunity to buy them here.
What Healthy Foods at Costco I No Longer Buy
Coconut oil – Way too large of a container to get through before I felt like it had turned rancid.
Almond butter – I'm the only one who prefers almond butter to peanut butter, and I never ate enough to get through a whole jar by myself. So now I just purchase small jars at the market.
Chia seeds and hemp hearts – Even though we do eat a lot of chia seeds and hemp hearts, we never got through a bag before the expiration. Now I just buy smaller packages at the market, even though it may cost a bit more.
Almond milk – Ever since I bought our Almond Cow milk maker, I love the ease and taste of making nut milk at home instead.
Never before tried "healthy snacks" – I've learned my lesson, if I don't know I love it, I won't buy it. I've been stuck with large bags of snack foods I just don't enjoy, and refuse to continue to do so!
Yogurt cups or tubs of yogurt – our family tends to go in spurts with what they enjoy on a regular basis. So while one week they may love yogurt every day for breakfast, the following week they turn their noses up at it. So we were too often just wasting the large quantities.
Some unusual fruits like guava or even fruits like nectarines, mainly because not everyone in the household likes them, often leading to waste.
I hope you found this exhaustive Costco grocery list helpful! Pin it to save for the future or share the link with your favorite Costco shopping partner.
Tried this recipe? Please leave a comment and/or rating, letting me know how you enjoyed it! Connect with me on Instagram and Pinterest, and never miss a post by signing up for my weekly newsletter!