Easy and delicious overnight oats with protein powder is exactly what you need to start the day! Loaded with healthy fats, protein and fuel packed carbs, it's the perfect healthy breakfast.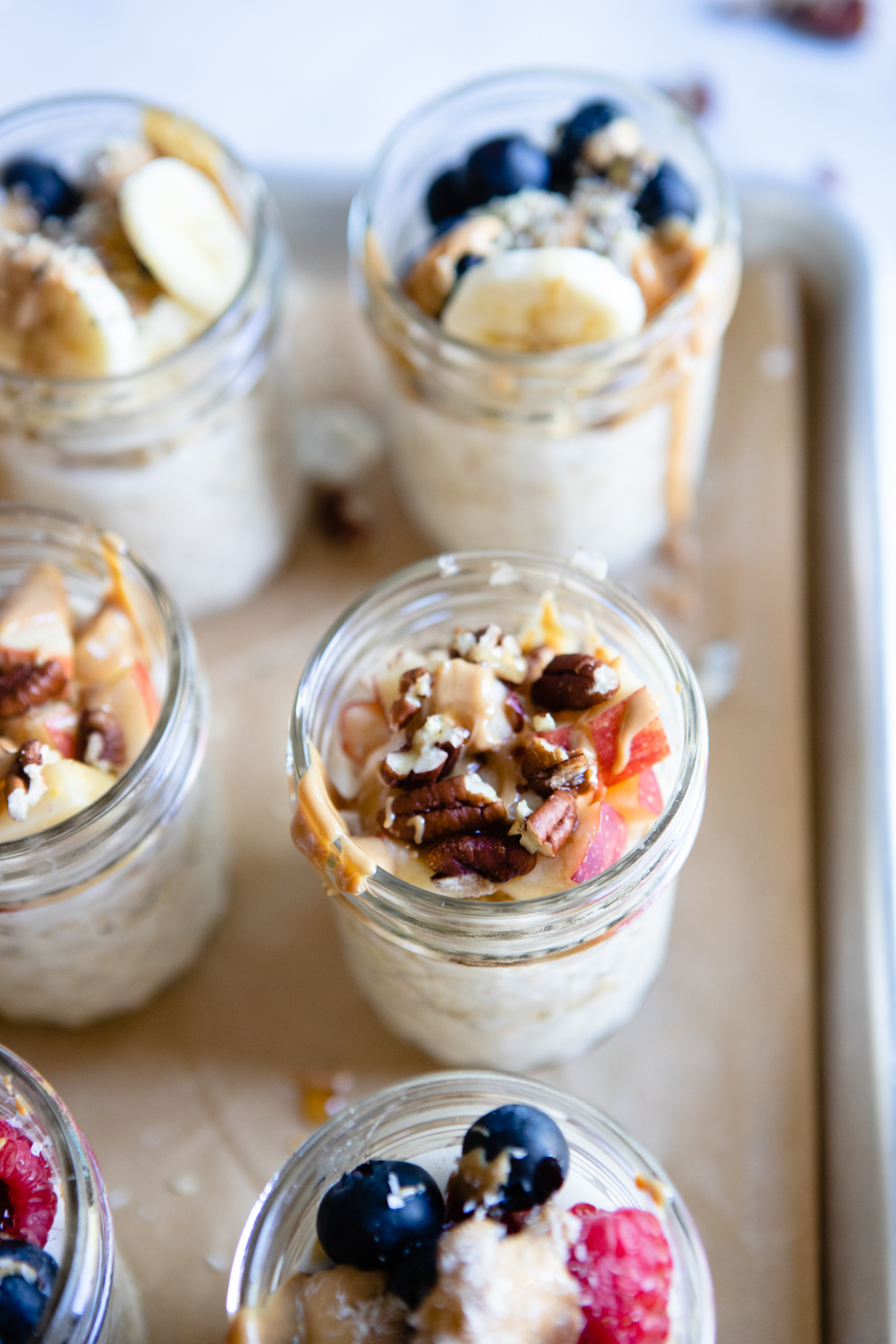 Turn a cup of humble dried oats into a wonderful hearty breakfast that is anything but boring. Rich in fiber and nutrients, and quickly made the night before, overnight oats have become one of the most popular "clean eating" healthy breakfast options.
I also love how versatile they are, with endless flavor combos. And when you add in a small scoop of protein powder, you are truly getting the best well rounded meal.
Jump to:
Why this recipe works
Chances are if you've found my recipe, you don't really need convincing of how great overnight oats are. But just in case you have some doubts, here's why these overnight oats with protein powder will quickly become a breakfast staple.
Quick and easy – You can have a breakfast made for a few days in 30 minutes or less, and requires no cooking or reheating.
Nutritious and filling – Rolled outs are packed with fiber, protein and nutrients including magnesium, copper iron and zinc. Soaked in water, yogurt or nut milk, they are also great for digestion. The added benefit of the protein powder, and any additional nutritional add-ins like nut butters and seeds, make this a well-balanced meal that hits all vital macronutrients.
Endless flavor combos – The mild flavor of the soaked oats lends itself to working with endless flavor combos. Berries and peanut butter, bananas and walnuts, or fresh diced apples and pumpkin pie spice.
Affordable – A container of rolled oats is still less than $3! Even when you add in fancy toppings and nutritional power-ups, a single serving of overnight oats is under $1. Save additional money by using dried or frozen fruits, and buying toppings like nuts and seeds in bulk.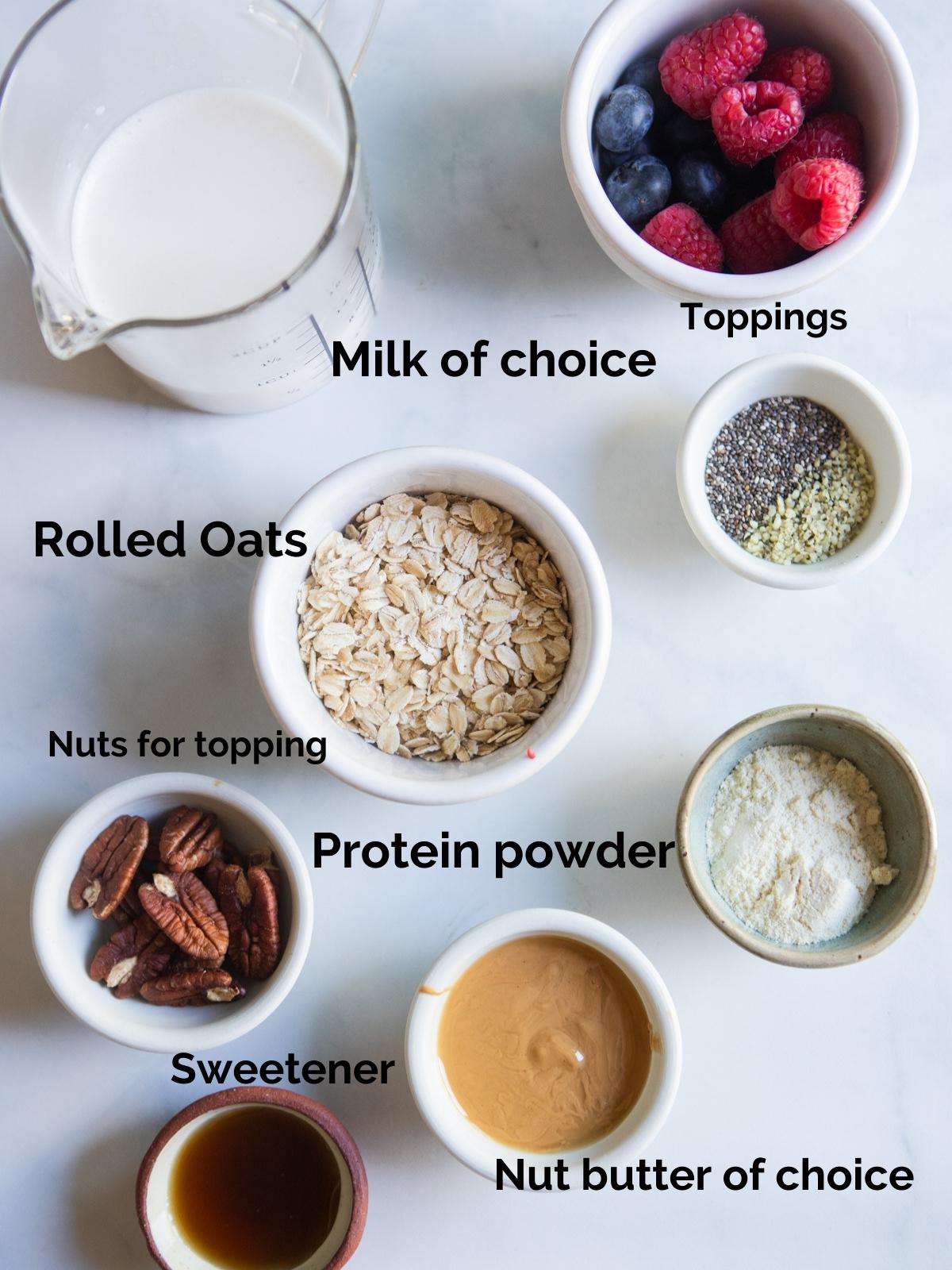 Ingredients
Rolled oats – For overnight oats you definitely want to use old fashioned oats versus quick oats. Quick oats cook faster because they are cut into smaller pieces and steamed for a longer period of time. If you leave them sitting in liquid overnight, they are likely to get too soggy and mushy.
Protein Powder – Feel free to use grass fed whey or a plant based protein powder. Some protein powders can be quite sweet and it will definitely change the flavor of the oats, so try to go for one with a low sugar count and not too sweet. My hands down favorite is Tera's Whey protein powder in vanilla.
Milk or milk alternative – Use a 1:1 milk to oats ratio, and mix well.
Nut butter or chopped nuts – adding in a swirl of nut butter and/or chopped nuts and seeds will add a great dose of healthy fats. Try cashew butter for the most mild and creamy flavor, and peanut butter for more robustness.
Toppings – berries, bananas, apples, coconut flakes, hemp seeds, chia seeds, bee pollen, you name it!
Sweetener – adding in a bit of maple syrup, agave or honey is totally optional and not even really necessary if you load up on toppings. That's why I recommend leaving it out until the next morning, when you try your oats with your toppings.
Step by Step Instructions
Step 1 & 2 – Begin by mixing your oats with protein powder and chia/hemp seeds. You may prepare the overnight oats straight in the containers, but prepping in a bowl does a better job of mixing the ingredients.
Add the liquid and mix well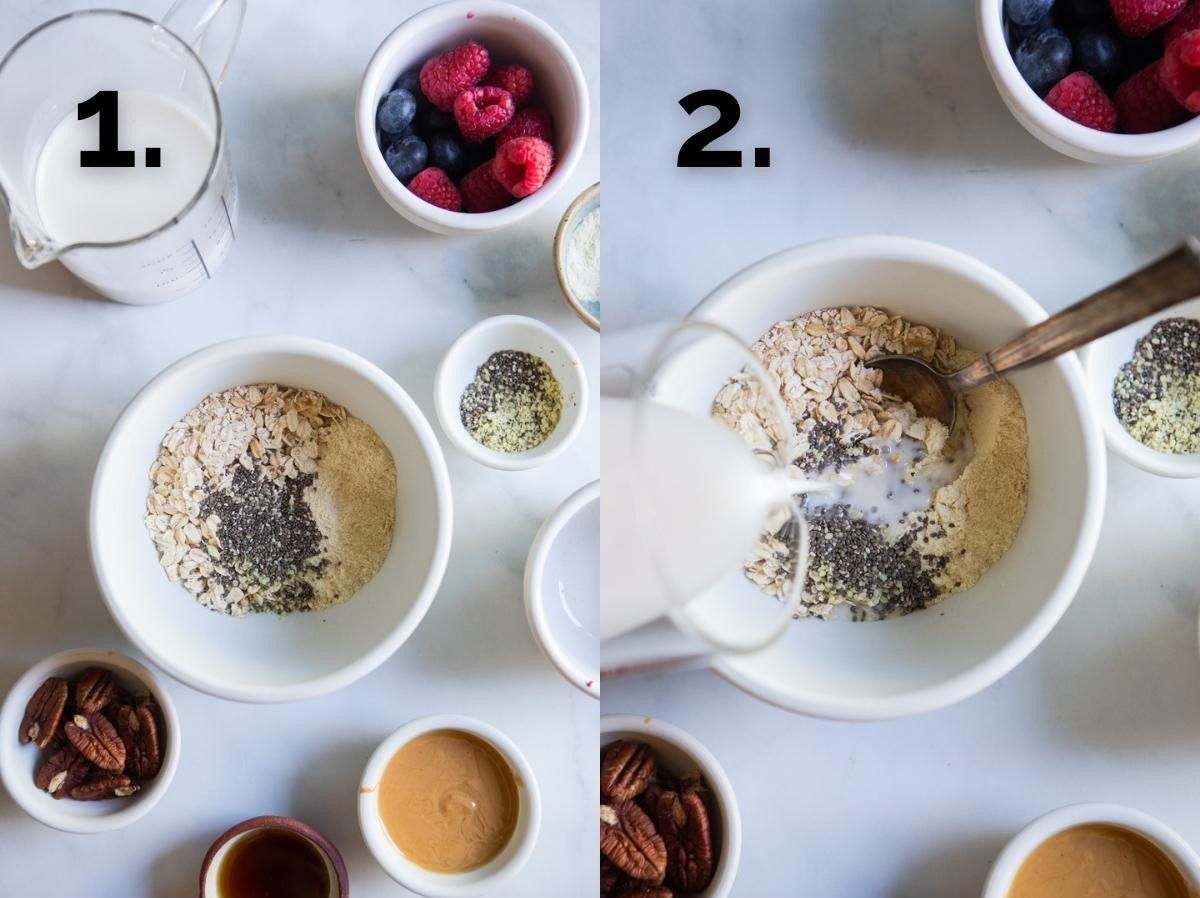 Step 3 – After mixing thoroughly, divide up oats and place in single serve containers.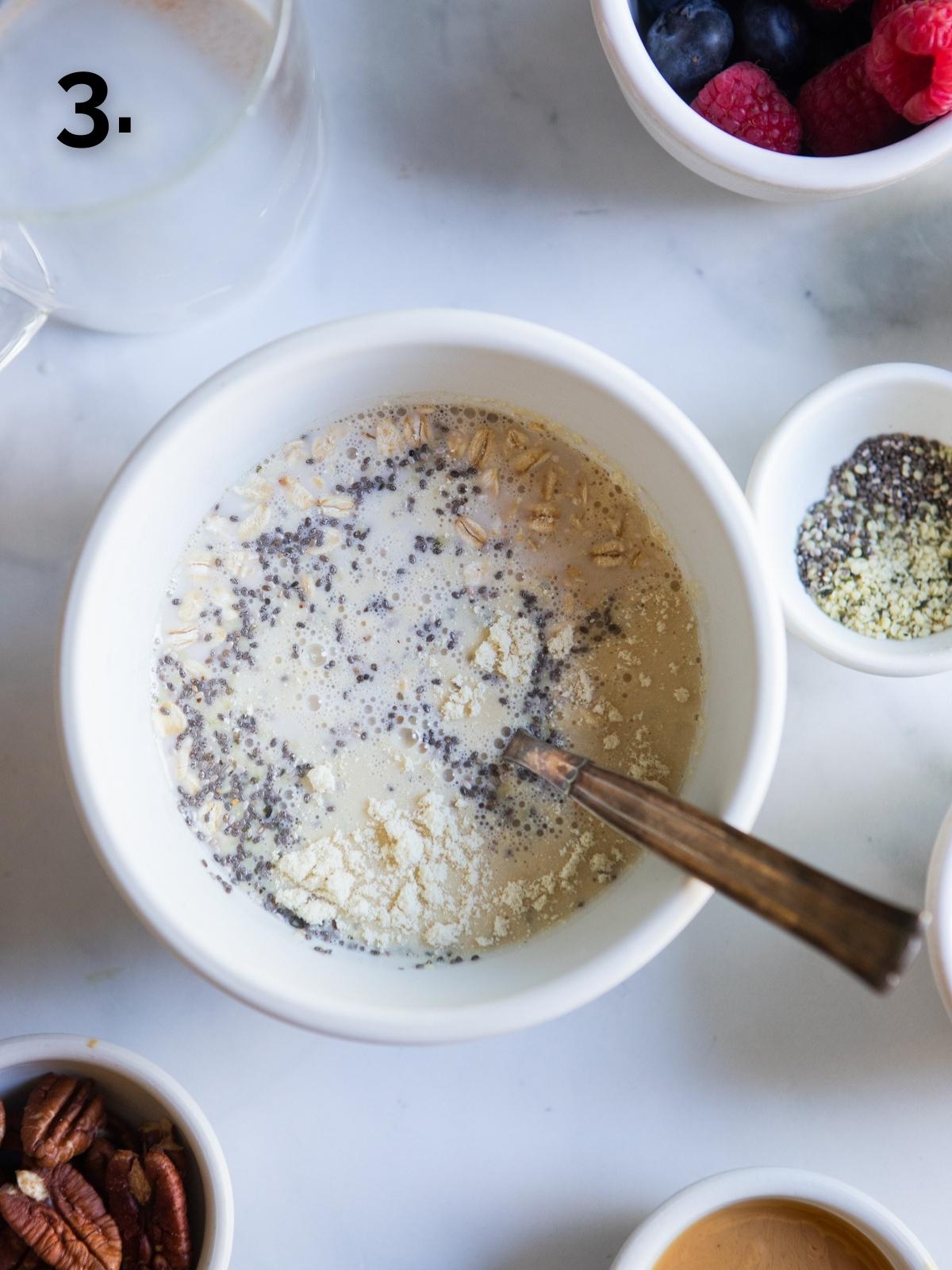 Steps 4 & 5 – Layer in your toppings, starting with nut butters, then fresh fruits, and finally, nuts and seeds. Seal and place in the refrigerator for an easy meal prep breakfast!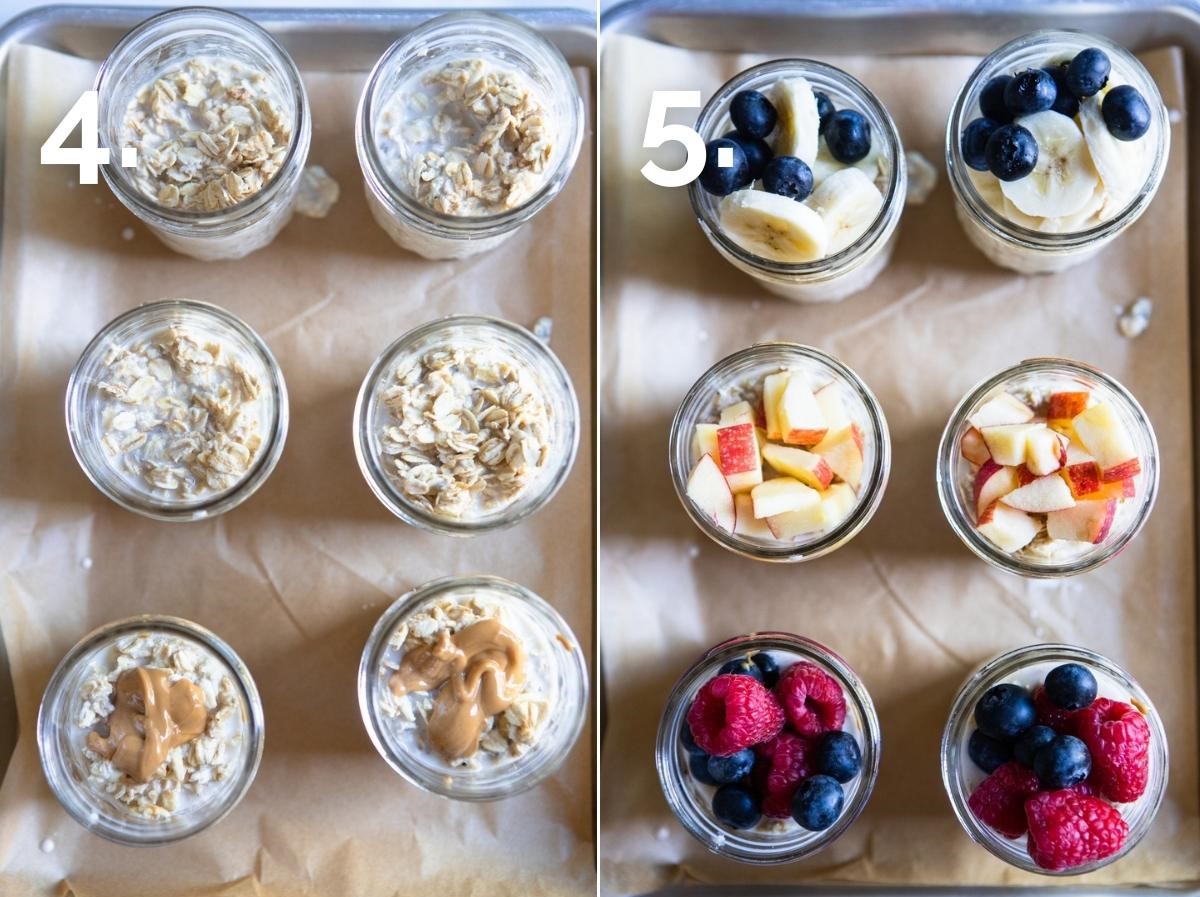 I don't have old fashioned rolled oats! Can I use quick oats or steel cut oats?
If all you have are quick oats, I would recommend making these first thing in the morning and letting them sit for a couple hours before eating.

Steel cut oats are also an option, but they will be much denser and chewier. And after trying it once, I do not recommend Coach's Oats.
How long do these last in the fridge?
Overnight oats can easily last 4-5 days in the fridge, but they may get a little mushier towards the end. For best results, eat within 2-3 days of making.
What size container should I use for overnight oats?
16 ounce mason jars are the most commonly used size as it allows for plenty of toppings. I personally like using smaller 8 ounce jars for this recipe since the protein powder makes them quite filling.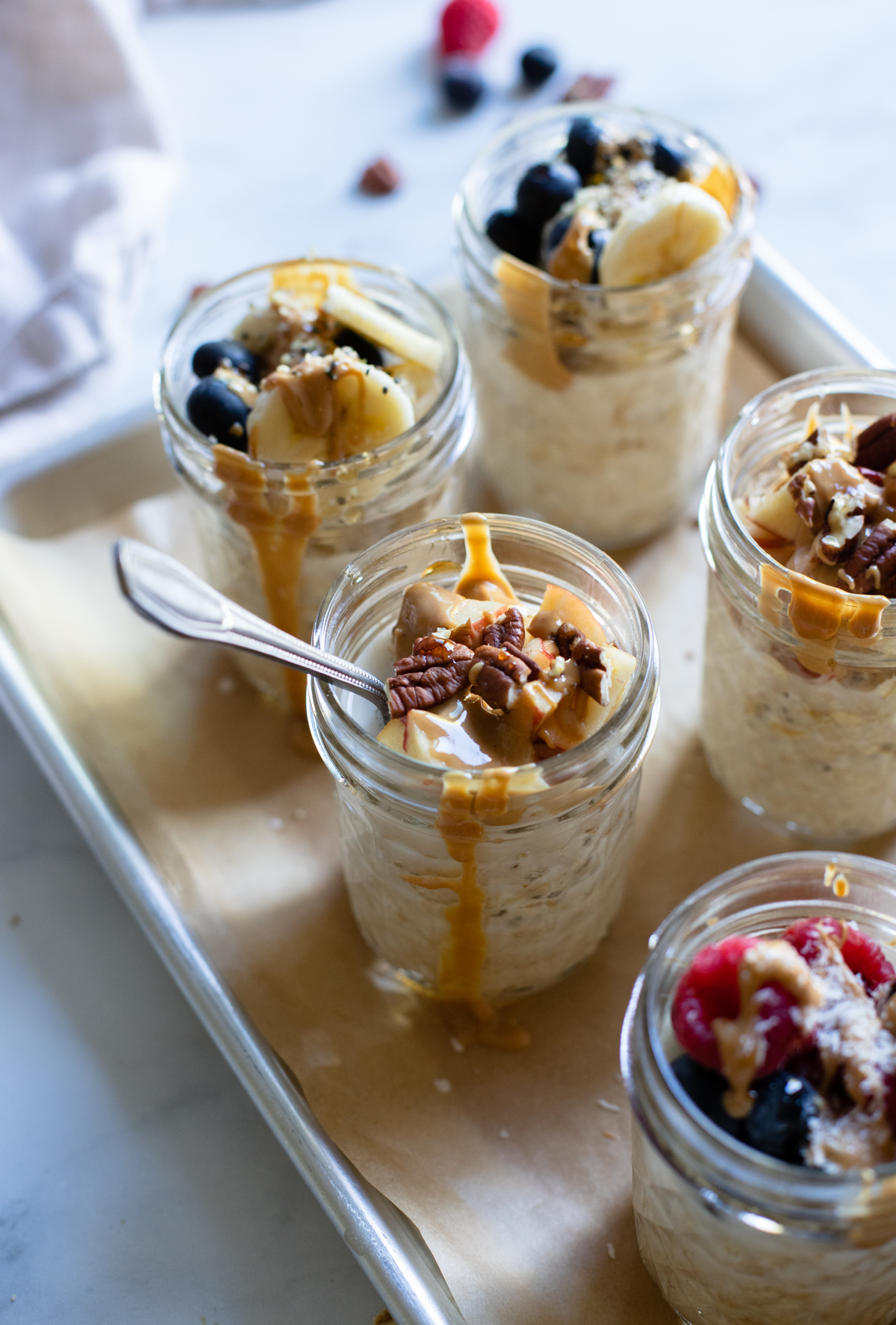 Other helpful tips
The best protein powder for overnight oats
Choose one that is low in sweeteners, whether it be artificial or natural. Protein powders that are too sweet will overpower the flavor of the oats and take away from the nutty, natural flavor.
Great brands that aren't too sweet include the Tera's Whey protein powder I mentioned above, Nutiva Organic Hemp Protein, Bob's Red Mill unflavored protein powder, Source Organic Whey Protein, or Vital Proteins Collagen Peptides.
Prepping and storing your overnight oats
If you find your oats get sorta messy when trying to mix in your toppings, try layering instead. I especially like layering the nut butter and some fruit, so that you get bites of both in each scoop.
Make sure to refrigerate and store your overnight oats in a sealed container.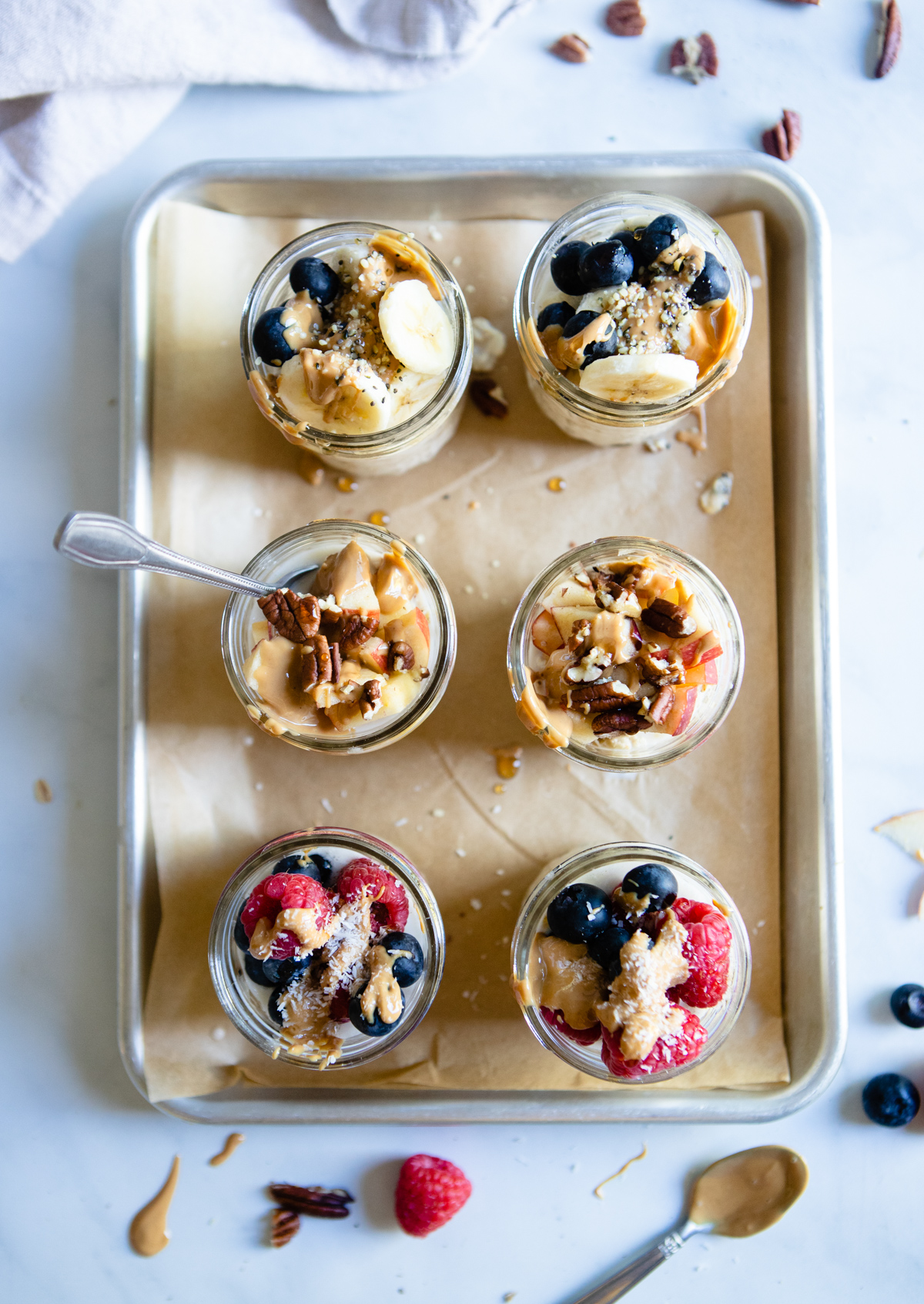 Tried this recipe? Please leave a comment and/or rating, letting me know how you enjoyed it! Connect with me on Instagram and Pinterest, and never miss a post by signing up for my weekly newsletter!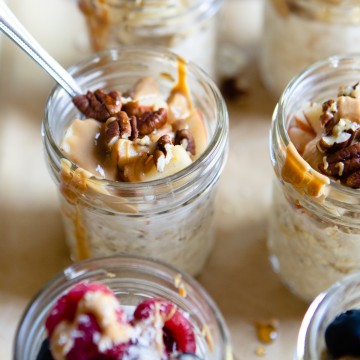 Overnight Oats with Protein Powder
A nutritious and well balanced breakfast. Great for quick and easy meal prep!
Print
Pin
Rate
Ingredients
2

cups

Rolled oats

2

cups

Almond milk

or favorite milk

2

scoops

Tera's Whey protein powder

or other favorite protein powder

2

tablespoon

Chia seeds

or hemp seeds

2

tablespoon

Nut butter

Various toppings including nuts, seeds and fruit
Instructions
Mix oats, protein powder and chia seeds in a bowl, and add almond milk. Stir till well combined.

Divide oats into 4 mason jars and layer toppings. Seal and store in the fridge overnight for at least 6-8 hours.
Notes
Store in the fridge for up to 5 days, but for best results eat within 2-3 days.
Choose a protein powder with limited sugars as to avoid an overly sweet taste.
Nutrition
Calories:
263
kcal
|
Carbohydrates:
33
g
|
Protein:
20
g
|
Fat:
7
g
|
Saturated Fat:
1
g
|
Polyunsaturated Fat:
3
g
|
Monounsaturated Fat:
2
g
|
Trans Fat:
1
g
|
Cholesterol:
25
mg
|
Sodium:
189
mg
|
Potassium:
242
mg
|
Fiber:
7
g
|
Sugar:
2
g
|
Vitamin A:
829
IU
|
Vitamin C:
2
mg
|
Calcium:
261
mg
|
Iron:
3
mg