This is the first in a series of posts, all about the basics of cooking salmon. Believe it or not, over the past 5 years I have received numerous comments from readers who don't know how to cook salmon or just don't feel confident and comfortable in how to cook salmon so that it actually tastes good.
Since salmon isn't cheap, you want to feel competent and reassured that your money and effort won't go to waste. So I'm going to start by sharing 4 of my favorite ways to cook salmon:
Baked
Pan Fried
Poached
In Parchment Paper
I'll be sharing tips along the way, and wrapping it up with a final post combining ALLLL the salmon cooking tips. Let's get started with this sheet pan baked pesto salmon with fingerling potatoes and broccoli.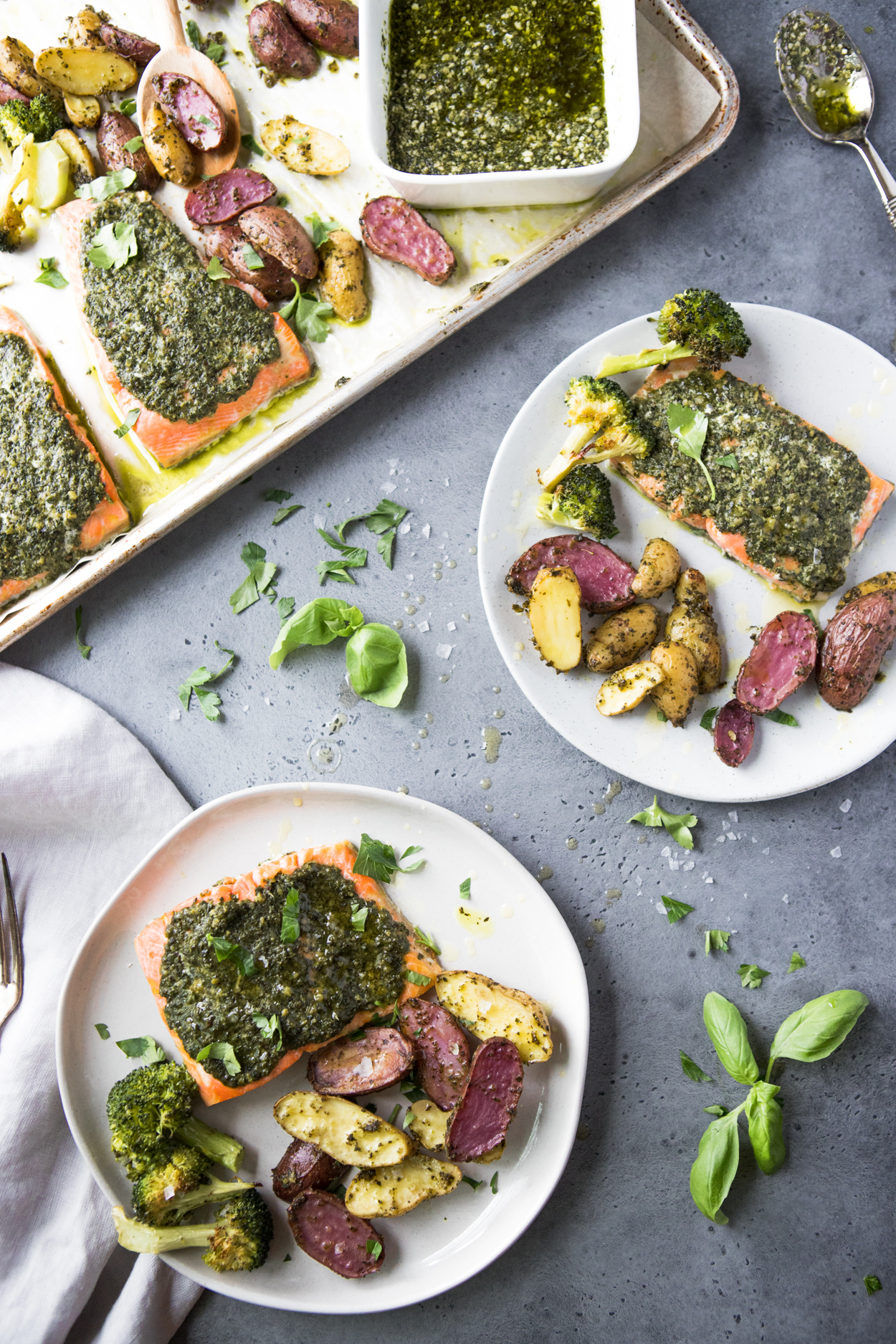 Baking is one of my favorite ways to cook salmon for a variety of reasons; easy clean-up when placed on a parchment lined baking sheet, short cook time and overall great cooking control. Luckily my family really loves salmon, so they tend to be forgiving if I overcook it a bit, but unless I am really distracted and forget to set a timer, baking in the oven is pretty full-proof.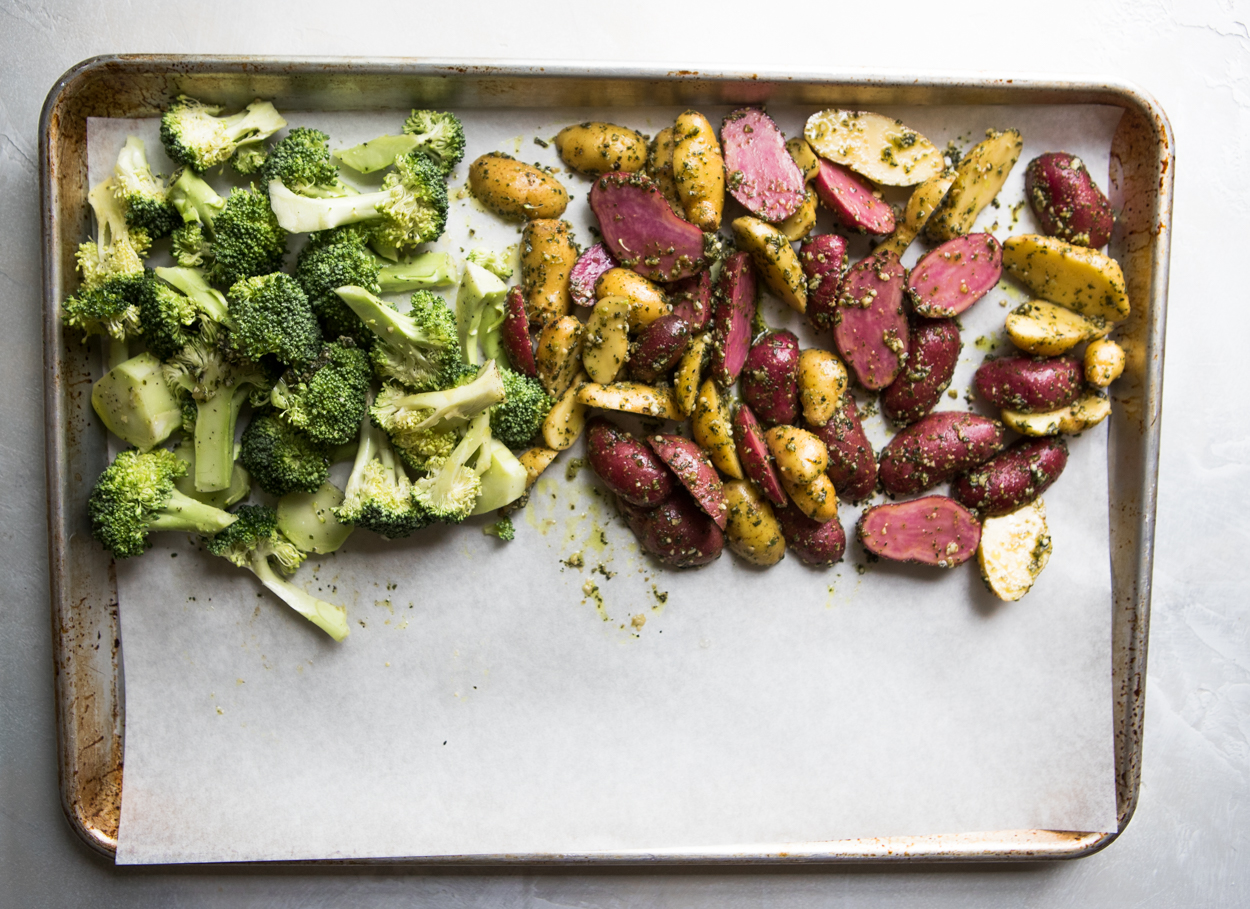 Pesto Salmon Sheet Pan Dinner
Unless I have already made a side dish, I also love baking it because I can fit a vegetable, or in this case, a starch and vegetable, right alongside the salmon on my large half-sheet baking pan. Quick, easy, and all in one pan? Pretty much a busy person's dream meal.
For this recipe, I baked the potatoes and broccoli for a bit first, before I added the salmon, because they take longer to cook through. Start by slicing the small fingerling potatoes in half to speed up cook time (and get a nice crisp edge going), then toss them with 1-2 heaping tablespoons of pesto, adding a pinch of salt and pepper. Add to the pan, then do the same with the broccoli (or even just toss the broccoli in olive oil). Bake at 425 for about 15 minutes.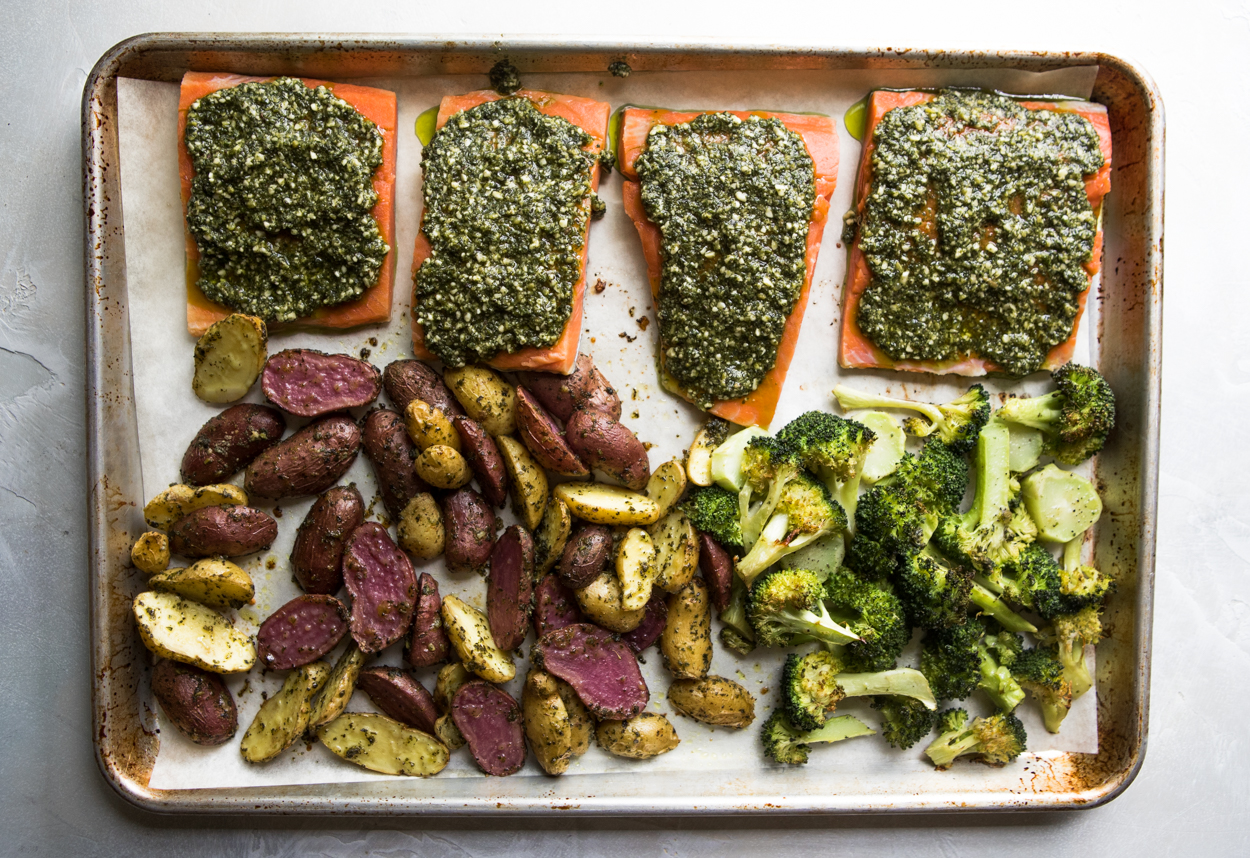 Remove the potatoes and broccoli from the oven, and place your salmon filets snugly alongside the veggies, and generously apply another tablespoon of pesto to each piece of salmon.
How to Bake Salmon
So at this point we need to have a little talk about the "right" way to bake salmon. There is of course a debate between low and slow or high and quick and I quite honestly find both work okay for me personally, but we tend to not be super picky about our salmon and find that a quick 400 degree bake has dinner on the table in about 10-12 minutes.
However, many of the professionals agree that while higher temps can still produce a great piece of salmon, if you want a *full-proof* way to never over cook it, bake it low and slow at 275 for 15-20 minutes depending on the thickness of your fish.
While baking at higher temps works for me just fine, please consider that by this point I'm pretty confident in being able to determine the right cooking time based on size and thickness, as to not over-cook it at a higher temp. If you are not as experienced and a little more cautious, play it safe and lower the oven to 275 as soon as you remove your veggies and place your salmon in to cook.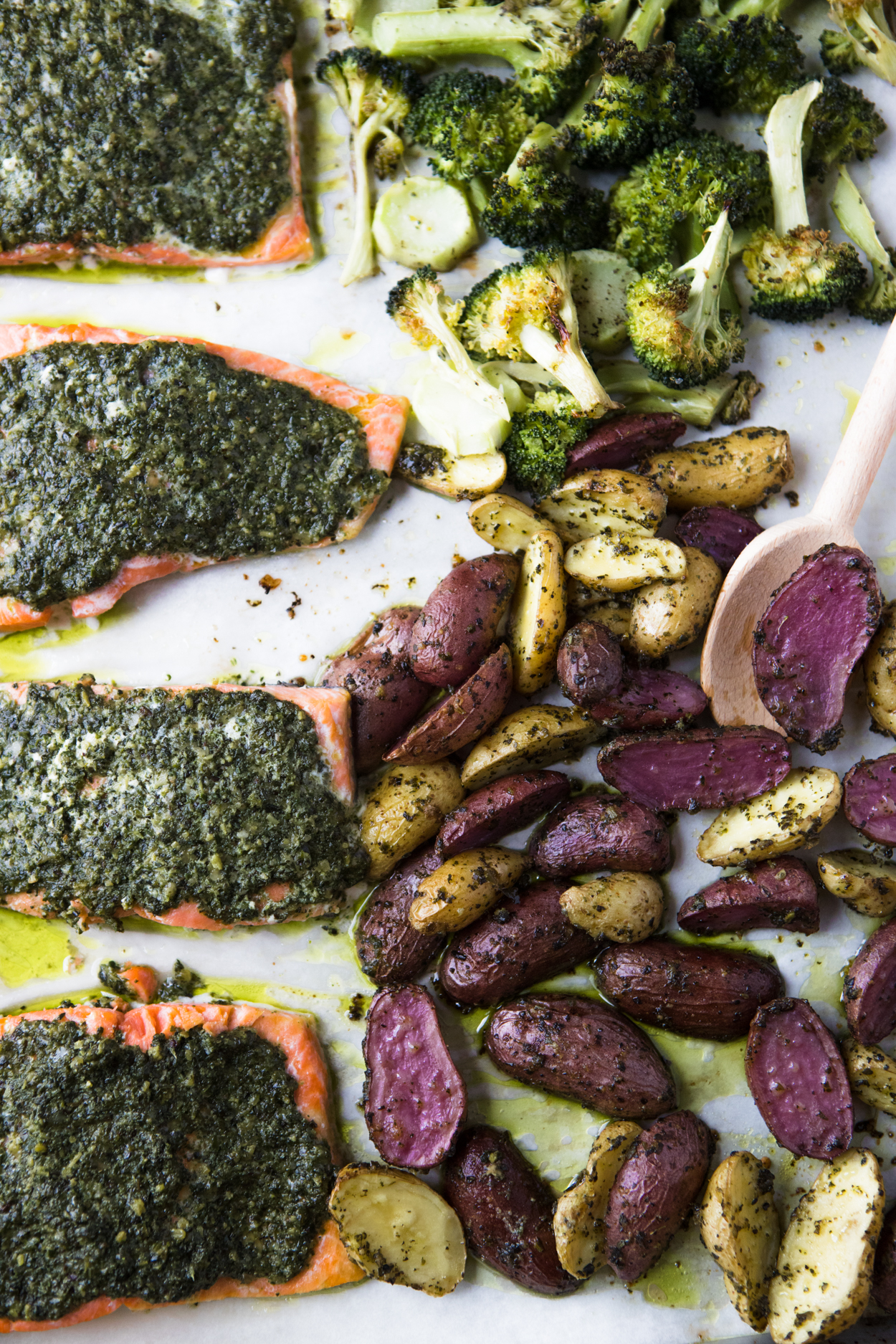 Considering that the oven had just been at the high temp of 425, even with lowering it all the way down to 275, there will be some residual higher heat swirling around, so begin checking your salmon for doneness after 10 minutes, and know that they may take as many as 15 minutes to cook through.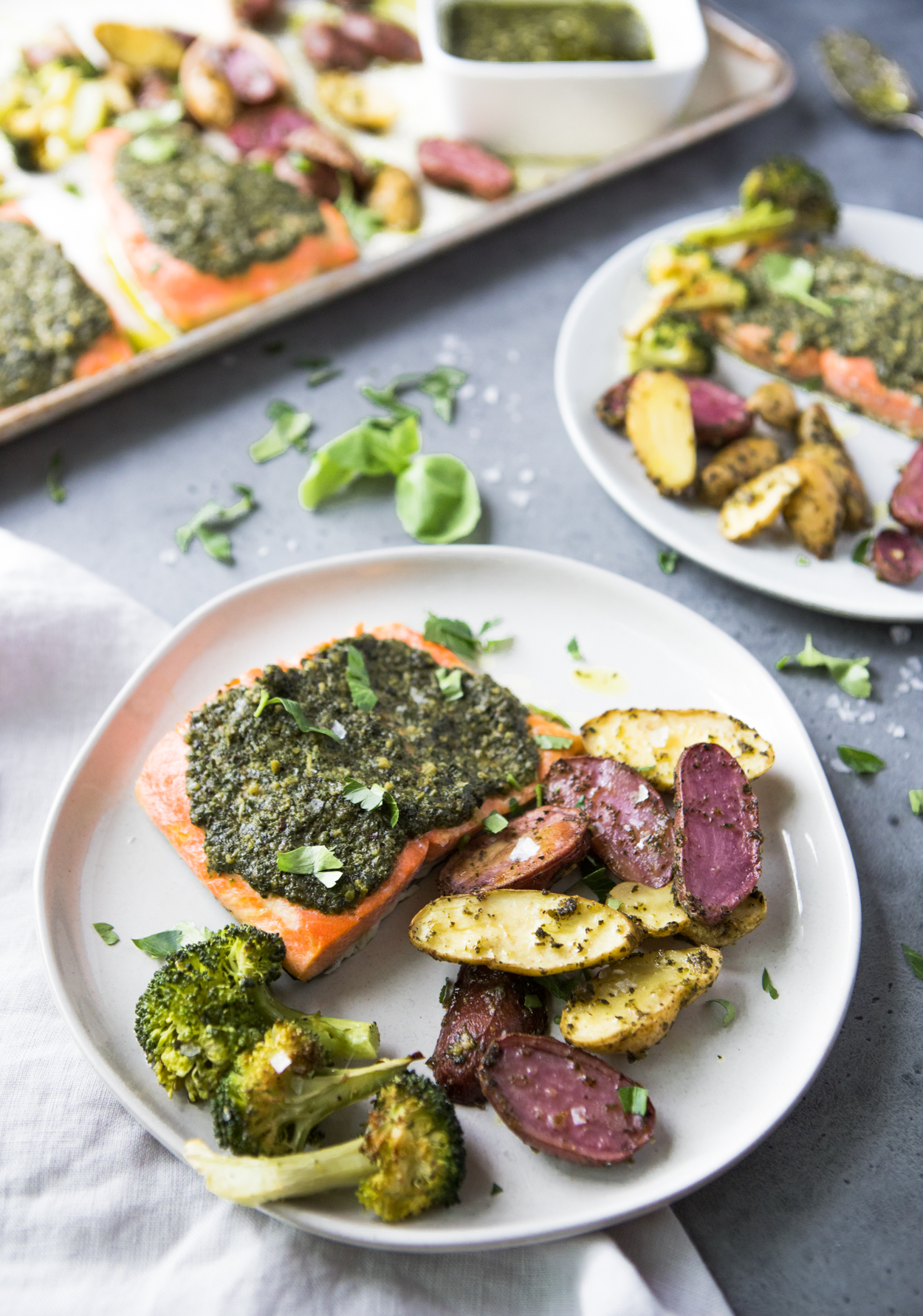 How to Check if your Salmon is Properly Cooked
You can of course test for doneness with an instant read thermometer, which should register at least 120 degrees Fahrenheit. You can also check for doneness by inserting a sharp knife in the center of the filet and if it starts to flake away a bit and the outside looks opaque, no longer translucent, it is likely done. There is the butter knife technique as well, where you insert a butter knife into the thickest part of the filet, and if it is warm when pulled out, it should be done. I find that when I press on my fish with a clean finger or butter knife, and it yields a bit but still feels firm, it is done.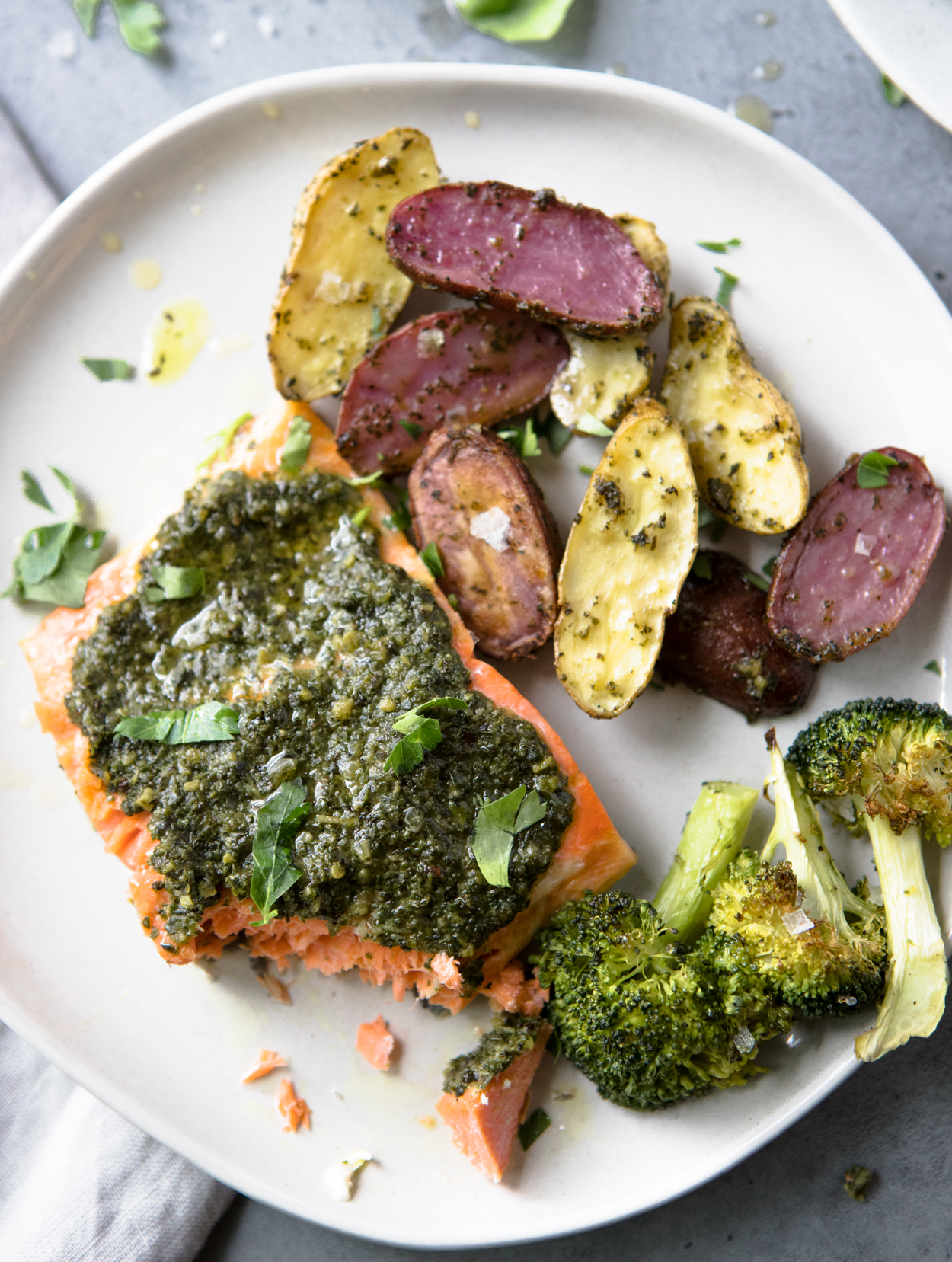 How to Brine Your Salmon (to prevent that weird white stuff!)
Oh, by the way, you know that white stuff that tends to ooze out of the top of a piece of salmon when cooked? That is called albumin and is basically coagulated protein. It's harmless, but unappetizing to say the least! I recently learned one cool trick from America's Test Kitchen, that pretty much eliminates that stuff, or at least drastically reduces it (I have found that when cooking 4 pieces of salmon, this method will work wonderfully for 3 of the pieces, but the 4th will still have white stuff seeping out – haven't got a clue why but at any rate, 3 out of 4 ain't bad).
At any rate, I read that brining, or soaking the fish in a salt water solution first, for just 15 minutes, helps to cut down on that white stuff. The brining also serves to improve taste and texture by infusing it with flavor and by helping to dissolve muscle fibers to form a water-retaining gel, which helps to prevent the fish from drying out.
Salmon Brine Recipe
To create a quick brine, simply dissolve 2 tablespoons of kosher salt in 2.5 cups of heated water. Allow to cool and pour brine over fish, allowing it to sit for 15 minutes.
This step is of course completely optional, but if you have the time, give it a try and see if you notice a difference.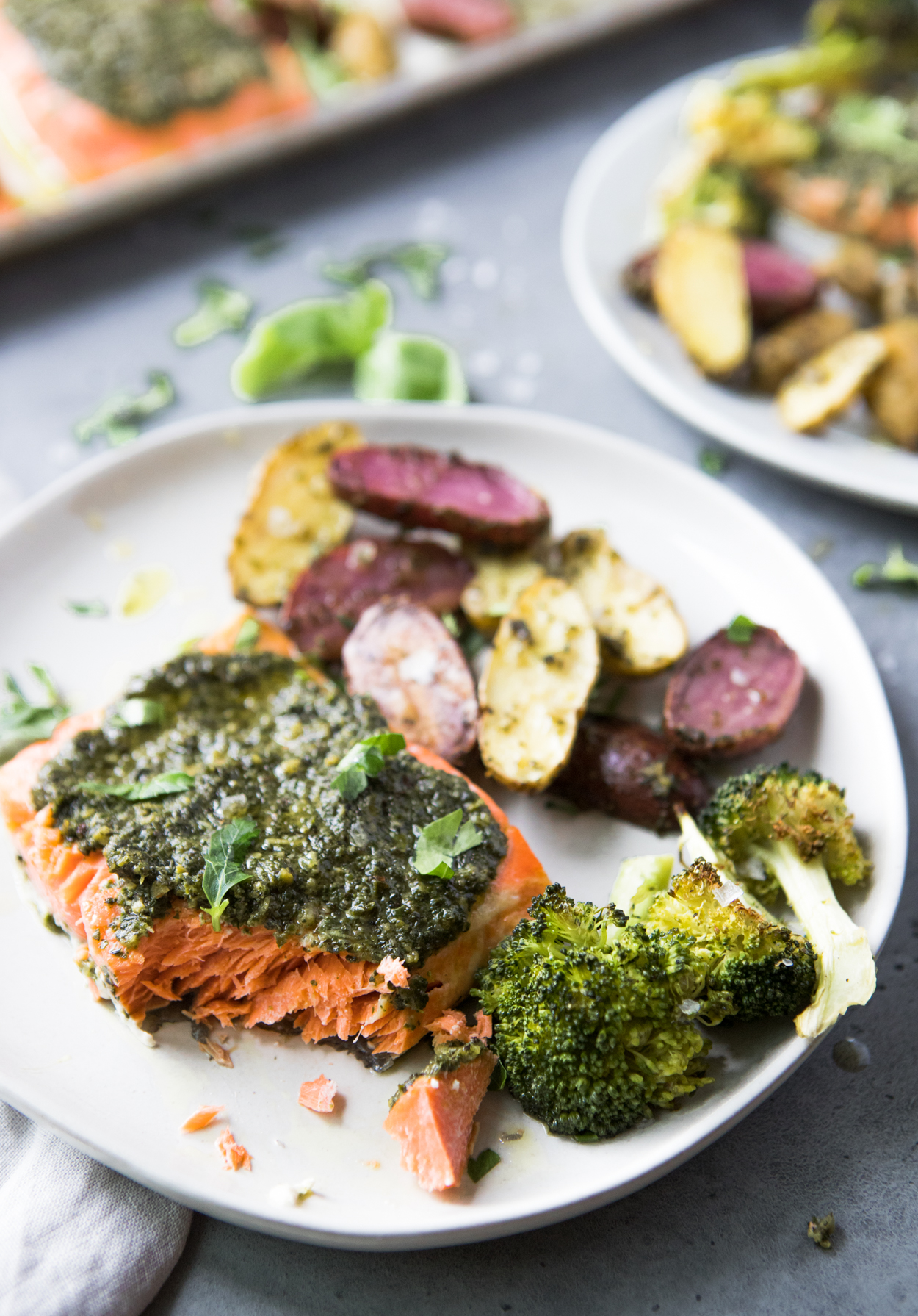 And those my friends, are all the salmon baking tips I got for you today. Before you leave though, how about a great salmon dinner recipe? See below and if you enjoy it, please consider rating it 🙂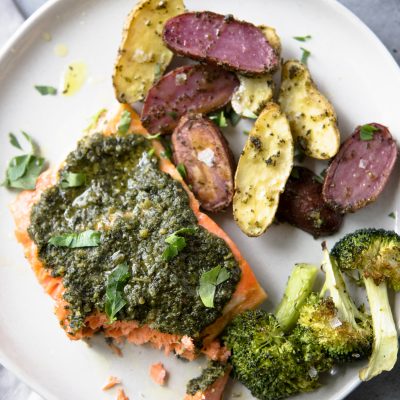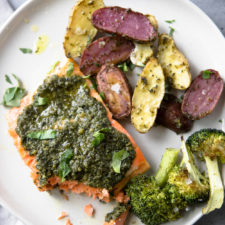 Print Recipe
Baked Pesto Salmon
This pesto salmon sheet pan meal with broccoli and fingerling potatoes comes together quickly and has a ton of flavor, making it the perfect healthy weeknight dinner.
Ingredients
4

salmon filets

preferably wild-caught

6-8

tablespoons

of store bought or homemade pesto

1

small head of broccoli

cut into florets

1/2

lb

fingerling potatoes

cut in half

Salt and pepper to taste
Instructions
Preheat the oven to 425 degrees

In a bowl, toss the potatoes in 1-2 tablespoons of pesto and a sprinkle of salt, and arrange on a parchment lined baking sheet

Toss the broccoli in another tablespoon of pesto and salt, and arrange on the baking sheet next to the potatoes

Bake for 15 minutes

Remove pan from the oven and lower to 275 degrees

Arrange salmon filets next to the potatoes and broccoli, and spoon on and spread a tablespoon of pesto to each filet

Return pan to the oven and bake for 10-15 minutes, beginning to check for doneness at 10 minutes.
Notes
See post notes for optional brining instructions.
See post above for notes on how to tell when salmon is cooked through.