Chicken cutlets cooked in the air fryer are an easy yet way to make boring old chicken night, a lot more exciting. Start with a brine to infuse tons of flavor, then coat each cutlet in a perfectly spiced breading. The result is a tender and flavorful piece of chicken, with a crunchy breading.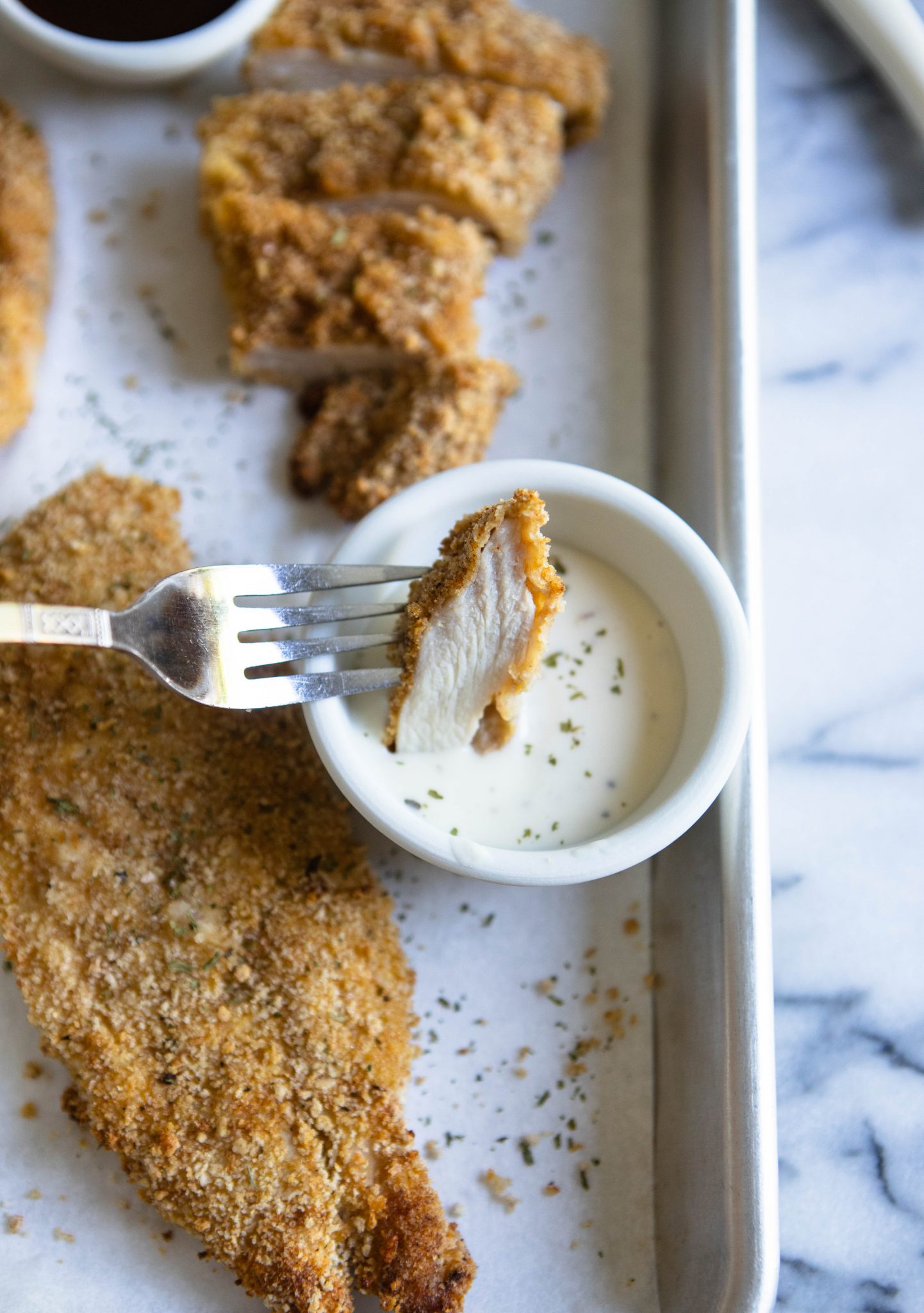 I shared my oven baked chicken cutlet recipe a couple years back, and it has continued to be a reader favorite. Since buying our air fryer over a year ago, I have cooked many foods with great success. Given how well everything has turned out, I figured I should try my hand at "frying" up some chicken. I was ecstatic with the results, and couldn't wait to share them with you all. I think this will soon become another reader favorite! Let's get cooking, shall we?
Prepping Your Chicken Cutlets
Many grocery stores sell chicken cutlets, however if they're not available in your area, or you want to use breasts you already have, you can easily cut your own. Begin by cutting off the "tender" part of the chicken breast. Tenders are little strips of meat that are tenuously attached to the underside of each breast. You can actually see a line that runs down the breast, where the tender is attached. As shown below, just cut the tender off and set aside for another use.
Insert your knife halfway through the breast, and cut in half, so you end up with 2 cutlets per breast. If it's a large breast and some parts are thicker than others, gently tenderize with a meat mallet till somewhat even in thickness.


Ingredients for the Breading
We want our breading to be as flavorful and crunchy as possible, so we'll be dredging in a well seasoned flour and bread crumb coating, with an egg wash in between. So grab your ingredients:
2 chicken breasts fileted to get 4 cutlets, about 1-1.5 lbs in weight
1 egg plus a splash of water, about ½ tbsp
1 cup bread crumbs (I love using Panko)
½ cup all purpose or gluten free flour
Herb and spice blend: paprika, garlic and onion powder, powdered mustard, basil & thyme and a pinch of cayenne, and of course salt & pepper
By the way, this spice and herb blend is a great all-around seasoning powerhouse. So I recommend mixing up a big batch of it and storing it for future use. You'll love having it on hand ready to go at a moments notice.

preparation
Begin by mixing up your herb & spice blend, then dividing it in half and mixing each half in the flour and the panko bread crumbs.
Dip each cutlet in the flour blend, then egg wash, then panko blend. Set on a baking sheet until ready to use, or directly on the air fryer tray.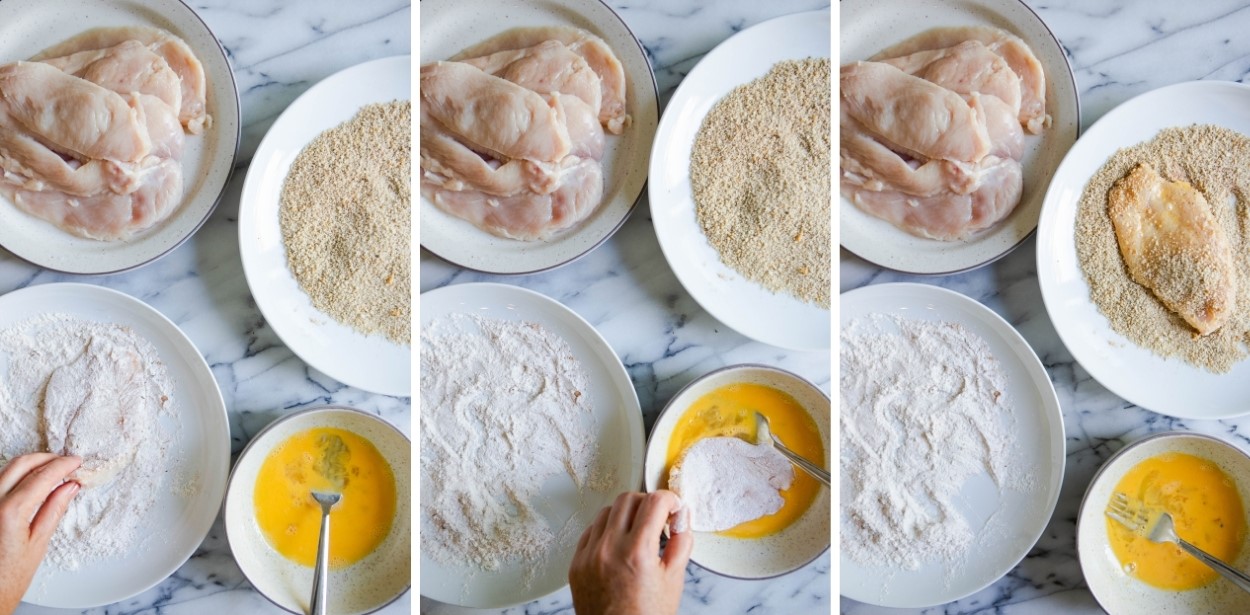 Lightly spray just the top side of each cutlet before putting in the air fryer to cook.
Set in your air fryer and cook for 10-16 minutes (see important note about cooking times below), making sure to flip the cutlets and spray half way between cooking. Make sure you spray the second side halfway in between cooking, when you flip them over.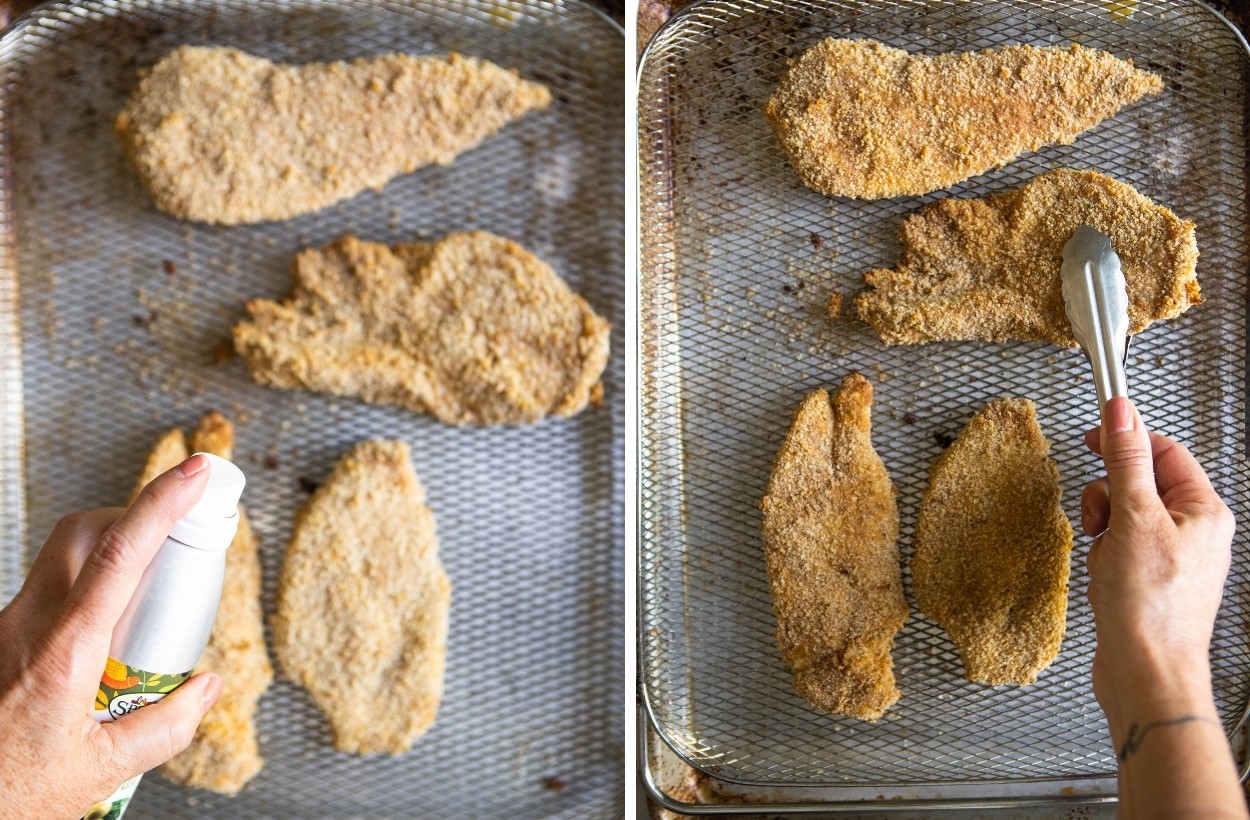 The first couple of times cooking raw chicken, I also highly recommend having a quality thermometer on hand to check the temperature half way between cooking. When you first begin using your air fryer to cook raw meats, it can be a little tricky perfecting doneness. For example, when cooking these for the first time, I was surprised that halfway through the cooking time, they were almost to their desired temperature! So I flipped the cutlets over and adjusted my cooking time as to not get dried out.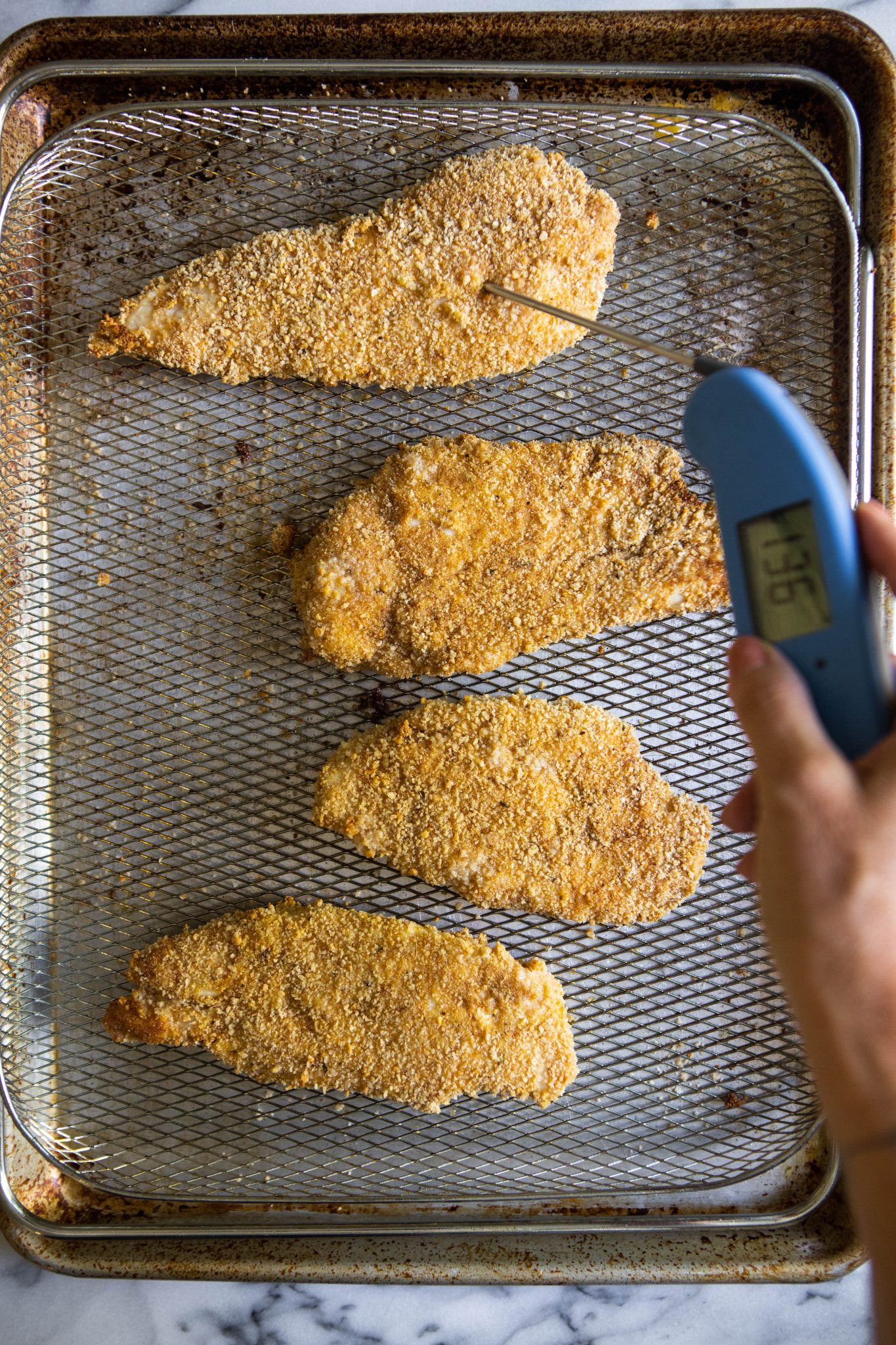 Tips for Cooking Chicken cutlets In the Air Fryer
The most important thing to consider when cooking chicken in the air fryer (or any meat for that matter), is what type of fryer you have. The first and most popular air fryers on the market were basket fryers. Now, air fryer ovens like the one I have, have burst onto the scene and become quite popular. These 2 different types of ovens cook foods differently and at different rates.
I recommend referring to your model's owners manual/recipe book for cooking times. And of course if you're unorganized like me and don't have that laying around, just perform a quick google search. Start with the lowest average answer you find online, increasing cooking time as needed. You can always add time but you can't take time back, and there's nothing worse than dried out over cooked chicken 😉
The cooking times I recommend here are for approximately ¼ lb cutlets in a Breville Smart Oven Air. I cooked for 8 minutes on one side, flipped, and cooked for an additional 4 minutes, for a total of 12 minutes. If you are using a basket air fryer, which tend to cook a little quicker, your cooking time will likely be between 8-10 minutes.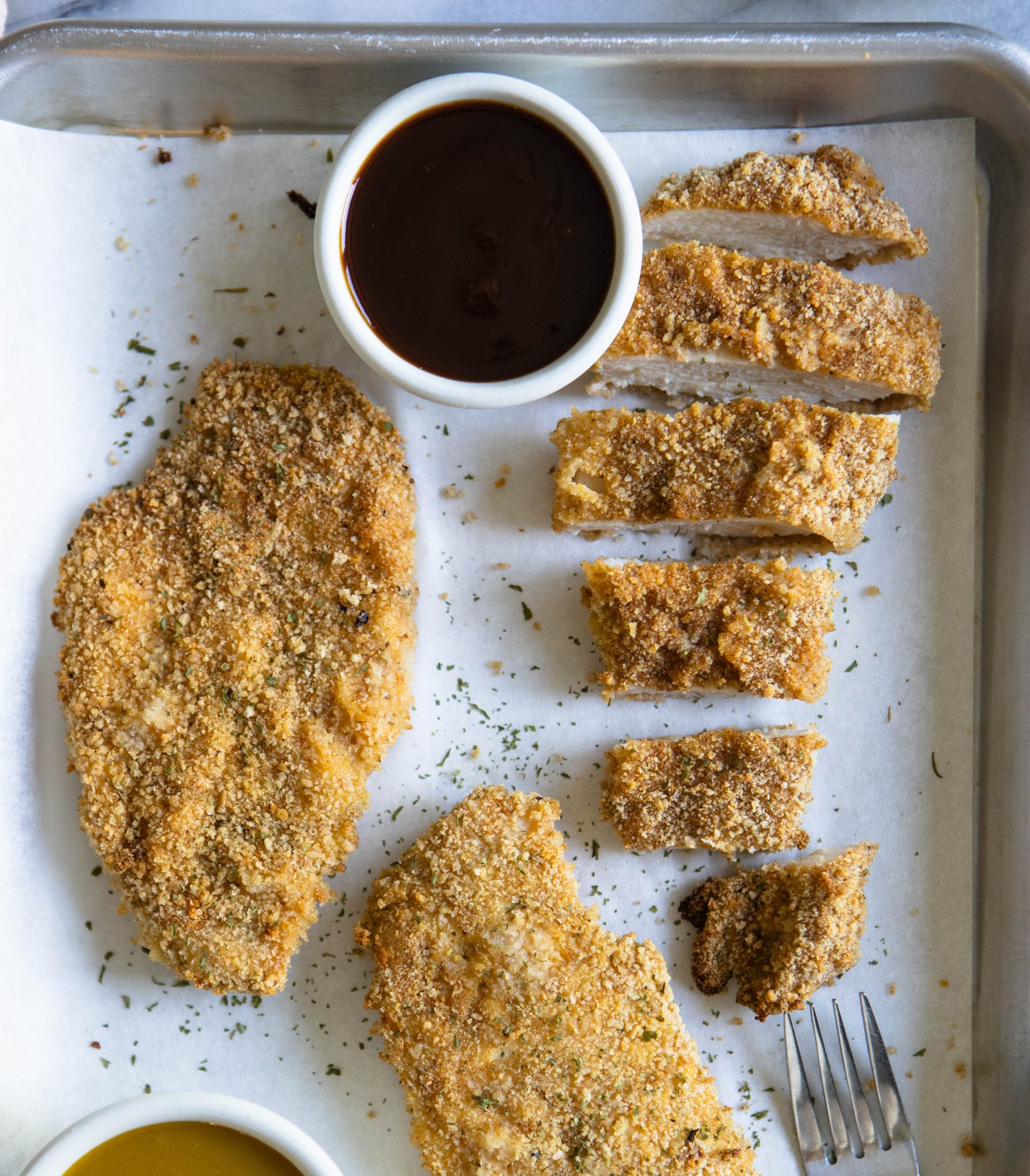 A Note About first Brining Your chicken
I always aim to make my recipes as simple as possible, so I'm including these instructions as optional but highly recommended haha! If you have time to prepare, I really recommend you always first brine your chicken before frying, baking, or grilling. It makes a world of difference!
To brine, simply add 2 heaping tablespoon of kosher salt to 2.5 cups of water and heat till salt is dissolved. Allow to cool. Place chicken breasts/cutlets into a Ziploc bag or covered pot, and add briny water. Allow to sit in brine for anywhere from 1-8 hours. When ready to cook, simply remove chicken from water, give it a rinse and prepare as usual.
Brining adds a TON of flavor to the chicken, plus makes them juicier and more tender. I believe in brining so much that I am in the process of writing a whole post on it, and will link to it here when complete.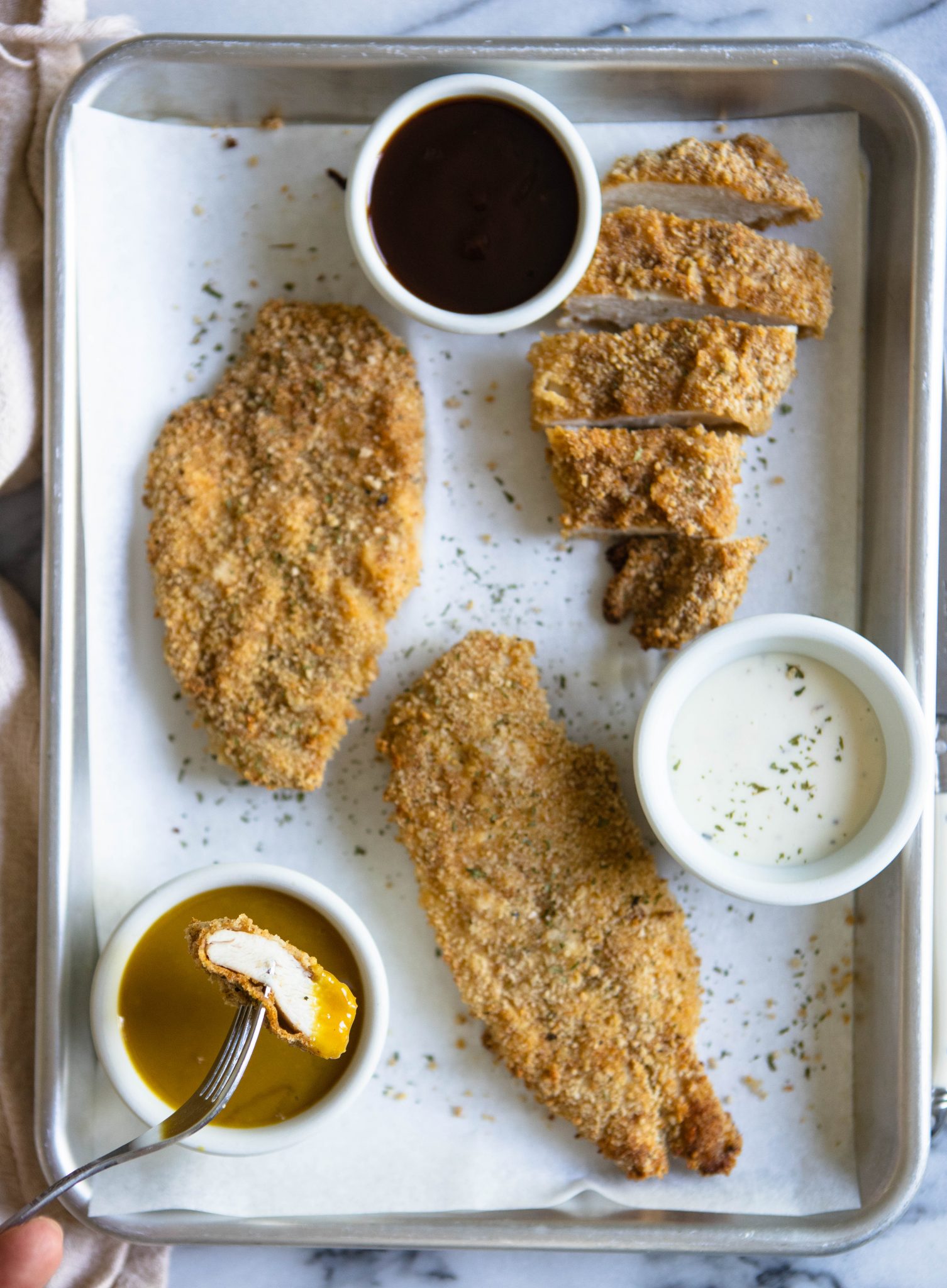 other cooking tips
If you are cooking in a basket air fryer, make sure to avoid overcrowding, and place chicken in a single layer. This may mean you have to work in batches, but it will be worth it.
Avoid using too much or too little oil. This is why a spray oil is ideal for delivering the perfect amount of to your chicken during cooking.
If you're doubling the recipe to feed a crowd, I recommend making 2 separate batches of breadcrumb coating. If you try to make one large batch and bread 8 cutlets, the coating will likely get goopy and won't stick to the chicken cutlets correctly. Trust me, I've been there done that, so work in 2 batches.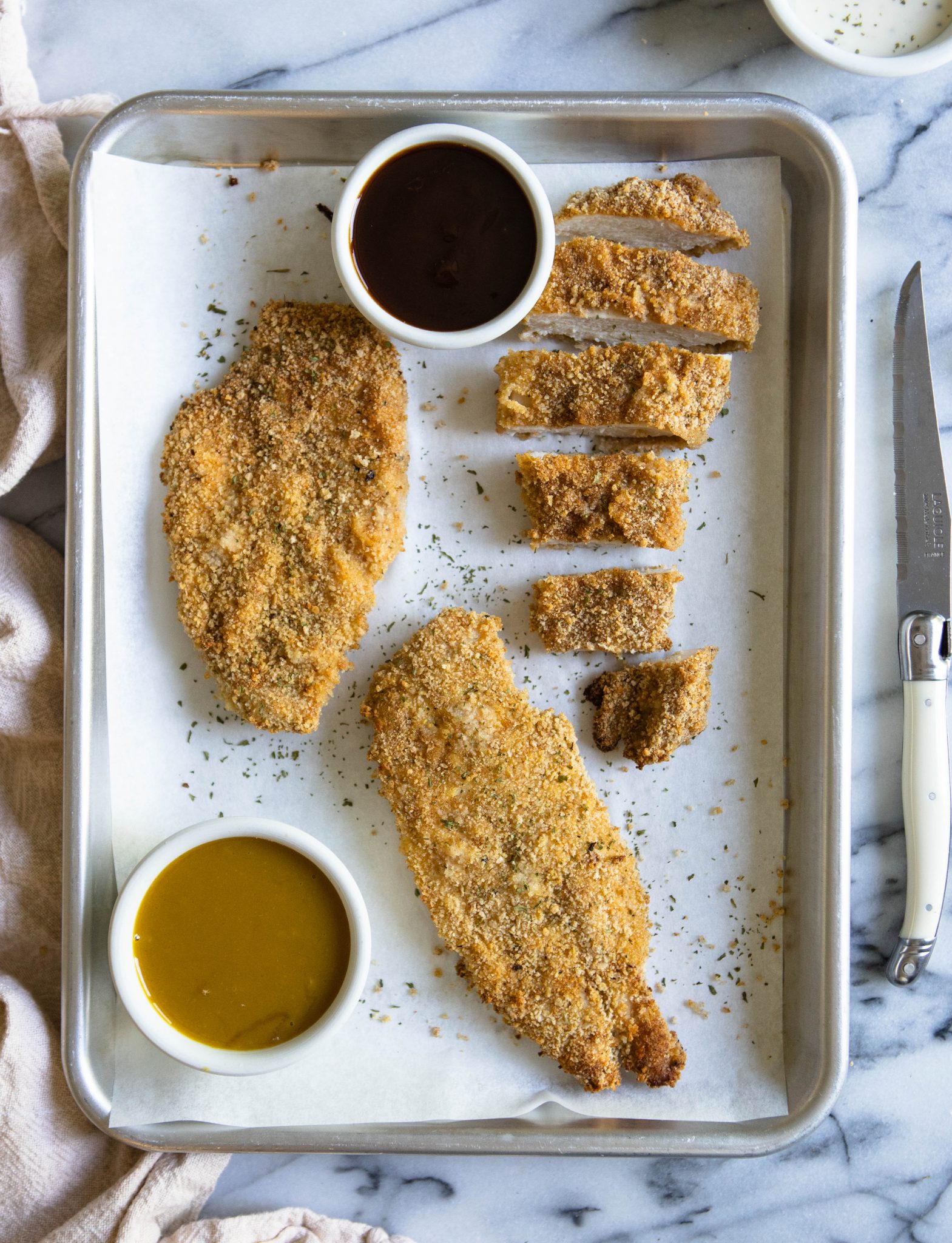 chicken cutlets in the air fryer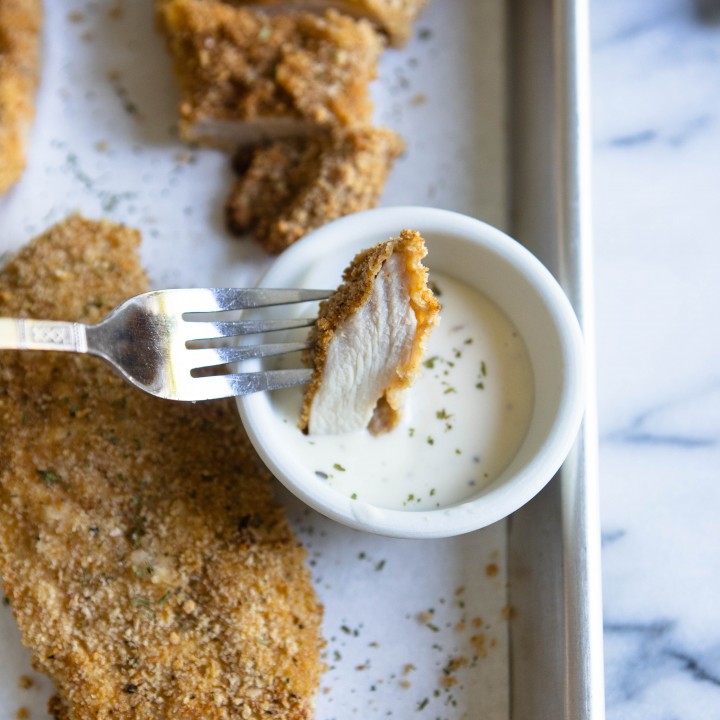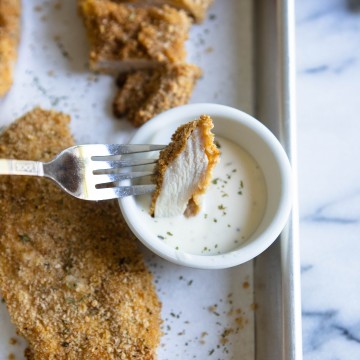 Chicken Cutlets In the Air Fryer
Chicken cutlets are brined and then coated in a perfectly seasoned breadcrumb mixture. Then cooked to perfection in the air fryer, resulting in a cutlet that is juicy, tender, flavorful and crunchy.
Print
Pin
Rate
Ingredients
2

Chicken breasts

fileted into 4 cutlets

1

Egg

whisked with a fork with a splash of water

1.5

cups

Panko bread crumbs

.5

cup

all purpose flour
Herb and Spice Mix
2

teaspoon

paprika

1

teaspoon

ground pepper

1

teaspoon

garlic powder

1

teaspoon

onion powder

.5

teaspoon

ground mustard

.25

teaspoon

basil

.25

teaspoon

thyme

⅛

teaspoon

cayenne
Instructions
Optional but recommended first step is to brine the chicken. Combine 2 tablespoon of kosher salt with 2.5 cups of water, and warm till dissolved. Allow to cool, and pour brine over chicken placed in a Ziploc bag or pot with lid. Allow to sit for 1-8 hours. When ready to use, remove from brine and rinse with cool water.

Filet chicken breasts in half to make cutlets, by inserting a knife half way through the breast, and cutting in half. Gently pound with a mallet to even out cutlet, if some parts are thicker.

Combine ingredients for herb and spice mix in a small bowl.

Place flour and bread crumbs in 2 separate shallow bowls, and add half of the spice mix to each. Mix well to combine.

In a 3rd shallow bowl, whisk the egg and a bit of water.

Begin the dredging process of each cutlet by dipping a cutlet in the flour, covering all surface area, then dipping in the egg wash, and finally, dipping in the bread crumbs, ensuring you cover the entire cutlet as best as you can. Place on a baking sheet until ready to cook.

Heat your air fryer to 390 for a basket fryer, and 400 for an oven fryer. Place chicken cutlets in a single layer on the basket and lightly spray with olive oil or vegetable oil. Cook for 4 minutes for a basket fryer, and 8 minutes for an oven fryer.

Remove chicken from the oven, flip the cutlets, and spray the other side. If you have a thermometer, now is a good time to check how well they are cooked. Return to the fryer and cook for an additional 4-6 minutes, until internal temperature reaches 160 degrees. Serve immediately.
Notes
If you are cooking in a basket air fryer, make sure to avoid overcrowding, and place chicken in a single layer. This may mean you have to work in batches, but it will be worth it.
Avoid using too much or too little oil. This is why a spray oil is ideal for delivering the perfect amount of to your chicken during cooking.
Nutrition
Serving:
1
cutlet
|
Calories:
299
kcal
|
Carbohydrates:
30
g
|
Protein:
30
g
|
Fat:
5
g
|
Saturated Fat:
1
g
|
Cholesterol:
113
mg
|
Sodium:
313
mg
|
Potassium:
503
mg
|
Fiber:
2
g
|
Sugar:
2
g
|
Vitamin A:
196
IU
|
Vitamin C:
5
mg
|
Calcium:
53
mg
|
Iron:
2
mg
more delicious chicken recipes
Let's Connect!
Follow along with me on Instagram! And if you make this recipe be sure to use the tag #howeweliverecipes so I can check it out! I love seeing what you're making!