You are going to love these easy high protein pancakes, without protein powder. They are the perfect serving size for 1-2 people, are quickly made in the blender, and taste delicious! The best part is a full serving has over 20 grams of protein, making it the perfect healthy breakfast option!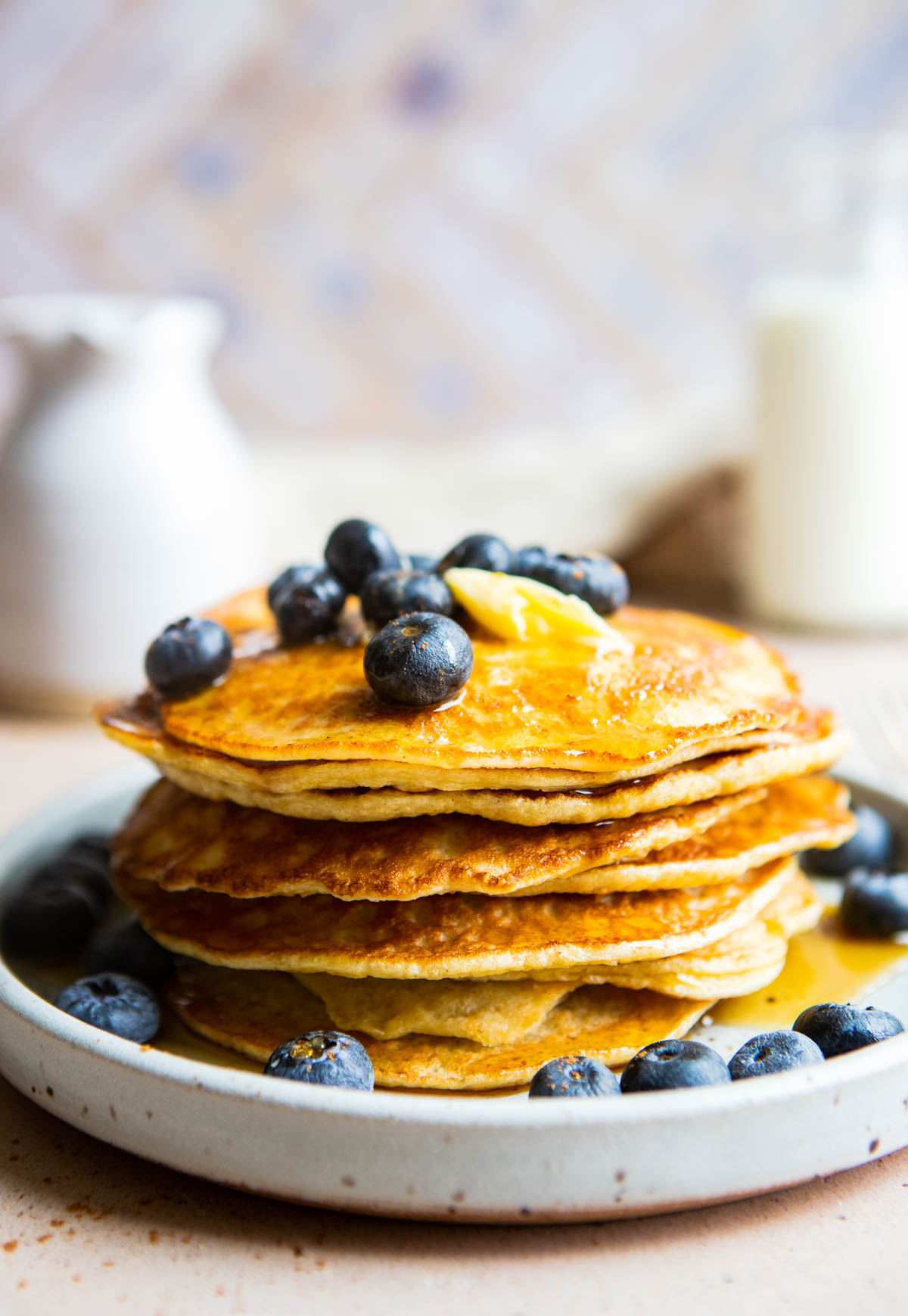 I'm always looking for new high protein breakfast ideas that aren't eggs. This has led me to experiment with a lot of different protein pancake and waffle recipes, and this one is a definite fave.
The texture of these protein pancakes is a lot like a crepe. They are light and airy, thinner pancakes that aren't dense, which is a good thing in my book. I love an old fashioned diner pancake, but usually tap out after eating just one because they are so filling.
But don't let the light and airy texture fool you. These nourishing pancakes are filling and hearty. This easy recipe will give you the energy to perform in mental or physical tasks, allowing you to conquer your day. And they will leave you satiated for hours.
Jump to: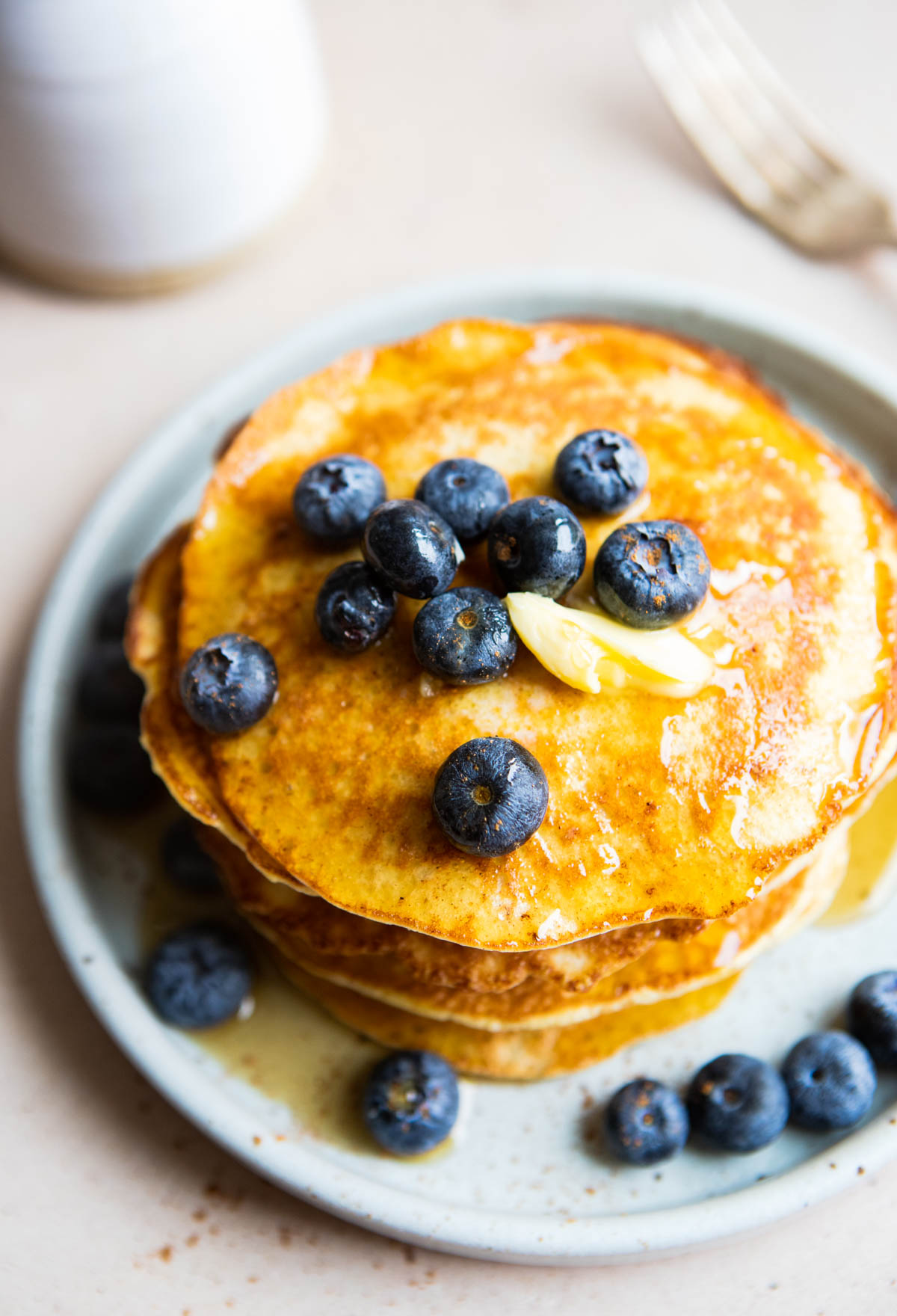 Why make protein pancakes without protein powder
Protein powder is a quick, convenient and affordable way to add digestible protein to your diet. Supplementing your diet with a protein smoothie or overnight protein oats is an easy way to add protein in a way that doesn't at all alter the flavor of your foods.
But too much of a good thing isn't always great. Consuming too much protein powder may cause digestive issues, especially if it includes sugar alcohols in their ingredients. Cramping, bloating and gas can be a side minor, but annoying side effect of consuming too much protein powder.
And although there are many great brands on the market that contain high quality ingredients, protein powder is still a processed food. I like to stick with whole foods whenever possible. I limit protein powder supplementation to when I need a quick and convenient meal replacement, and usually no more than once a day. And the truth if you're already cooking pancakes at home, may as well add in real whole ingredients if you can! You'll get just about the same protein content.
With that being said, I do like adding a scoop of whey protein powder to regular pancakes to quickly add in more protein to our breakfast. At the end of the day, I think it's always great to have both options!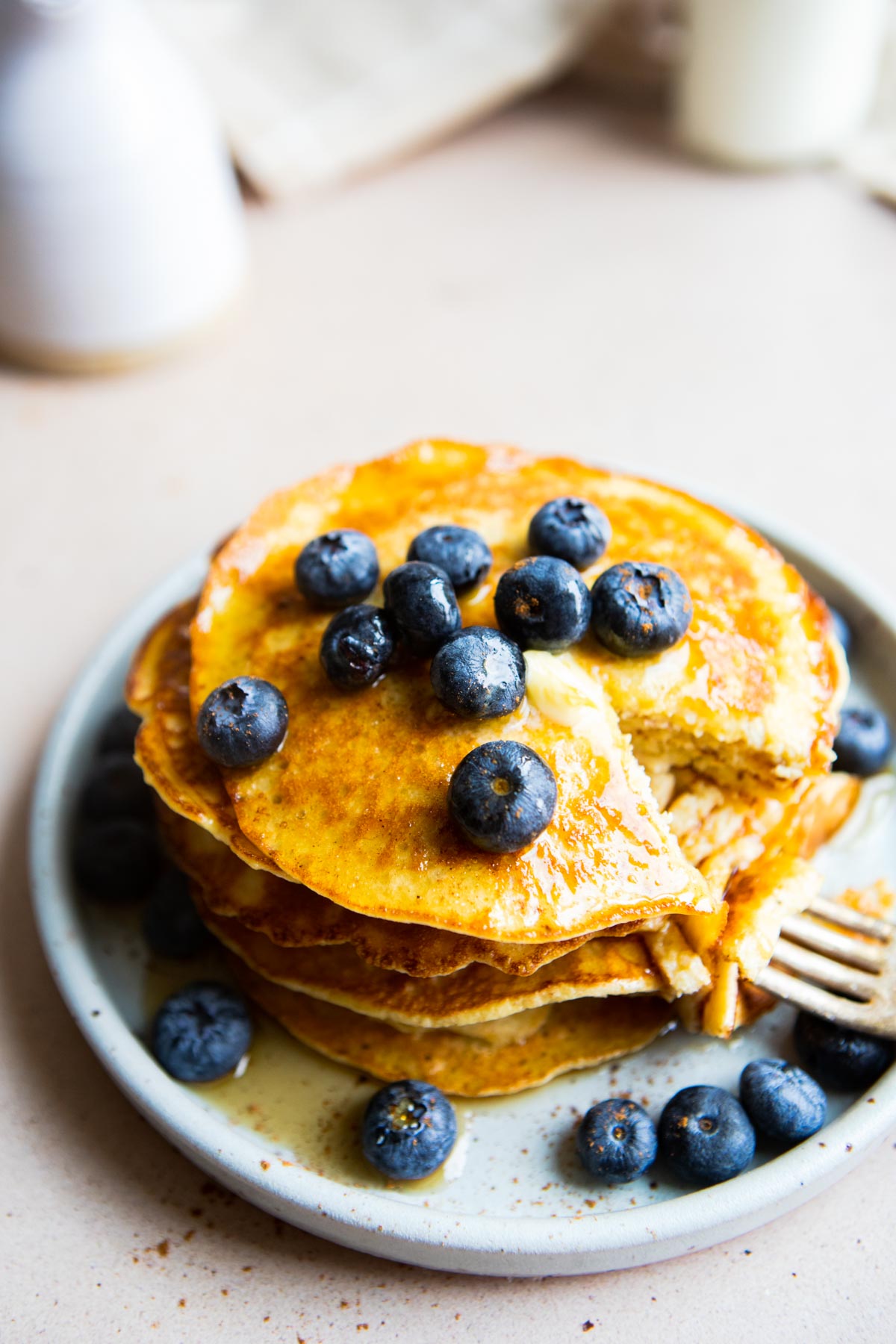 Why you'll love these protein pancakes
Quick and easy to make – blend and cook up, all in less than 10 minutes. Clean up is a breeze, and you'll likely have all the simple ingredients on hand! The perfect recipe for busy mornings!
Great macro breakdown – a great ratio of protein (21g) to carbs (15.5 g) to fat (7.5 g), this recipe has all the components to give you sustainable energy, fuel your hormones and fill you up.
Did I mention they taste great?! They have a light and fluffy texture that can work with either sweet or savory toppings.
Ingredients for this recipe – no protein powder needed!
Rolled oats – feel free to use traditional or quick cooking oats, and make sure they are gluten-free if you are avoiding gluten. This gives the pancakes structure and provides fiber-rich carbs. I do not recommend using steel cut oats, as they do not blend up as easily.
Cottage cheese – a great source of low fat protein and adds moisture and fluffiness to the pancakes. Sub in Greek yogurt if you don't have cottage cheese on hand.
Whole egg and egg whites – I always use boxed egg whites as to not waste the yolk.
A pinch of salt and a little bit of cinnamon and vanilla extract, if you wish. Nutmeg or pumpkin pie spice would be great as well! Or make the pancakes a bit more savory by adding your favorite dried herbs and spices.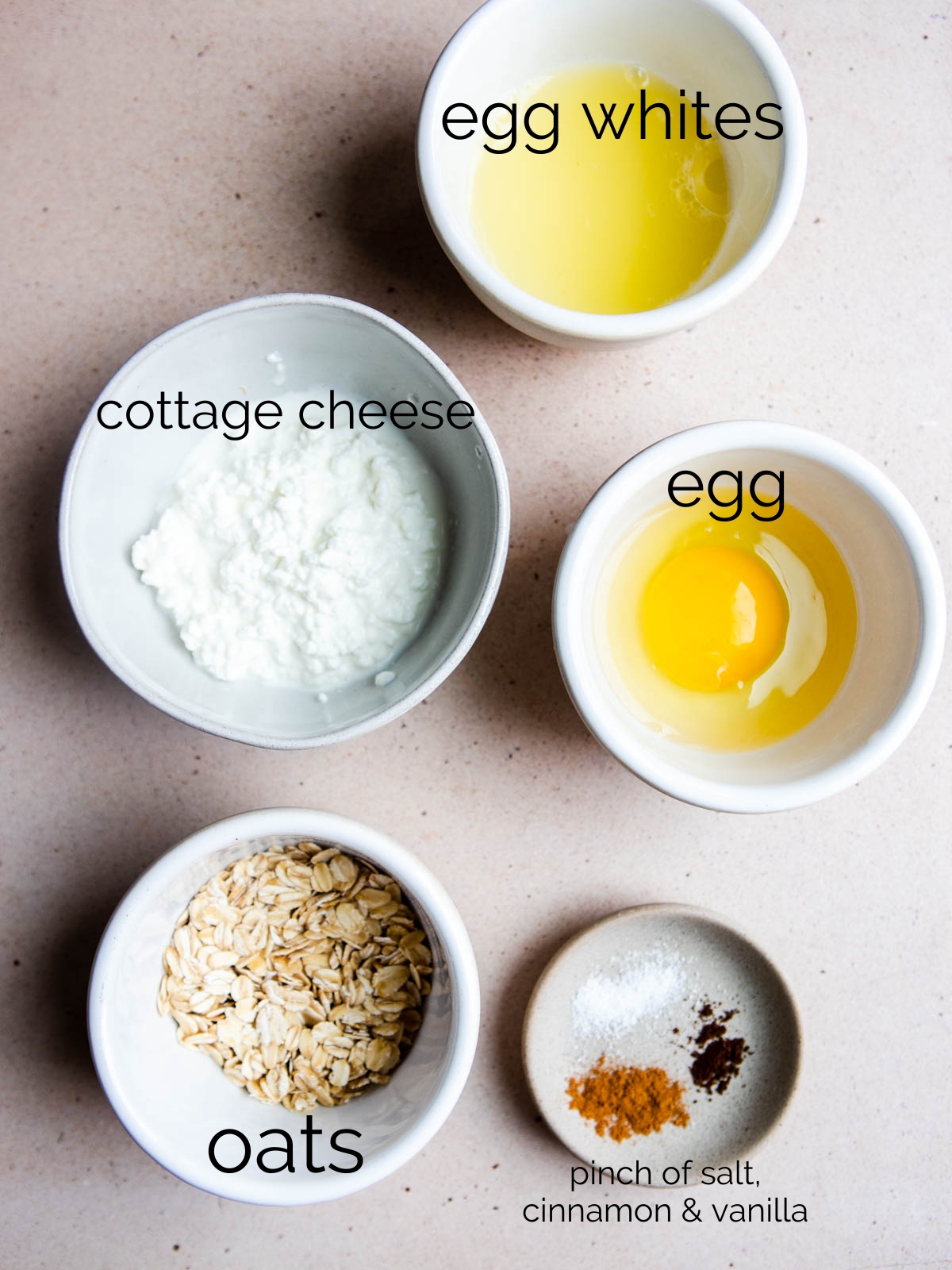 How to make these easy healthy pancakes
Making this delicious protein pancakes recipe couldn't be easier. Simply add all ingredients to a small blender and blend the mix till smooth. You will definitely need to use a blender or a food processor because of the oats.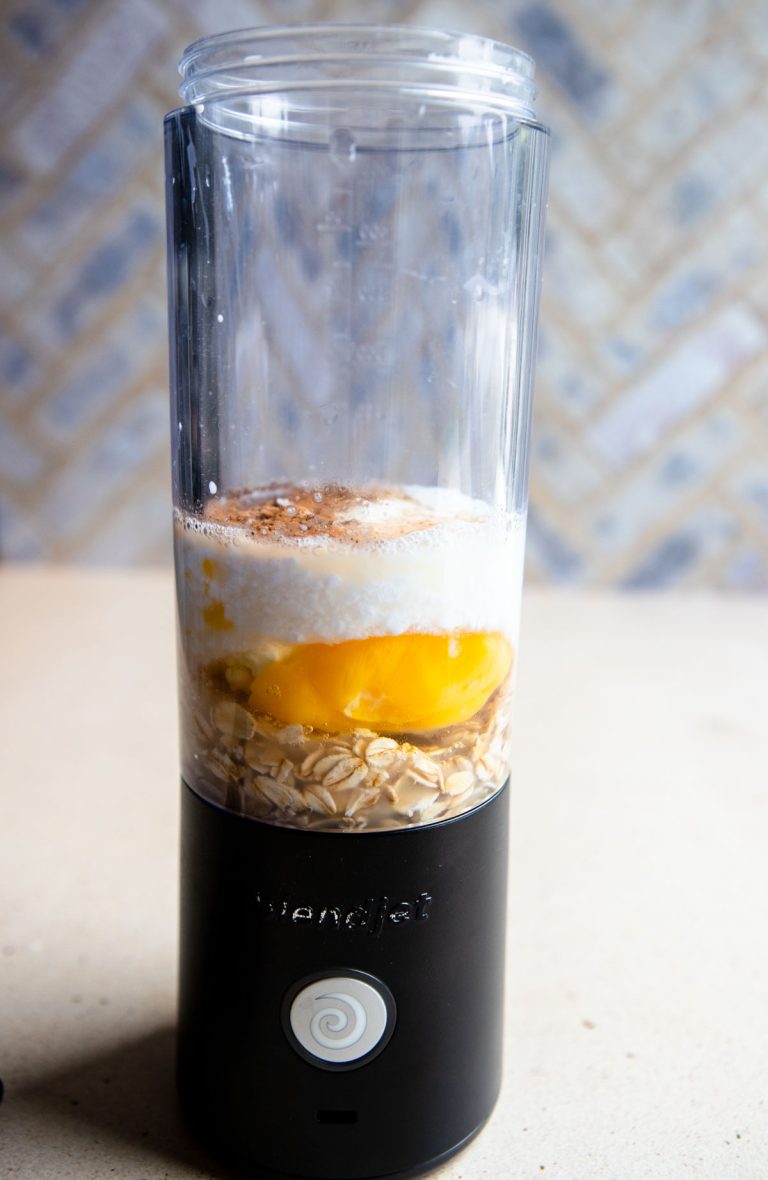 Heat a nonstick skillet on medium low heat and add a tablespoon of butter, coconut oil or preferred cooking oil. When the pan is warm, pour in enough pancake batter to make a 4″ pancake. The pancake batter will be a bit on the runny side, so take care when pouring into the pan, and be okay if they aren't perfectly round. You should be able to cook 2 pancakes at a time in a standard skillet.
Cook for about 2 minutes on each side, till golden brown and cooked through.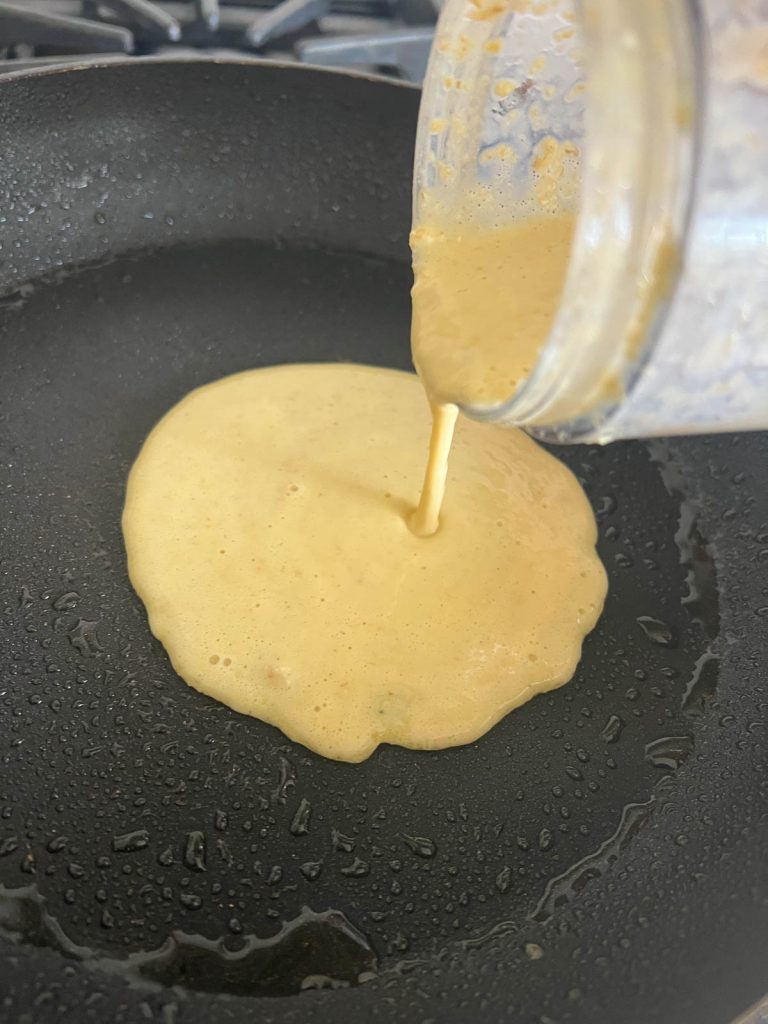 The batter should make about 6-8 thin pancakes, so enough for 1-2 people.
Serve the traditional way, with a pad of butter and some wholesome real maple syrup. Or add a scoop of yogurt and your favorite toppings, including fresh fruit, chocolate chips or nuts. Either way, you will love these quick and delicious homemade pancakes.
Are protein pancakes really healthy and good for you?
Eating a high protein breakfast is one of the best things you can do for yourself. Multiple studies show that consuming protein in your first meal of the day increases satiety, reduces cravings supports muscle synthesis. If weight loss is the goal, studies have shown it can also help with that! Lastly, it can also help manage blood sugar levels. Studies have found that protein slows down the body's absorption of carbohydrates, which helps to keep blood-sugar levels more even.
So to answer the question, yes protein pancakes are healthy and definitely worth the few minutes it takes to make them! This recipe in particular contains healthy ingredients that are full of nutrients, healthy fats, fiber filled carbs and of course protein! Enough protein to help you feel full and satisfied, so you'll have less cravings plus have a productive morning. Who wants that 10 am slump after pounding a sugary muffin or coffee drink?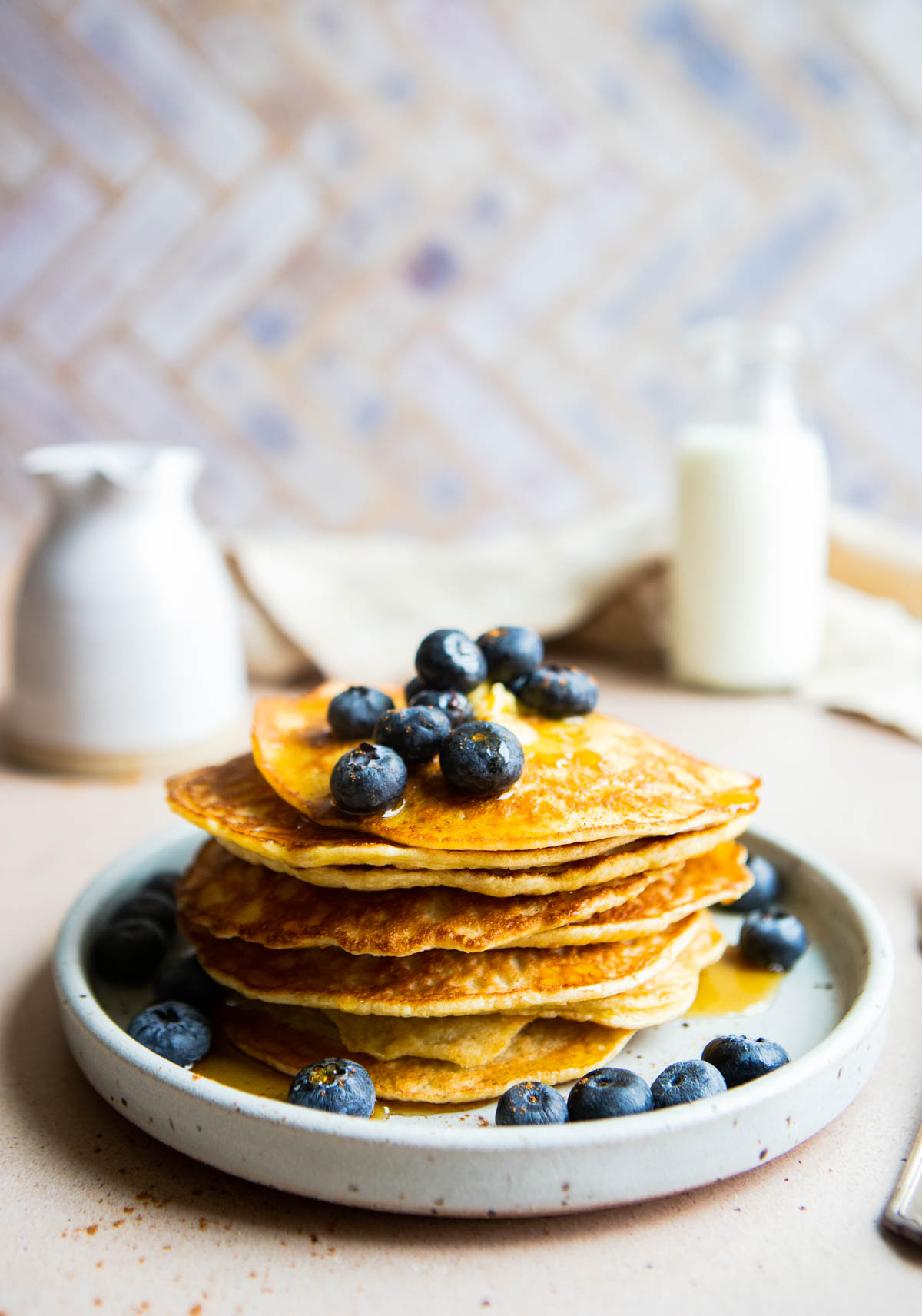 Expert tips
To make the pancakes a little less runny and more dense, either add more rolled oats, a tablespoon at a time. Or add a couple of tablespoons of gluten free or all purpose flour.
If you don't have cottage cheese on hand, feel free to sub in Greek yogurt.
Pancakes taste best when fresh, but if you do want to make a batch to save, store in an airtight container in the freezer or fridge. Reheat in a toaster oven or directly on a warmed griddle.
Feel free to customize your protein pancakes by adding a bit of shredded cheddar cheese to the batter (after blended), or chocolate chips. Basically, treat it as you would any other pancake batter and mix in or top with your favorite ingredients.
I hope you enjoy this healthier alternative to my traditional buttery, fluffy pancake mix! I honestly love them and feel totally satisfied and like I met a craving when I eat them. Will they stand up to the best tasting pancake from your favorite greasy spoon? Maybe not, but I can guarantee you they will leave you feeling better, and that is often worth more than anything! Indulgences are fun and great, but for every day nourishment, I'll stick to good foods like these.
If you agree and loved these, please consider leaving a rating on the recipe card below!
More High Protein Meals
Tried this recipe? Please leave a comment and/or rating, letting me know how you enjoyed it! Connect with me on Instagram and Pinterest, and never miss a post by signing up for my weekly newsletter!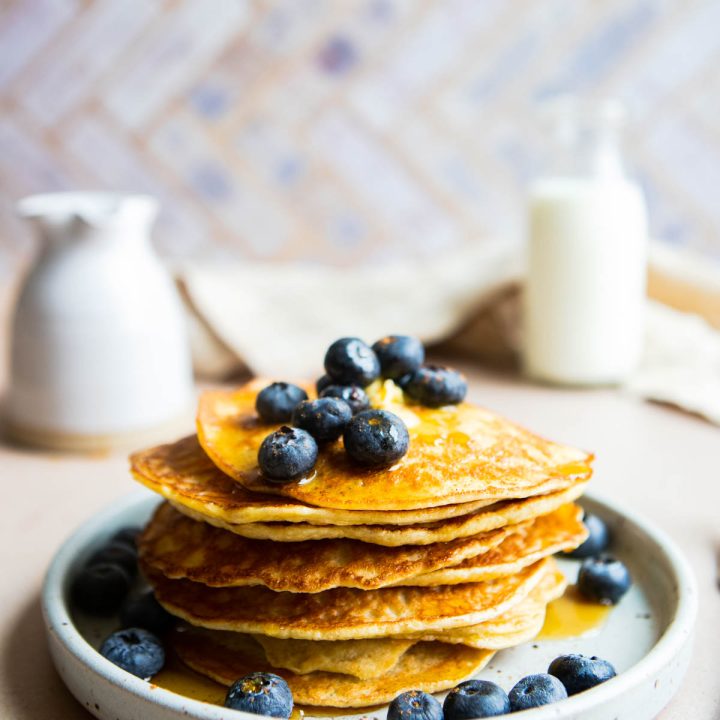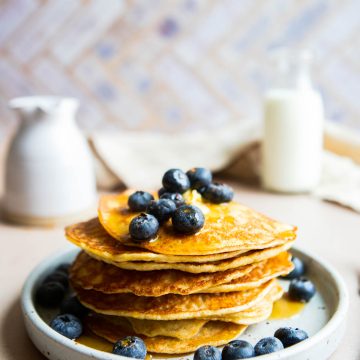 Protein Pancakes (Without Protein Powder)
Easy 5 ingredient high protein pancakes made without protein powder. Over 20 grams of protein per serving and ready in less than 15 minutes, it's the perfect healthy breakfast option.
Print
Pin
Rate
Ingredients
1

Egg

3

tablespoon

Egg whites

¼

cup

Rolled oats

¼

cup

Lowfat cottage cheese

pinch of salt, cinnamon and a splash of vanilla extract
Share by Text
Instructions
Add all ingredients to a blender and blend until smooth

Heat a medium to large skillet on medium-low heat and add 1 tablespoon of cooking oil, butter or coconut oil. Gently add in pancake batter to form a pancake about 3"-4" in diameter.

Cook each side until golden brown, about 2 minutes per side. Serve immediately
Notes
You can substitute Greek yogurt for cottage cheese.
Nutrition
Calories:
102
kcal
|
Carbohydrates:
8
g
|
Protein:
10
g
|
Fat:
3
g
|
Saturated Fat:
1
g
|
Polyunsaturated Fat:
1
g
|
Monounsaturated Fat:
1
g
|
Trans Fat:
0.01
g
|
Cholesterol:
83
mg
|
Sodium:
183
mg
|
Potassium:
127
mg
|
Fiber:
1
g
|
Sugar:
1
g
|
Vitamin A:
130
IU
|
Calcium:
36
mg
|
Iron:
1
mg