This dish is one from my childhood, and has been one enjoyed by my family for as long as I can remember. I'm sure before I had the ability to chow down hard-shelled tacos, I was at least eating the filling of these tacos, and so I can confidently say this recipe easily stands the test of time. It's also one of the recipes I make that isn't an actual recipe, and can be made from memory in a hurry and under pressure. It's also so tasty, your family likely won't complain when you make it at least 2-3 times a month. So let's get on with it, shall we?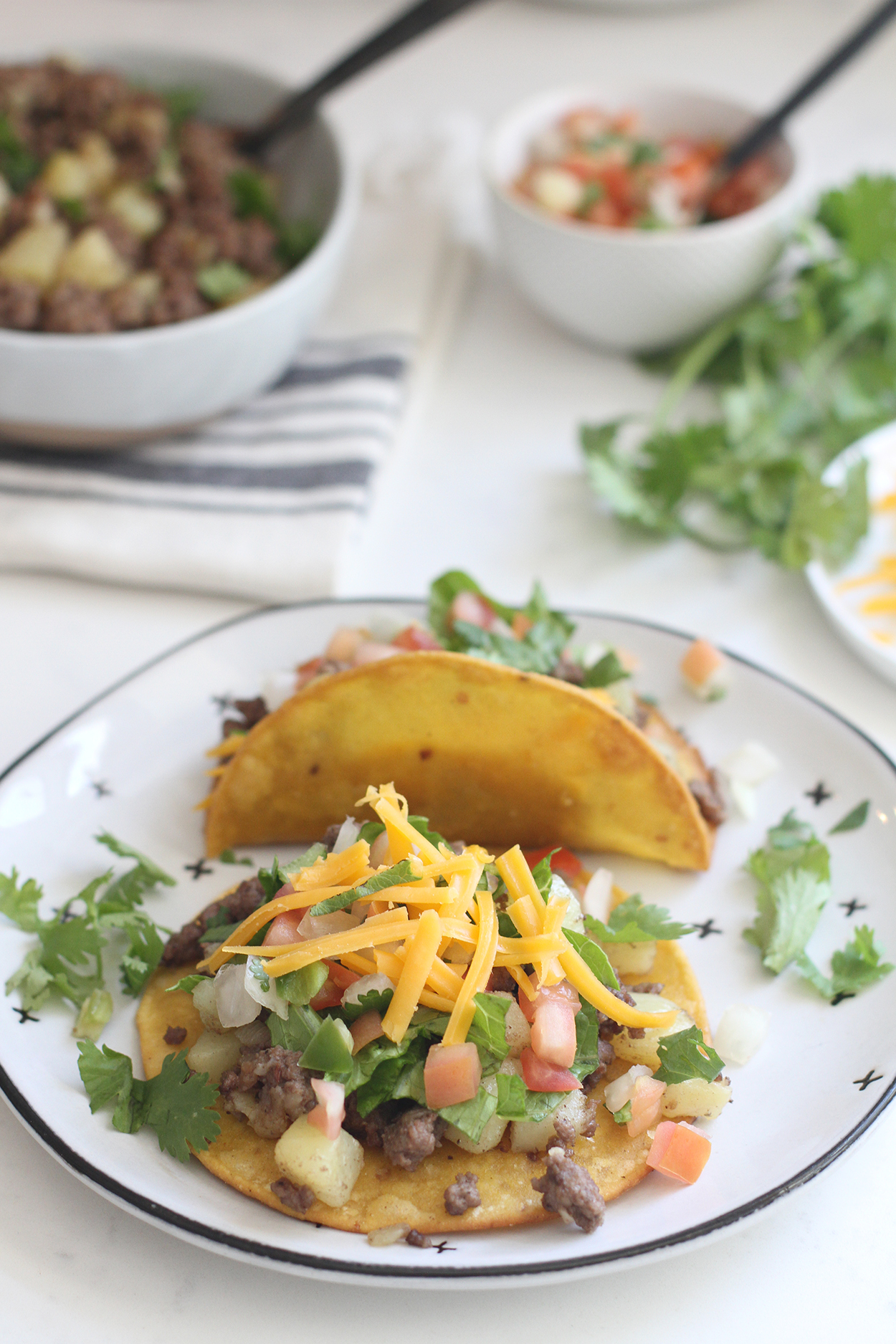 From a very unscientific poll I conducted on Instagram, it appears that adding potatoes to tacos is a regional thing and doesn't happen all over the country. No matter though because you will appreciate the potato trick in that it stretches a single pound of ground beef to feed a larger family, while in no way sacrificing flavor.
My mom and grandma have always cooked up the diced potatoes first, before adding the ground beef, and so I too cooked them this way for many years. But my results were often inconsistent, ending in potatoes that were either under cooked or overcooked with a charred edge. They never seemed to come out steamed and soft like my grandma's and moms did, I suspect because I was always too impatient.
But I recently discovered a new method that works for my impatient ways and still produces a nice and soft potato with a texture of one that has been steamed, perfectly complementing the texture of the ground beef. So what I now do is dice the potatoes, add them to a microwave safe bowl, add a pinch of salt and microwave for a few minutes before adding to the frying pan. If you don't have a microwave though, you can still do it the way my grandma did, and cook the potatoes in a covered frying pan over medium low heat for at least 15 minutes, stirring often until potatoes are fork tender but not mushy.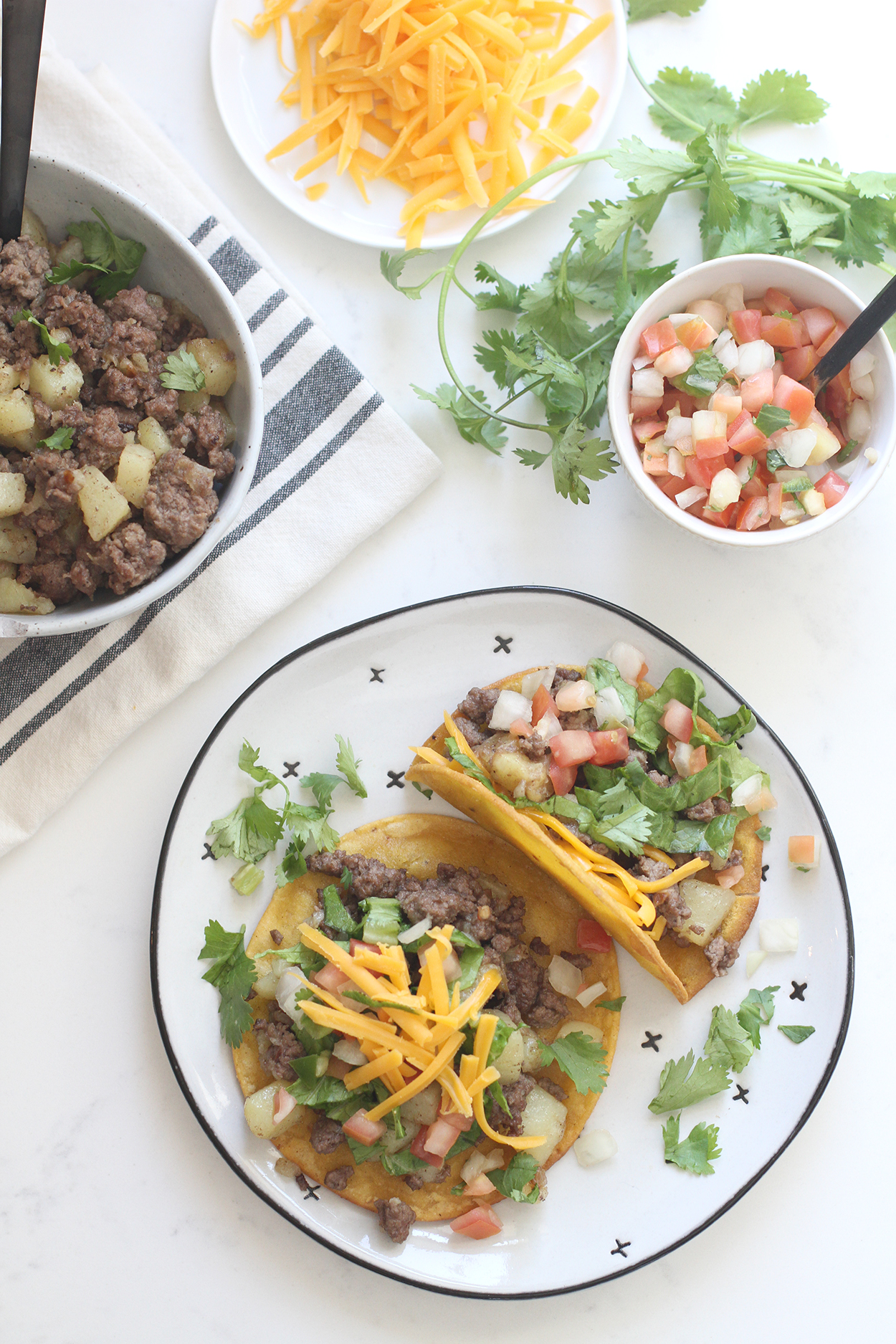 If you wish to have leftovers to use the filling for taco salads or to add to scrambled eggs the next morning, double the recipe, but the recipe as is easily feeds 4 people eating at least 2 tacos each. That is the absolute beauty about tacos; a bit of meaty filling really does go a long way once you add in toppings.
I hope your family enjoys these tacos as much as mine does, and has for generations. Please let me know if you have any questions, and certainly let me know if you give them a try!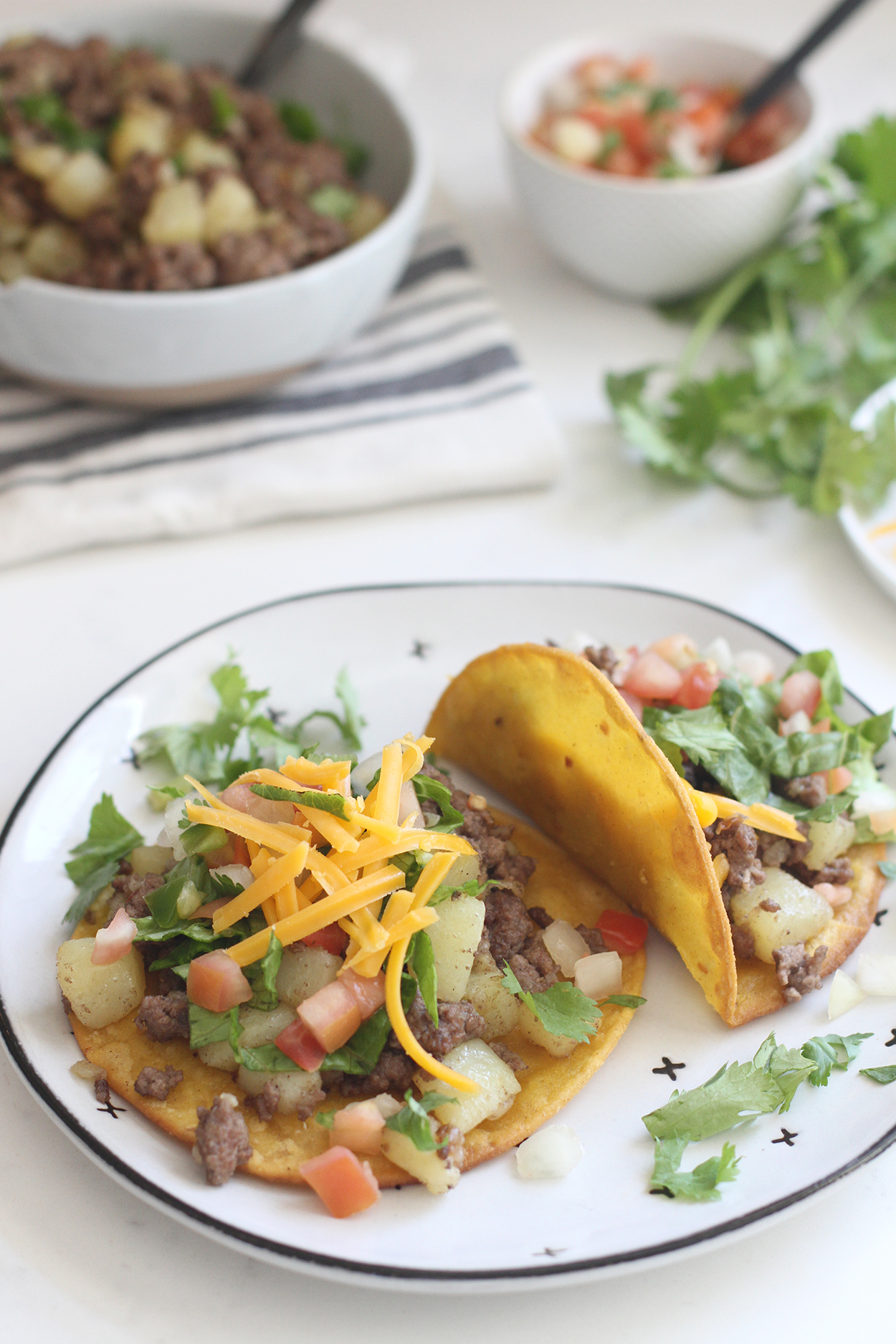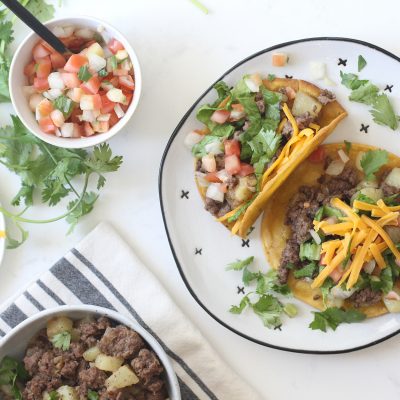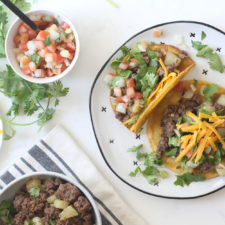 Print Recipe
Beef & Potato Tacos
A quick and satisfying weeknight dish that will feed even the pickiest members of your family.
Ingredients
1

lb

ground beef

grass fed if you can swing it

1/2

lb

white or russet potatoes

peeled & diced

salt & pepper

tortillas and toppings of choice including lettuce

cheese and salsa
Instructions
In a microwave safe bowl, add the diced potatoes and stir in a pinch of salt.

Microwave for 6-8 minutes, gently giving the potatoes 1-2 stirs halfway between cooking (if you stir them too vigorously, you will release their starches and the potatoes will start sticking together as they cook)

Heat up a large skillet over medium heat and add a small swig of cooking oil.

Add in the potatoes and give a quick stir in the oil.

Add in the ground beef, making sure to break apart meat into smaller chunks as you cook it all the way through.

Add in salt & pepper to taste and serve inside warmed taco shells or on top of a salad.

Add toppings of choice.