This ultimate smoothie guide will teach you how to make the best smoothies at home! From tips, to how to order your ingredients, recipes and more so you can make a healthy, delicious smoothie whenever you want.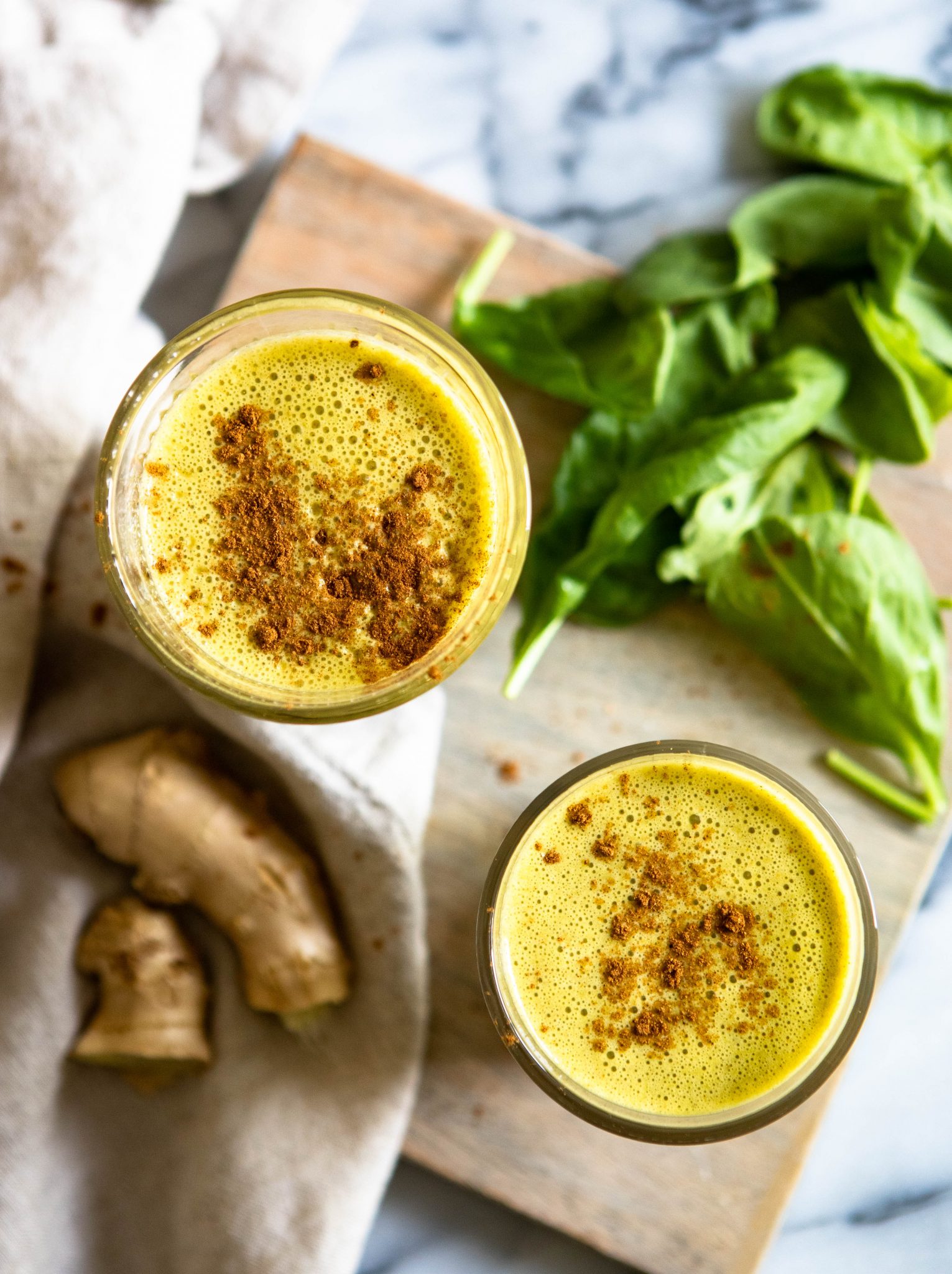 Smoothies are not a new concept, however, building the perfect healthy smoothie to enjoy for breakfast does require a bit of know how. And if you are thinking smoothies are just a calorie bomb with lots of added sugar I'm going to show you the light with this ultimate guide to making the perfect healthy smoothie at home.
And I thought why not start 2021 out on the right note? Let's cheers goodbye to 2020 in a healthy way and ring in the New Year with a creamy, nutrient-packed smoothie.
In this post I'm not just sharing another recipe with you (but I have a few of those at the end!) but sharing instead more of a "how to" tutorial. You know more a of teach you how to fish sort of thing. So I want to show you how to build the best smoothie, what you can add to a smoothie, tips on how to make delicious, creamy smoothie, and more.
Are Smoothies Healthy?
Smoothies are definitely a healthy snack or quick meal that can be chock full of nutrients. Of course the best smoothies are ones with made with whole fruits and vegetables, yogurts and other types of protein, and healthy fats, . To make the best healthy smoothie you want to avoid or limit adding additional sugar or overloading them with fruit.
And smoothies are a great vehicle to add in extra protein and fiber to your diet.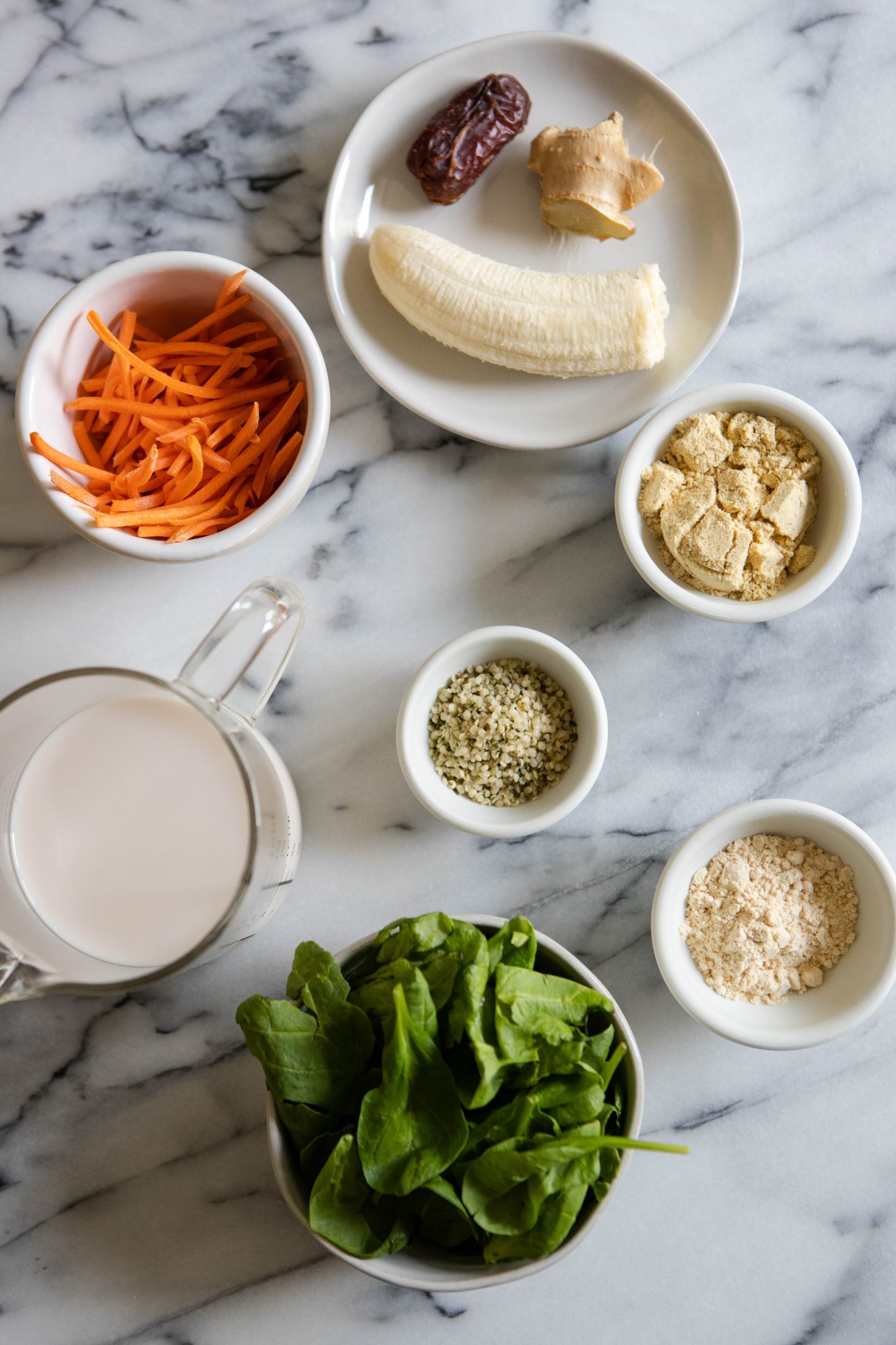 Basic Smoothie Ingredients
When it comes to making the perfect healthy smoothie, it really comes to the ingredients and the order you add them in (which we will cover next). So let's talk about the main ingredients you need:
Liquid – You need some sort of liquid to make your smoothie. You can add a type of nut or oat milk, water, or coconut water. I recommend avoiding adding fruit juice, since it can add extra unnecessary sugar.
Fruit  – Basically any fruit will work, I just recommend keeping it to ½ cup or less. And you can decide to use fresh or frozen fruit depending on what you have and what's in season. Keep in mind though that there are plenty of smoothies that skip fruit all together too, if you're really watching your sugar intake.
Greens – This is an easy way to add in extra fiber and nutrients. Spinach is a personal favorite, but celery and cucumber or also wonderful. And while carrots aren't technically a green, they do fit in the healthy veggie category and add a nice flavor to a smoothie.
Thickener (Or Something Creamy)– A great smoothie is not just liquid fruit you can drink, but it's also creamy in texture. So you want to think about adding a creamy base to your smoothie to make it the best ever. And you have lots of options to make it creamy. Typical options include adding a banana, milk, or yogurt. But you can get adventurous and try adding avocado, kefir, or cottage cheese!
Proteins and healthy fats – your "power-up" ingredients are the add ins that really make the smoothie extra nutritious without really changing the flavor. This means they're great for kiddos! Protein powder, chia and hemp seeds, spirulina, flax seeds, and nut butters are all family favorites.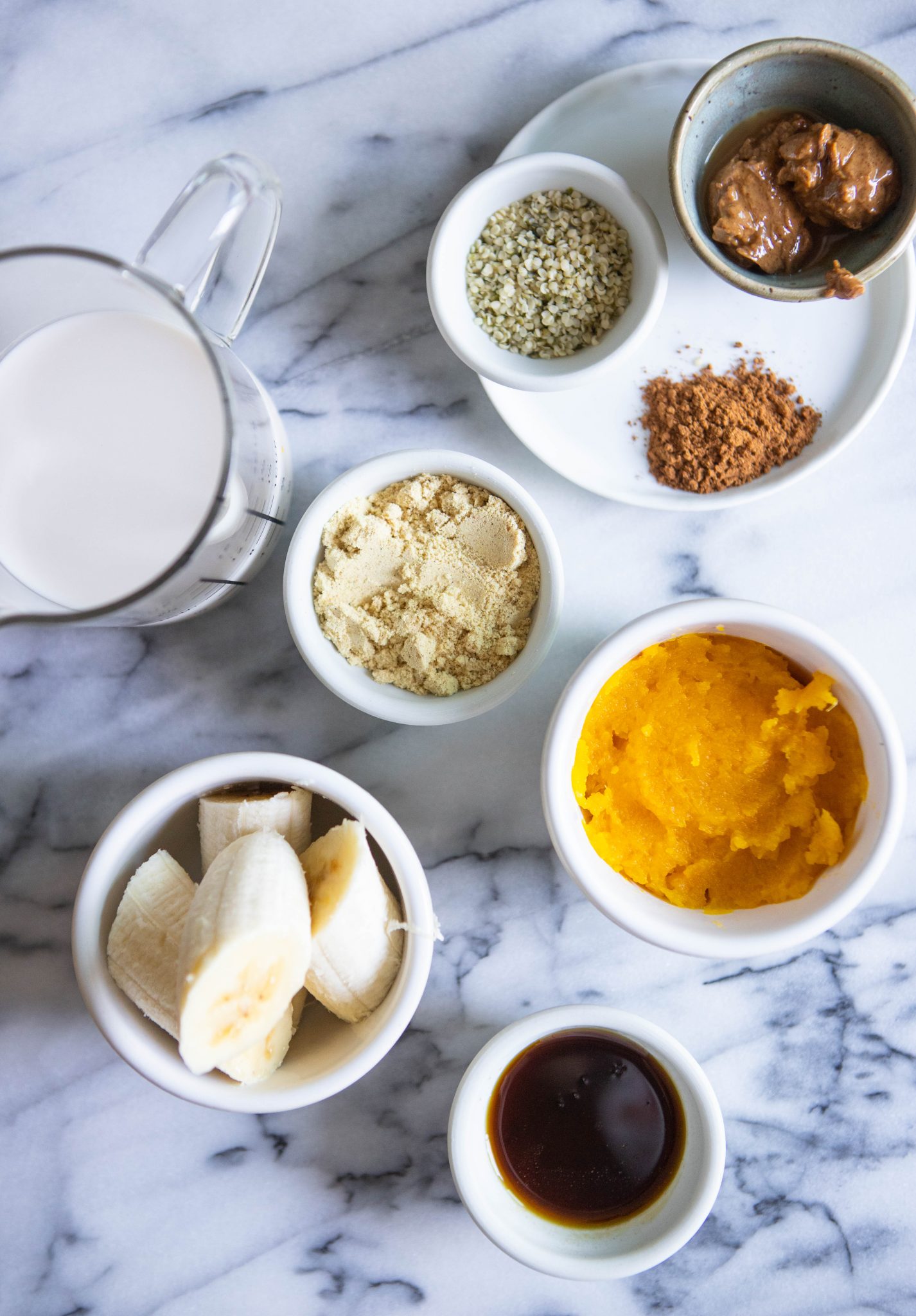 Smoothie Ratio
To get the best smoothie you want to make sure to also pay attention to the right ratio of ingredients you add, not just the type of ingredients. So here is a basic ratio to follow to achieve that recommended by Spruce Eats:
About 1 to 1 ½ cups liquid
Fruits and veggies, approximately ½ -1 cup total
About ½ cup thickener of some sort, think yogurt, coconut cream or even oats!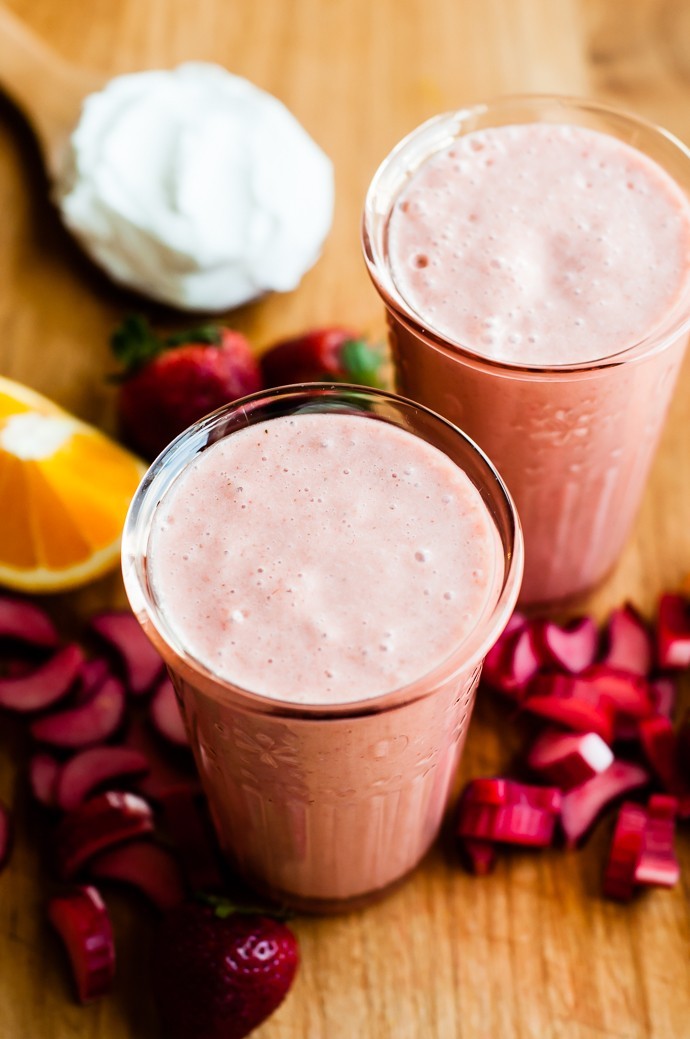 What Are The Steps To Making The Best Smoothie?
Making the best smoothie is all about layering the ingredients in the best possible order to ensure your smoothie is blended efficiently. Here is the order in which you should add your ingredients to your blender.
Liquid. Start by adding your liquid – water, milk or juice.
Protein. Add your protein powder (if using) and any sweetener (if using).
Greens. Add any leafy greens.
Soft Ingredients. Add yogurt (or any other soft ingredients, such as tofu or nut butters).
Fresh fruit. Fresh fruit is next (along with any nuts or seeds).
Frozen fruit. Frozen fruit or ice is last.
Are smoothies best with milk or water?
This really depends on the flavor profile you're working with. Personally, I use coconut water when I'm making more of a tropical flavored smoothie. Think ingredients like pineapple and mango. When making a smoothie using berries or bananas, I usually go with a nut milk. In the end it comes down to personal preference, as well as what you have on hand!
When really watching calorie intake, you could opt for plain water. However, I'd rather sacrifice a few calories for a more delicious tasting smoothie. The average smoothie uses about 1 cup of liquid, which would only save about 45 calories if you used water instead of a nut milk or coconut water.
Should I use ice in my smoothie?
You don't have to use ice. If you are using frozen fruit then you most likely will not need to as the fruit will chill the smoothie and add its own icy texture. And extra ice could just water your smoothie down.
If you are using fresh fruit, then you may need to add a handful of ice to get that icy, chilled texture you want in your smoothie.
TIPS FOR MAKING A GREAT SMOOTHIE AT HOME
Use Frozen Fruit If Needed. You can use a fresh fruit if you have it and it's in season, but frozen fruit helps to make a smooth, creamy smoothie in the end. And sometimes frozen fruit is better if it's a fruit not in season.
Don't Skimp On The Creamy Ingredients. Certain fruits, and ingredients like nut butters can make for a thicker creamier smoothie, and a great way to add in healthy fats
Adjust The Consistency! Sometimes after you have everything blended you need to adjust the consistency. Try adding more milk, or more ice. If it's not creamy enough try adding half a banana. Don't be afraid to adjust the consistency if needed.
Don't Overthink It. Whenever I make a smoothie, I'm always ready to just throw everything in and adjust as necessary. And if I'm out of an ingredient then I'll swap things out. But either way, have fun with this!
Blend On Low At First. This will depend on your blender and how powerful it is. But it might help to start blending on low at first, then turn it on high to help blend the ingredients more efficiently and quickly. My blender has a smoothie function and begins on low, then ramps up to high.
Liquids To Add To Your Smoothies
When it comes to liquids, it's really all about preference. To cut down on calories then you may want to simply add water.  For a bit of a creamier smoothie, then go with a milk. If allergies are a concern, then you can choose your type of milk accordingly. If you're making a Jamba Juice like smoothie for your kids, you can get extra flavor, by adding a small amount of fruit juice.
Remember: Liquids are added first to your blender. 
Here are some liquid options to try in your next smoothie:
Water – This is of course always the easiest, cheapest, and lowest calorie option to add when you have nothing else to add. However water won't add any extra flavor or help with achieving the creamy desired texture.
Milk– If dairy isn't an option you can add regular dairy milk. If you want to keep the calories down then opt for a lower fat milk. Adding milk will also help add nutrients and protein.
Non-dairy milk – If dairy is a concern then use a non-dairy milk such as almond, coconut, or soy milk. This will help achieve a creamier texture and be an added boost of protein as well.
Coconut water – This is healthy liquid that's full of electrolytes you can add. It won't add a creamy element, so you might want to consider adding something else to help make it creamy like a banana!
Iced Coffee/Tea: If you are used to starting your morning off with a boost of caffeine, why not add it to your smoothie instead? And besides the caffeine it will also add flavor as well. Just make sure it's been chilled first and not hot!
Juices: Of course a perfect liquid to add to your fruit smoothie is fruit juice. Just be wary of the all the added sugars that juice can bring to the party. Fresh squeezed is best if you can add it. And really any juice will do – pineapple, orange, apple, pomengranate – whatever you like!
Fruits To Add To Your Smoothies
You can decide to add fresh or frozen fruit to your smoothies. Sometimes fresh isn't always best! If the fruit you want to add isn't in season, then frozen is actually a better bet. And by adding frozen fruit, you don't have to even add ice!
Of course you can add a variety of fruits to your smoothies. Fruit not only adds flavor, but also nutrients and can act as thickener. Some of the best fruits to add to your smoothie to thicken it are: bananas, avocados, peaches, mango and coconut.
And if you are adding greens, they can actually help break down the greens making a green smoothie much easier on your digestive system.
You can even add dried fruit to your smoothie, but you will need additional liquid to your smoothie if you do. 
Here are a few options of different fruits you can add to your smoothie:
Apples
Mango
Strawberries
Pineapple
Papaya
Cherries
Peaches
Raspberries
Blackberries
Bananas
Blueberries
Avocado
Coconut
Kiwi
Citrus (oranges, lemons, limes)
Pomegranate
Pears
Adding vegetables
Of course you can boost the nutrition to your smoothie by adding a handful of greens or other vegetables to your smoothie. Of course just like adding frozen fruit is best for the coldest, creamiest smoothie, the same is for greens. Frozen greens is best. 
To make the best smoothie with greens, it's best to add more fruits than greens. Aim for a 60% fruits and 40% greens or a higher ratio. 
You can really use any greens you can think of, such as:
Kale
Lettuces
Swiss Chard
Spinach
Collard Greens
Besides adding greens you can actually add other vegetables as well for added nutrition that you won't even notice are in your smoothies! Here are a few vegetables you can sneak into your next smoothie:
Beets
Parsley
Celery
Cauliflower
Carrots
Cucumber
Pumpkin
Sweet potato
Protein Sources For Your Smoothie
One of the things I love about enjoying is a smoothie is that I can get extra protein in my diet in an easy way. And if you're thinking protein powder is the only way to add a protein boost to your smooth you would be WAY wrong! There are lots of options for you. Here are some protein sources for your smoothie to add today:
Protein powder
Seeds (flax, pumpkin, chia, sunflower, hemp, sesame)
Nut Butters and Nuts
Grains (oats, quinoa)
Seaweed
Yogurt
Milk
Greens
Tofu
Raw Egg
Additional Add-Ins For A Boost Of Flavor And Nutrition
I love adding some extra spices to my smoothies to not only add flavor but it's an easy way to add a few extra health benefits as well. Basically any herb or spice you can think of you can try adding.
You can use ground spices or fresh herbs for your smoothies. For the spices I don't add a lot, a little goes a long way.
But here are some options to sprinkle into your next smoothie that I love to use and recommend:
Turmeric
Cardamom
Ginger
Cinnamon
Nutmeg
Fresh basil
Cilantro
Mint
Parsley
Cocoa Powder
Pumpkin Pie Spice
Sweeten It Up!
You can always add a little extra sweetener to your smoothie if you choose. Although you may not need to depending on how sweet your fruit is, and other ingredients you decide to add. I always like to taste my smoothie first, and then decide if it needs a little sweetener or not.
Here are a few sweetener you can add:
Honey
Maple syrup
Agave nectar
Dried medjool dates
Organic Stevia
9 Smoothie Recipes To Try At Home
Now that you have learned how to make a smoothie, try out your new found knowledge and whip up one of these delicious healthy smoothies in your blender now!
Aloha Berry Smoothie Bowl and Aloha Banana Fig Smoothie
Chocolate Coffee Smoothie
The Blender I Use And Recommend
Of course you can buy and use whatever blender you prefer. But make sure it's a quality, hi-speed blender to get the job done. This is the blender I use and recommend:
I love my Vitamix blender!
LET'S CONNECT!
Follow along with me on Instagram! And if you make this recipe be sure to tag me @howe.we.live so I can see! I love seeing what you're making!