This healthy turkey meatballs recipe is perfect because they're easy to make, full of flavor, and come out moist & tender every time! And because the flavoring isn't particularly overpowering, they taste great with just about any type of cuisine. Eat them for breakfast with an egg, on top of a salad for lunch, or with marinara sauce and over noodles for dinner.

What's In These Healthy Turkey Meatballs
These take just about 10 minutes of prep time because the ingredients are few and the steps are even fewer!
Ground turkey – I prefer 93% lean
Bread crumbs – I like Panko best but sub out for almond flour or chickpea crumbs if you're gluten free
Egg – this is crucial for keeping the meatballs moist, which I'll get into below
Fresh scallions and parsley, but go ahead and use dried herbs as well if that's all you have on hand
Lemon zest and salt and pepper.
And that's all you need to make this healthy turkey meatballs recipe! Keep in mind that you can definitely switch up the herbs a bit, and can even use dried herbs. Oregano and basil would be great, but would give them a more distinct Italian flavoring. I like the herbs recommended just because it keeps the flavor of the meatballs pretty simple and versatile.
How to make
Start by measuring out all of your ingredients and gathering your tools so that you have everything ready to go, The worst thing that can happen when making meatballs is realizing you forgot to get a pan ready when you're elbow deep in raw turkey meat. Grab a mixing bowl, a baking tray as well as a frying pan if you plan to fry the meatballs, and all of your ingredients. I also like to have a couple of paper towels handy just in case, and a small bowl of oil to grease my hand with when forming the meatballs.
Next, just add your ingredients to the bowl, and mix them all together! Just like you never want to over mix batter when baking, be mindful not to over-mix your meat. Over mixing can toughen up the meat.
Form your meatballs into approximately 1.5″ spheres and place on a lined baking sheet. If you are baking them you can stick them right in the oven and bake at 400 for 15 minutes. If you want to pan fry, place the tray in the refrigerator for about 10 minutes to let the meatballs firm up, then pan fry over medium heat for another 10 minutes.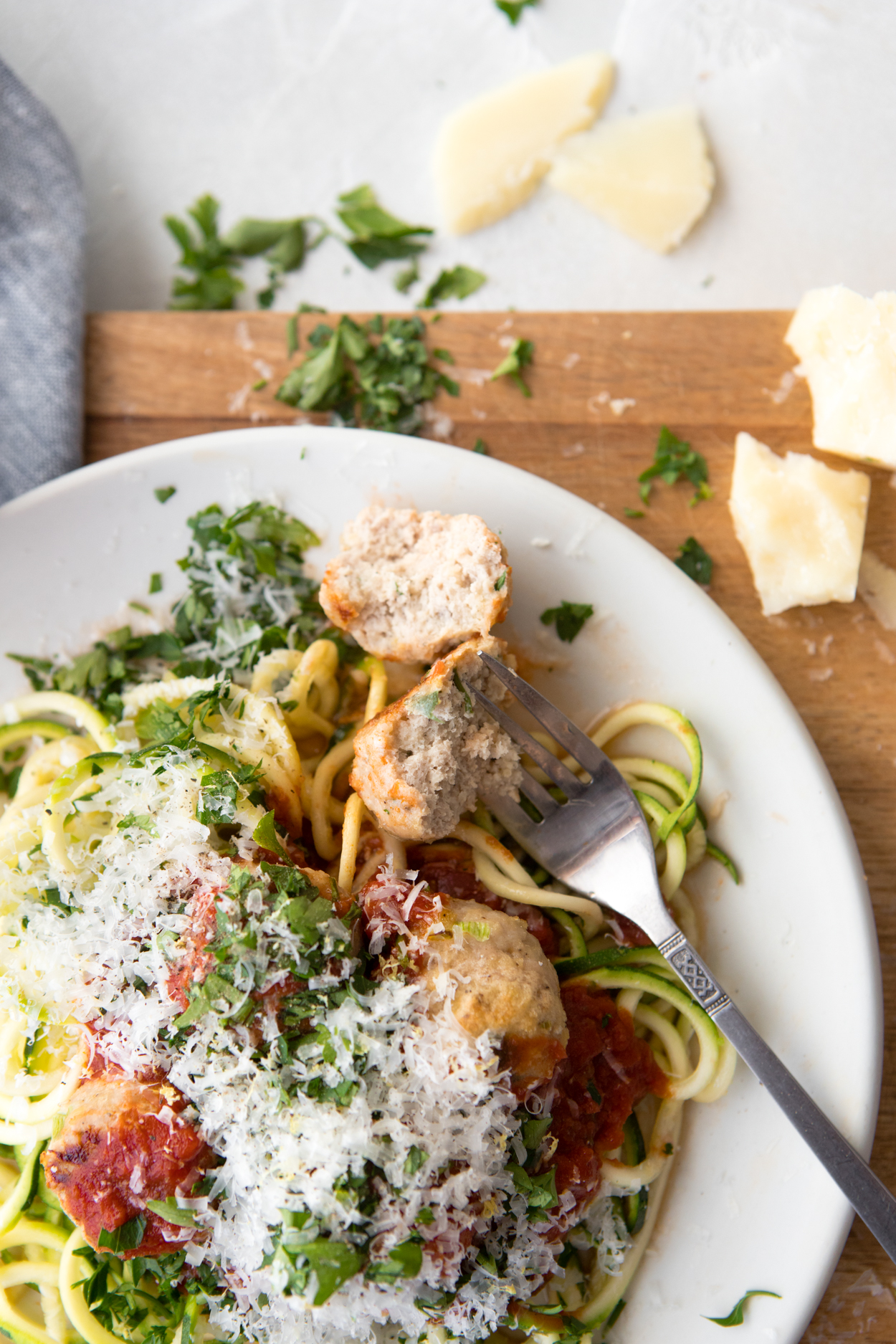 Is it Best to Bake or Fry?
I've had equal success with both baking and pan frying them, so know that you're free to do either. If you are baking them, have a thermometer on hand to measure the internal temperature. Because ovens vary so much, I highly encourage you to start checking your meatballs for doneness at the 10 minute mark. I would hate for you to overcook and dry out your meatballs because your oven runs a bit differently than mine, therefore cooks faster.
Alternately, if pan frying these, I recommend heating about 2 tablespoon of oil in a saute pan over medium high heat. Cook them up in batches, making sure to turn the meatballs around so they cook evenly. The trick is to cook them on one side just long enough so that they don't stick to the pan when you try to turn them. I have found 5 minutes to just about be the perfect timing.
Lower the heat to medium-low if the pan starts to smoke and meatballs are getting too brown on the outside before cooking thoroughly on the inside.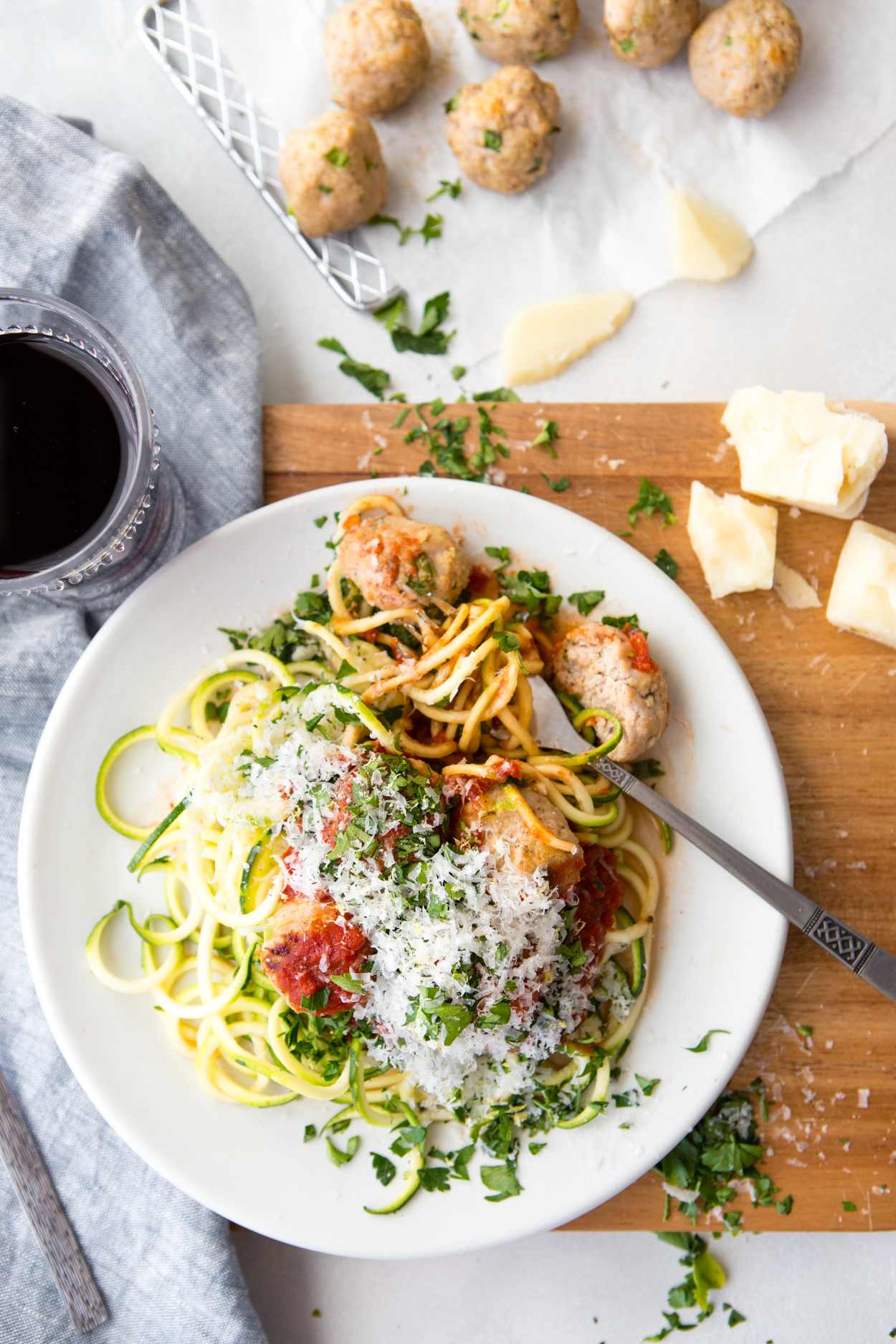 Best tips to avoid dry turkey meatballs
I find it quite easy to mess up ground turkey haha! I mean it always tastes passable and gets the job done for feeding a hungry family. But when overcooked or under-seasoned, it can be dry and boring. Here are a few tips to help you achieve healthy turkey meatball success!
Don't ever skimp on adding some sort of moisture to the mix. Here we use an egg, but finely diced onions work well too! My mom liked to use milk. I've even seen some recipes call for adding olive oil straight to the mix. This is crucial though, so never leave out!
As I mentioned above, don't over-mix the meat.This can toughen it up, so instead mix *just* until everything is combined.
No need to get overly aggressive when forming the meatballs. You want lightly formed balls, just so they hold together. You do not want meatballs so tight and compact they could could be used in a snowball fight.
Make them all the same size so they cook evenly and uniformly. This will help you avoid half your batch being overcooked and the other half being just right.
How to make these turkey meatballs gluten free
It couldn't be easier to make this healthy turkey meatball recipe gluten free by swapping out bread crumbs. There are so many gluten free bread crumb options now, but I really like chickpea bread crumbs or almond meal as a good alternative.
Other Yummy Healthy Recipes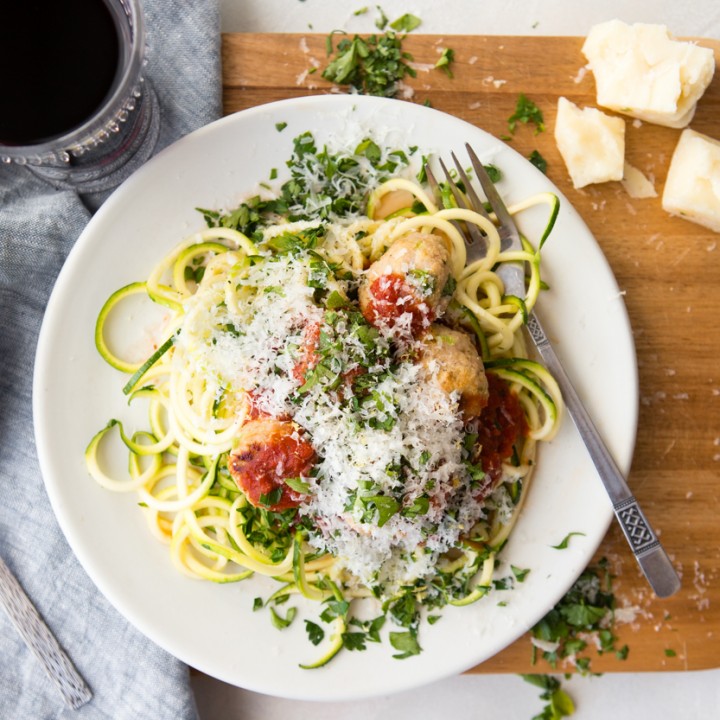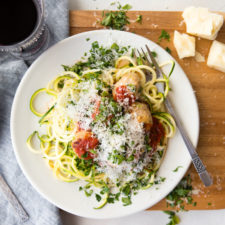 Healthy Turkey Meatballs - Baked or Fried
These easy turkey meatballs are healthy & delicious, and can be baked or pan fried for a stress-free weeknight dinner!
Print
Pin
Rate
Ingredients
1

pound

93% lean ground turkey

⅓

cup

panko bread crumbs or ¼ almond flour if making gluten free

1

large egg

Greens from 2 scallions

sliced thin

2

tablespoons

finely chopped fresh parsley or 1 tablespoon dried parsley

2

teaspoons

grated lemon zest

1

teaspoon

salt & ½ teaspoon pepper
Instructions
Combine all ingredients in a medium bowl until well combined. Roll heaping tablespoons of turkey mixture into small meatballs about 1.5" in diameter. Place on a lined baking sheet and bake at 400 for 15 minutes, or until center of meatballs registers 160 degrees.

Alternately, if pan frying, cover raw meatballs with plastic wrap or paper towels and refrigerate tray for at least 15 minutes to allow to firm up.

Heat 2 tablespoons extra virgin olive oil in a large skillet over medium heat and cook meatballs for about 10 minutes, rotating half way through cooking to brown on each side. Drain on a paper towel lined plate and serve.
Notes
Make sure yo use 93% ground turkey, not 99%, as the meatballs will become dry and tough.
Also, cooked meatballs can be frozen in airtight bag or container for up to 3 months.
Nutrition
Serving:
4
g
|
Calories:
197
kcal
|
Carbohydrates:
4.5
g
|
Protein:
24.1
g
|
Fat:
9.3
g