I guess I'm pretty lucky in that all members of my family have always loved fish, so it's been nice to have a protein alternative to chicken, pork and beef. They also love tacos, and since for the time being we've made taco Tuesdays a permanent thing, thanks to my new way of meal planning, I decided to combine two of our favorites and make fish tacos for the first time. Of course we've all eaten fish tacos before, but surprisingly enough, I had never made them myself.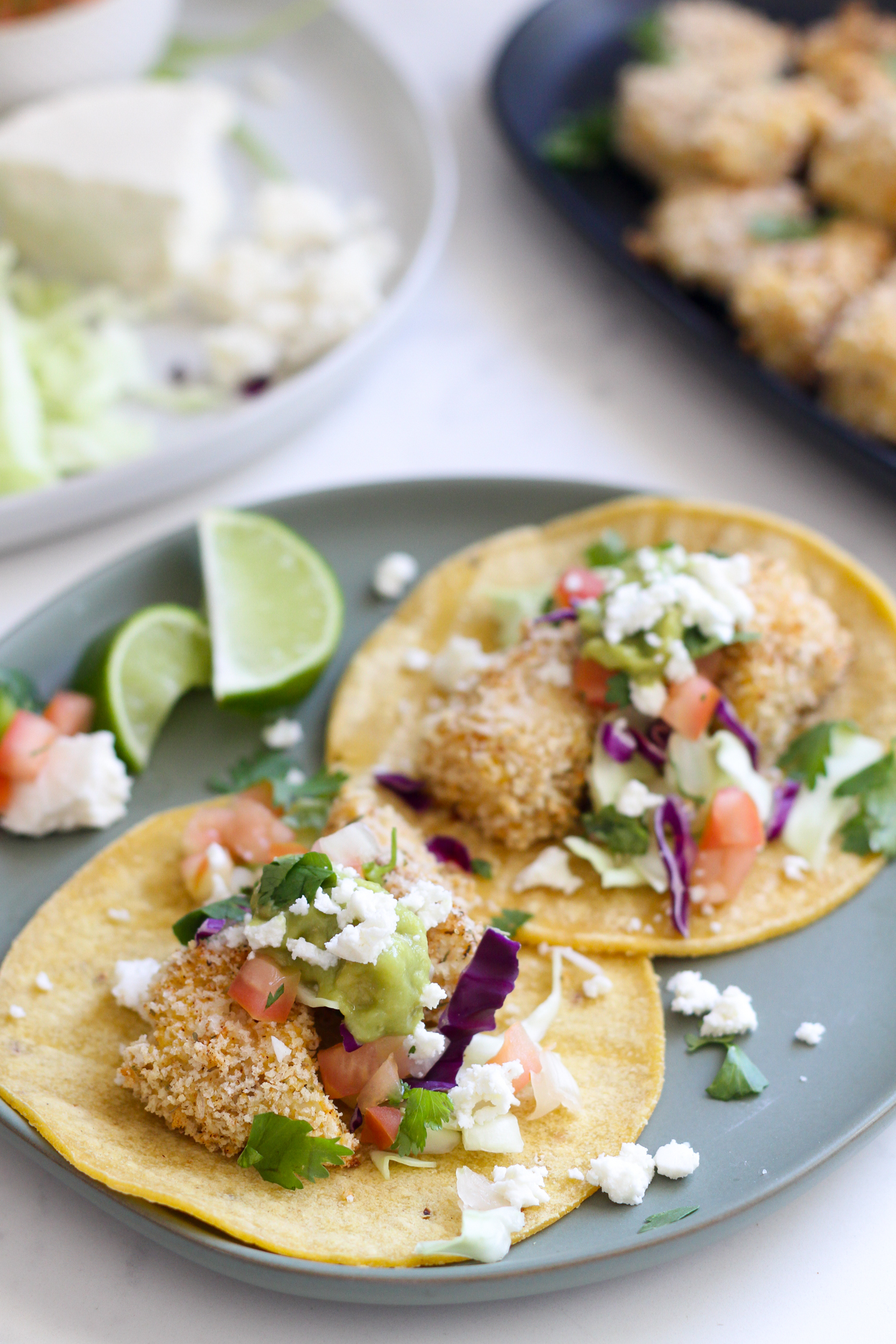 I wanted to replicate the breaded fish tacos we all love from Wahoo's, so I visited the butcher/fish monger at the market, and he suggested I use fresh cod, which was what I was thinking as well. Nice to have my cooking instincts confirmed 🙂 Many fish taco recipes call for tilapia because it's affordable and mild in flavor, but I much prefer the more dense pieces that you typically get from cod, as well as the fact that wild caught cod is very easy to come by, as opposed to tilapia, which is almost always farm-raised (in the grocery store that is). It is also very easy to find frozen cod (the bag of frozen cod from Target is actually quite good and affordable).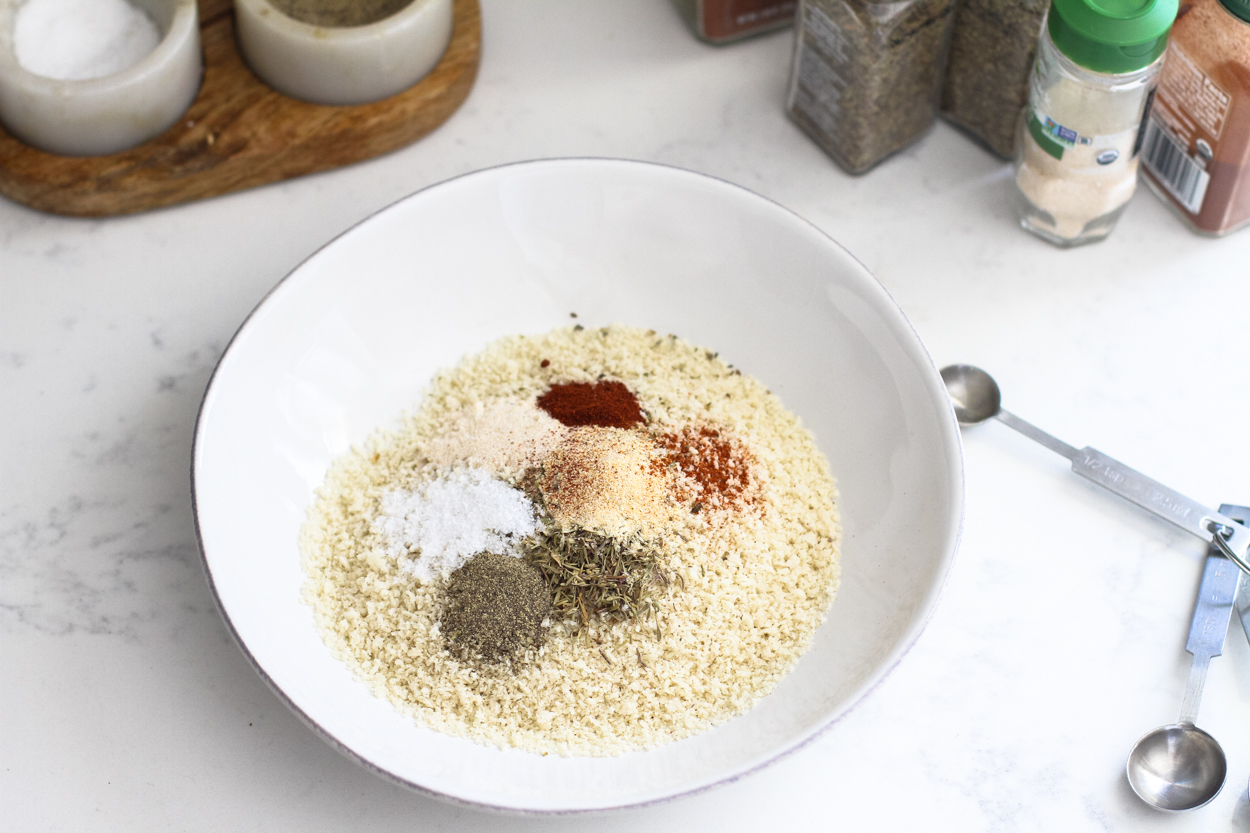 I used panko bread crumbs and added a very basic blend of seasonings, including garlic & onion powder, salt & pepper, and oregano, thyme, smoked paprika and a bit of spice in either the form of cayenne of chili powder (use whichever you have on hand).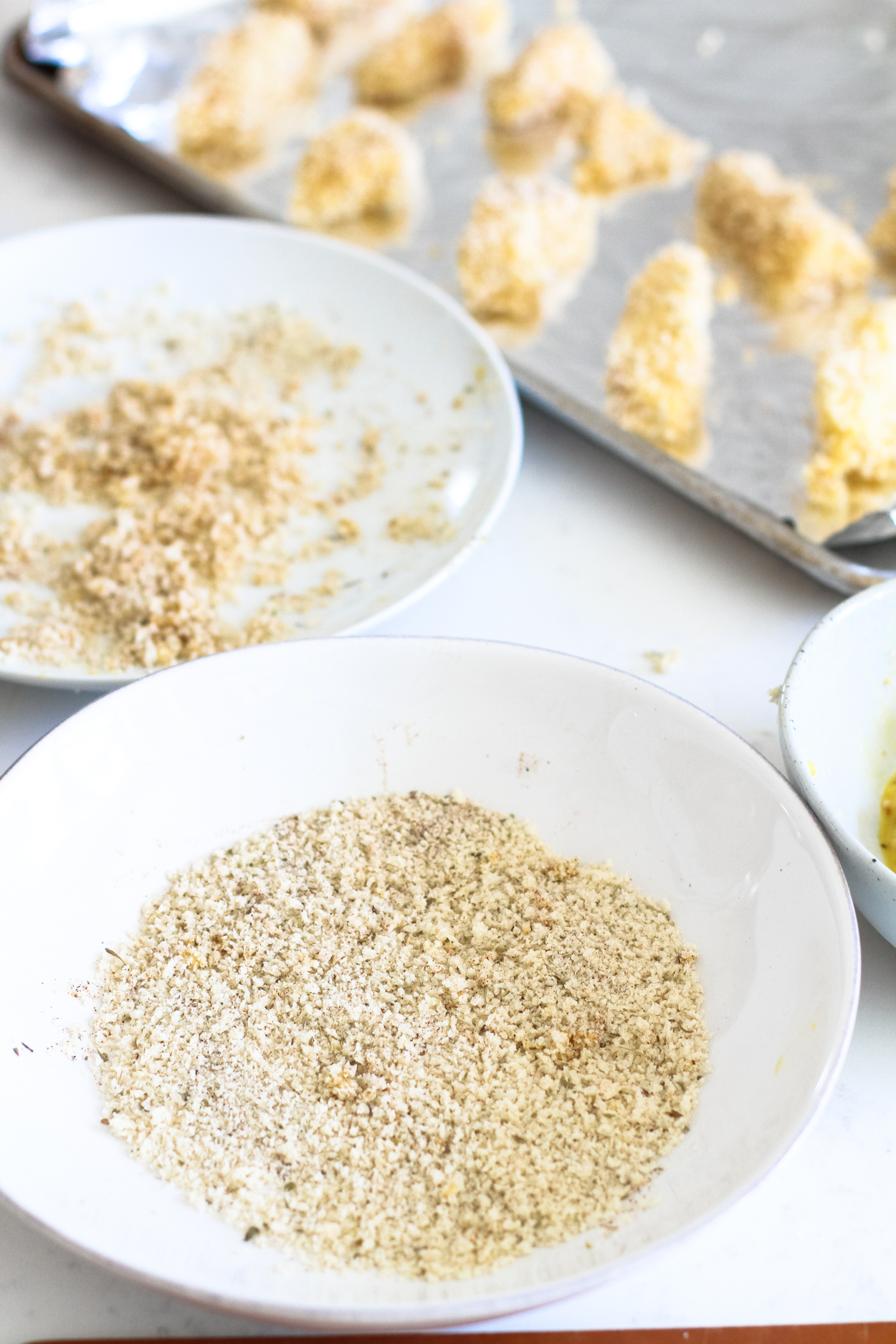 A trick I've learned when breading pretty much anything, is to divide up your breading into two batches, that way when the first round of breading starts to become a bit too moist from dredging and is having trouble sticking to the piece of fish or meat, you can swap out to the fresh batch and ensure a nice even coat.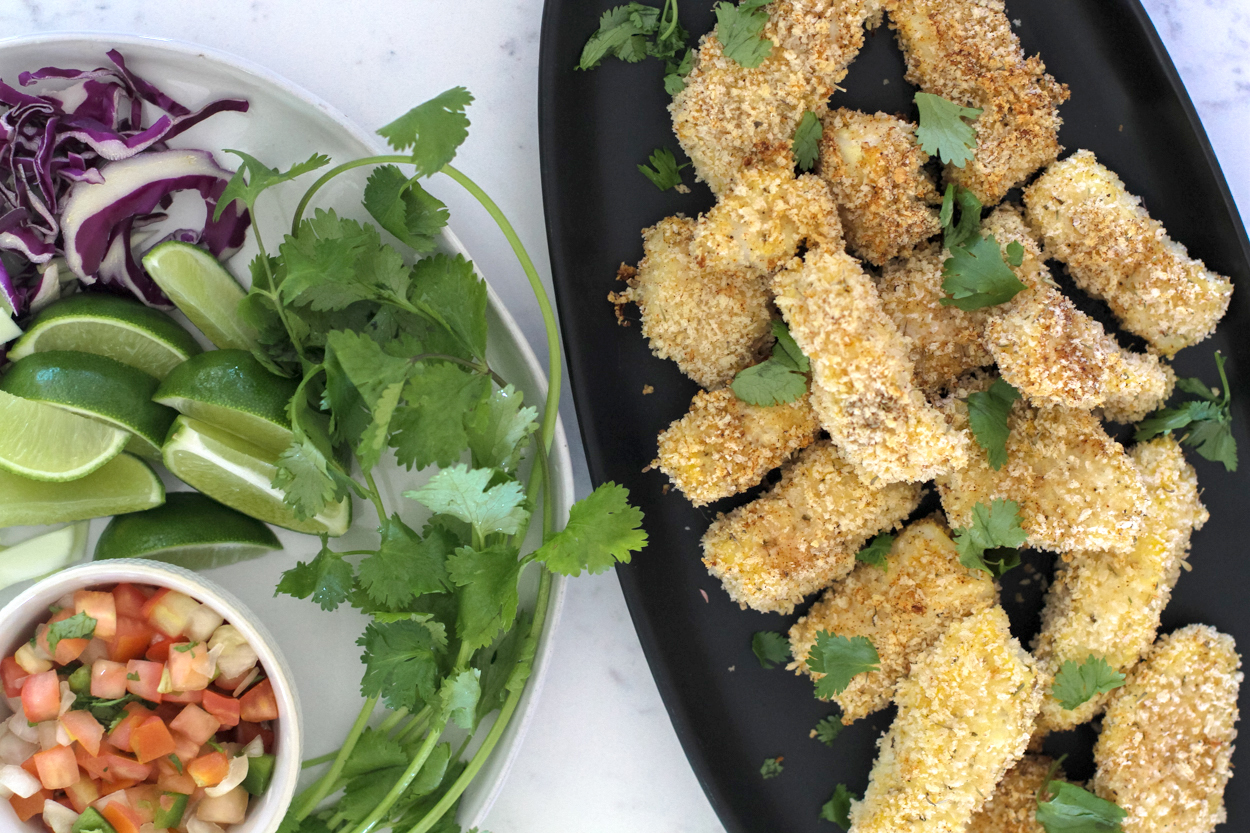 The thing I love most about cooking fish is how quickly it bake/fries up. Unless your recipe calls for a specific cooking method, most fish is done in 15 minutes or under, which is exactly what these pieces need to bake at – 425 for 15 minutes.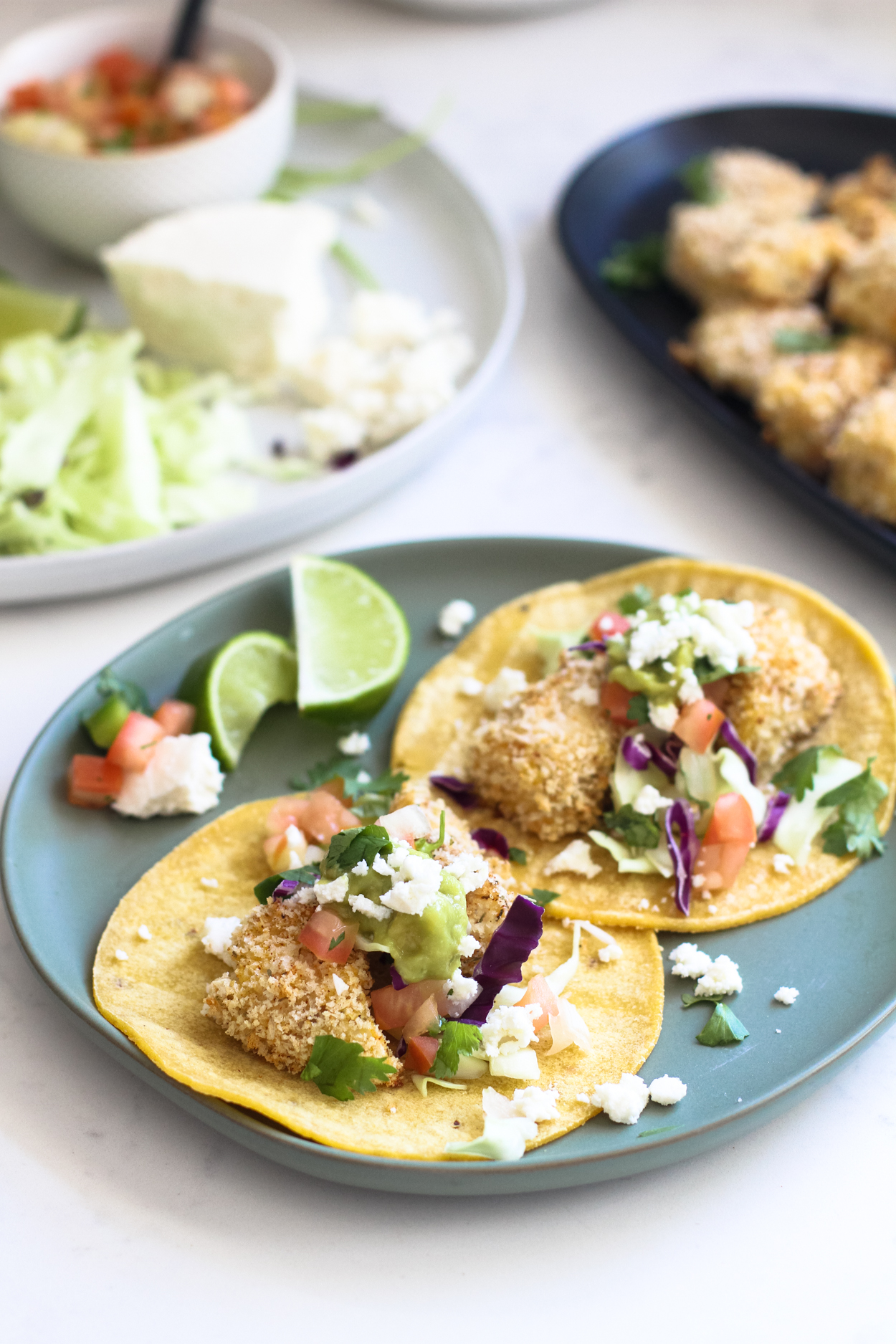 Of course toppings are almost the best part about any type of taco, and I love the usual way of adding cabbage, lime and pico to fish tacos, as opposed to the standard fare of lettuce, tomatoes and cheddar cheese. Queso fresca and a bit of guacamole or a cream based dressing also make for excellent fish taco toppings.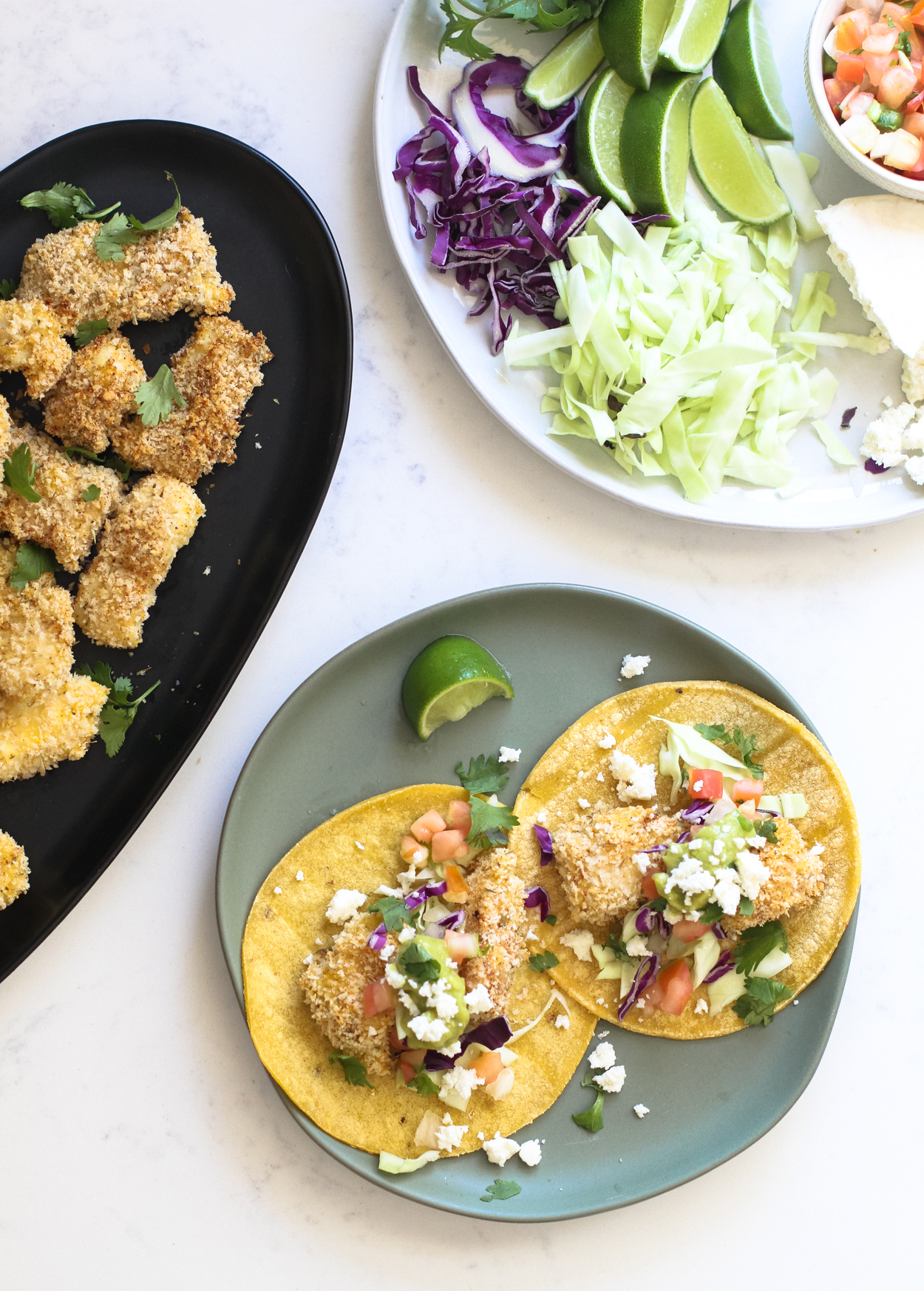 We love to serve these with some warm black beans, and maybe a bit of fruit but that's about it. A really easy and quick way to get dinner on the table, but when you have the fun toppings, it makes the meal feel a bit more special. I like the Tortilla Land partially cooked corn tortillas, and of course you could wrap these in lettuce of just top the pieces on a bed of salad, if you're going for a grain-free or low carb meal.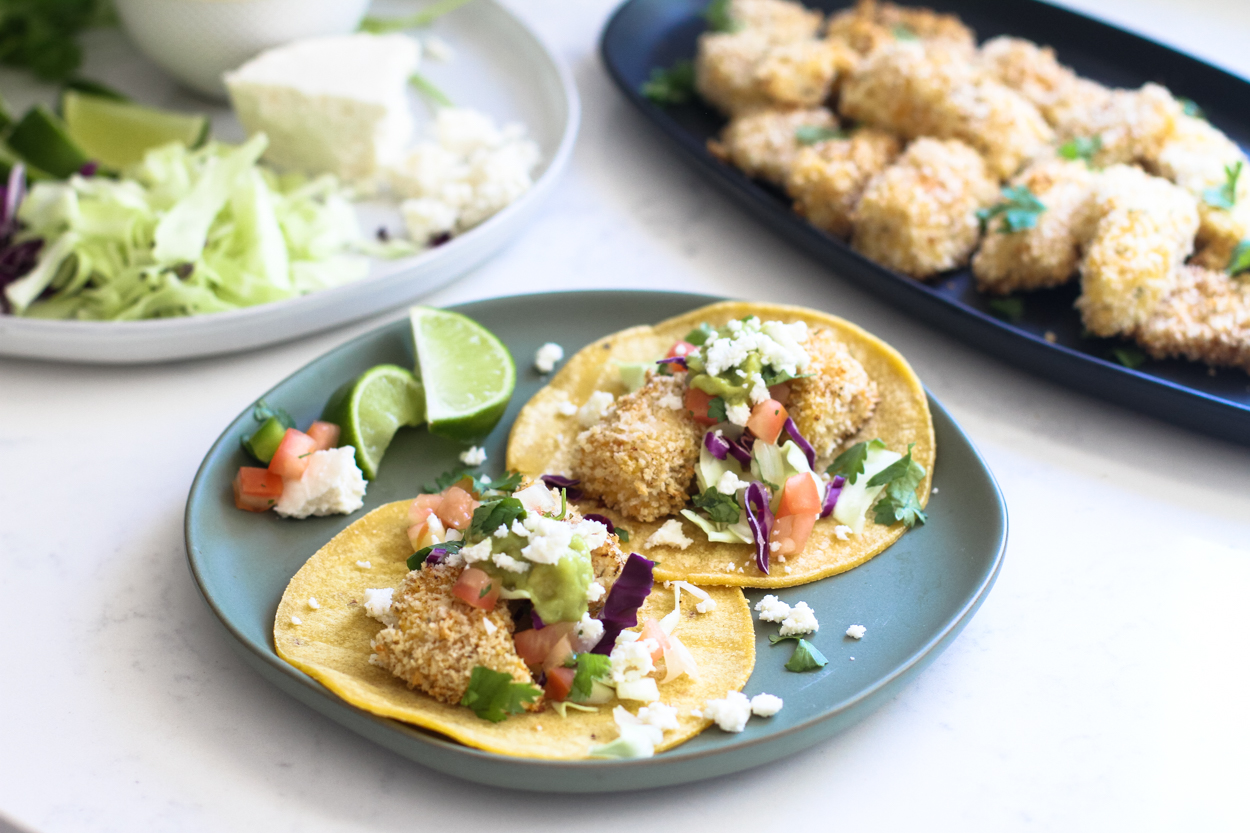 The nice thing about cod is that it has such a mild flavor that you could realistically adjust the breading seasonings to match a different type of meal. Add some lemon pepper for a basic fish sticks recipe, or add a lot more oregano and sage & thyme for a more Italian flair, and serve alongside a fresh plate of marinara pasta. Doing some sort of a jerk or curry seasoning could even be fun, and serve with red beans & rice or a madras sauce and rice. The possibilities are endless, just stick with the panko bread crumbs and play around with spices if you want to navigate away from the fish taco route.
See below though for this specific fish tacos recipe, and let me know if you have any questions or give it a try!
And don't forget to sign up for my emails so you don't miss a post!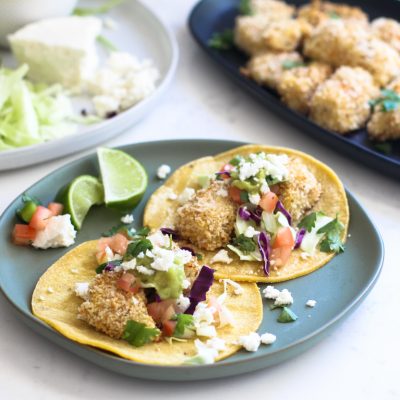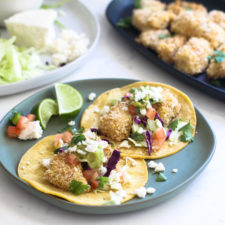 Print Recipe
Breaded Cod Fish Tacos
A quick but inspired weeknight meal that you can serve up in 30 minutes or under.
Ingredients
1

lb

fresh or frozen cod cut into 1"-2" pieces

1

cup

panko bread crumbs

1/2

tsp

garlic powder

1/2

tsp

onion powder

1/2

tsp

dried oregano

1/2

tsp

dried thyme

1/2

tsp

smoked paprika

1/2

tsp

each salt & pepper

dash of chili powder or cayenne

1

egg lightly beaten

corn tortillas

cabbage, salsa, lime. queso fresca, guacamole and cilantro for garnish
Instructions
If using frozen cod, thaw out completely and cut up into 1"-2" pieces, trying to keep them as uniform as possible

Lightly beat 1 egg

Combine panko bread crumbs with spices

Dip each piece of fish in the beaten egg, then dredge in the breadcrumb mix

Place on a foil lined baking sheet

Bake at 425 for 15 minutes

Serve with corn tortillas and desired toppings