This coconut pineapple margarita is a refreshing and easy cocktail to make this summer! With just 5 ingredients, your friends will be begging for this pineapple margarita recipe.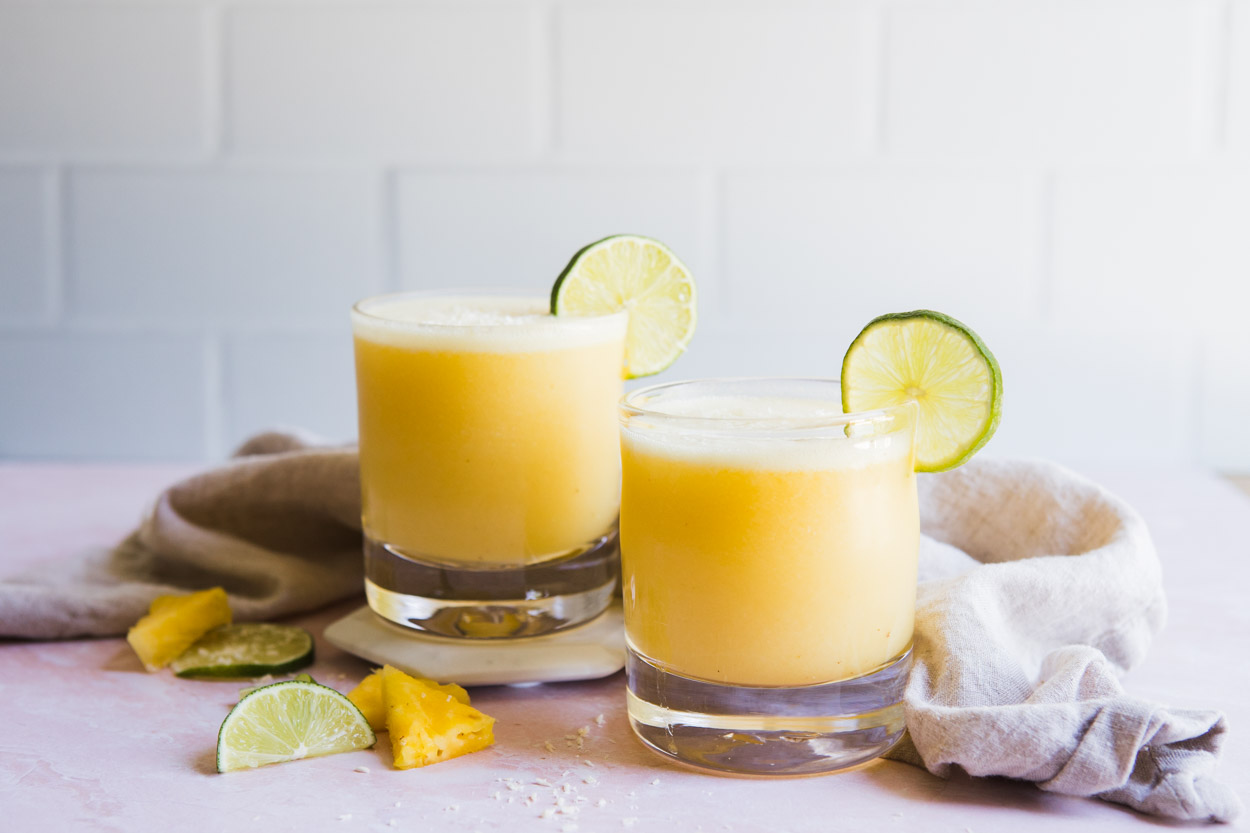 Now that's summer has officially arrived, I thought I would cheers you with a new refreshing summer cocktail. A margarita with ….Pineapples. Coconut. And of course, let's not forget the tequila. My friend Tracy original shared this recipe with me during the height of stay at home orders, and it's been a favorite ever since. I shared it on my Instagram page several weeks ago, but I figured I would also add it to the blog here!
So back to margaritas! Yes, happy times friends.
I'm not sure what I love more about this coconut pineapple margarita. Maybe because it's only 5 ingredients to throw it together. No fancy muddling. Or simple syrups to make. It's easy peasy and (oh my) is it delicious.
Why You Will Love This Recipe (and your friends will too!)
5 Ingredients – Ok we mentioned this but it's worth repeating. And one of those ingredients is ice!
It's like a smoothie – For the adults. Creamy. Frothy. Delicious.
Ready In Minutes – Seriously like by the time you're done reading this post you could have been sipping on your first batch!
Customizable – Wanna make a bigger batch. Go for it (as long as your blender can handle it. Only got regular tequila, don't worry you can use that too.
It's Semi-Healthy-ish haha! Ok hear me out! Tequila has just 69 calories per ounce and has zero carbs, if you're being mindful of health goals. Tequila also contains agavins, a natural sweetener that acts as fiber. But before you get too excited, the study that claimed tequila can help you lose weight is highly suspect. So drink this just for the pure enjoyment!
Ok, I don't know about you but let's stop talking and let's start mixing…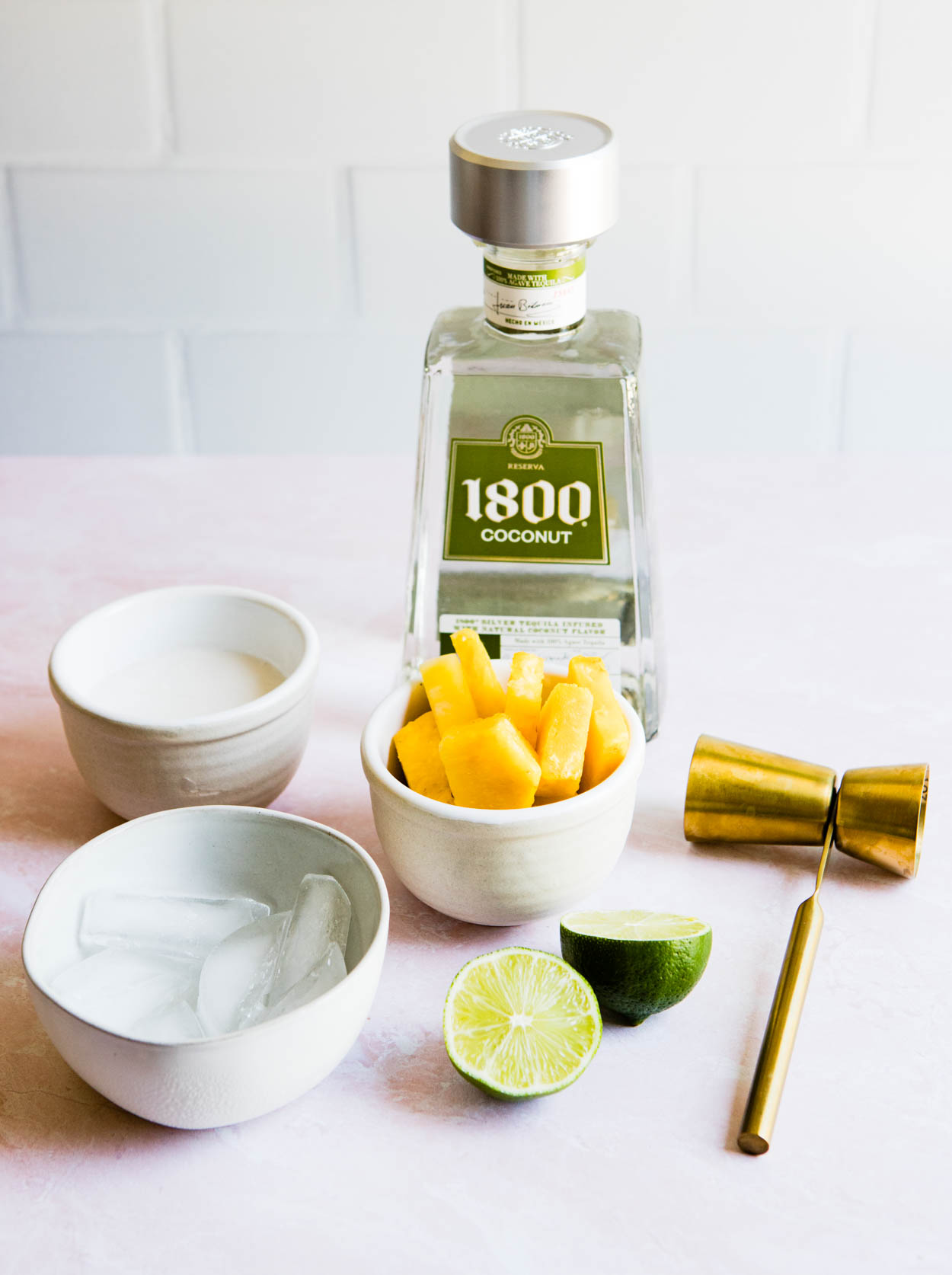 Pineapple Margarita Recipe Ingredients
So like I said these coconut margaritas need only 5 ingredients. So run to your kitchen and grab…
Pineapple – You can use fresh or frozen pineapple for this margarita.
Coconut milk – Make sure you are using the canned type, not the kind you might find in the dairy aisle
Coconut tequila – We kicked up the coconut flavor and use 1800 Coconut Tequila in this recipe. If you only have regular tequila that would work but then add a few more tablespoons of coconut milk.
Ice – Of course can't forget this.
Lime – Nothing saying margarita with a little fresh lime, am I right?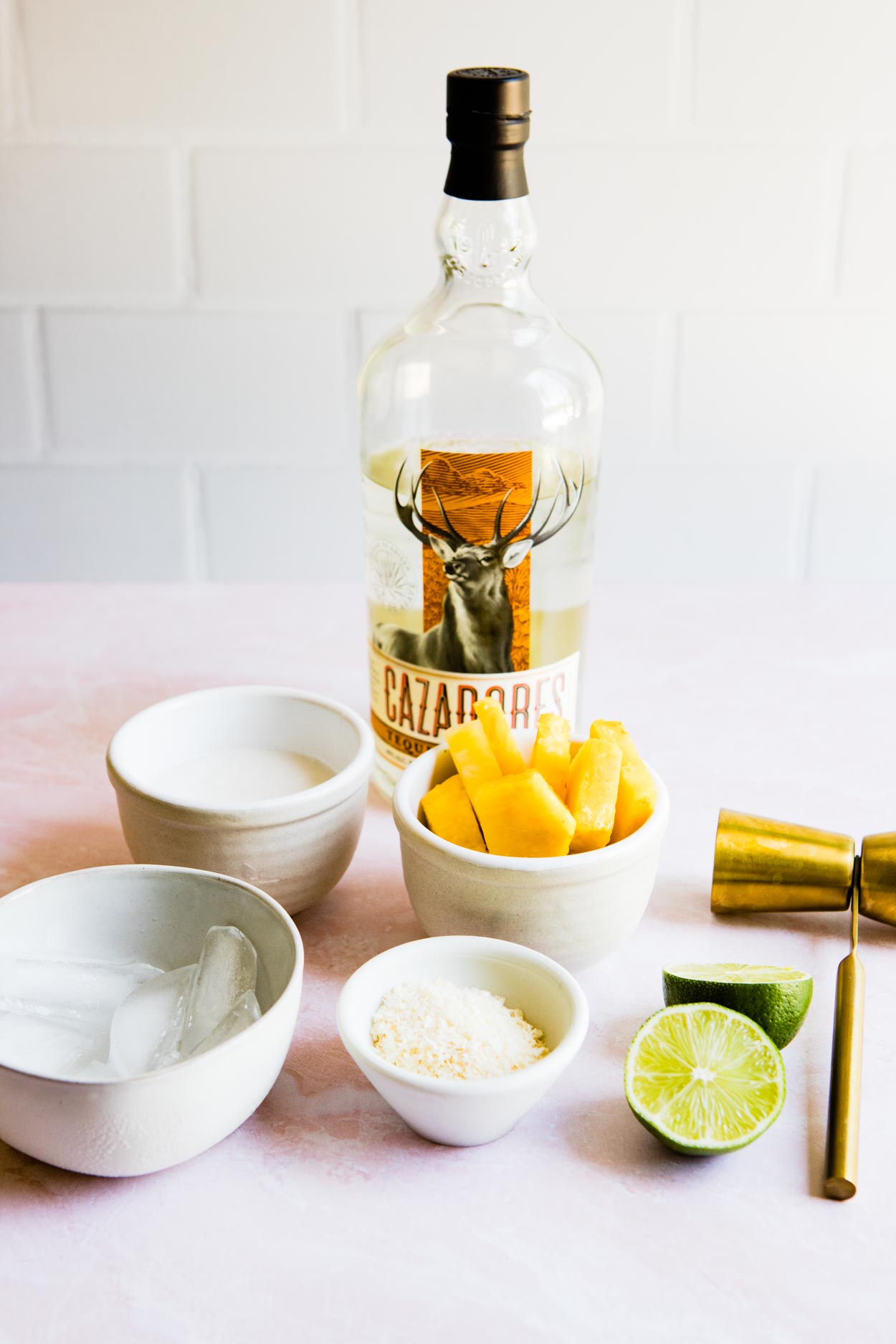 How To Make This Coconut Pineapple Margarita
Ok now on to the good part. To make this margarita we are going to need a blender. A blender is necessary to help puree the pineapple and also makes this a bit creamy and frothy. Basically…amazing.
So just simply combine all your ingredients into your blender and blend away. We like to finish off with a little lime at the end, but feel free to add a little lime juice into the blender before blending all the ingredients together. I'll leave that up to you.
In the end it should have a bit of a smoothie texture. If you want a thicker daiquiri texture, then just use less coconut milk and more ice.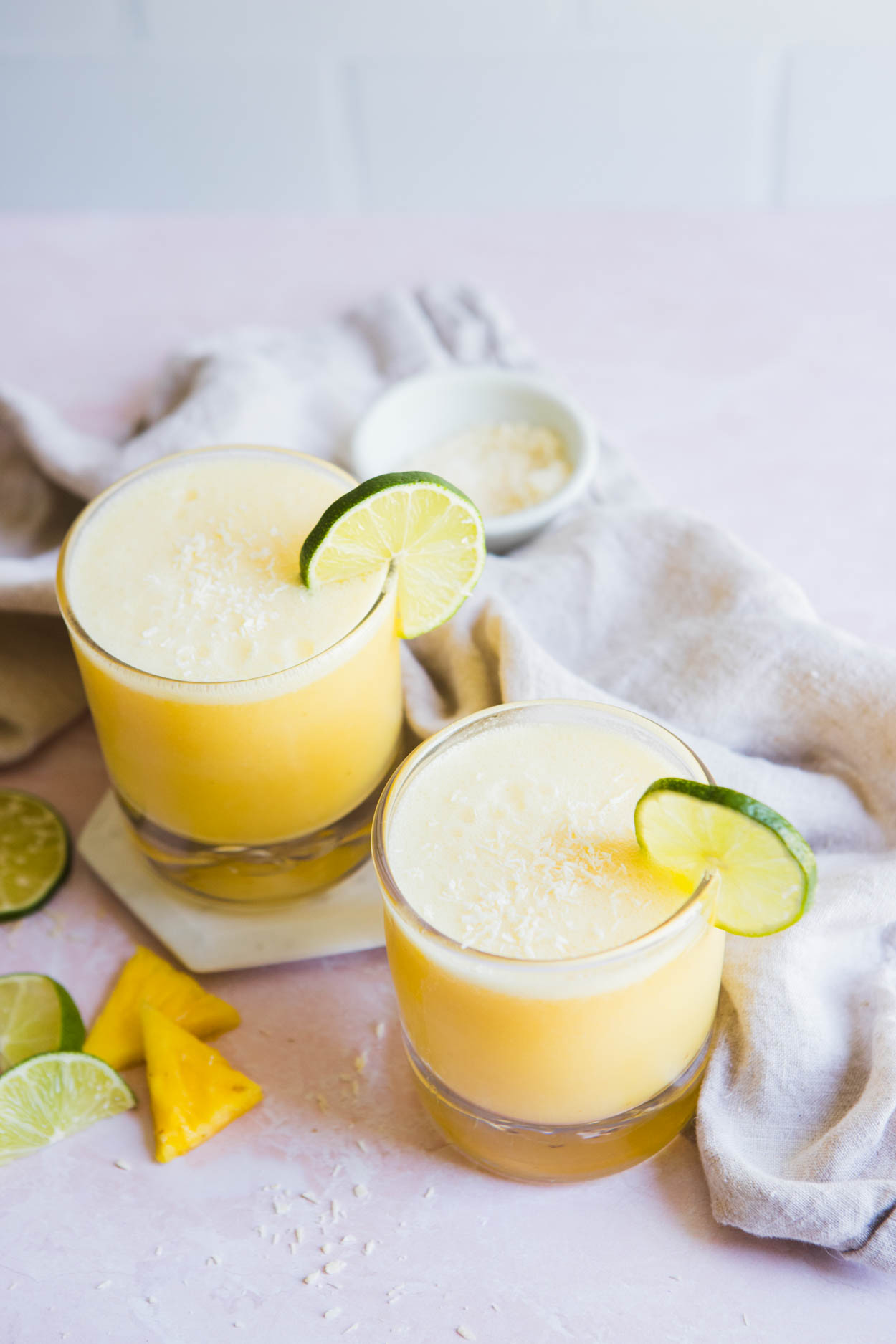 Pineapple Margarita FAQ's
Can I Use Regular Tequila Instead?
Absolutely you can. We love the flavor that 1800 Coconut Tequila brings to this party, but if you only have regular then use it. I would just recommend adding 3-4 more tablespoons of coconut milk to add in the extra coconut flavor.
Can I Use Rum Instead?
I think rum would pair well with the pineapple and coconut. I mean it wouldn't be a margarita anymore, but I think it still could be delicious!
Can I Freeze These Margaritas?
After preparing the margaritas, place it in a plastic bag and lay flat to freeze for up to 3 months. When ready to enjoy, thaw in the refrigerator. You may need to blend it again, or add some ice to bring it back to the same consistency
Do I Need To Use A Blender?
A blender is necessary to puree the pineapple. If you don't have a blender, then you could try swapping out the fruit and just use pineapple juice instead and serve over ice. Although I don't recommend this option, but it is an option! Just garnish with a few slices of fresh pineapple!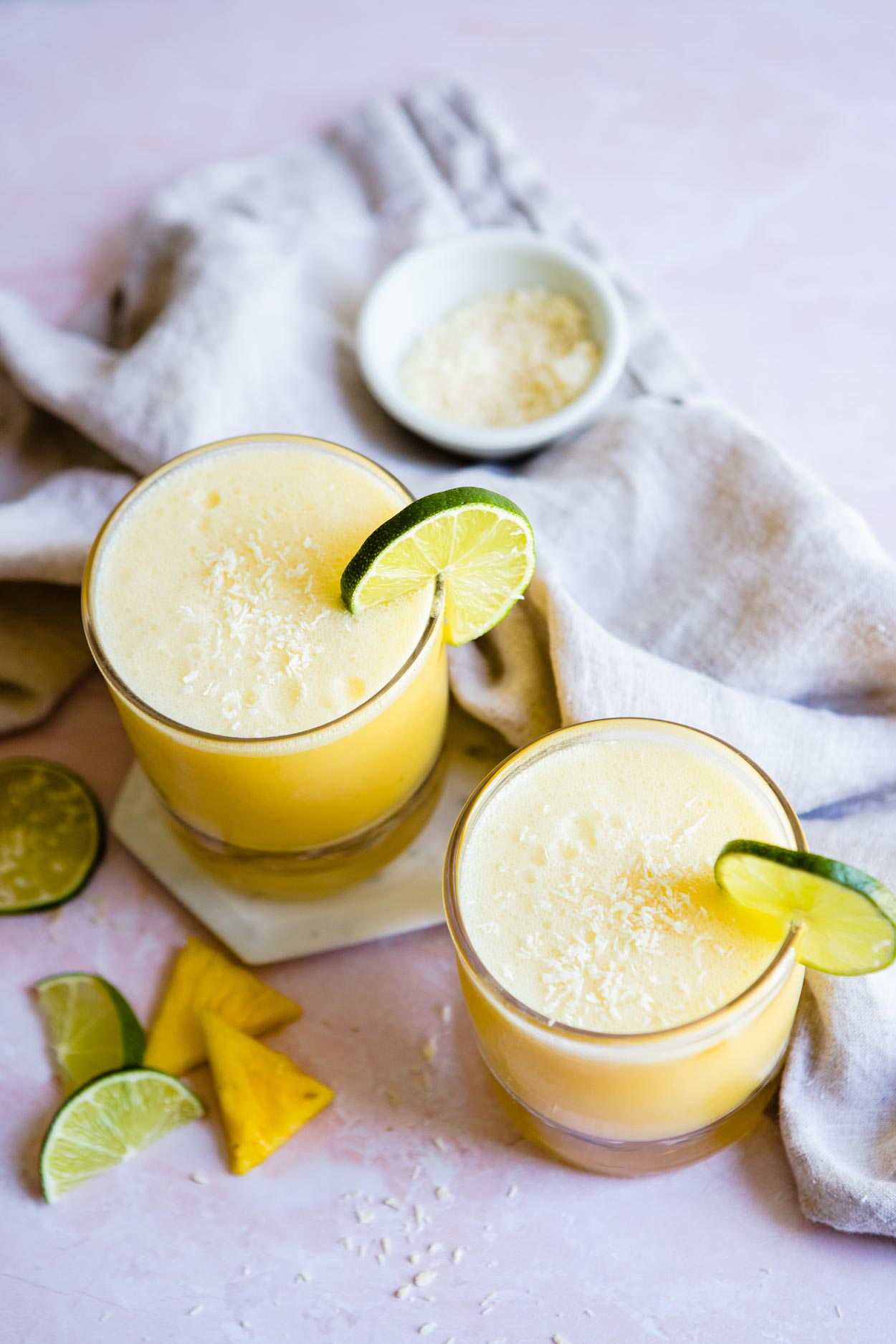 What Can I serve these Pineapple Margaritas with?
I mean if you are making these, then I'm guessing you are throwing a party? Even if it's just a party of two, you need some amazing nibbles to go with these drinks, right? And these would be great with some delicious Breaded Cod Fish Tacos or some of these Easy Cauliflower Tacos.
Or maybe serve alongside some tasty appetizers like this Epic Crudite Platter With Dip, The Perfect Cheese Charcuterie Board,or this Loaded Hummus Dip Recipe.
Tools Needed To Make This Recipe
Blender <– this is the one I use and LOVE
Let's Connect!
Follow along with me on Instagram! And if you make this recipe be sure to tag me @howe.we.live so I can see! I love seeing what you're making!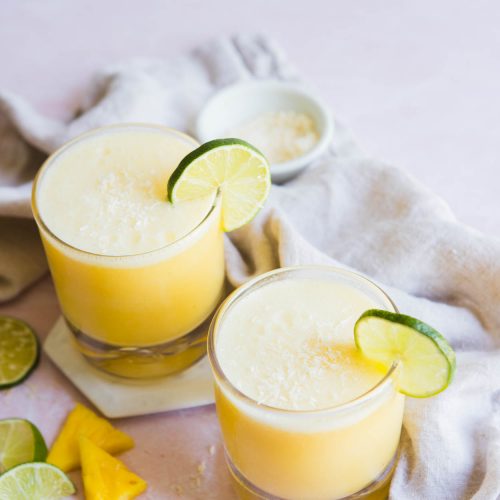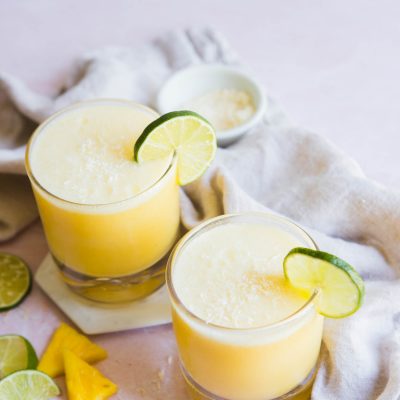 Print Recipe
coconut pineapple margarita
Ingredients
2

cups

fresh or frozen pineapple

1/3

cup

canned coconut milk

use a bit less or more depending on how thick you want your drink

4

ounces

coconut tequila

if you don't have coconut tequila, use regular tequila and add 3-4 tsp shredded coconut

1/2-1

cup

ice

1

lime wedge
Instructions
Add all ingredients to a blender, and blend well.

Squeeze lime on top (option to add a bit of lime juice to the drink before blending as well)
Notes
Tools: This is the Blender I used in this recipe and love!
If you do not have coconut tequila, just use regular tequila and add 3-4 tsp of unsweetened coconut milk.
The proportions as is will make a very liquid smoothie texture. If you would like a thicker daiquiri texture, use less coconut milk and more ice.
Nutrition
Serving:
4
ounce
|
Calories:
212
kcal
|
Carbohydrates:
25
g
|
Protein:
2
g
|
Fat:
10
g
|
Saturated Fat:
8
g
|
Sodium:
11
mg
|
Potassium:
285
mg
|
Fiber:
3
g
|
Sugar:
18
g
|
Vitamin A:
96
IU
|
Vitamin C:
83
mg
|
Calcium:
28
mg
|
Iron:
1
mg