This beef sirloin tip steak recipe, with garlic butter potatoes is one of my favorite meals to make. It's a one pan meal, so cooking and clean up is a breeze. Plus, the whole family loves it and the flavors are customizable depending on your mood.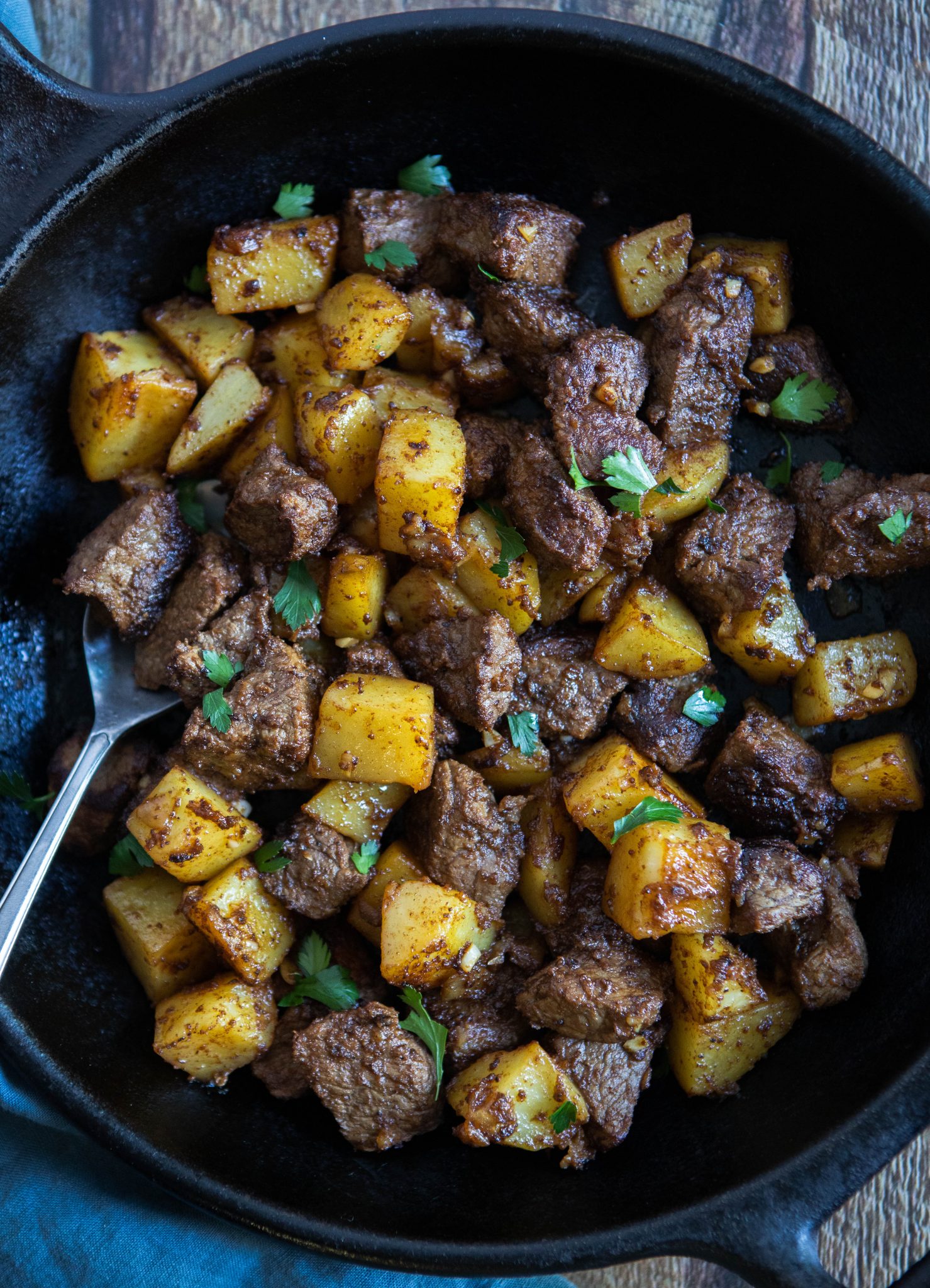 Have I shared with you before, how much my two sons LOVE steak? They love steak like some kids love chocolate, which is to say, quite a lot! I do a lot of ground hamburger dishes to wet their beef loving appetite in a more cost-effective way. And their Nana spoils them by cooking a beautiful beef tenderloin roast once in awhile. So for the in-between times where I want to indulge them with a slightly more realistic meal, I cook a lot of steak bite or fajita type dishes. This is one of our favorites, and the coolest cooking tip I'll be sharing below, is how to achieve the most fork tender potatoes! Let's get cooking, shall we?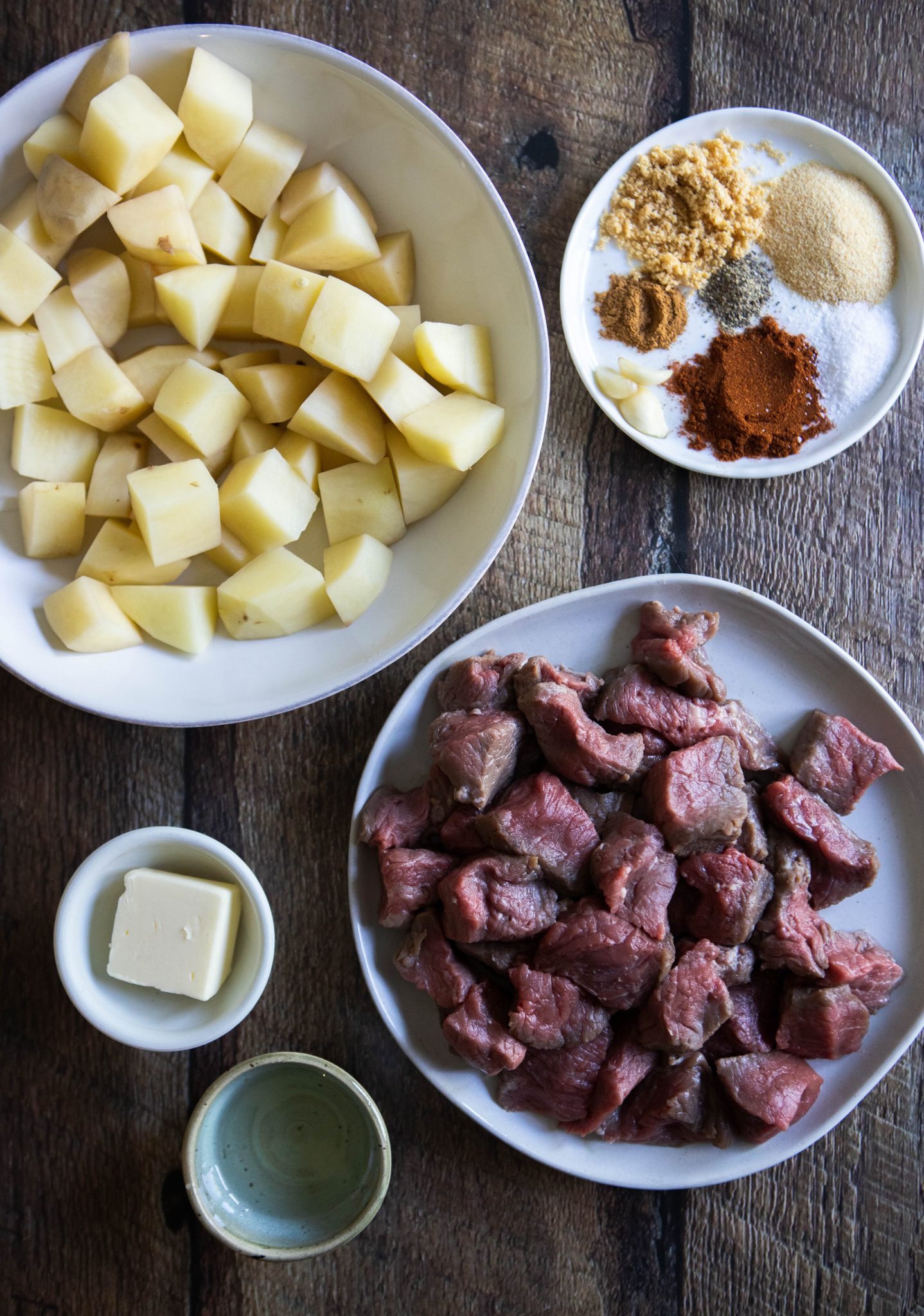 ingredients
Top Sirloin, cut into roughly 1″ cubes. For a family of 4-5, you can get away with 1-1.5 pounds of meat, but if you have grown kids, you may want to double the recipe so you have plenty!
Potatoes, peeled and also cut into 1″ cubes. Russet or yellow potatoes both work, so use whatever you have on hand or is on sale!
Herbs and spices: garlic powder, onion powder, cumin, paprika, salt & pepper, and a pinch of cayenne.
Fresh minced garlic and butter help to finish off the yummiest potatoes.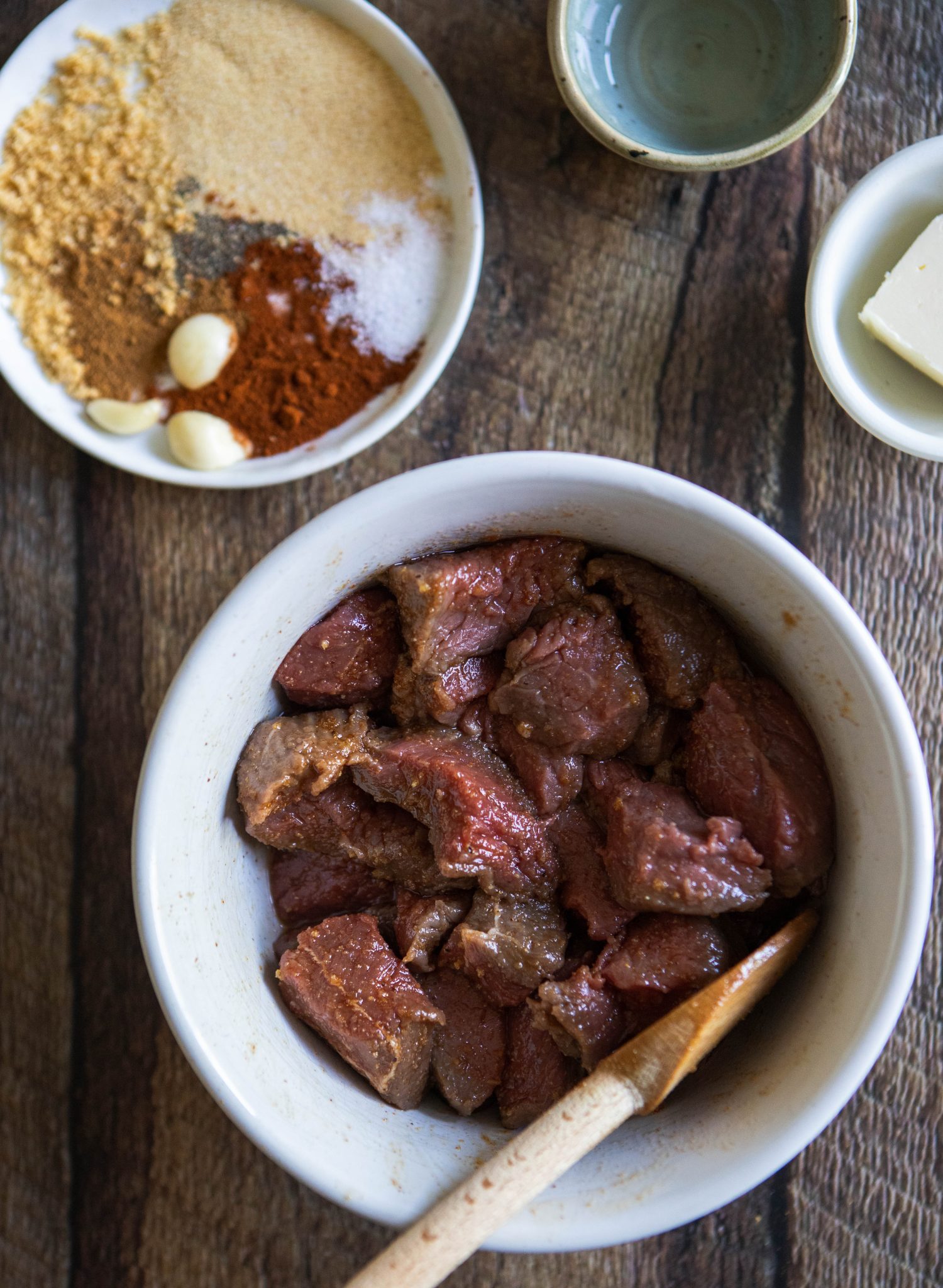 How to make beef sirloin steak tips
Begin by mixing 2 tablespoons of vegetable oil and HALF of your measured herbs and spices into your beef tips. Set aside and leave in the bowl to marinate for at least 15 minutes. Or, if your day is going smoothly and have started dinner prep early, leave them to marinate for up to an hour.
While your beef is marinating, go ahead and peel and cube your potatoes, and set them in a wide shallow bowl where they can somewhat spread out. Sprinkle with about 2 teaspoons of salt and microwave on high for 4 minutes. Gently toss the potatoes, and microwave on high for an additional 2-4 minutes, until just fork tender but not cooked all the way through. Check for doneness after each additional minute, as to not overcook. Set aside.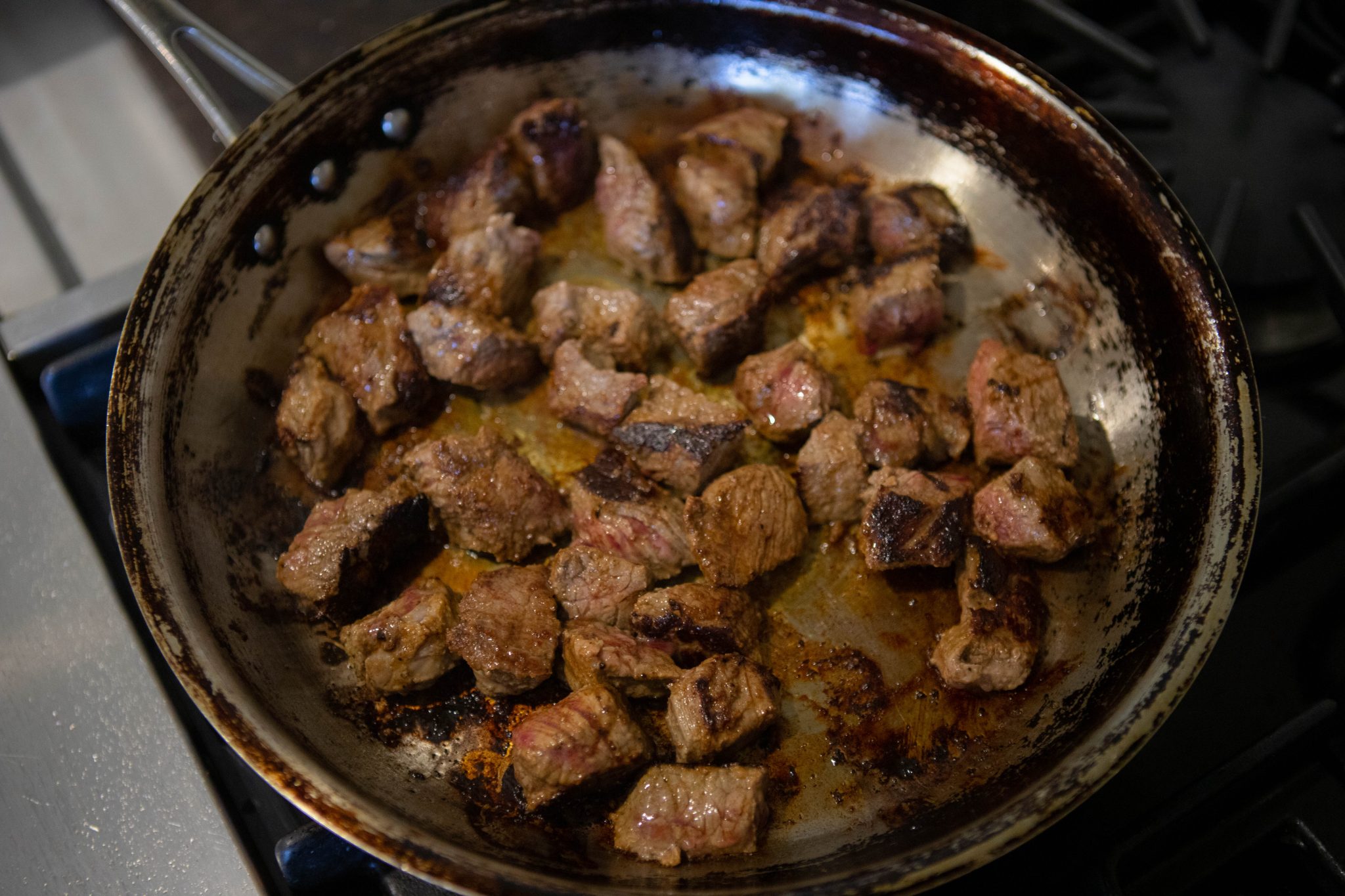 When your top sirloin is ready to cook, heat a large sauté pan or cast iron skillet on medium high heat. Add just a tiny coating of vegetable oil spray and add your meat in a single layer. If you have doubled your recipe to feed a larger crowd, make sure to work in batches.
Cook your steak tips until seared on one side, about 3-4 minutes, then flip over and cook for another 2-3 minutes. Top sirloin, when prepped this way, cooks up rather quickly, so stay close by so you don't overcook! When nice and browned on each side, remove the steak tips from the pan and set aside.
Now you gently stir in the remaining herbs and spices into the par-cooked potatoes.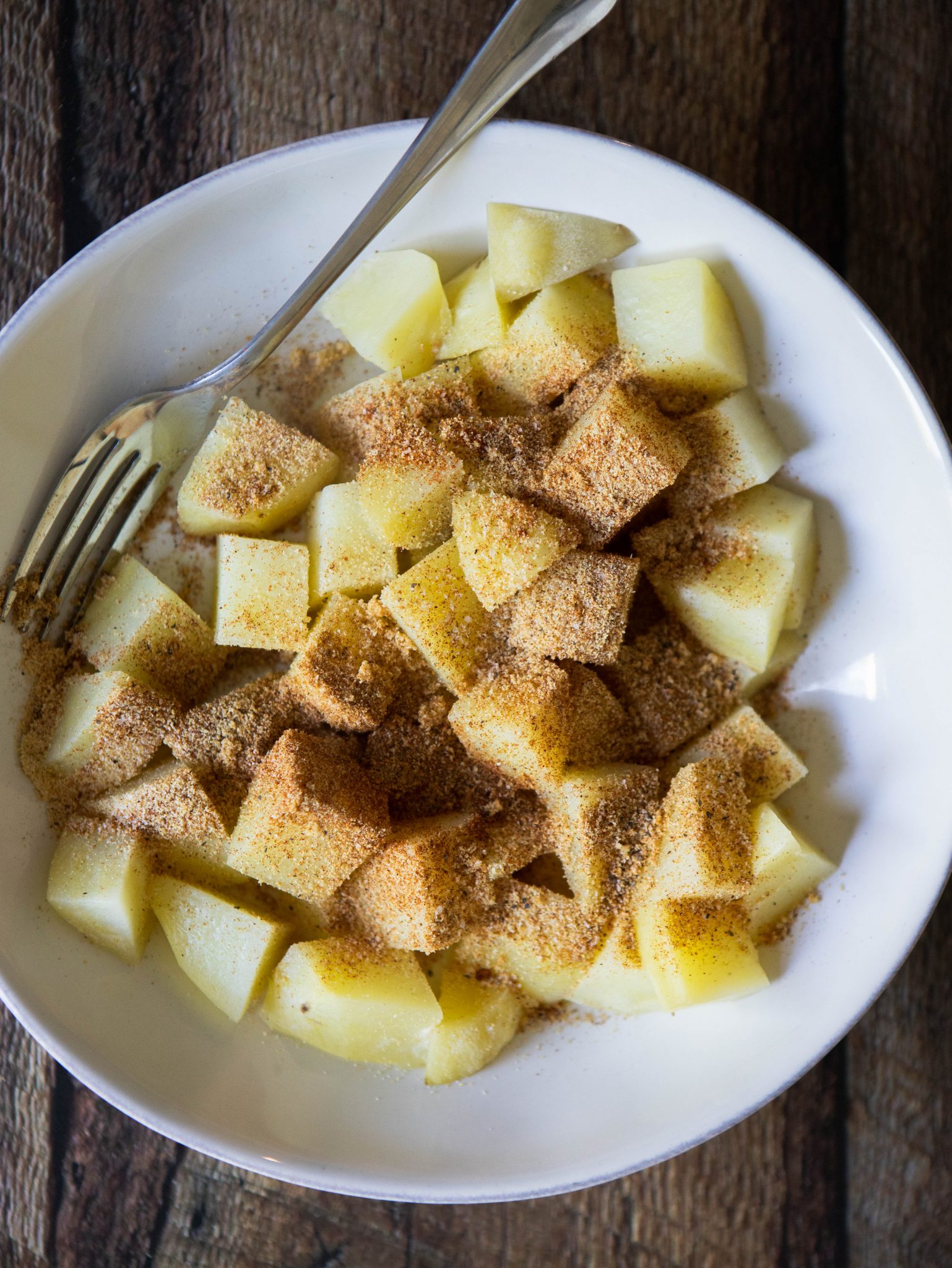 Add remaining vegetable oil to your pan, and keep it at medium heat. Add in your potatoes, minced garlic and half the butter, and cook for about 10 minutes, stirring gently every couple of minutes with a wooden spoon, scraping up any brown bits.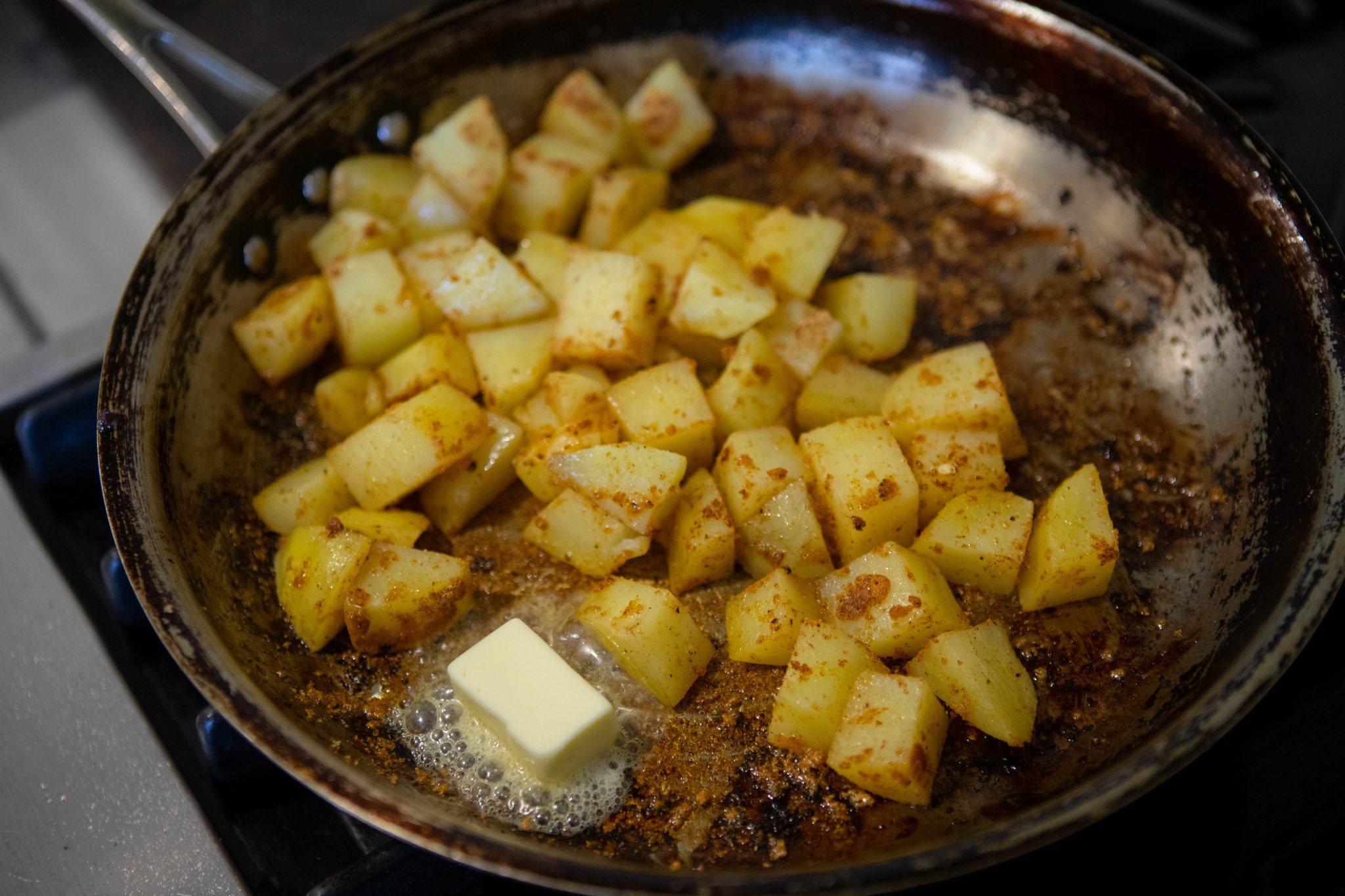 When your potatoes are cooked and tender, return your top sirloin steak tips to the pan and stir to reheat. Add in the remaining butter and season to taste with additional salt and pepper to taste. Serve immediately.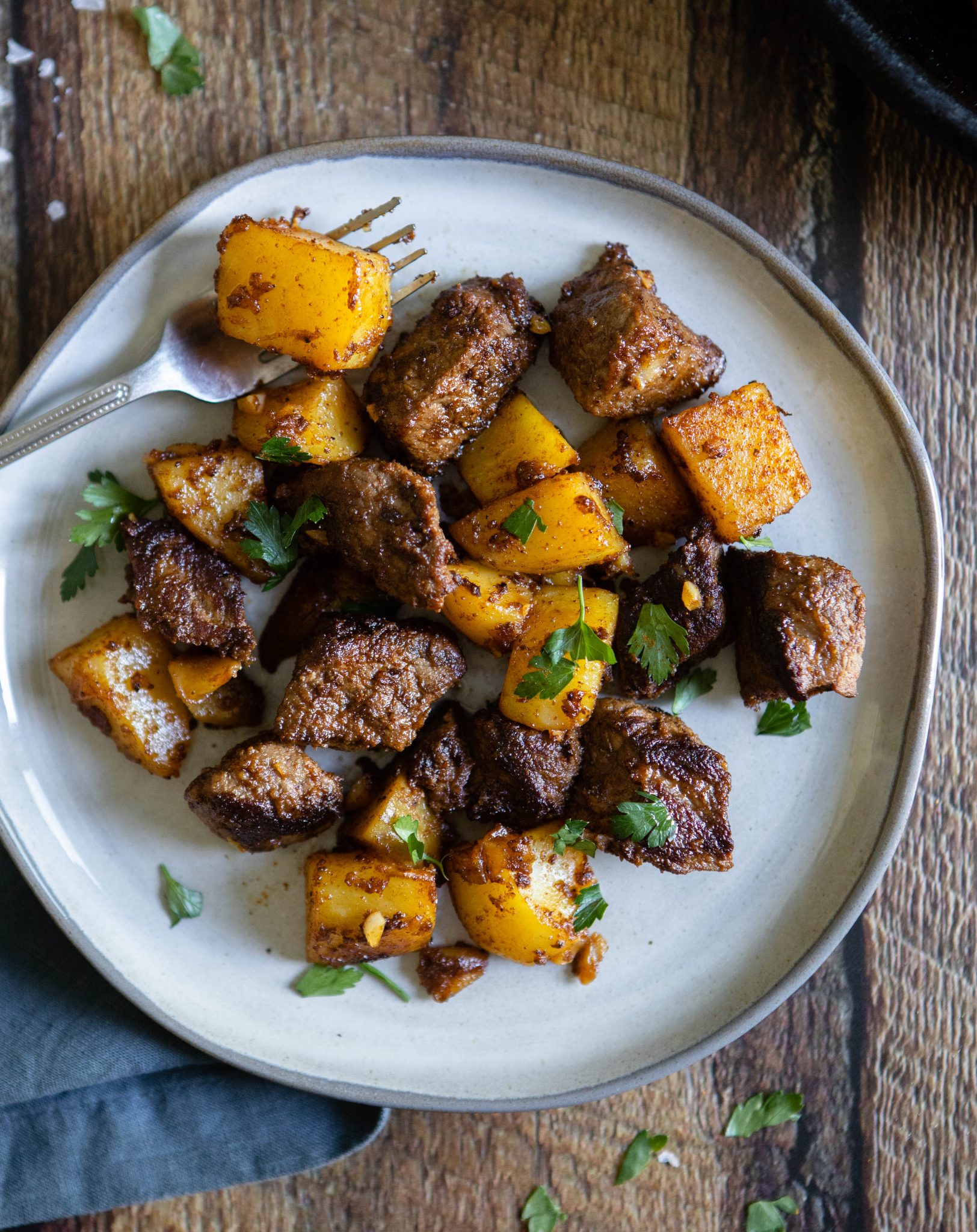 can i use a different type of steak?
The only recommendation I make for an alternative meat, is tri-tip. You can try using a different type of steak besides top sirloin, such as tenderloin or NY steak, but both are typically more expensive. Strip steak could work, and is reasonably priced, but it has a different texture than top sirloin. I definitely do not recommend stew meat, which is a lot tougher and requires a long and slow cooking method to come out tender.
So when all is said and done, you can try other substitutions, but I really prefer top sirloin or tri-tip if in a pinch. It is tender when prepared correctly, somewhat reasonably priced, and cooks up rather quickly.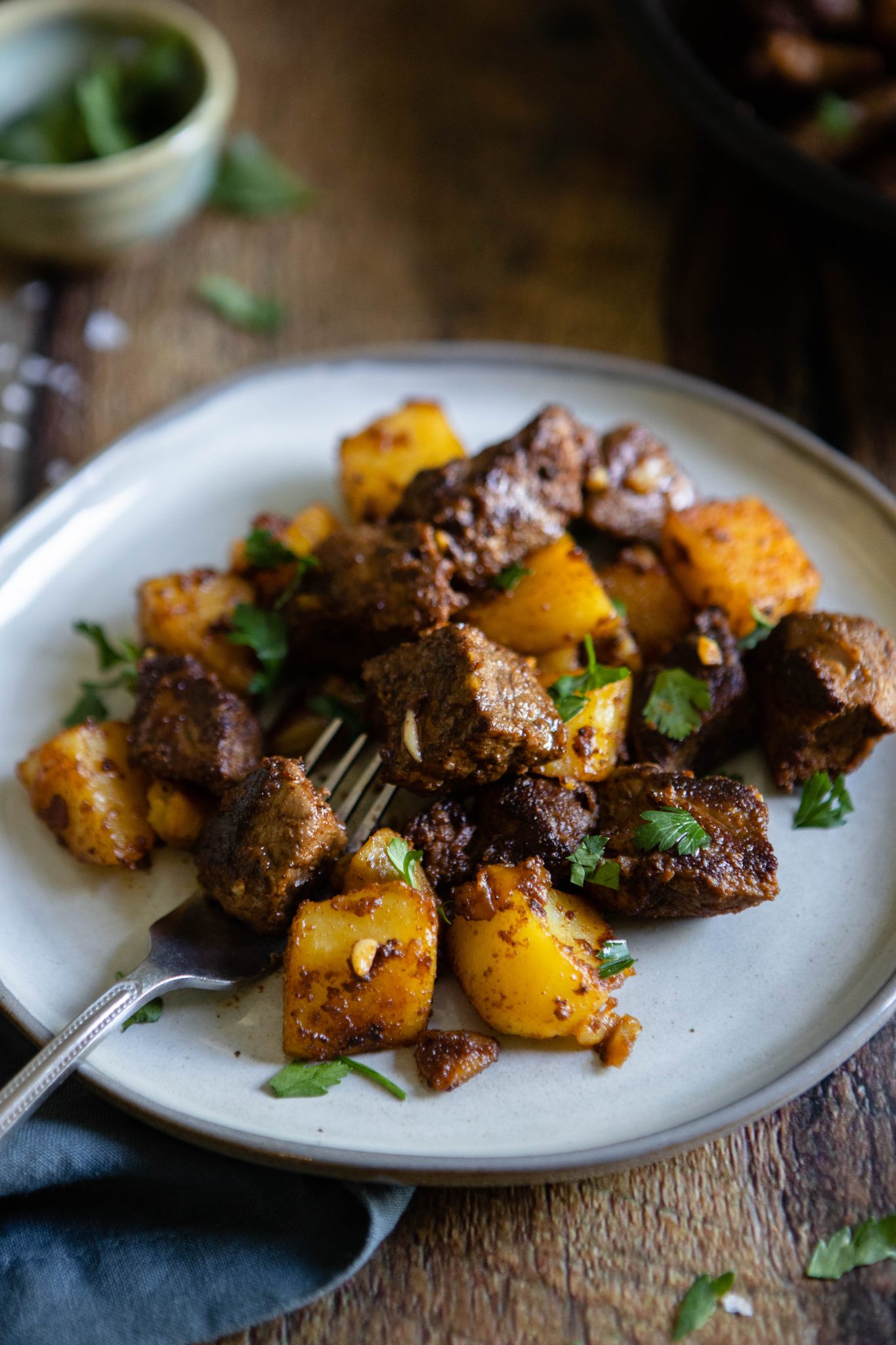 Why microwave the potatoes?
Sautéing potatoes can be tricky business. Achieving the perfectly cooked potato in a sauté pan can often mean long cooking times, or very crispy potatoes on the outside that may not be thoroughly cooked through and fork tender. Doing a pre-cook in the microwave first, primes them for a quick and thorough cooking in the pan.
If you don't have a microwave, you can also par-boil them, allowing them to dry completely before adding to the sauté pan. Boiling takes the convenience out of the dish though, so I would recommend just cutting them into small 1″ cubes and cooking them slowly on low heat so they don't get crispy. This dish is supposed to be reminiscent of steak frites, where the potatoes are soft and tender without a crispy outer shell.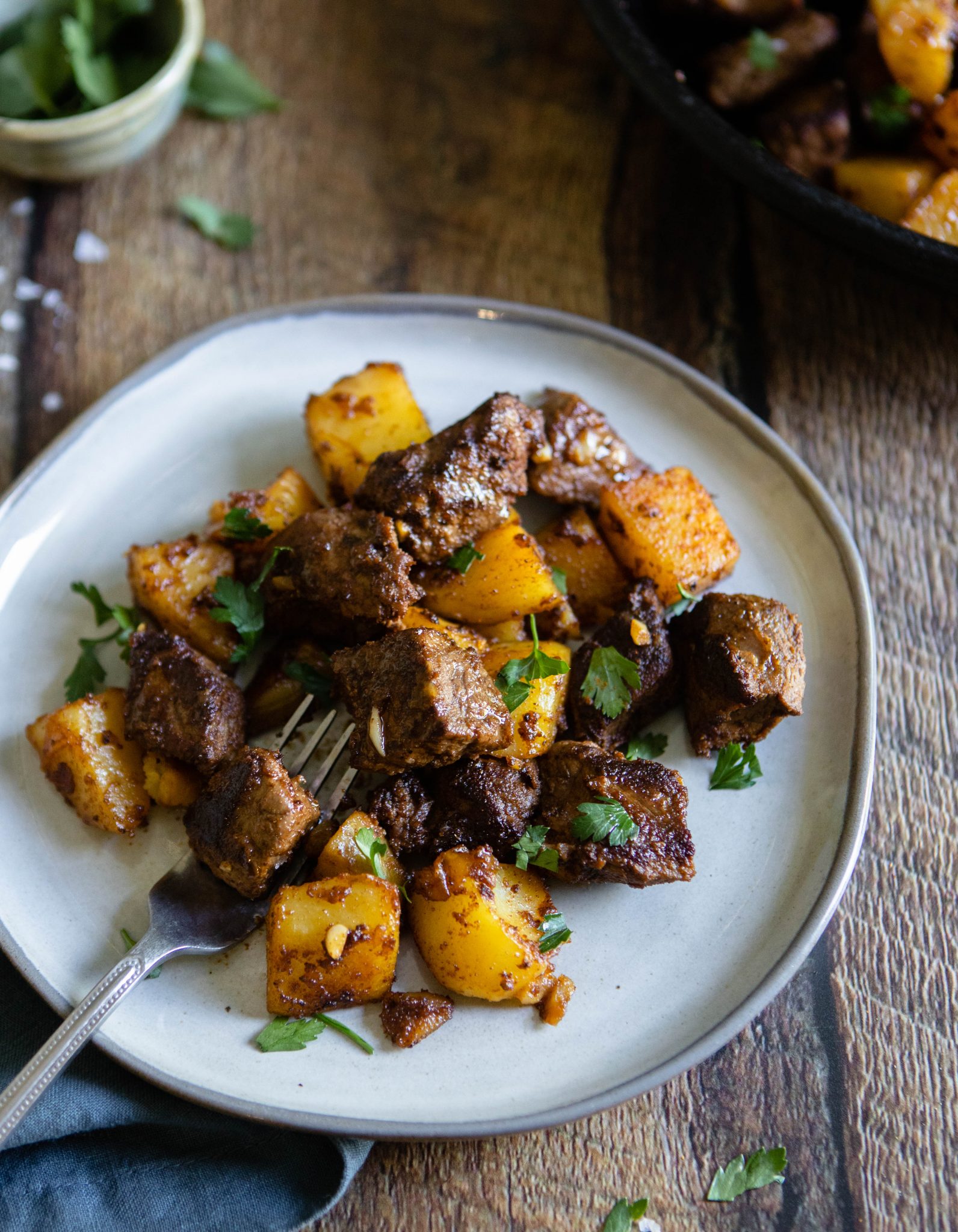 other steak dishes to try
If your family loves steak as much as mine does, try these other quick and easy family favorites:
beef sirloin steak tips with garlic butter potatoes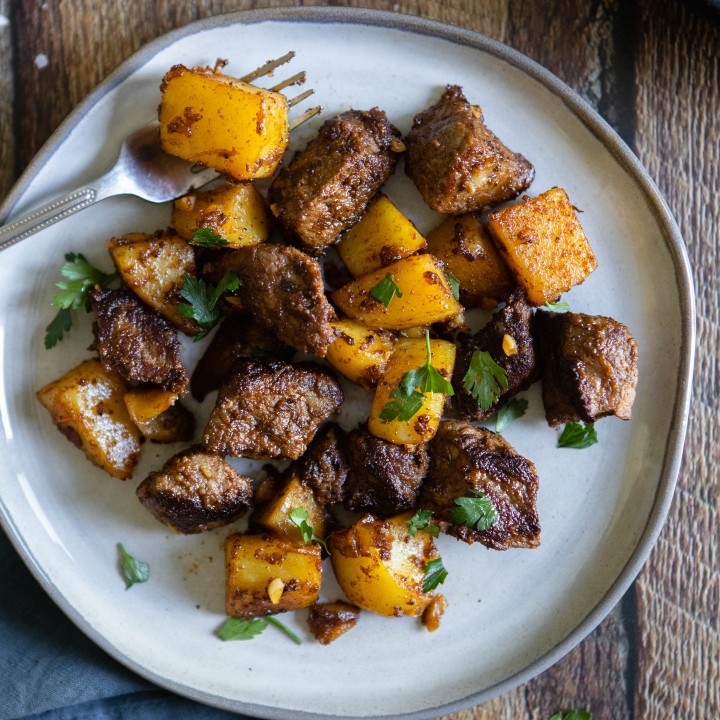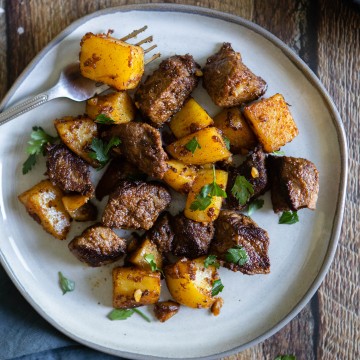 Beef Sirloin Steak Bites with Garlic Butter Potatoes
Top sirloin steak bites with flavorful potatoes is a quick and easy one pan dinner that makes for a great weeknight meal!
Print
Pin
Rate
Ingredients
1.5

lb

top sirloin

cut into 1" cubes

1

lb

potatoes

peeled and cut into 1" cubes

4

tbsp

neutral oil such as Canola or Grapeseed

4

tbsp

butter

divided

4

garlic cloves

minced

1

tbsp

garlic powder

1

tbsp

onion powder

1

tbsp

paprika

1

tsp

cumin

½

tsp

cayenne pepper

3

tsp

salt

more to taste if needed

1

tsp

pepper
Instructions
Combine the garlic powder, onion powder, paprika, cumin, cayenne, black pepper and 2 teaspoons of the salt into a small bowl and stir to combine.

In a medium bowl add the steak tips, 2 tbsp of the vegetable oil, and half of the spice mixture, and stir to combine. Set aside and allow to marinate for a minimum of 15 minutes, up to an hour.

While the beef is marinating, peel and cube the potatoes. Sprinkle with remaining 1 tsp of salt and set in a shallow bowl or deep plate like a pie plate, and spread them out a bit.

Microwave potatoes on high for 4 minutes. Gently stir, and microwave for another 2-4 minutes, until potatoes are just fork tender (known as par-cooked). Set aside.

Heat a deep skillet on medium high heat, and add just a bit of neutral cooking oil. Add steak tips and cook 2-3 minutes on each side, till seared but not cooked through. Remove from the pan and set aside on a plate.

Stir in the other half of the spice mix to the potatoes and toss to combine and coat. Heat remaining vegetable oil in pan on medium heat. Add potatoes, minced garlic and 2 tbsp of the butter, and cook for about 10 minutes till easily pierced with a fork, stirring often.

Add steak to pan with potatoes, and remaining 2 tbsp of butter, and cook till heated through, about 1-2 minutes. Serve immediately.
Notes
You can substitute tri-tip for top sirloin
When cooking the potatoes in the microwave, make sure to gently stir them in between cooking, as if you stir them too much, too much of the starch will be released and the potatoes will get sticky. Also, because microwave powers vary so much, the total cooking time to just fork tender may vary between 4 minutes and 8 minutes. That is why I suggest starting with a 4 minute cook, then add 1-2 minutes and check, so as to not overcook. 
Nutrition
Serving:
2
Cups
|
Calories:
552
kcal
|
Carbohydrates:
25
g
|
Protein:
41
g
|
Fat:
32
g
|
Saturated Fat:
11
g
|
Cholesterol:
131
mg
|
Sodium:
1952
mg
|
Potassium:
1152
mg
|
Fiber:
3
g
|
Sugar:
1
g
|
Vitamin A:
521
IU
|
Vitamin C:
27
mg
|
Calcium:
71
mg
|
Iron:
4
mg