I'm always looking for ways we can cut down a bit on meat, so I was really excited when I found this sweet potato vegetarian chili was something my family would not only eat, but also enjoy! I can usually predict what my own family will eat, but I like to run new veggie recipes by the toughest carnivore critic I know, my dad. He was previously convinced that a meatless meal would never truly fill him up, however I was able to change his mind with this recipe. In fact when I made it for the first time 2 years ago, he actually preferred this to the top sirloin chili I had also made! Read on for the full recipe.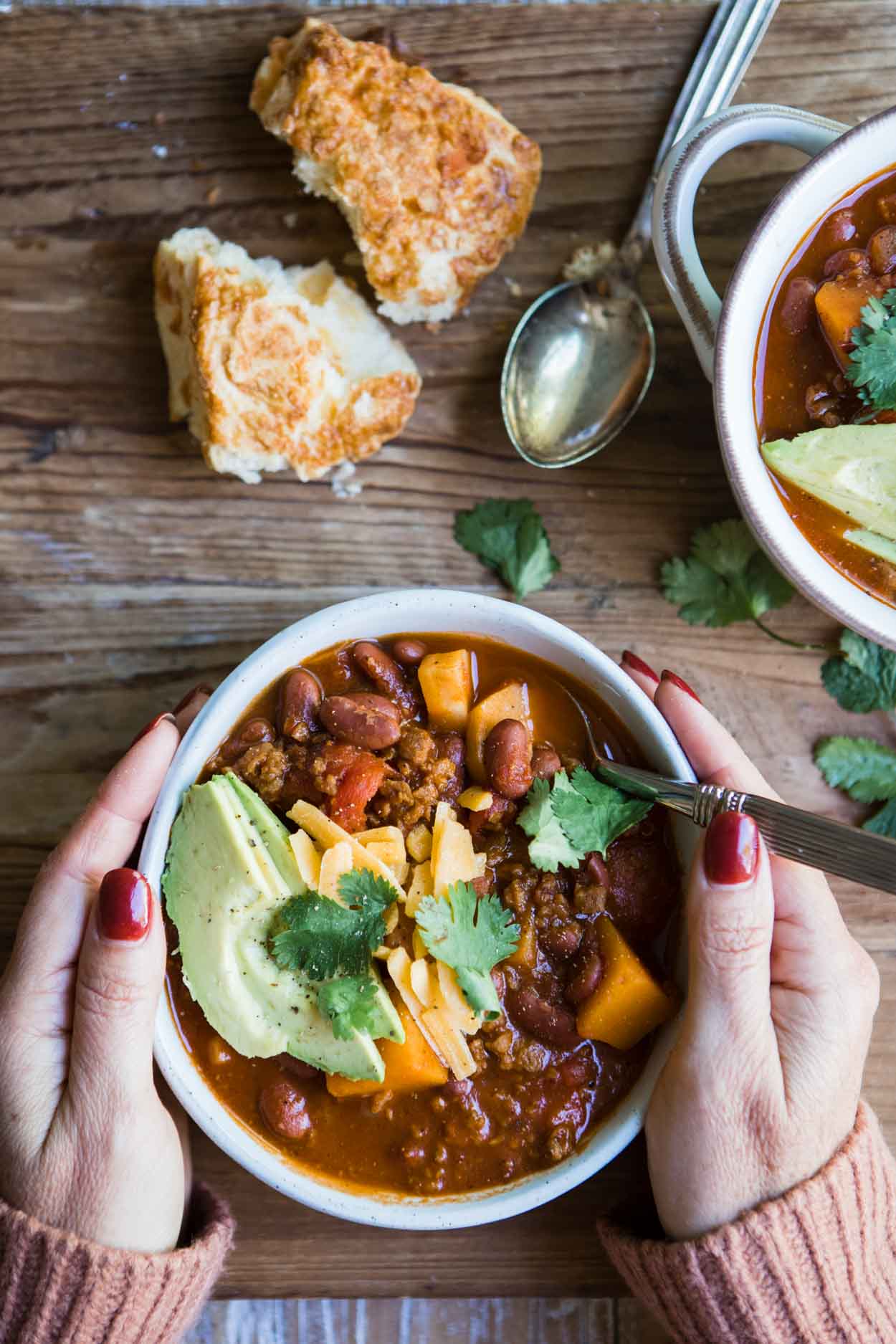 What's In Sweet Potato Vegetarian Chili?
This recipe comes together so quickly because it calls for basic pantry staples and fresh ingredients that are available all year round.
Sweet potatoes – We used two sweet potatoes for this chili.
Parsnips (optional but I highly recommend!)
Vegetarian veggie crumbles – these are crumbles that resemble the texture of ground beef. These crumbles give the recipe a really yummy flavor and make it feel like a much heartier, more filling chili.
1 can each of whole peeled tomatoes and tomato sauce
Red kidney beans (I prefer the light red if they're available because they look more like pinto beans haha and my kids don't put up a fuss eating them).
Diced onions and 1 red bell pepper cubed
Vegetable broth
Spices and chipotle pepper in adobo sauce

How to make Sweet Potato Vegetarian Chili
Grab a large pot or a dutch oven, and heat 2 tbsp of olive oil over medium heat. When warmed, add in your onions and stir, cooking till translucent. Stir in your garlic and cook for less than a minute, till it gets that yummy smell. Add in the parsnips, sweet potatoes, and herbs and spices, and give it a good stir. Cook on medium heat for about 10 minutes, until the potatoes and parsnips start to soften up just the tiniest bit.
Add in your vegetable broth, kidney beans, whole tomatoes and tomato sauce, making sure to break up the tomatoes with a wooden spoon. Cover and simmer on low for about 30-45 minutes, till the potatoes and parsnips are fork tender.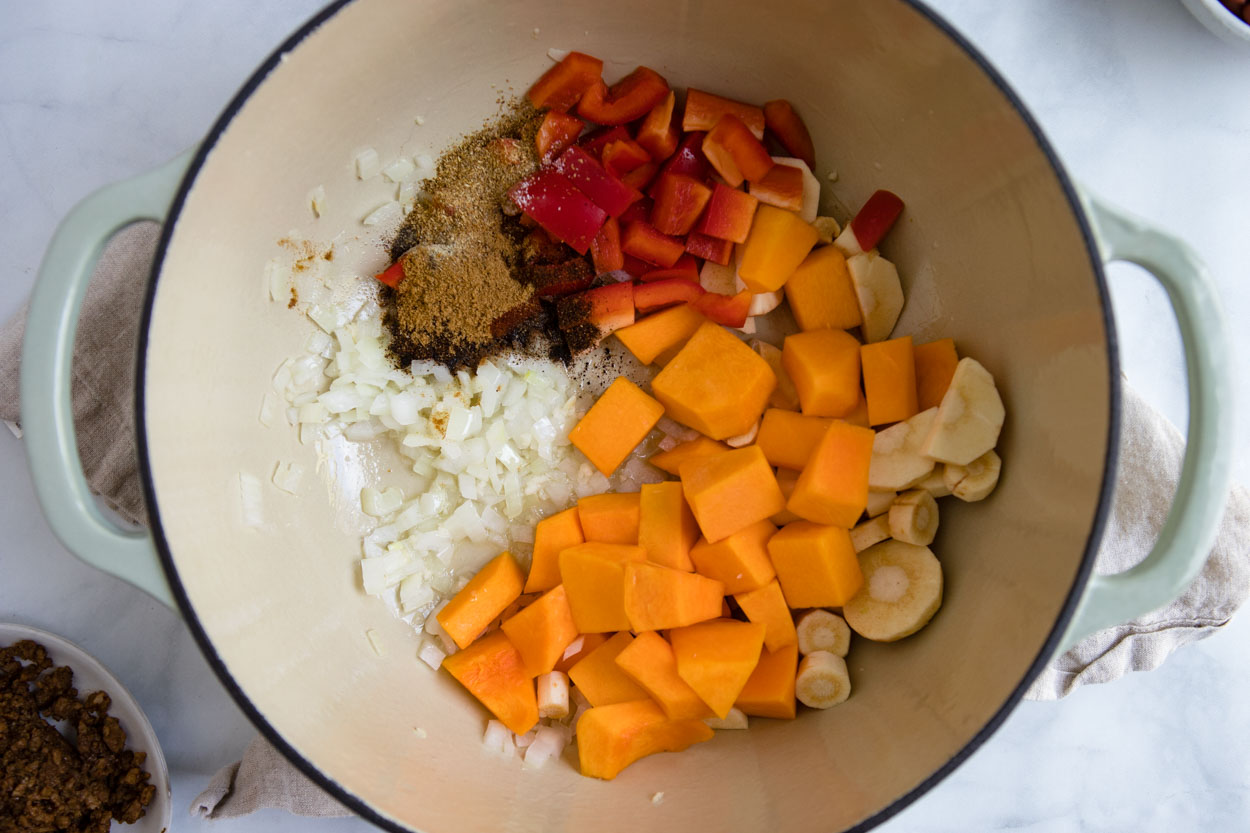 Now it's time to stir in the veggie crumbles, and cook till just heated through. You can leave the chili simmering on the lowest setting until you are ready to serve.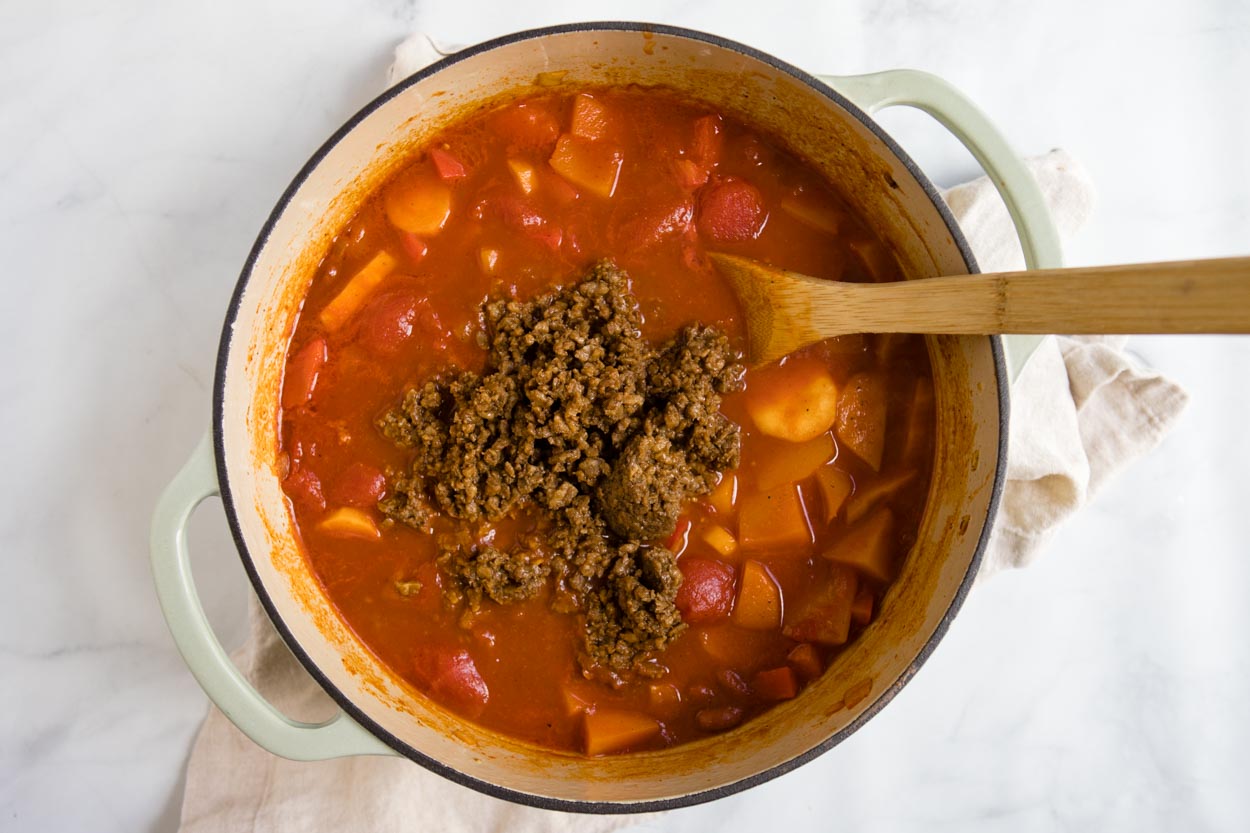 How Long Is Chili Good For?
If stored properly in the fridge, cooked chili will easily last 3-4 days. You don't want to leave it at room temperature for more than a few hours, so make sure once you have gotten your fill of chili, quickly cover it and transfer it to the fridge.

Tips for Freezing and Reheating Chili
While the portions here are not overly large, you're likely to have some leftovers even after feeding your family.  Luckily you can store chili in the freezer for about 4 months. To freeze, place room temperature or chilled chili (not hot directly from the stove) in a tightly sealed container or a Ziploc freezer bag. If there is a large portion leftover, consider dividing the leftovers into portion size servings so you can heat up 1 at a time.
To reheat the chili, let thaw in the fridge for a few hours, and then place in a pot and warm over medium heat. Keep covered to retain moisture, and season to taste. It's likely that some flavors will have been lost during the freezing and reheating process, so adjust seasonings as needed and be generous with your toppings!
Other HELPFUL Tips For Making the Best Vegetarian Chili
The first time I cooked with these beef veggie crumbles, I made the mistake of over-salting my dish. The crumbles have a lot of flavor and salt and instantly transform an entire dish when mixed into it. So salt with a light touch and make sure to taste after adding the crumbles, before adding more salt.
During the summer months, you can certainly swap out the sweet potatoes for summer squash. Just cook at a lower heat reduce cooking time as needed to accommodate for the softer texture of the summer squash.
More Vegetarian Dinner Recipes To Enjoy
More Easy & Comforting Soup Recipes
Traditional Pho Ga – Vietnamese Chicken Noodle Soup
Slow Cooker Lemon Orzo Chicken Soup
Crockpot Butternut Squash Soup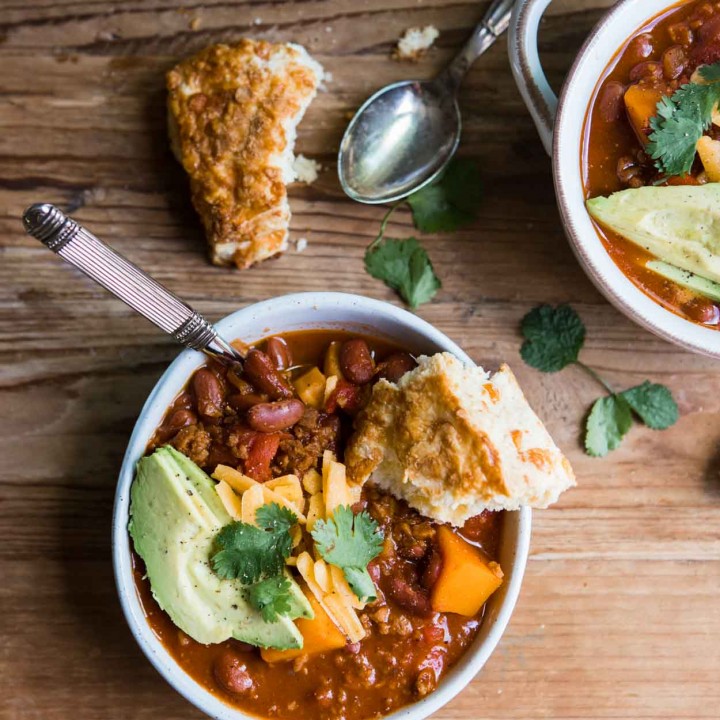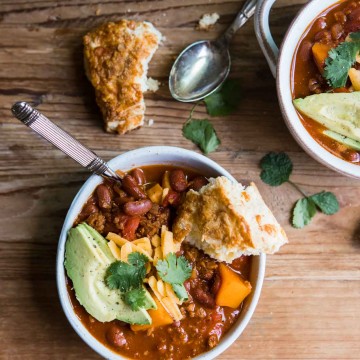 Sweet Potato Vegetarian Chili
The easiest and tastiest vegetarian chili! Made with sweet potatoes and veggie crumbles to add warmth and texture, this recipe is sure to please even the heartiest of eaters!
Print
Pin
Rate
Ingredients
½

Onion

Diced

2

tbsp

Olive oil

2

garlic cloves

diced

2

medium

Sweet potates

Peeled & cut into cubes

2

medium

Parsnips

Peeled & cut into 1"-2" chunks

2

15 ounce

Cans red kidney beans

drained and rinsed

15

ounce can

Tomato sauce

28

ounce can

Whole peeled tomatoes

12

ounce

Package of vegetarian beef crumbles

1

whole

Red, yellow or orange pepper

seeded and cubed

1

tbsp

Chili powder

1

tsp

Ground Cumin

1

tsp

Ground Coriander

½

tsp

Pepper

1-2

Whole chipotle in adobo sauce, diced fine

these are spicy so use according to the heat you want

1

cup

Vegetable broth
Instructions
Warm 2 tbs olive oil in a large Dutch Oven or stock pot over medium heat and add in onions. Stir and cook till translucent. Add in onions and cook till just fragrant, about 30 seconds.

Stir in parsnips, sweet potatoes, bell pepper, chili powder, cumin, coriander, black pepper, and chipotle, cooking over medium heat until potatoes and parsnips start to soften just the tiniest bit, about 10 minutes.

Stir in kidney beans, vegetable broth, tomato sauce and whole peeled tomatoes in their juice, making sure to crush up whole tomatoes with a wooden spoon. Cover and simmer on medium low for about 30-45 minutes, until potatoes and parsnips are fork tender.

Stir in veggie beef crumbles and cook till warmed through, about 5 minutes.

Optional garnishes include sour cream, cheese, avocado and cilantro or green onions.
Notes
Vegetable beef crumbles are very flavorful and salty, so there shouldn't be any need to add salt to this recipe. However taste when done cooking and add salt according to your taste preferences. 
Nutrition
Serving:
2
cup
|
Calories:
340
kcal
|
Carbohydrates:
54
g
|
Protein:
21
g
|
Fat:
6
g