This spooky Halloween charcuterie board is filled with delicious cured meats, cheeses and crackers, as well as some festive seasonal favorites. Gorgeous dark purple figs, goldenberries, peppery and spicy salami make this grazing board perfect for your Halloween party or spooky night at home! My white chocolate Halloween snack mix would be a perfect sweet treat addition as well!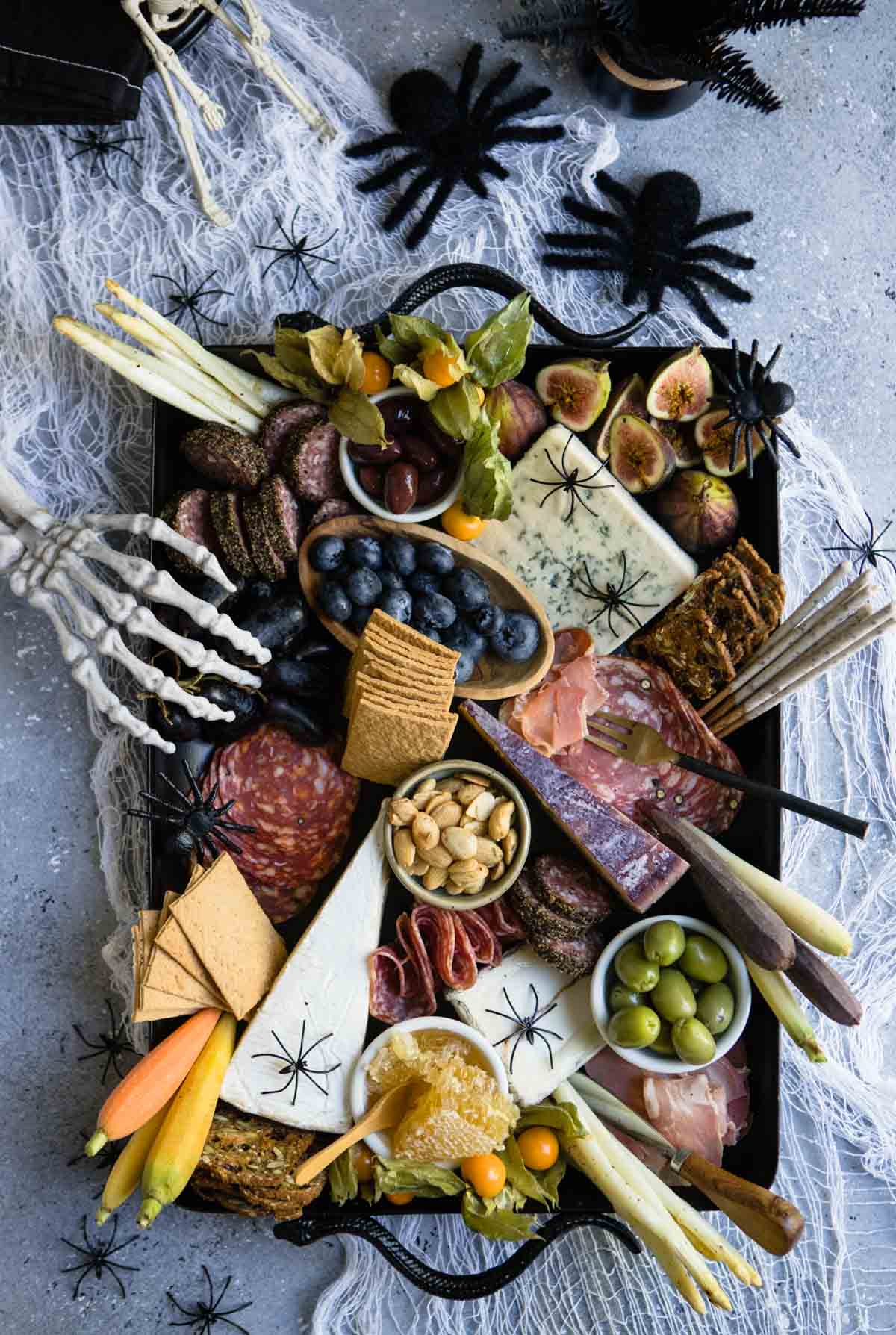 I love this spooky charcuterie board because it is easily customizable so you can include any of your favorites. Snack boards like this are also wonderful because they can be both adult and kid friendly. And I especially love a themed charcuterie board, like this Thanksgiving charcuterie board, or Christmas charcuterie board. Read on to learn how I threw together this spread.
Jump to:
Why this Halloween cheese board works
Highly customizable to whichever cured meats, cheeses and nibbles you'd like to add in, as well as whichever Halloween decorative items you have on hand
Is family friendly – the best part of this Halloween snack board is there's a little something for everyone to enjoy
Impressive presentation to entertain guests or take to a party
Make it sweet or make it spooky – your Halloween board can take on a more kid-friendly whimsical theme by adding in silly decorative items, or make it dark and creepy for a teen or adult gathering.
A meal in one – by adding in seasonal fruits and veggies, along with the cheese and meats, this becomes a light meal for nights when you want to feed the family a fun and easy dinner.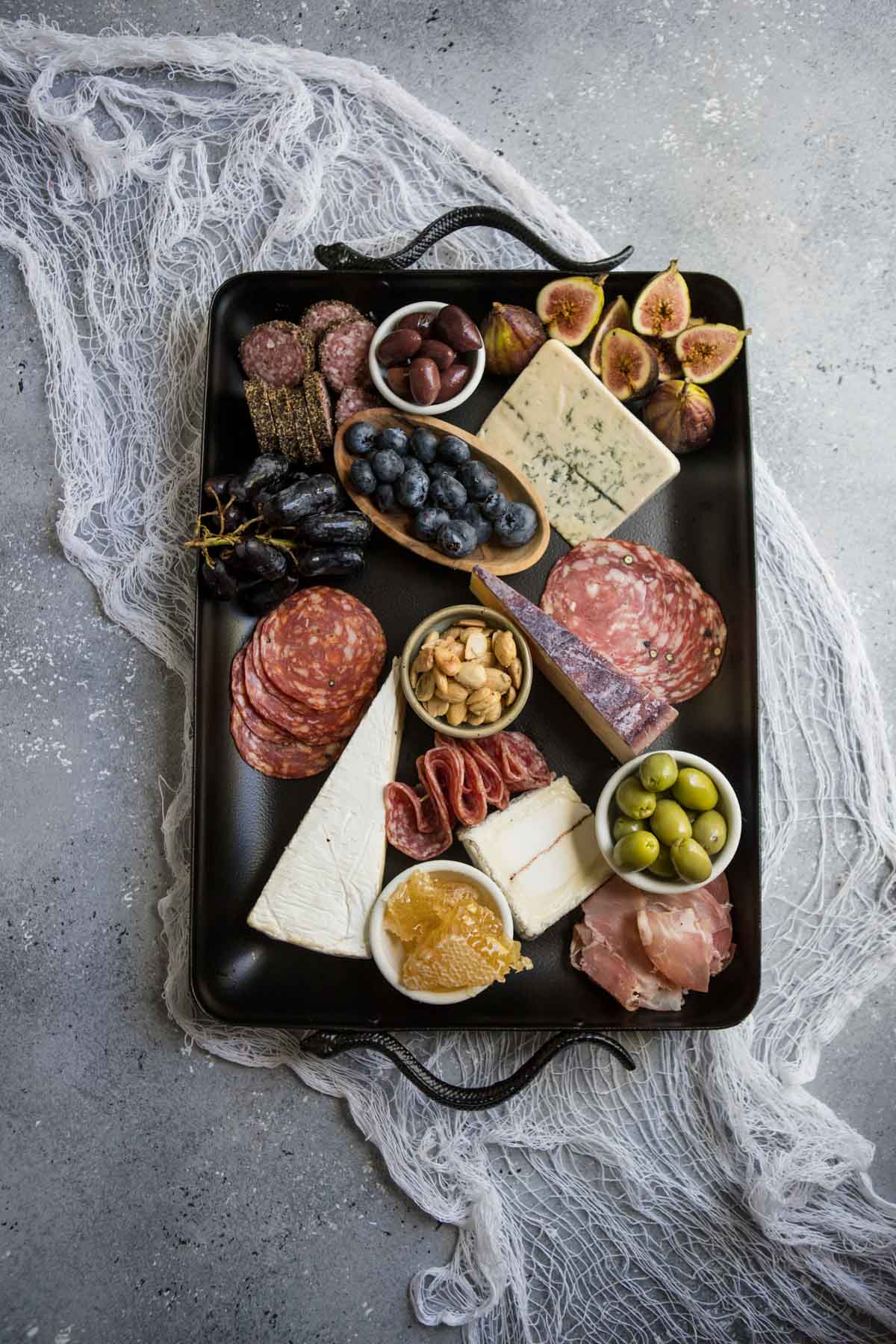 Ingredients for this unique charcuterie board
A variety of cheeses – include both hard cheese and soft cheese options, and to not overwhelm, I typically limit it to 4 choices.
Cured meats – a hard salami and something delicate like prosciutto are great options
Finger foods to nibble on – nuts like marcona almonds and a couple of variety of black and green olives are great to add different textures and a bit of acidic flavor
Fresh or dried fruits and veggies – Grapes, berries, dried mango or cherries, and thinly sliced carrots or asparagus spears are all refreshing options to cleanse the palate
Crackers – a charcuterie board wouldn't be complete without a couple of cracker options. I like to choose a hard and sturdy cracker to spread cheese on, as well as a light cracker to just nibble on
Sweet treats – think candy corn, candy pumpkins, chocolate covered almonds, chocolate candy eyeballs or other fun sweet treats for guests to satisfy their sweet tooth
Step-by-step guide to assembling this festive Halloween-themed board
Choose your serving platters and utensils – for this board I chose a black snake board I picked up at Target, perfect for spooky season! Then I chose a few small bowls to hold nibbles, as well as a cheese knife for soft and hard cheeses, and cocktail forks. A large cutting board makes a great serving tray for a charcuterie platter.
Assemble your cheeses – I always begin by setting down the cheeses first, as everything will work off of that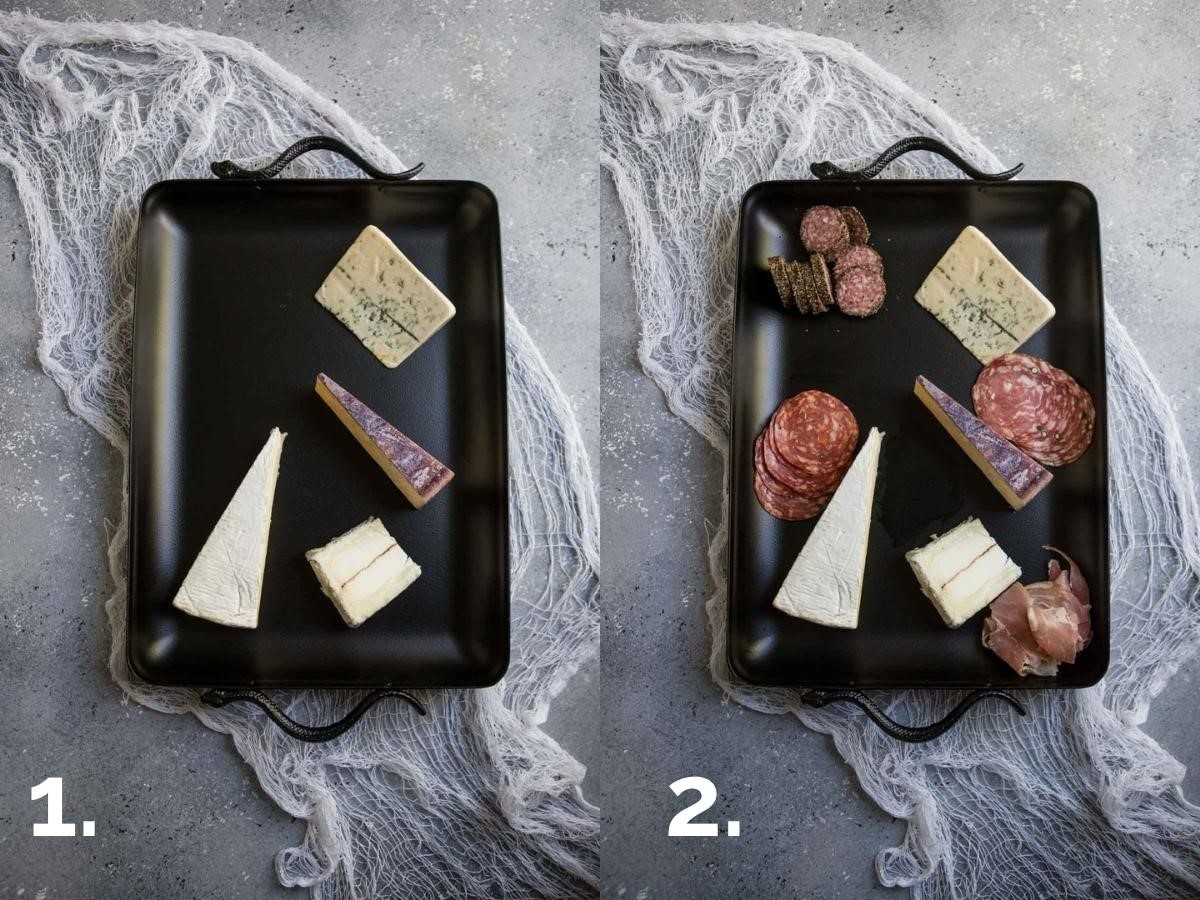 Now place the cured meats – When placing them on the board, I start by putting out several slices of each, but then add in more at the end to fill in empty spots, so make sure you only put out about ⅔ of each type of meat, and set aside the remaining pieces to fill in gaps as needed.
Fill in with olives, nuts and fruits – For a fun Halloween twist, choose purple and blue fruits (think blueberries, purple figs or pomegranate seeds) and black olives for a dark spooky feel.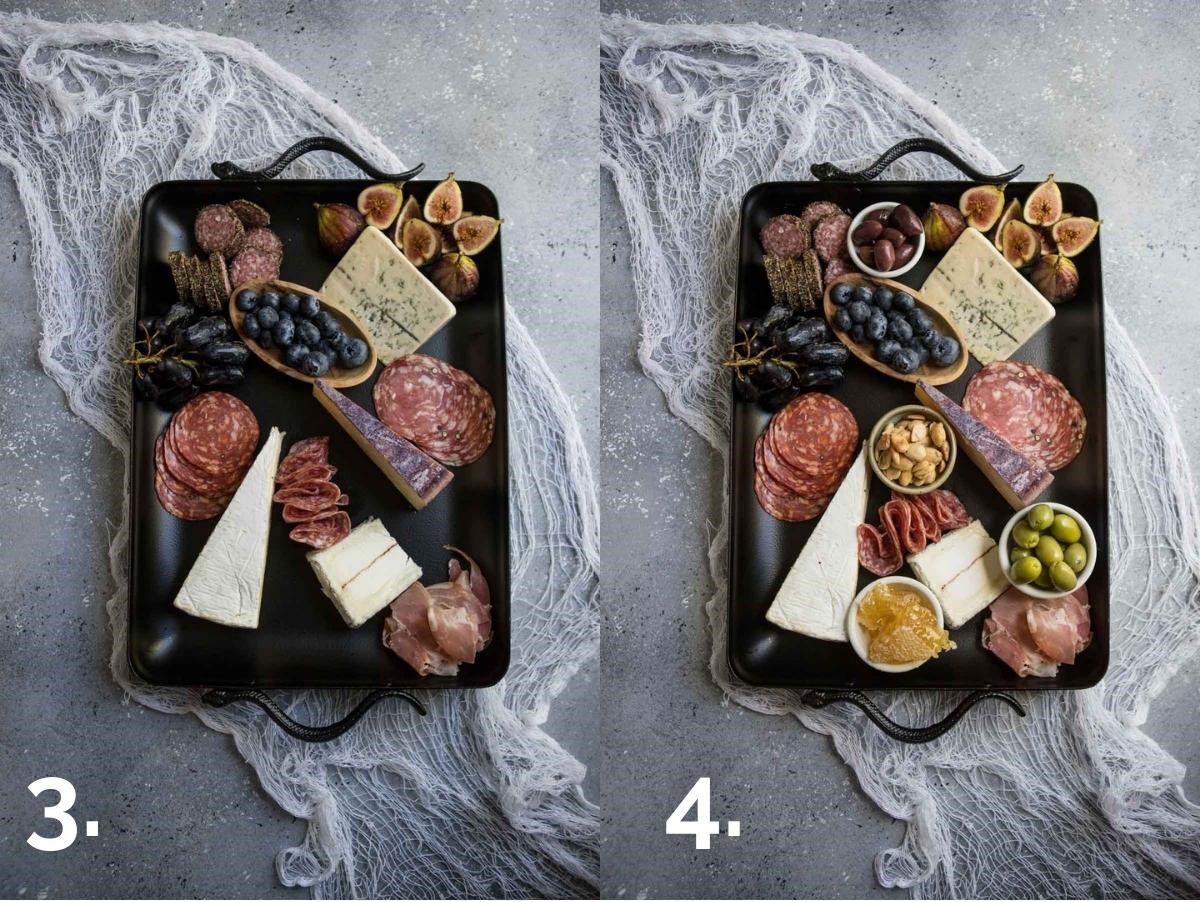 Add the crackers last (to keep them fresh!) – Placing the crackers is one of the last ingredients I place because I want them to stay as crisp and fresh as possible.
Finishing touches – If you want a really full looking board that looks like it's exploding with food, fill in little gaps. This is also when you'll add in your Halloween decorative items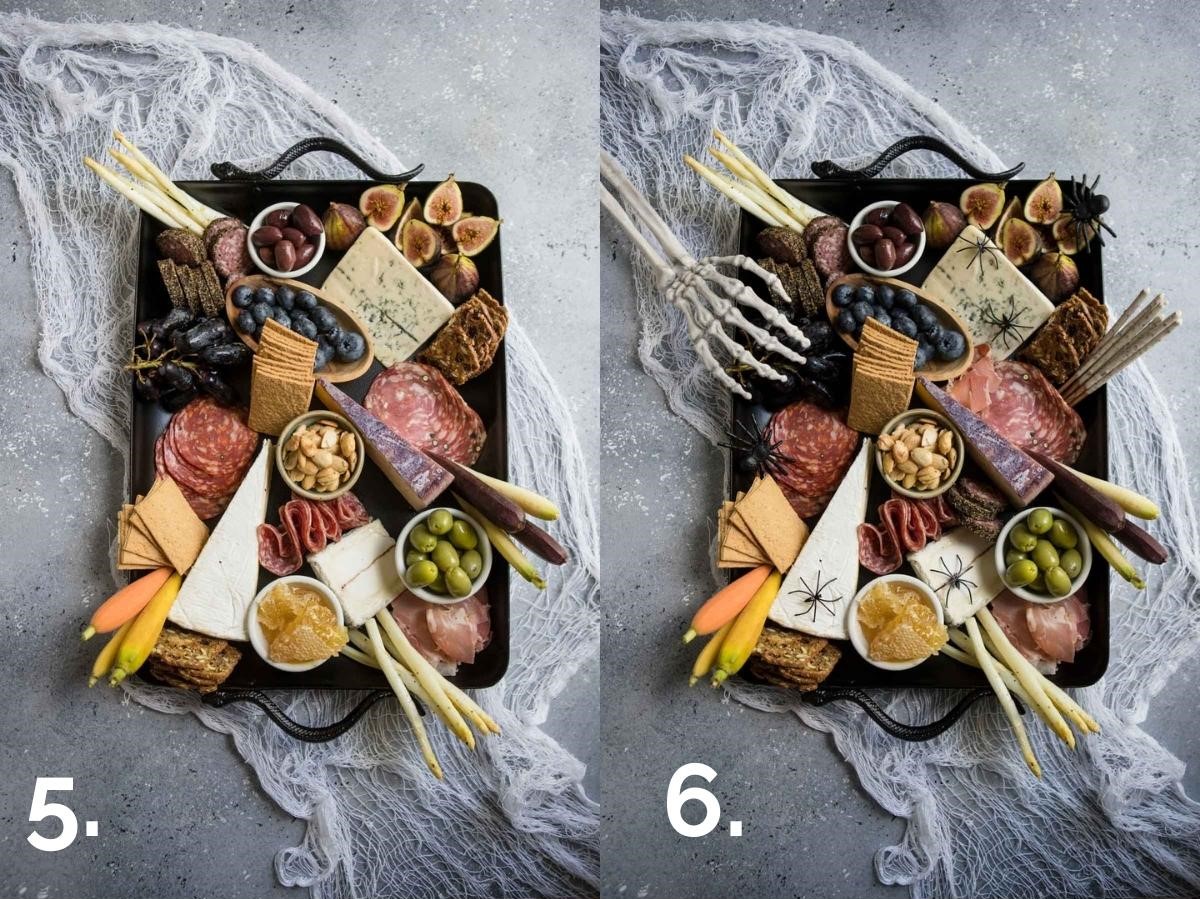 How to choose the right cheeses
Pro Tip: When selecting cheese for a charcuterie board, I like to have an assortment of cheeses including hard, soft and a crumbly cheese like blue cheese or gorgonzola.
I included a merlot skin asiago which is a hard and nutty cheese that tastes great all on its own. I usually pick up a small piece of Humboldt fog, which is a goat cheese with a characteristic pungent blue streak and a creamy but slightly bold flavor. A wedge of brie is of course is always a great addition to any classic cheese board. And a Irish cheddar is great for kids and adults to enjoy.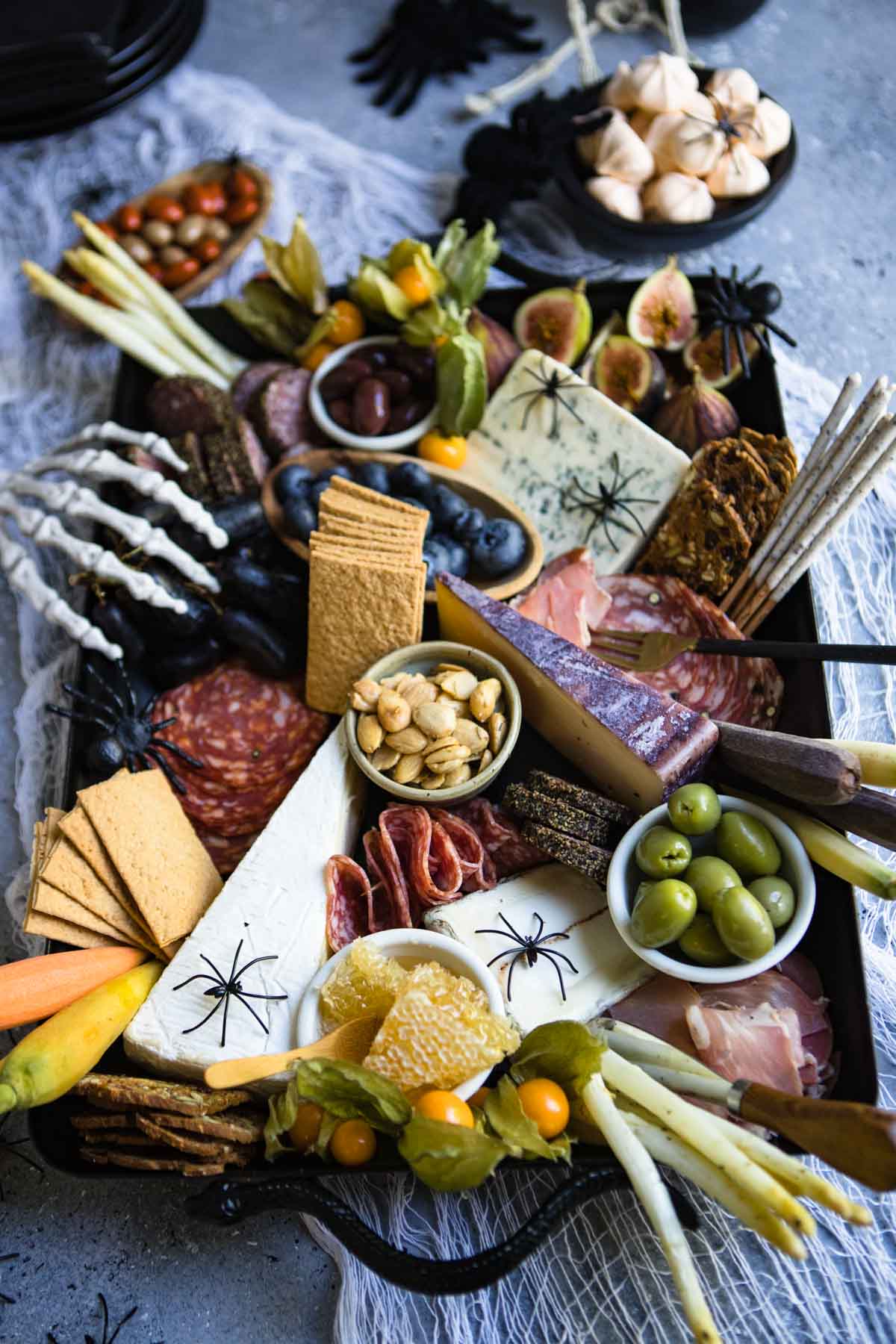 How to add a spooky twist!
A fun ideas to add a creepy vibe is by adding spooky decor like plastic spiders, skulls and skeleton hands set on top of ingredients. Layering in muslin or other apropos Halloween-esque fabrics also work well to layer texture and add to the spooky vibe.
You can also add in a ghoulish treat or two like gummy worms. candy eyes or other fun Halloween foods in pumpkin shapes. Now that Hocus Pocus 2 was just released, it would be really fun to make a movie-themed board. I love shopping Trader Joe or whatever I can find just my local grocery store.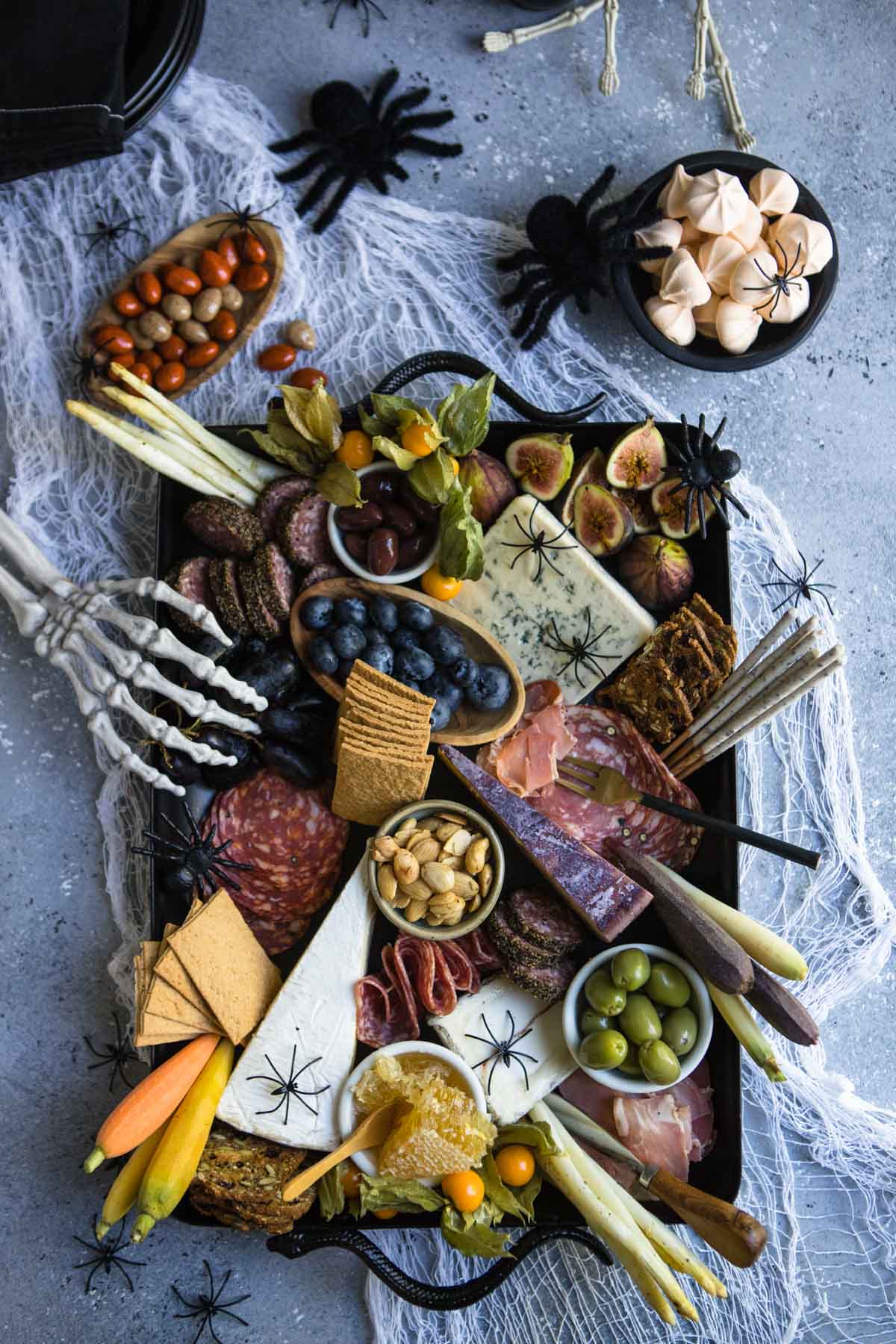 What is charcuterie anyhow?
The actual term charcuterie means "cold cooked meats collectively." A classic charcuterie board always has an assemblage of cured meat products, cheeses, nuts and crackers, and more elaborate boards may also contain pickles, olives and sweets. I actually show you here how to make a perfect cheese charcuterie board, but I loved sharing with you how to make a board for Halloween season.
Expert tips for assembling a Halloween charcuterie platter without spending a fortune
A Well Stocked Pantry: Keep your pantry stocked with non-perishables that make for fun ingredients when you find them on sale. Fancy crackers, nuts, jarred olives and little sweet treats can be picked up and stored for your next occasion.
Check Home Goods: Home Goods is a great place to stock up on unique snack items, especially jars of beautiful olives, chocolates and crackers, and are priced really well. Occasionally you may even find honeycomb!
Check Trader Joes: Trader Joe's has fantastic prices on cheese and seasonal non-perishable snack items.
Get Your Meats From The Deli: Buy cured meats from the deli counter, as the prices are usually cheaper by the pound, and you can more easily stick to a specific budget by only buying what you need.
Buy Seasonal: Buy seasonally appropriate fruits, as in-season fruit will usually be a lot cheaper.
Quality Over Quantity: In my book, it's quality over quantity when it comes to serving nuts. I stick with Marcona almonds and just serve those instead of trying to offer a few different varieties, as it cuts down on costs (nuts are expensive), and pretty much no one can resist them. IMHO, they are the greatest nut of all time so why mess with any others? 😉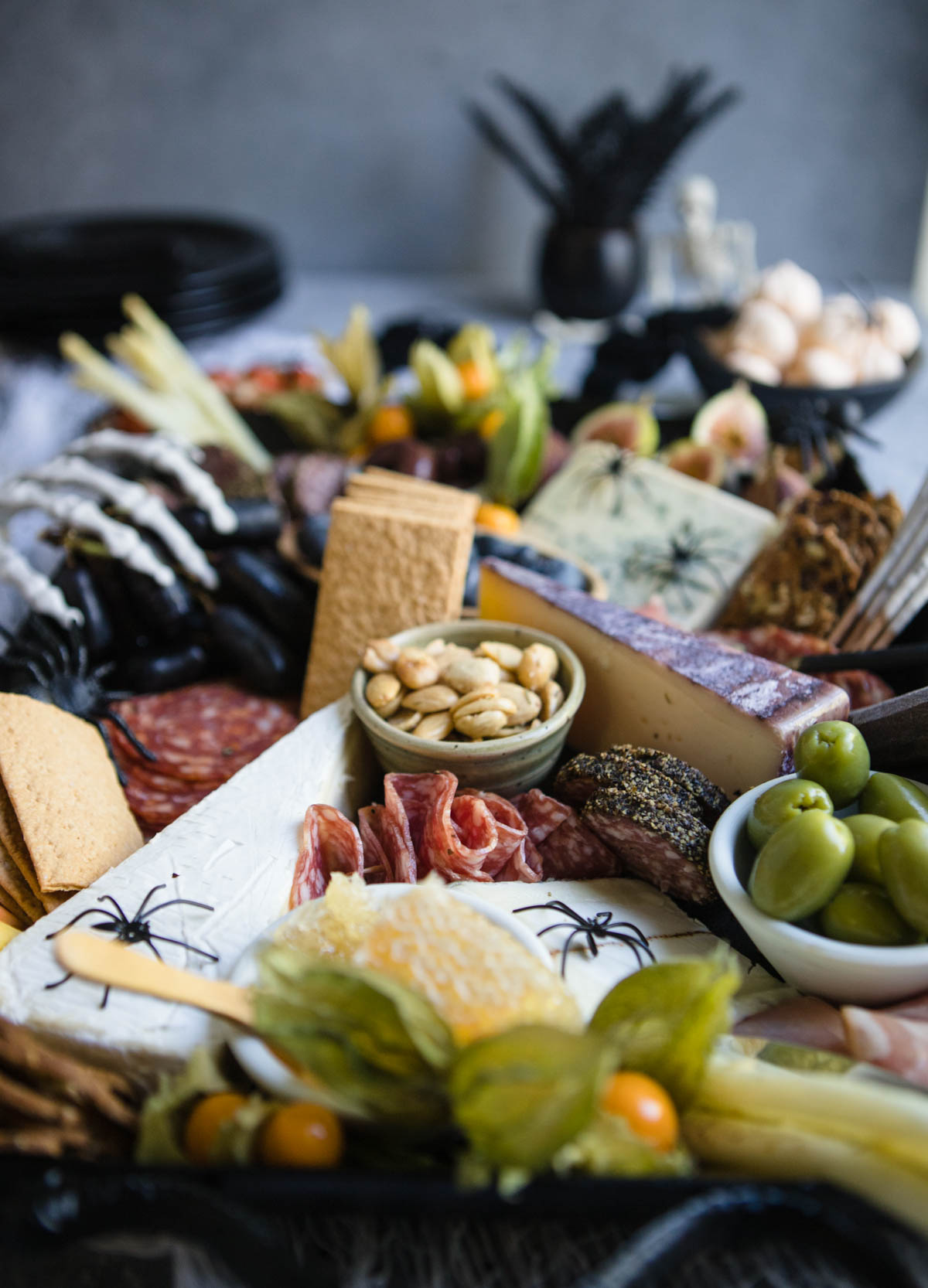 I hope you found some fun inspiration in this post, and with just a little planning, will go out and assemble your next charcuterie board like a boss. Gathering ingredients is the fun part, so enjoy the process and don't get stressed out trying to choose the perfect cheese or waste money buying the fanciest cured meats. Your guests will love and appreciate the effort no matter what the costs involved or how exotic the ingredients.
Looking For More Halloween Inspiration? Check Out These Posts!
Round out this Halloween Charcuterie board with one of these Halloween and Fall inspired post ideas!
Happy Halloween!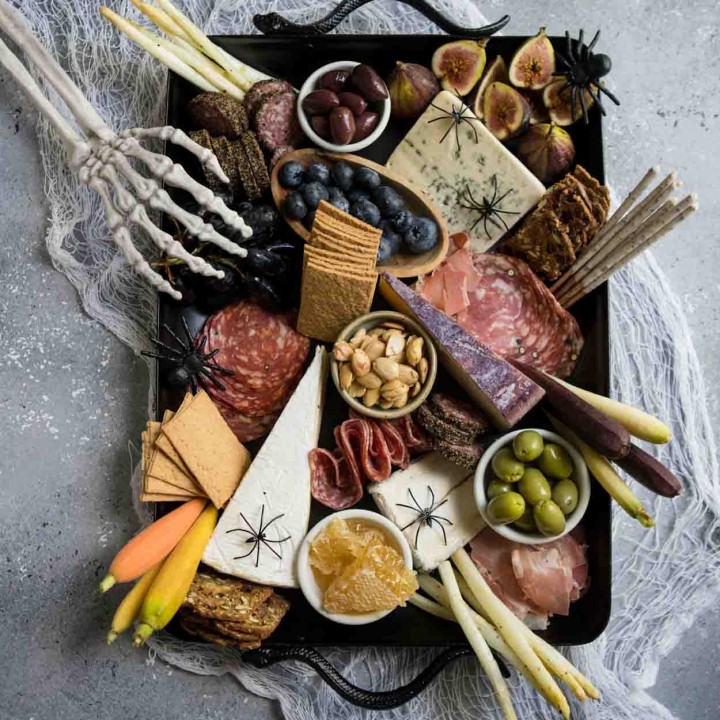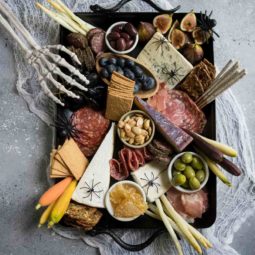 Halloween Charcuterie Board
An easy fun appetizer for Halloween! Make a spooky charcuterie board for your guests to devour.
Print
Pin
Rate
Ingredients
1

lb

Cured meats

1

lb

Assorted Cheeses

16

ounces

Assorted Crackers

8

ounces

Assorted Olives and Nuts

8

ounces

Assorted fruits

fresh and dried

8

ounces

Assorted veggies

optional
Instructions
Choose Your Serving Platters And Utensils

Fill In With Olives, Nuts, And Fruit

Last The Crackers (To Keep Them Crisp!)

Finishing Touches – A few veggies maybe? Or a little more meat in places.
Notes
Choose a hard, soft and mild spreadable cheese to get a nice assortment that will satisfy many tastes.
Avoid very ripe cheeses if you're serving beyond your personal preferences. Some guest may not love smelly cheeses 🙂
Keep extras close by so you can easily and quickly fill in as needed.
*Nutrition info is a very rough estimate and not intended to be used as an accurate indicator 
Nutrition
Calories:
748
kcal
|
Carbohydrates:
50
g
|
Protein:
30
g
|
Fat:
48
g
|
Saturated Fat:
19
g
|
Polyunsaturated Fat:
3
g
|
Monounsaturated Fat:
17
g
|
Cholesterol:
101
mg
|
Sodium:
2510
mg
|
Potassium:
398
mg
|
Fiber:
6
g
|
Sugar:
11
g
|
Vitamin A:
1972
IU
|
Vitamin C:
4
mg
|
Calcium:
169
mg
|
Iron:
3
mg