A Christmas charcuterie board is a fun and creative way to make your holiday a bit more special and festive. Add seasonal flavors and greenery to create a snacking board worthy to be called a full meal!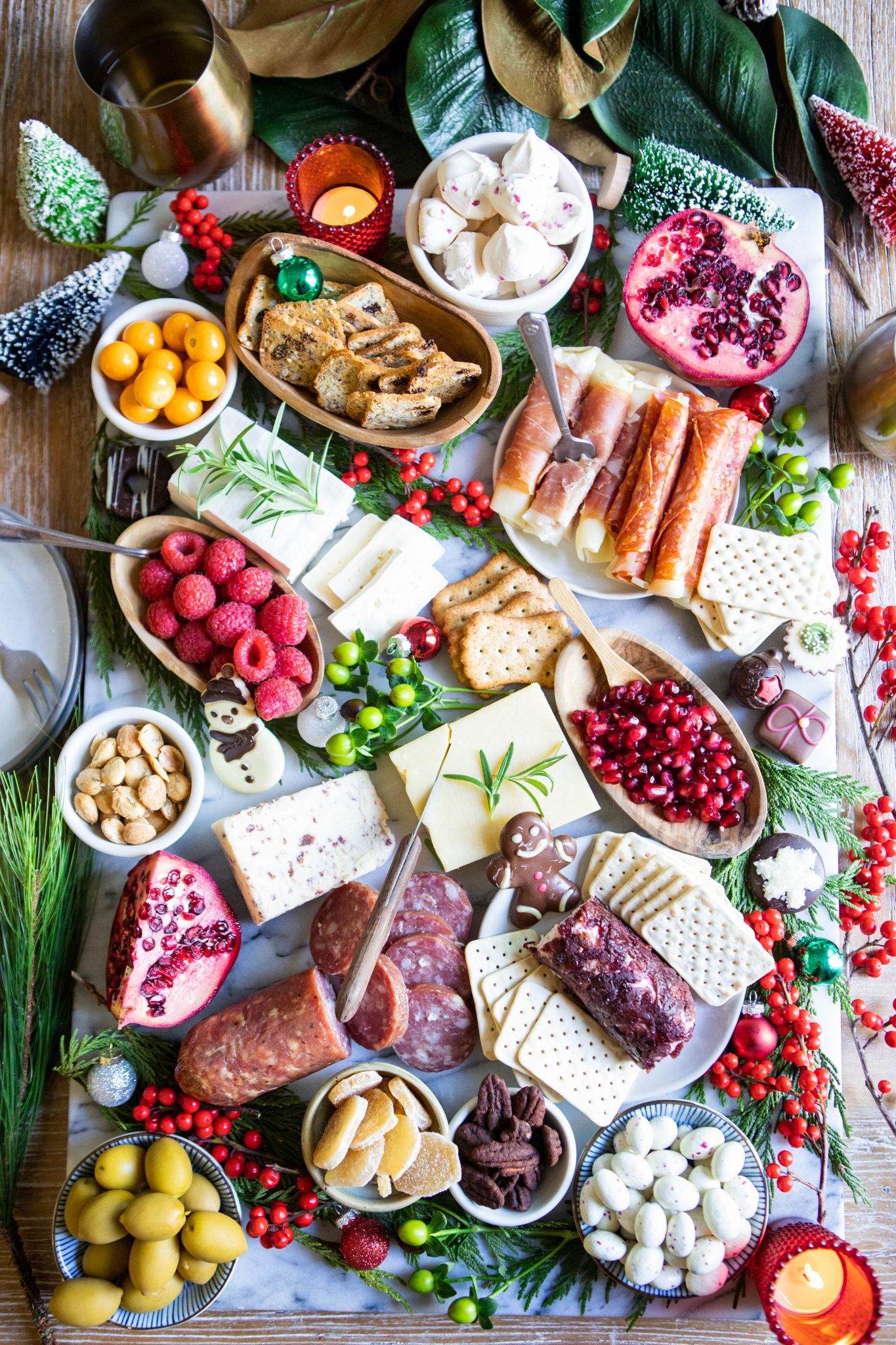 You all know I love me a great snack board, especially one that is holiday inspired. When I'm tired of cooking and tired of pizza takeout, I'll often make a simple charcuterie board. But for special occasions, I love to get creative and add seasonal flavors and decor. Spiders and skeletons for Halloween. Pumpkins and figs for Thanksgiving. For Christmas, I lean on the flavors of the season; pomegranate and cranberries. And to add a color contrast, seasonal greens and Christmas chocolates.
I really wanted to add a few extra sweets than I normally would for a charcuterie board, so I tried to stick with cheeses that pair well with chocolate. I also went for candied nuts, but made sure to stay away from ones that would be cloying. All in all, I love the balance I struck with this Christmas Charcuterie board, and I hope you do too! Read on for the how-to.
Ingredients For Your Christmas Charcuterie Board
Cheeses of course!
I typically choose 3-4 cheeses and try to aim for a balance of hard and soft cheeses. Since I was trying to focus on holiday inspired flavors, I chose 3 soft and 1 hard, but to help try to balance it out a bit more, I chose a firmer slicing brie rather than a double cream. I also included a sharp Irish cheddar, an stilton with cranberries and a cranberry goat cheese.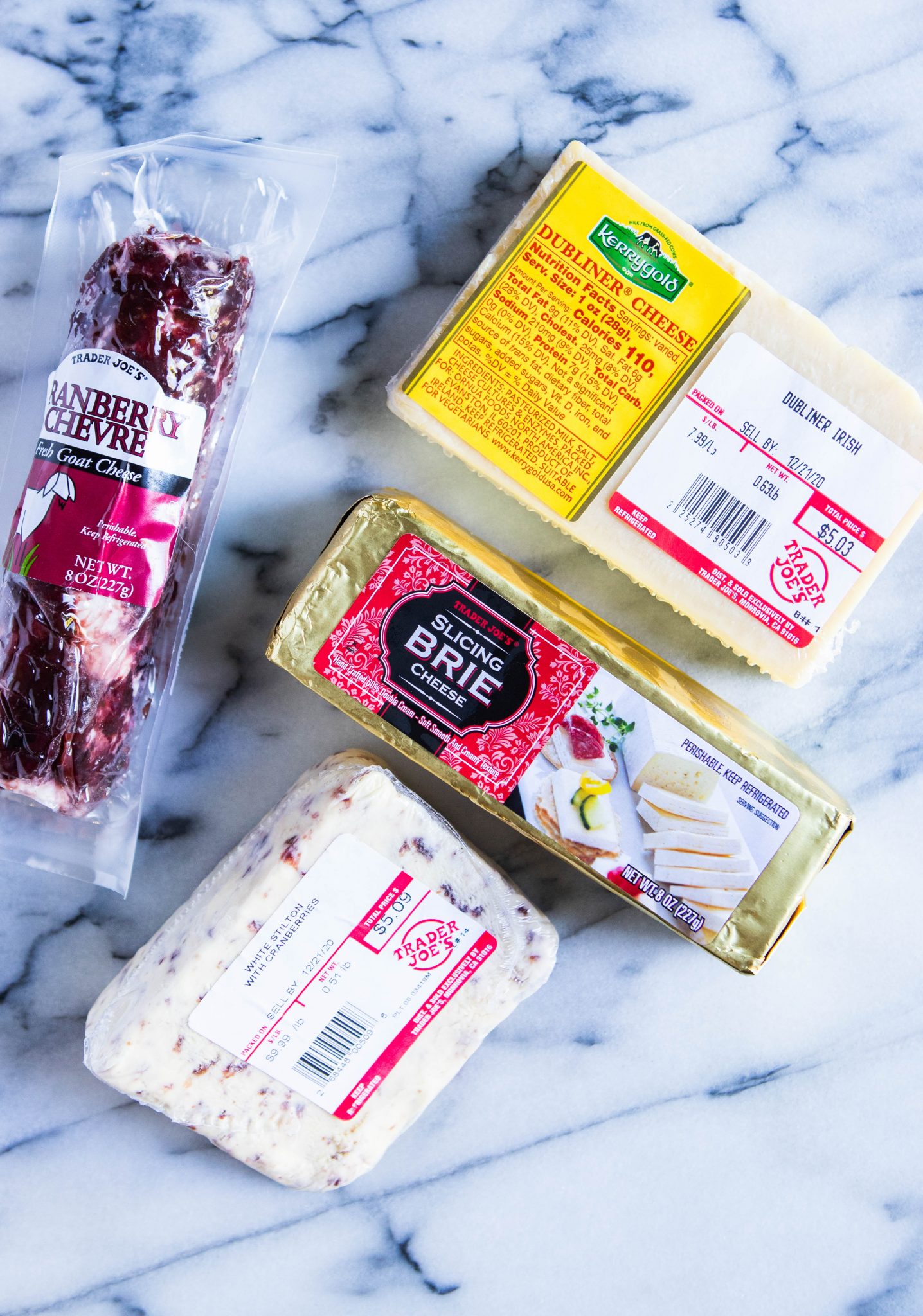 Cured meats
I love to include a hard salami and I typically add prosciutto. When shopping at Trader Joe's, the prosciutto and salami wrapped provolone looked delicious, so I added those since I knew the kids would love them.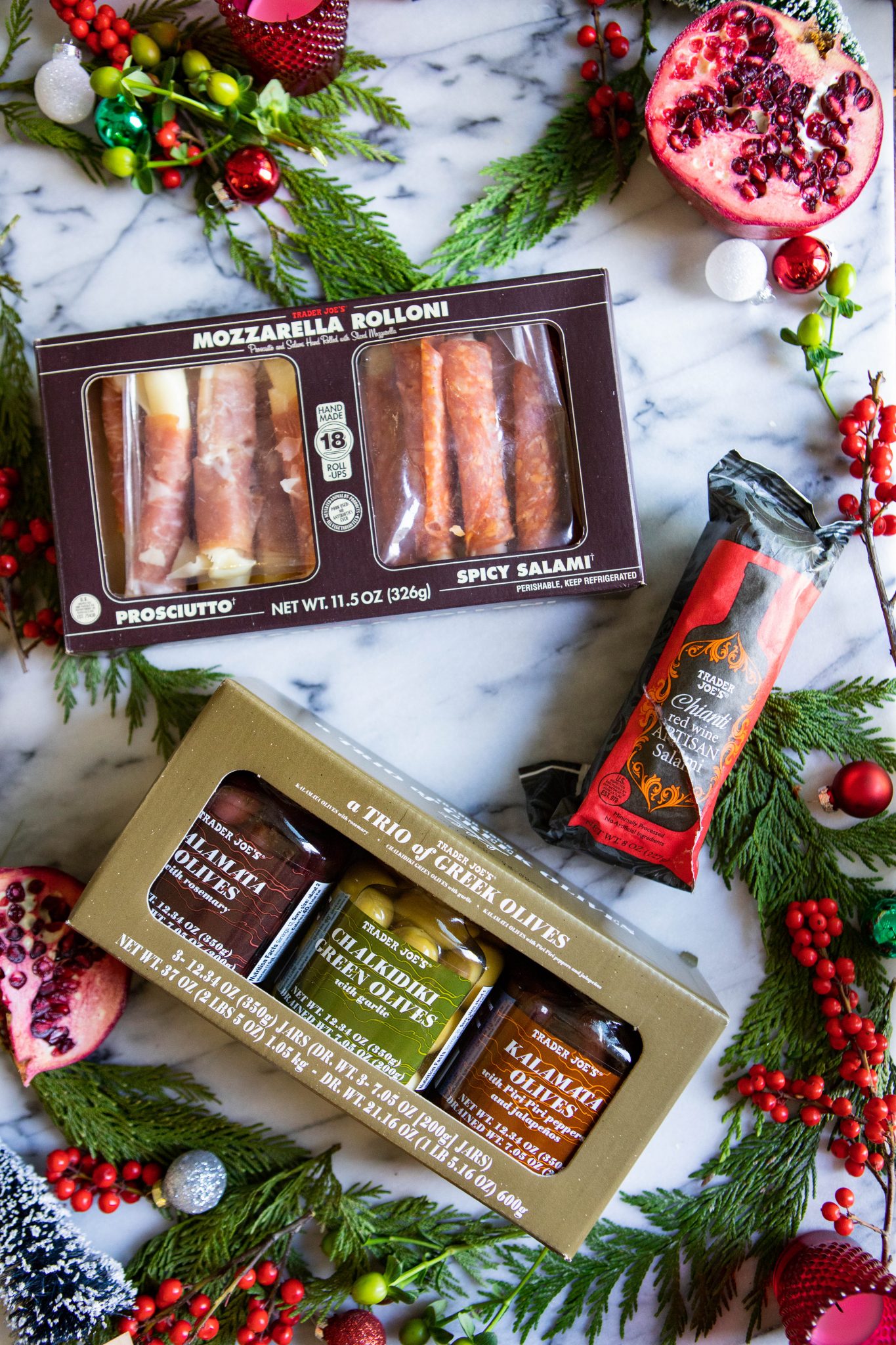 Fresh fruits
I added raspberries for the pretty pop of red color, and of course pomegranates since they are as delicious as they are beautiful. I included the golden berries for their lovely hue plus they add a nice tart sweetness to the flavor profile of the board. Pears or deep purple grapes would also be gorgeous and seasonally appropriate.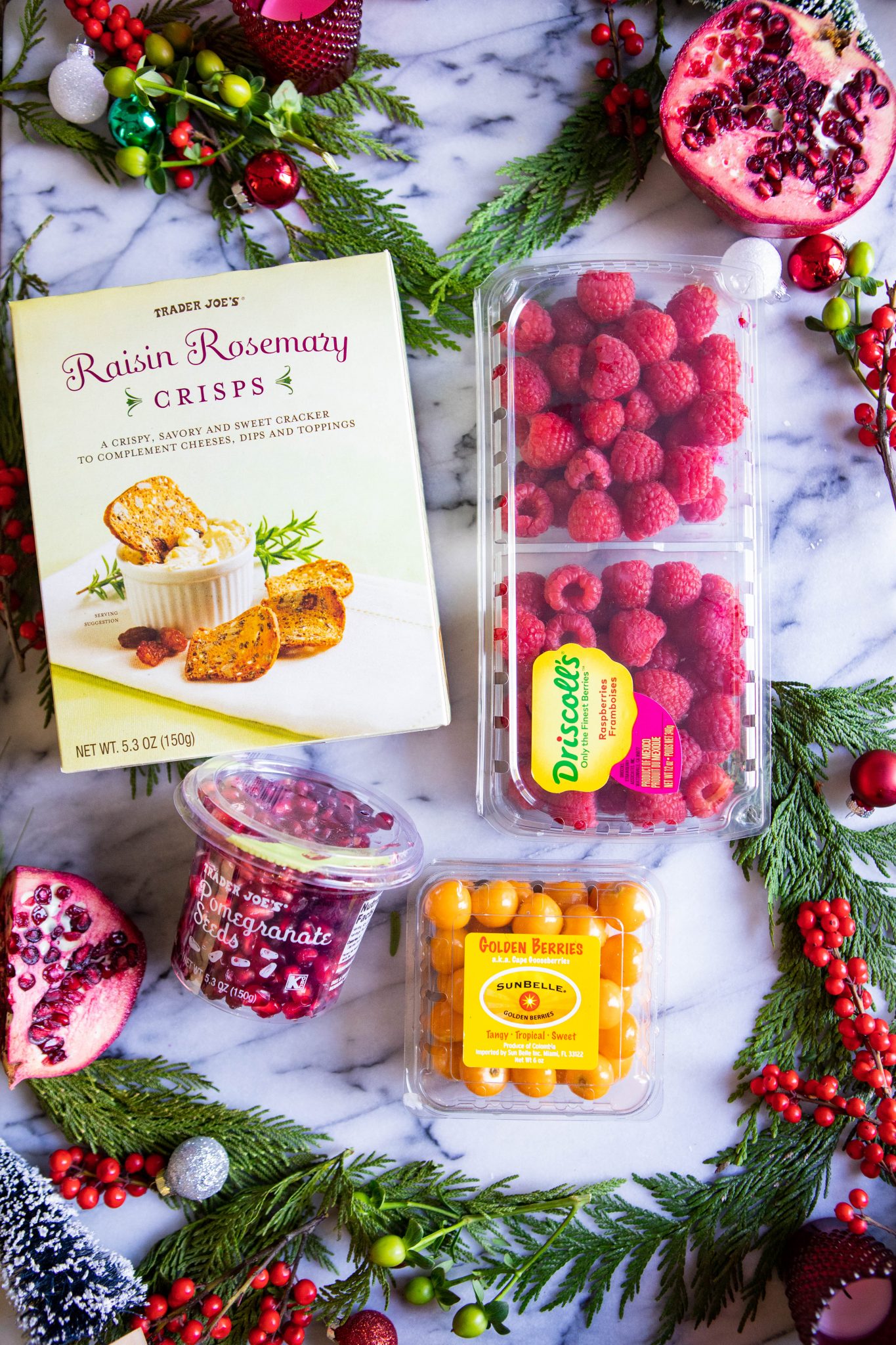 Crackers
This board is a simple mix of a very simple water cracker, and a more flavorful and rustic raisin cracker. Feel free to add any type though, but just make sure to add them last! This prevents them from getting soggy if they touch other ingredients for too long.
Nuts & Olives
In my humble opinion, a well balanced charcuterie board should always have a mix of salty and briny flavors, to offset the meat and cheese. I typically include a marcona almond as well as some sort of green or Kalamata olive. I also came across cocoa chile spiced pecans at Trader Joe's, and knew they'd be perfect for this board.
Sweets
There's mixed opinions on whether one should include sweets in a charcuterie board, but I say go for it! It's a nice way to offset the other dominant flavors and cleanse the palate 😉 It also serves as dessert, so you don't have to make something separately. For this board I included peppermint meringues and covered almonds, which were uniquely delicious! And I just had to add the festive chocolates in the adorable holiday shapes.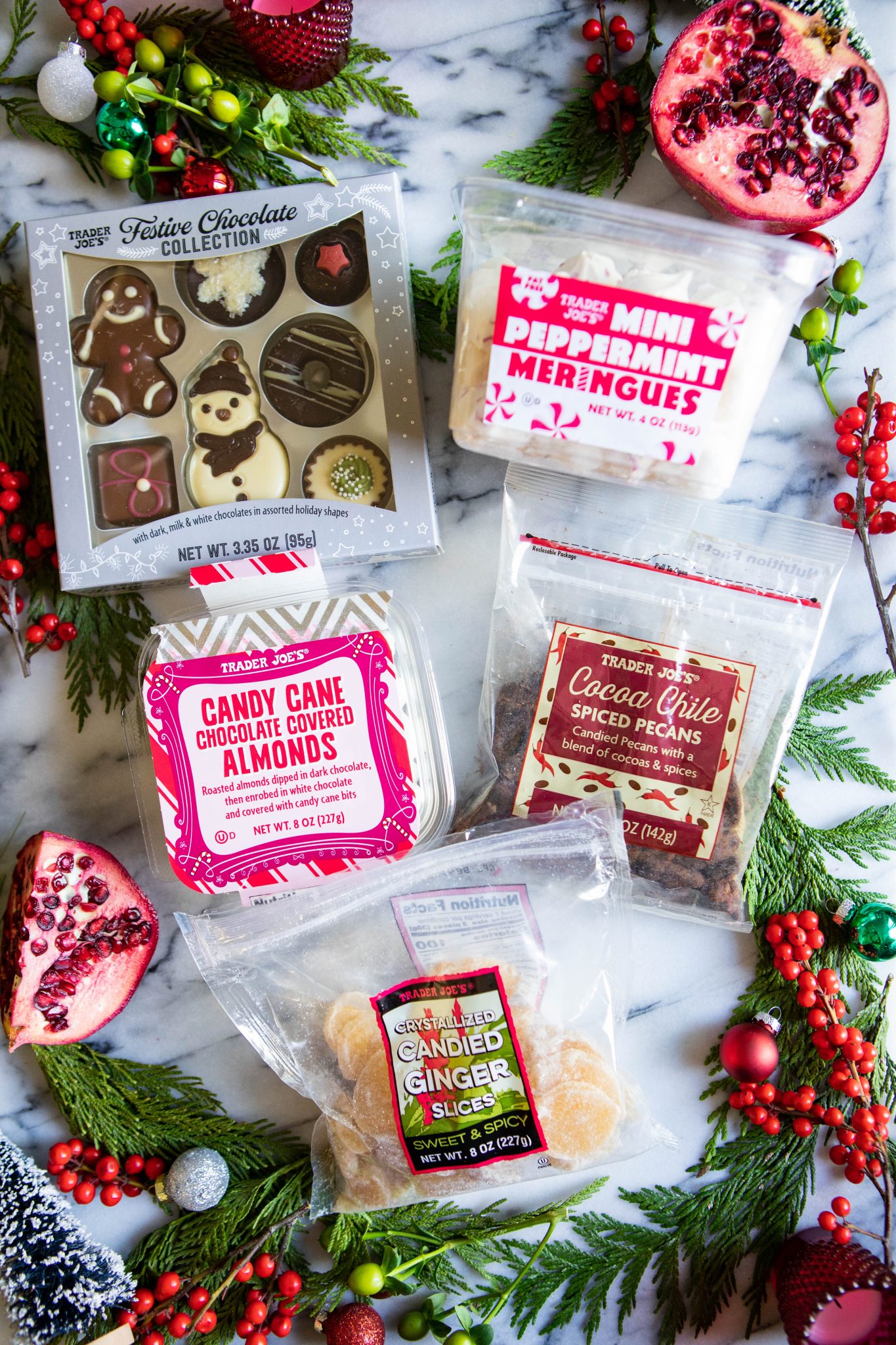 How to assemble a beautiful presentation
First here is a simple breakdown of how I assemble a charcuterie board with zero fuss:
Choose Your Serving Platters And Utensils
Assemble Your Cheeses
Then Your Meats
Fill In With Olives, Nuts, And Fruit
Last The Crackers (To Keep Them Crisp!)
Finishing Touches – A few veggies maybe? Or a little more meat in places
Fill in with seasonal greens and decor to add a festive touch. I snipped off some greenery from a fresh garland and then added decorative fresh berries (nonedible!) that I picked up in the Trader Joe's floral department. Small ornaments, votive candles, bottle brush trees and twinkly lights are also included to make it really feel like Christmas. Fresh rosemary also makes a great garnish if some of your cheese looks a little plain.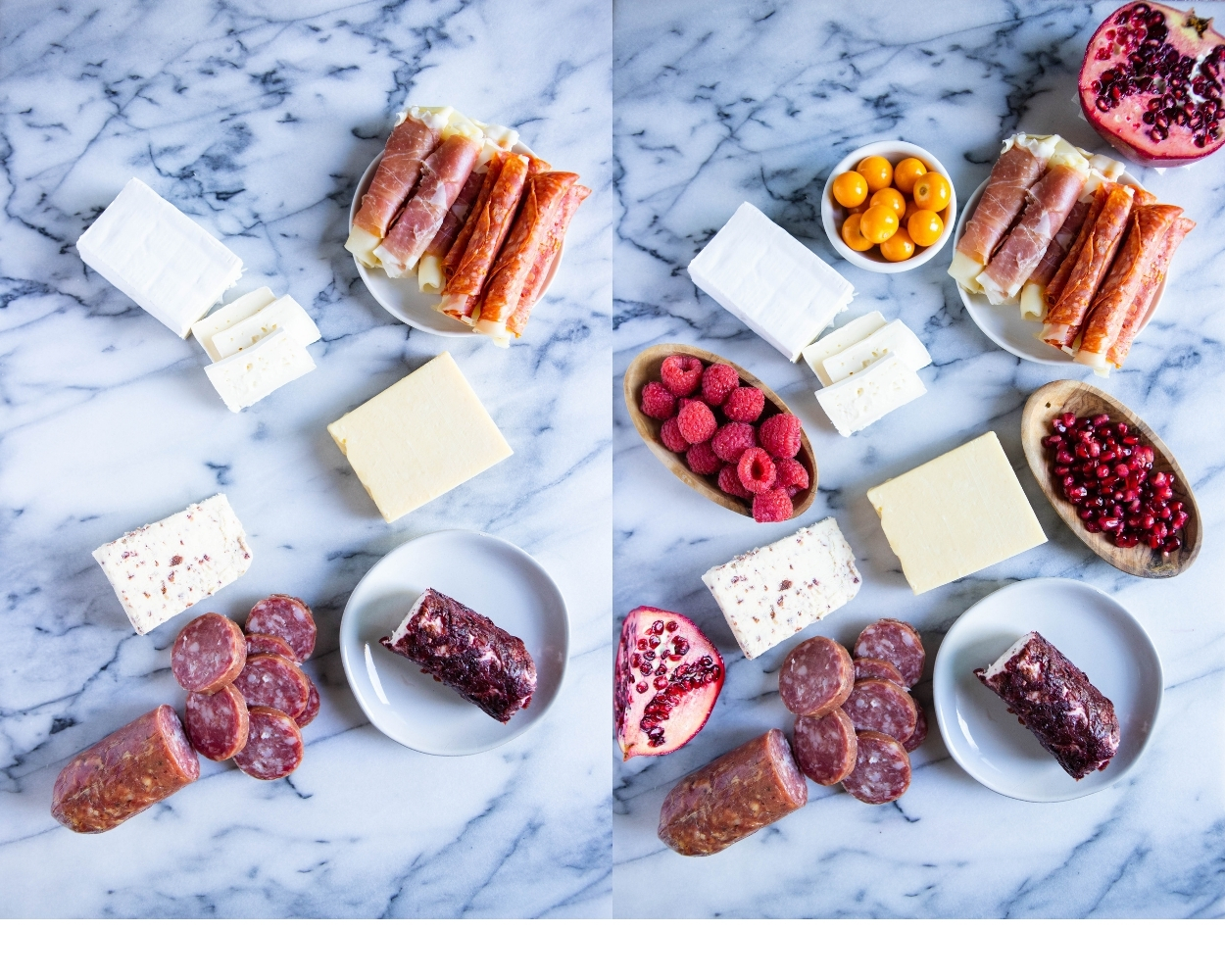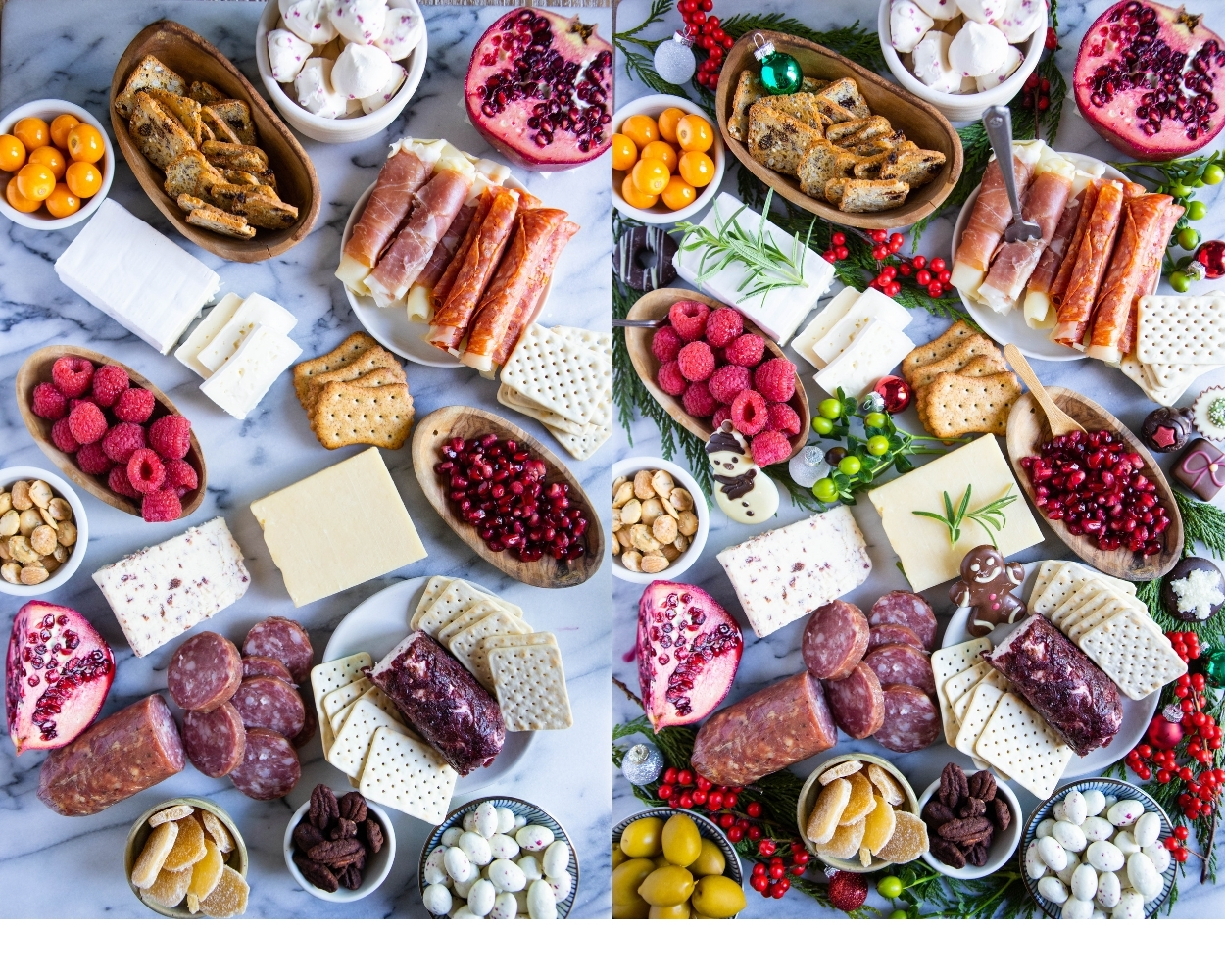 I like to start with my cheeses first, then add in the cured meats, and then layer in all the other fun accouterments, from fruits, nuts, olives and sweet treats. I always put crackers out just before serving to prevent them from getting stale and/or soggy, especially if they're sitting very close to a cheese or fruit.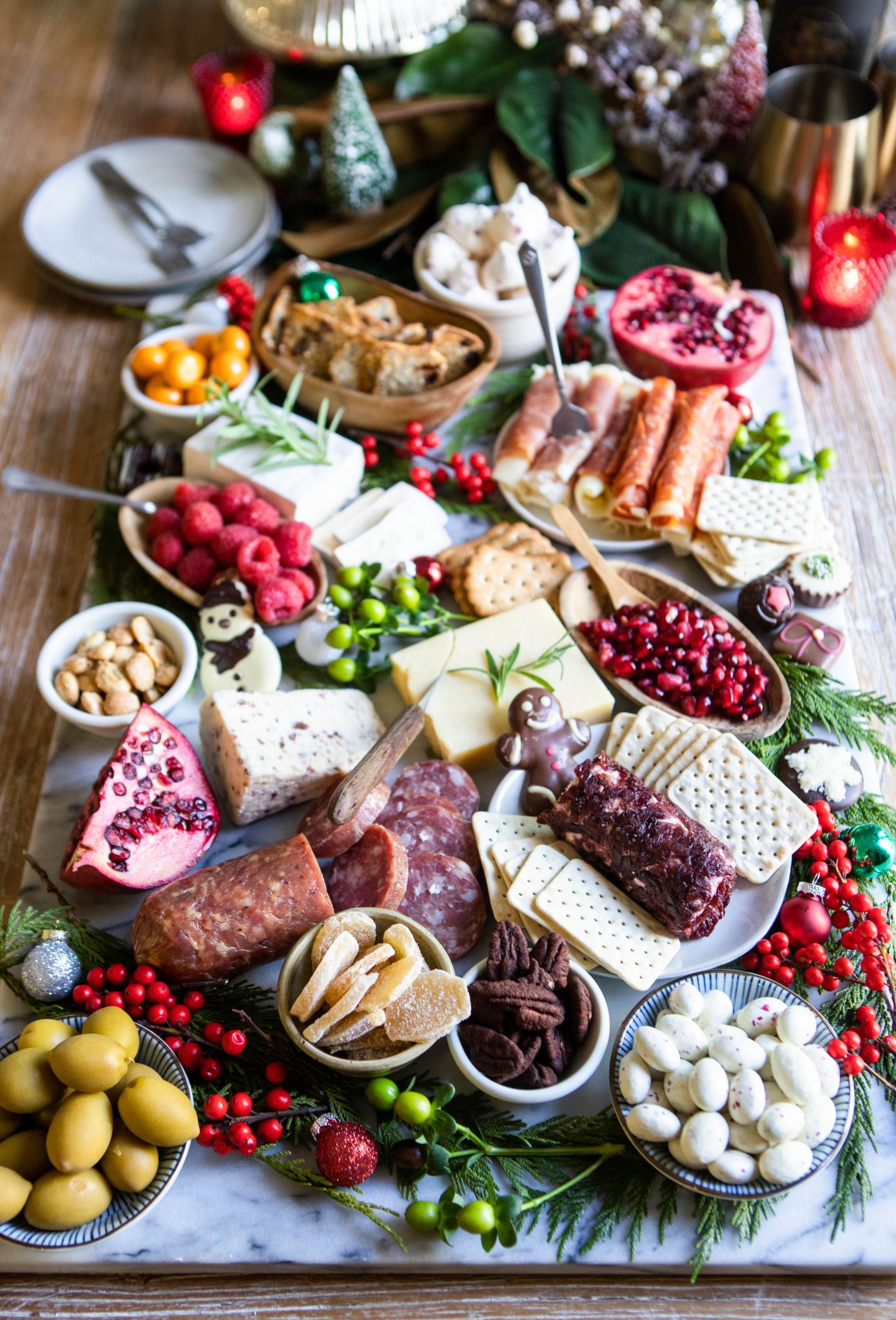 Additional Tips for building Your Holiday Charcuterie Board
Choose A Large Enough Board – You want to be able to have enough room for all your selections. So choose your board first and choose wisely.
Place Your Cheeses And Meats First. These will be the biggest items, so it's important to put these first before you get carried away with smaller items.
Place Out Crackers Last (And Right Before Serving!) – These can go stale quickly so I always wait to put these out last until guests are about to arrive.
Pick A Balance Of Flavors. I like to stick with something salty, something sweet, something spicy, and something fresh.
Have Small Plates Handy. This makes it so your charcuterie board is accessible and people don't need to stand right there but can make a small plate with their favorites and move along.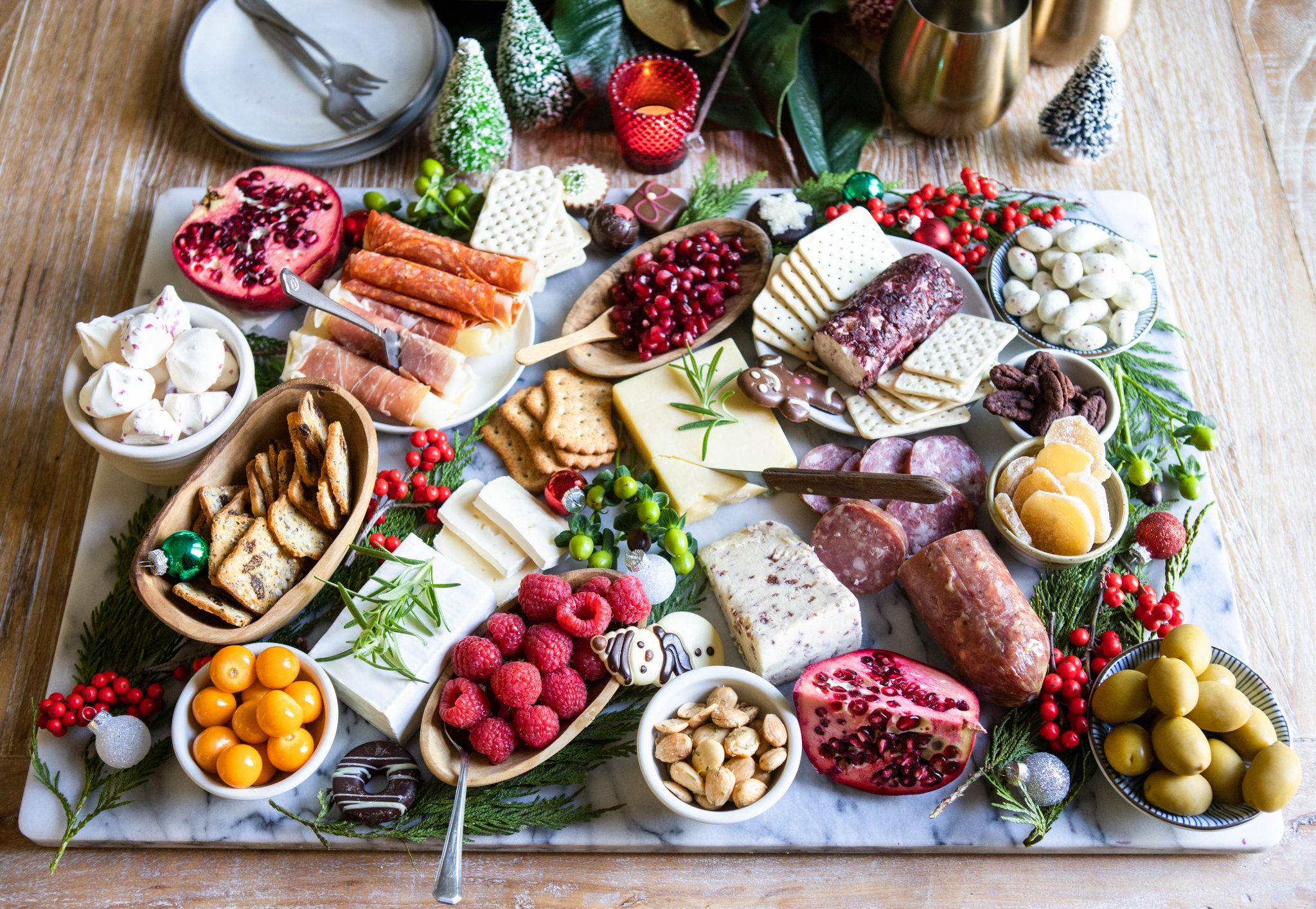 What makes an authentic charcuterie board?
Well charcuterie, pronounced [shar-koo-tuh-ree] is basically a meat and cheese board. Therefore, unless your board includes both, it's not authentic! Of course you can skip the meat, but then you can't technically call it charcuterie. I'm sure no one will write you a ticket though. 🙂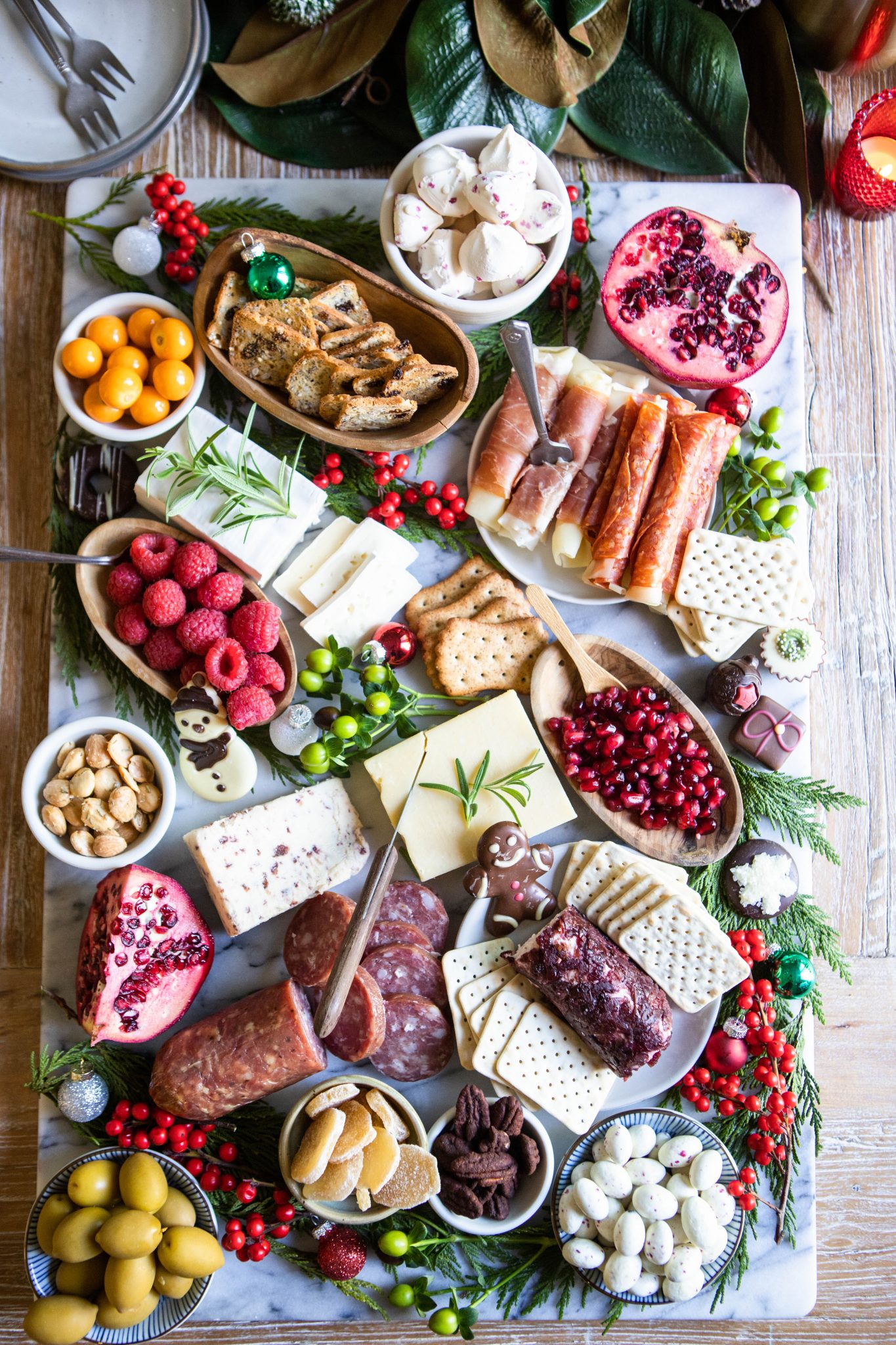 I know the holidays are likely to look a lot different this year, and that a charcuterie board like this is usually reserved for parties and fun girls nights. But I want to encourage you all to make the most of this year, even if it's just a your immediate family or significant other. You can definitely adjust the size of your board, and even make "safe" individual servings. My friend Mary used recyclable containers when we got together for a friend's patio birthday over the summer, and they made the most delightful surprises. I mean your own little charcuterie platter? Yes, please! Anyhow, I hope your holiday is safe, healthy and as special as possible in this very strange and hard year. Happy Holidays.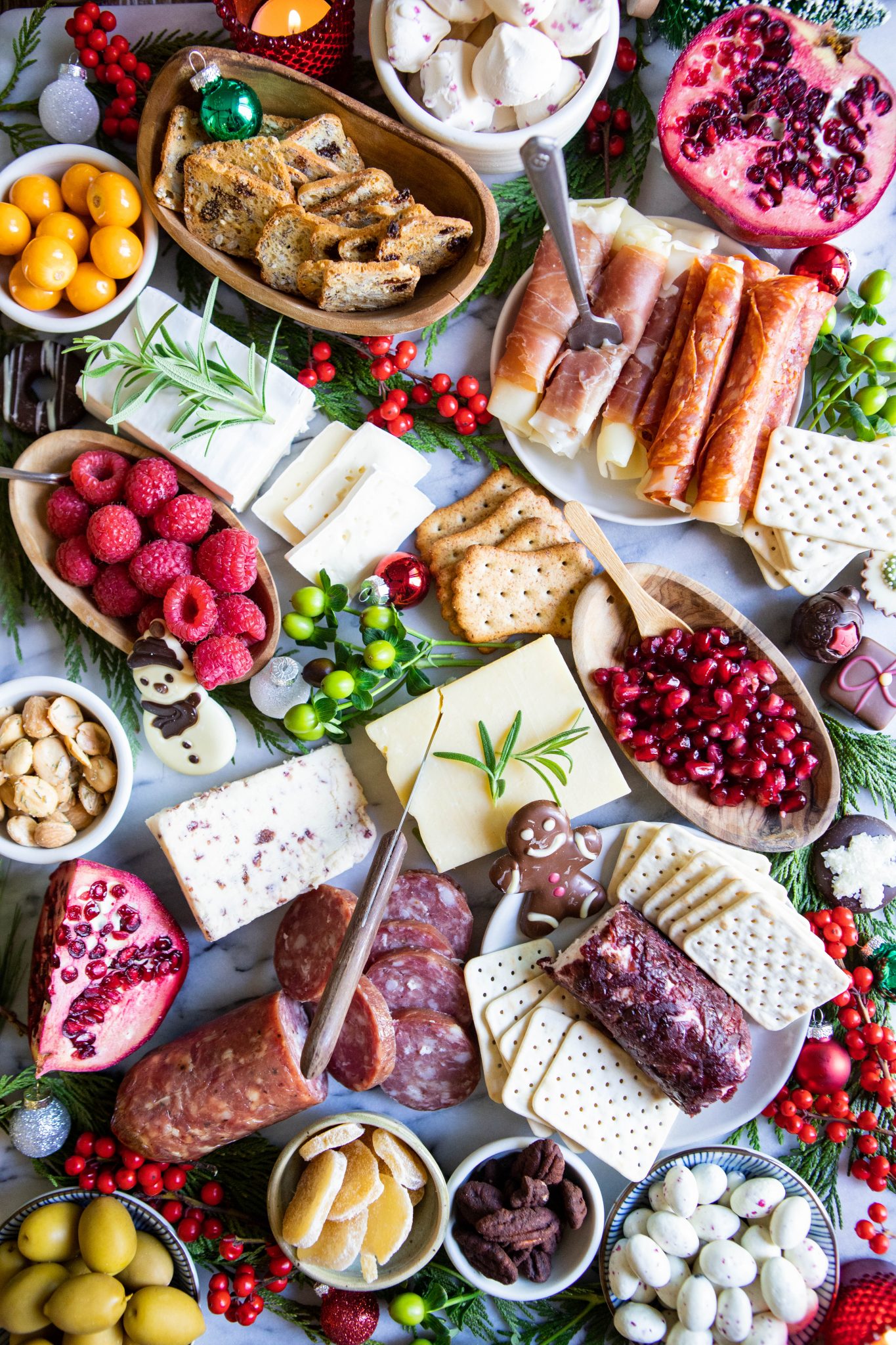 Christmas Charcuterie Board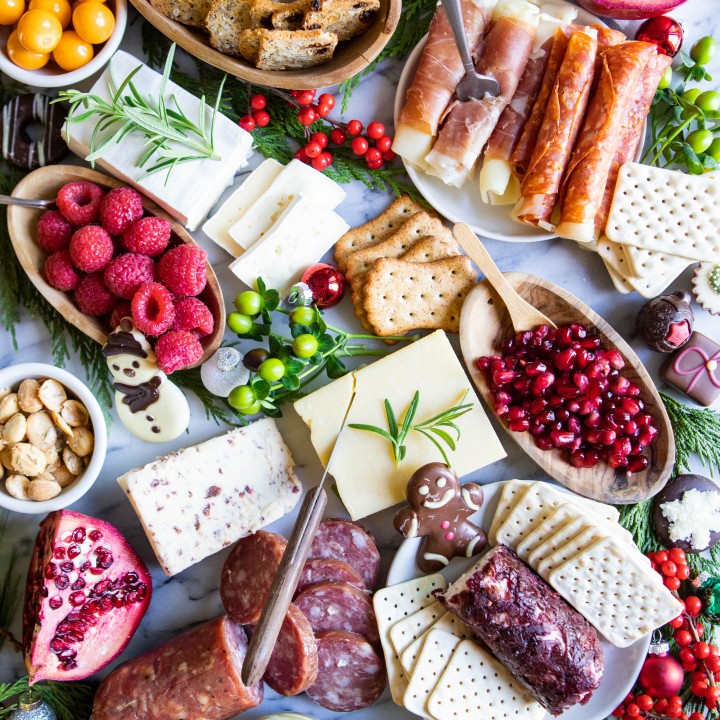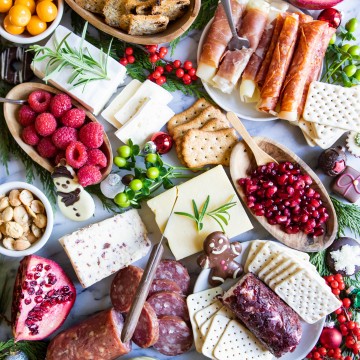 Christmas Charcuterie Board
Make your holiday a bit more special with a festive Christmas Charcuterie Board. Add seasonal flavors and greenery to create a snacking board worthy to be called a full meal!
Print
Pin
Rate
Equipment
Large wooden board or marble slab
Ingredients
Cured and Smoked Meats

Assorted Cheeses

Assorted Crackers

Assorted Olives & Nuts

Assorted fruits

Assortment of sweets
Instructions
Choose your serving platters and utensils

Assemble your Cheeses, and then your meats

Fill in with olives, nuts and fruits

Add your crackers toward the end, to keep them fresh and crisp

Create your finishing touches by adding in a few sweets, and some seasonal greens and decorations, such as greenery, non-edible berries, miniature ornaments and holiday votives
Video
Other Delectable Appetizers
And try these Pomegranate Margaritas to go along with your festive holiday charcuterie board.