If you're looking for some really fun Halloween cookie ideas, I've gotcha covered. These cute and surprisingly easy spider web cookies, are made with classic sugar cookies and decorated with royal icing.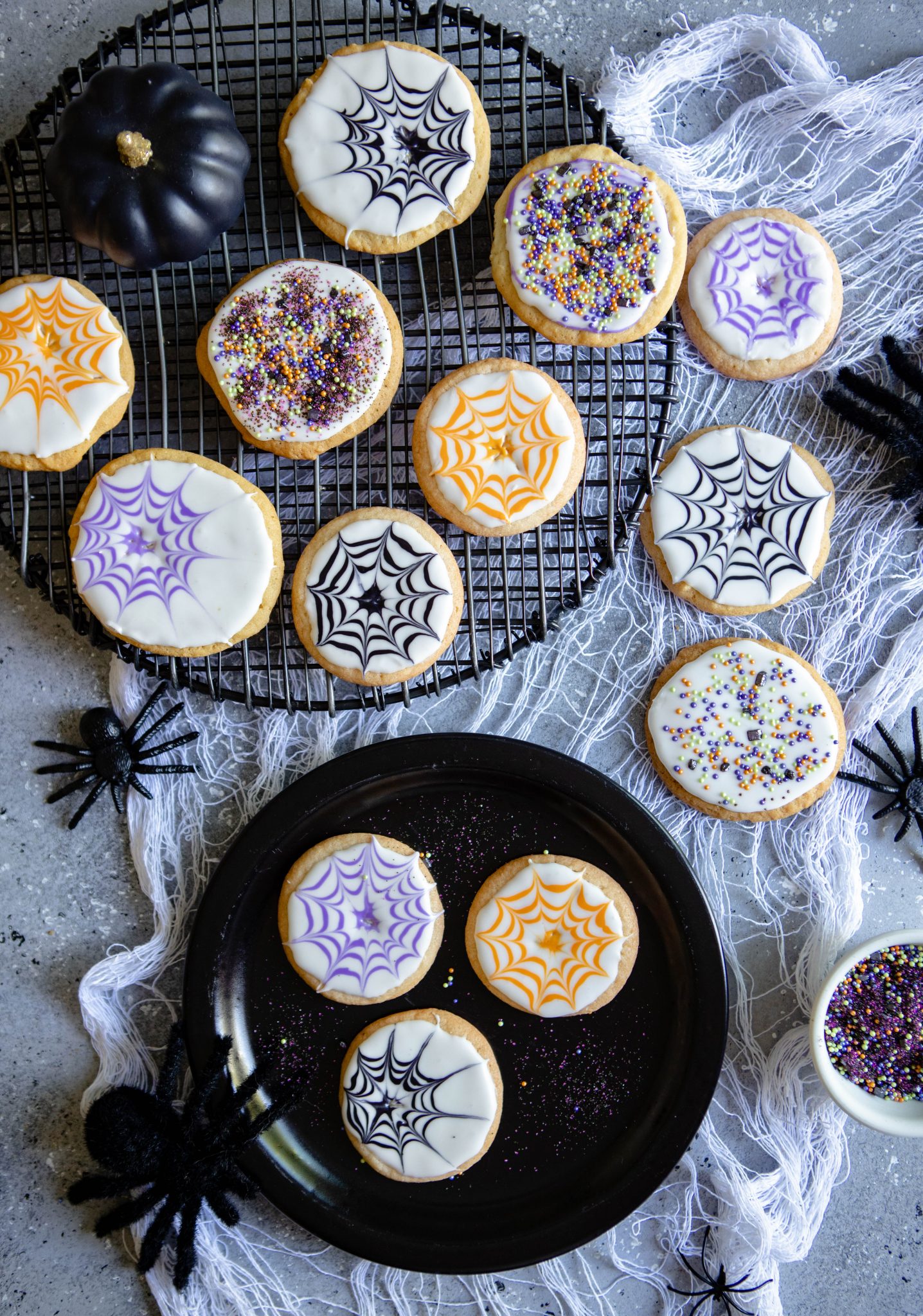 Creating these royal icing Halloween cookies are surprisingly easy, and the kids absolutely love them. I've been making them for years now, and they're always a hit. FYI, they look adorable as pinwheels for holidays like the 4th of July. But for now, I'm going to teach you to decorate your own Halloween cookies, creating these groovy spider web designs. I think you'll be surprised at how easy these are.
What you need to Make These Spider Web Cookies
As with any recipe, you'll need the correct ingredients and supplies. Here's what you'll need to create these adorable Halloween cookies:
Sugar cookies – Homemade or store bought, whatever is easiest for you! Many grocery stores now sell plain sugar cookies to decorate, or you can pick up a tube of Pillsbury refrigerated dough.
Powdered Sugar, egg whites, cream of tartar, a pinch of salt and a few drops of vanilla.
Food coloring – If you want black food coloring, keep in mind that you'll most likely need to purchase at a craft or cake supply store.
Decorating bottles and tips –  Small 4 ounce bottles are the best to use for this project. You will also want 2 different size tips. I use a #2 round tip for the web piping, and a #4 or #5 round tip for the white flooding. I have these bottles that come with the #2 tips, and then have purchased the larger tips on the side. Tips are typically just a couple of dollars and are sold separately at most craft and cake supply stores, as well as Amazon.
Getting the correct consistency for your royal icing
Achieving the correct consistency is the most crucial part of decorating with royal icing. If the icing is too runny, it will droop all over your cookies and won't set correctly. If it is too thick, you won't be able to spread, flood or pipe correctly.
Getting the right consistency may be crucial, but it's not rocket science. Start with a ratio of 4 cups of powdered sugar, 2 egg whites, 1 tsp of cream of tartar, and a pinch of salt. You can also add a couple of drops of vanilla extract just for flavoring. Whisk with an electric or stand up mixer until all ingredients are combined.
If the icing is too runny, as shown in the photo on the left, you will add some more powdered sugar. Start with ¼ cup at a time, adding no more than ½ cup. Typically, the most you will need to add is ¼ cup additional sugar to achieve the consistency on the right.
You want your icing to run in thick streams, as opposed to quick thin stream.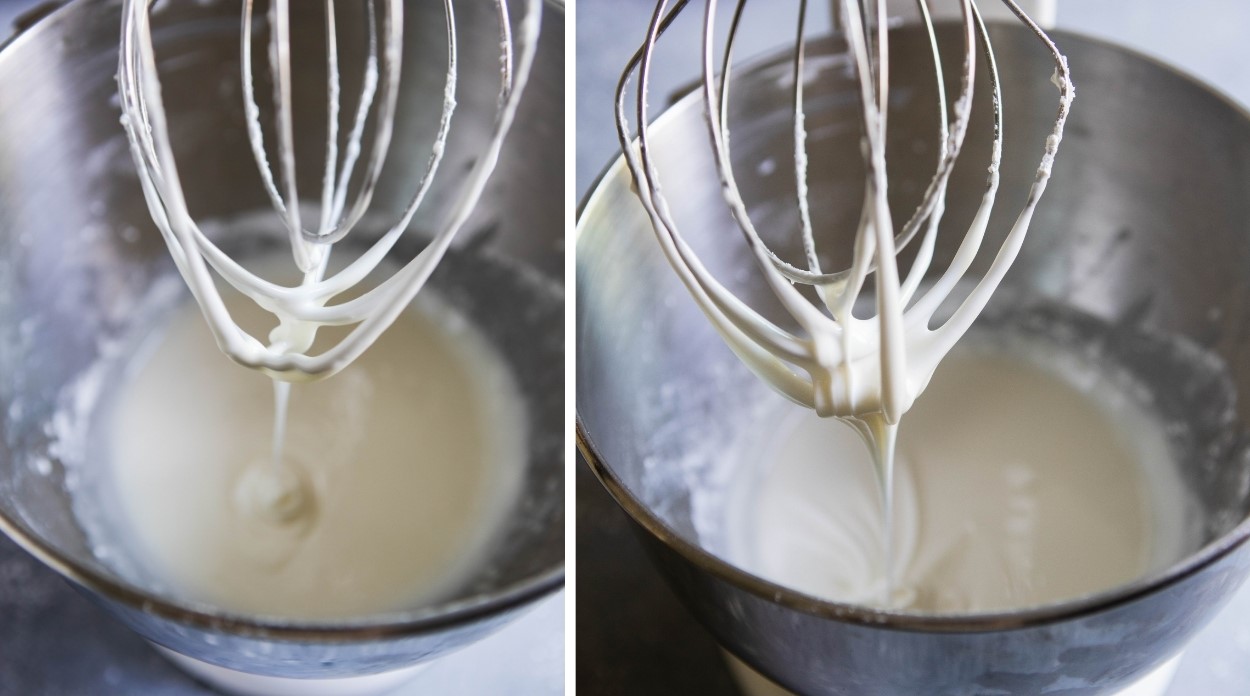 Coloring Your Royal Icing
I recommend gel food coloring, as it creates a more concentrated color and does not change the consistency of the royal icing. Keep in mind that darker colors, like black and purple, will require a lot more food coloring than paler colors. Either way, start with just a couple of drops and then add as you go. You can always add more, but you can't take away if you add too much!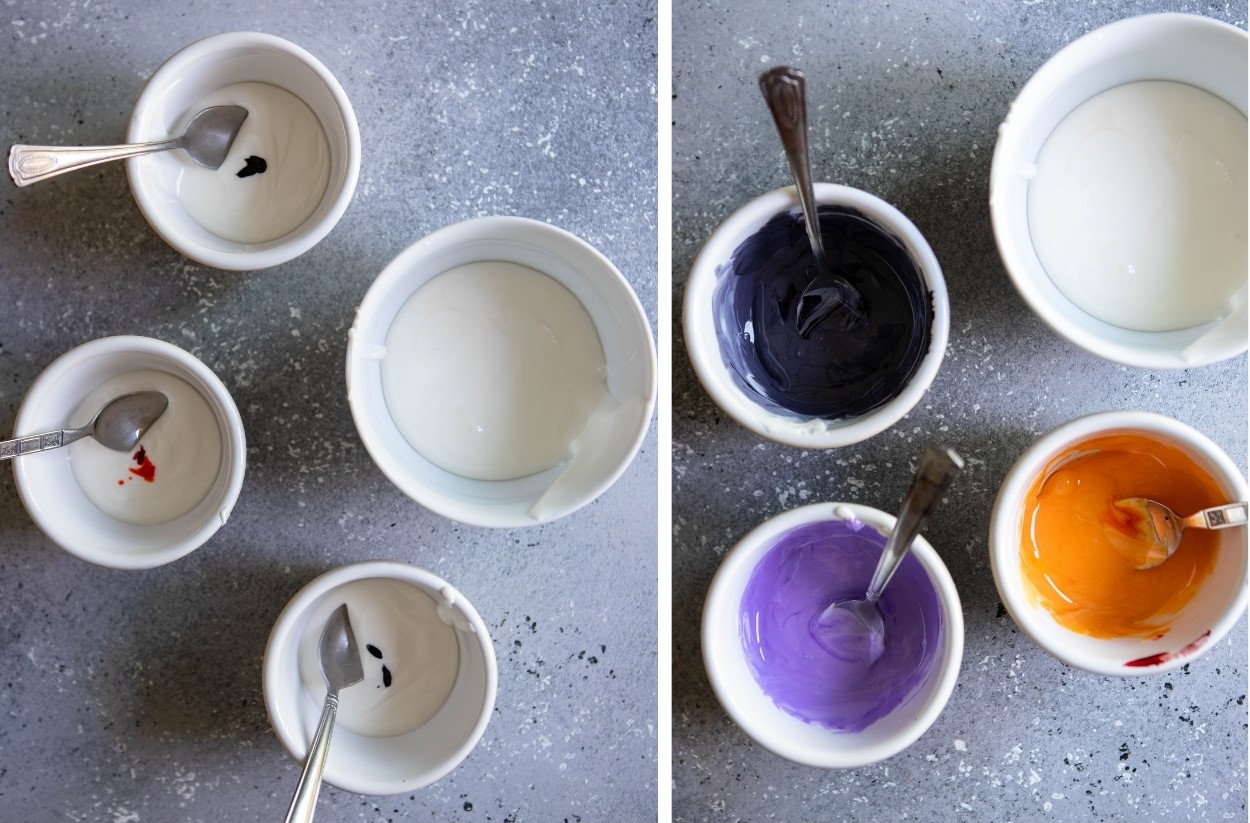 Piping the Royal Icing Spider webs
Once you have filled each of your decorating bottles, it's time to start creating! This is where the 2 different tips comes in. Use the larger #4 or #5 tip for the white icing that you are flooding the cookies with, and the smaller tips for the colored piping of the webs. If you tried using a small #2 tip to flood your cookie, it would take an eternity. But the small tips are great for the precision work we'll need for the web.
Begin by outlining the cookie with the white icing, then "flooding" it with more icing. To do this, simply squeeze out a good amount of icing and push it around a bit until the entire circle is filled in. You will use less than you think you'll need, so start out conservatively and squeeze out more as needed.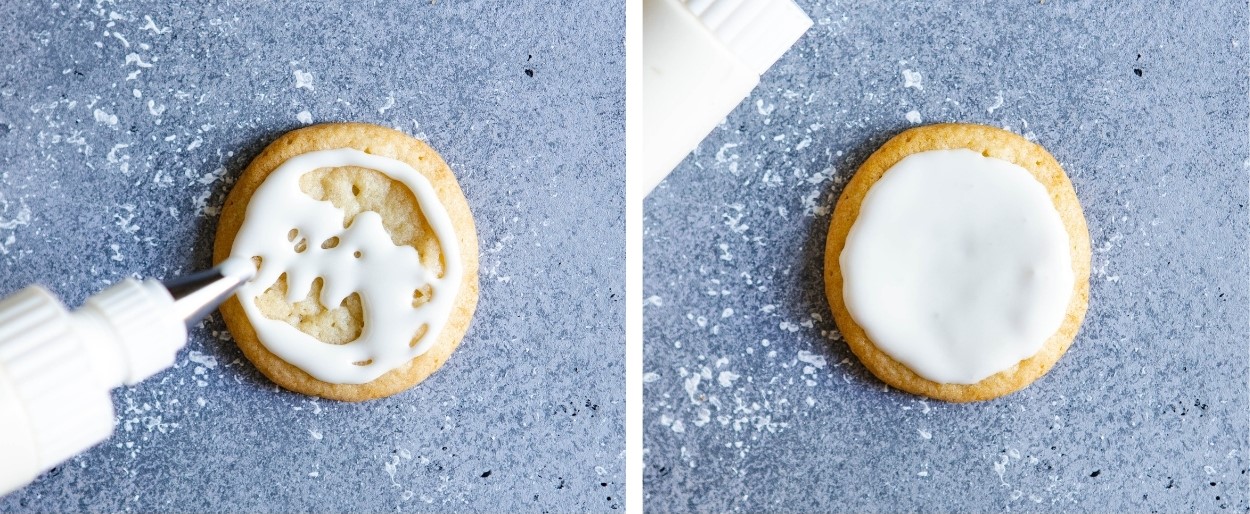 Once the cookie is filled with white icing, immediately pipe on the web dot and circles.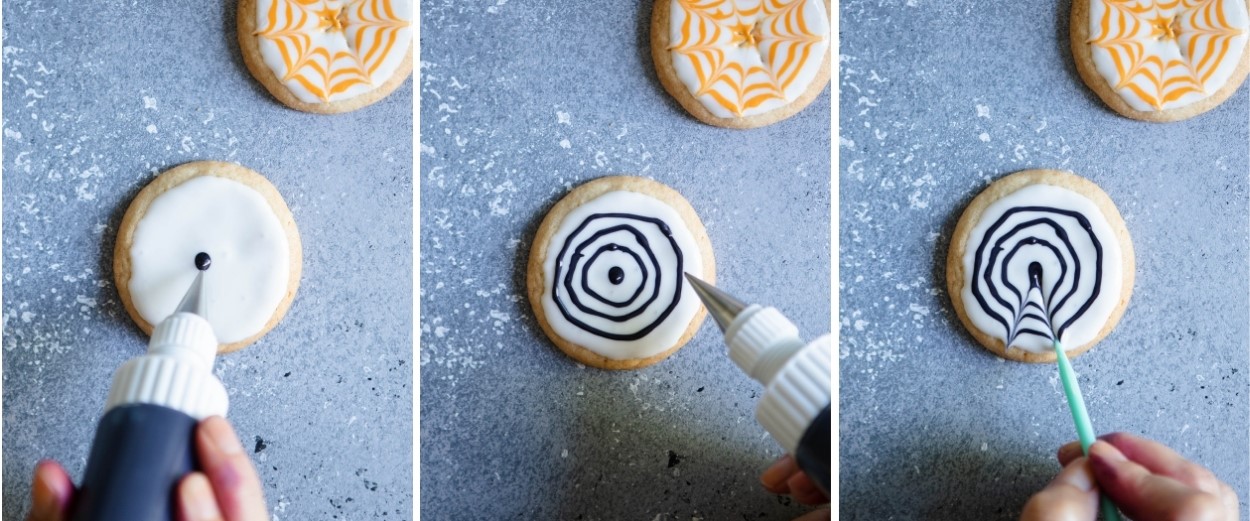 Begin with a small dot in the middle (about the size of a very small pea), then pipe in 3 concentric circles. No need for them to be perfectly symmetrical or even! As you can see mine are a bit wonky and that's okay!
Then you take a toothpick or fine tip decorating tool, and beginning at the dot, drag through the icing towards the outer edge. Don't go about it gingerly; go ahead and place the tip all the way down in the icing and drag it through. If you try to just stay on top of the icing, it won't create as dramatic of an effect. Continue this dragging motion all the way around until your web is complete.
I recommend having a damp paper towel on hand to wipe frosting off the tip in between each drag.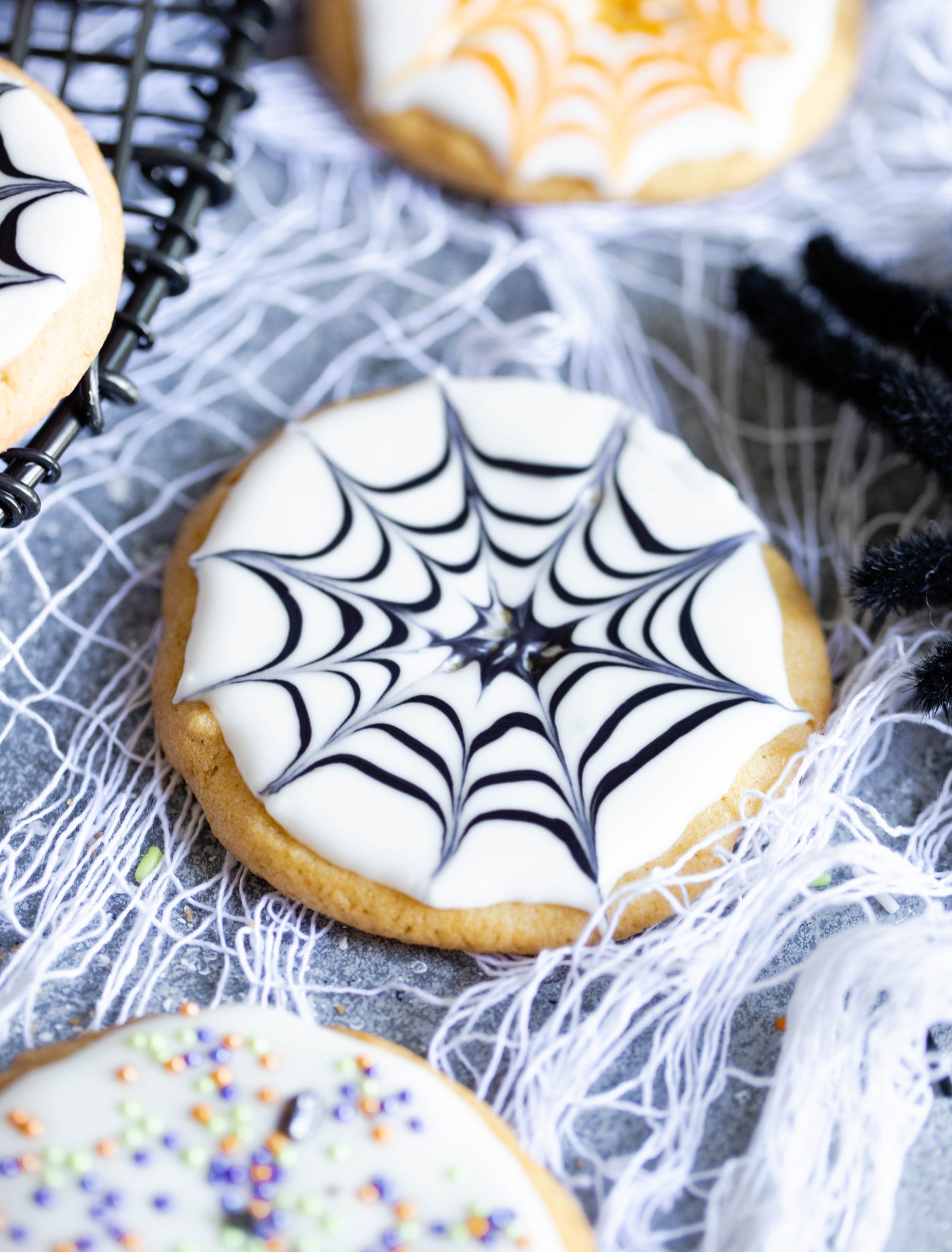 To Create Offset Spider Web Cookies
Simply pipe in your cookie and pipe in the dot and circles offset from the center of the cookie, and drag the tool through in the same motion.

As I said above, don't be afraid to drag the toothpick all the way through the icing. As seen in the photo below, you will see divots in the icing, but it will spread out as it dries. This is why it is important though to immediately pipe in your lines.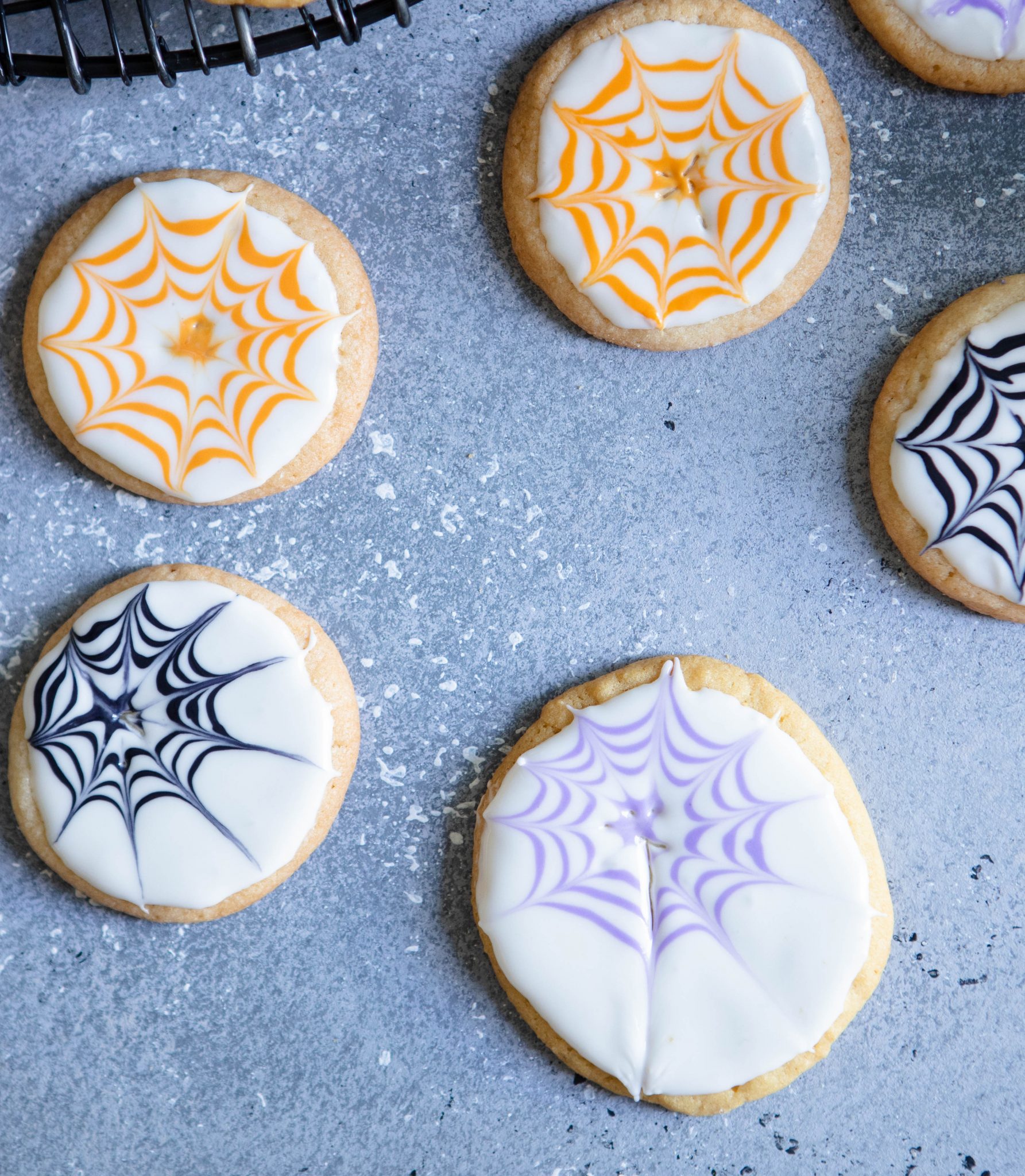 One little tip I almost forgot to mention when working with royal icing! Always store the decorating tubes upside down in glasses while you are working. This keeps the icing towards the tip and always ready to go when you need it! It is such a silly time waste to have to shake down the icing towards the tip each time you want to decorate.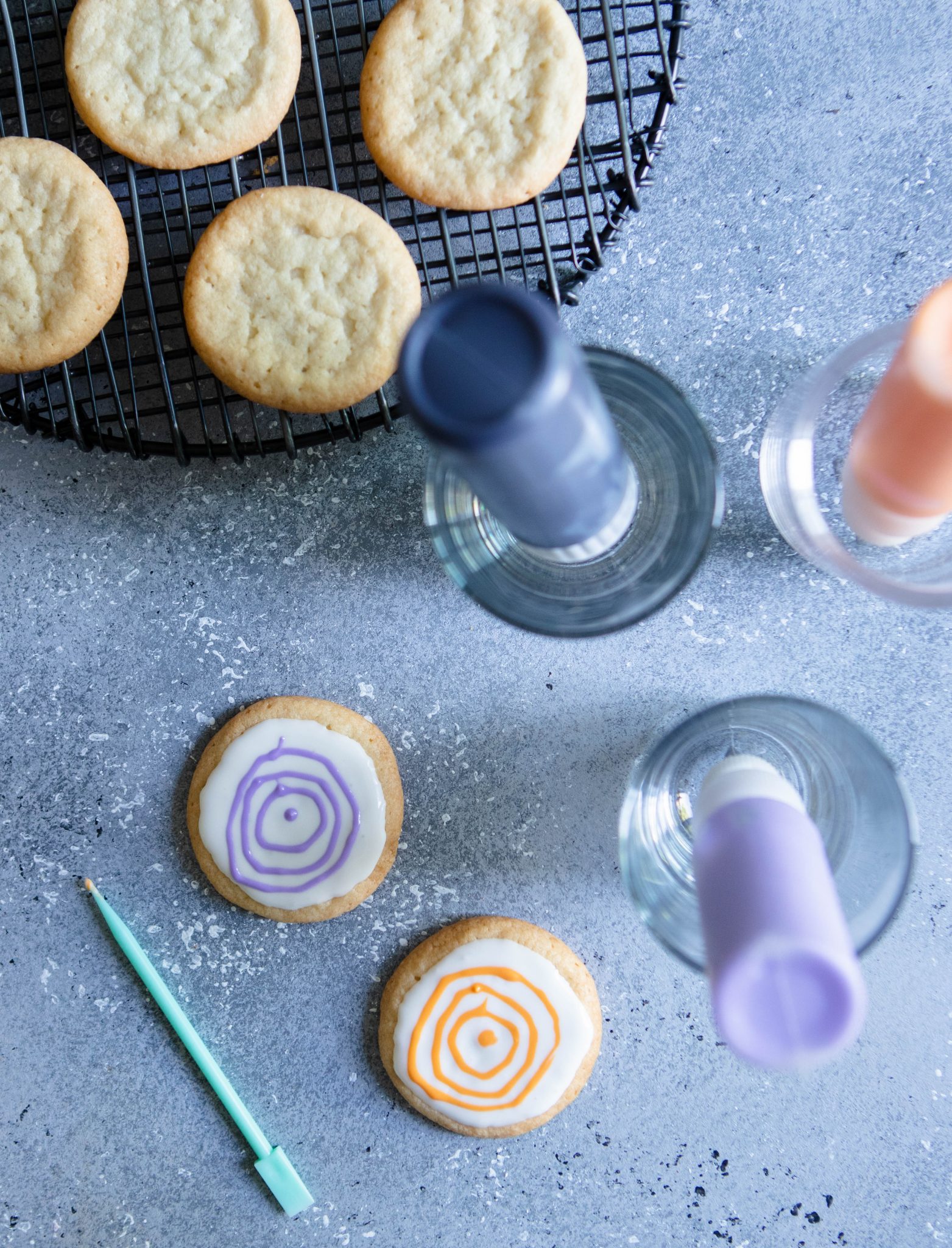 More Royal Icing Tips
It is common for your royal icing to start to thicken up the longer it sits out. If you notice that it has thickened too much, simply add some water, ½ tsp at a time, and stir. You will typically only need a teaspoon of water or less to get it loosened up a bit for piping.
Alternately, it is not uncommon to get the perfect consistency, only for it to become too runny when you add liquid food coloring. This is why I prefer gel btw 🙂 If your icing becomes too runny, simply stir in more powdered sugar, starting with a couple of teaspoons at a time, until you again have the correct consistency.
It's worth noting again that you need to pipe the web on right after flooding your cookie with the white icing. This means you can only do 1, maybe 2 cookies at a time. This is definitely not assembly line cookie decorating. Take it slow and enjoy the process.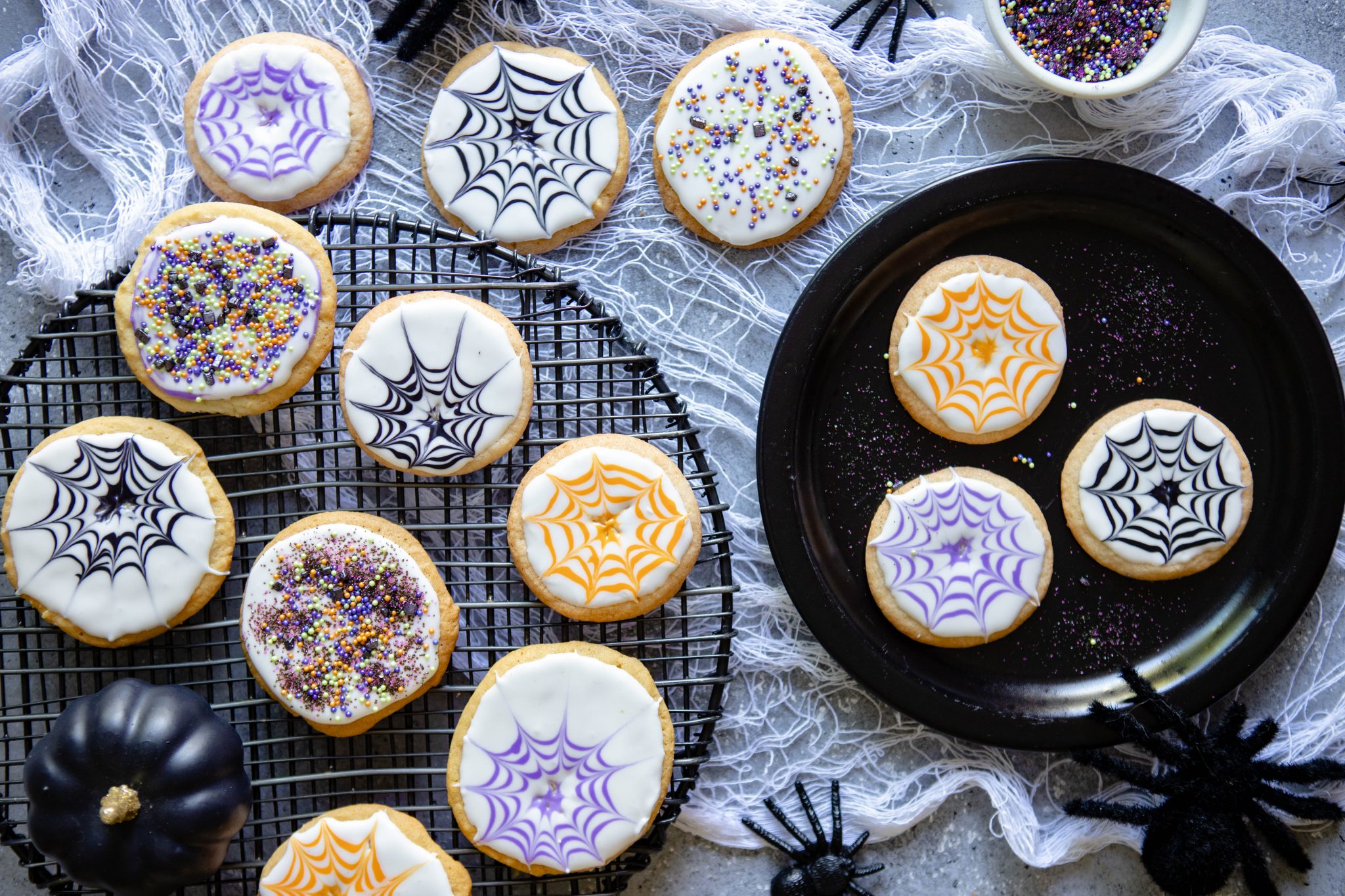 Love these Halloween Cookie Ideas?
I hope you've found this tutorial helpful! And even if you don't quite feel like you're up for decorating your sugar cookies with spider webs, know that you can always ice them and then add lots of cool sprinkles. And in case you need a few more fun options for making Halloween special this year, give these a try: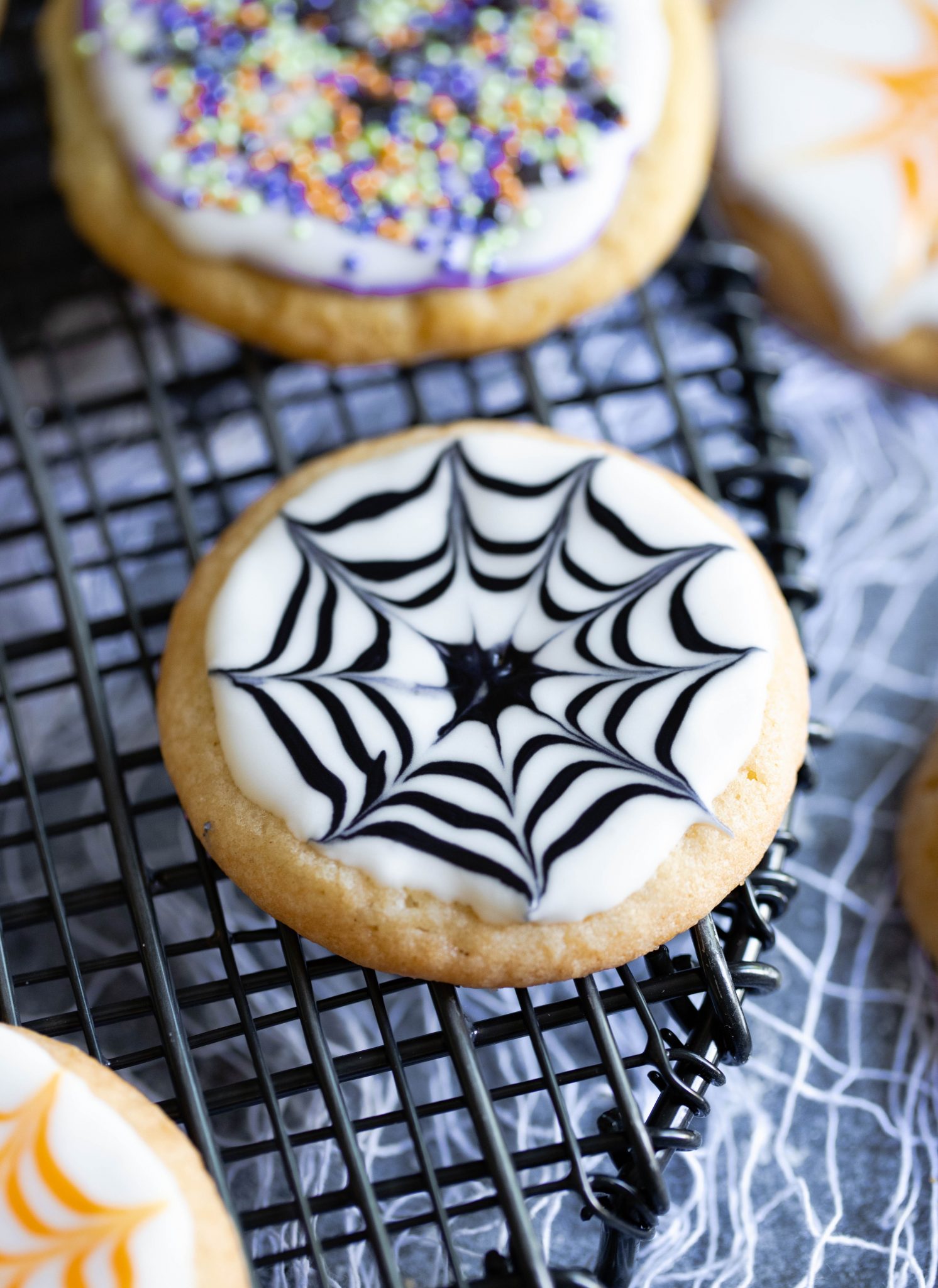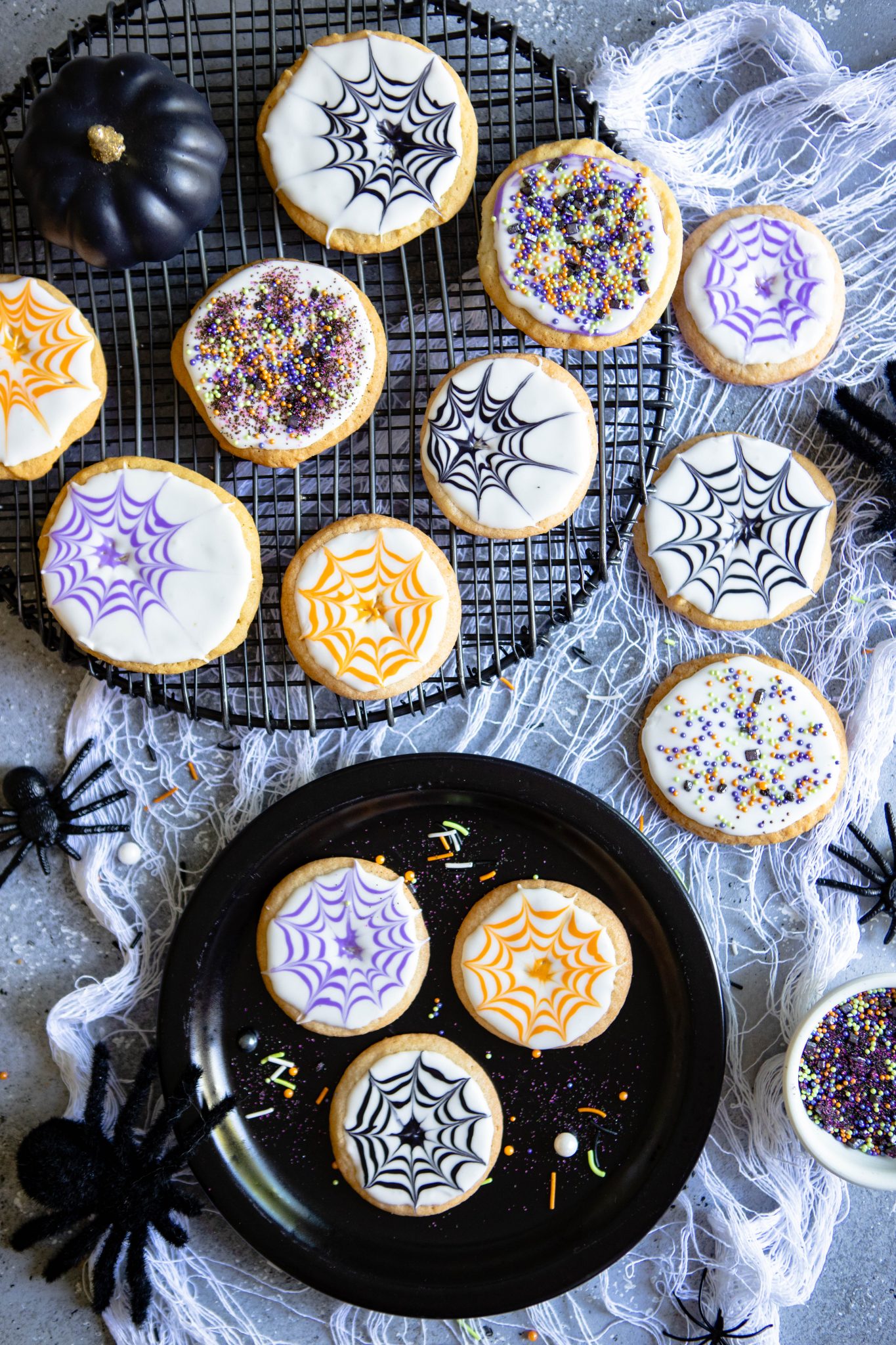 Royal Icing Halloween Spider Web Cookies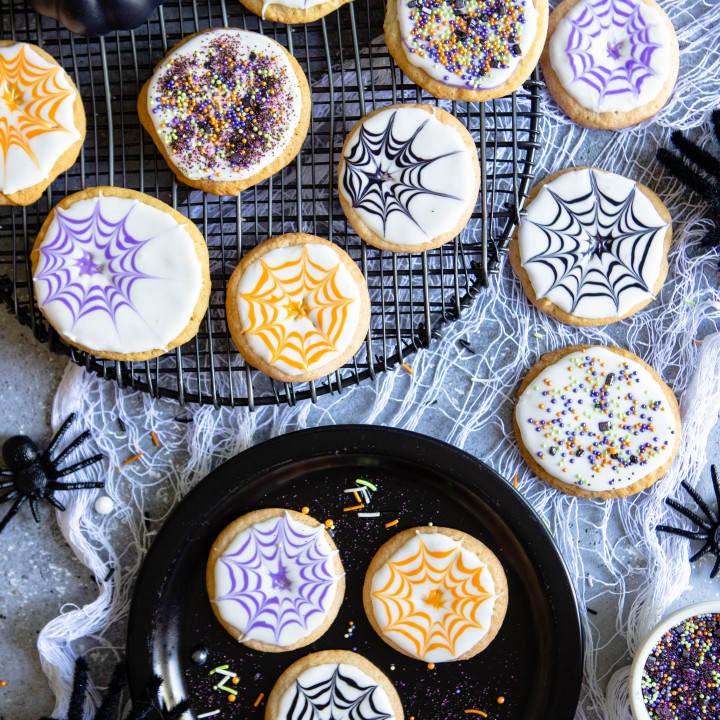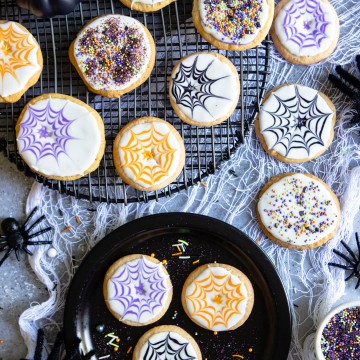 Royal Icing Halloween Spider Web Cookies
Create this spooky and unique Halloween cookies with a few simple ingredients and supplies!
Print
Pin
Rate
Equipment
Stand up mixer or hand blender

Icing bottles and tips
Ingredients
4

cups

powdered sugar

may need to add ½ cup powdered sugar for desired consistency

2

egg whites

room temperature

½

tsp

cream of tartar

salt

just a pinch

food coloring of your choice

2

dozen

sugar cookies

unfrosted
Instructions
To make the royal icing
In a stand up mixer with a whisk attachment, or in a large bowl, combine the powdered sugar, starting with 4 cups, egg whites, cream of tartar and salt. Whisk till well combined.

Optional, add in ½ tsp of vanilla extract for added flavor

Test the consistency of the royal icing. It should run off the whisk in a slow steady stream. If it seems too thin, add in ¼ cup of powdered sugar and mix well. The consistency should be like thick molasses, not runny like maple syrup. Add in another ¼ cup of powdered sugar if needed.

When the consistency is correct, divide the icing up into small bowls. Add in your food coloring and stir well until there are no streaks. Add icing to decorating bottles.
To make the spider web cookies
With the white icing, outline the sugar cookie, then flood the center, spreading the icing around until the cookie is entirely filled in.

With the colored icing, immediately add a small dot to the center of the cookie. Then pipe in 3 concentric circles.

With a toothpick or fine tip decorating tool, begin at the center dot and drag the tip through the icing, working from the center out. Continue all the way around, until you have a complete spider web.

Allow icing to completely dry and set before eating and storing. May be stored for up to a week in a covered air tight container.
Video
Notes
If your icing starts to become stiff, simply stir in a small bit of water, about ½-1 tsp, until desired consistency is achieved again.
Make sure to immediately pipe in your spider web design. If you allow the icing to set a bit, you will not get as even and smooth of a design.