This apple cider mule is made with just 3 simple ingredients. Keep it simple or make it festive and garnish these apple cider mules with a cinnamon stick and apple slice.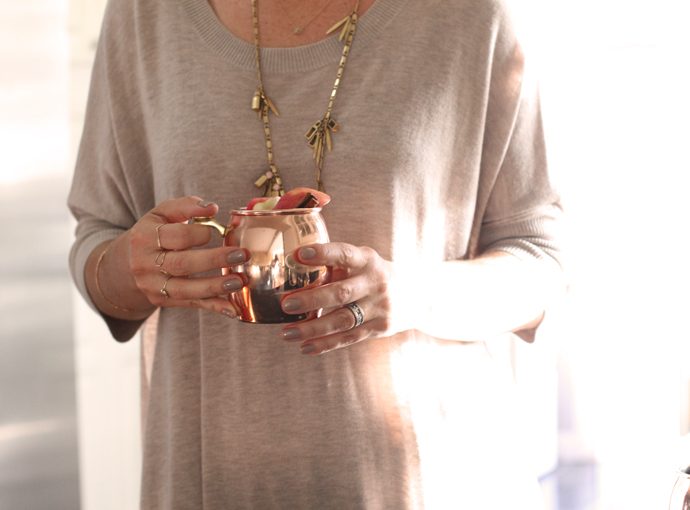 When I was in Lake Arrowhead with my boot camp group for Oktoberfest, I made my first ever Moscow Mule. I didn't realize how crazy easy they were to make, as the copper mugs they are traditionally served in, always made them seem like some elusive, intimidating cocktail that only the hippest of bartenders could master.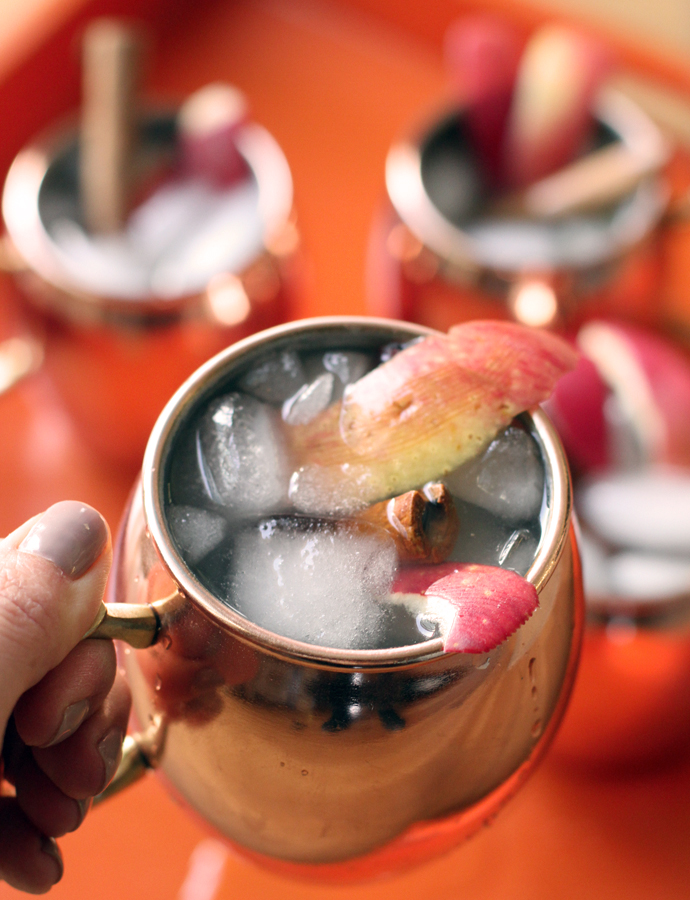 Ingredients For These Apple Cider Mules
Apple Cider
Vodka
Ginger Beer
Of course you can swap out the cider for apple juice. And feel free to garnish with a cinnamon stick or slice of apple!
How to Make Apple Cider Moscow Mules
Back to the mules.
To give them a seasonal twist, I swapped the lime juice for the apple juice, and added some fun cinnamon and apple garnish. This version is just as easy to make as the original, and can be made for single servings or in a big batch, as I did on Halloween night.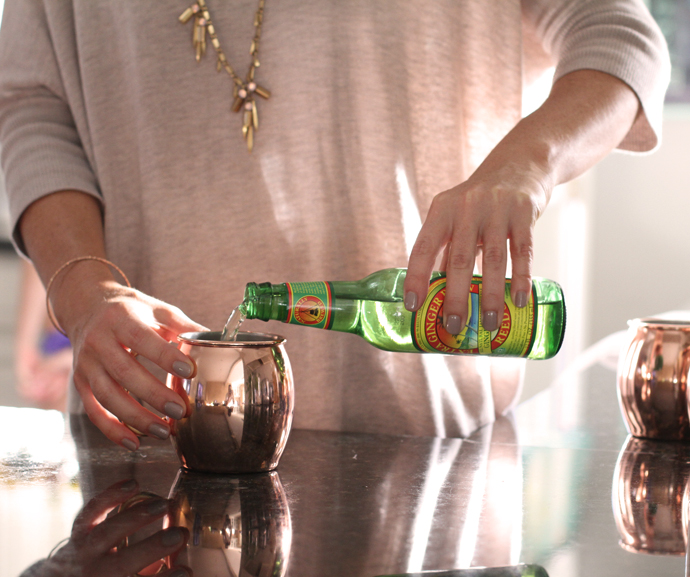 What's The BEST Apple Beverage To Use?
You can use either unfiltered, not from concentrate apple juice, as that always has a stronger flavor than regular apple juice, or you can use actually apple cider.
But don't use sparkling apple cider, since you'll already be getting fizz from the ginger beer.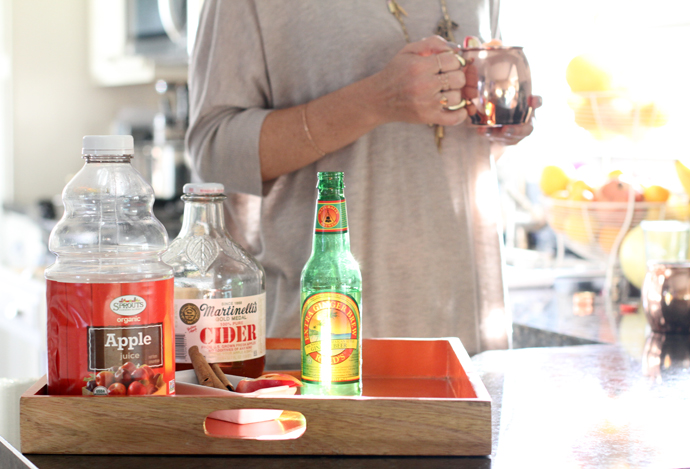 Infuse Your Vodka For Even More Flavor!
You can also infuse your vodka with ginger for an added punch, by adding a good knuckle size peeled knob of ginger to a mason jar full of vodka, and let it sit over night.
If you have a juicer, you can also juice some ginger and add that to the cocktail shaker for am enhanced ginger flavor.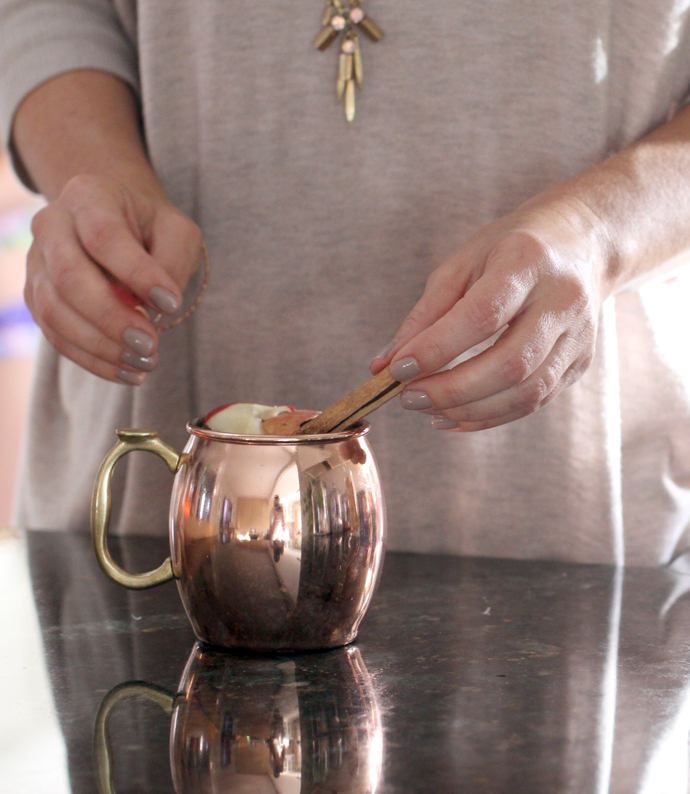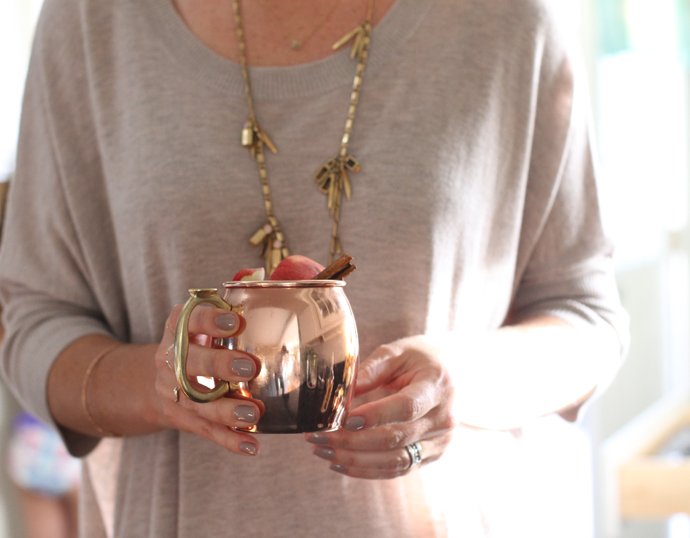 Tip For Making The Best Apple Cider Moscow Mules
I made a batch where I added the ginger beer to the whole mix, and that was a rookie mistake. It tastes much better if you add the ginger on top right before serving, and then you can stir things around a bit with your cinnamon swizzle stick.
Moscow Mule Garnish
Cinnamon sticks can be found on the cheap in the Mexican food aisle in any major grocery store, by the way. Feel free to slice your apples or use a peeler for an apple "twist." Whatever you do though, make sure you drink these slow, because they'll kick you with a punch after downing one too quickly, they go down that smooth.
Where to Get the Copper Mug
By the way, I got my Moscow Mule Mugs
on Amazon and they were about $10 cheaper last week when I ordered them, and now I see they've jumped up in price. They're still a fair price at $51 for a package of 4 16 ounce mugs, but I hear Target has them for $10 a piece, not sure what size they are. I searched around though, and these seemed to be the average going rate. The mugs don't change the flavor of the drink, obviously, but they make it more fun and festive for sure.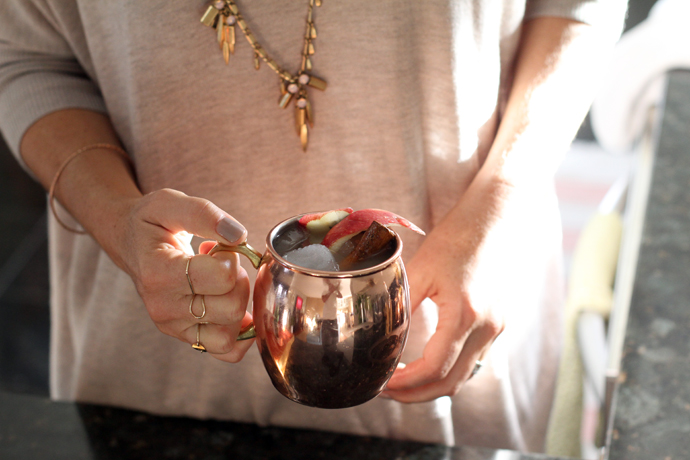 LOOKING FOR MORE INSPIRATION? CHECK OUT THESE POSTS!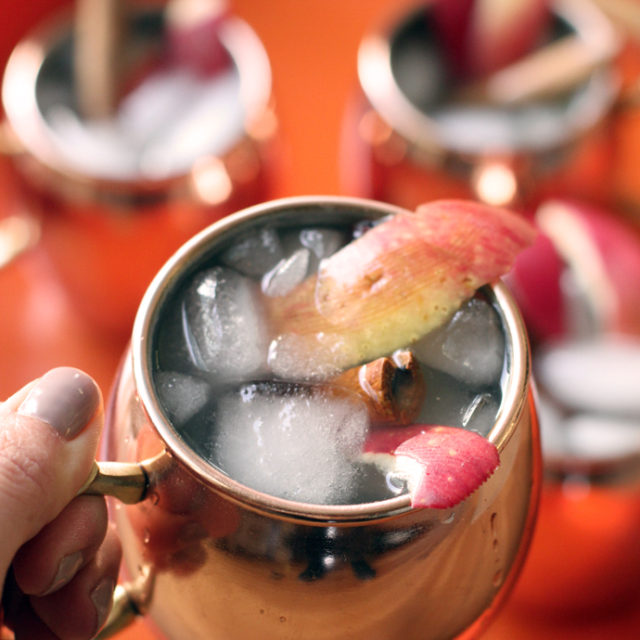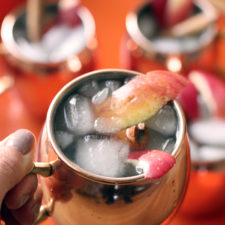 Apple Cider Moscow Mules
This apple flavored Moscow Mule is a great fall cocktail that is delicious and refreshing.
Print
Pin
Rate
Ingredients
4

ounces

of apple cider or unfiltered apple juice

4

ounces

of vodka

preferably infused with ginger *see note in text

2

ounce

splash of ginger beer

ice

cinnamon stick and apple slices for garnish
Instructions
Mix the ice, vodka and apple cider in a cocktail shaker and mix vigorously. Pour over ice in a mule mug, and top with a heavy splash of ginger beer. Garnish with cinnamon stick and apple slice.

To make this for a large party, pour equal parts vodka, about ½ pint, and apple cider in a beverage container. Mix with ice, and when ready to serve, simply pour mix over individually cups of ice, and then top with ginger beer. Do not add ginger beer to large batch of vodka/apple cider. Leave a tray of garnishes out and allow guests to top off their own.
LET'S CONNECT!
Follow along with me on Instagram! And if you make this recipe be sure to tag me @howe.we.live so I can see! I love seeing what you're making!