Over the years I've slowly acquired a strong affection of sprucing up the house for Halloween and Fall. One of the main reasons for my appreciation of this season is that apart from the skulls & black pumpkins, my decor efforts really go far, lasting almost 2 whole months. What other holiday has that kind of decorating longevity?
And of course I now owe a huge part of my love of Fall decor to my almost constant longing to be back in New England. So while we won't be moving back East any time soon, this is my way, especially outside, of bringing a bit of New England back home to Southern California.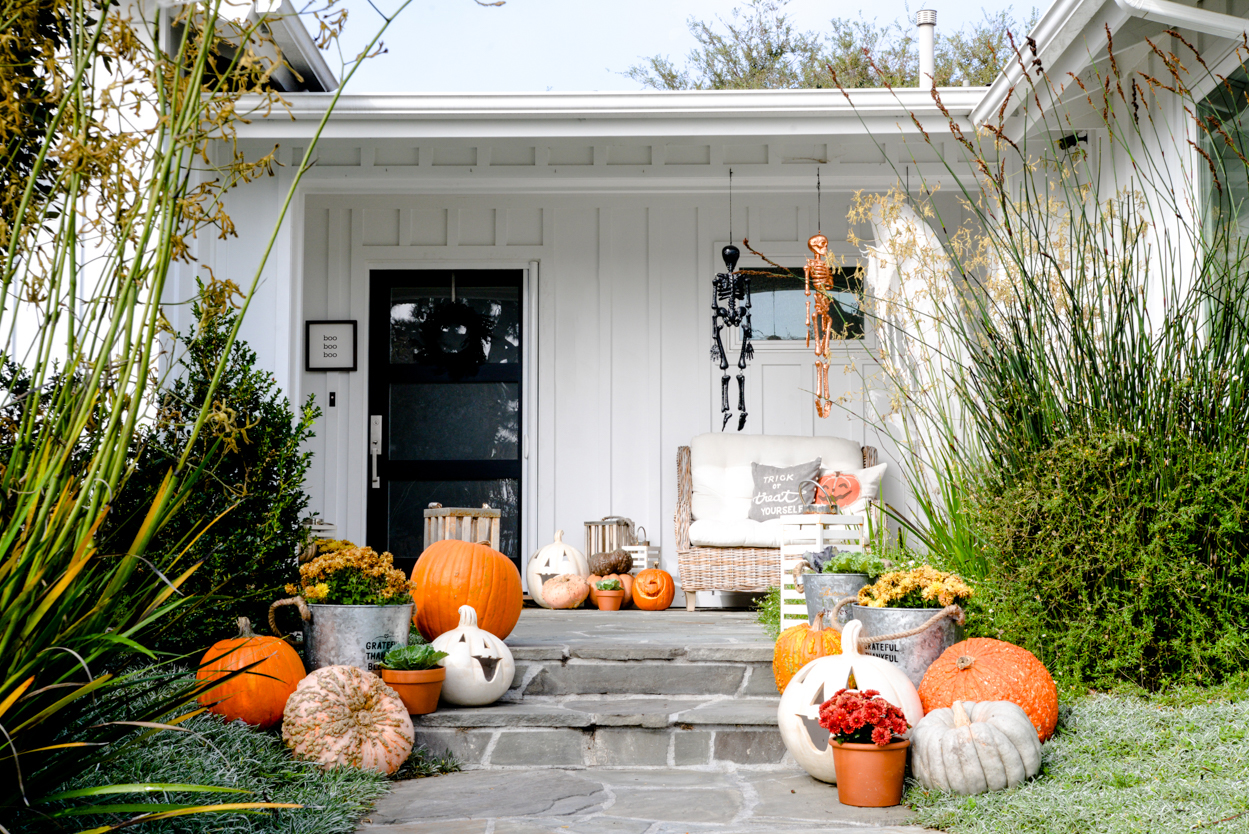 Simple Fall Decor Idea #1: Fresh And Ceramic Pumpkins
Let's start with the porch, which is a mix of fresh and ceramic pumpkins. One of the primary ways I ease the cost of buying fresh pumpkins each year is to spread it out over the course of 4-6 weeks.
Beginning in early September, as I see the unique pumpkins pop up at stores around my neighborhood, I'll start adding to the collection. Picking up a pumpkin here and there, especially when I see good prices, definitely helps ease the burden of buying them all at once. And as long as they're not cut open, they'll last for at least 2 months, definitely long enough to greet us on Thanksgiving.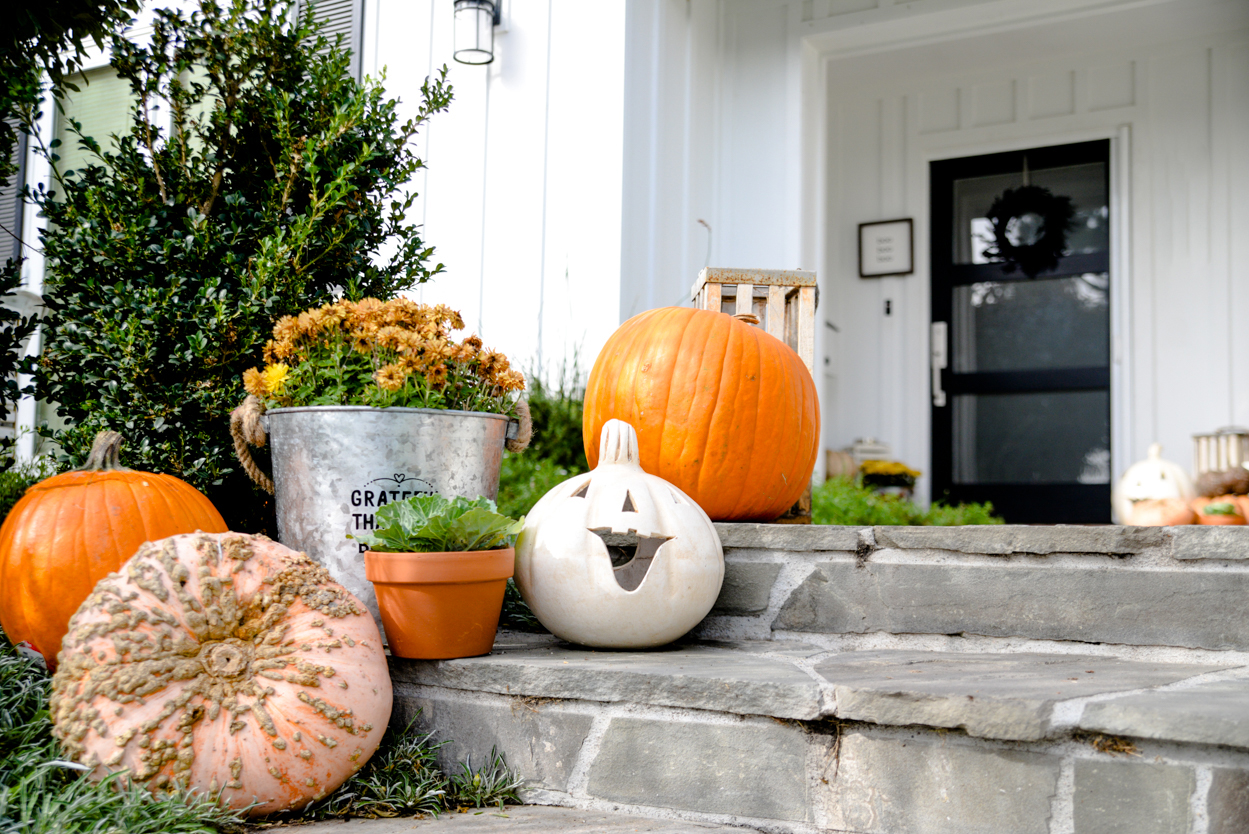 Where Can I Get Ceramic Pumpkins?
The ceramic pumpkins are from Home Goods, as well as the tin buckets.
You might have some luck as well finding ceramic pumpkins at other home stores, and always check Target!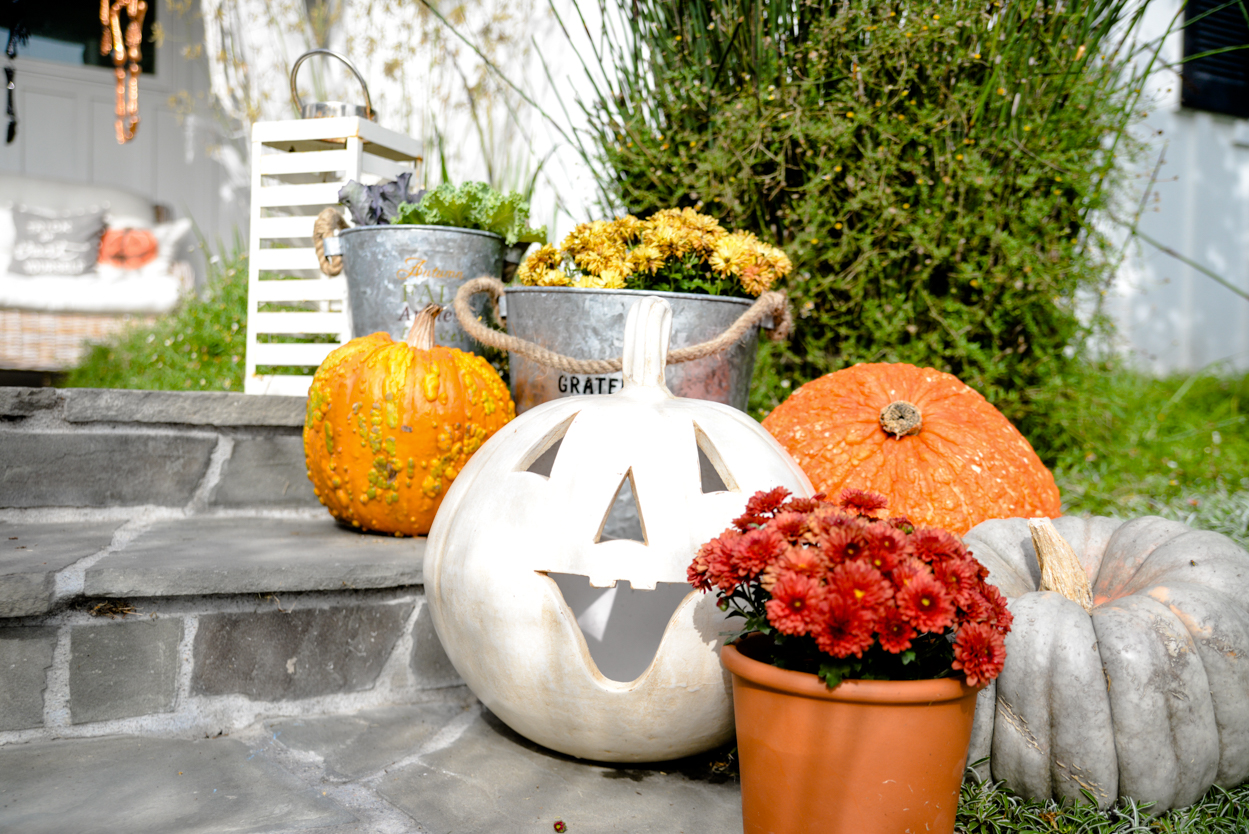 Simple Fall Decor Idea #2: : Spiders And Spiderwebs
Another wonderful idea that you can really use inside or outside your home are spiders and spiderwebs. You can get small or large. For outdoors I love a big dramatic spider like this one!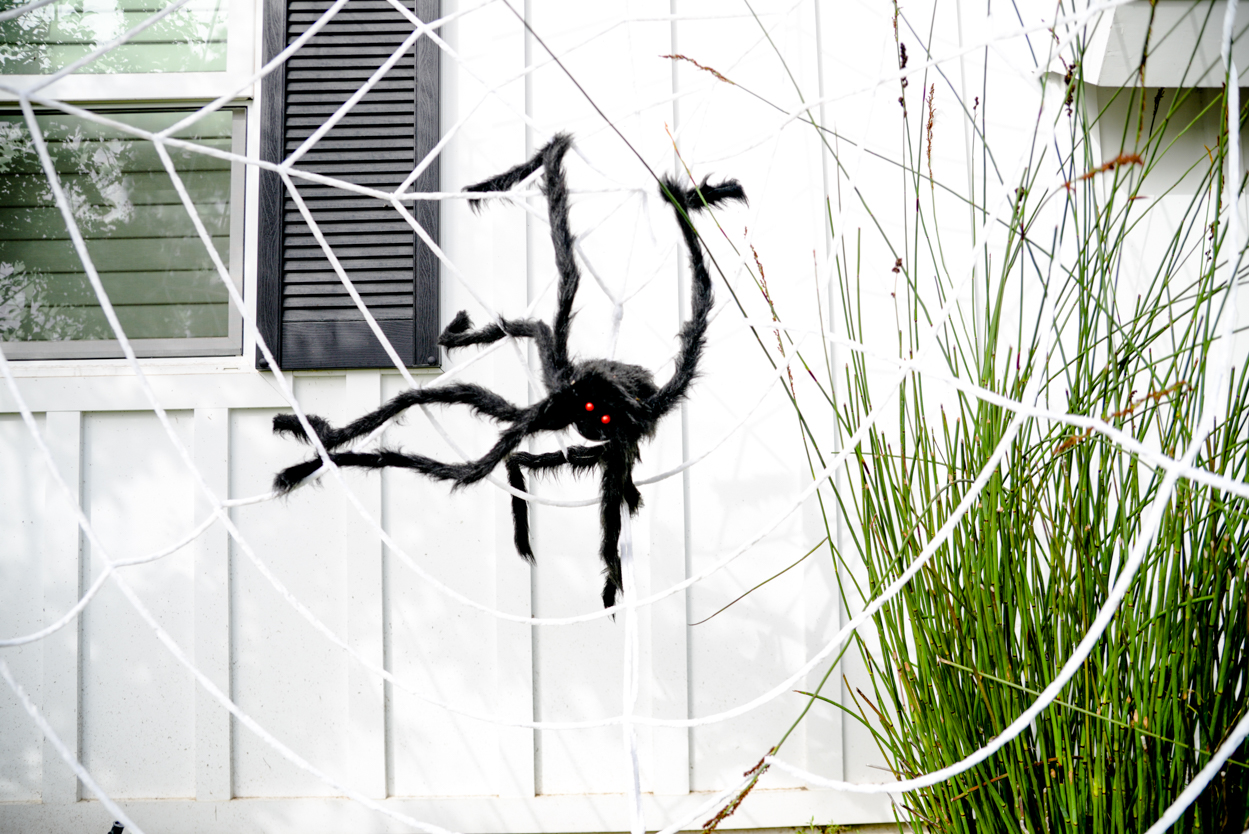 The giant spider and web were found on Amazon and the web came in a 2 pack of black and white webs. So far though we've only used the white web and it's lasted 2 years in a row now. I thought for sure after the first year we'd have to trash it but it's pretty sturdy. Also helps of course that we don't get much rain if any during October.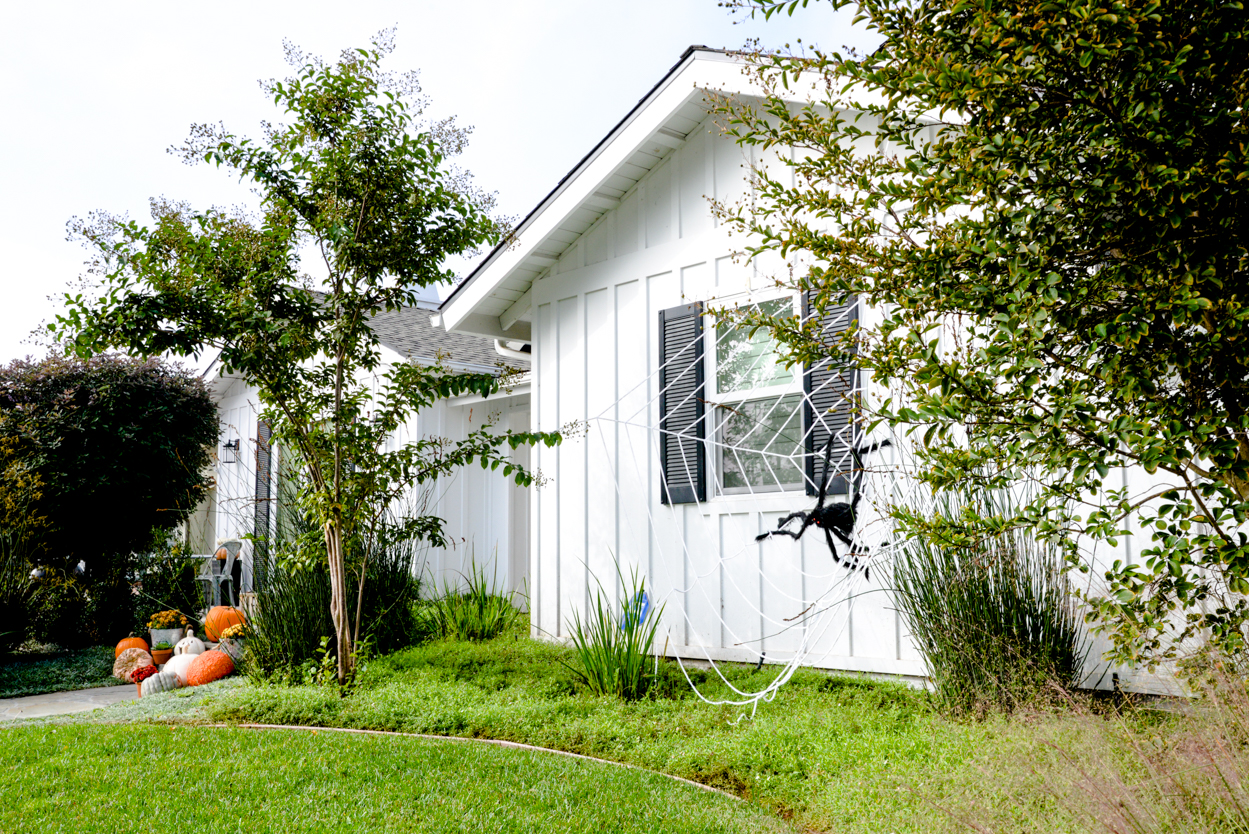 Simple Fall Decor Idea #3: Lanterns
The metal and wood lanterns were purchased on clearance at Target a few years ago and are surprisingly sturdy. We keep them out all year long and they're withstanding the harsh Southern California elements pretty well. 😉
Of course you can always decorate with lanterns indoors as well, and all year long if you would like!
Simple Fall Decor #4: Pillows!
I mean I don't know about you but I can't resist a beatiful pillow. Especially a seasonal pillow with writing.
The 2 pillows are from Pottery Barn and the Trick or Treat pillow is on super deep discount.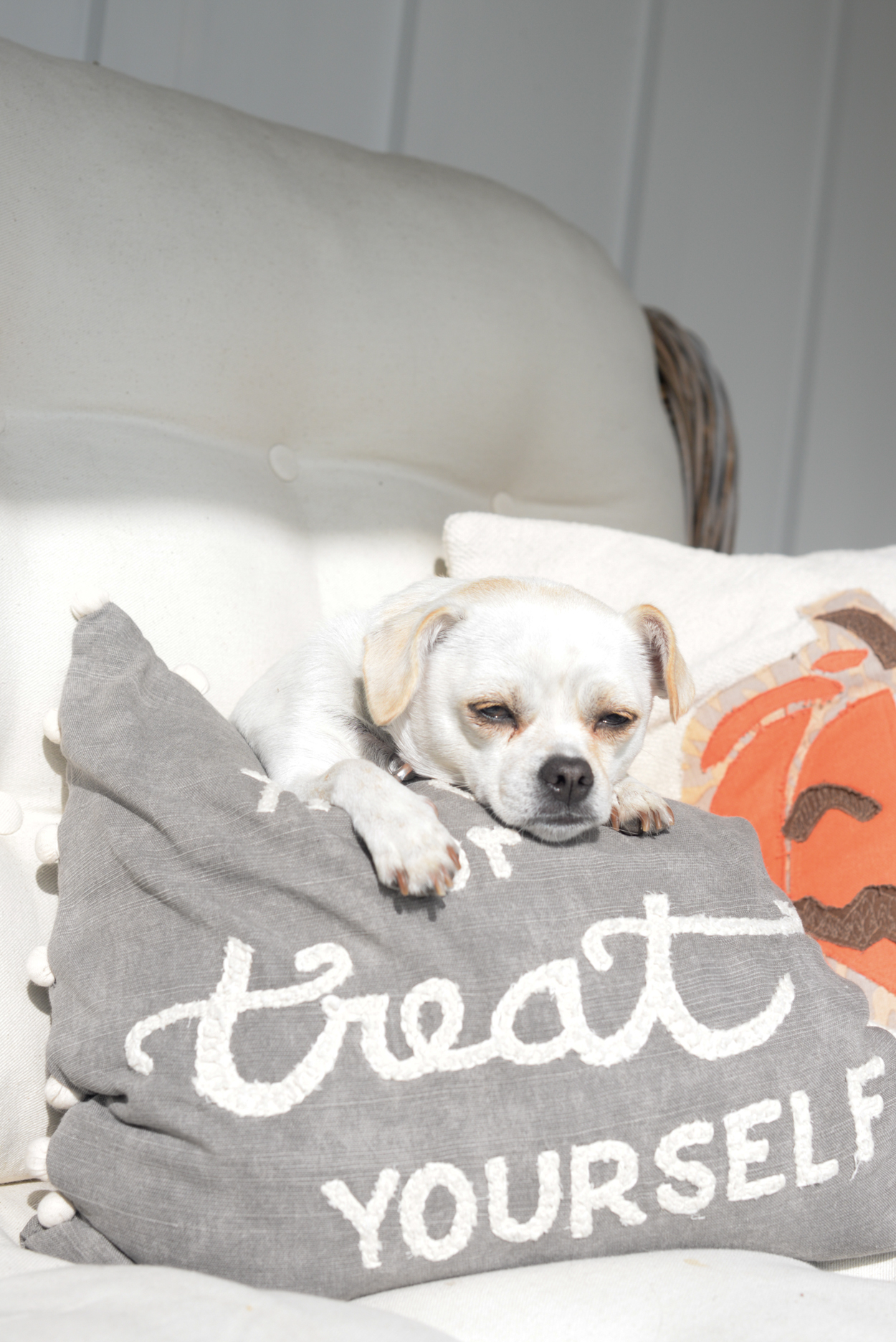 Simple Fall Decor Idea #5: Skeletons
Moving inside, I don't have much set up beyond a few things here and there, primarily setting up the dining table and mantel. The glitter skull is old, found at Home Goods, and the black and white pumpkins are all new this year from Target.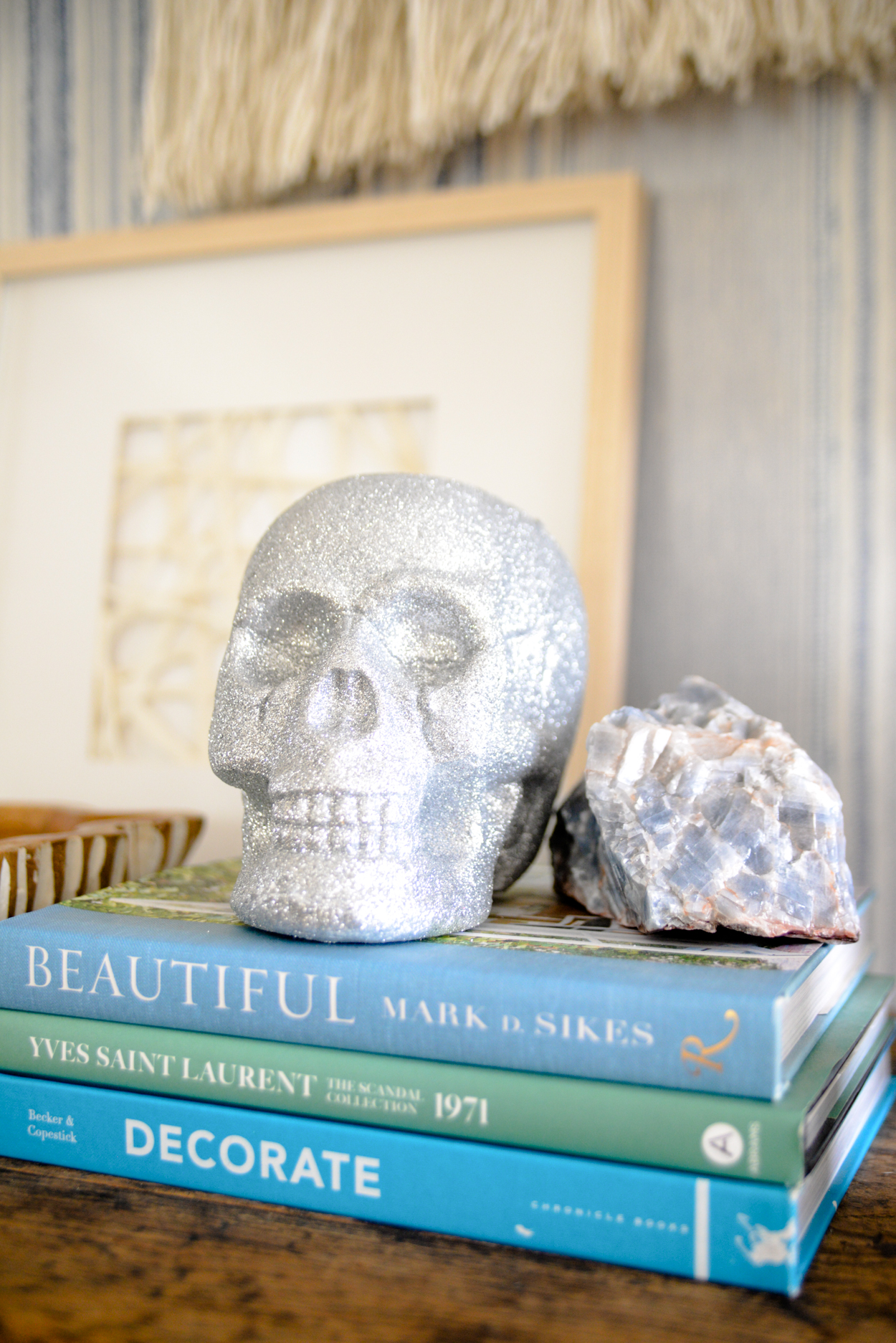 The black and white pumpkins are all new this year from Target. They are awesome in how realistic they are in terms of shape and feel, and will last several years I'm sure.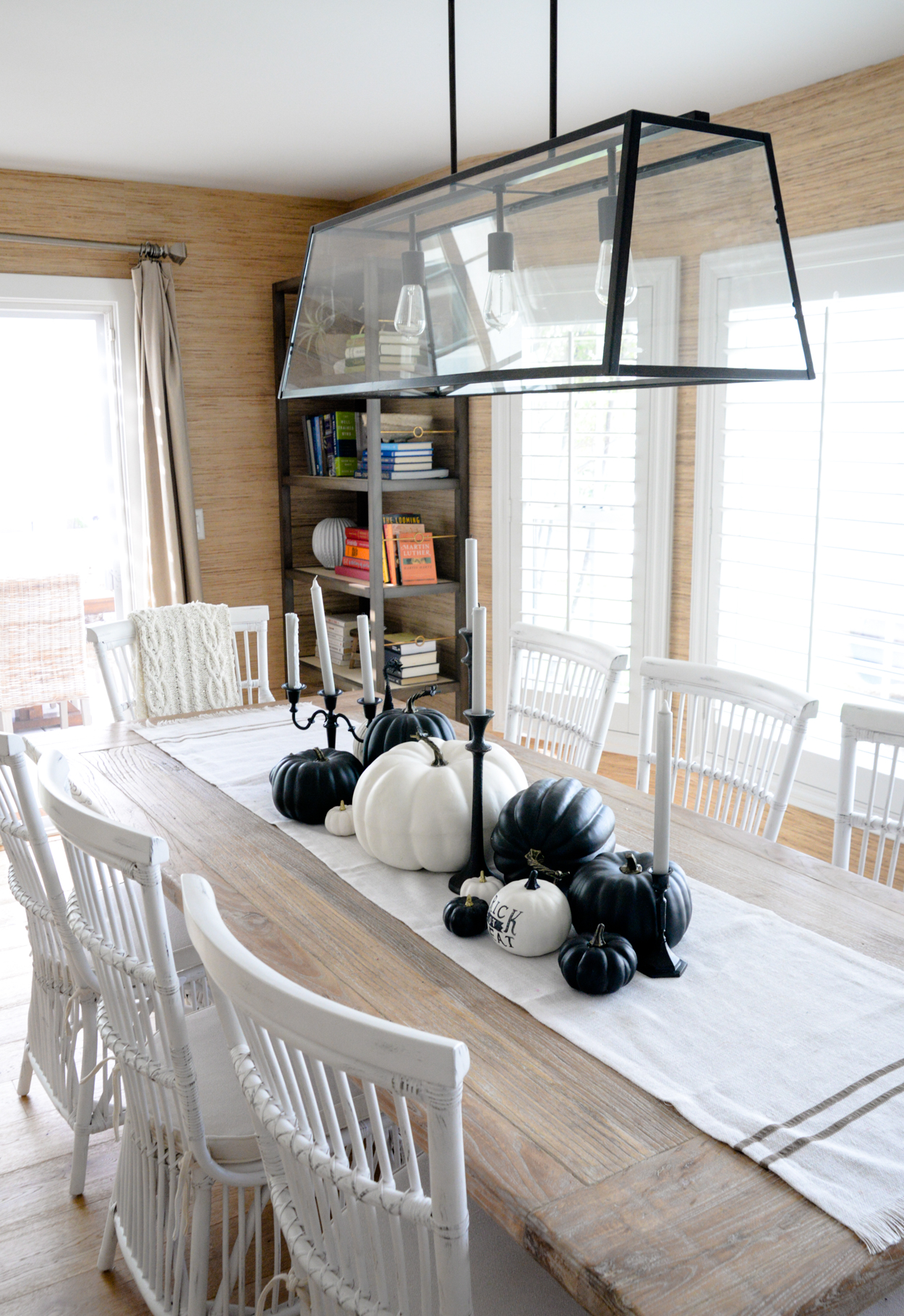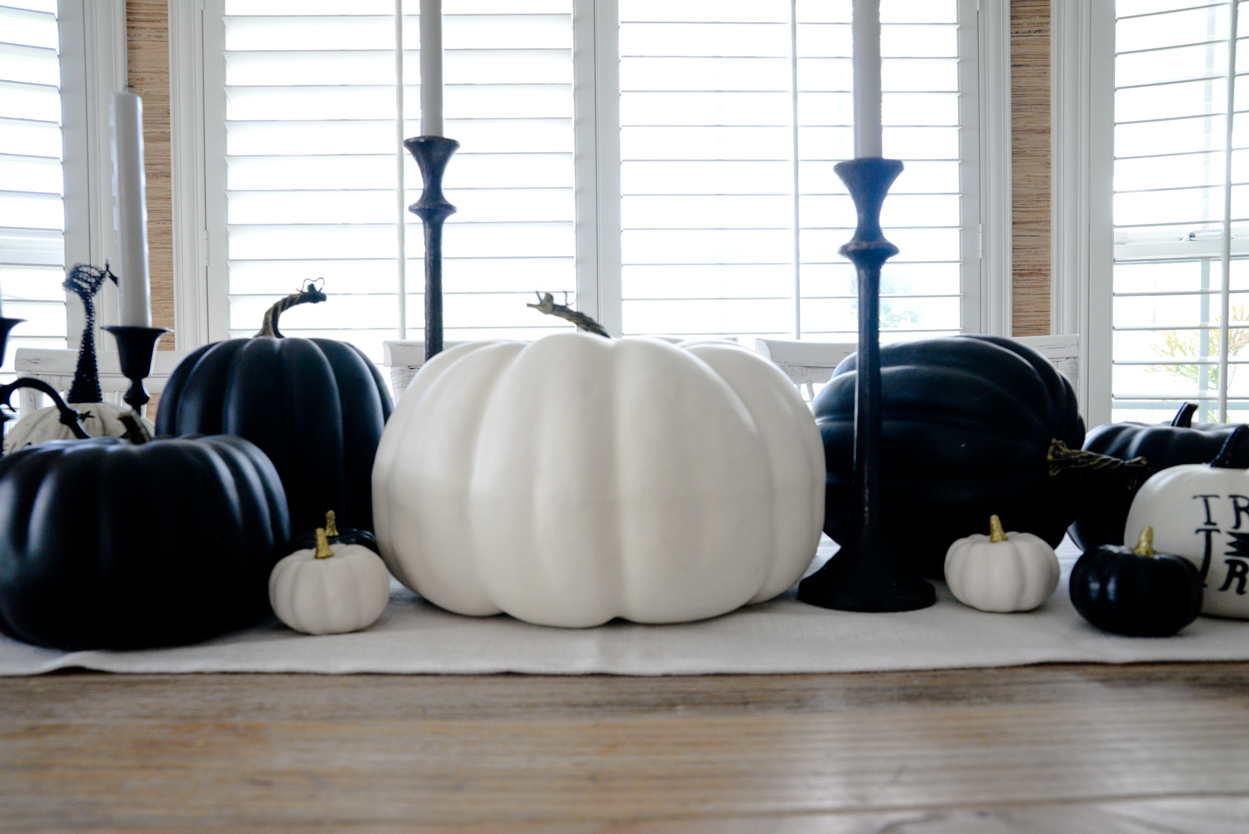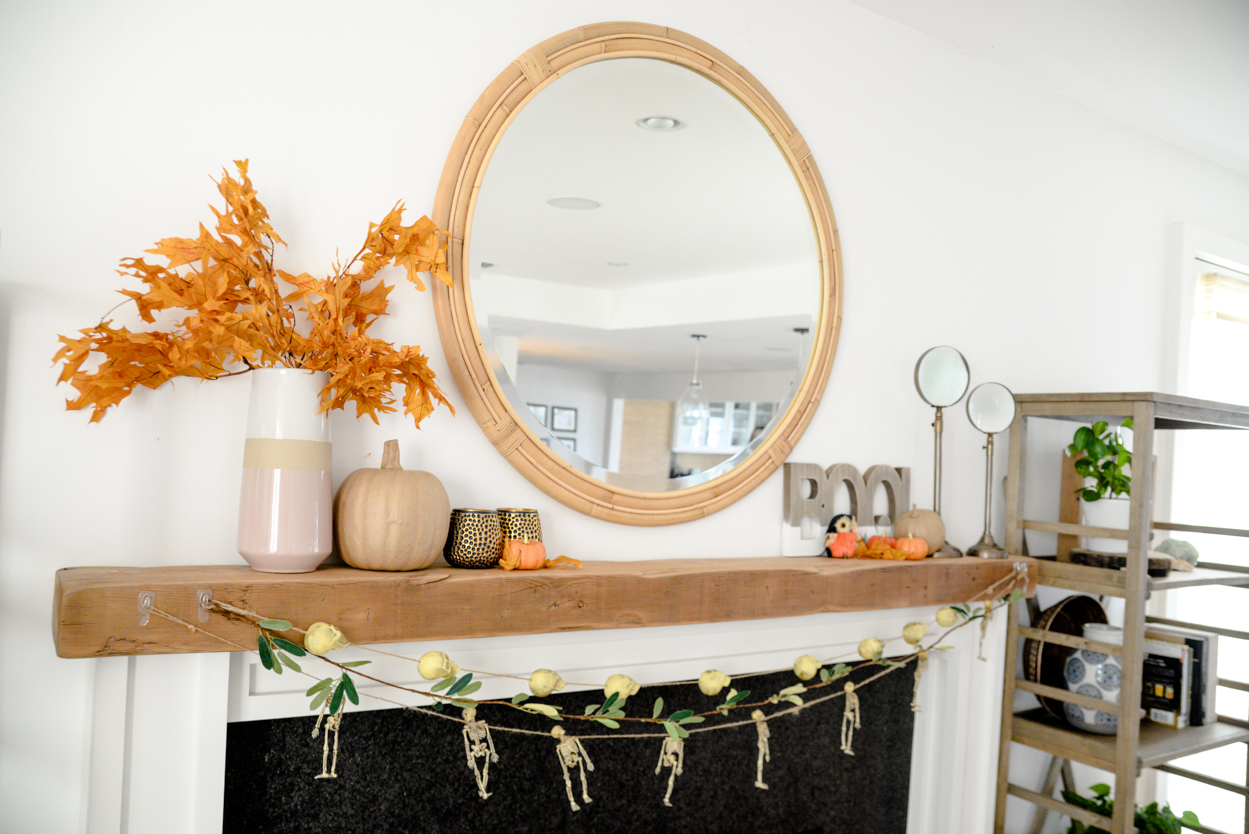 Simple Fall Decorating Idea #6: Decorate The Mantle!
You can use any of the above mentioned decorations but use them to have fun and decorate the mantle.
The mantel is the only other area I bother decorating, and once  Halloween is over I'll take down the skeletons and BOO sign, and leave everything else in place for Thanksgiving.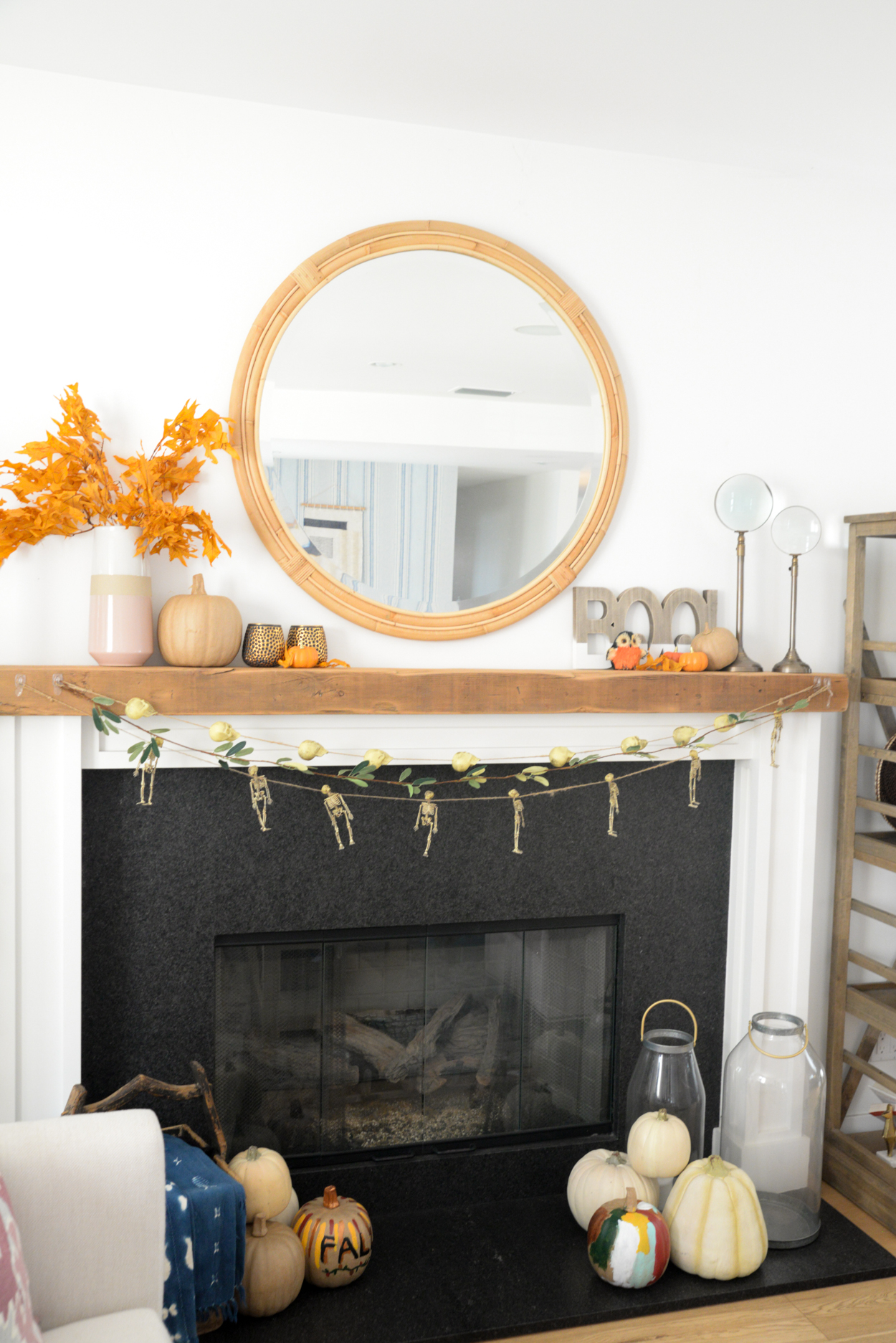 The skeleton garland is old, originally found at Michael's, as are the fake white pumpkins, which aren't super realistic as the ones they make now. The brown paper pumpkins were from the Target craft section and we planned to paint them all like the colored ones sitting on the ground, but we kinda just ran out of time and I liked the way they look as is just fine. 
Those pretty colorful fall leaves are real waxed leaves they sell this time each year in the florist department at our local grocery store. They are about $5 and brighten up the spot nicely. Leia as you can see was really fascinated with Miranda while she was taking pictures 🙂
The BOO sign and owl are both from Home Goods, and the mini orange pumpkins were also picked up from Target this year.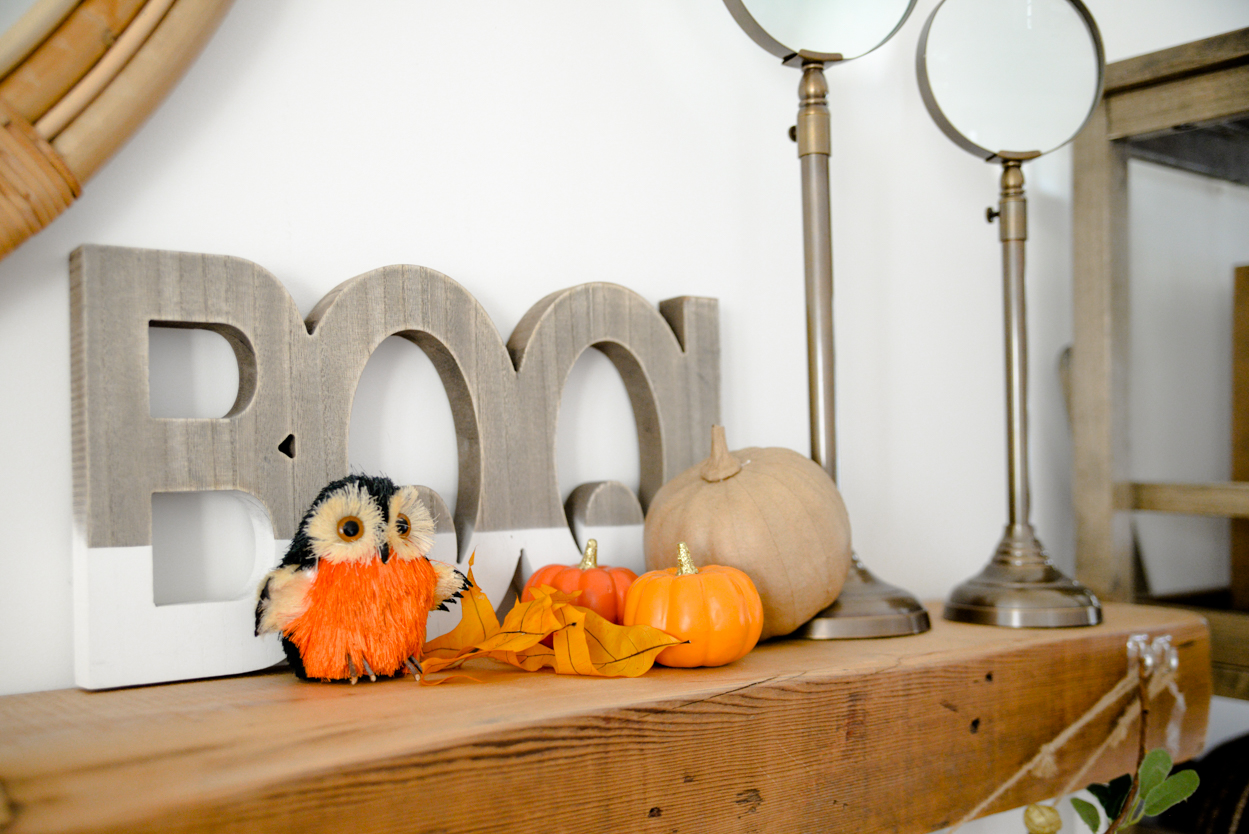 And there you have it! Nothing extraordinary but just enough to make the house feel festive and get the kids excited, without a ton of work on my part. The porch especially was something I worked on over the course of a few weeks, adding pumpkins and mums as I brought them home, until I finally arrived at the place where I said, "enough pumpkins, stop buying more pumpkins!"
I hope you enjoyed my little Fall decor home tour and get some simple ideas for your house next year!
LOOKING FOR MORE HALLOWEEN INSPIRATION? CHECK OUT THESE POSTS!
LET'S CONNECT!
Follow along with me on Instagram! And if you make this recipe be sure to tag me @howe.we.live so I can see! I love seeing what you're making!
All the lovely photos are by Miranda of M. Shanti Photo