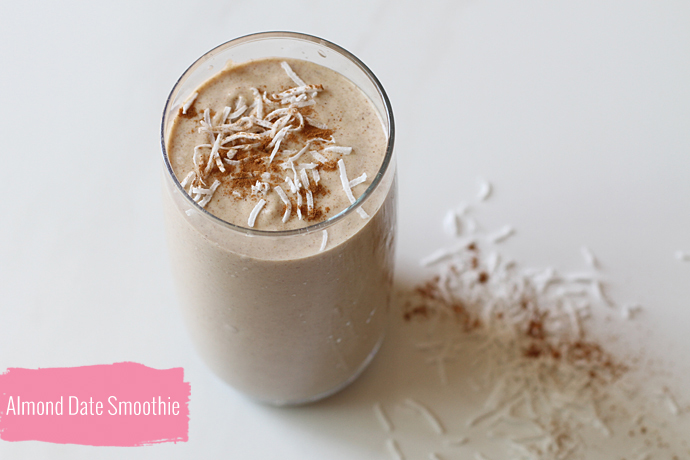 Some days, you just can't look at another leafy green vegetable based smoothie or juice. Some days you miss the old you, who'd stroll through McDonald's on a Tuesday afternoon and order a McFlurry and fries on the side, to dip in my McFlurry. Sigh.
But then you remember you invested in that fancy Vitamix and so you better put it to good use, and you've sort of committed to this healthy lifestyle thing, so you make yourself a smoothie that is still healthy and nutritious, but feels a little decadent too. That's where this smoothie comes in. The other day Hayden and I stopped for a snack, and I ordered a very similar smoothie from the juice bar. I took note of the ingredients, and went home to see if I could recreate my own version. After a couple of attempts, I landed on this concoction, and it couldn't be more delicious.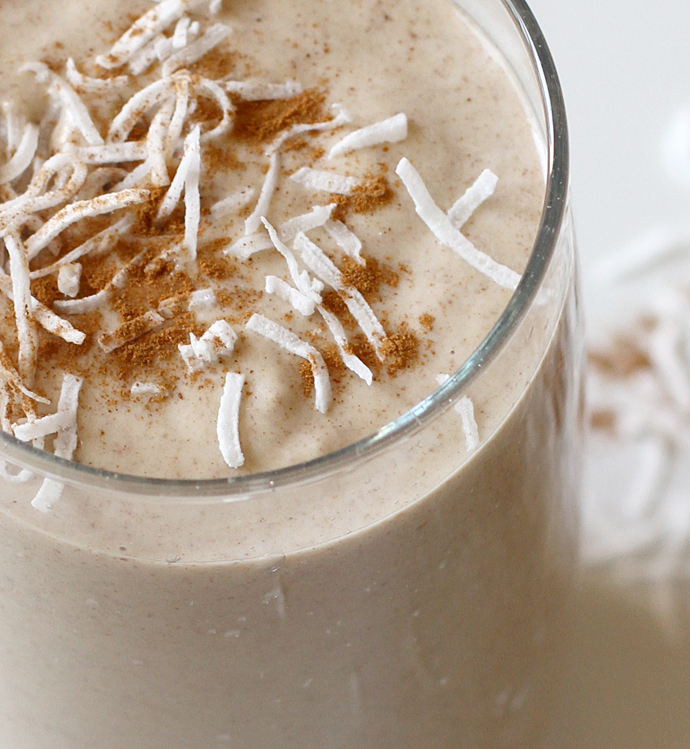 This smoothie is filling, and would make a really good breakfast on the go, or when you need a comforting mid-morning snack. The day I ordered it, I was in need of some comforting, it was just one of those days, and this did the trick.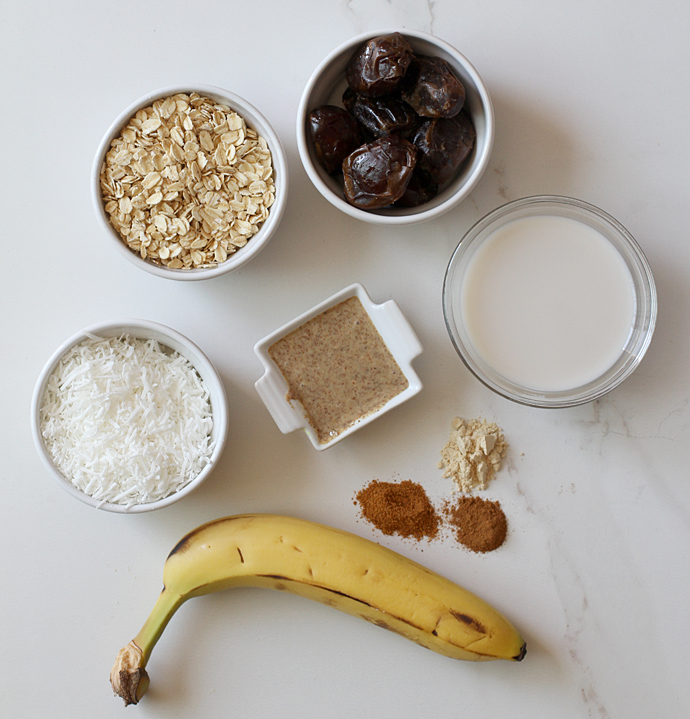 You've probably noticed that I added maca powder to this smoothie. Is it entirely necessary to get the same taste? Definitely not, but if you'd like to see if you can reap some of the reported benefits of maca, you can certainly give it a try. A note on the ingredients:
Maca: A plant that grows in the Andes mountains, maca is believed to improve energy, enhance mental clarity, and improve libido in both men and women. While all evidence is anecdotal and not scientific, a lot of the readers who commented on it on the GMMDI IG feed reported experiencing vast improvements in energy and sexual interest. There are no harmful side effects, so if you can afford the $20 price for a bottle, it definitely couldn't hurt. I spoke to a gentleman at Lazy Acres though, and he did recommend buying the gelatinized form of the powder, as the raw powder can be harder to digest, therefore making it harder for your body to absorb all the nutrients and benefits. Maca is not recommended for pregnant or nursing women.
Almond Breeze Almond Milk: Almonds are naturally low in sugar and a great source of nutrients including fiber, protein, monounsaturated fat, manganese, magnesium and copper, just to name a few. Of course it is also dairy-free and great for vegans and those who are lactose intolerant, and is a great source of calcium, with fewer calories than milk. We drink both cow's milk and almond milk in our family, but for our smoothies, we always use almond milk because it gives them a lighter texture and adds a nice distinct flavor.
Almond Butter: Nutritionally, almond butter and peanut butter are almost identical, although almond butter does have a slight advantage over peanut butter in terms of a few vitamins and minerals including Vitamin E and magnesium. Both are great though, so you can use either one here, although if you're following Paleo, you obviously want to just stick to almond butter since peanut butter is a legume, which is forbidden on paleo.
Cayenne: Even just a pinch of cayenne can be beneficial. Cayenne can help relieve pain, aid in appetite suppression, and is even sometimes used to treat psoriasis.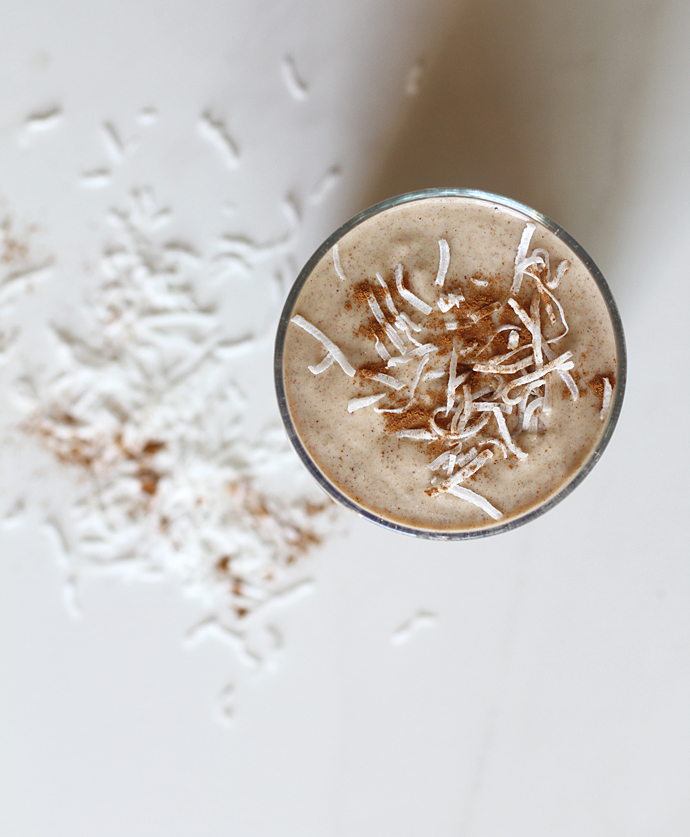 If this smoothie sounds like it's something you'd like to make out with, or at least take on a date, see the recipe below, and please let me know if you give it a try. Happy Wednesday friends!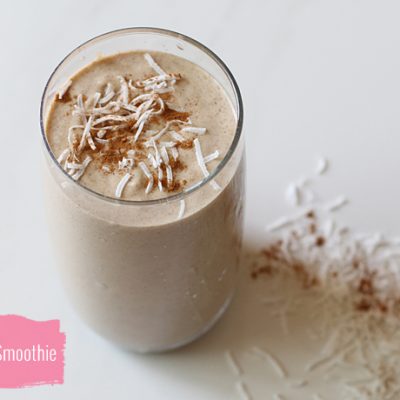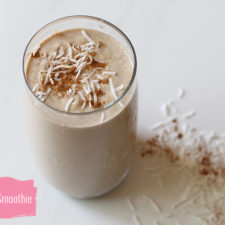 Almond & Date Smoothie, With Maca
When you're craving something indulgent, yet still nutritious, this smoothie hits the spot.
Print
Pin
Rate
Ingredients
¼

cup

Dates

pitted and roughly chopped

½

cup

Oats

can be quick or slow cooking

1

teaspoon

Maca powder

preferably gelatinized

½

teaspoon

Cinnamon

⅛

teaspoon

Cayenne pepper

3

tablespoon

Almond butter

½

cup

Almond Breeze Almond Milk

½

cup

shredded unsweetened coconut

1

whole ripe banana

1

cup

ice
Instructions
Place all ingredients in a powerful blender and blend until smooth.

This post was sponsored by Almond Breeze Almond Milk, although all opinions expressed are my own. I'd like to thank Almond Breeze for their support, so I can develop some wonderful recipes for you all over the next several months. If you would like to see the other recipes I created in the month of March, using Almond Breeze Almond Milk, you can visit my Instagram where I provide the recipes within each post.
On St. Patrick's Day I made a Lucky Green Smoothie using peaches and kale as the base fruit and veggies., and over the weekend I made a delicious batch of Strawberry Chia Pudding. I'm most appreciative that Almond Breeze is a sponsor, so I can devote some time creating great recipes I can share both on my blog, and on Instagram!