For the past year or so, thanks in large part to my smart nutritionist friend Cara, of Cara Clark Nutrition, I've been swapping out my usual avocado & toast or egg scramble, for a high calorie smoothie like the one I'm sharing today. Smoothies for breakfast are by no means a new invention…Jamba Juice I'm looking at you. But these 400-500 calorie smoothies have been steadily growing in popularity the last few years, as people realize that a fruit and yogurt sugar filled drink does not a healthy breakfast make. Instead, a smart balance of fruit, greens, and fats combine to make a filling breakfast that works to balance out blood sugar and easily keep you satisfied until your morning snack.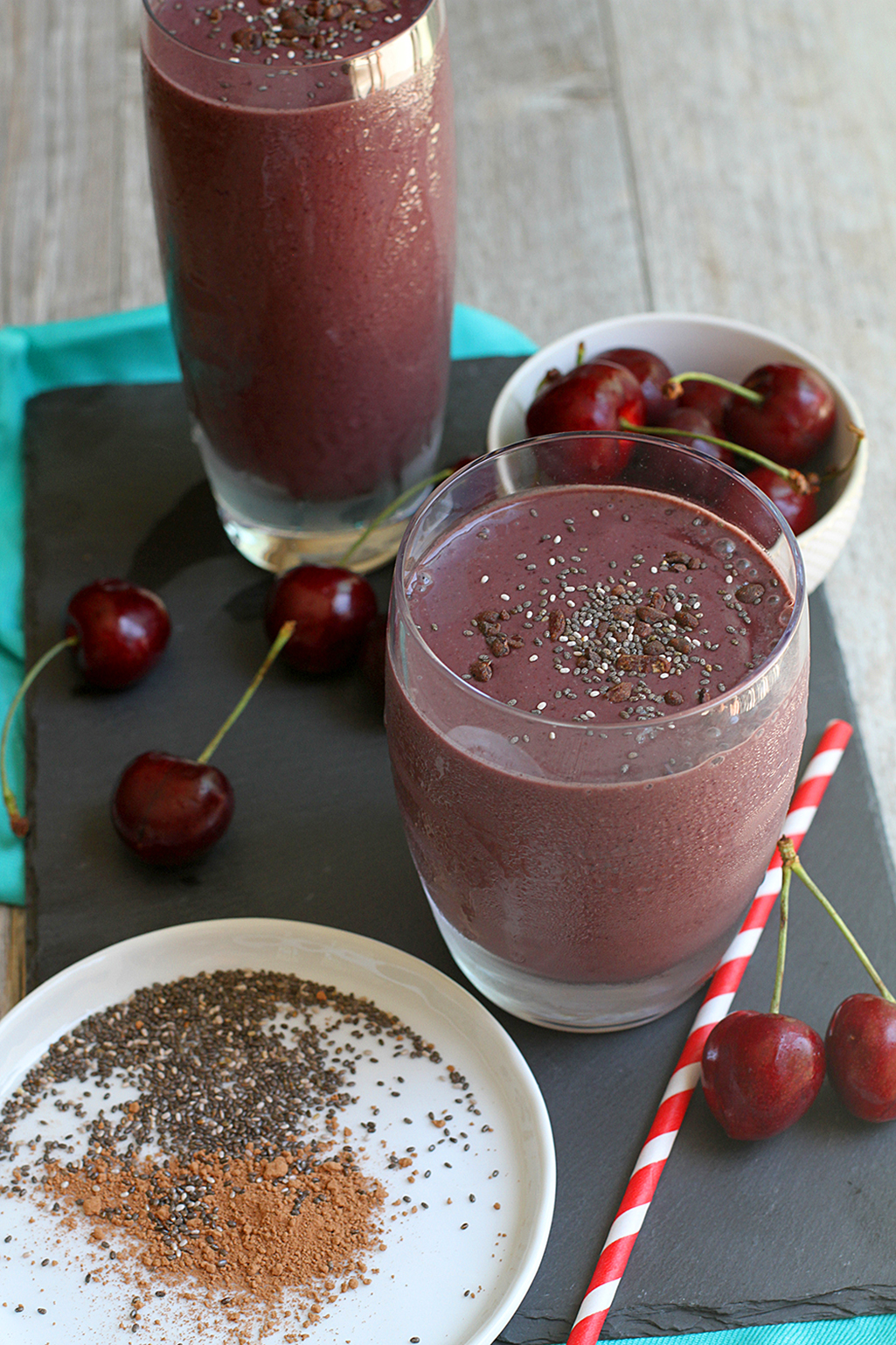 Cara's breakfast smoothies are a foundation of her quarterly weight loss challenges, and her creativity approach has led her to creating almost endless combinations, resulting in 2 smoothie recipe e-books.  The really great thing about these smoothies is that once you get the hang of the fruit to greens to fat/protein ratios, you can kinda go rogue and do whatever you like.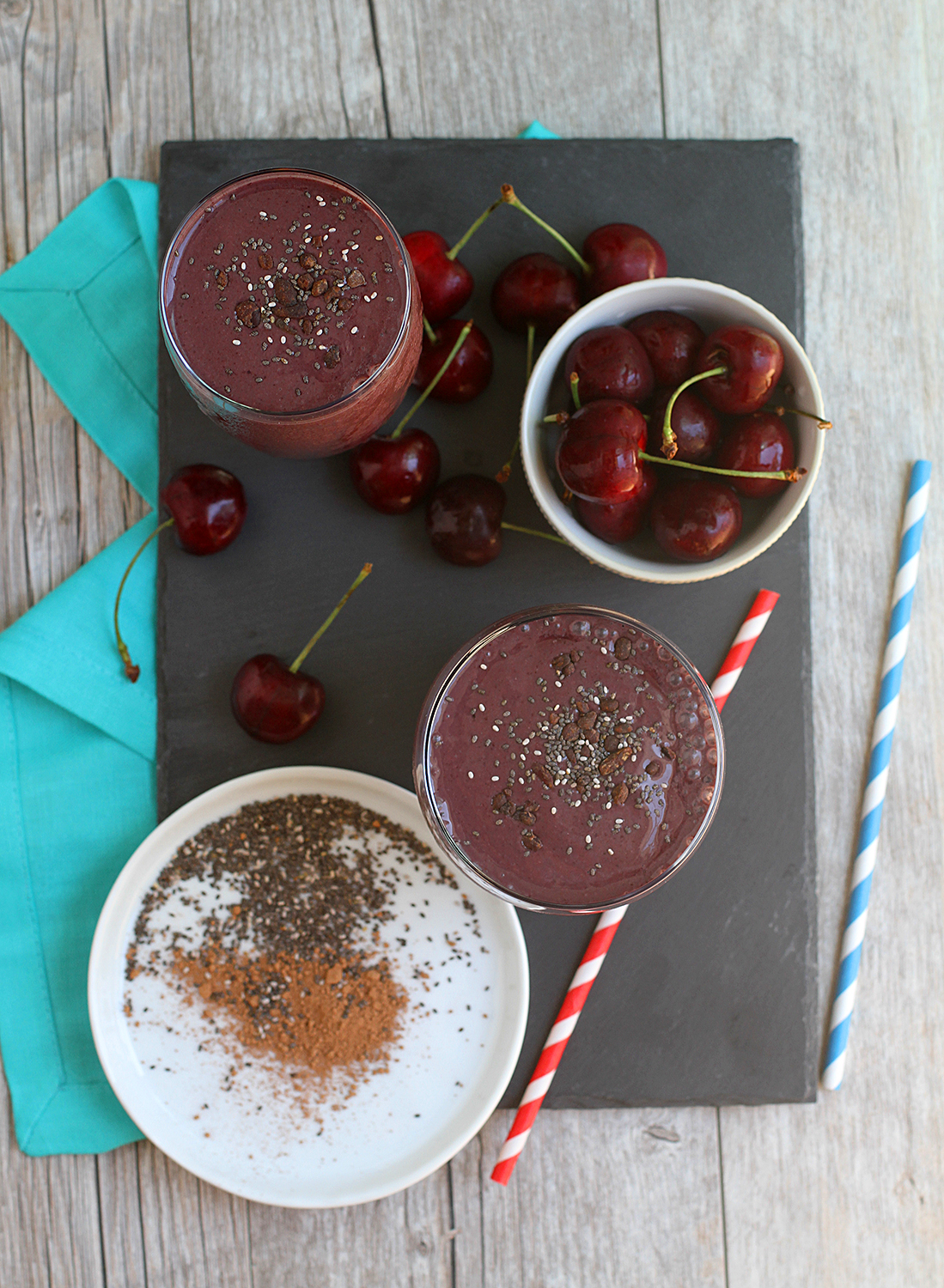 Today though I thought I'd share this great combo because it's a nice alternative to the typical "green smoothie" that is usually a mango/pineapple or berry base, mixed with veggies. This one in fact doesn't even have veggies, instead the cherries are balanced out with chia seeds and almond butter. And while I know cherries are very much a summer fruit, the addition of the cacao makes it feel a bit heavier, so it doesn't feel out of place during the colder months.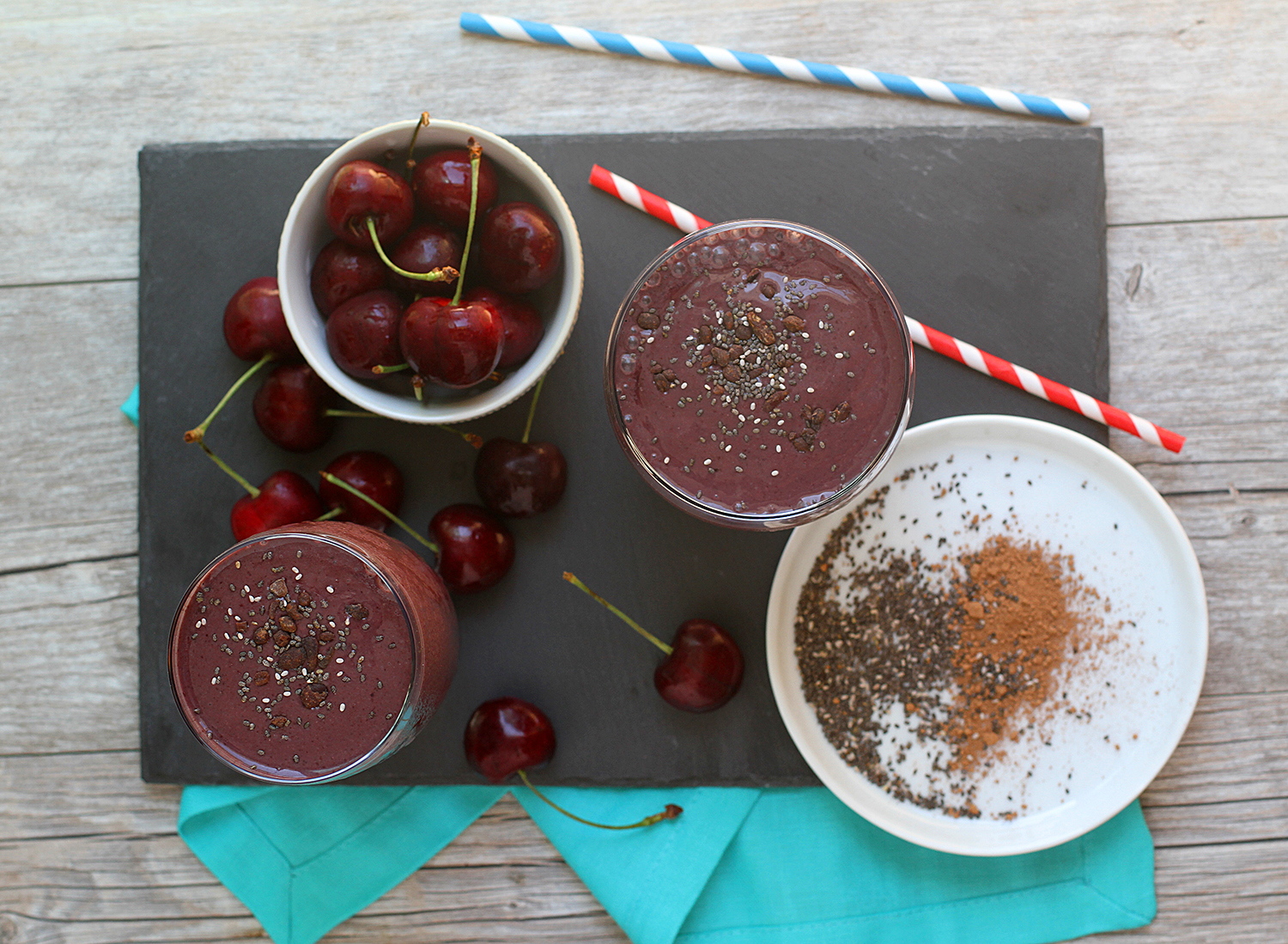 I use cacao here, but if you only have unsweetened cocoa, feel free to use that as well. The main difference between cacao and cocoa is how they are processed; the former is cold pressed which keeps its enzymes, vitamins and minerals in tact, and the latter is roasted at high temperatures, which causes it to lose much of its nutritional value. Raw cacao may be a bit "healthier", but it is also more expensive. If your wallet can afford to take the hit, splurge on the raw cacao, but if money is tight and you're just trying to eat healthier, by all means use your cocoa powder and be done with it; you'll still get the same great flavor.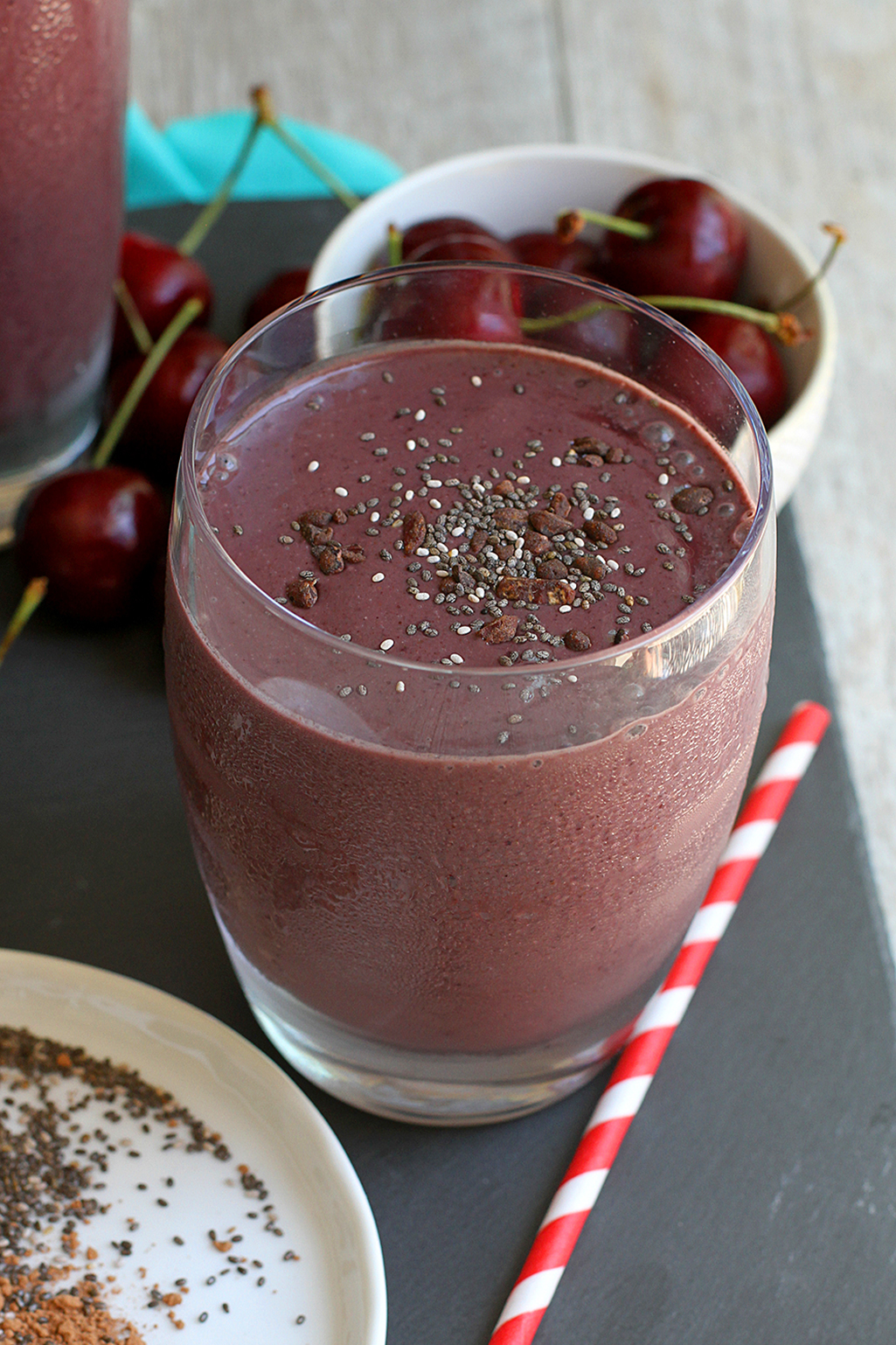 I typically drink one of these high calorie smoothies somewhere around 7 am, which easily keeps me full until my late morning snack around 11 am. If I'm busy and running around, it can usually get me through to an early lunch without any noticeable sugar shakes. And not to get too personal, but I definitely notice a big improvement in my digestion and BM's when I'm consistently drinking one of these bad boys on a daily basis.
If you have a Vitamix, fantastic, but just like the cacao isn't necessary, neither is a fancy blender. I find that with smoothies like these which have a good amount of sweetness to them already, texture is far less important than when you're drinking for example, a kale smoothie. Kale smoothies call for a high powered blender full stop. Find the recipe below, and of course, send me your questions if you have any! And a big thanks to Cara of Cara Clark Nutrition for allowing me to share her recipe!.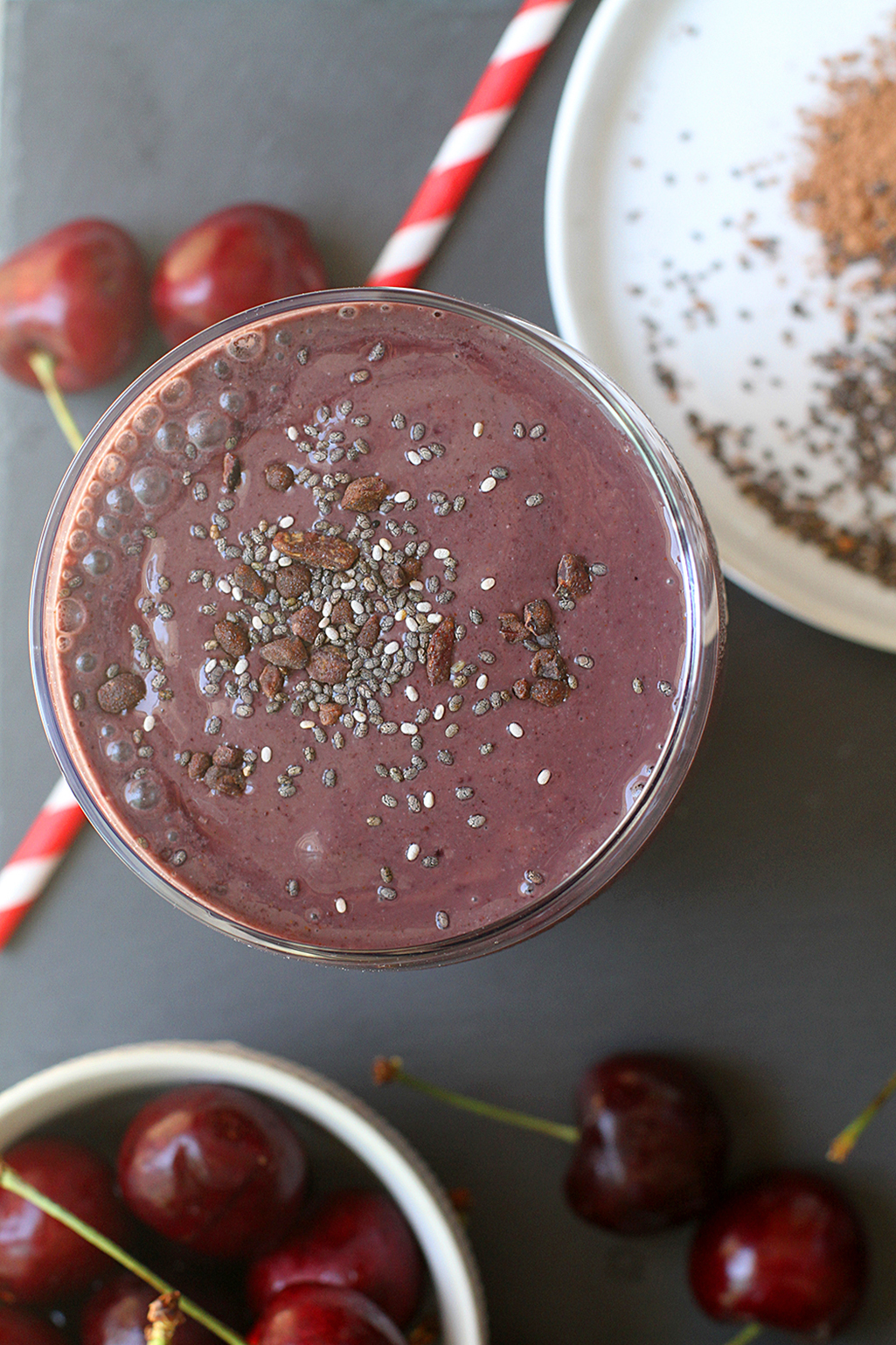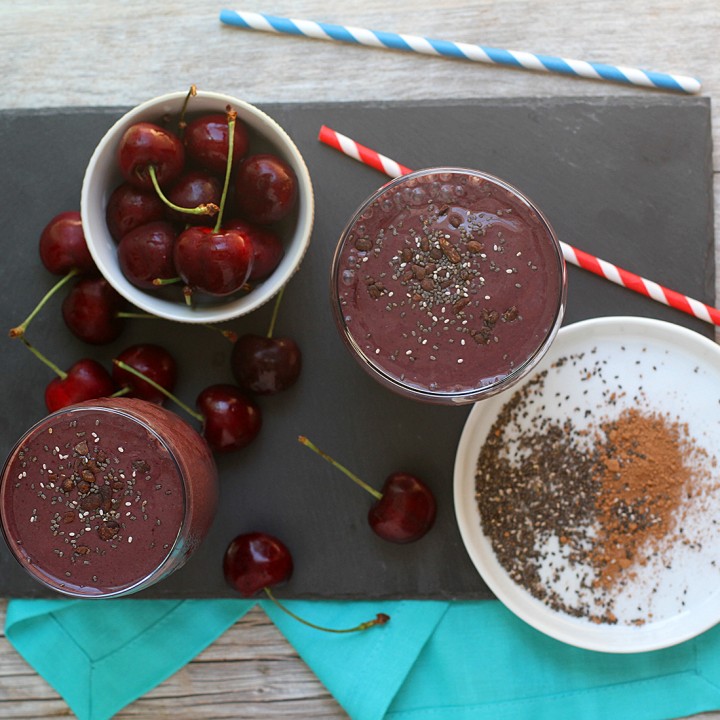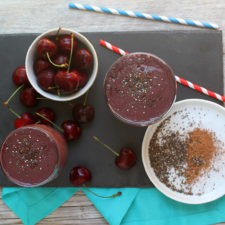 Black Cherry Cacao Protein Smoothie
A delicious and healthy chocolate and cherry protein smoothie, this make a great breakfast or post workout snack.
Print
Pin
Rate
Ingredients
1

cup

frozen cherries

1-2

tpsp cacao or cocoa powder

½

teaspoon

vanilla

1

tbsp.

chia seeds

1

tbsp.

natural almond butter

4-8

ozs unsweetened almond or other nut milk

ice
Instructions
Place all ingredients in a blender and blend until smooth.