This healthy strawberry smoothie recipe without yogurt is creamy, sweet, and just a bit of tart thanks to rhubarb. Coconut cream adds a good dose of healthy fat to make this a wonderfully nutritious smoothie!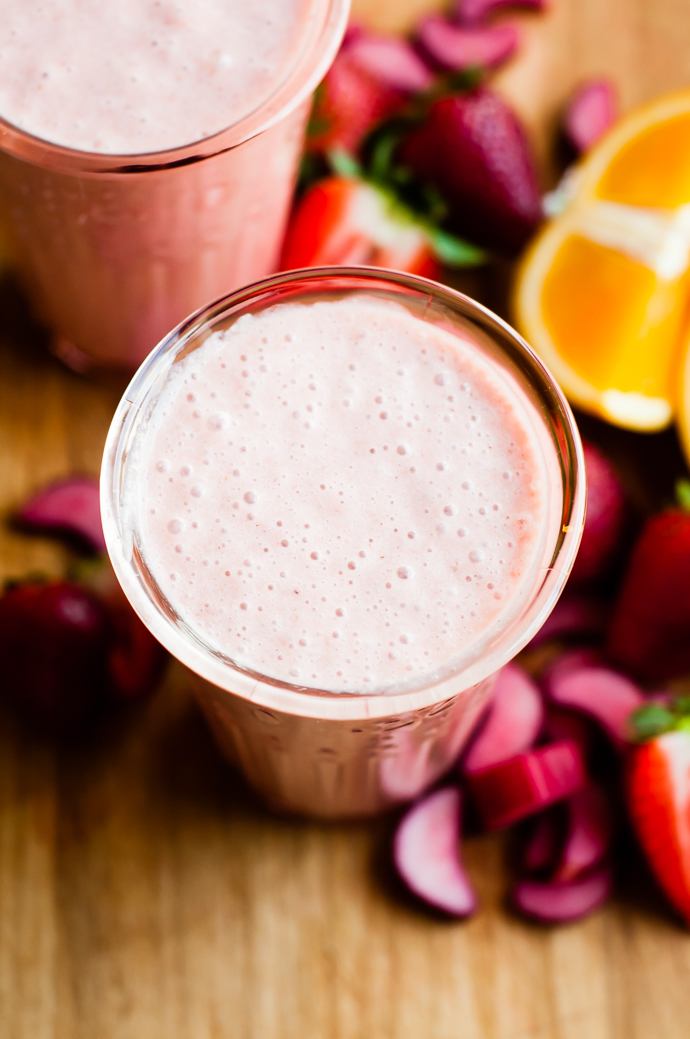 When I was a little girl, I would watch my grandmother stir a bubbling pot of strawberry-rhubarb sauce on the stove. It was destined for great things, like vanilla ice cream, pie, or angel food cake. And even for a picky, picky eater, that sauce was one of my favorite springtime treats. I looked forward to her yearly harvest and that lovely combination of strawberry and rhubarb. Not much has changed over the years. I'm still a huge fan, which is why I had to turn my two favorite spring time fruits into a deliciously creamy smoothie.
Ingredients needed for this healthy strawberry smoothie recipe:
Strawberries (fresh or frozen)
Coconut Cream (canned coconut cream is full of healthy fats and antioxidants)
Protein Powder (to help with satiety and muscle formation)
Rhubarb (fresh if close to Spring or frozen can be found year round)
Oranges (important to get your Vitamin C in the dead of winter)
Raw Honey (go for local if available)
Orange Blossom Water (an optional fun addition if you have easy access to it)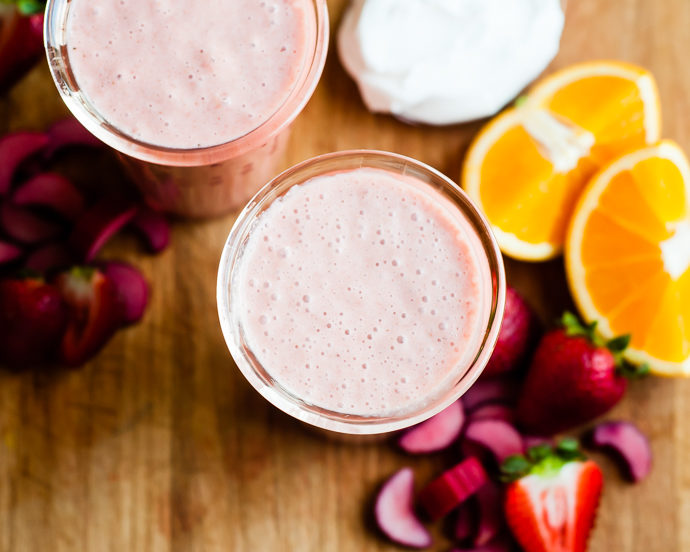 Directions for making this yummy smoothie
The directions for this smoothie are embarrassingly easy! Simply add all ingredients to the blender, add a handful of ice, and blend on high for a minute or two. The ingredient quantities will make 2 10 ounce smoothies, so one for you and one to share. Consider topping with a sprinkle of hemp or chia seeds to add in an extra dose of fiber and protein.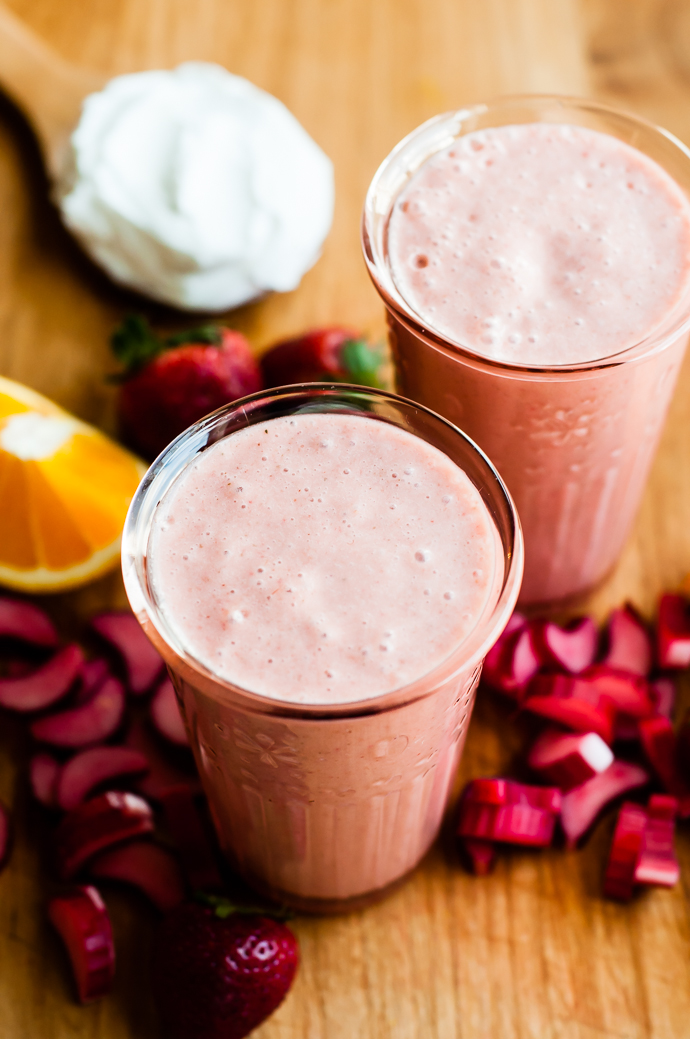 Health benefits of this dairy free smoothie:
Smoothies, when done right, are a wonderfully balanced meal replacement. When done right, that is, made with the right combo of ingredients, they leave you feeling full for at least 3-4 hours. They also work to balance your blood sugar so you don't feel a sugar rush, then a crash within an hour of consuming. I share the very important building blocks to a healthy smoothie in my guide, but for quick reference, your smoothie should include whole fruits and/or vegetables, a source of healthy fat, fiber and protein.
Let's break down what makes this particular strawberry smoothie recipe without yogurt, a healthy one.
Strawberries
Strawberries are packed with vitamins, fiber, and particularly high levels of antioxidants known as polyphenols, strawberries are a delicious low-calorie food that offer sweetness, eliminating the need to include a lot of added sugar. Purchase fresh when in season (Spring through early Summer), or frozen when out of season.
Rhubarb
Fresh rhubarb can be a little hard to come by throughout the year, but most markets carry it when in season. You should be able to find it frozen any time though. It is very tart on its own, so I added a little raw honey to tame it.
Rhubarb is a great source of calcium. One cup provides 10% of the daily recommended value of calcium. It's also a good source of dietary fiber, potassium, manganese, lutein, Vitamins K and C, and antioxidants. Strawberries and of course oranges are also excellent sources of Vitamin C. See? You can't go wrong here.
Coconut Cream
Coconut milk is a high-calorie food, so be mindful of adding it to smoothies and other recipes with moderation. But it's important to know that about 93% of its calories come from a healthy fat, including saturated fats known as medium-chain triglycerides (MCTs). The milk is also a good source of several vitamins and minerals, including manganese, magnesium, potassium and selenium.
Coconut cream does have some protein, although only about 5 grams per 1 cup serving. That's why I recommend adding a scoop of protein powder to this smoothie, to further balance it out. Adding in the extra protein will help you feel full longer, as well as promote muscle formation if you're taking up a new exercise routine in the new year.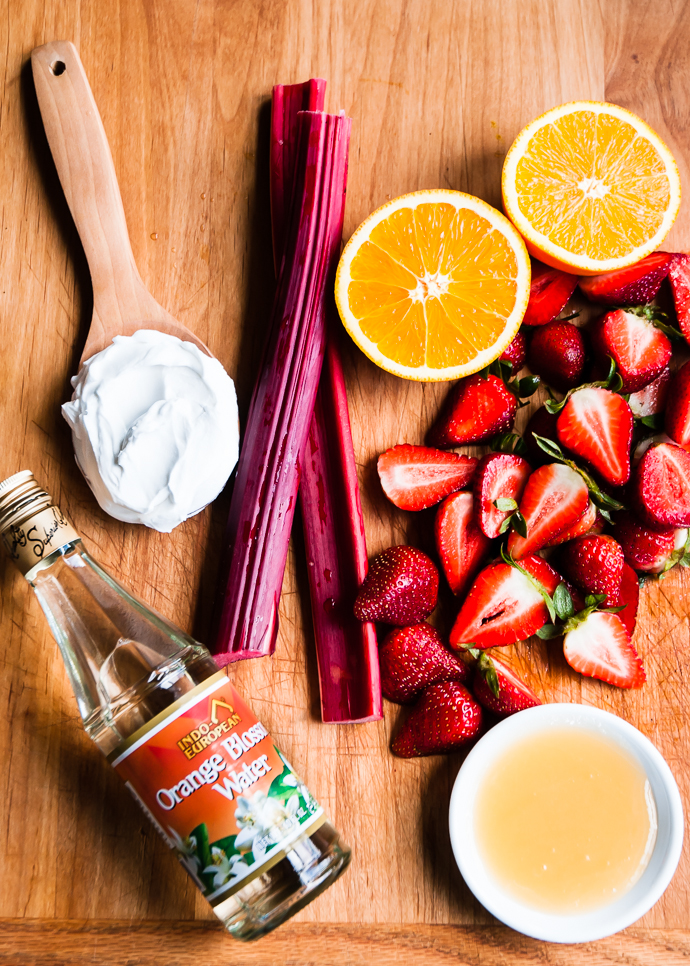 Why make this strawberry smoothie recipe without yogurt?
Yogurt is a wonderful addition to berry based smoothies, as it makes them creamy without being overly rich and heavy. Yogurt is also a good source of protein, and I've already mentioned why it's good to have plenty of protein in your smoothie. But, not everyone can have or wants to have dairy in their diet.
Whether you have a dairy allergy, are lactose intolerant like my daughter, or you just don't feel great when you consume dairy, swapping out the usual creamy staple of yogurt for coconut cream, is an ideal and yummy trade.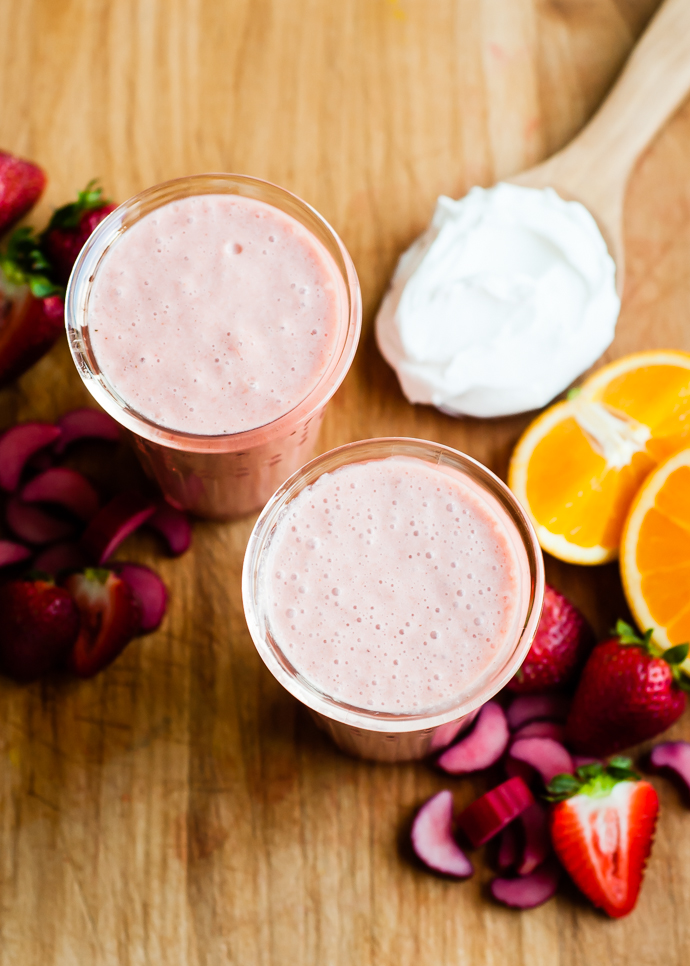 I hope you enjoy this strawberry smoothie recipe that just screams Spring and Summer. Of course it's great to make any time of year, especially since we have access to such wonderful frozen fruit options, but this is really a great smoothie to look forward to as the weather starts to turn. Please let me know if you make it!
More Healthy Smoothie & Drink Recipes
Healthy Strawberry Smoothie Recipe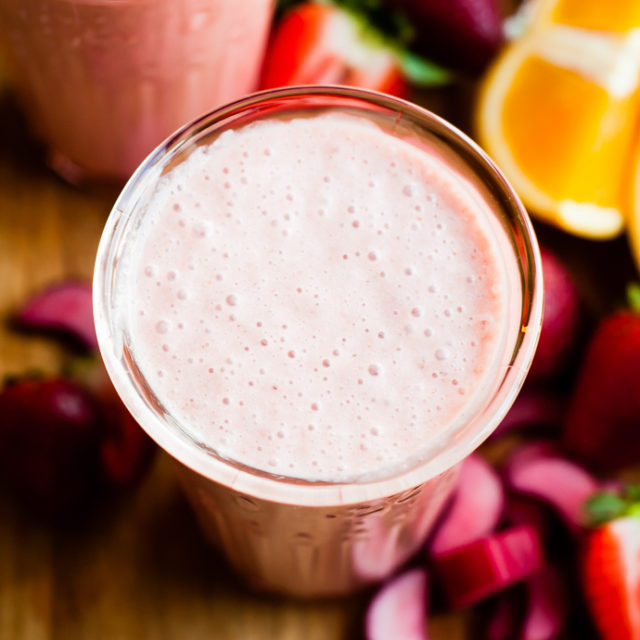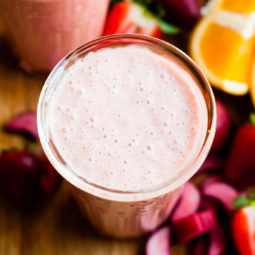 Healthy Strawberry Smoothie Recipe Without Yogurt
This Strawberry Rhubarb Smoothie is a creamy and tart nutritious drink, with just a touch of sweetness and a pleasant floral note from orange blossom water. Coconut Cream adds a good dose of healthy fats and antioxidants, to make this a wonderfully nutritious smoothie!
Print
Rate
Ingredients
2

cups

strawberries

fresh or frozen

1

cup

rhubarb

fresh or frozen

1

large

orange

peeled

½

cup

coconut cream

1

scoop

protein powder

grass fed whey or organic plant based

1

teaspoon

raw honey

to taste

½

teaspoon

or more orange blossom water

optional

¾

cup

ice
Instructions
Place ingredients in blender.

Puree until smooth. Pour into glasses and serve.
Notes
You can sub out the coconut cream for nonfat Greek yogurt, or if you need to keep it dairy-free, use a plain nut or oat milk yogurt like coconut or almond milk yogurt. 
Nutrition
Calories:
371
kcal
|
Carbohydrates:
33
g
|
Protein:
17
g
|
Fat:
22
g
|
Saturated Fat:
19
g
|
Cholesterol:
25
mg
|
Sodium:
33
mg
|
Potassium:
803
mg
|
Fiber:
8
g
|
Sugar:
20
g
|
Vitamin A:
309
IU
|
Vitamin C:
140
mg
|
Calcium:
168
mg
|
Iron:
3
mg