This is  refreshing, well balanced morning breakfast smoothie is the perfect breakfast or post workout meal. With a hint of Fall spice and packed with vitamins and nutrients, this carrot ginger smoothie is the perfect way to warm up to Fall. And if you have any dietary restrictions, know that this smoothie is vegan, paleo, Whole 30, and dairy free!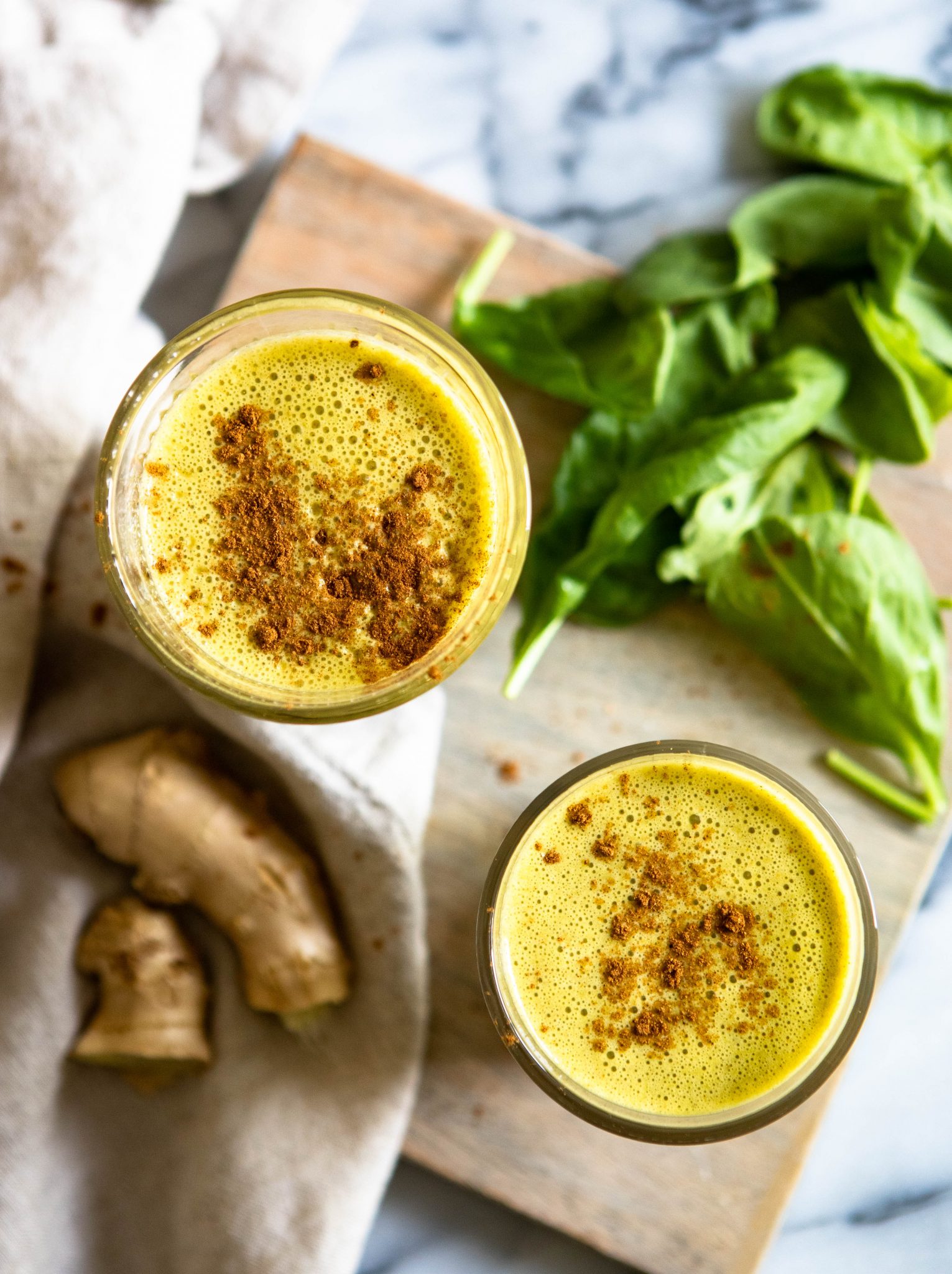 So depending on where you live it may be starting to become sweater weather. Or maybe it's just sweater mornings like here in Southern California?
And with school resuming in some fashion, I don't know about you but I need a delicious and healthy way to start my morning that gets me on the right foot. But I also want to embrace Fall in all it's glory. In fact, I'm already starting to decorate my house!
Have you checked out my 6 Simple Fall Decor Ideas  post? Just some easy, fun ways to decorate your house indoors and outdoors this Autumn.
Ok back to this carrot smoothie. Since school is resuming, I'm all about embracing this Autumn with some nourishing ingredients that keep the colds away. So hello turmeric. How do you do ginger. And whether you're on the Paleo train, the vegan track, avoiding dairy, or giving Whole 30 a chance – this carrot ginger smoothie is a one stop shop.
Fall, meet your new breakfast.
What does this carrot ginger turmeric smoothie taste like?
It's refreshing, creamy, and warms your throat with just a bit of spiciness.  Think of your favorite flavors of pumpkin pie; cloves, ginger and cinnamon.
It has the perfect hint of sweetness, while being rich and comforting. Do I have you running to dig that blender out of your cupboard yet?
Can You Blend Raw Carrots?
You absolutely can! Of course, how smooth your smoothie might end up might depend on your blender. I use and recommend the Vitamix blender for its high powered motor that makes the smoothest drinks and foods. It's also really easy to clean and store.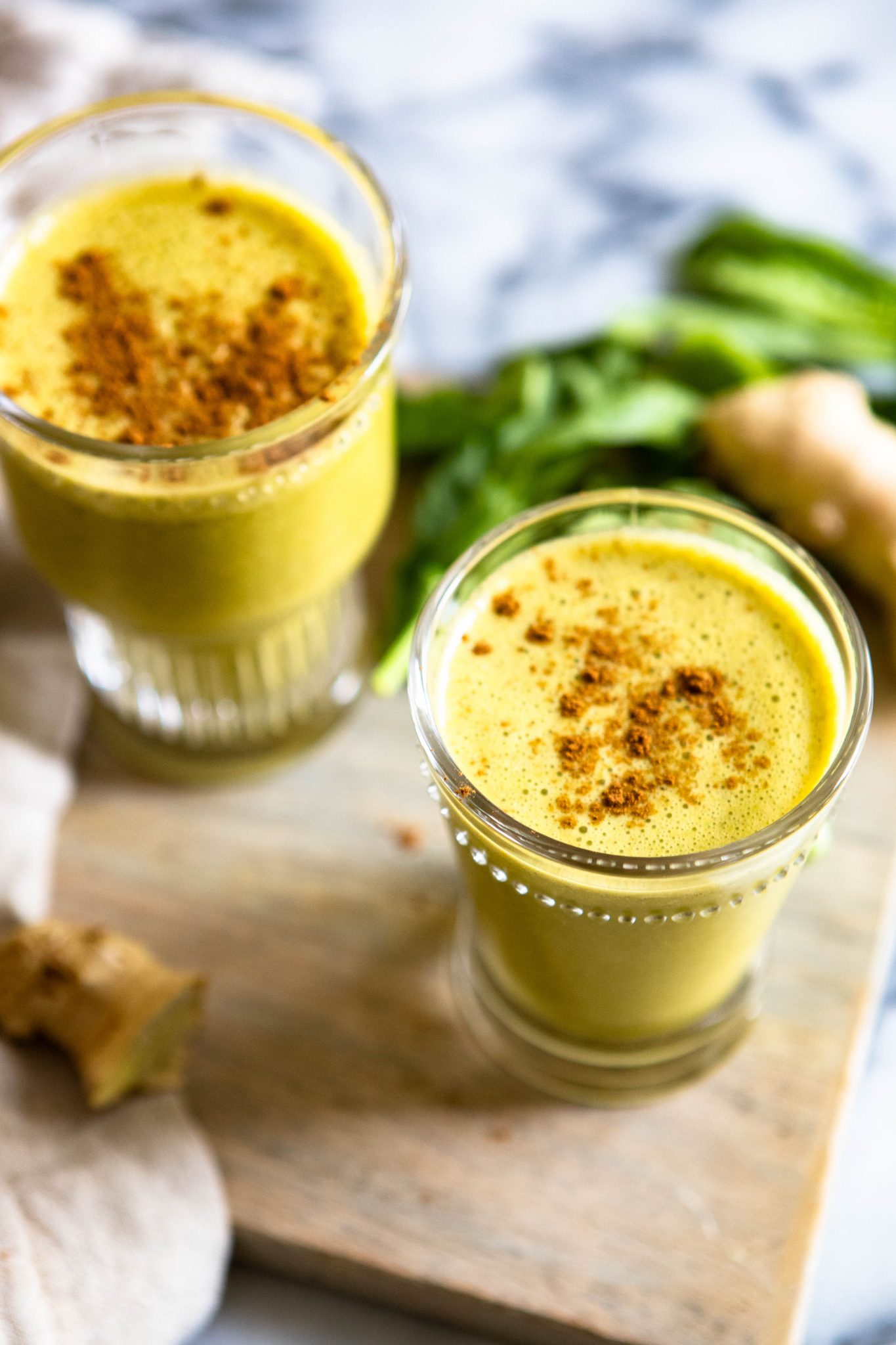 Ingredients For This Carrot Smoothie
Baby spinach – I like to sneak in extra veggies to my smoothies when I can. And the best part is you, your significant other, kids, will never know it's there! You could also swap out the spinach for kale.
Fresh Ginger – I used one knob of fresh ginger for this smoothie. But if you don't have any, you could try adding ground ginger instead.
Banana – I love adding fresh banana to any smoothie. Gives a great taste, covers up other tastes, and adds a bit of creaminess. I used a half banana.
Carrots – Of course a carrot smoothie wouldn't be a carrot smoothie without them! I used pre-shredded carrots but you could always shred them yourselves.
Hemp seeds – Hemp seeds are a perfect protein and are a good source of healthy fats.
Turmeric Protein Powder – I personally use a delicious turmeric protein powder by Primal Kitchen that you can pick up at a local health-food store or Amazon. If you don't have turmeric protein powder, no problem! You can use regular vanilla protein powder and add 1 teaspoon ground turmeric or a 1" piece of fresh turmeric.
Powdered Almond Butter – Optional add on but one I totally recommend. Use 1 tablespoon regular almond butter or powdered almond butter for more healthy fats and to add a bit of creaminess.
Pitted Date – The date is to add just an extra hint of sweetness. Substitute ½ tablespoon honey, agave, or maple syrup if you don't have dates in your pantry.
Almond Milk – You can really use any nondairy milk you want here in this smoothie. I personally love almond milk, but oat milk is also delicious!
Ice- A handful of ice will work to make it nice and cold!


How Do I Make This Carrot, Ginger & Turmeric Smoothie?

Honestly like any smoothie, this couldn't be easier. Just add all the ingredients together and blend away! And I always then adjust the consistency after. If it's a little thick I'll add a bit more almond milk. The recipe calls for 1 cup of almond milk, but I like a more liquidy, almost milky smoothie. Feel free to start with ½-3/4 cup milk if you like a thicker consistency.

And for a fun Fall twist I like to garnish with a bit of cinnamon, pumpkin pie spice, or even a whole cinnamon stick!

A little extra Autumn vibe. A little extra flavor. Can't go wrong there!

Tips For Making A Great Smoothie

Although it may seem like making smoothies couldn't be simpler, sometimes you just can't get it the way you want it! And everyone loves a good smoothie right? The last thing you want to do is waste all those healthy, expensive ingredients. So here are a few tips for you:

Fresh is best. For the carrots and spinach that is in this smoothie. Although you could use a frozen banana, and I'm all for using frozen fruit, in this instance fresh produce is key.
Don't Skimp On The Creamy Ingredients. Like in this smoothie, the banana, almond milk and the nut powder all will help to make a wonderfully creamy texture.
Adjust The Consistency! If you want a little less icy, reduce the ice. Or add more milk, maybe a little more creamy factor going in, then try adding in that second half of a banana.
Don't Overthink It. Whenever I make a smoothie, I'm always ready to just throw everything in and adjust as necessary. And if I'm out of an ingredient then I'll swap things out. But either way, have fun with this!

I hope you love this new recipe, and if you have any questions on ingredient substitutions or benefits, please let me know! Also, tag me if you end up making it!

Tools To Make This Carrot Ginger Smoothie

More Smoothie Recipes To Enjoy

Aloha Berry Smoothie Bowl and Aloha Banana Fig Smoothie
Chocolate Coffee Smoothie

LET'S CONNECT!

Follow along with me on Instagram! And if you make this recipe be sure to tag me @howe.we.live so I can see! I love seeing what you're making!

Carrot Ginger Turmeric Smoothie

A refreshing, well balanced morning breakfast smoothie with a hint of Fall spice

Print Pin Rate

Ingredients

1

cup

Baby Spinach

1

knob

Fresh Ginger

½

Banana

¼

cup

Carrots

1

tablespoon

Hemp Seeds

1

scoop

Protein Powder

1

tablespoon

Powdered Almond Butter

Optional

1

Pitted Date

Optional

1

cup

Almond Milk

Use ¾ cup for a thicker smoothie and substitute any non-dairy milk

Ice

Use a handful

Instructions

Add all ingredients into a blender and blend till smooth.

Top with a bit of pumpkin pie spice or cinnamon for an extra Fall vibe.

Notes

Ingredient Substitutions:

Baby spinach - You could also swap out the spinach for kale.
Fresh Ginger - I used one knob of fresh ginger for this smoothie. But if you don't have any, you could try adding ground ginger instead.
Carrots - Of course a carrot smoothie wouldn't be a carrot smoothie without them! I used pre-shredded carrots but you could always shred them yourselves or use baby carrots.
Hemp seeds - Hemp seeds are a perfect protein and are a good source of healthy fats. But you can leave it out if you don't have it.
Turmeric Protein Powder - I used a turmeric protein powder that I linked to above. Feel free to use regular vanilla protein powder and add 1 teaspoon ground turmeric or a 1" piece of fresh turmeric.
Powdered Almond Butter - Use 1 tablespoon regular almond butter or powdered almond butter for more healthy fats and to add a bit of creaminess.
Pitted Date - The date is to add just a hint of sweetness. Sub 1 tablespoon honey, agave, or maple syrup. Or leave out all together.
Almond Milk - You can really use any nondairy milk you want here in this smoothie. I prefer almond or oat milk.

Nutrition

Serving:

12

ounce

|

Calories:

335

kcal

|

Carbohydrates:

28

g

|

Protein:

34

g

|

Fat:

12

g

|

Saturated Fat:

1

g

|

Cholesterol:

50

mg

|

Sodium:

417

mg

|

Potassium:

617

mg

|

Fiber:

5

g

|

Sugar:

16

g

|

Vitamin A:

8317

IU

|

Vitamin C:

15

mg

|

Calcium:

459

mg

|

Iron:

5

mg