This New Mexico posole recipe hails from my Grandma Tita, and is both authentic and delicious. It is also incredibly easy, especially when you make it in the slow cooker. Stovetop is always an option, but having this warm and comforting soup ready to eat, is really nice to come home to after a long day.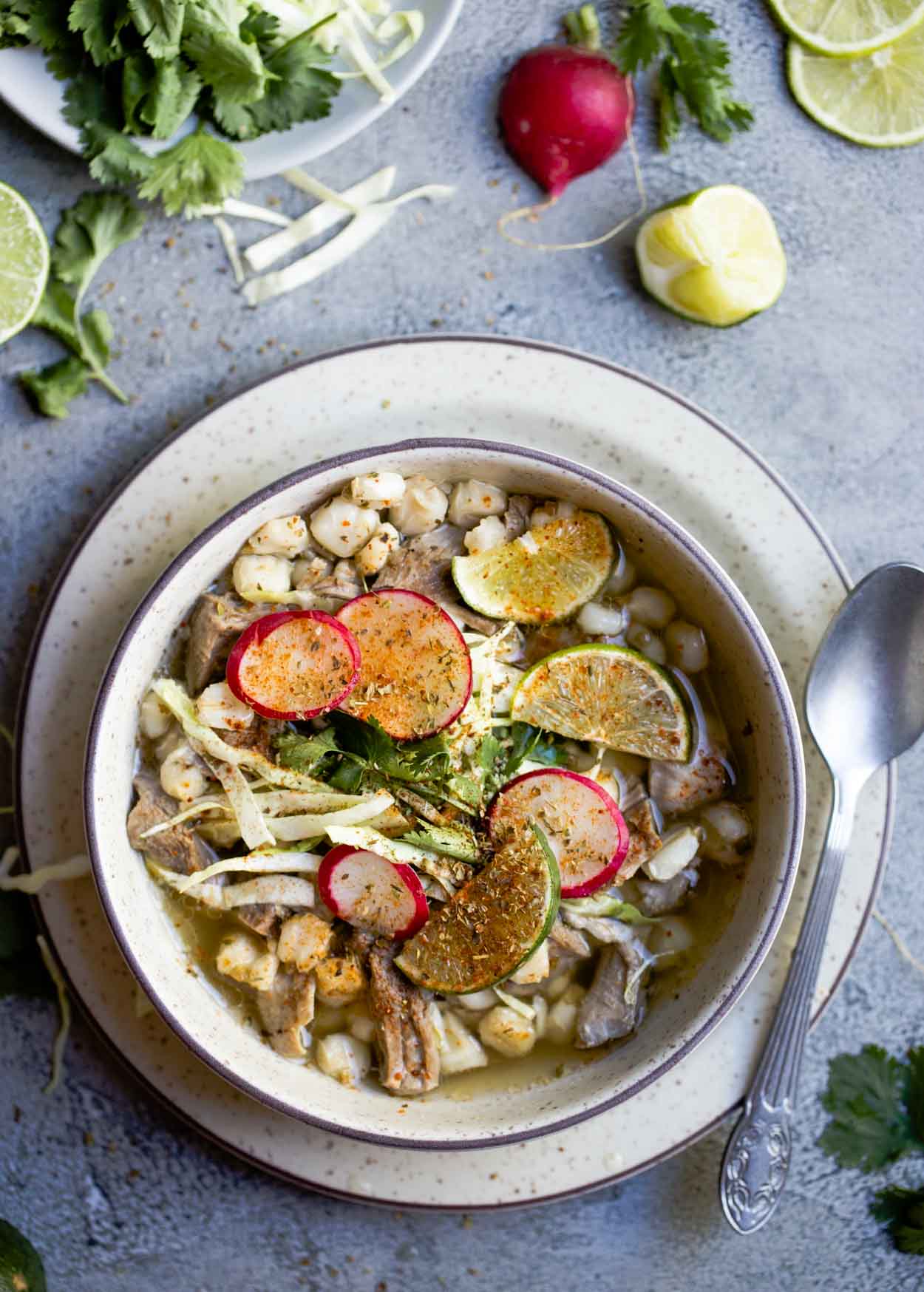 Many of you have asked for this New Mexico posole recipe , so it's exciting to finally share it with you! I promise I won't get into a long drawn out story about my childhood and this soup, but all I'll say is that my Grandma Tita used to make this soup. Then my mom made it. And now I can excitedly declare that I make it! I was never able to conquer my Grandma's biscochitos recipe, and I've never even tried to make sopapillas, but this past Christmas I conquered pork posole and I am PUMPED! I'll let you in on a secret, there really is nothing to conquer haha, because making pork posole in the slow cooker is quite easy, I promise. Let me show you.
What is Posole?
The word posole (also spelled pozole) literally translates to "hominy", which is the main staple of this soup that originated in Mexico. It is a clear broth soup, usually made with chicken stock or plain water, and contains just a few simple ingredients. You will need hominy, chicken or pork, water or broth, and onions. Hominy is a specially dried form of maize, a breed of corn with particularly large kernels that has a chewy yet dense texture to it. I love this soup because it is light yet comforting, and affordable to make. And while the base ingredients are basic staples, you can have a lot of fun with the toppings and garnishes. My family serves it with shredded cabbage, limes, radishes, oregano and New Mexico chili powder. Other common garnishes include cilantro, avocado and diced onions.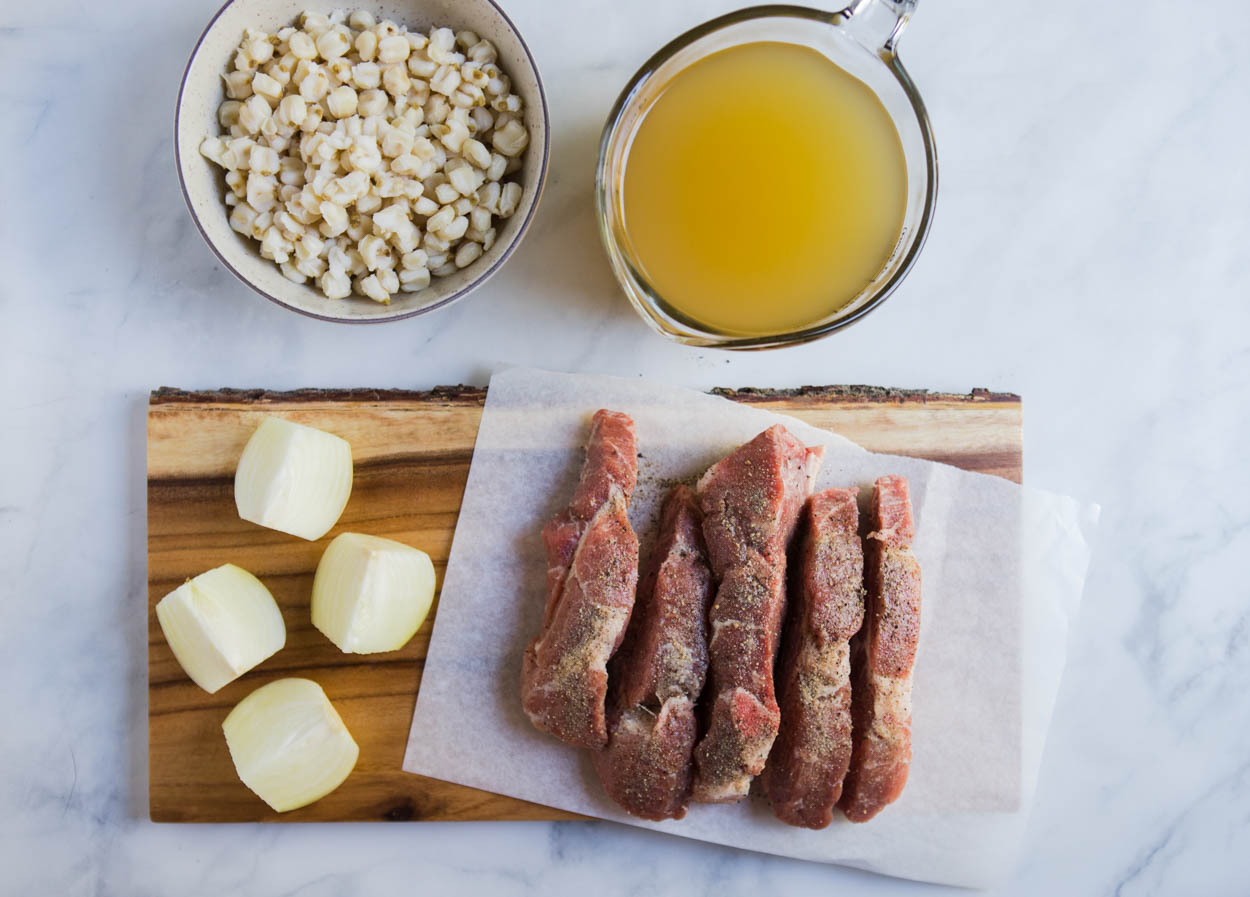 What are the best cuts of meat to use in this New Mexico posole recipe?
Whether you're using chicken or pork, make sure to use the bones! They give the broth flavor and keeps the meat tender. A whole cut up chicken would be perfect. But if you are making pork posole, make sure to get country style pork ribs (also called picnic style). These are thick and meaty cuts from the blade end of the loin, close to the pork shoulder. They technically don't contain rib bones, but instead contain parts of the shoulder blade. This cut makes it very easy to remove meat from the bone when they're done cooking. I do not recommend using St. Louis style pork ribs, as they are too fatty and way too many bones that it makes for tedious & unnecessary work when you go to shred the pork.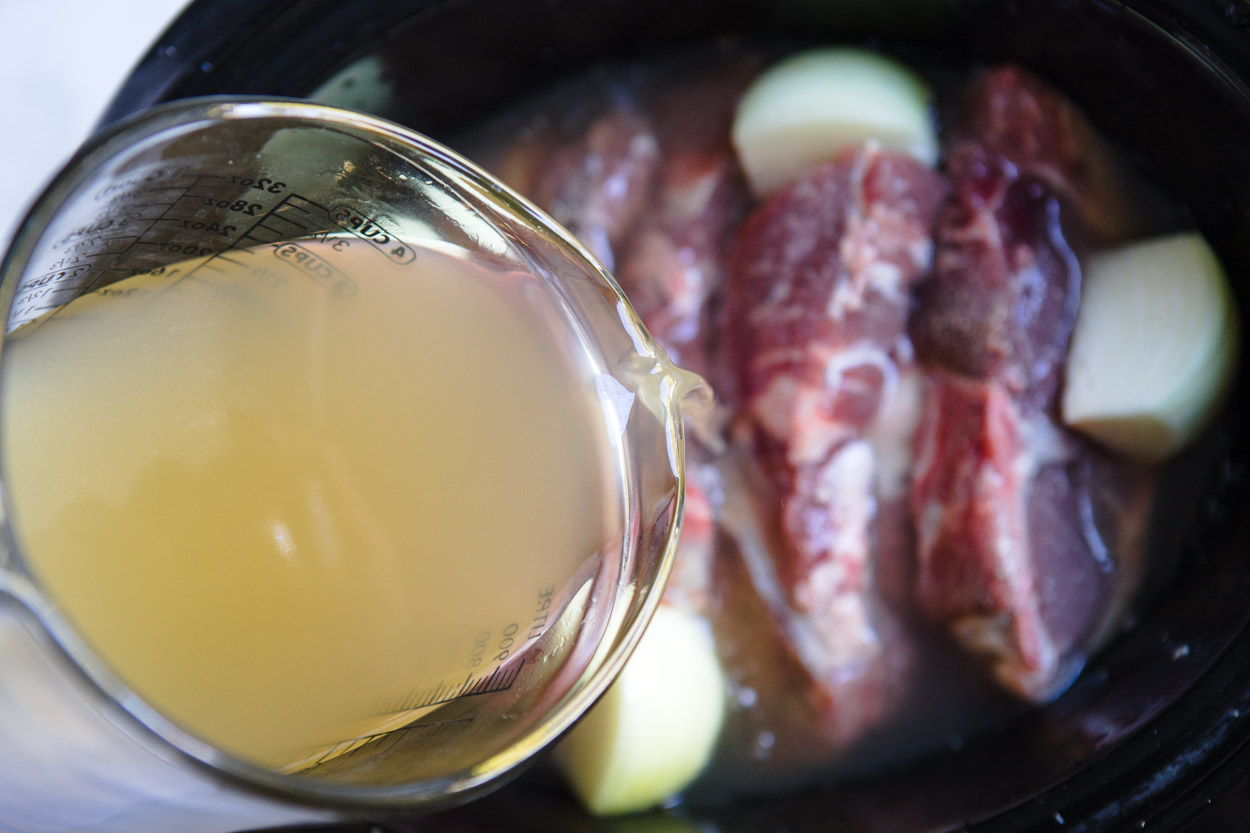 How to make slow cooker posole
Begin by liberally seasoning your pork ribs with salt and pepper, then add them to the slow cooker.
Add in a quartered onion and just enough broth to cover the pork ribs, about 3-4 cups. Set the slow cooker on high for 4-5 hours, or low for 6-8 hours.
Once the pork is fork tender and easy to pull apart, turn the slow cooker off and remove the pork from the broth and set aside to cool. Once cool enough to handle, remove pork from the bones and shred up into large bite size pieces.
Strain the broth so that you remove the onion and any bits of fat/pork that have floated to the top, and return the strained broth back to the slow cooker.
Set the slow cooker on high for 30 minutes, and stir in the shredded pork, strained hominy, and another 3-4 cups of broth. Cook till just heated through and serve immediately with desired garnishes.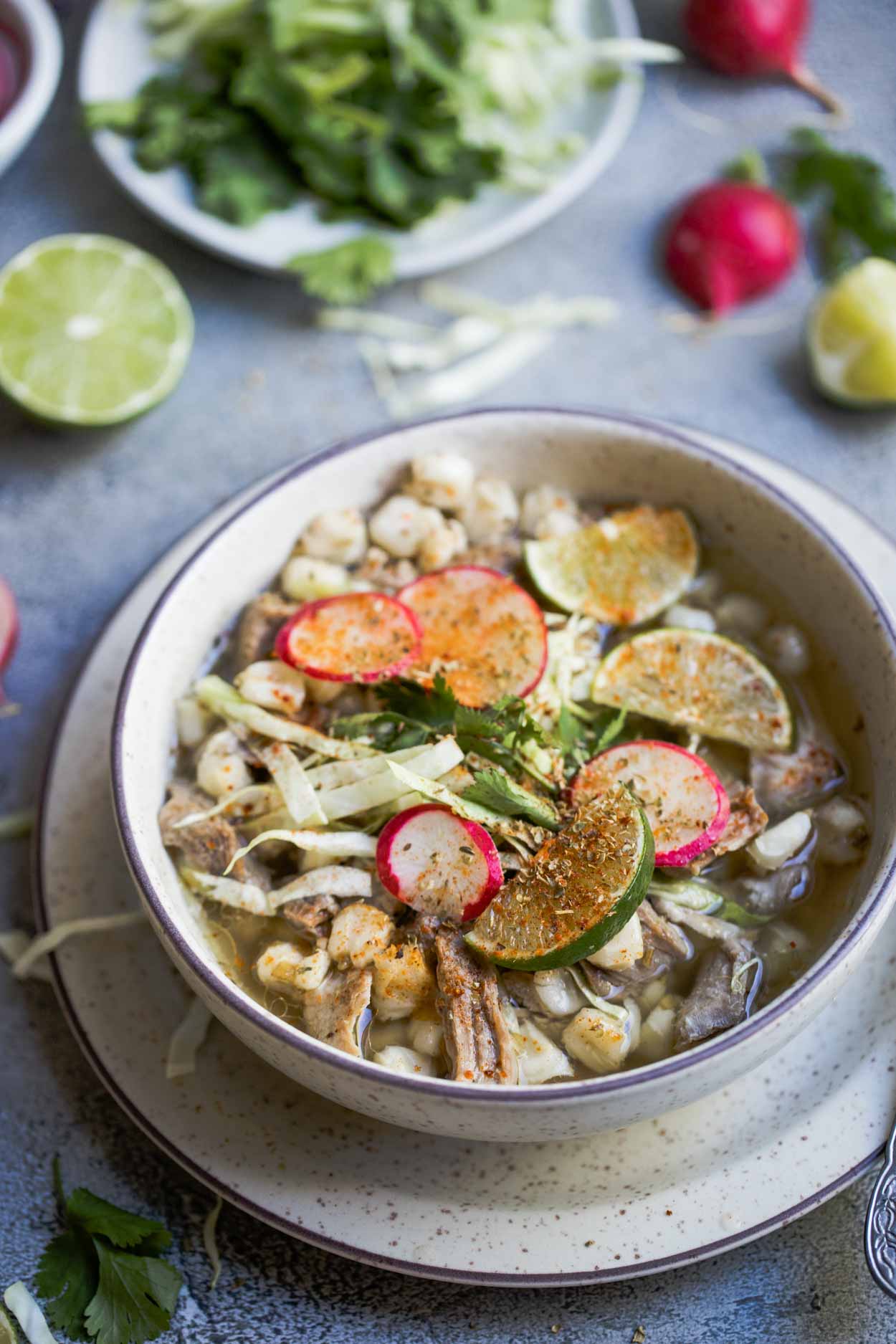 Can you make this soup on the stove top?
Yes, absolutely! My grandma and mom always made it on the stove top in a big stock pot. To make this New Mexico posole recipe on the stove top, simply add the pork and onion to all 6-8 cups of broth, and simmer for approximately 2 hours. Then proceed as above by straining the broth when the ribs are cooked, and then stirring in the shredded pork and hominy.
Tips for making New Mexico pork posole
This recipe really is so easy to make, there aren't a lot of "tips" you even need to know! But I would say to make sure to:
Season the pork generously with salt & pepper, adding more than you think you need.
Make sure to use country style pork ribs (I know I'm repeating myself here haha).
Lastly, hominy has a dense yet chewy texture that softens the longer it's cooked. Our family enjoys a firmer texture, which is why I note to cook till just heated through. If you would like a softer texture though, feel free to simmer the hominy for approximately an hour.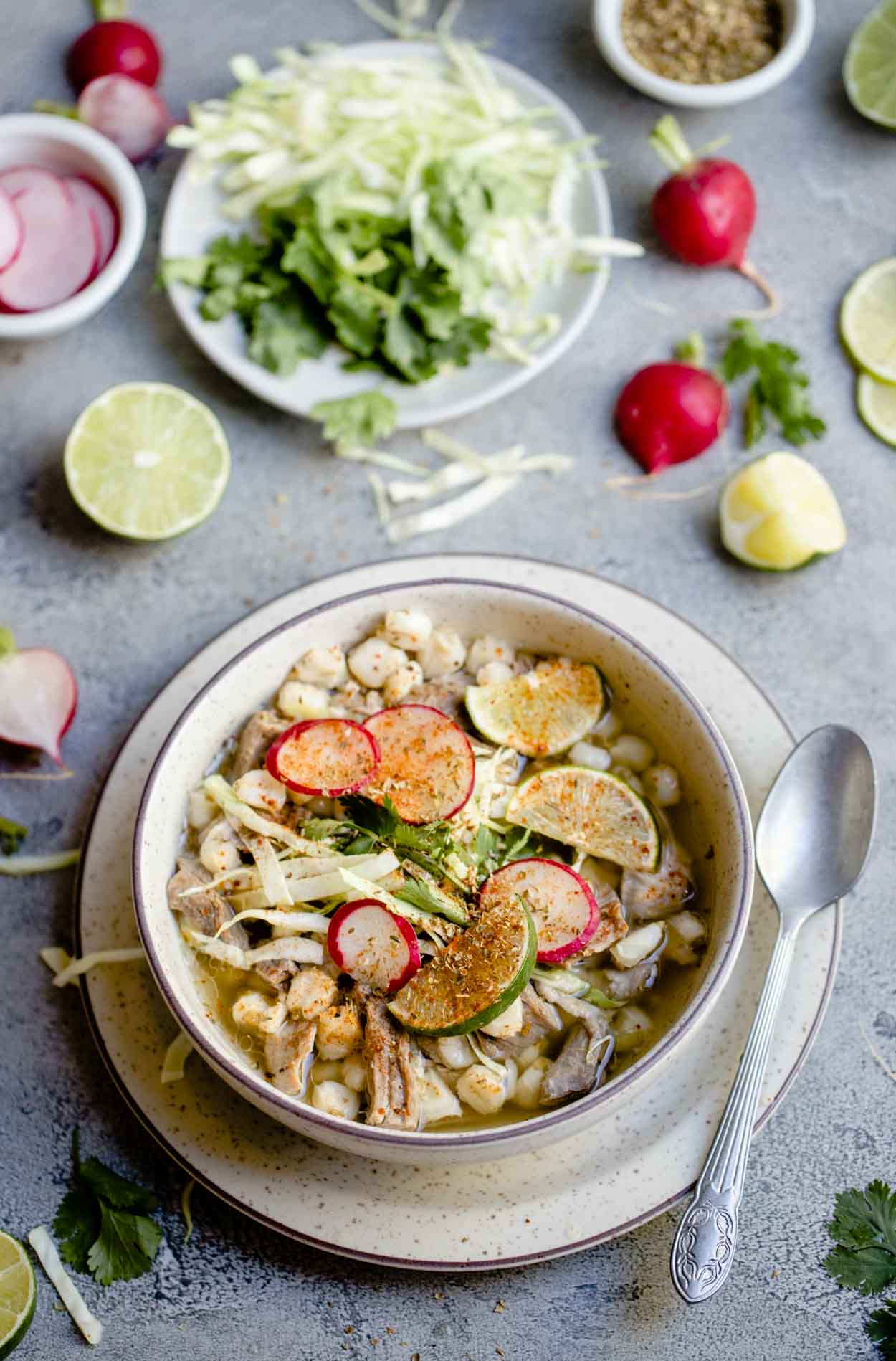 More Easy Soup Recipes
Slow Cooker Fish, Fennel & Couscous Stew
Traditional Pho Ga Vietnamese Chicken Noodle Soup
New Mexico Posole Recipe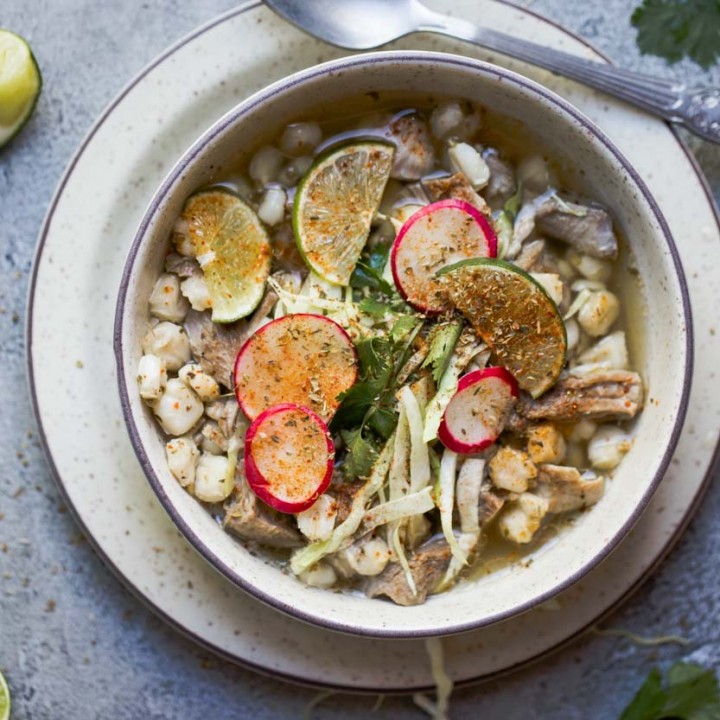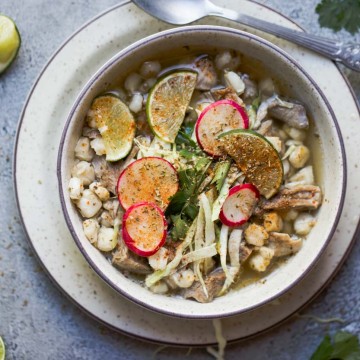 Slow Cooker Pork Posole
This easy New Mexico pork posole soup recipe is made in the slow cooker for added simplicity! Comforting without being heavy, make this soup when you want an easy & budget friendly meal any day of the week!
Print
Pin
Rate
Ingredients
3

lbs

Country Style Pork Ribs

also called picnic style pork ribs

1

Onion

quartered

8

cups

chicken broth

may also use water

salt & pepper

2

25 ounce

cans of hominy

drained and rinsed

garnishes of choice

radishes, cabbage, limes, chili powder
Instructions
Generously season pork ribs with salt and pepper and place in the slow cooker, along with the quartered onion.

Add in just enough broth or water to cover the ribs, about 4 cups, and set to high for 4-6 hours.

When pork ribs are fork tender and cooked through, remove from the slow cooker and set aside to cool. Shred when cool enough to handle.

Turn off the slow cooker, and strain the broth to remove onion and any bits of pork fat floating around. Return the broth to the slow cooker and set to low for 30 minutes.

Stir in the shredded pork and strained hominy, and cook till warmed through.

Top with your favorite garnishes.
Notes
Make sure to use country style pork ribs and generously season the ribs with salt & pepper. 
Cook for an hour if you want your hominy to be softer and less chewy.
Canned Hominy can be found in the ethnic food aisle of most major grocery stores.
Nutrition
Calories:
302
kcal
|
Carbohydrates:
3
g
|
Protein:
30
g
|
Fat:
18
g
|
Saturated Fat:
4
g
|
Cholesterol:
109
mg
|
Sodium:
1242
mg
|
Potassium:
746
mg
|
Fiber:
1
g
|
Sugar:
1
g
|
Vitamin A:
12
IU
|
Vitamin C:
23
mg
|
Calcium:
55
mg
|
Iron:
2
mg