This loaded hummus dip recipe is a quick and easy appetizer to bring the wow factor to a party. With roasted eggplant, feta cheese, and roasted red peppers this hummus dip is sure to please!
Ever since I discovered the power of loaded hummus dip earlier this year, I have been the self-designated appetizer bringer for any public gatherings I have been invited to. Girlfriends night out? I've got the appetizer covered! Family dinner at a friend's house? Sign me up for the appetizer! You get the picture 😉
But it's seriously so nice to have a "recipe" as easy and tasty as this in my back pocket because it instantly relieves decision fatigue. And since I always seem to be running late, I really appreciate how quick this is to make. I'm just hoping my friends don't grow tired of me bringing this anytime soon.
The layered hummus dip recipe I first started making this past Summer called for all fresh ingredients – cucumbers (English or Persian preferred), raw tomatoes, red onions, feta and the crispy chickpeas. Because of this, it admittedly came together a bit quicker than this version. Everything is supposed to be easier in the Summer though.
But I promise this version is still very easy, you'll just have to plan ahead a bit more to account for roasting time. Plus, the roasted veggies feel a little more appropriate for the cooler seasons ahead.
What Do I Need For This Hummus Dip Recipe?
Hummus – We used store-bought hummus. Two containers is best, but you can make a smaller version and just use one. You can use whatever is your favorite flavor and go to brand. And you could also make it homemade! That's up to you!
Veggies – We used roasted eggplant, roasted red peppers (jarred), and cherry tomatoes.
Feta Cheese – About a ¼ cup of crumbed feta cheese pairs so well with the fresh veggies.
Olive Oil – Drizzle a little over the dip before serving.
Pita – You can use pita chips or slice up some pita bread. Either is fantastic.
Chickpeas– Hummus is made from chickpeas, so why not have it 2 ways?! The roasted chickpeas give this dip a wonderful crunch.
Spices – We sprinkled over some salt, fresh parsley and middle eastern spice blend, called Za'atar. If you don't have any on hand, you can sprinkle on a little paprika and lemon zest instead.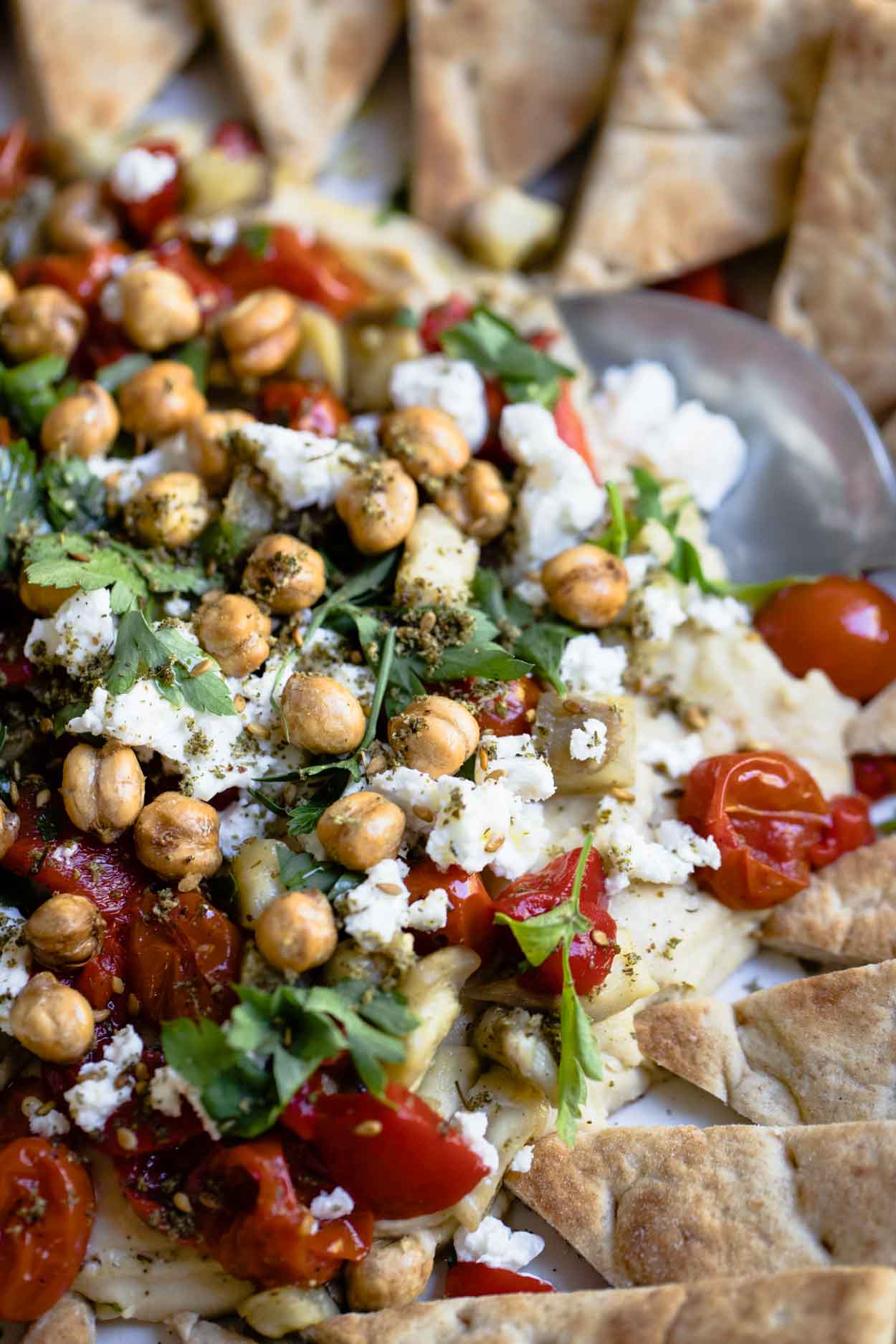 Do I Need To SAlt My Eggplant Before Roasting?
So for years I have always heard that the crucial first step in cooking eggplant is to first salt it in order to remove the bitter taste. But it turns out, the eggplants from yesteryear were a lot different tasting than the eggplants we grow now. Thus, salting the eggplants nowadays is more about removing moisture than removing bitterness. So if you don't have time to salt your eggplants before cooking, you will still get delicious tasting eggplant, they may just be a bit more watery.
If you do want to maximize your eggplant flavor and texture though, do consider first salting them.
Simply cube the eggplant and toss in a colander or sheet pan with a generous amount of salt. Allow to sit for about 30-60 minutes, then rinse and pat dry before roasting.
As the eggplant sits there in its salt coating, you'll see little beads of sweat pop up, letting you know the salt is doing its job. The salt will also work to flavor the eggplant a bit by soaking into the flesh.
Another easy tip I learned when roasting eggplant cubes, is to only partially peel the skin off, as to leave a few strips here and there. To quantify, I suggest peeling off about 70% of the skin, leaving 30%. This will help to hold the flesh in tact when roasting, so that you still get the mouthfeel of soft roasted eggplant, that doesn't fall apart into mush.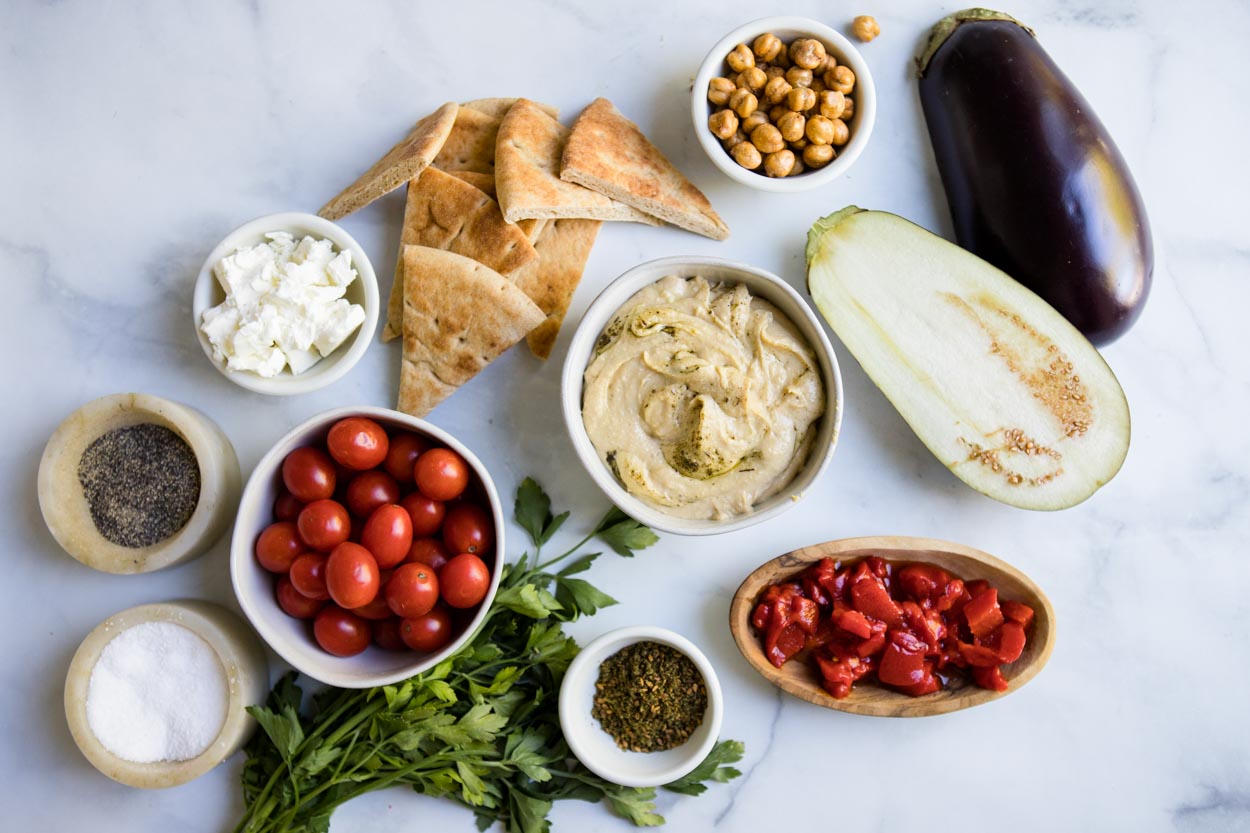 Assembling the Loaded Hummus Dip
I like to start with a nice big platter so that I can arrange my pita bread around the dip, but you can certainly bring it in a bowl – no rules here! Start by spreading out your hummus into a somewhat thin layer, and then start loading it up!
I layer on the veggies first, starting with the roasted and cooled eggplant and tomatoes, then the jarred roasted peppers. Once the veggie base is laid, then goes the feta and crunchy chickpeas, and then finally, a parsley garnish and a drizzle of olive oil, with a sprinkle of za'atar.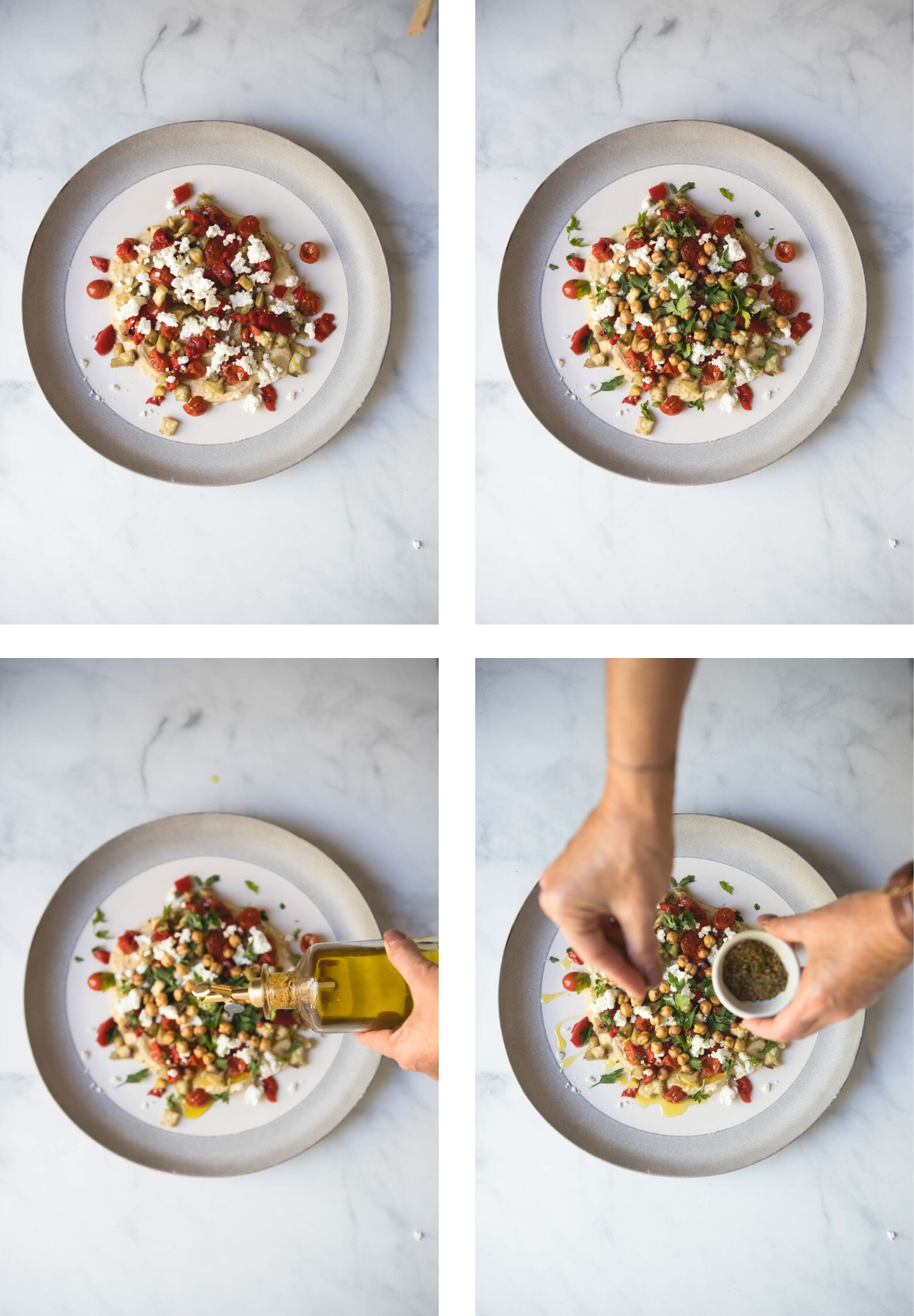 What is Za'atar and Is It Necessary for This Dish?
Za'atar is a Middle Eastern spice blend made up of thyme, cumin, coriander, sesame seeds, sumac, salt and aleppo chili flakes. It can be found at many grocery stores, online, or of course at Middle Eastern markets. It's often used as a rub for chicken, beef and lamb, or like it's used here, as a finishing seasoning to sprinkle over hummus, Labneh or baba gonoush.
The beauty of Za'atar is it has a warm, savory flavor with a bit of tang, thanks to the sumac, a plant commonly grown in East Asia and Africa.
Unless you often make Middle Easter dishes at home, you may find your pantry shelf missing this key ingredient to make your own Za'atar seasoning at home. If this is the case, I suggest finishing the hummus with a sprinkle of paprika. If you also want that tangy flavor, top it off with some grated lemon zest – a good substitute for the sumac – and a flaky sea salt.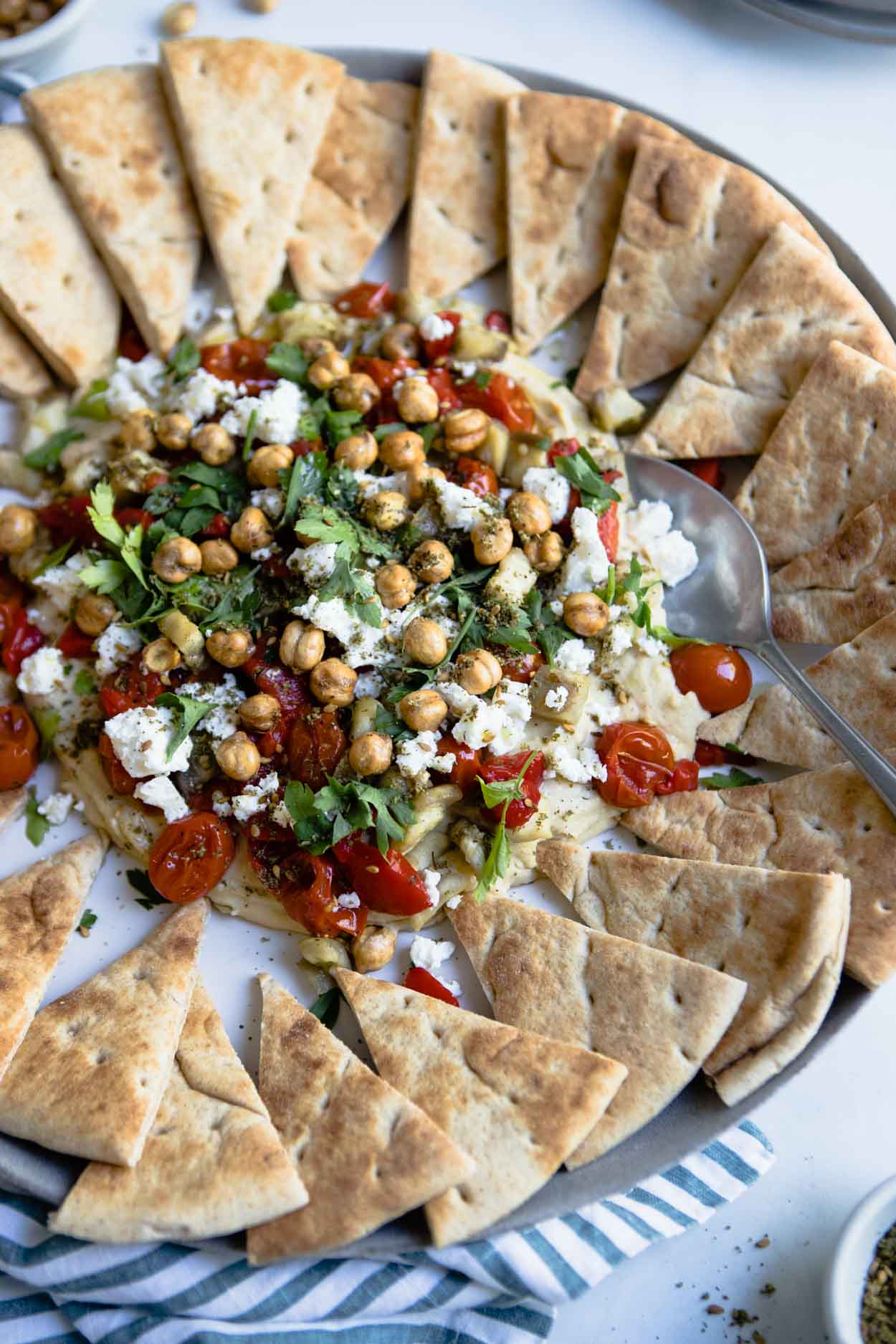 Serving Suggestions for Loaded Hummus Dip
Pita! I personally prefer large triangles of warm pita bread, but pita chips work nicely as well.
Other Options: Crispy bread stick like crackers are a good option, as are large pieces of veggies if you want to make it even more of a veggie-centric dish.
Little Plates: Make sure to have little appetizer plates out for guests so they can serve themselves a scoop, then step away to make room for other hungry and anxious eaters. You seriously don't want to be *that person* is hovering over this dip and hogging it all to yourself. It's really the quickest way to make enemies, or at minimum, never be invited back haha!
Can I Make This Loaded Hummus Dip Ahead Of Time?
This dip is best when assembled and served immediately. However, you could roast your eggplant ahead of time, roast your chickpeas, and chop the veggies. Just have it all ready to be assembled!
How Long Is This Hummus Dip Good For?
Assuming you have any leftovers (and I'll make a bet you don't!) leftovers can be kept covered in the refrigerator for up to 2 days.
Can I Cut This Recipe In Half?
Absolutely. If you are serving a big crowd, I suggest using 2 tubs of hummus, versus 1 if you are just preparing for 3-4 guests.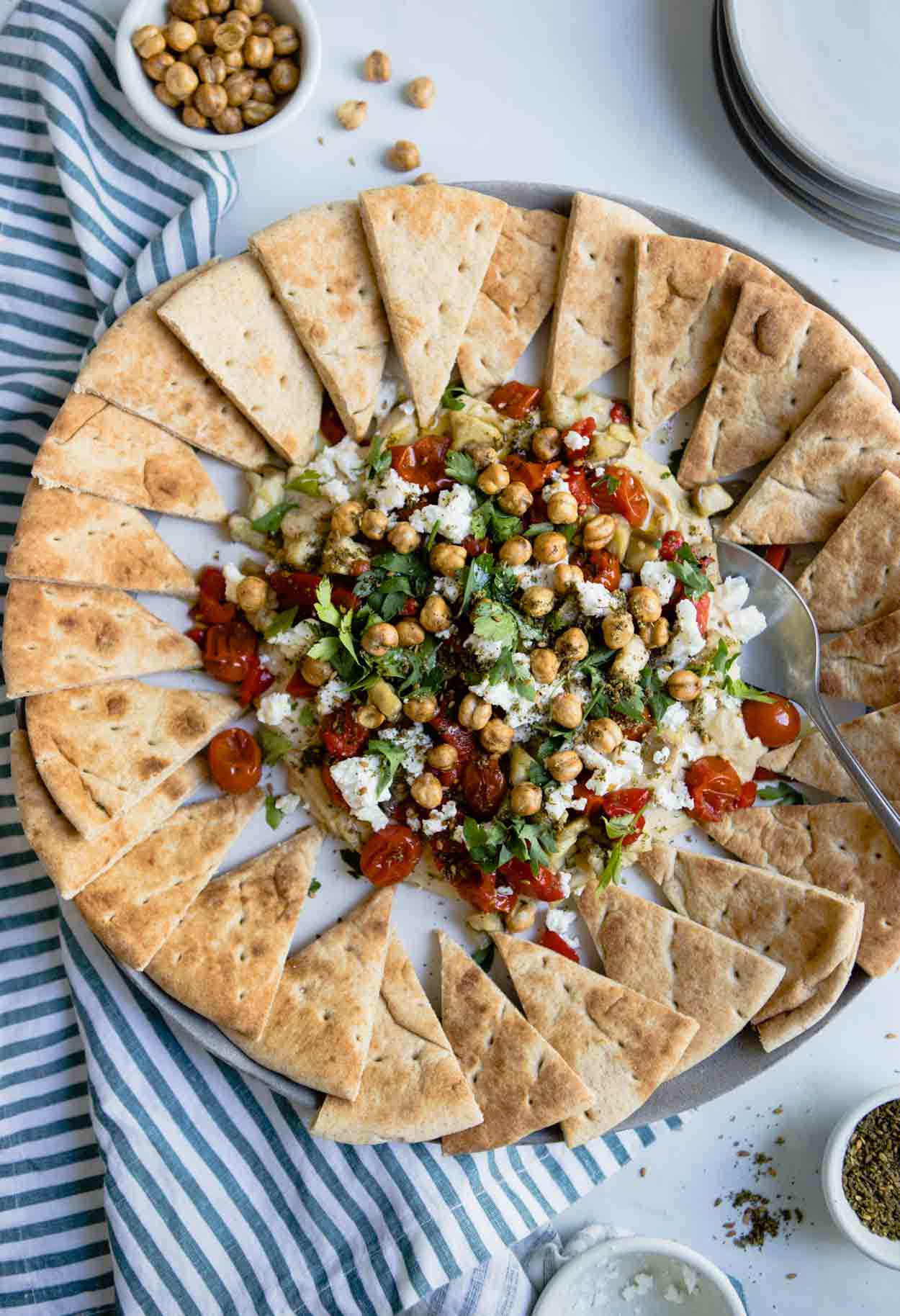 Craving More Hummus?
I look forward to hearing how you all enjoy this appetizer recipe! Please share your spreads and your guests reactions 🙂 And if you need another idea for store bought hummus, try my Hummus Crusted Chicken and Vegetable tray bake. It's just as easy to throw together and is made in all one pan, making clean-up a breeze. Or try this fresh veggie version of this dish, with my Layered Hummus Recipe, which uses cucumbers and cherry tomatoes.
Tools To Make This LOaded Hummus Dip Recipe
Chef's Knife
Cutting Board
Colander
Vegetable Peeler
Sheet Pan
Serving Platter
LET'S CONNECT!
Follow along with me on Instagram! And if you make this recipe be sure to tag me @howe.we.live so I can see! I love seeing what you're making!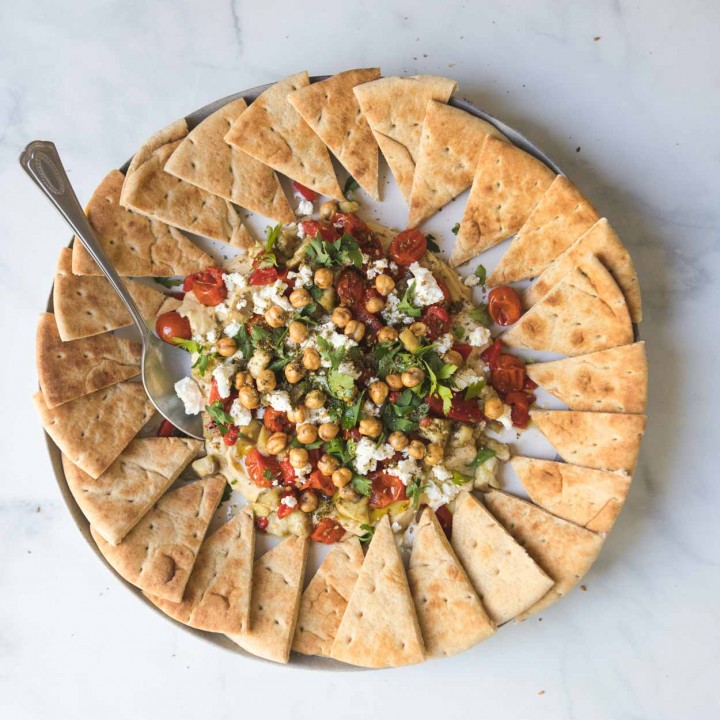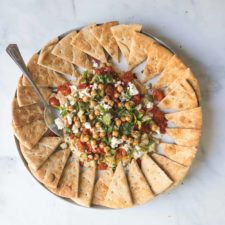 Loaded Hummus Dip Recipe
The most easy and tasty appetizer that has major wow factor - loaded hummus dip with roasted eggplant & tomatoes, creamy feta & crispy chickpeas. Fresh, simple and delicious!
Print
Pin
Rate
Ingredients
1-2

tubs of store bought hummus

2

tablespoon

olive oil

2-3

tablespoon

of salt to salt the eggplant

and later to roast the vegetables

½

small eggplant

roasted

1

pint

cherry tomatoes

roasted

½

cup

jarred roasted red peppers

cubed

½

cup

crispy chickpeas

¼

cup

crumbled feta cheese

Parsley

Za'atar and olive oil to garnish
Instructions
Preheat oven to 400 degrees.

Prepare eggplant by peeling about 70% of the skin off, and cutting into cubes. Place in a collander and sprinkle generously with salt. Let sit for 30 minutes, and then rinse with water and pat dry.

While the eggplant is sitting, roast your cherry tomatoes by tossing with 1 tablespoon olive oil on a sheet pan and sprinkling with salt & pepper. Roast for 10-15 minutes, till soft and popped open.

When eggplant is done sitting in the salt, toss with 1 tablespoon olive oil and sprinkle with salt & pepper. Roast for 15-20 minutes, till fork tender. Allow tomatoes and eggplant to cool a bit.

Once eggplant and tomatoes are cool, begin assembling your dip.

Spread out hummus on a platter or place in a bowl, and then add the toppings in layers. Start with the eggplant and tomatoes, then roasted red peppers, then feta cheese and chickpeas, and finally, the parsley, Za'atar and a olive oil drizzle.

Serve with warm pita bread, pita chips or veggies.
Notes
The quantities for toppings are a suggestion, so start adding your toppings gradually, and add more or less as suggested, according to your tastes.
Accordingly, if you are serving a big crowd, I suggest using 2 tubs of hummus, versus 1 if you are just preparing for 3-4 guests.
If you don't have Za'atar I suggest finishing the hummus with a sprinkle of paprika. If you also want that tangy flavor, top it off with some grated lemon zest - a good substitute for the sumac found in Za'atar - and a flaky sea salt.