We've been making this easy cauliflower tacos recipe in our house for a couple of years now, and believe it or not, my mom is the original one who made this family favorite. Back when my dad's blood sugar and cholesterol levels were looking a little ominous, she searched out more vegetarian recipes and discovered this combo that was essentially ground beef taco filling in disguise as cauliflower taco meat. I kid you not the first time she made it, my dad had NO idea this was a vegetarian/vegan dish. We of course let him in on the secret, and years later he still can't believe how good of a ground beef sub it is.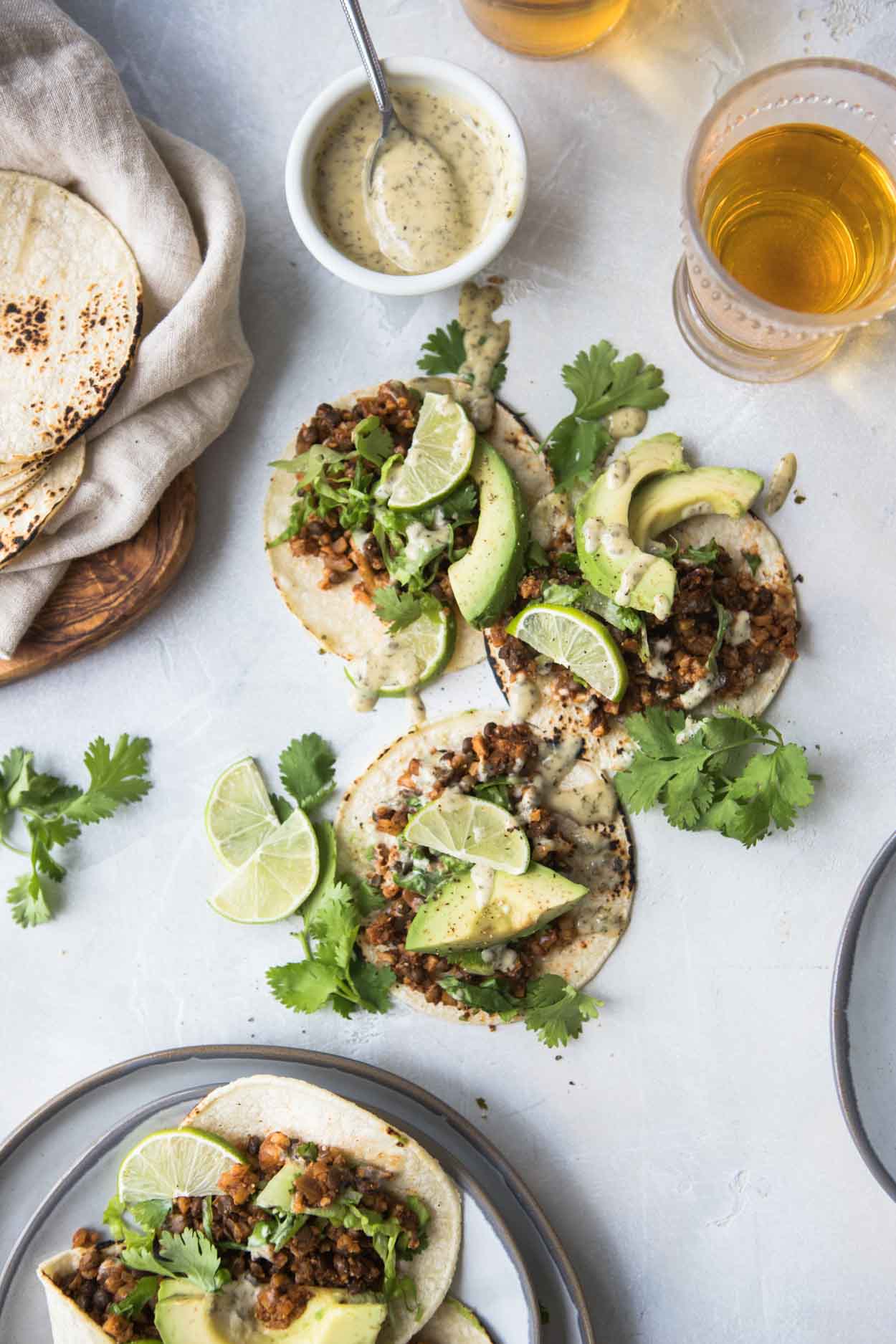 Why these cauliflower tacos are a great alternative to meat tacos:
Cauliflower can't take sole credit for this dish, as it's helped along quite a bit by the wonderfully humble lentil! When you combine the riced cauliflower with lentils, you get a texture combination that is very similar to that of ground meat. Add in the flavorful seasonings, and you hide any hint of the lingering cauliflower flavor that would normally remain. Even my food sleuth Syd isn't bothered by the cauliflower, because it doesn't at all taste like cauliflower. Instead it tastes like, and has a very similar mouthfeel as ground beef tacos.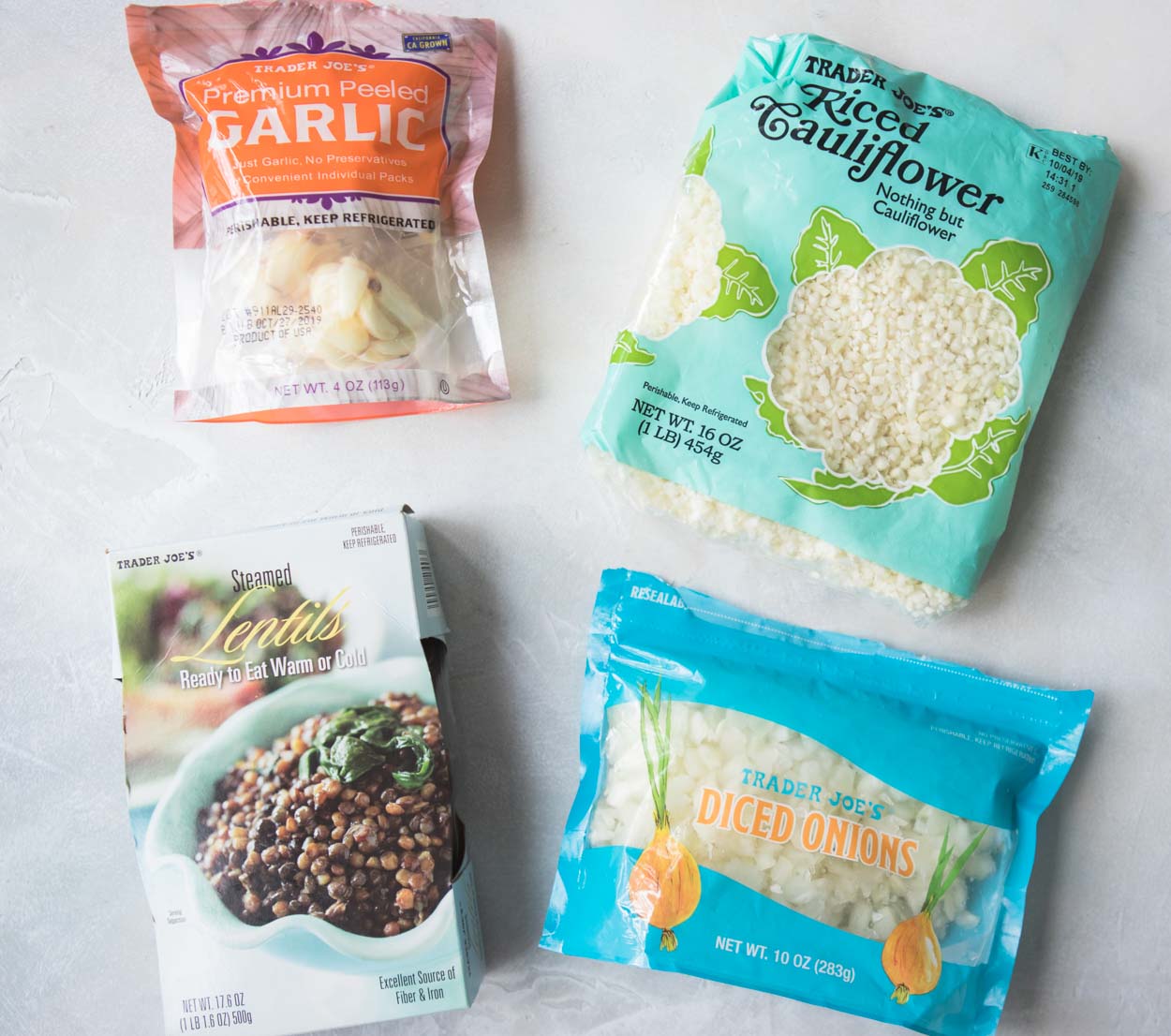 The Key to the Perfect Cauliflower Taco Meat Is Texture:
The key to making the perfect flavored and textured cauliflower tacos is to have finely riced cauliflower, and to make sure your lentils are well cooked, but not mushy. To achieve this, make sure you either buy pre-riced cauliflower, as it is usually uniform in texture and size, and unless you feel as confident making lentils as you do regular white rice, purchase already cooked lentils. Trader Joe's and Melissa's Organics both make great tasting, reliable precooked lentils and can be found at either TJ's or most major grocery stores. I personally don't make lentils enough to get the timing just perfect (not under-cooked or too mushy), that I've just began buying pre-cooked lentils.
If you are making your own cauliflower rice, make sure you do a really thorough job ricing the cauliflower in a good food processor. When I make my own, I make sure to work in small batches, otherwise when you do too much, some cauliflower gets overground and other pieces don't get riced well at all. Working in 1-2 cups at a time is perfect, and make sure to use the pulse function on your food processor.
I do not recommend making cauli rice by trying to finely chop, as the rice will not be uniform, resulting in uneven cooking.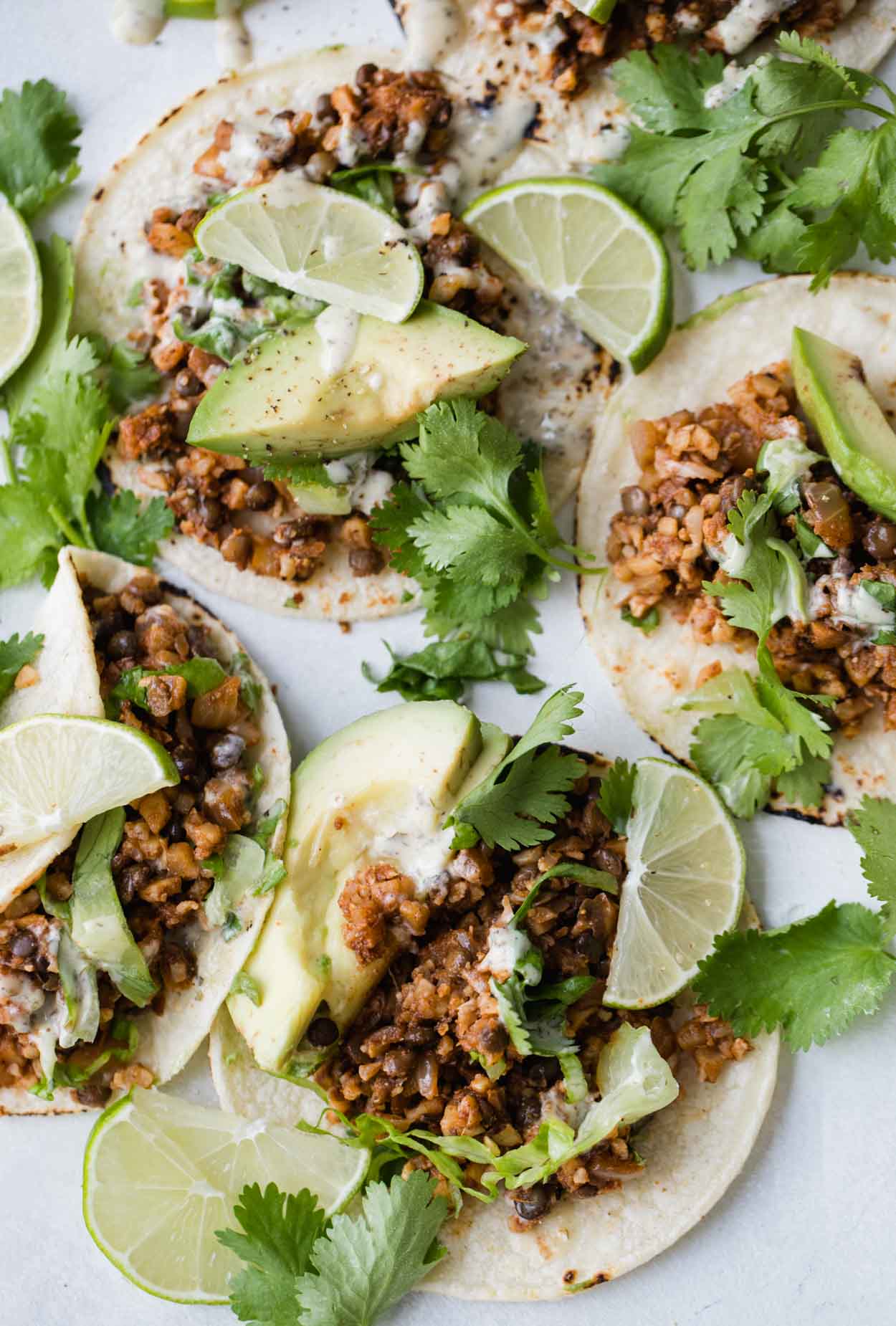 Vegetarian/Vegan and a Great Source of Protein:
While these cauliflower tacos are a great option for Meatless Mondays, or those living a vegetarian or vegan lifestyle, they are also incredibly healthy. Lentils are high in protein, fiber, and complex carbohydrates, while being low in fat and calories. They are also sources of other key minerals and nutrients including potassium, folate, iron, and manganese. Though they are not a complete protein, meaning they contain all the essential amino acids for the building blocks of life, when combined with grains like wheat, rice or corn, they become one. So make sure to not skip the corn tortillas with this dish 😉
Cauliflower is naturally high in fiber and B-vitamins. It provides antioxidants and phytonutrients that can protect against cancer, while also containing fiber to help you feel full and satisfied. Cauliflower has contains choline, essential for learning and memory, and many other important nutrients.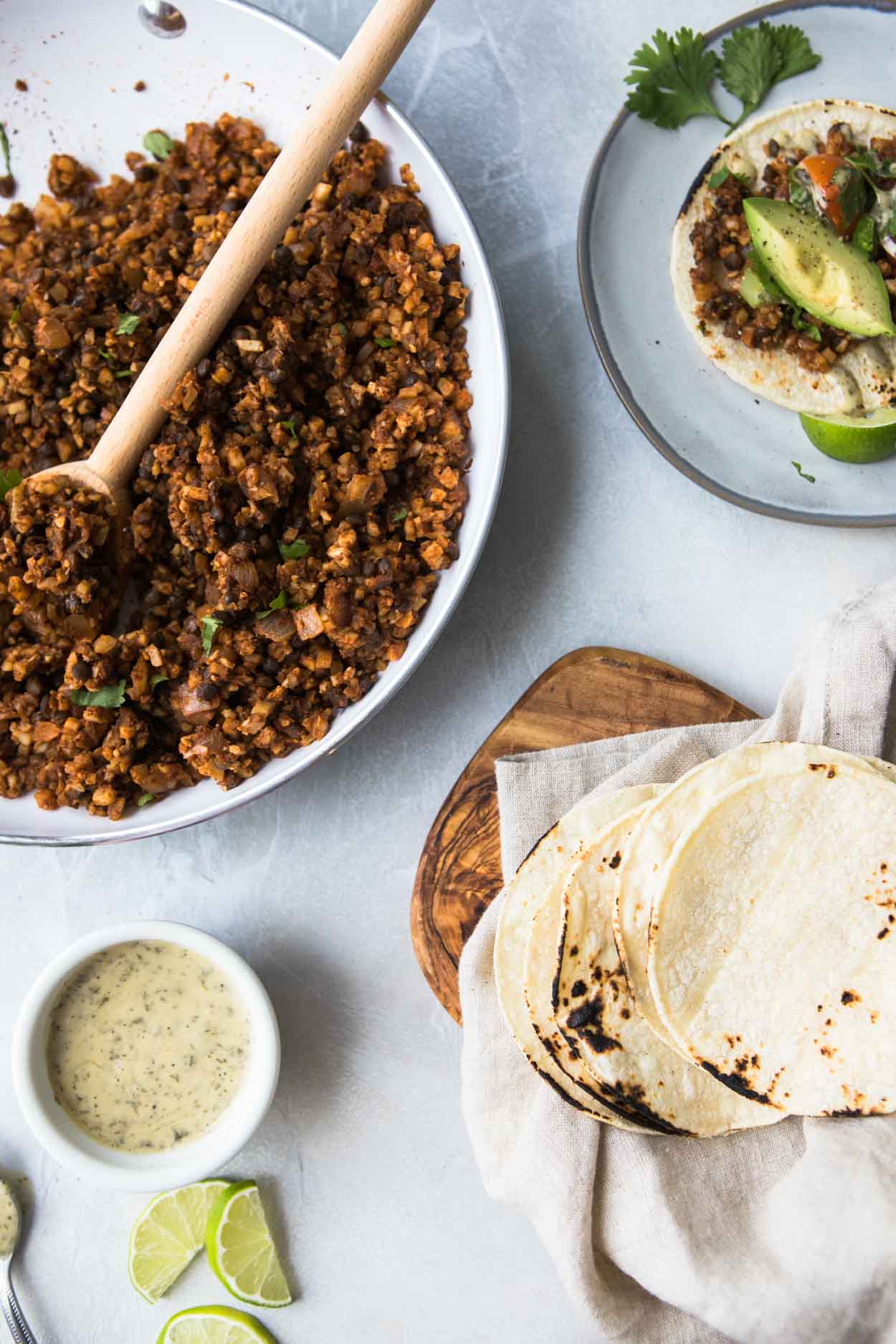 Cooking Your Cauliflower Rice Taco Meat:
Make sure you give your cauliflower rice ample time to cook and get tender! When undercooked, the cauliflower texture and flavor really comes through, but when perfectly tender, it is well balanced with the soft lentils. I recommend cooking for at least 10-12 minutes on medium heat, and if your burner seems to be running too warm and the cauliflower rice is getting dried out before it has time to soften up, add about ½ cup of water or vegetable broth, or a tablespoon or two of watered down bit tomato sauce. This is something that you'll just have to keep an eye on though, and taste every few minutes while cooking.
As soon as your rice is well cooked but not too soft, stir in the lentils and the remaining spices, and again, add a bit of broth or water if the mixture seems to have dried out a bit. This is an overall easy recipe, but I've noticed a couple of times I've made it that if my burner was too warm, it will dry out a bit before the flavors and textures are able to meld and cook together perfectly. Cooking after all isn't always a perfect science, and a dish can go off the rails a teeny bit if one is in a hurry or distracted. But rest assured that this is an easy fix and overall this recipe is pretty full-proof!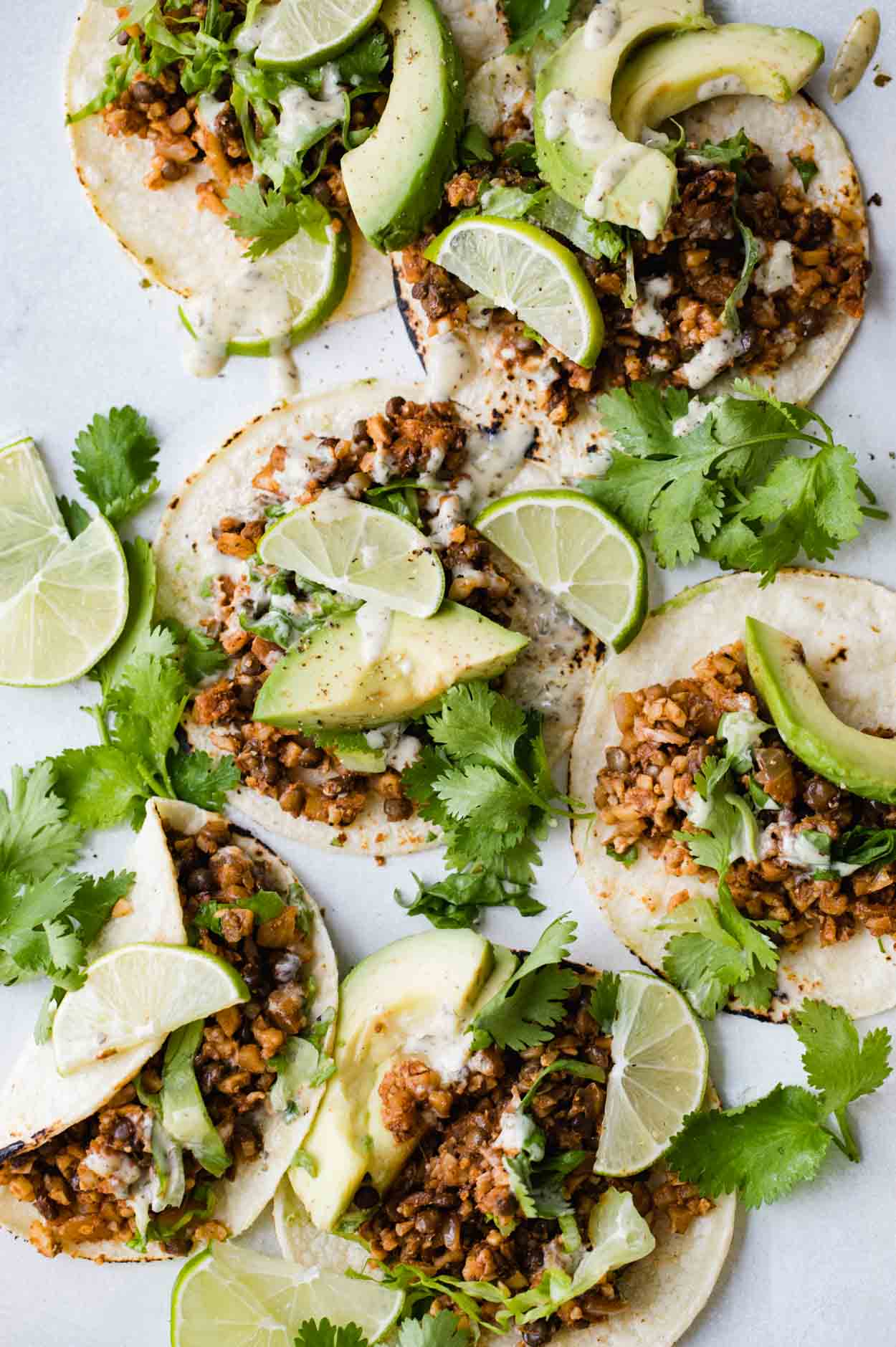 How to Serve Cauliflower Tacos:
Just as you would regular tacos of course! 🙂 Dished up on some warm corn tortillas, piled high with cilantro, maybe some diced onions and shredded lettuce. To add some flavor and moisture, tomato or tomatillo sauce would work well, as does guacamole or a cream based dressing like a cilantro lime. Have some lime wedges and avocado slices on hand to add some tang and creamy texture, and feel free to serve alongside traditional rice and beans, or a light green salad.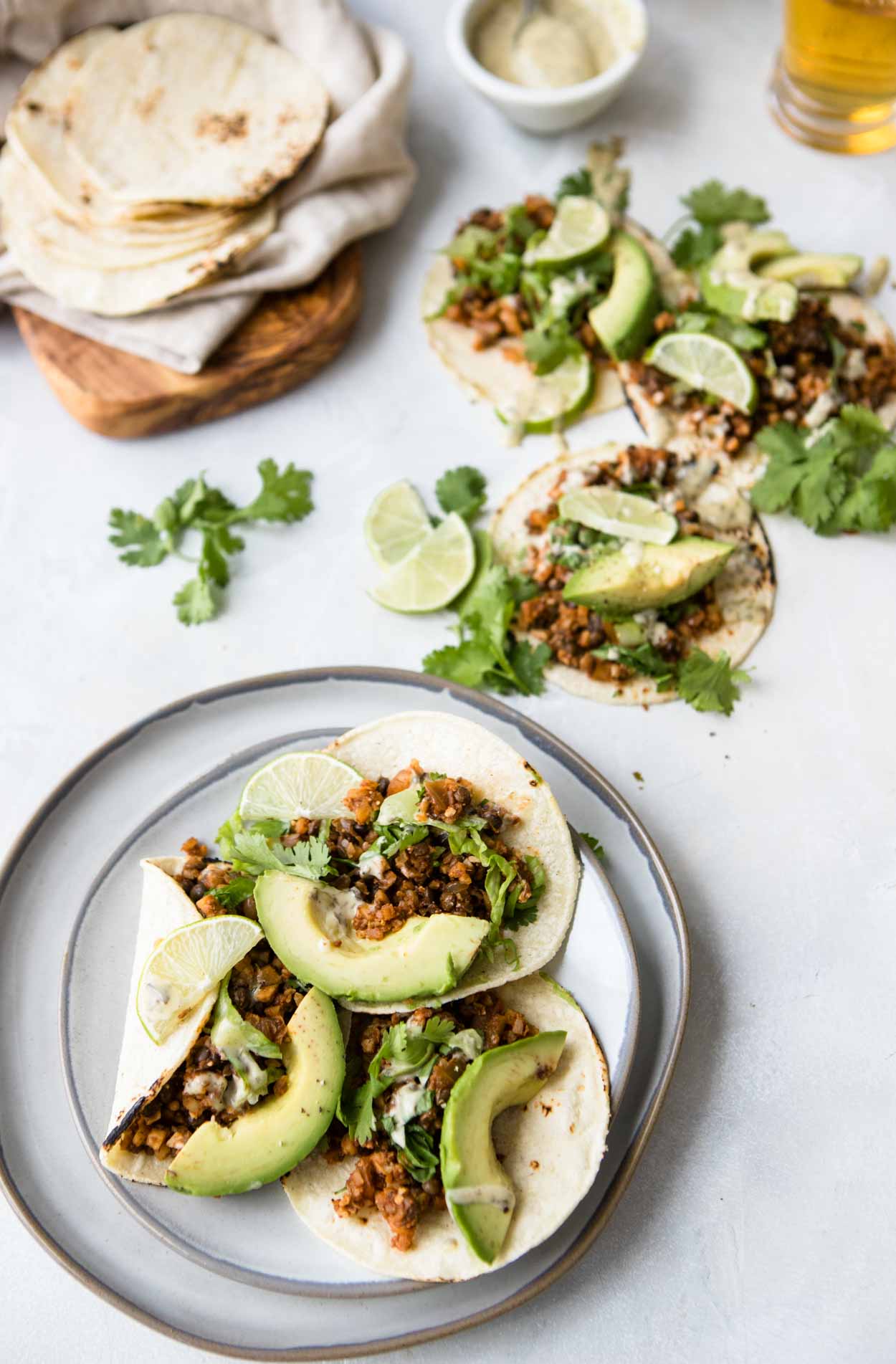 Other Great Vegetarian Meals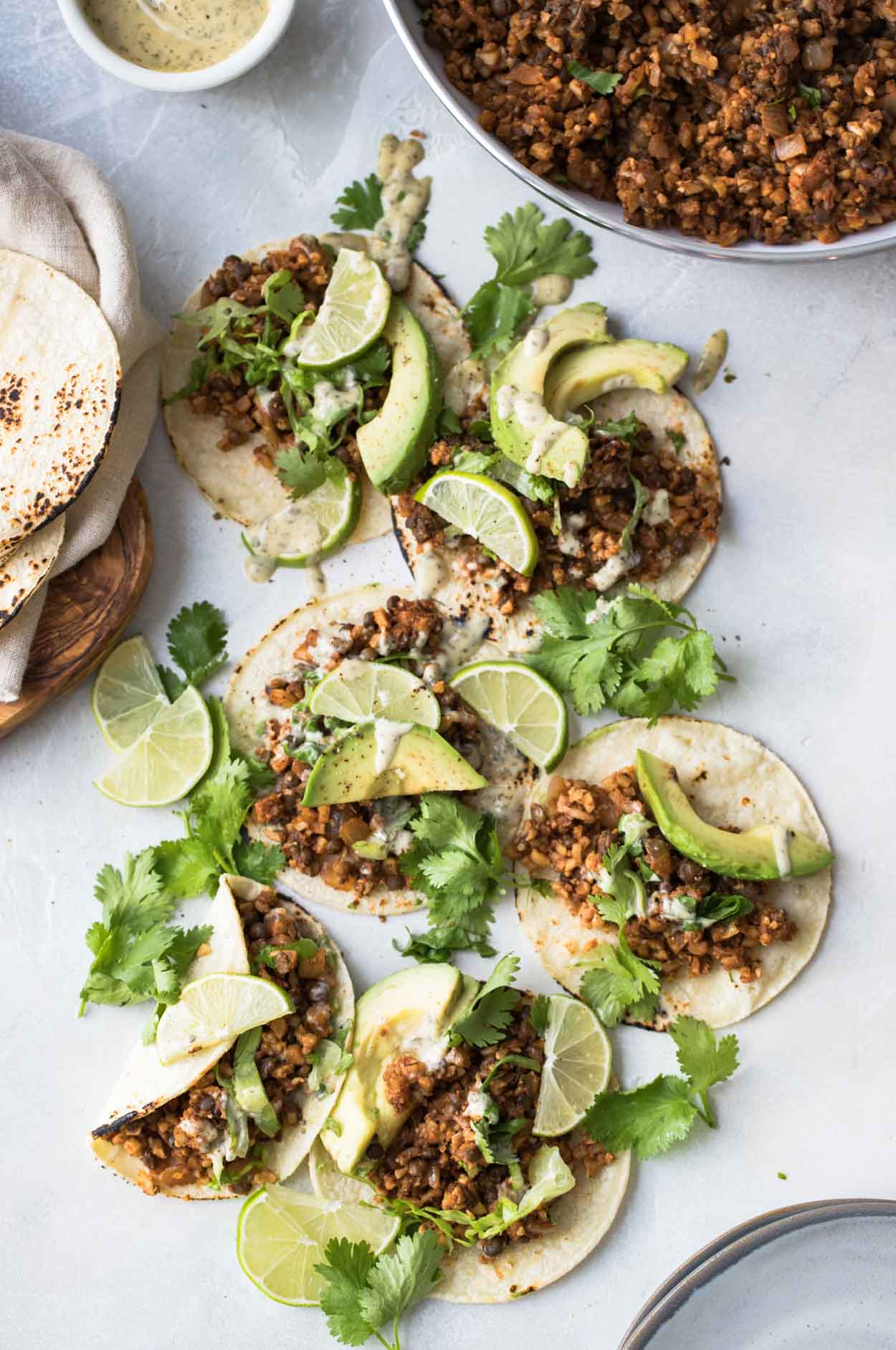 I hope you love this recipe as much as we do, and feel free to ask any questions you may have! Please make sure to tag me on IG if you make and share, as I'd love to see your final product.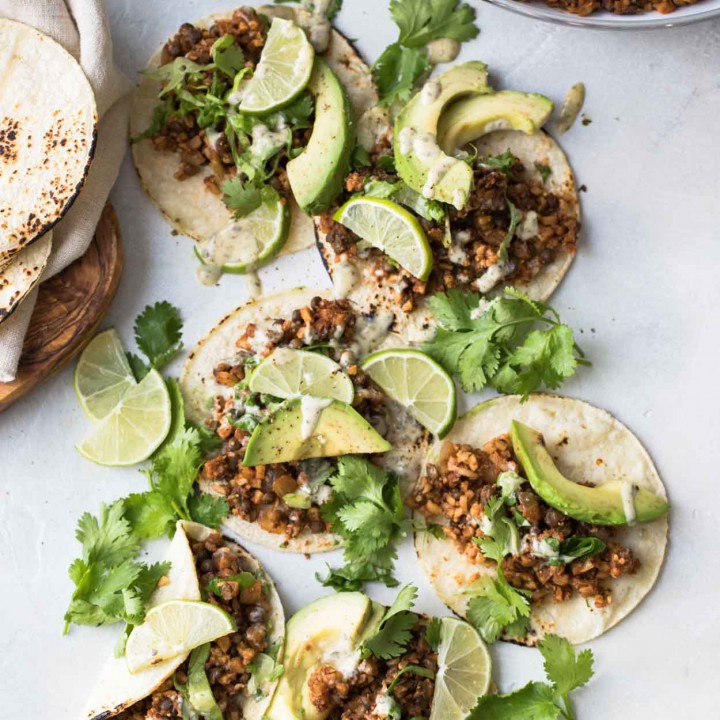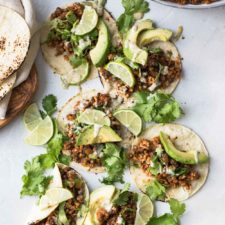 Easy Cauliflower Tacos Recipe
This quick and easy cauliflower tacos recipe is the perfect weeknight meal, and is vegan, healthy and delicious. Great for Meatless Mondays or those following a vegetarian diet.
Print
Pin
Rate
Ingredients
1

cup

cooked lentils

12

ounces

cauliflower

finely riced

2

tablespoon

olive oil

1

cup

onion

diced

4

cloves

garlic

minced

3

teaspoon

chili powder

2

teaspoon

cumin

1

teaspoon

coriander

2

teaspoon

salt

½

teaspoon

ground black pepper

½

cup

canned tomato sauce

¼

cup

water if needed

Corn tortillas and desired garnishes
Instructions
Warm olive in a large saute pan over medium heat.

Add garlic and onions and cook till onions are tender and translucent.

Add in cauliflower and the spices and stir to combine. Cook cauliflower until tender, about 10-12 minutes, stirring often.

Add in lentils, tomato sauce, and salt and pepper, and stir to combine and cook until lentils are heated through. Add in a bit of water if the mixture seems to have dried out in the cooking process.

Serve over warm tortillas and with desired garnishes.
Notes
if the mixture feels dry after cooking through, stir in a bit more water, about ¼ cup at a time.
Mix can be frozen in a air-tight container for 3-4 months. Allow to thaw in the fridge and reheat in a microwave proof dish or on the stovetop over medium heat.
Nutrition
Serving:
1
g
|
Calories:
119
kcal
|
Carbohydrates:
15
g
|
Protein:
5
g
|
Fat:
5
g
|
Saturated Fat:
1
g
|
Sodium:
925
mg
|
Potassium:
444
mg
|
Fiber:
5
g
|
Sugar:
4
g
|
Vitamin A:
497
IU
|
Vitamin C:
32
mg
|
Calcium:
42
mg
|
Iron:
2
mg