A few weeks ago at the farmer's market I came across these miniature squash that looked exactly like a brighter version of a butternut. I actually called them mini butternut squashes and the farmer swiftly corrected me with the tiniest hint of disdain in his voice. "No! These are much much better than butternut squash. These are nothing like butternut squash! Much sweeter, so soft too you can even eat the skin!" Well okay then, Mr. Farmer, now you have me intrigued, and so I brought them home and now want to share this easy Honeynut Squash recipe with you all.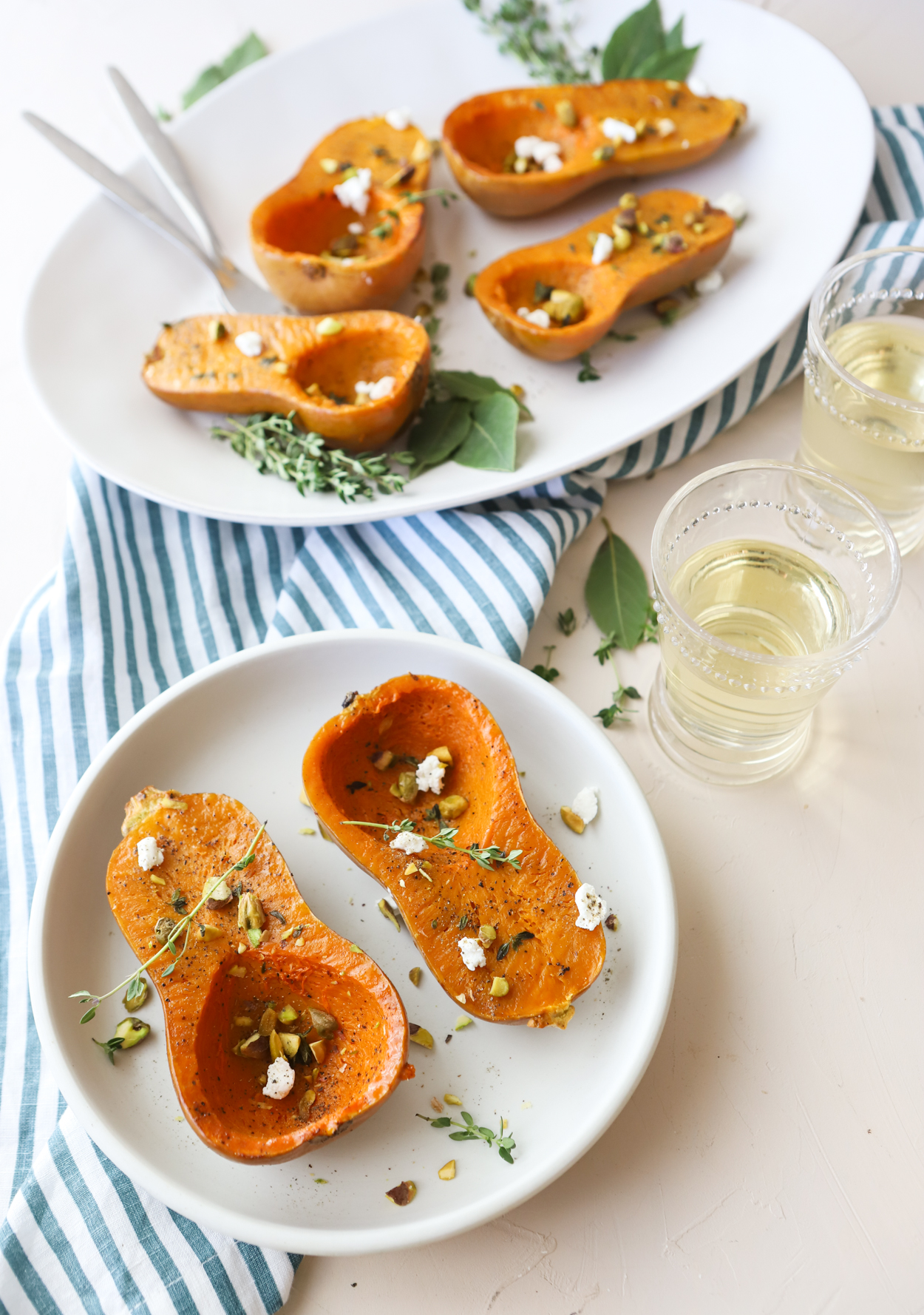 Come to find out, these miniature squashes are the result of plant breeders from Cornell, and the famous chef Dan Barber of Blue Hill at Stone Barns. While giving one plant breeder at Cornell a kitchen tour, he grabbed a butternut and accusingly asked, "If you're such a good breeder, why don't you make this thing taste good? Why don't you shrink the thing?!" Amen, Chef. I think most of us can agree that to make the butternut squash taste good, it takes a lot of finessing. Even then, I admit that I eat it not because I actually love the taste, but because I know it's good for me and it's dirt cheap when in season. Besides, what a pain in the neck they are to prep. Who among us hasn't almost lost a finger trying to cut into the dang things?!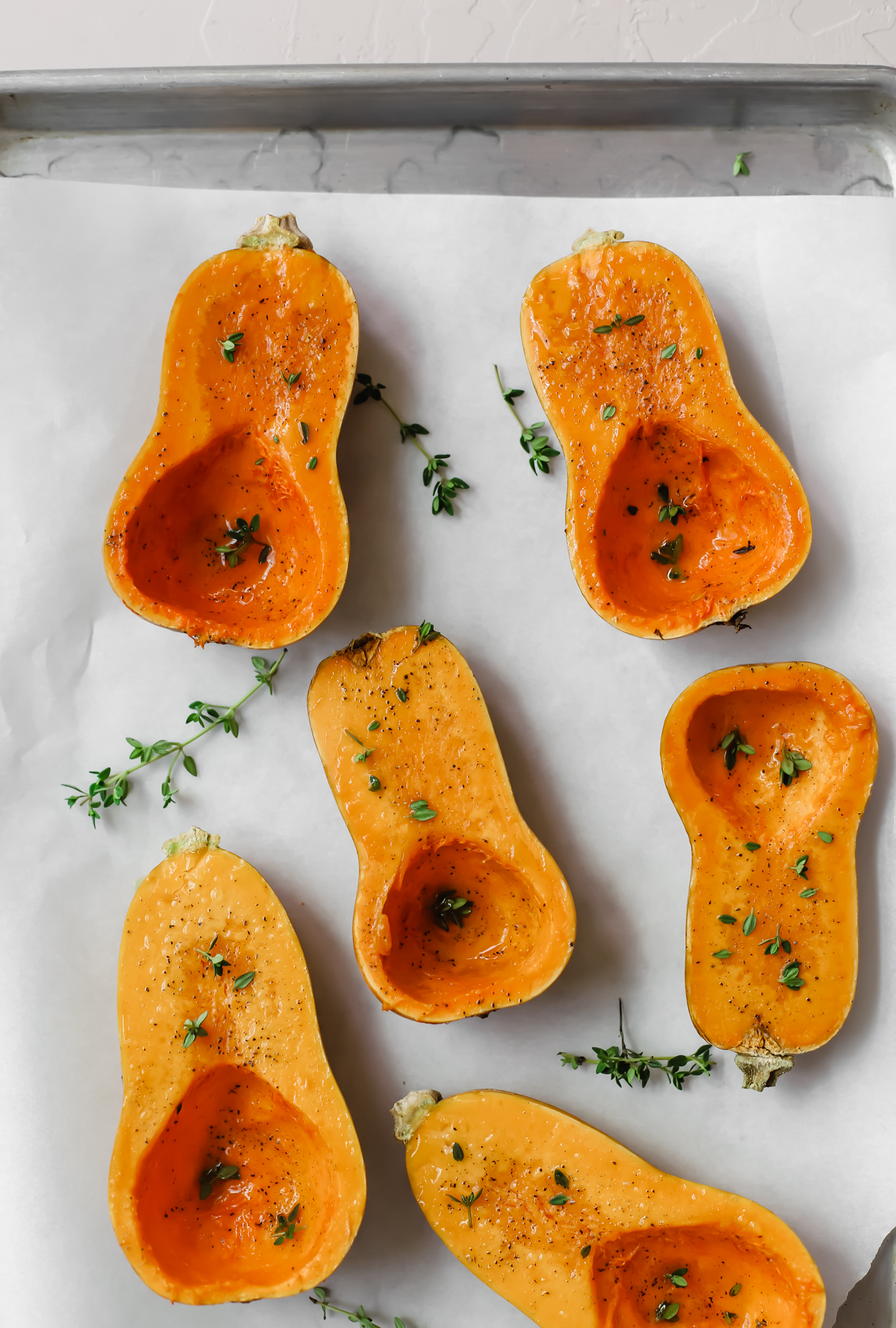 The honeynut squash is still relatively brand new, only having been around for about 2 years, but has quickly gained traction and what was once only found in some Northeastern farmer's markets, can now be found at farmer's markets across the country as well as Whole Foods and even Costco. Harvest season starts in September so you should be able to find these babies all the way through Christmas.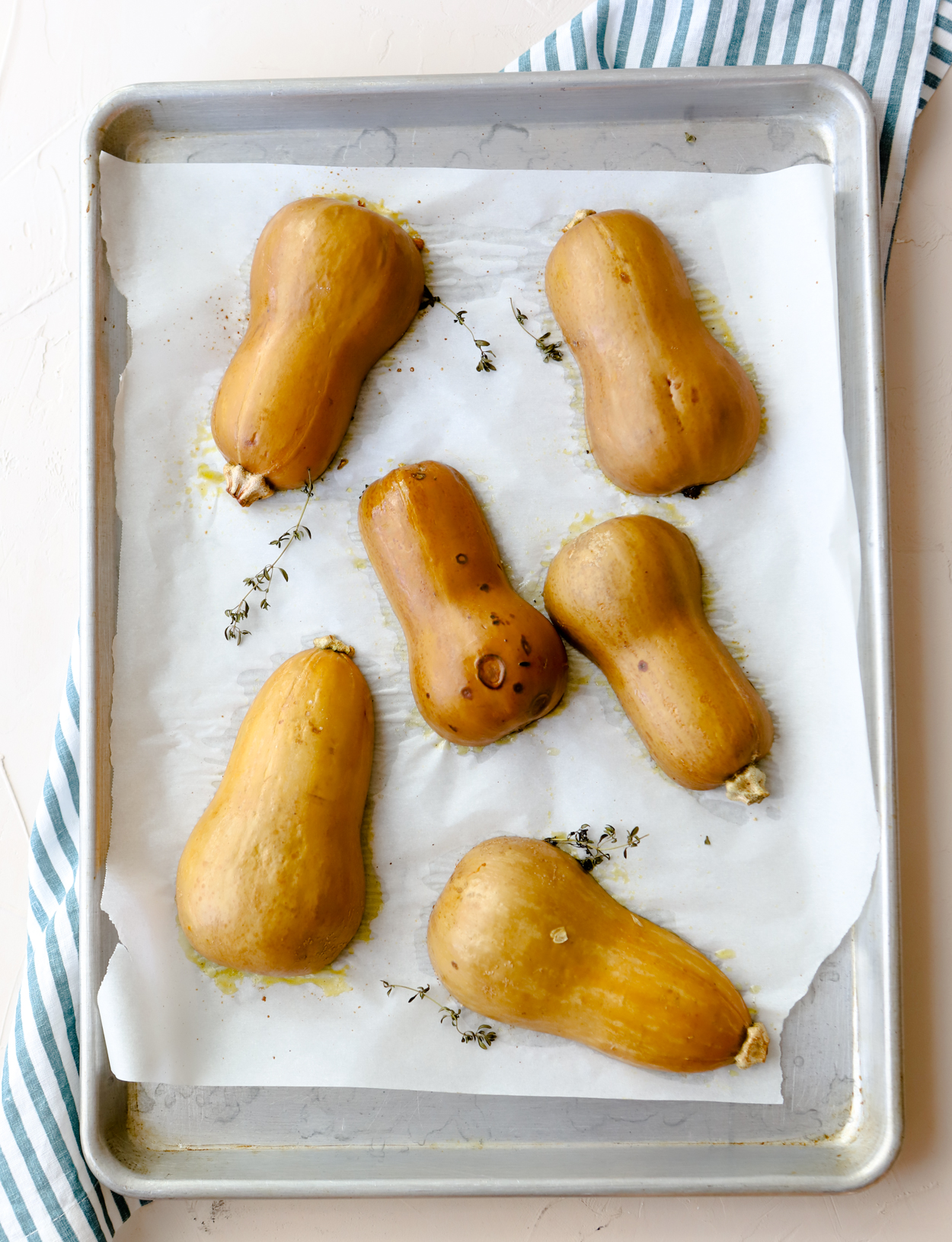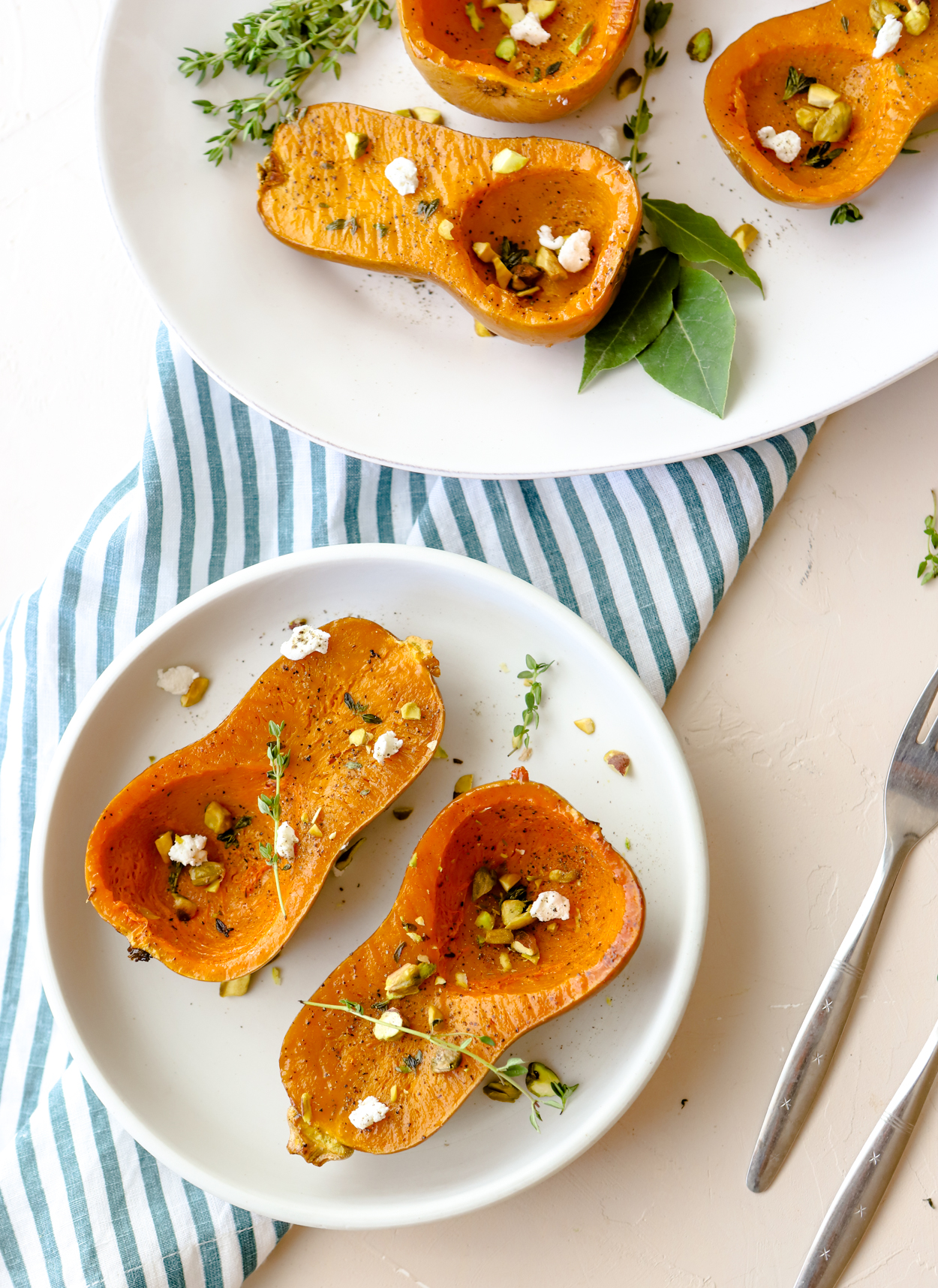 They are amazingly sweet and don't need much fussing with at all, and the skin cooks up crazy soft so there's no need to peel or limit eating to just the flesh; I cut into mine here and ate the whole thing flesh and skin together. Because they're so small, they also cook up much quicker than most any other type of squash, and are easy enough to cut into with a knife, no microwaving beforehand to soften the outer skin a bit.
All around these little guys are winners and you should definitely pick them up if you come across them at your store. Read below for the quick and easy way to cook Honeynut Squash.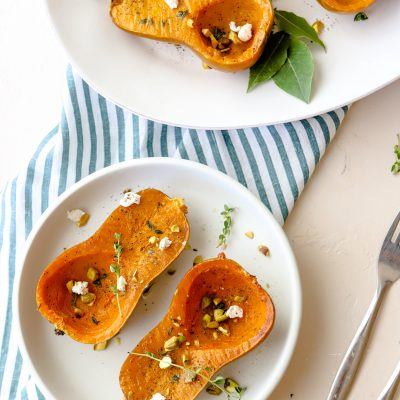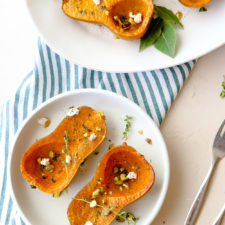 Print Recipe
Easy Honeynut Squash Recipe
Learn the easy and tasty way to cook the super sweet honeynut squash, which looks just like a smaller version of a butternut, but packed with more nutrients and flavor.
Ingredients
4

honeynut squash

2

tbsp

olive oil

4-5

sprigs of fresh thyme

salt & pepper

goat cheese and pistachios for garnish
Instructions
Preheat oven to 400 degrees.

Line a baking sheet with parchment paper, then cut each honeynut squash in half lengthwise. Scoop out the seeds and liberally brush olive oil on each cut side. Sprinkle with salt and pepper and lay the thyme sprigs across each cut side. Bake for 20 minutes until fork tender.

To serve, plate each squash and sprinkle with goat cheese and chopped pistachios.