Honeynut squash is in season during Fall and Winter and looks like a mini butternut squash, but the flesh is much sweeter. It roasts up super easy and makes for an excellent Fall side dish.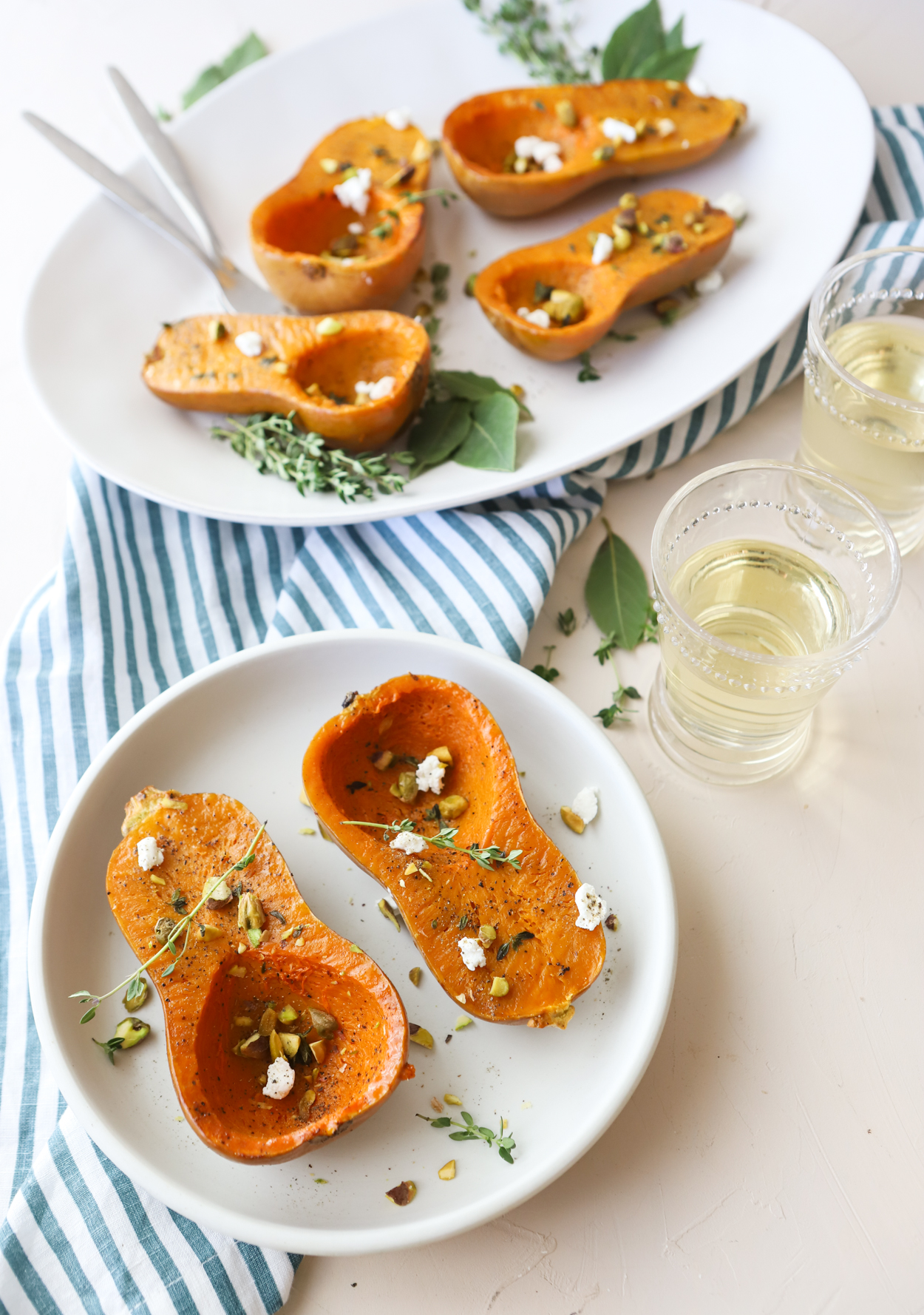 Honeynut squash looks like baby butternut squash, but about half the size and twice the sweetness. Because of their petite size, they cook up quickly and taste wonderful on their own or roasted and topped with a tangy cheese and crunchy nuts.
Jump to:
Why this recipe works
Due to the squash being so small, they cook up quickly and easily. They require little prep work and a simple brush of olive oil and salt & pepper is all you need to get them ready for roasting.
This dish is also incredibly healthy. One squash contains 40% of your daily requirement of Vitamin C as well as 100% of Vitamin A. It also contains magnesium, potassium and is a great source of fiber.
The subtle bit of tang the goat cheese crumbles offers perfectly offsets the sweetness of the squash flesh. And crunchy pistachio pieces adds the needed texture to make this recipe extra interesting and packed with flavor.
Ingredients
Honeynut squash – easily found at the local farmer's market or more specialty grocery stores, look for 2 that are about the same size. Harvest season starts in September so you should be able to find these babies all the way through Christmas. And the flesh and exterior are so sweet & tender, no need to peel!
Thyme – either fresh or dried works great! Feel free to try sage or rosemary as well.
Goat Cheese – this garnish is optional, but I promise you'll love the tang and how it complements the sweetness of the squash. Ricotta, feta or even gorgonzola would be fun alternatives.
Pistachios – again, an optional garnish but they add the perfect crunch. Don't love pistachios? Try pecan, walnut or pine nuts instead.
Step by step directions
Step 1 – Wash and dry your squash, then cut in half lengthwise. The flesh should be easy enough to cut into on its own, but if it is resistant, just pop in the microwave for a minute or two.
Step 2 – Scoop out the seeds. You can try giving them a roast; they should taste just as good as roasted pumpkin seeds.
Step 3 – Brush with olive oil and sprinkle with salt and pepper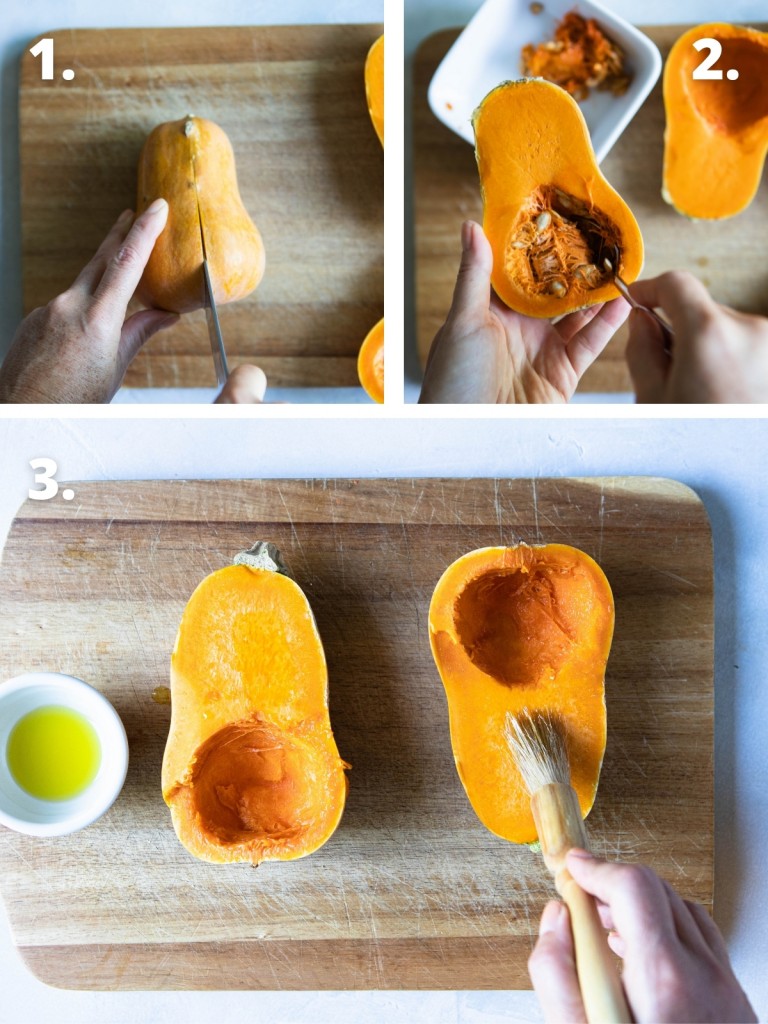 Step 4 – Roast in a 400 degree oven for about 20 minutes, or until flesh is fork tender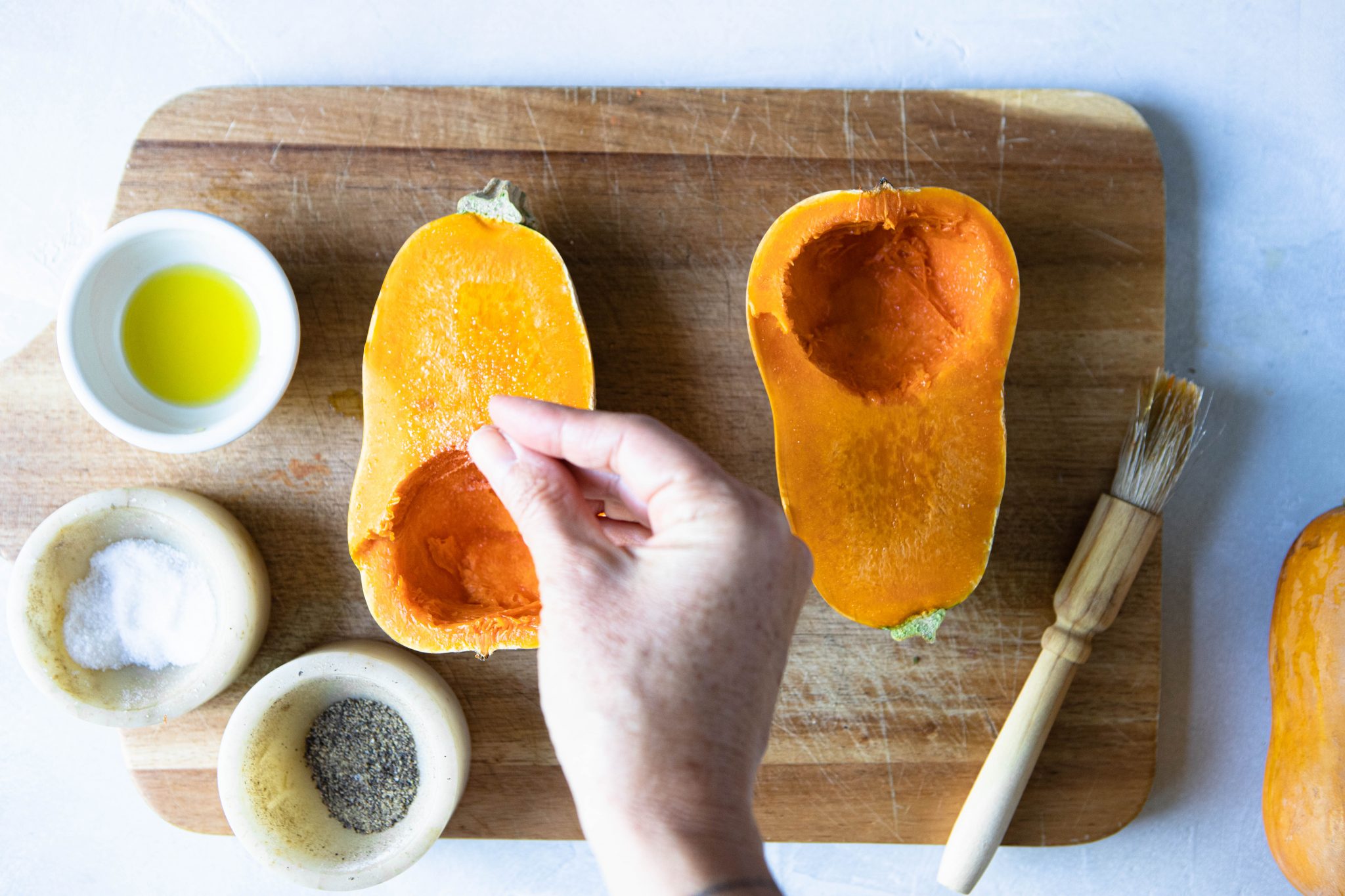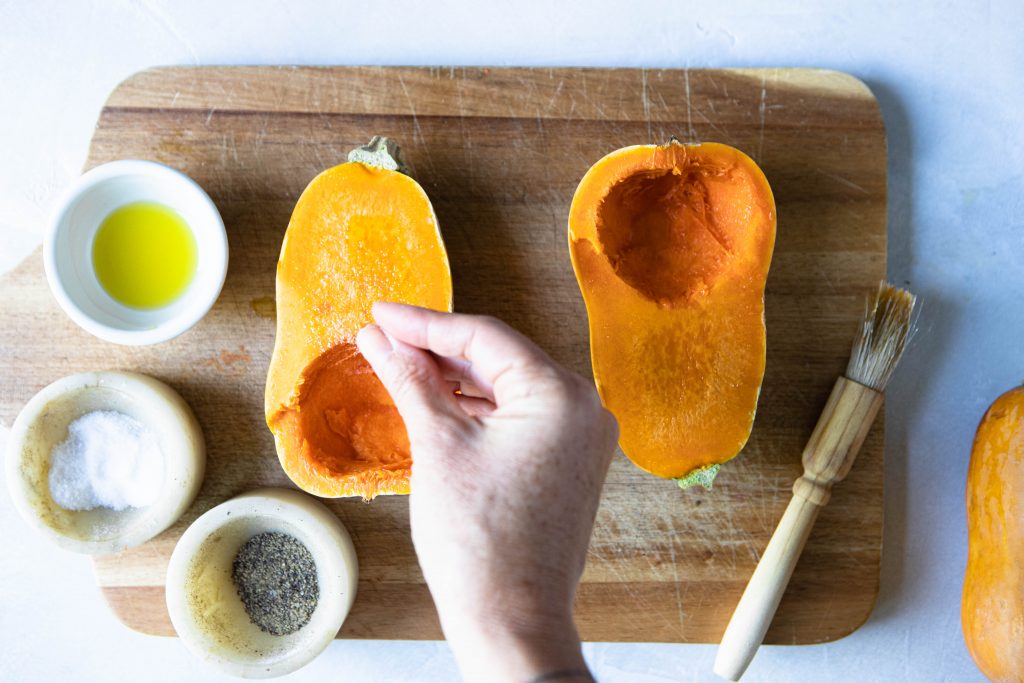 After roasting, garnish with your favorite toppings. I recommend goat cheese and pistachios, but see above for optional garnishes.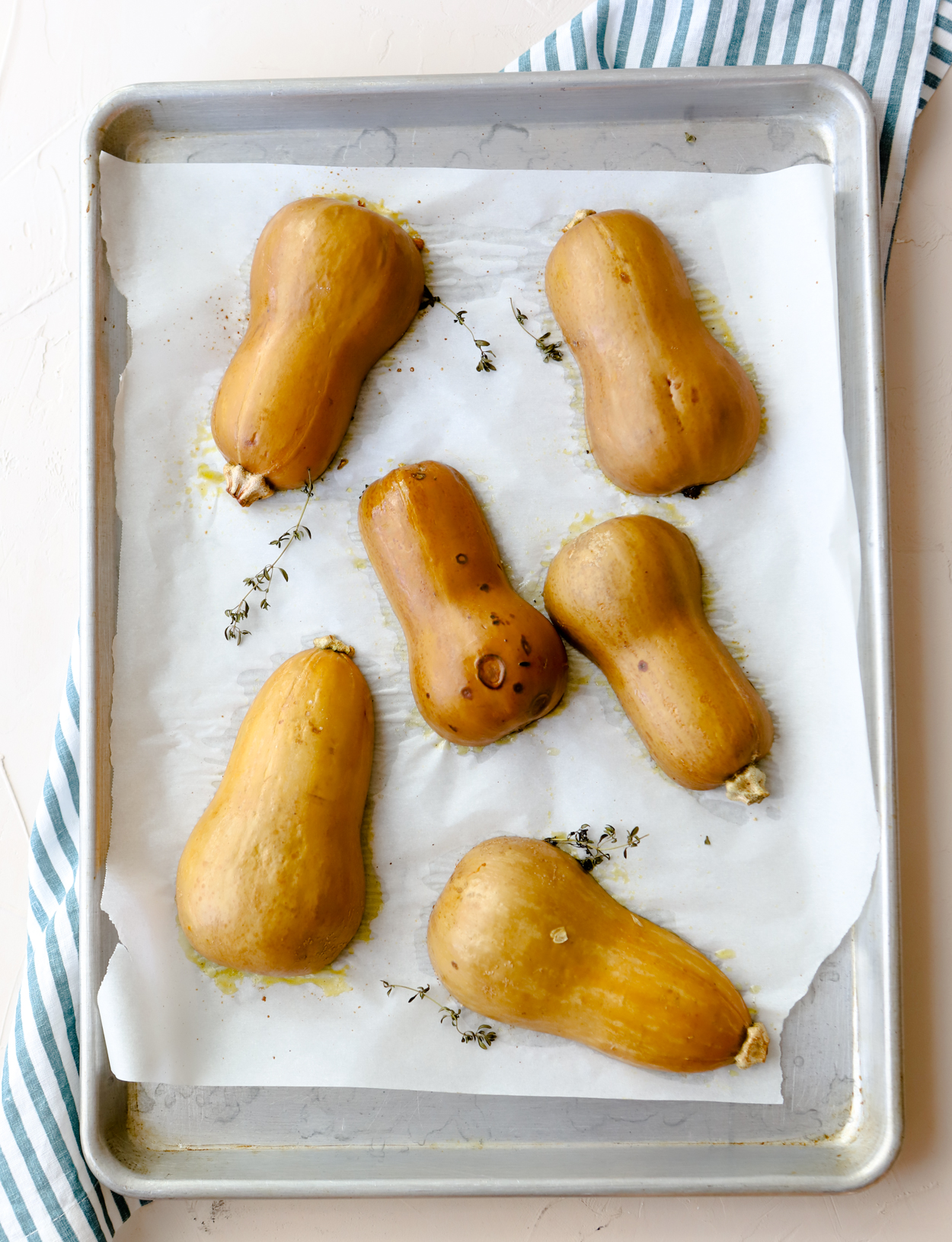 History of honeynut squash
Come to find out, these miniature squashes are the result of plant breeders from Cornell, and the famous chef Dan Barber of Blue Hill at Stone Barns.
While giving one plant breeder at Cornell a kitchen tour, he grabbed a butternut and accusingly asked, "If you're such a good breeder, why don't you make this thing taste good? Why don't you shrink the thing?!" Amen, Chef. I think most of us can agree that to make the butternut squash taste good, it takes a lot of finessing.
Turns out they are bred to not only be smaller than butternut squash, but are also bred specifically to be much sweeter and tender. In fact they are so much more mild than the sometimes bitter butternut, that you can actually eat the flesh and the skin.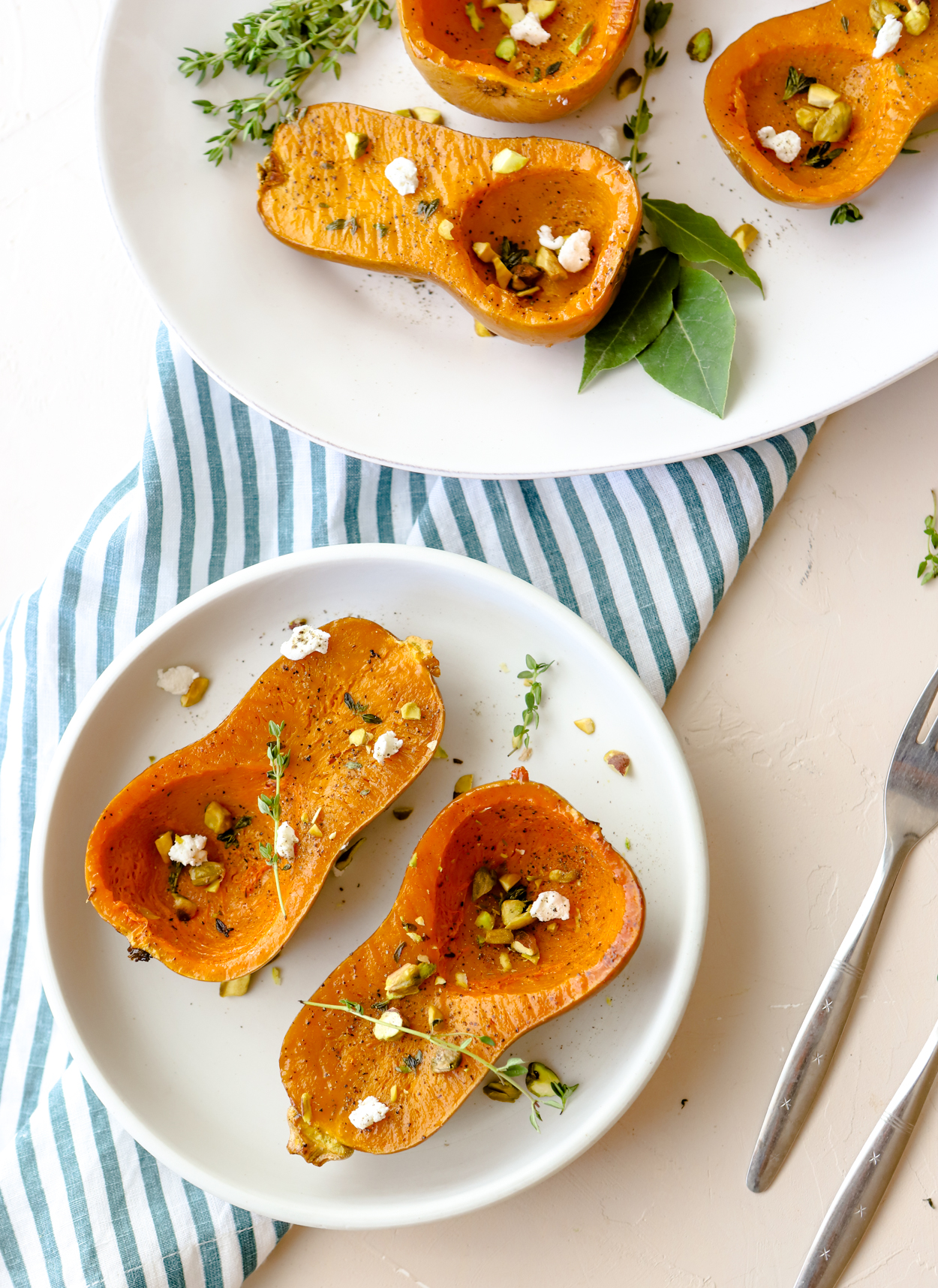 Recipe FAQ's
What are some other ways to prepare honeynut squash?
Cube up the squash and roast or steam them to add to your salads or stir into a ground breakfast sausage, similar to my stuffed acorn squash, for a unique breakfast.
Do these really taste that much different than butternut squash?
Oh my gosh, yes! They truly are sweeter and don't have any of that bitterness that butternuts often have.
I'm trying to eat low-carb. Will these fit into a low carb eating plan?
Honeynut squash is low in net carbs (about 8 grams per ¾ cup serving), so if you are following a KETO or general low-carb eating plan, you can easily fit it into your daily menu.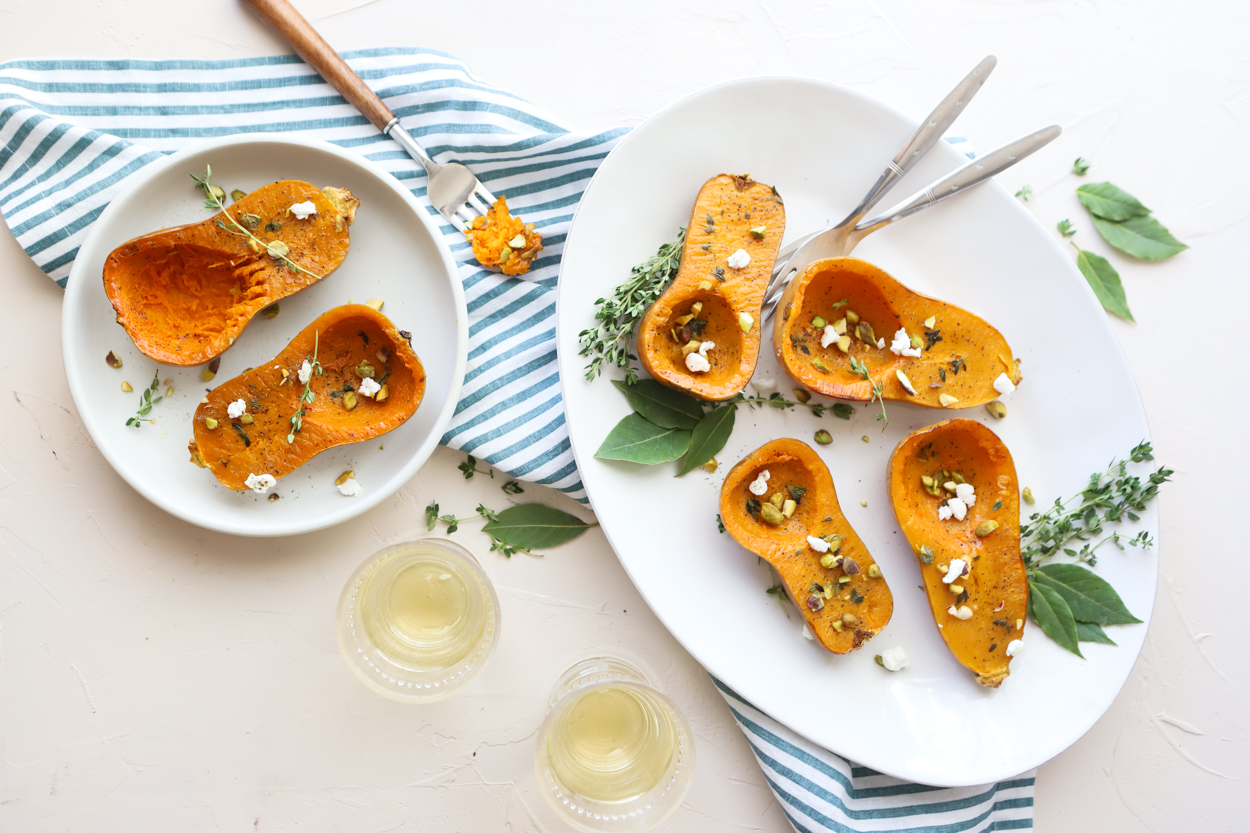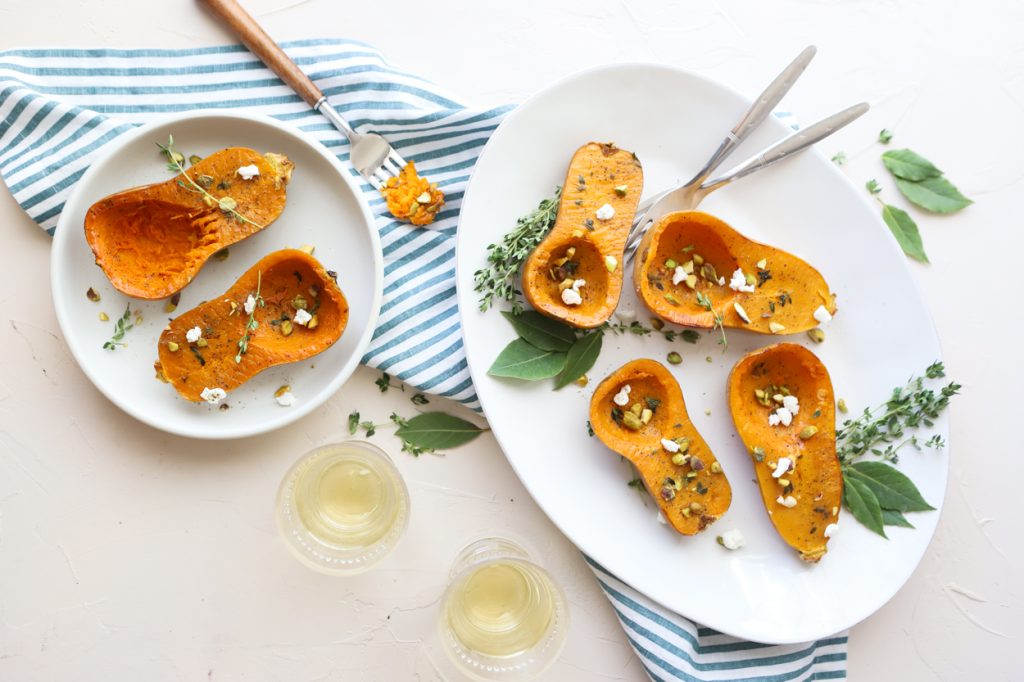 More cooking tips
You can make these in advance. Just follow the recipe and roast the squash as normal. Then you can transfer the squash to a plate or dish and refrigerate it.
You can reheat the squash again in a 400F for 10-15 minutes cut side up and top with the goat cheese and pistachios.
They are amazingly sweet and don't need much fussing with at all, and the skin cooks up crazy soft so there's no need to peel or limit eating to just the flesh; I cut into mine here and ate the whole thing flesh and skin together.
Related Recipes
Tried this recipe? Please leave a comment and/or rating, letting me know how you enjoyed it! Connect with me on Instagram, and never miss a post by signing up for my weekly newsletter!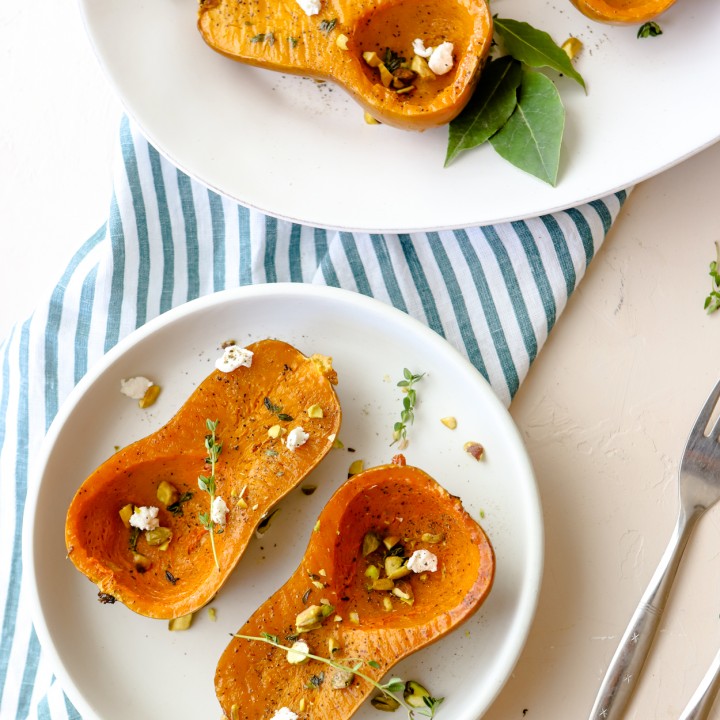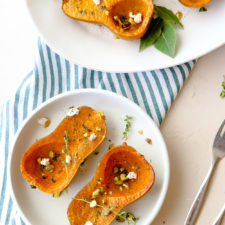 Easy Honeynut Squash Recipe
Learn the easy and tasty way to cook the super sweet honeynut squash, which looks just like a smaller version of a butternut, but packed with more nutrients and flavor.
Print
Rate
Ingredients
2

honeynut squash

cut in half

2

tablespoon

olive oil

4-5

sprigs of fresh thyme

salt & pepper

2

tablespoon

goat cheese

crumbled, for garnish

2

tablespoon

pistachios

roughly chopped, for garnish
Instructions
Preheat oven to 400 degrees.

Line a baking sheet with parchment paper, then cut each honeynut squash in half lengthwise. Scoop out the seeds and liberally brush olive oil on each cut side. Sprinkle with salt and pepper and lay the thyme sprigs across each cut side. Bake for 20 minutes until fork tender.

To serve, plate each squash and sprinkle with goat cheese and chopped pistachios.
Notes
If your honeynut squash is too difficult to slice open, microwave for 1-2 minutes and you should be able to easily slice through.
These cute mini squashes are still relatively new, however you can often find them at farmer's markets, and local specialty grocery stores like Whole Foods, Trader Joe's and Sprouts Farmers Markets. 
Nutrition
Serving:
1
g
|
Calories:
270
kcal
|
Carbohydrates:
45
g
|
Protein:
6
g
|
Fat:
11
g
|
Saturated Fat:
2
g
|
Cholesterol:
3
mg
|
Sodium:
41
mg
|
Potassium:
1358
mg
|
Fiber:
8
g
|
Sugar:
9
g
|
Vitamin A:
39950
IU
|
Vitamin C:
79
mg
|
Calcium:
194
mg
|
Iron:
3
mg