It's hard to find a dish full of flavor that everyone in the family likes; one that's not too sweet, too spicy, too bland, too whatever. There are plenty of basic dishes I know we'll all agree on, but when you start mixing in sauces and such, it gets kinda tricky, you know what I mean? For the most part though, my kids all love Chinese take-out standards like orange peel chicken, beef and broccoli, and sweet and sour shrimp, so I had a feeling when I tried making this General Tso's chicken dish for the first time, they'd be happy. My instincts were correct, and almost a year later, the kids are still loving this dish and ask me to make it all the time. It's the perfect weeknight dinner, especially because it can made in the Instant Pot, which means quick & easy. 
General Tso's chicken (or shrimp or beef) is the spicier Chinese take-out cousin to orange chicken, in that it has a bit more heat and tang from the addition of garlic, ginger and red chili flakes, giving it a sweet & sour flavor with a spicy kick. This version isn't too spicy at all though, so the kids can still enjoy it, but definitely feel free to add in more heat if you like it hot.
Traditionally, like orange peel chicken and sweet and sour chicken, General Tso's is battered and/or deep fried, but this version is made healthier by simply sauteing in the Instant Pot, and I've cut down on the sugar that a lot of recipes contain. Keep in mind that it is made with hoisin sauce, which contains a good amount of sugar, so if you're watching your intake keep portions in mind. Now, you can make hoisin sauce yourself, but even homemade hoisin still contains brown sugar so I just get the bottled kind to make life easier – choose your battles, amiright? All this being said, this version is a pretty decent healthy dish when compared to standard take-out fare. And it is SO flavorful!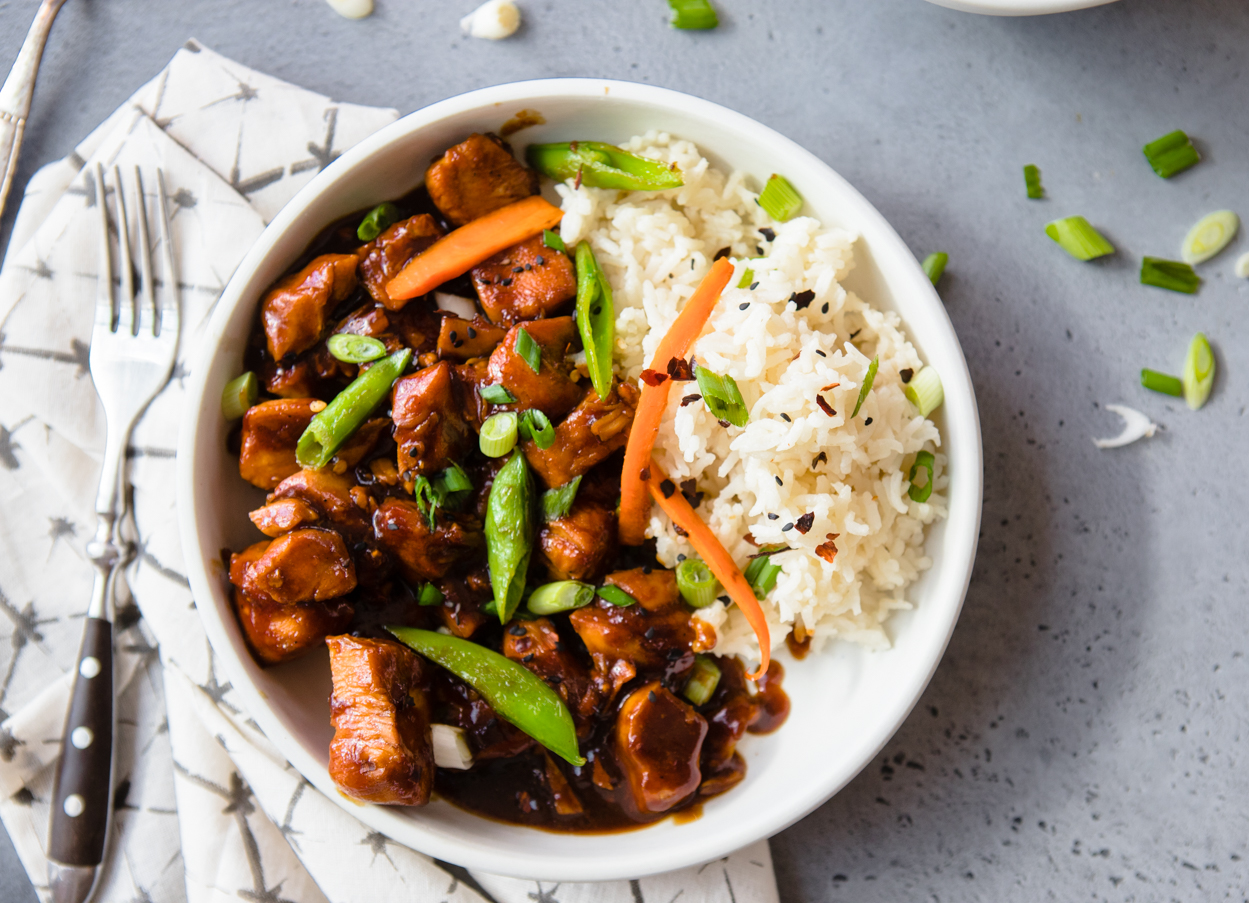 General Tso's Chicken is the most famous Hunanese dish in the world, and according to this NPR article, "General Tso's chicken is named for Tso Tsung-t'ang (now usually transliterated as Zuo Zongtang), a formidable nineteenth-century general who is said to have enjoyed eating it." The story and history of the dish is quite unusual and interesting, which you can read about in the above linked NPR article.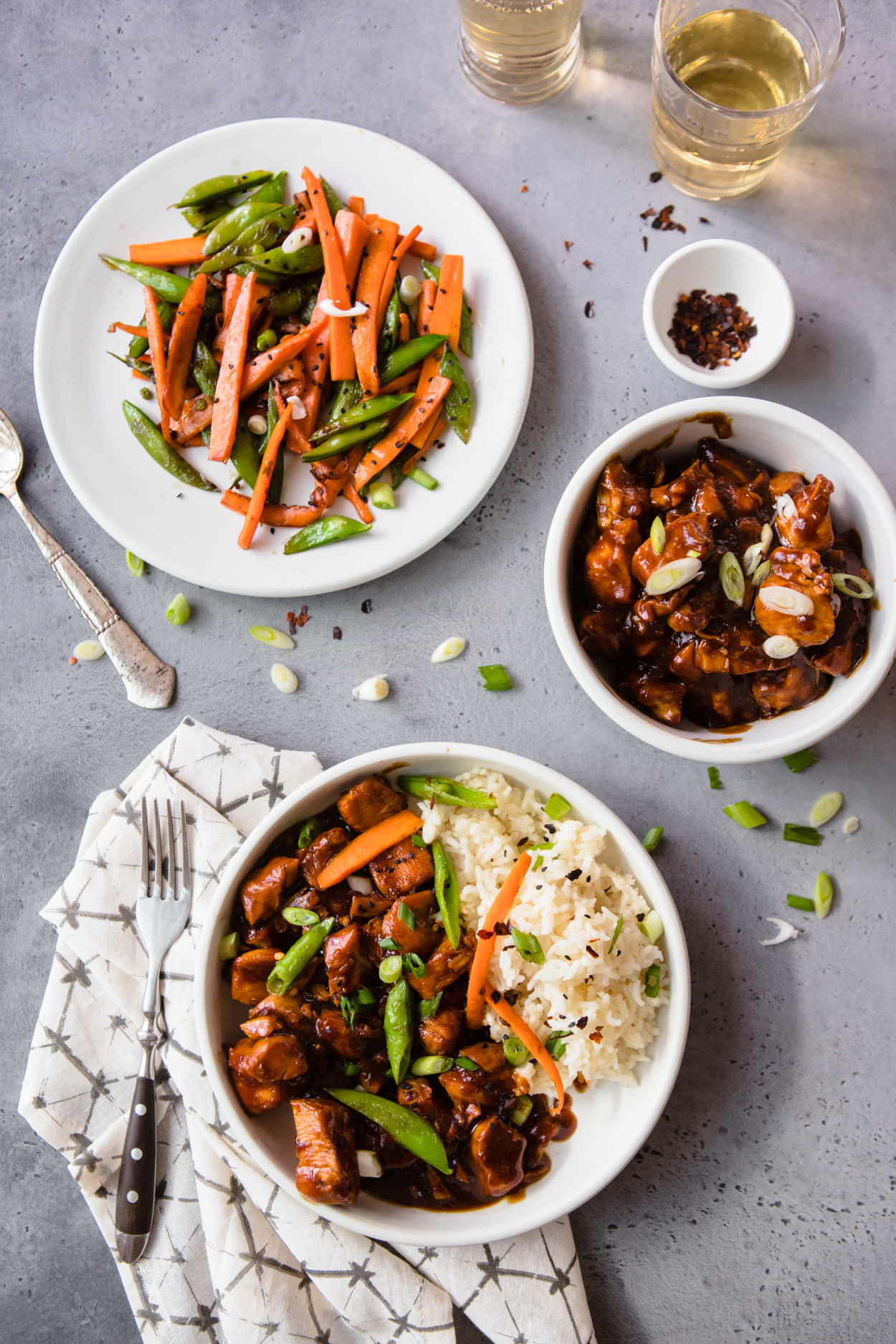 Even after cutting down on the sugar content, the dish can still be a bit sweet for those of us who like more subtle flavors, so I like to make sure I add in some fresh, lightly sauteed veggies into the mix. Sugar snap peas, broccoli, carrots and red peppers always work. Today I had carrots and snap peas on hand to mix in, and made sure to top with plenty of fresh green onion.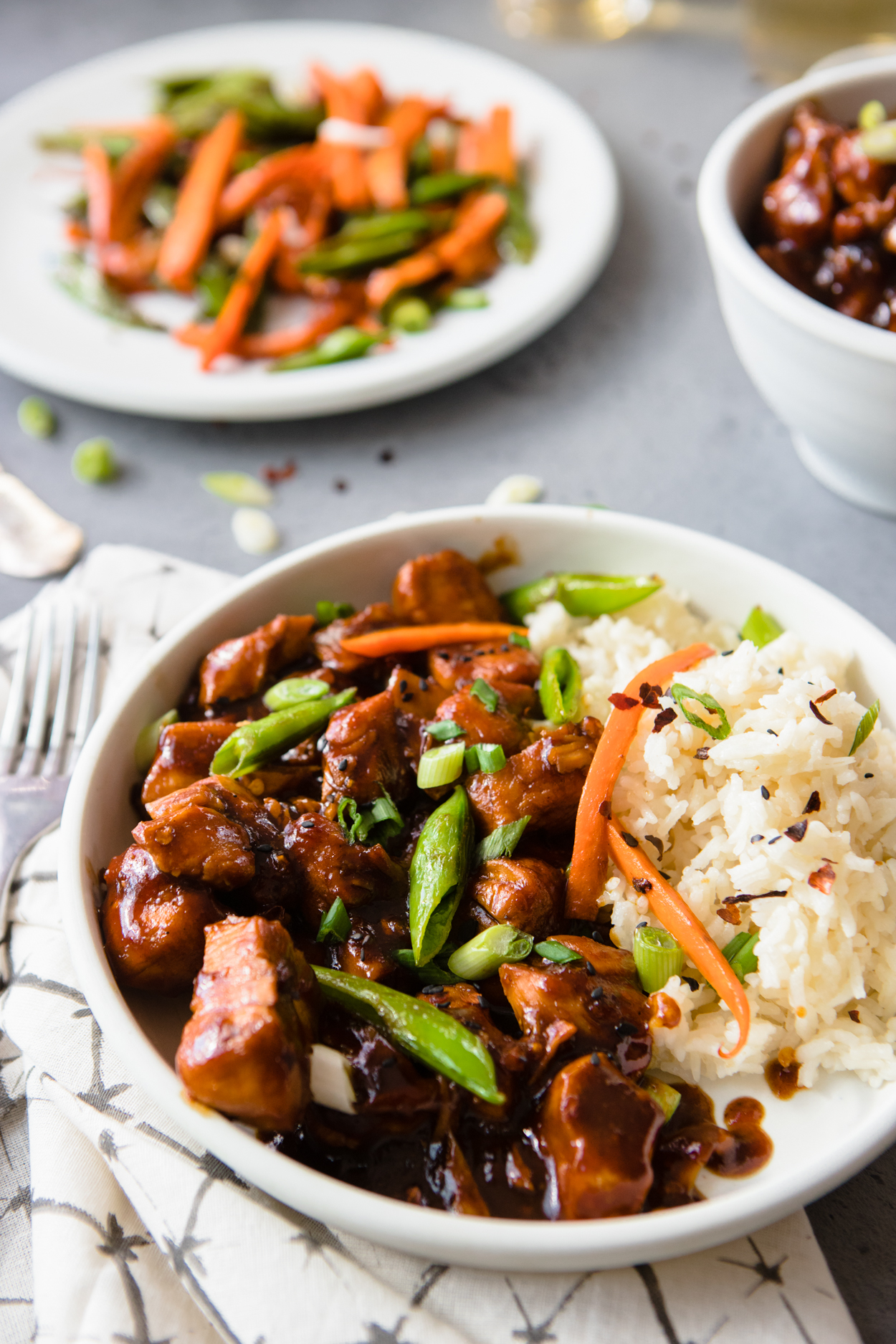 I adapted this recipe from one of my favorite new cookbooks of 2018, Instant Pot Miracle. I cut down on the sugar, added a bit of chili oil, and also cut down on cooking time. Chicken in the Instant Pot is a breeze, but it can very quickly go from moist to rubbery, so I discovered that cutting down on the cook time by just 2 minutes made a big difference in texture and moisture.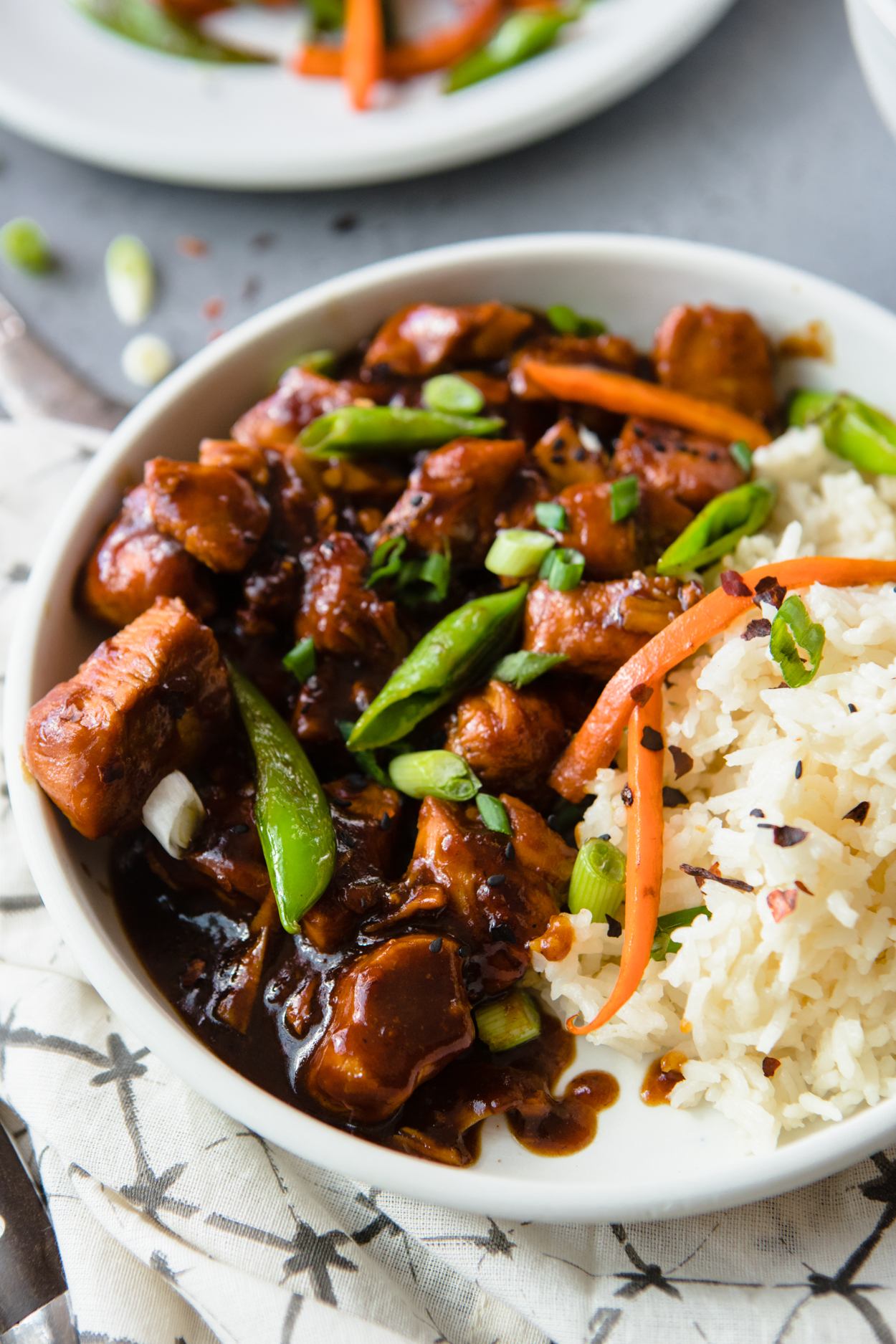 The 1.5 lbs feeds my family of 5 just fine for now, but we never have leftovers. If you need to make a bigger batch, just make sure to saute the chicken in batches so it cooks up evenly. I hope you enjoy this recipe and your family loves it just as much as mine does!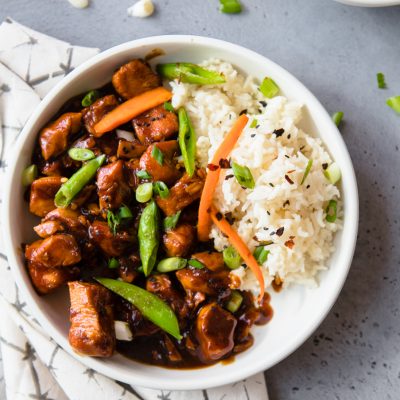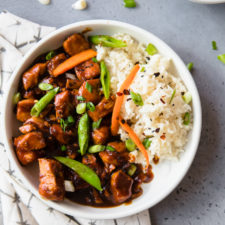 Print Recipe
General Tso's Instant Pot Chicken
This healthy Instant Pot version of General Tso's chicken is made especially tasty with ginger, garlic and chili oil and is so easy to whip up, making it the perfect weeknight dinner.
Ingredients
1

tablespoon

sesame oil

1.5

lbs

boneless skinless chicken breasts

cut into 1-1.5 inch pieces

6

tablespoons

rice vingegar

6

tablespoons

Tamari

2

cloves

garlic

chopped

1

teaspoon

fresh grated ginger

1

teaspoon

crushed red pepper

3/4

cup

hoisin sauce

1

tsp

chili oil

optional

1

tbsp

brown sugar

2

tbsp

corn starch or arrowroot powder

Green onion and sesame seeds for garnish
Instructions
Turn your Instant Pot on to the saute setting, and heat up the sesame oil.

Saute the chicken in 2 batches, turning to brown on each side, but not cook all the way through, about 5-7 minutes in total.

Meanwhile, combine the hoisin sauce with the rice vinegar, tamari, garlic, ginger, red pepper, brown sugar and chili oil in a small bowl.

Press cancel on the Instant Pot, then stir the chicken and sauce till combined.

Set the Instant Pot to Manual and cook at high pressure for 8 minutes.

Once done cooking, use quick release to depressurize. Press cancel and return pot to Saute function. While simmering, whisk in the corn starch or arrowroot powder and continue to cook 1-2 more minutes until the sauce is thickened.

Press cancel and serve with rice and veggies.