This Instant Pot beef and broccoli recipe is quick to make, and uses all fresh ingredients. This homemade beef and broccoli is a wonderful delicious dinner your family is going to love!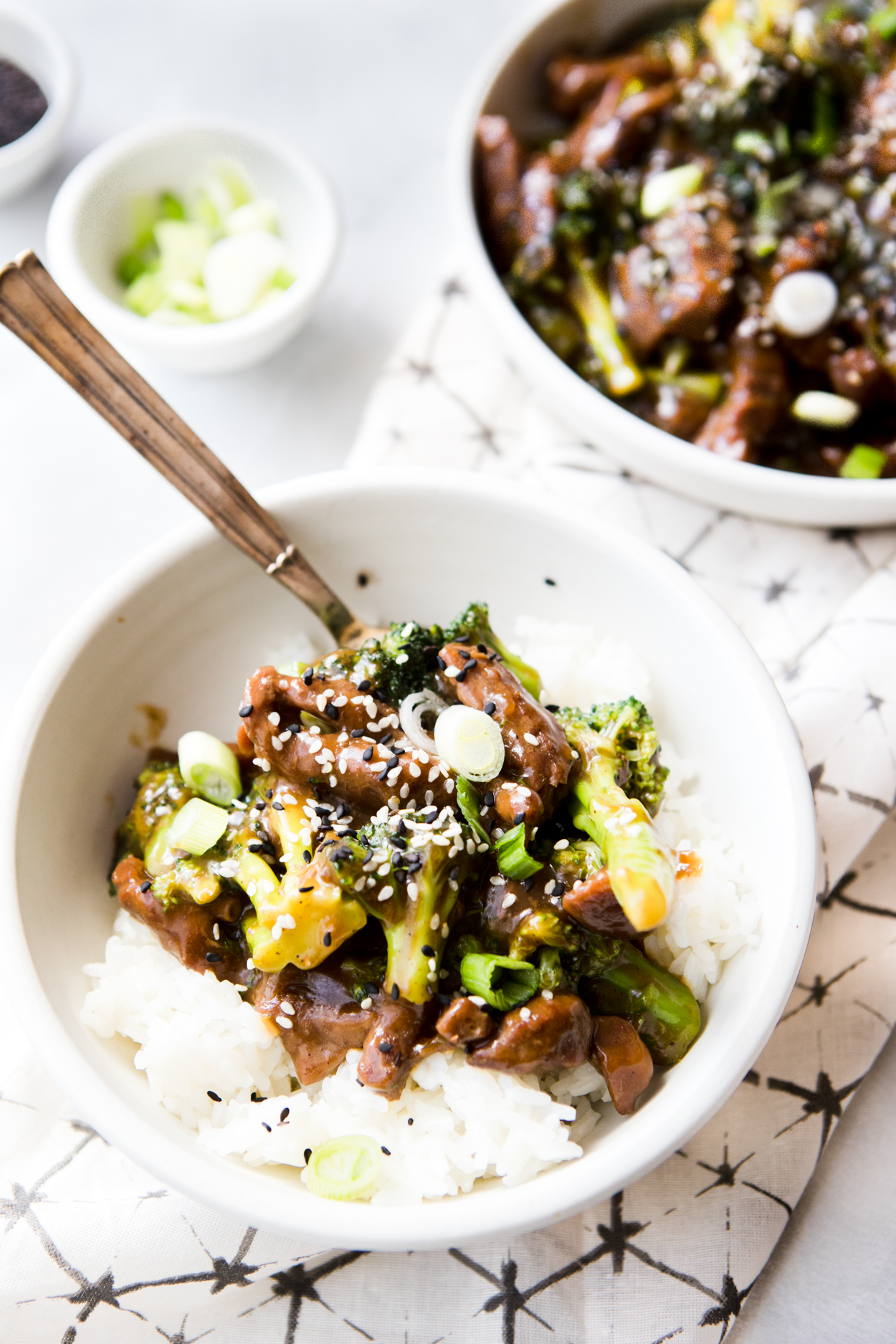 When I recently asked you all what was one of the biggest factors in holding you back from eating a healthier diet — which more often than not, just means eating at home rather than getting take-out or fast food — 95% of you answered time, or lack thereof.
I totally get it. I am fortunate enough to work from home so I can sneak in tasks to get dinner prepped throughout the day and yet I still get overwhelmed come 5 pm and I have 3 different places to be thanks to 3 different kid's schedules. And for the first few years of motherhood, I worked outside the home so I feel your pain 100%. Dinner can be a daunting task.
But it doesn't have to be! Not always, anyhow. When you want something fast, delicious and even healthy cause it has some veggies already mixed in, opt in for this take-out beef and broccoli favorite and save some money in the process.
Why You Will Love This Chinese Beef And Broccoli Dinner
This Instant Pot beef and broccoli recipe is gonna make your life easier, I can promise you that! How, you ask? Well, it's:
quick and easy to pull together
uses minimal and almost all fresh ingredients
the vegetable already cooked in so you don't have to make another side dish
made in one pot (okay two, if you count the rice).
Make sure you read some of my other time saving tips for this Chinese beef and broccoli recipe, which I share at the end.
What's in Instant Pot Beef and Broccoli?
This homemade beef and broccoli recipe requires surprisingly few ingredients to achieve such bold flavors. Here are the ingredients you'll need to make Chinese beef and broccoli at home:
Beef flank steak (I've included tips on how to tenderize your meat below)
Garlic
Fresh ginger
Water
Sugar
Tamari
Mirin
Sesame oil
Cornstarch
Broccoli
The Ingredient That Gives This Beef and Broccoli Dish its Distinct Flavor
One of the main reasons I love this particular version of beef and broccoli is that the flavor is a little more mild. I've tried versions that use oyster sauce, and to be honest it's just not my jam. This version uses Chinese Five Spice powder though, which can be picked up at any grocery store (it may also just be called Five Spice Powder), and has a mild yet distinct Asian flavor.
What is Chinese Five Spice?
Five Spice Powder is a blend of:
ground cinnamon
fennel
cloves
star anise
white pepper.
I'm obviously no Chinese cooking expert, so please don't yell at me, but I have seen some recipes for spice powder use Szechuan pepper in place of white pepper. This would I'm sure make the five spice powder even more authentic, but the bottle I have, made by Simply Organic, uses regular white pepper.
This recipe calls for only ¼ teaspoon of the spice mixture, but if you want to be bold, add a little more for even more of a punchy flavor.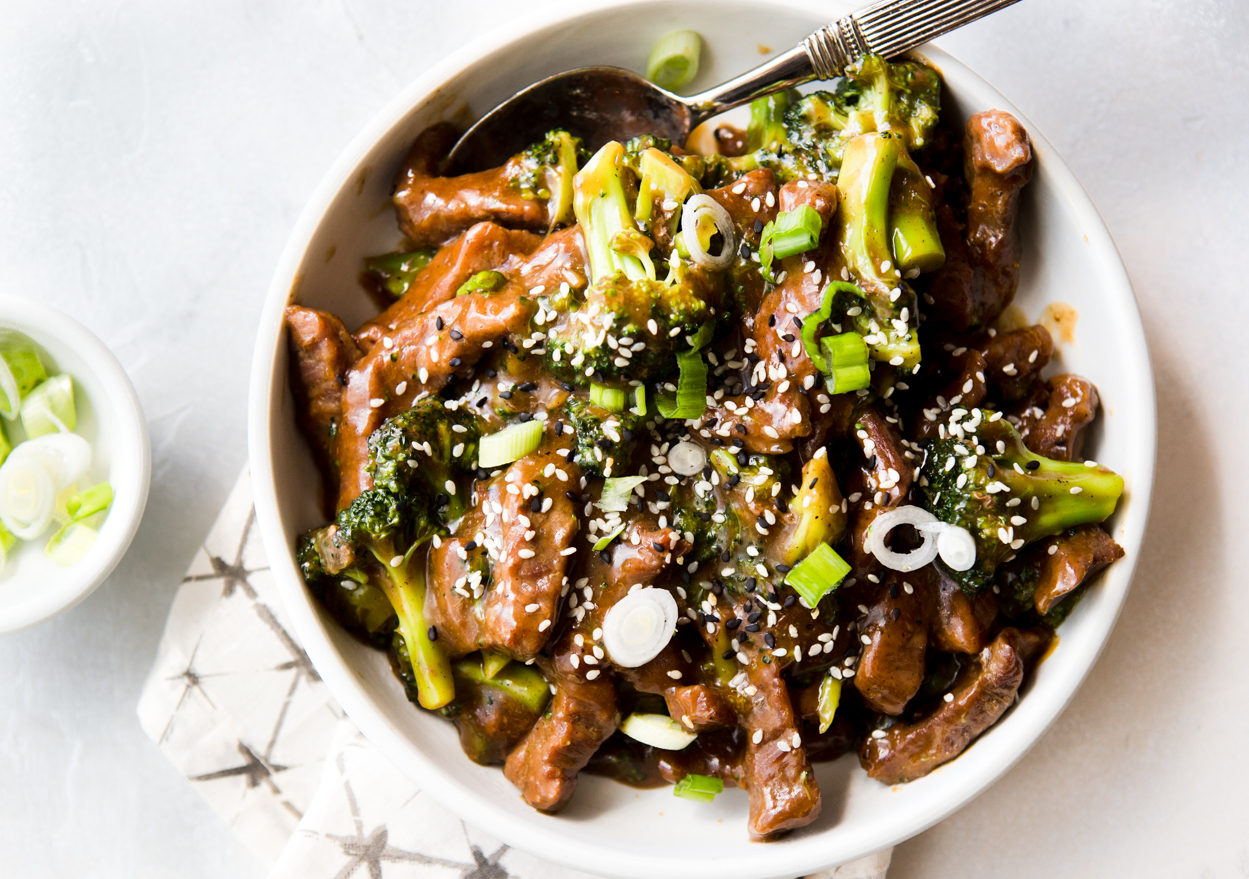 How to Naturally Tenderize Meat
From spending way too many hours online, I came across this technique that can quickly tenderize beef, especially more economical cuts that can be tough and chewy. This trick works surprisingly well and is of course totally optional, but if you can remember to do it I promise it will be worth the extra step.
Pro Tip: For small cuts of meat like our strips here, sprinkle 1 teaspoon of baking soda for every 12 ounces of meat all over the beef and toss to coat (I used 2 tsps since I was cooking 24 ounces of beef). Let sit for at least 15 minutes but no longer than 30, and rinse off with water.
Cook's Illustrated recommends mixing the baking soda in ½ cup of water before tossing with the beef, but I found tossing the baking soda in dry was fine. Up to you.
How and why does this trick work you may be wondering? According to the Tasting Table, "The baking soda alkalizes the meat's surface, making it harder for the proteins to bond and thereby keeping the meat tenderer when cooked."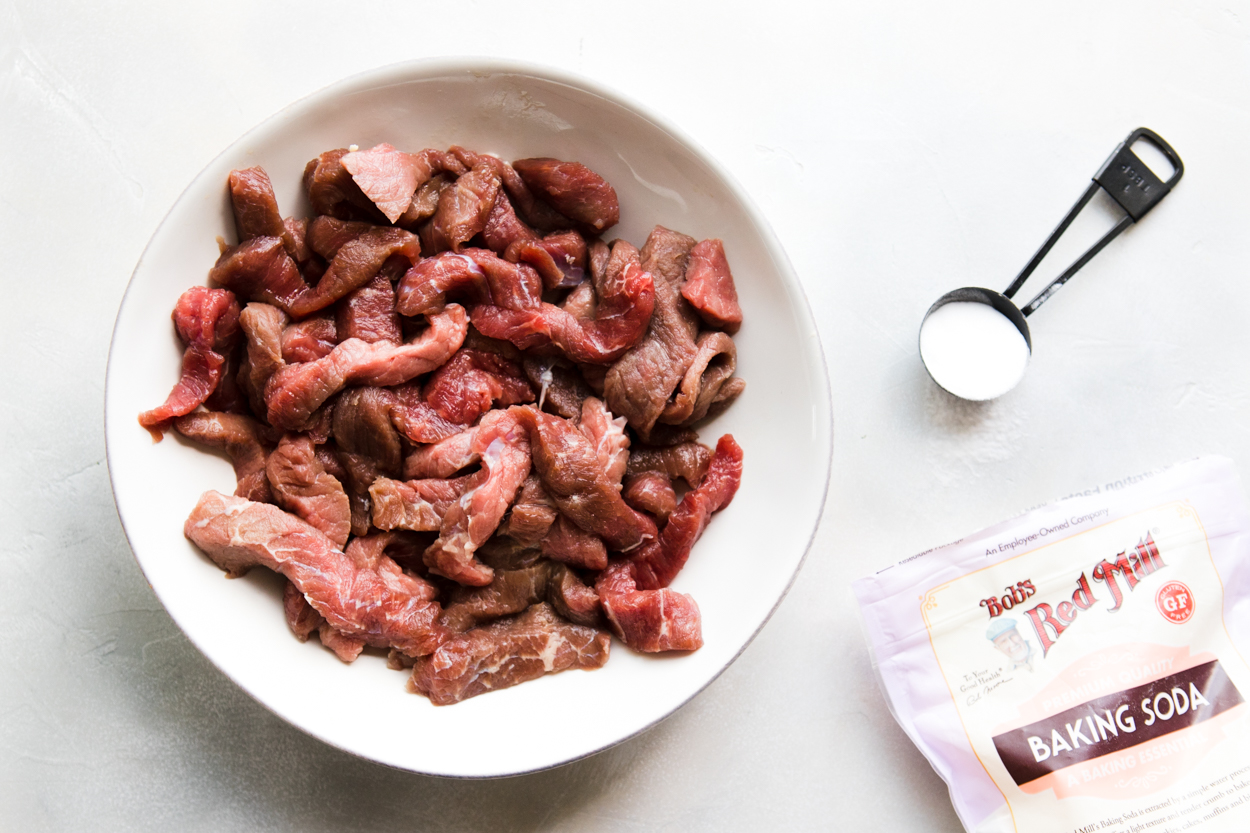 How to Make Beef and Broccoli in an Instant Pot
Cook Beef And Broccoli: Okay so once you've tenderized (or not tenderized) your meat, you're going to add it to the garlic and ginger you've sauteed, then add your sauce to the Instant Pot, seal up your pot and cook away!
Steam Broccoli: While the beef cooks, steam the broccoli until crisp-tender. When the beef is finished, use the quick release to depressurize the pot.
Pro Tip: An important note here is that you don't want to add the cornstarch to the sauce up front, but rather at the end when the beef is done cooking.
I actually learned this the hard way before and by adding the corn starch to the sauce, it thickened up way too much right off the bat and the Instant Pot didn't pressurize correctly because there wasn't enough liquid in the pot. Remember that the liquid in the Instant Pot is what produces steam, allowing it to pressurize. Not enough liquid = not enough steam = not enough pressure.
Remove ½ sauce, add cornstarch: Once the beef and sauce are cooked, you're going to remove about half of the sauce (no need to be super accurate here), and now you'll whisk in your cornstarch.
Finish it up: Then add the sauce back in to the pot, along with the broccoli, and mix it all together. Gently sprinkle in a bit more cornstarch if at this point you think you want a thicker sauce, but 3 tablespoon will yield pretty nice results, producing a sauce that is rich and not runny or overly goopy.
When the sauce is thickened to your liking, turn off the Instant Pot and plate up your healthy beef and broccoli!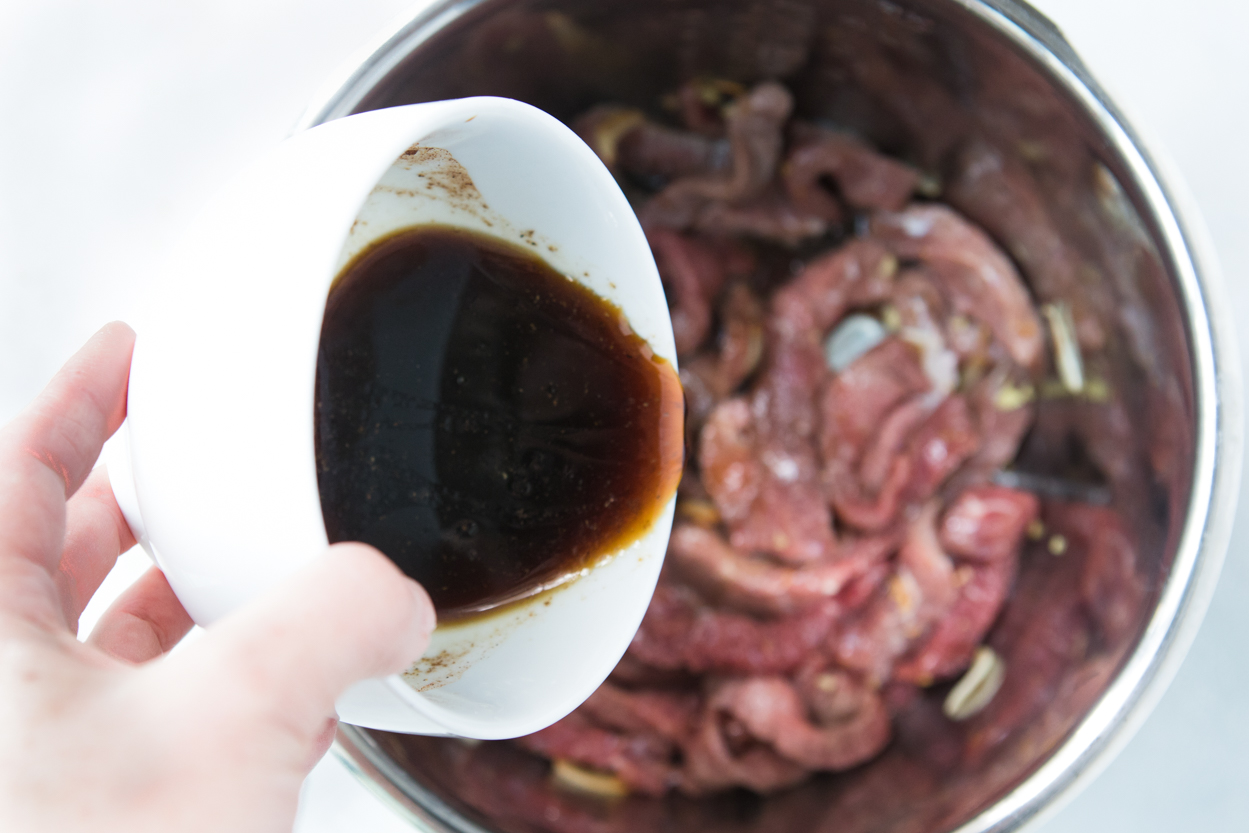 How do I serve this instant pot beef and broccoli?
Spoon the beef dish over traditional white rice, cauliflower rice or zoodles if you're watching carbs, or quinoa if you want to get a bit more protein in your dish.
Garnish with sesame seeds and green onions, and if you like things with a little heat, this dish tastes perfect with some sriracha drizzled on top.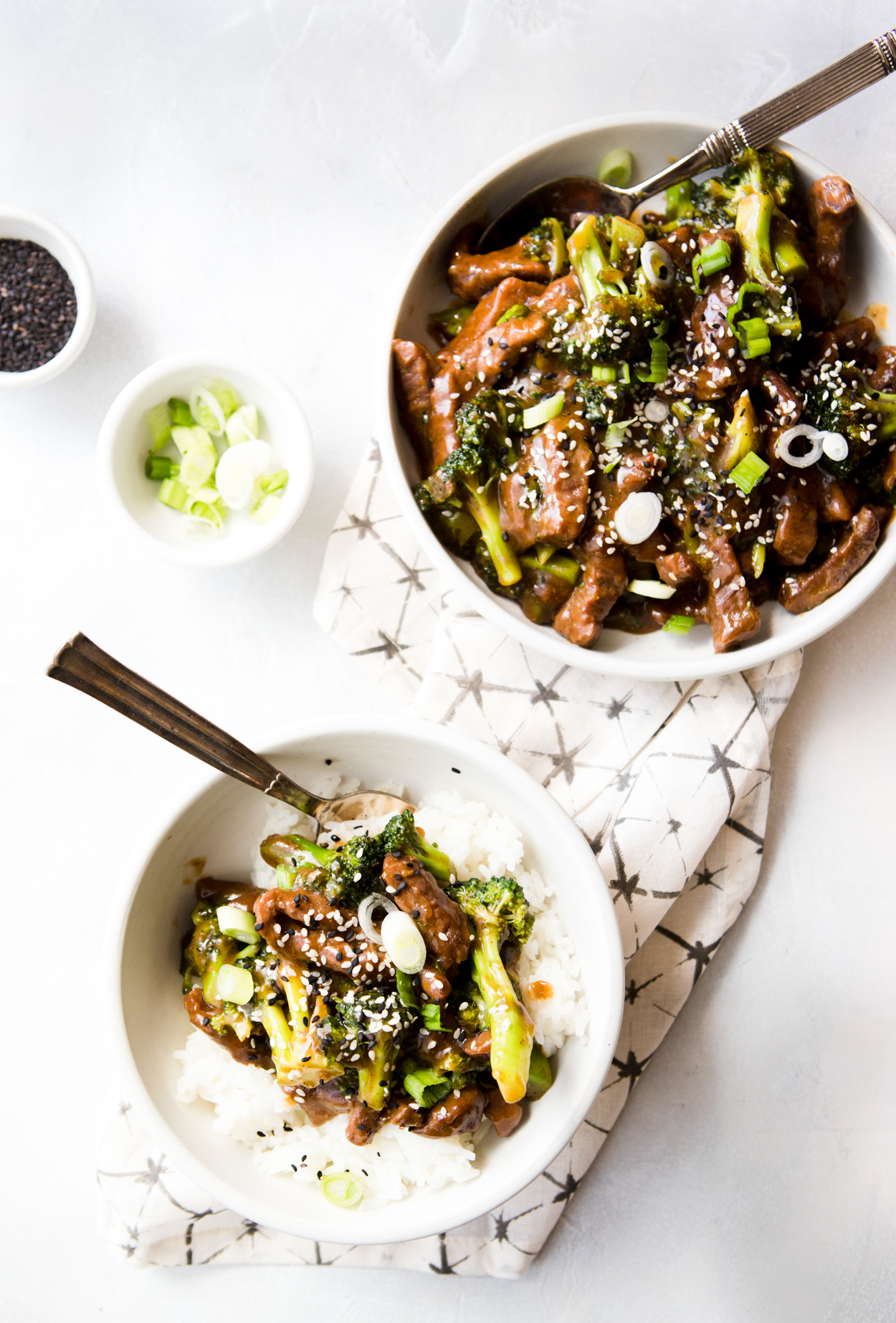 Can I Meal Prep Homemade Beef and Broccoli?
Absolutely! This homemade beef and broccoli reheats well and makes for a filling lunch or dinner.
I recommend reheating the Instant Pot broccoli beef in a skillet over medium-low heat, but microwaving leftovers also works. Keep scrolling to read my tips on how to save time when meal prepping Instant Pot beef and broccoli.
How Long Does this healthy beef and broccoli Last?
This healthy Chinese beef and broccoli will stay fresh up to 5 days in the fridge. Be sure to store the leftovers in a sealed container for best results.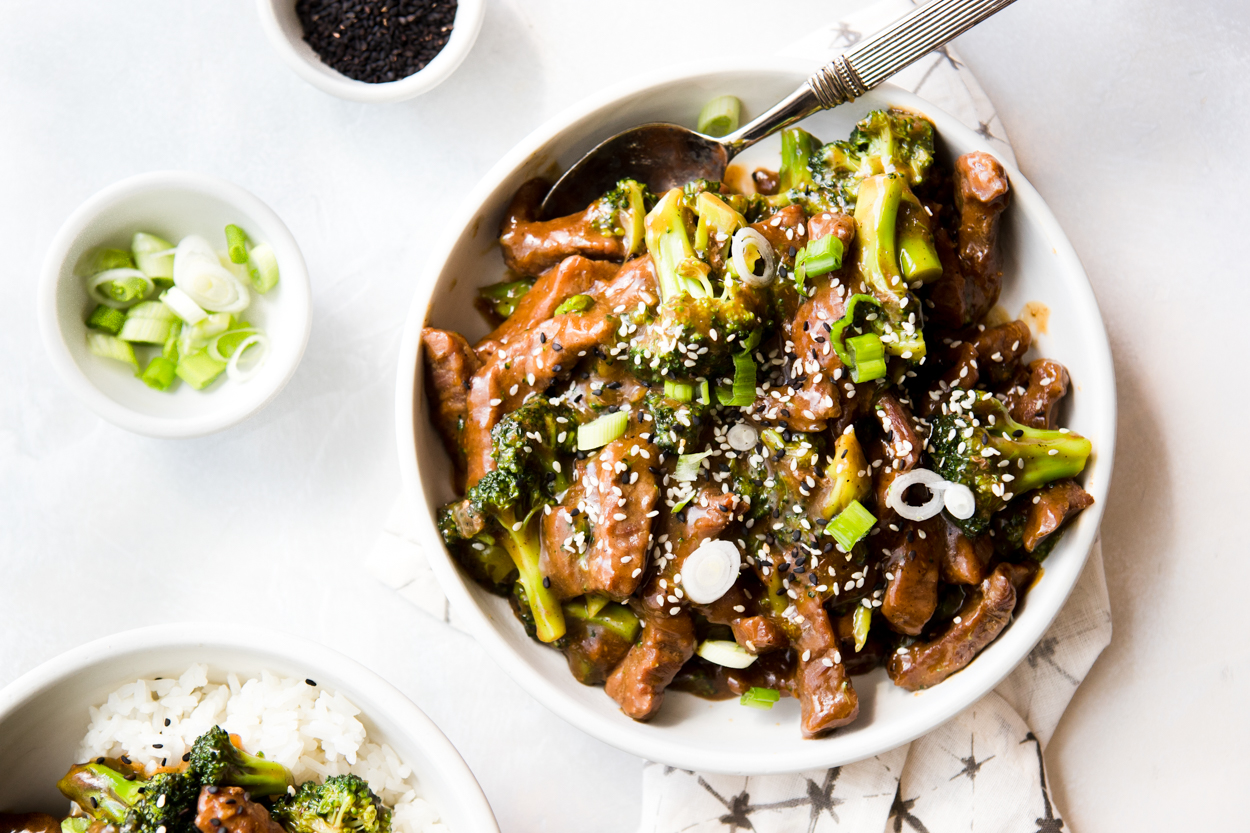 Other Tips for Making Beef and Broccoli in an instant pot
If you'd like to save yourself time (who doesn't?!), try a few of these shortcuts for each of the ingredients:
Garlic: Buy already peeled garlic cloves, or even jarred garlic.
Ginger: Minced ginger is also sold in a jar, but often has added sugar so if you're watching sugar intake just take note of that.
Broccoli: Purchase broccoli florets and steam them in the microwave.
Sauce: Make a double batch of the sauce and freeze in portions. Then defrost when needed.
Beef: Purchase pre-sliced stir-fry or fajita meat, so you don't have to worry about slicing during meal prep. Having the beef pre-sliced also makes for super quick defrosting. My beef CSA sells it pre-sliced like this, and on occasion I've seen it at grocery stores. Pick it up when you see it and just freeze until you need it.
Other Easy Dinner Recipes: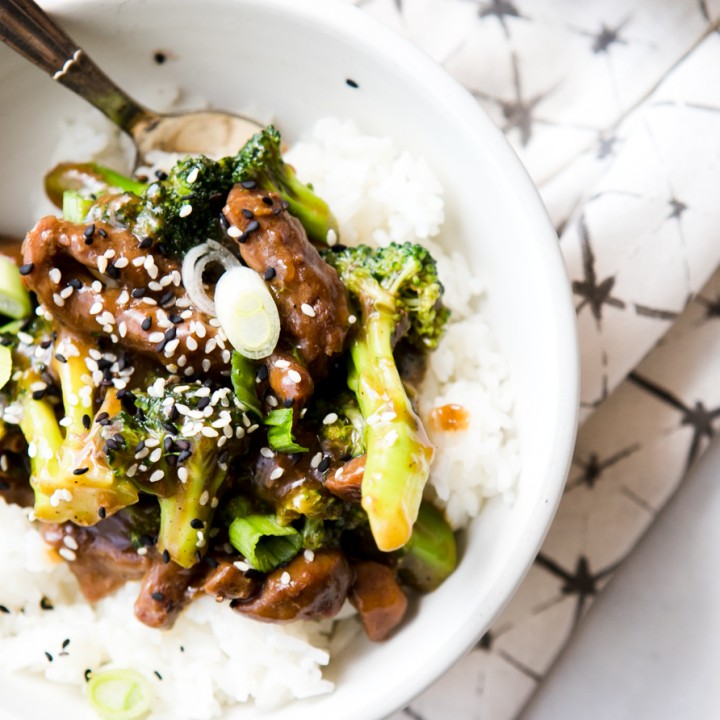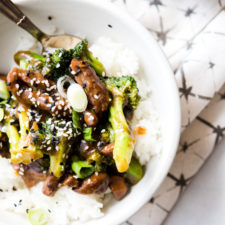 Instant Pot Beef and Broccoli
This Instant Pot Beef and Broccoli is easy to put together, has simple and healthy ingredients, and cooks up in under 10 minutes, yet has all the same flavor as the takeout version you know and love. Plus, it's naturally gluten free!
Print
Pin
Rate
Ingredients
1 ¼

lb

beef flank steak

, cut into thin stir fry style strips*

3

garlic cloves

, thinly sliced

1

inch

knob of fresh ginger

, finely chopped

2

tablespoon

neutral oil

½

cup

water

2

teaspoon

granulated sugar

3

tablespoon

tamari

2

tablespoon

Mirin

¼

teaspoon

five spice powder

(also called Chinese five spice powder)

1

teaspoon

sesame oil

¼

teaspoon

pepper

3-4

tablespoon

cornstarch

(or arrowroot powder)

1

small head of broccoli

, cut into florets

2

teaspoon

baking soda

(optional, see note)*
Instructions
Make the sauce by mixing the water, sugar, tamari, Mirin, five spice powder, pepper and sesame oil in a small bowl and set aside.

Set the Instant Pot to saute mode and add the oil to heat

Add the ginger and garlic and saute until lightly browned and fragrant, stirring often

Press cancel/off and at this point if you've tenderized your meat, make sure it is rinsed and patted dry before adding to the instant pot.

Add the sauce to the instant pot, stirring to coat the beef, and then close the lid, making sure the pressure valve is sealed, and set the Instant Pot to manual high pressure and cook for 10 minutes.

While the beef cooks, lightly steam the broccoli until just tender.

When the Instant Pot is done cooking, use the quick release to depressurize the pot, and open the lid.

Spoon out at least half the sauce into a bowl, and whisk in the corn starch, beginning with 3 tbsp. Add the sauce mix back into the pot, along with the broccoli, and mix well to combine.

If at this point you want a thicker sauce, you can slowly sprinkle in up to 1 tablespoon more and toss to combine. Keep in mind though that the sauce does thicken while it continues to cook, so be conservative with the corn starch so the dish doesn't dry out too much.

When sauce is desired thickness and beef & broccoli are well coated, turn off the Instant Pot and enjoy beef & broccoli over rice, quinoa or cauliflower rice.
Notes
*Since flank steak is the one of the more economical cuts of meat, it can be a bit tough. If you would like to tenderize it, simply sprinkle 2 teaspoon of baking soda over the beef and toss to coat, allowing to sit for 30 minutes, and then rinse and pat dry.
Nutrition
Calories:
259
kcal
|
Carbohydrates:
10
g
|
Protein:
26
g
|
Fat:
12
g
|
Saturated Fat:
3
g
|
Cholesterol:
68
mg
|
Sodium:
1155
mg
|
Potassium:
417
mg
|
Fiber:
1
g
|
Sugar:
4
g
|
Vitamin C:
1
mg
|
Calcium:
29
mg
|
Iron:
2
mg