Learn how easy it is to make Instant Pot pumpkin, which you can use to make fresh homemade pumpkin puree. Fresh puree can be used for pies and baked goods like my healthy pumpkin banana bread, or frozen to use in smoothies such as my high protein pumpkin spice smoothie.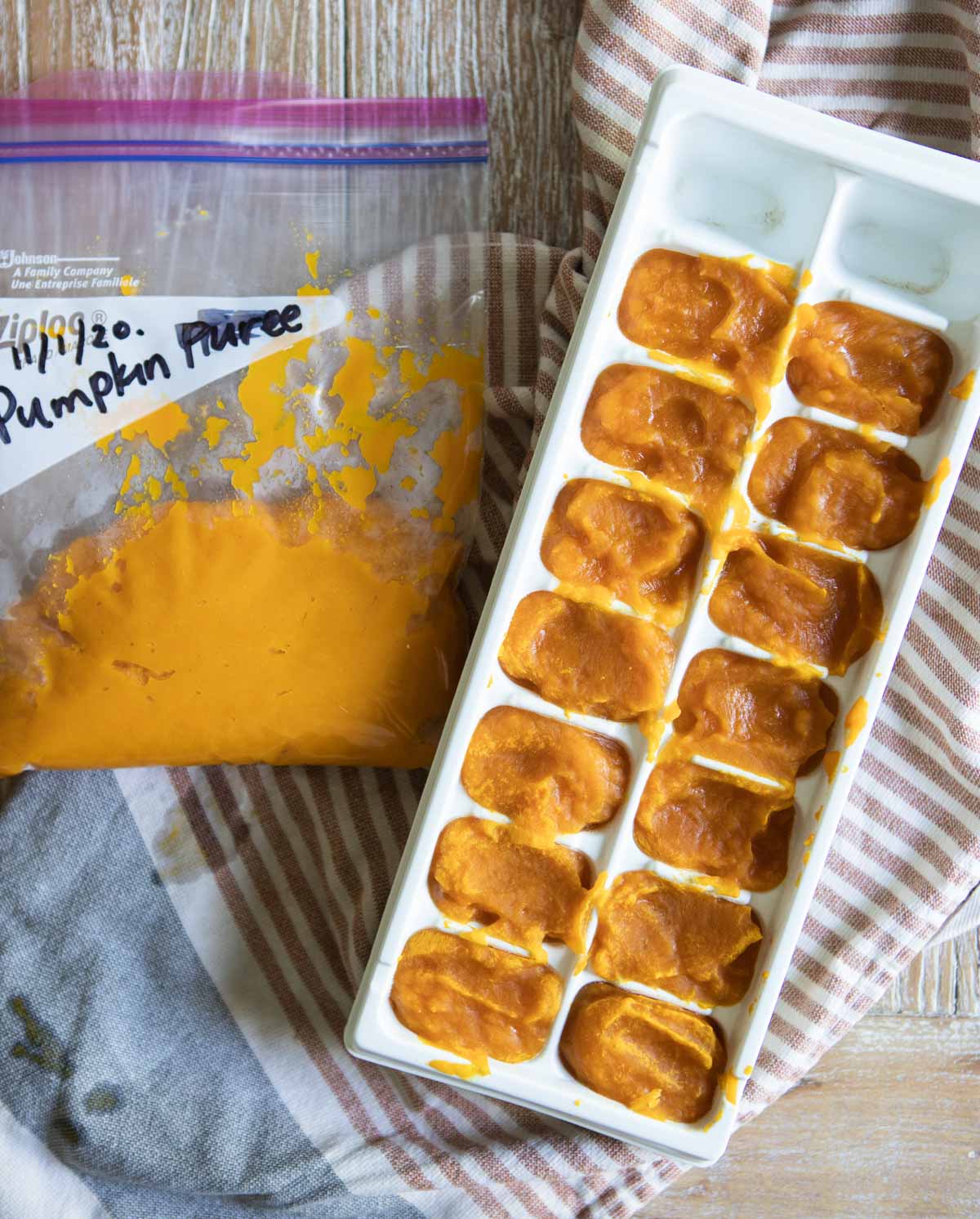 Canned pumpkin puree is always great to fall back on, but if you have a few extra minutes to spare, making homemade can't be beat. The taste is sweeter, more flavorful and just fresher. You can use it in pumpkin muffins, and even in pumpkin rice krispie treats! And it could not be easier to make thanks to the Instant Pot. But don't worry, if you don't have a pressure cooker, I also show you how to make it on the stovetop.
Jump to: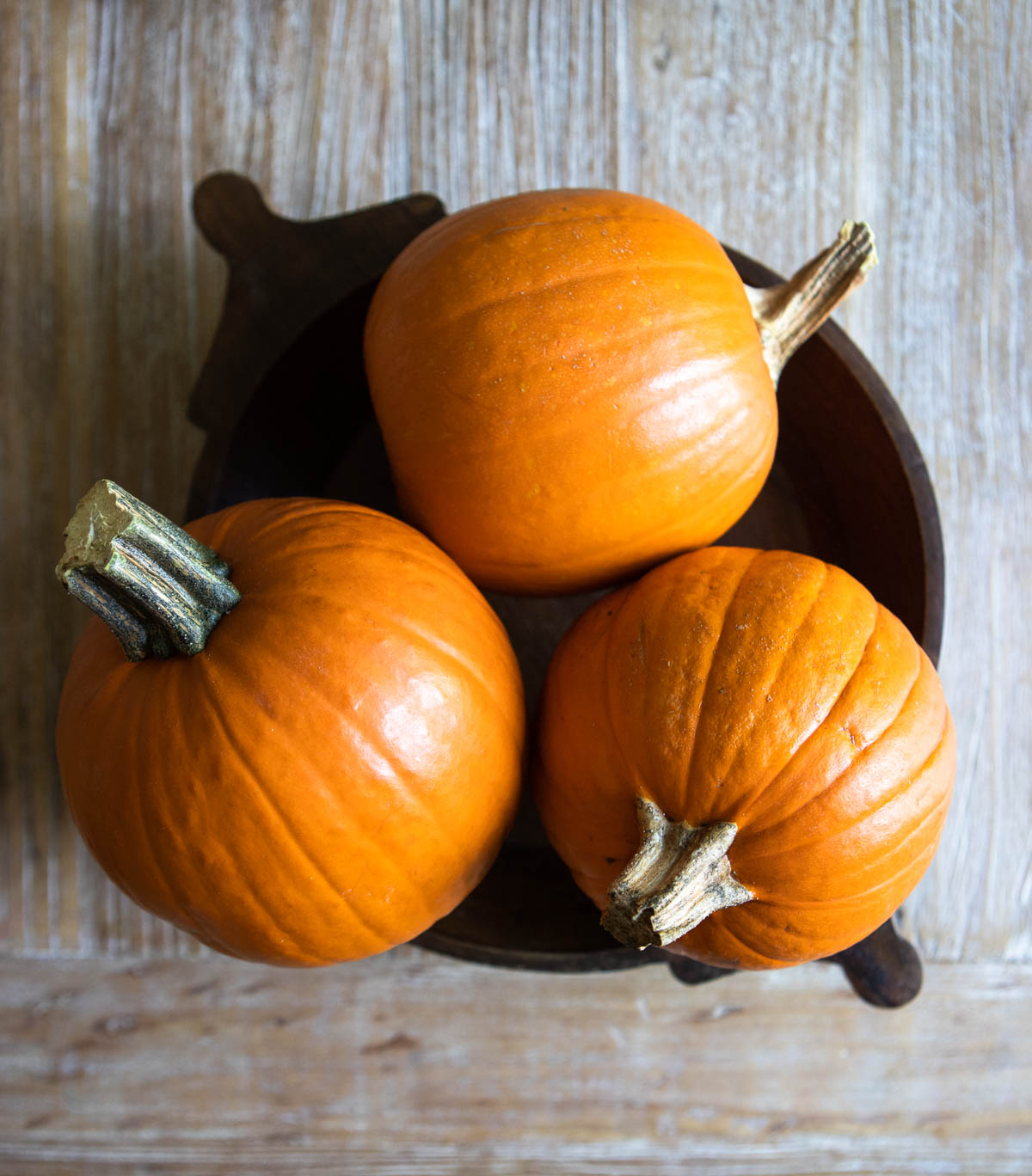 What kind of pumpkin to use
I suggest using the small sugar "sugar pumpkin", often labeled pie pumpkins. These typically weigh 3 pounds and are sweeter and more mild in flavor than a carving pumpkin.
If you really want to use up leftover pumpkins from Halloween though, you can use a carving pumpkin. Just be aware you will have to cut it down to size to fit in the Instant Pot.
During the Fall, it is easy to find pie pumpkins in the grocery store produce department, so you should be able to pick one up. They also look great as seasonal décor, so can serve as double duty – decorative and edible!
How to cook Instant Pot pumpkin
Begin by cutting off the top of the pumpkin and scoop out the seeds and stringy bits. You can also insert the pumpkin whole, but I prefer to scoop out the seeds first.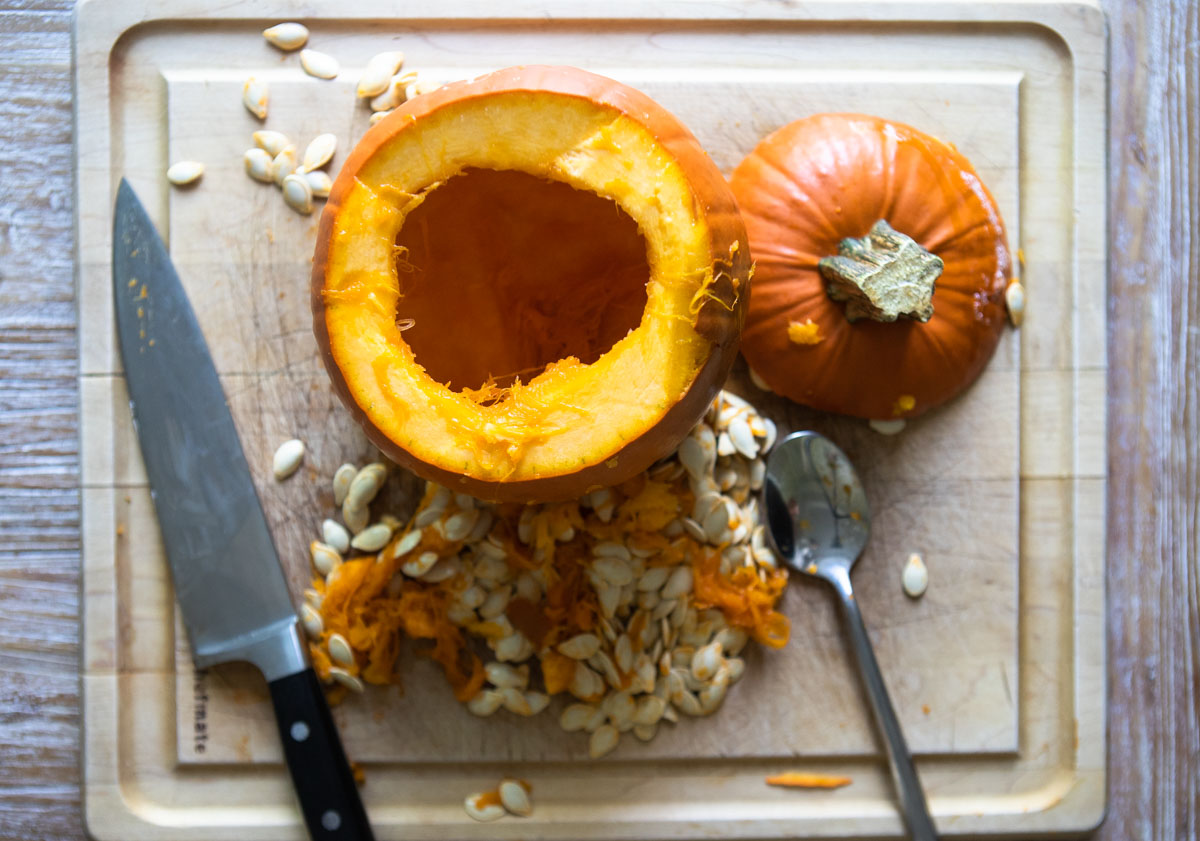 Place the trivet in the Instant Pot and add 1 cup of water, then place pumpkin on top of trivet. Close the lid and cook on high pressure for 15 minutes. When cooking is complete, do a quick release of the pressure and open up the Instant Pot.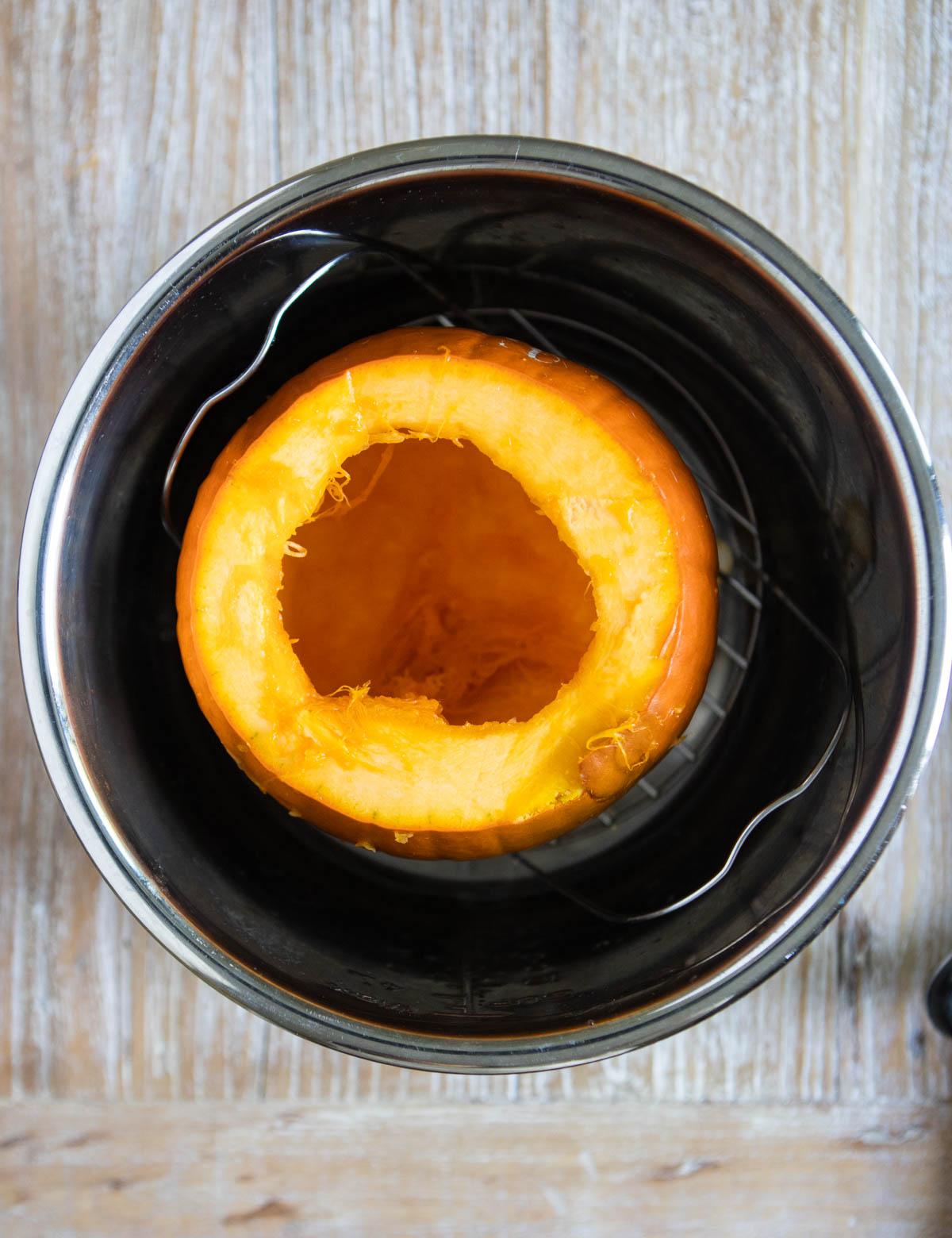 The pumpkin is done when completely fork tender and the skin starts to peel away from the flesh. This makes for extremely easy scooping!
If you have a larger pumpkin or the skin is thicker than usual, it may take a bit more time to cook through. No problem, just set it to cook again for 5 more minutes and it should be done then.
And btw, don't worry if you leave it to sit in the pot for a bit. I left mine in the pot for an additional 10 minutes while doing other chores, and it was no problem.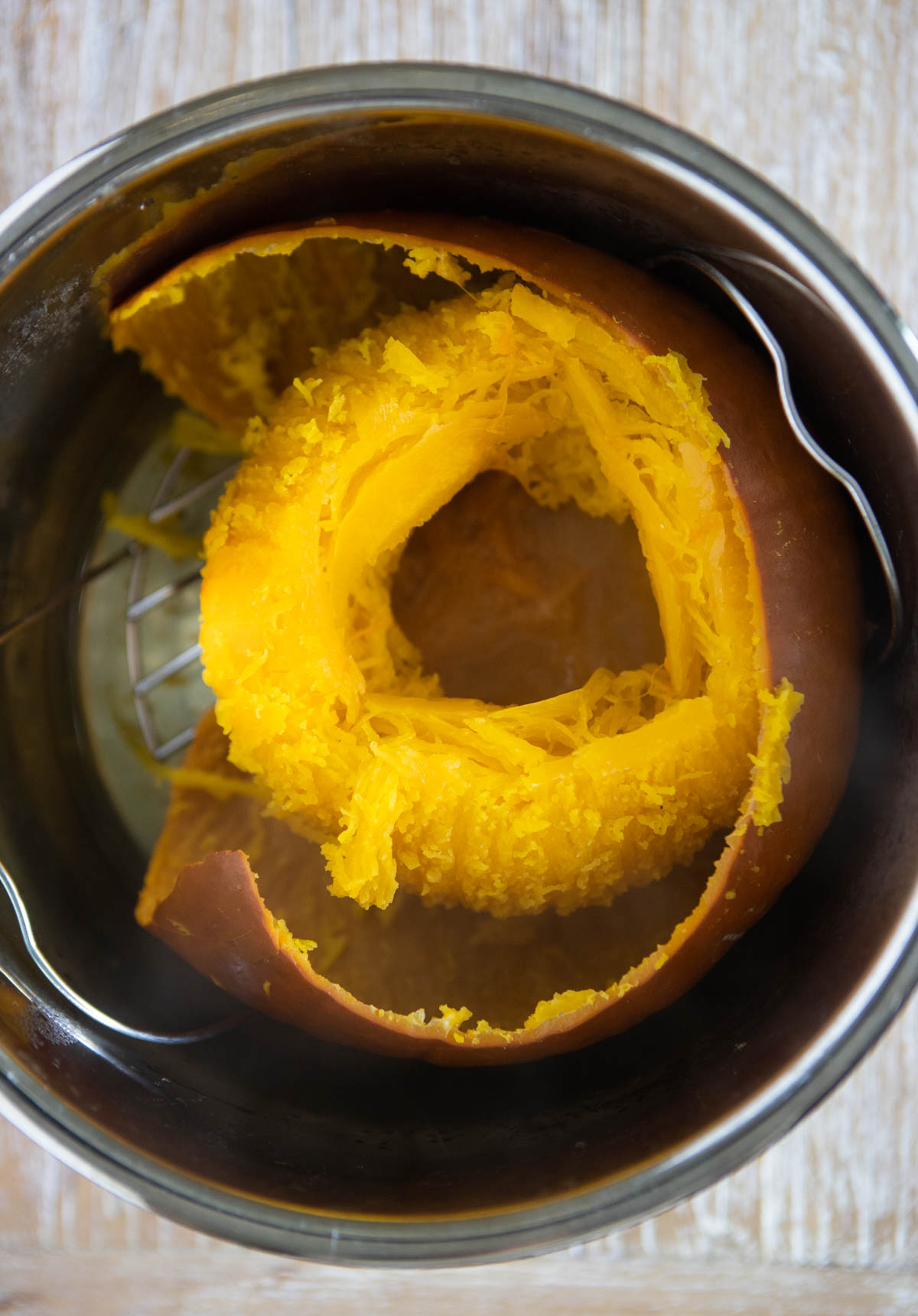 Making pumpkin puree
Allow your pumpkin to cool to the touch, then scoop out the flesh. I recommend straining the excess water from the pumpkin, as it will give the puree a more concentrated flavor.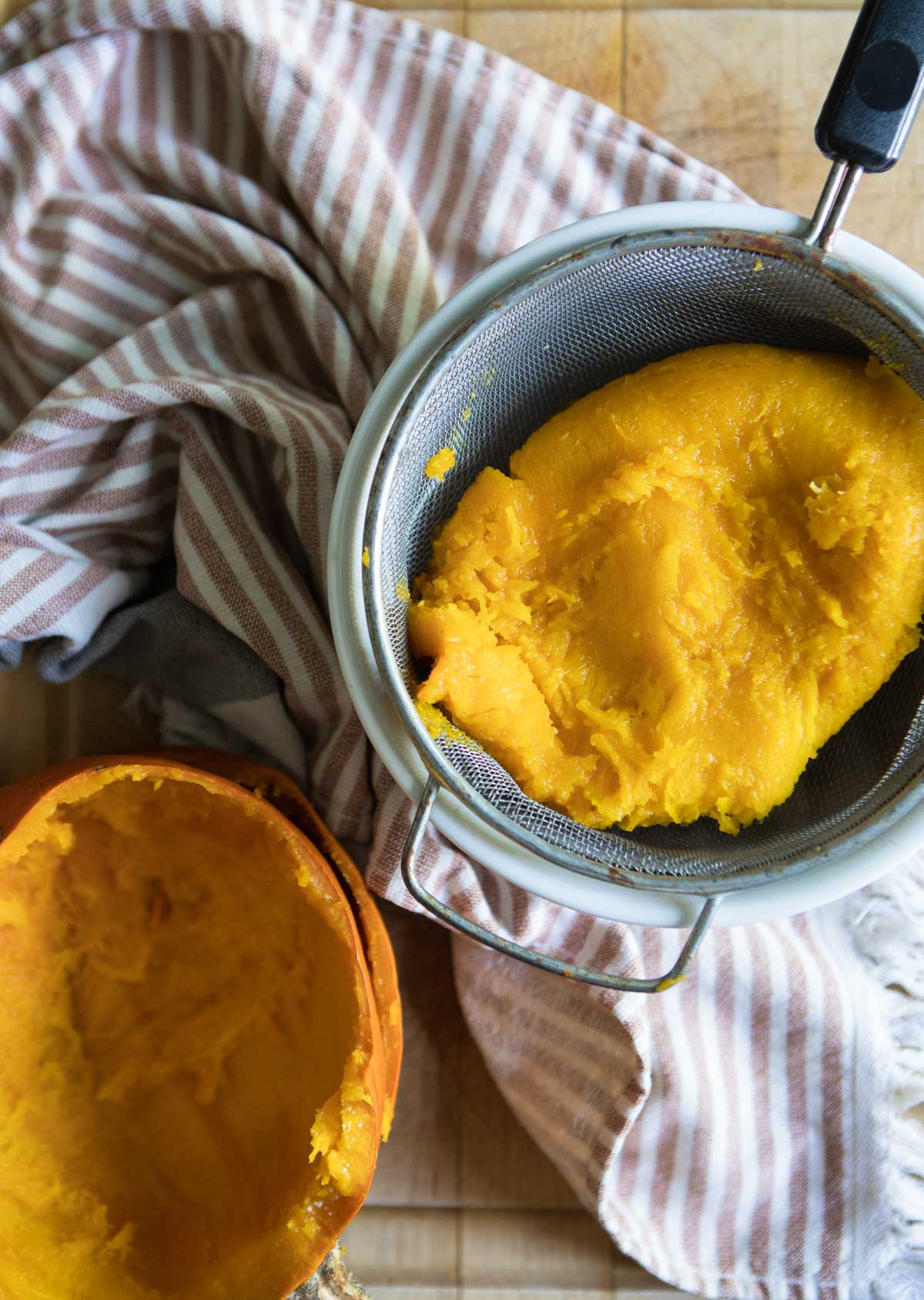 Once the excess water from the cooked pumpkin is strained, add to a blender or food processor and blend till nice and smooth.
If your blender gets stuck trying to make the puree, add just a bit of water to loosen it up. A powerful blender will whip it right up though, in less than a minute.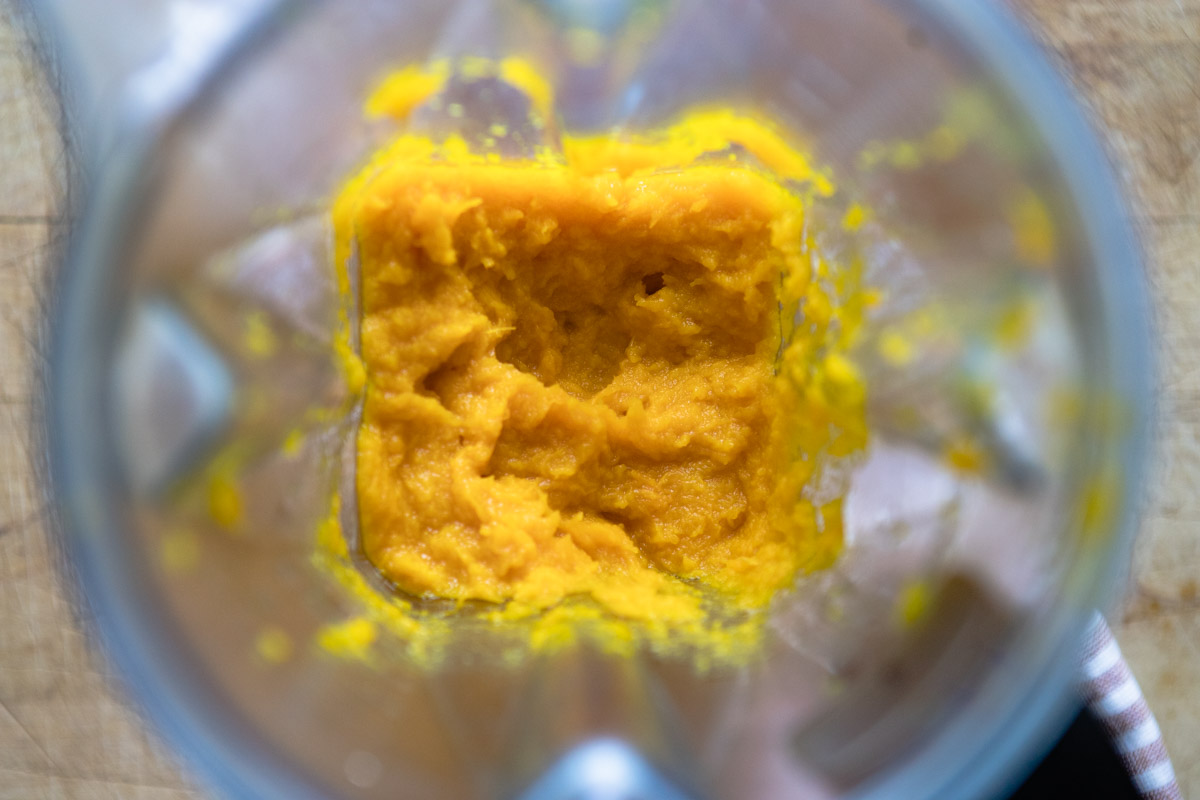 How to store Instant Pot pumpkin puree
Storing your fresh homemade pumpkin puree is very easy, and you have a couple options. If you plan to use within 3-5 days, simply store in an airtight container in the fridge. But if you want longer term access to puree, freeze it for up to 6 months. Here's how.
Freezer tray method – standard size freezer tray cubes are 1 ounces each. Freezing the puree, then adding the cubes to an air-tight freezer bag allows you to store them for several months, and easily portion out your cubes as you need them. While some pumpkin recipes call for an entire 14 ounce can, many call for smaller amounts; anywhere between ¼ cup-1 cup. The freezer tray method allows you access to fresh puree without having to open up a whole can.
Air-tight Ziploc freezer bags or mason jars – if you tend to use larger amounts of pumpkin, store the puree in approximate 14 ounce (or 2 cup) portions.
Keep in mind that small pie pumpkins will only produce about 2 cups of puree, so enough for 1 bag or 2 ice cube trays. Cooking a larger pumpkin will produce a lot more!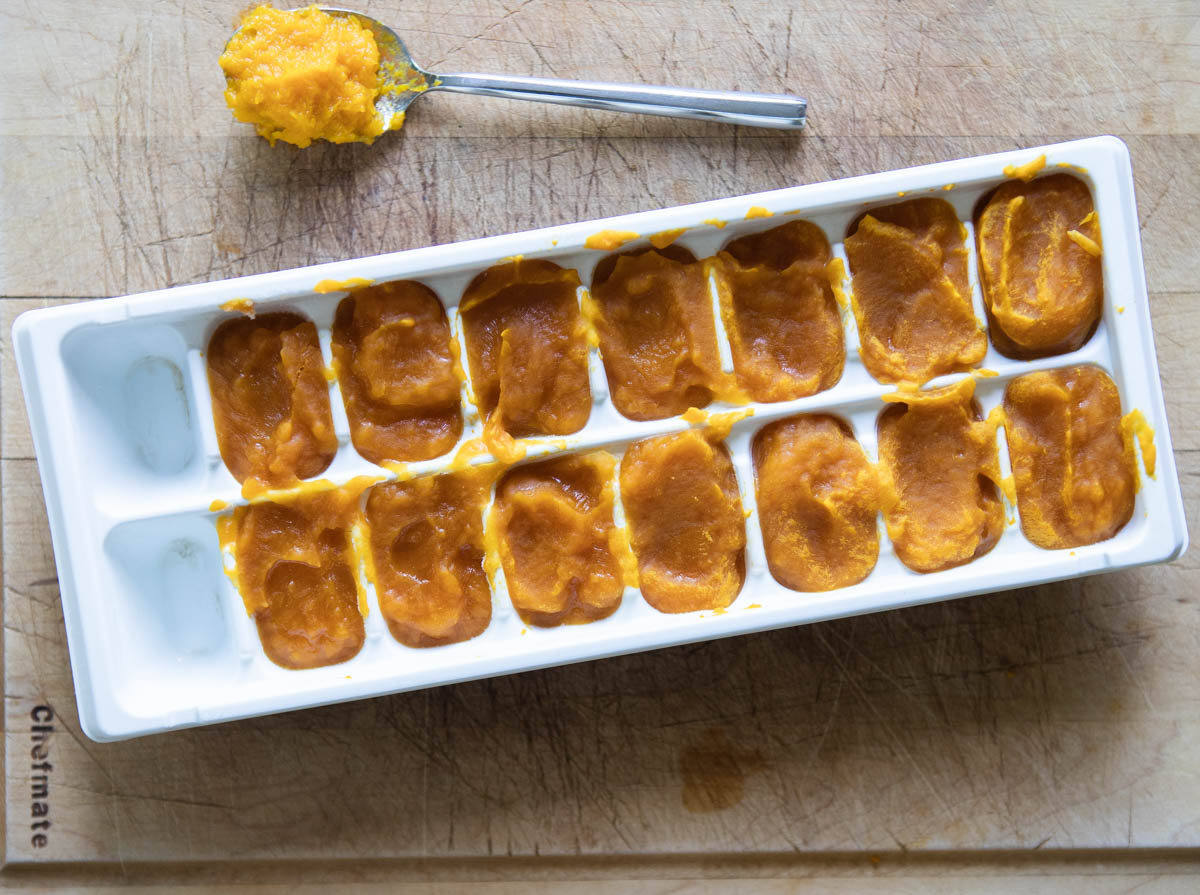 Using your puree
If you've stored your puree in a freezer bag, you can defrost the bag in a water bath, or just leave out overnight.
To defrost the cubes, add to a microwave safe dish and cook on medium power for a couple of minutes, stirring in between, till defrosted.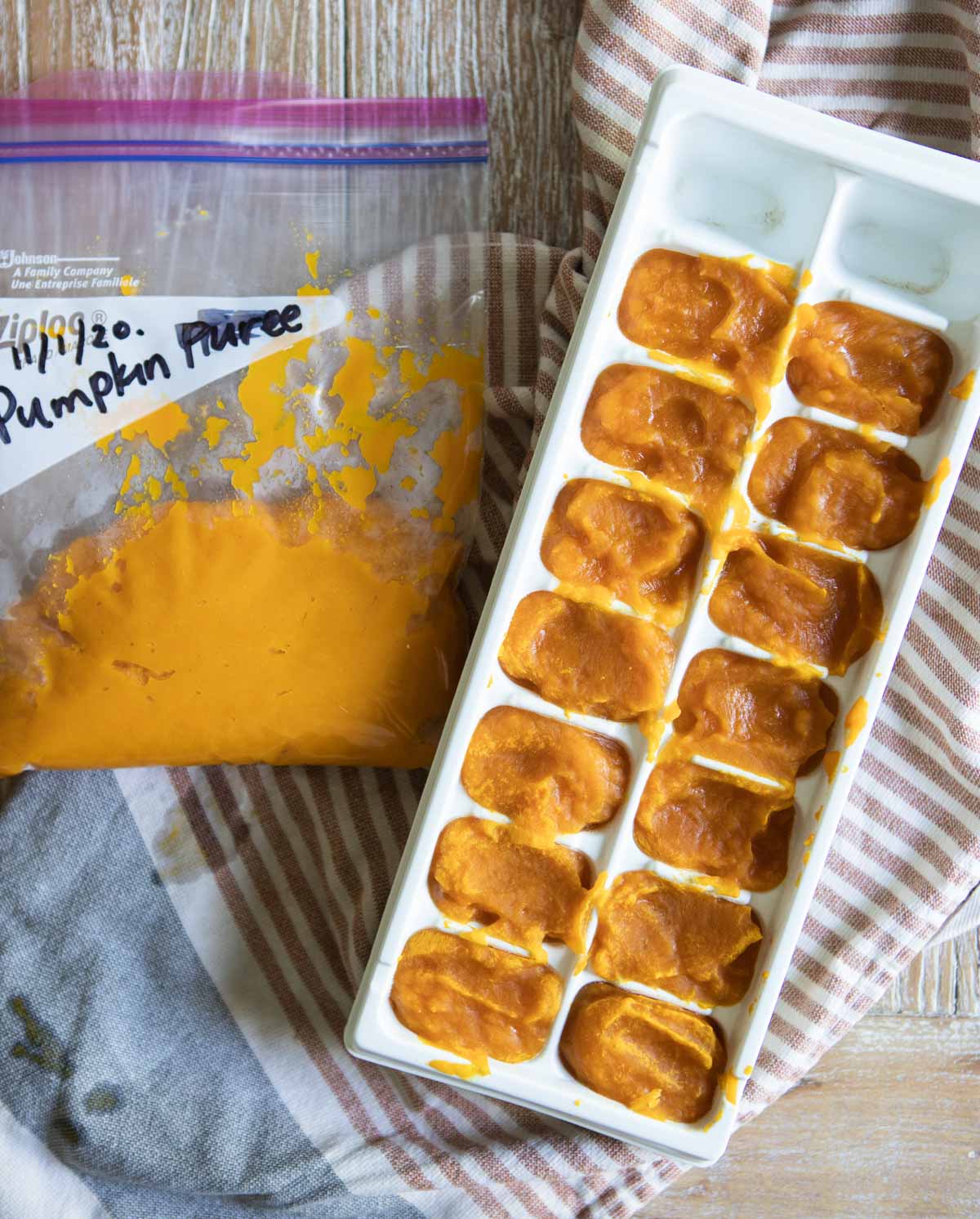 How to steam pumpkin on the stove top
If you do not have an Instant Pot, no problem! Simply steam on the stove top. Take a large stock pot and add a steamer basket and 2 cups of water. Place your cut up pumpkin pieces in the pot, cover, and steam on medium-low for approximately 20 minutes. The flesh should be fork tender, so adjust cooking time if you have a super thick and dense pumpkin.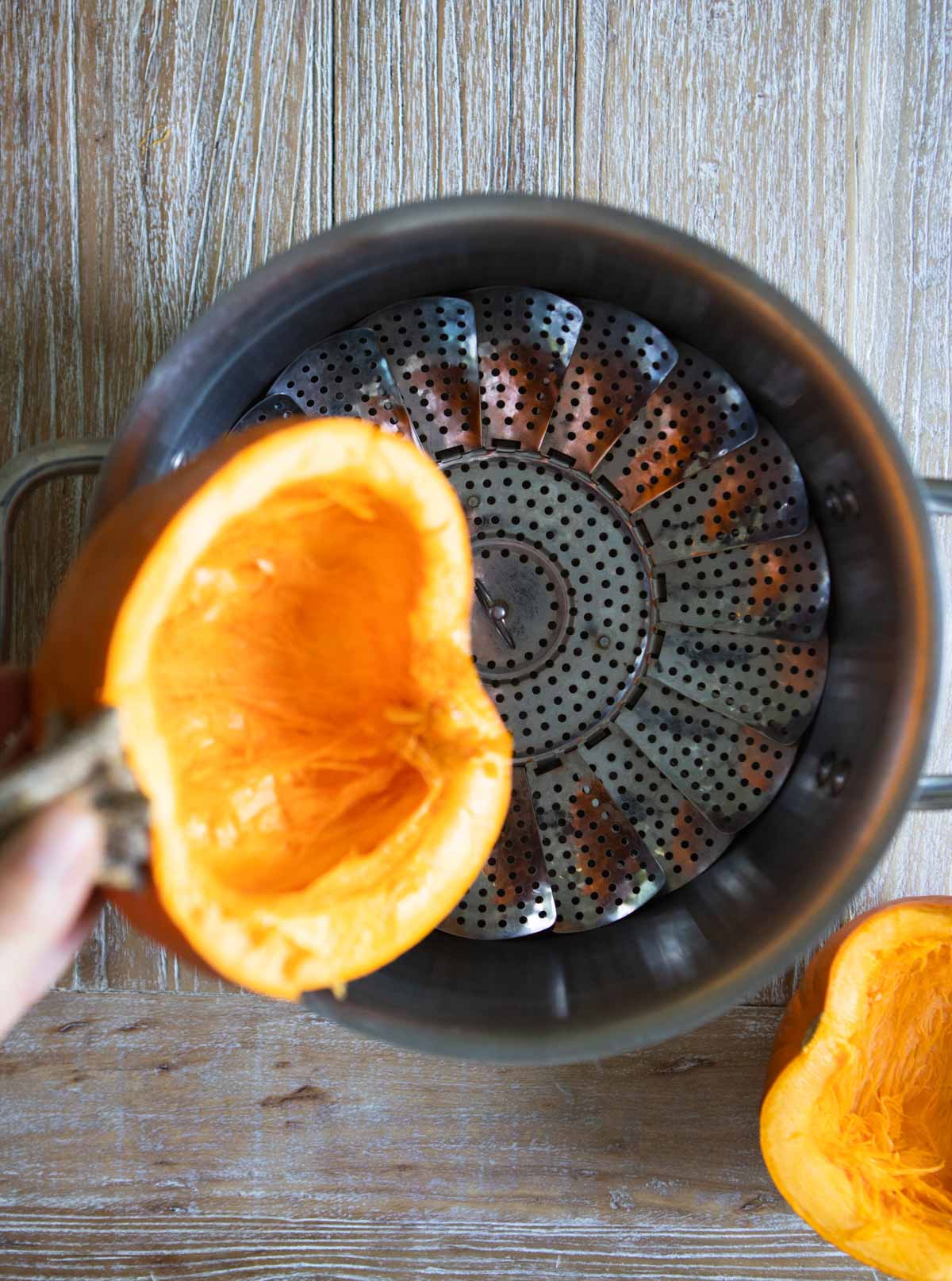 Follow the same method above for scooping out the flesh and pureeing.
Using carved pumpkins
While I tend to use uncarved pumpkins for making puree, I have used carved pumpkins too. I highly recommend cooking it within 24 hours of carving though, so it's as fresh as possible. So if you carve on Halloween, cut it up and cook it the very next day. Obviously if it was left outside, rinse off any dust or debris before cooking.
Making pumpkin puree baby food
Pumpkin is high in Vitamin A, C and E, just to name a few. It's also high in fiber, potassium and iron. Some babies get a bit constipated from bananas, but I always found that serving them from the squash family provided them with loads of fiber, without causing digestive issues. My kids loved pumpkin, especially when served mixed with a bit of applesauce.
If you plan to make pumpkin baby food, I recommend the freezer tray method. Most babes eat 2-8 ounces of solid baby food, so this allows you to easily portion out their meals without having to rely on measuring cups. I would often serve 2-3 cubes of a squash mixed with 1 cube of apple puree.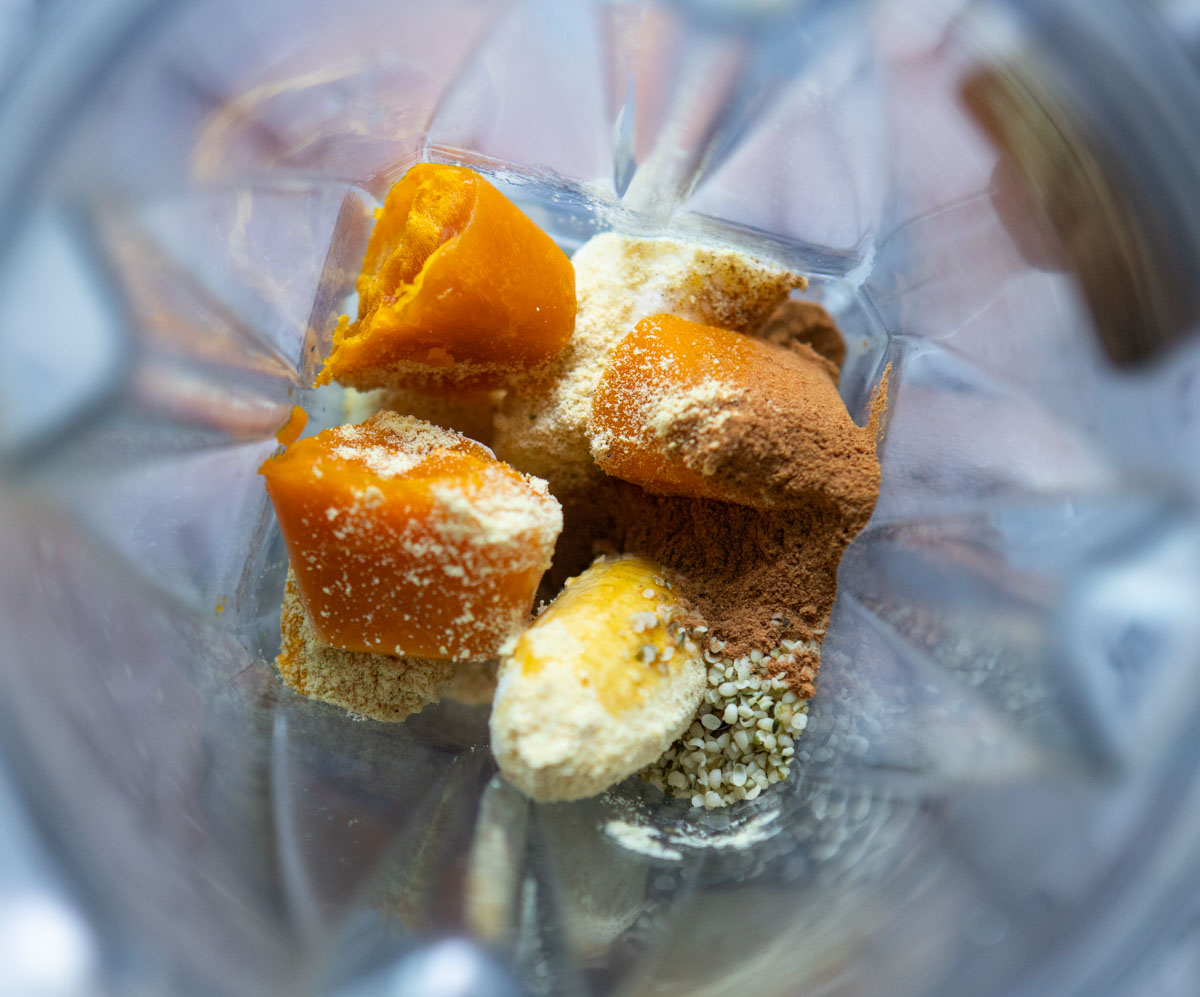 I hope you give this easy method for making steamed pumpkin a try! There are so many great uses for pumpkin puree, and making Instant Pot pumpkin is so easy. If you give it a try please make sure to let me know how it went!
Tried this recipe? Please leave a comment and/or rating, letting me know how you enjoyed it! Connect with me on Instagram and Pinterest, and never miss a post by signing up for my weekly newsletter!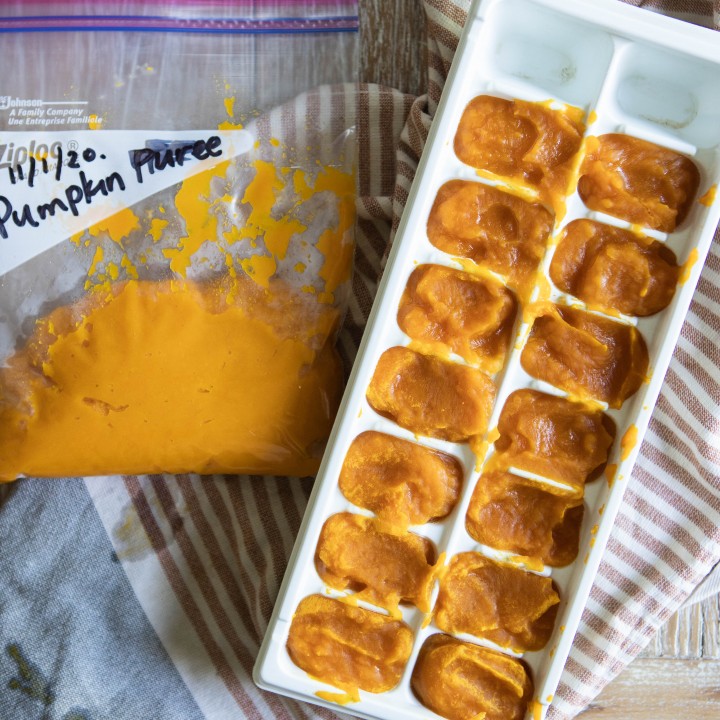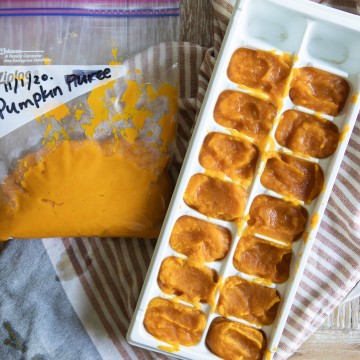 Instant Pot Pumpkin
Learn how to make fresh homemade Instant Pot pumpkin puree. Super easy and a great way to use pumpkins leftover from Halloween. Also instructions for how to steam pumpkin.
Print
Pin
Rate
Equipment
Instant Pot with steamer insert

Stock Pot with steamer basket
Ingredients
1

Pie Pumpkin or Jack-o-lantern pumpkin

top cut off and seeded

1-2

cups

water
Instructions
Cut the top off your pumpkin, and scoop out all your seeds

Add 1 cup of water to your Instant pot, and place the steamer trivet in the insert. Add your pumpkin.

Close lid, and cook on high pressure for 15 minutes. Do a quick pressure release, and remove from the pot. Allow to cool.

When cool to the touch, scoop out flesh and strain out excess water if desired.

Place in a blender or food processor, and blend till smooth.

Portion puree either in freezer cube trays or in an air-tight freezer bag.

Store puree in an air-tight container in the fridge for 3-5 days, or in the freezer for up to 6 months.
Notes
If you are using the stove-top steam method, place 2 cups of water in a large stock pot, and add a steamer basket to the pot. Place pumpkin in the pot and cover with a lid. Steam on medium-low for roughly 20 minutes, or until flesh is fork tender. 
You can use carved pumpkins that were freshly carved, but cook within 1 day of carving. If left outside, make sure to rinse off any dust or debris from pumpkin before cooking.
Nutrition info is for 1 cup of pumpkin puree 
Nutrition
Calories:
177
kcal
|
Carbohydrates:
44
g
|
Protein:
7
g
|
Fat:
1
g
|
Saturated Fat:
0.4
g
|
Polyunsaturated Fat:
0.04
g
|
Monounsaturated Fat:
0.1
g
|
Sodium:
13
mg
|
Potassium:
2312
mg
|
Fiber:
3
g
|
Sugar:
19
g
|
Vitamin A:
57888
IU
|
Vitamin C:
61
mg
|
Calcium:
146
mg
|
Iron:
5
mg