Instant pot pumpkin puree is a quick and easy method to make fresh, homemade puree for all your upcoming holiday recipes. I love making my own puree using leftover uncarved pumpkins from Halloween, or the little mini pie pumpkins that most grocery stores carry. If you don't have a `pressure cooker though, no worries! I also share how to steam pumpkin on the stovetop.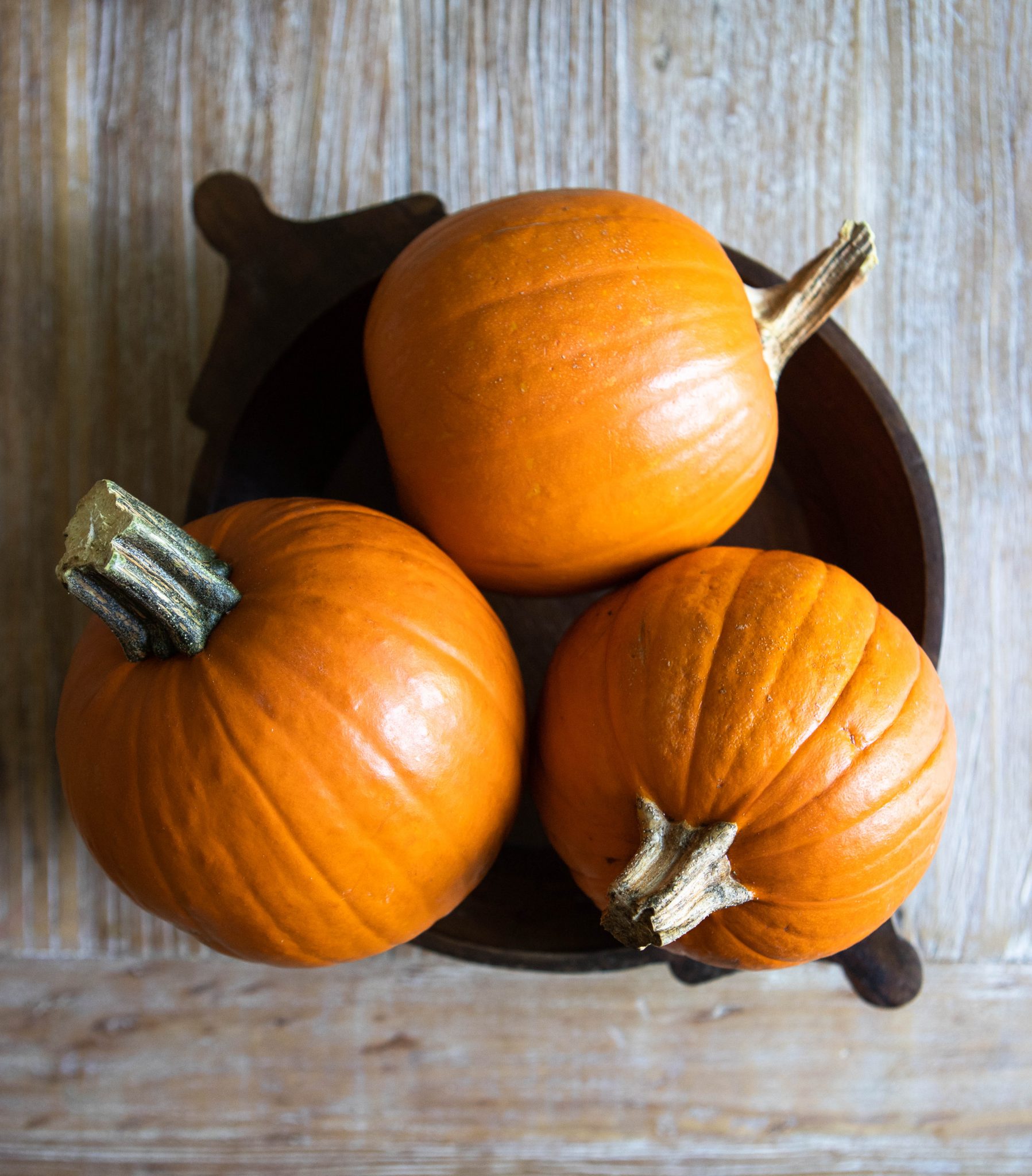 There is no shortage of uses for pumpkin puree these days. The world (or at least the US) has gone CRAZY for pumpkin everything! Pumpkin bread and lattes are so old hat. Now, it's pumpkin martinis and pumpkin pasta! No matter what your favorite pumpkin recipe is though, you'll need to start with fresh pumpkin puree. I promise it's really easy to make, and may save you in a pinch. Although the rumors that there's a pumpkin shortage aren't true, the harvest was delayed, so shelves may be stocked a little later than usual this year.
How to make instant pot pumpkin
You'll need to start by cutting the top off your pumpkin and scooping out all the seeds. If you are using a smaller pie pumpkin, it will fit perfectly in your Instant Pot insert. So just scoop and it's ready to go. If you are using a regular jack-o-lantern pumpkin, you will need to cut it up into large pieces that will fit in your insert, but don't overcrowd it. You definitely won't be fitting a giant 20lb pumpkin into your IP in one go round ha! But a normal-ish size should fit fine.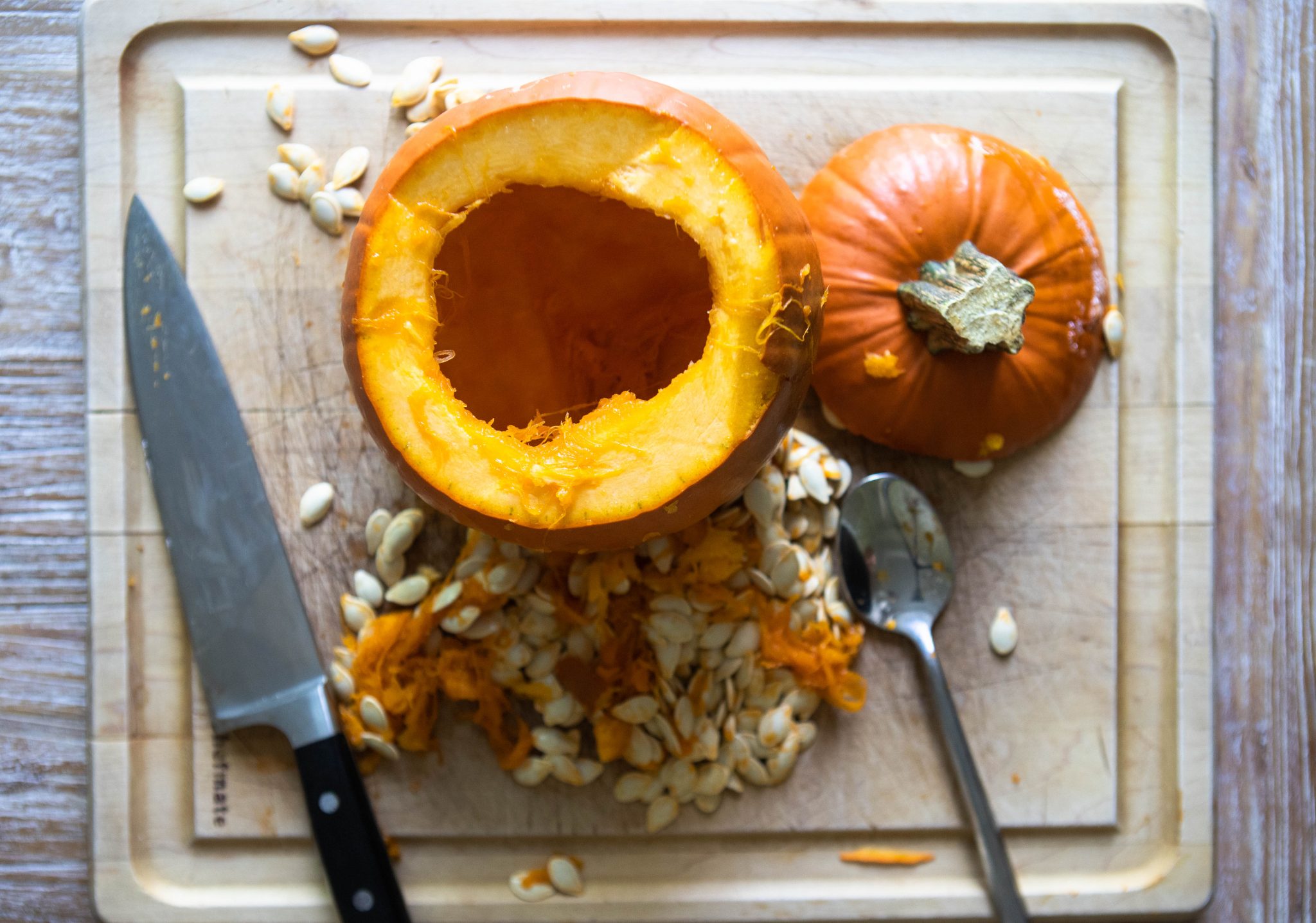 Set the little steam trivet in the Instant Pot and add 1 cup of water. Close the lid and cook on high pressure for 15 minutes. When cooking is complete, go ahead and do a quick release of the pressure. Don't worry if you leave it to sit in the pot for a bit. I left mine in the pot for an additional 10 minutes while doing other chores, and it was no problem.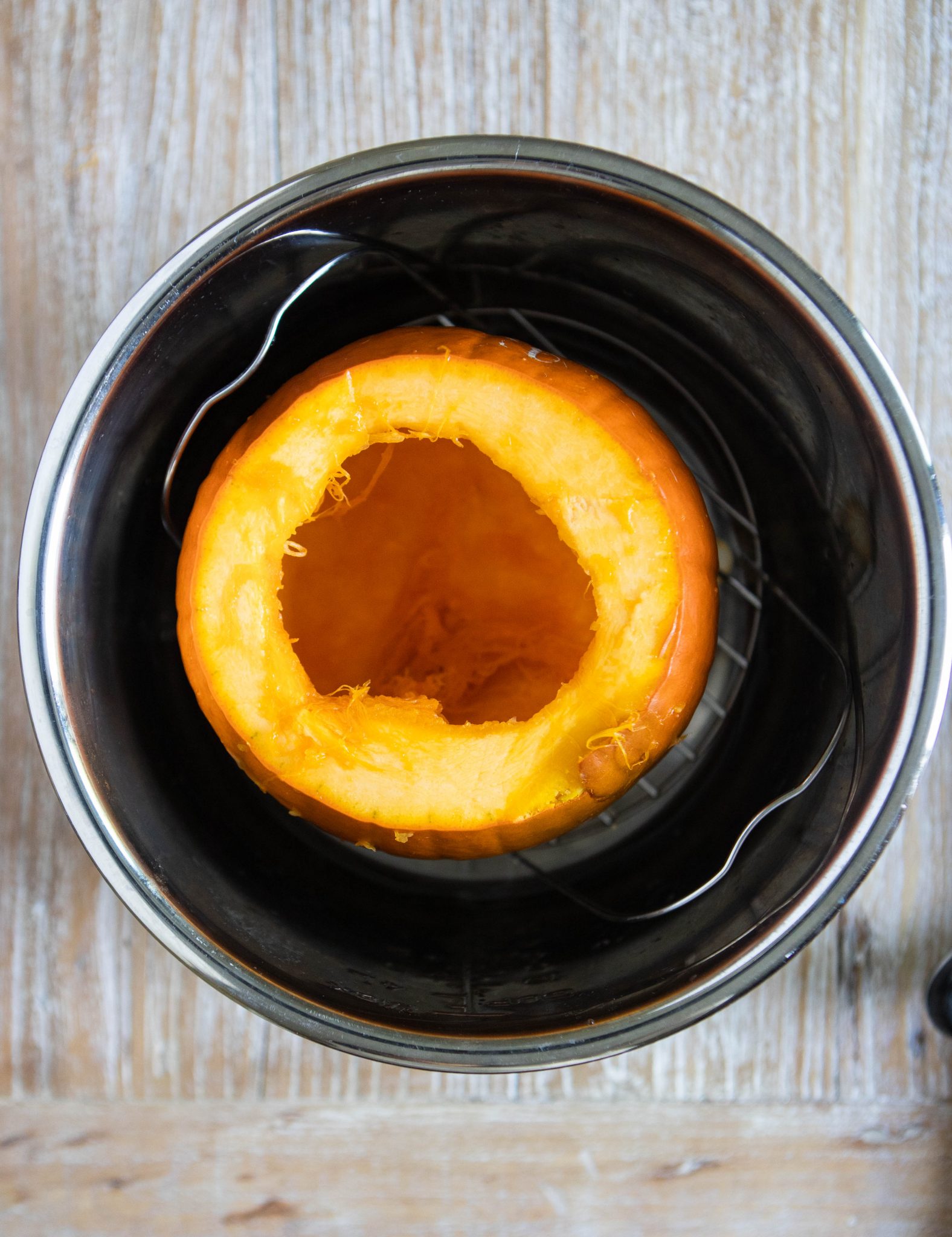 If it's nice and well cooked, the skin will just peel away from the pumpkin like so, making for extremely easy scooping!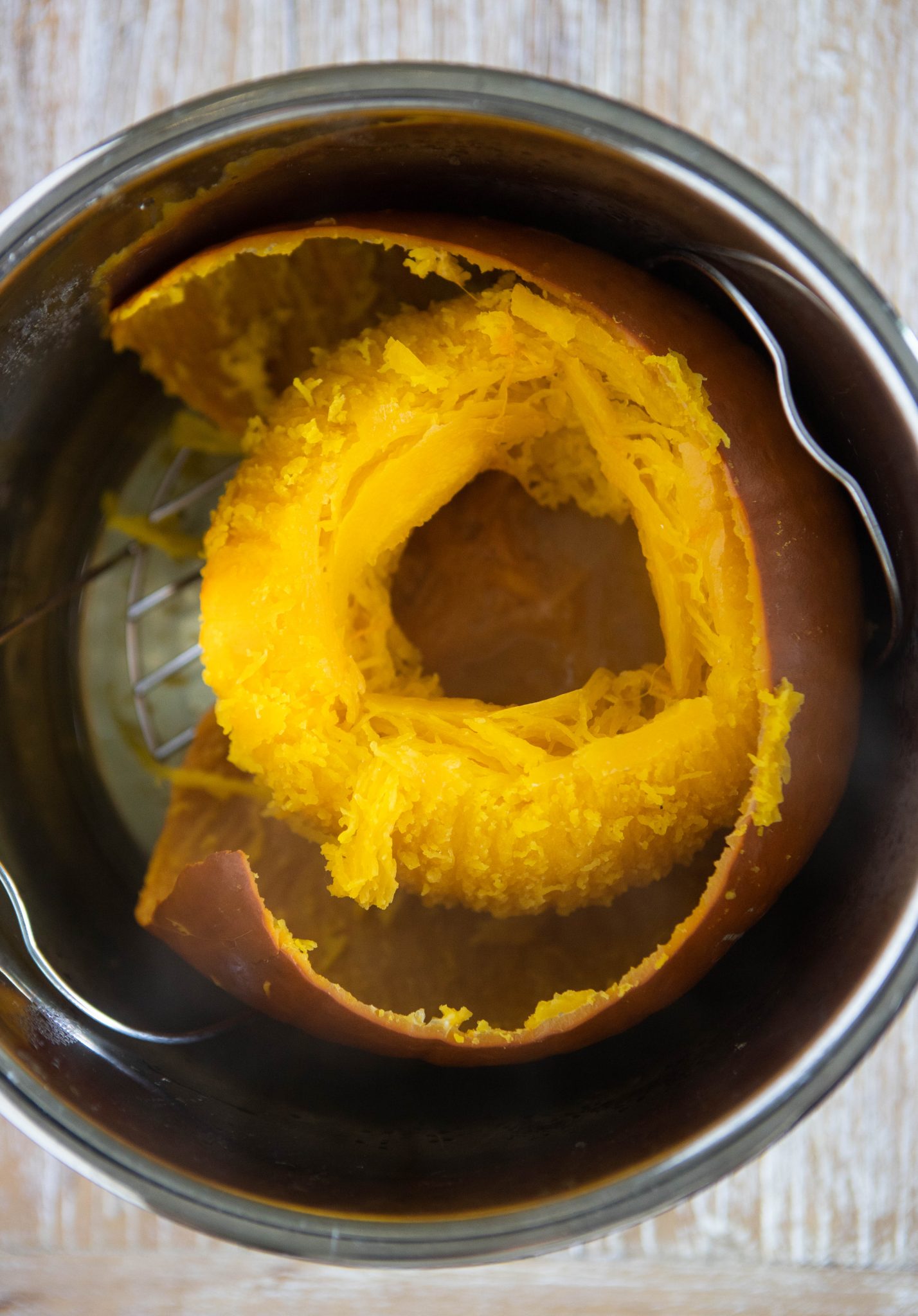 Making Your puree
Allow your pumpkin to cool to the touch, the scoop out the flesh. If your pumpkin is a little water logged from the steam cook, you can set the pumpkin in a strainer over a bowl, and squeeze out any excess water. This is not necessary though.
Once your pumpkin is ready to go, pop it in a blender and blend till nice and smooth.
If you don't have a blender, you can also use a food processor, a hand mixer or the good old fashioned mash method. Get out your potato masher (or your ricer) and just mash away. Using the potato masher method may leave you with some of the stringy bits that are often left behind when scooping out your pumpkin, but that's okay. You can leave them in and deal with it, or just pull them out.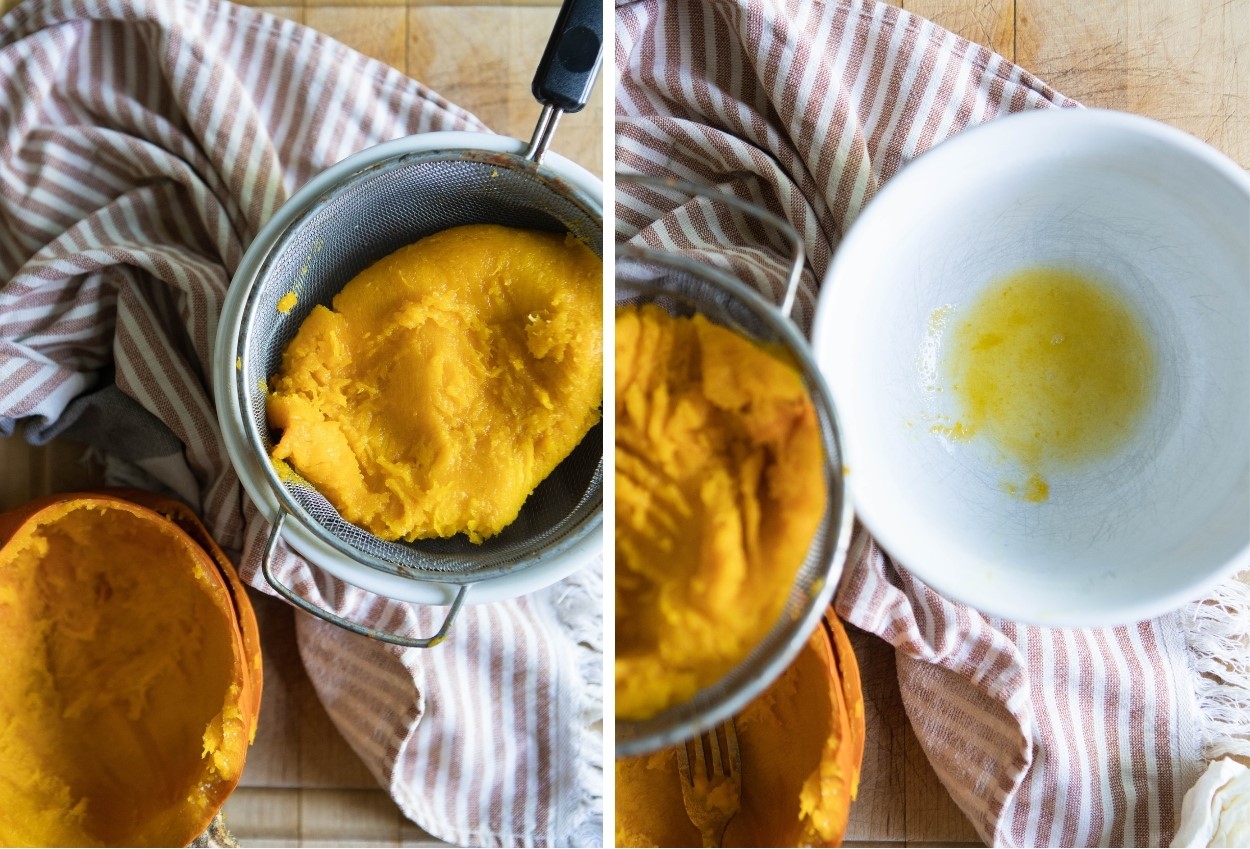 If your blender gets stuck trying to make the puree, add just a bit of water to loosen it up. A powerful blender will whip it right up though, in less than a minute.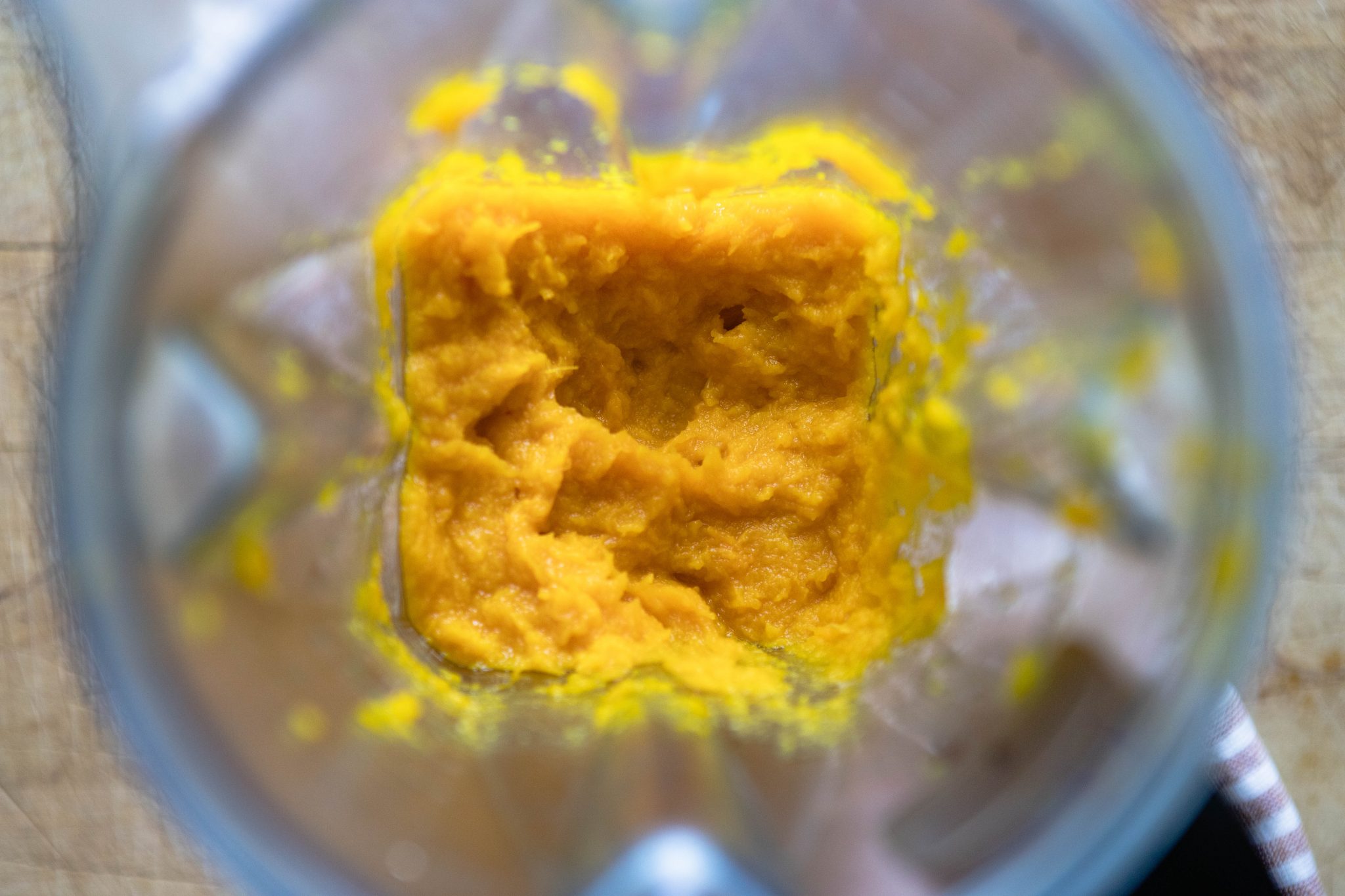 how to store pumpkin puree
Storing your fresh homemade pumpkin puree couldn't be easier, and you have a couple options. if you plan to use within 3-5 days, simply store in an air-tight container in the fridge. But if you want longer term access to puree, freeze it for up to 6 months. Here's how.
Freezer tray method – standard size freezer tray cubes are 1 ounces each. Freezing the puree, then adding the cubes to an air-tight freezer bag allows you to store them for several months, and easily portion out your cubes as you need them. While some pumpkin recipes call for an entire 14 ounce can, many call for smaller amounts; anywhere between ¼ cup-1 cup. The freezer tray method allows you access to fresh puree without having to open up a whole can. I love the freezer tray method for smoothies because there's no need to defrost, just plop them right in the blender and go!
Air-tight freezer bags or mason jars – if you tend to use larger amounts of pumpkin, store the puree in approximate 14 ounce (or 2 cup) portions.
Keep in mind that small pie pumpkins will only produce about 2 cups of puree, so enough for 1 bag or 2 ice cube trays. Cooking a larger pumpkin will produce a lot more! If that's the case, I recommend using both the freezer bag and ice cube method.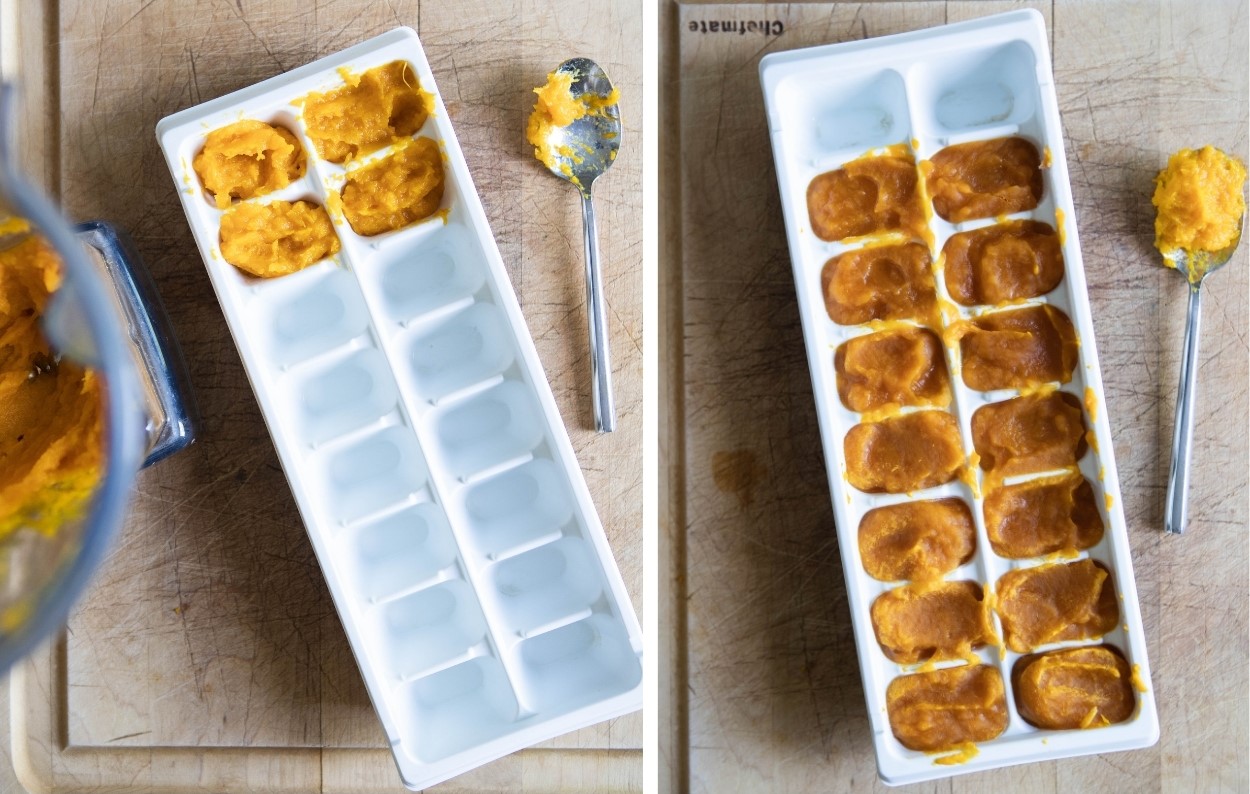 Using your puree
If you've stored your puree in a freezer bag, you can defrost the bag in a water bath, or just leave out overnight.
To defrost the cubes, add to a microwave safe dish and cook on medium power for a couple of minutes, stirring in between, till defrosted.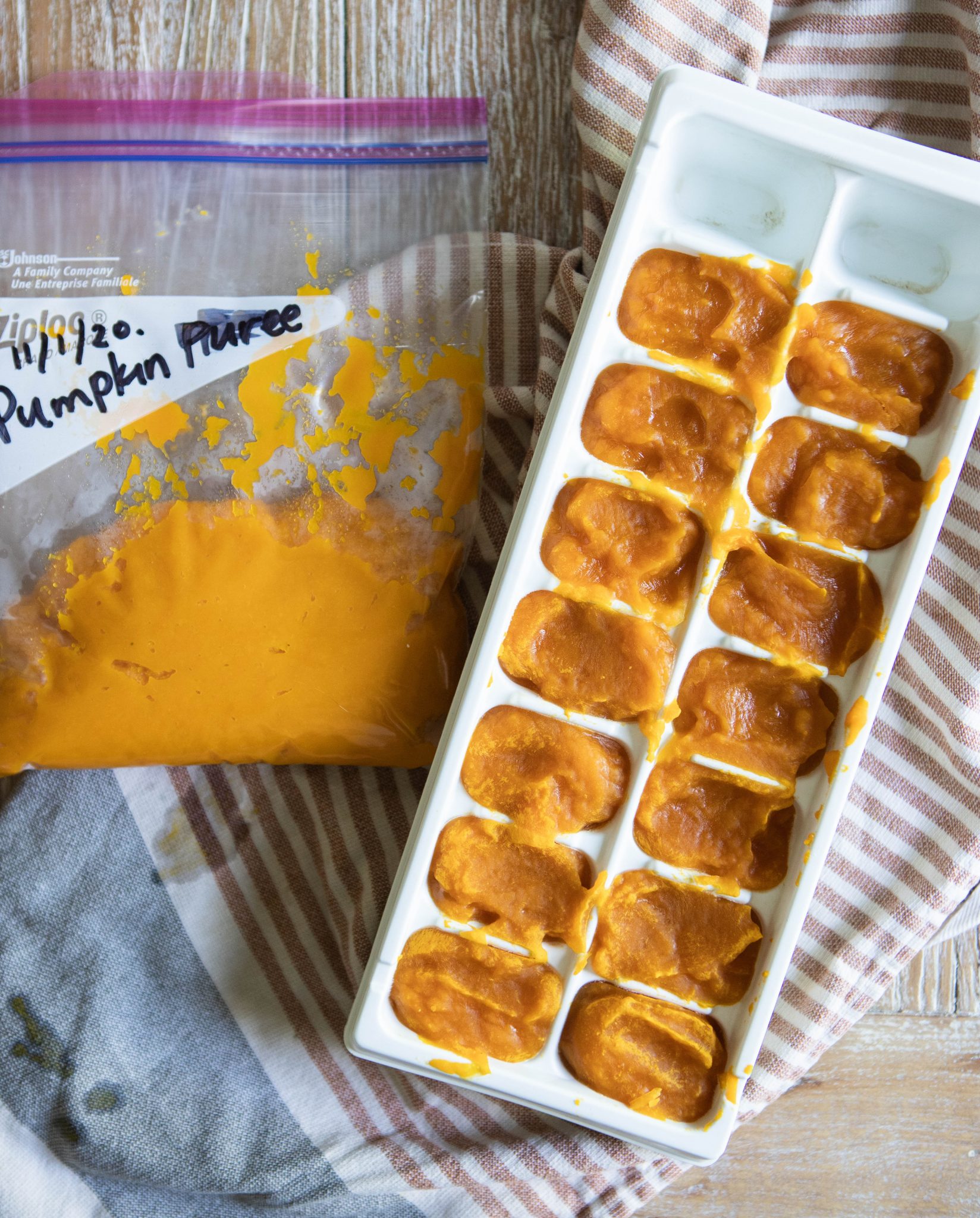 steam pumpkin
If you do not have an Instant Pot, no problem! Simply steam on the stove top. Take a large stock pot and add a steamer basket and 2 cups of water. Place your cut up pumpkin pieces in the pot, cover, and steam on medium-low for approximately 20 minutes. The flesh should be fork tender, so adjust cooking time if you have a super thick and dense pumpkin.
Follow the same method above for scooping out the flesh and pureeing.
a note about using carved pumpkins
While I tend to use uncarved pumpkins for making puree, I have used carved pumpkins too. I highly recommend cooking it within 24 hours of carving though, so it's as fresh as possible. So if you carve on Halloween, cut it up and cook it the very next day. Obviously if it was left outside, rinse off any dust or debris before cooking.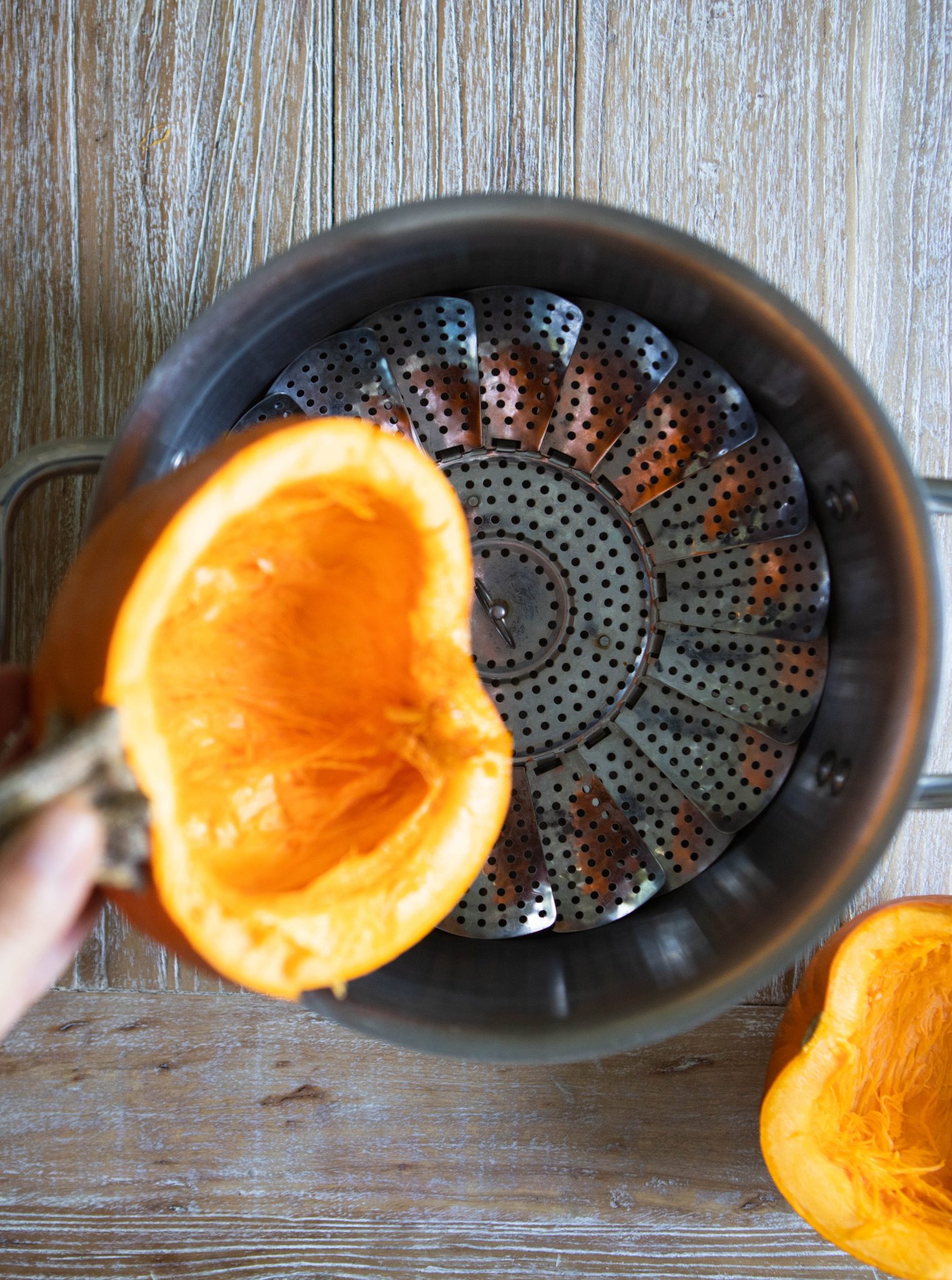 pumpkin baby food
If you have little ones, this is such a great way to cook and serve fresh food to your babes. Pumpkin is high in Vitamin A, C and E, just to name a few. It's also high in fiber, potassium and iron. Some babies get a bit constipated from bananas, but I always found that serving them from the squash family provided them with loads of fiber, without causing digestive issues. My kids loved pumpkin, especially when served mixed with a bit of applesauce.
If you plan to make pumpkin baby food, I definitely recommend the freezer tray method. Most babes eat 2-8 ounces of solid baby food, so this allows you to easily portion out their meals without having to rely on measuring cups. I would often serve 2-3 cubes of a squash mixed with 1 cube of apple puree. My daughter Taylor loved all things carrots, pumpkin and sweet potatoes. So much so that by her first birthday, she had an orange nose, with pictures to prove it ha!
Of course there are so many things you can use this puree for, including making pumpkin pie filling and smoothies. I'll be sharing recipes for both in the coming days, so stay tuned. Until then, I hope you give this a go!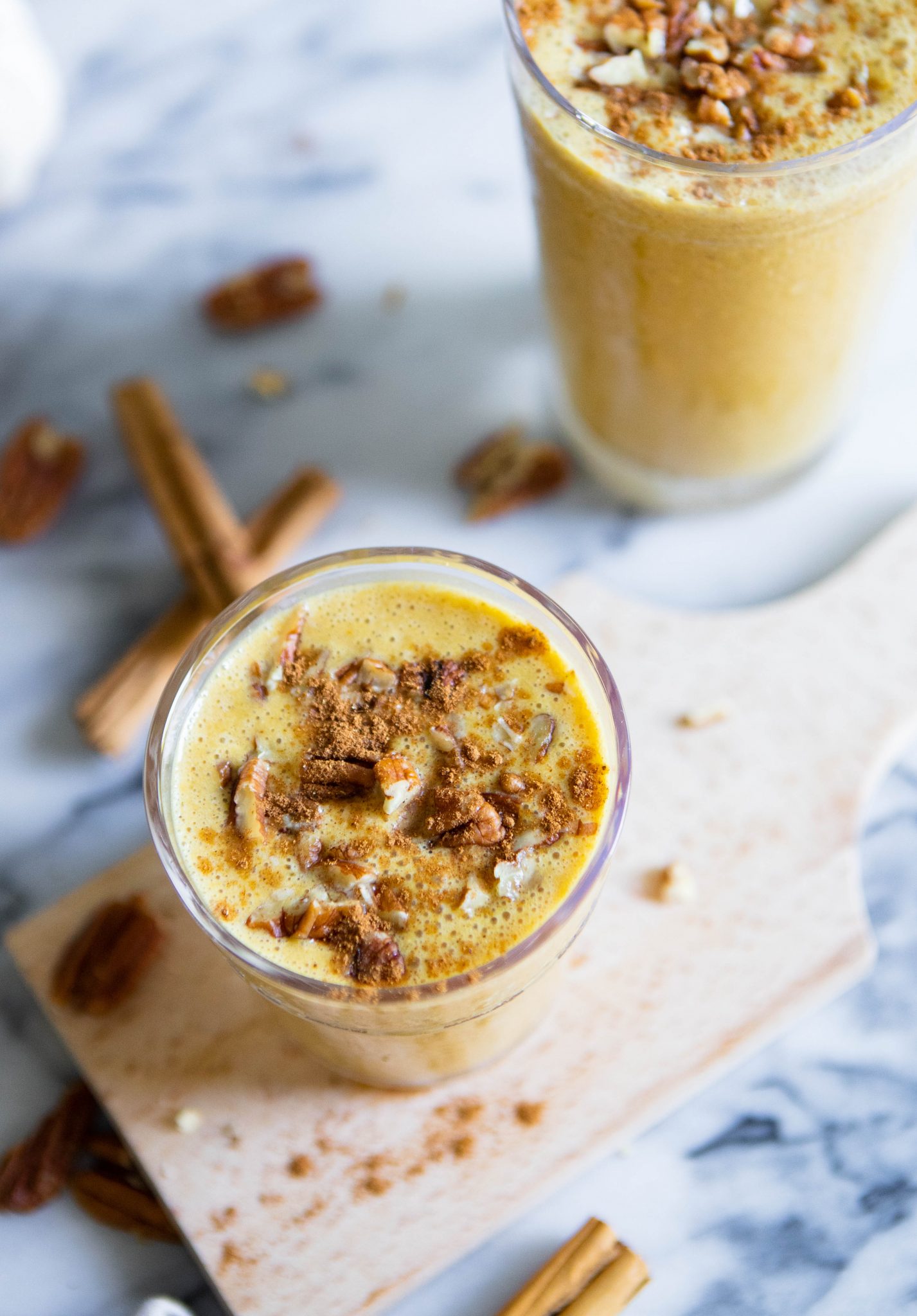 Instant Pot Pumpkin Puree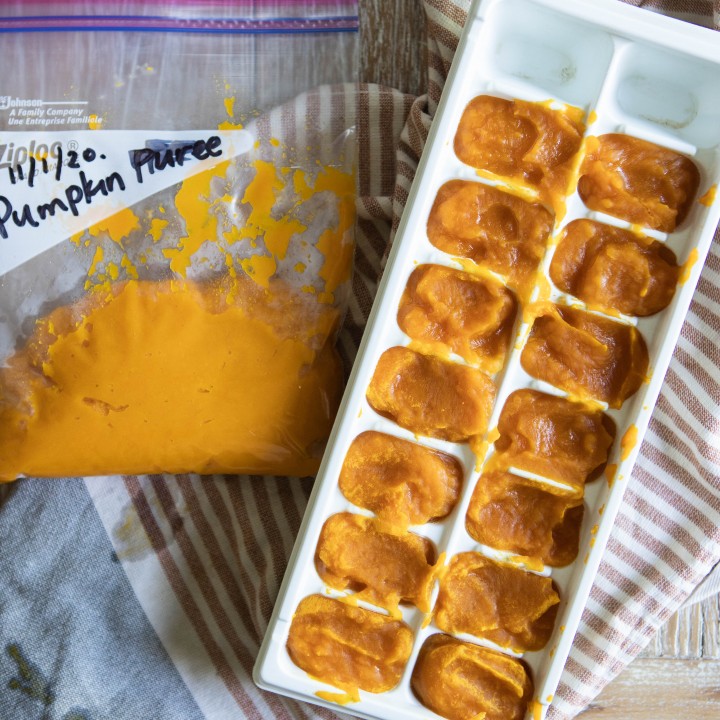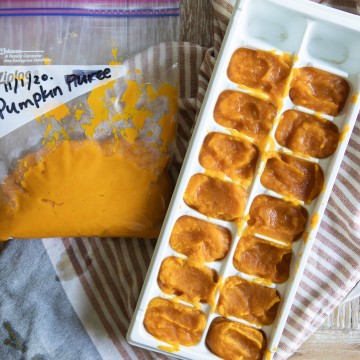 Instant Pot Pumpkin
Learn how to make fresh homemade Instant Pot pumpkin puree. Super easy and a great way to use pumpkins leftover from Halloween. Also instructions for how to steam pumpkin.
Print
Pin
Rate
Equipment
Instant Pot with steamer insert

Stock Pot with steamer basket
Ingredients
1

Pie Pumpkin or Jack-o-lantern pumpkin

top cut off and seeded

1-2

cups

water
Instructions
Cut the top off your pumpkin, and scoop out all your seeds

Add 1 cup of water to your Instant pot, and place the steamer trivet in the insert. Add your pumpkin.

Close lid, and cook on high pressure for 15 minutes. Do a quick pressure release, and remove from the pot. Allow to cool.

When cool to the touch, scoop out flesh and strain out excess water if desired.

Place in a blender or food processor, and blend till smooth.

Portion puree either in freezer cube trays or in an air-tight freezer bag.

Store puree in an air-tight container in the fridge for 3-5 days, or in the freezer for up to 6 months.
Notes
If you are using the stove-top steam method, place 2 cups of water in a large stock pot, and add a steamer basket to the pot. Place pumpkin in the pot and cover with a lid. Steam on medium-low for roughly 20 minutes, or until flesh is fork tender. 
You can use carved pumpkins that were freshly carved, but cook within 1 day of carving. If left outside, make sure to rinse off any dust or debris from pumpkin before cooking.
More great pumpkin and squash recipes