Creating this Instant Pot chicken pasta in a dairy-free Alfredo sauce has been one of my proudest accomplishments as of late, because it means my girl can enjoy one of the dishes she loves most. We recently found out our daughter is lactose intolerant, which means mac 'n cheese, her favorite after school snack, causes her a lot of stomach discomfort. And while this version admittedly tastes very different than her preferred boxed brand, the creamy richness of the dish still does the trick in providing comfort after a long hard day of school. Bonus points that it's made in the Instant Pot and is ready in a flash. Read on to learn how to make this Instant Pot creamy chicken pasta at home.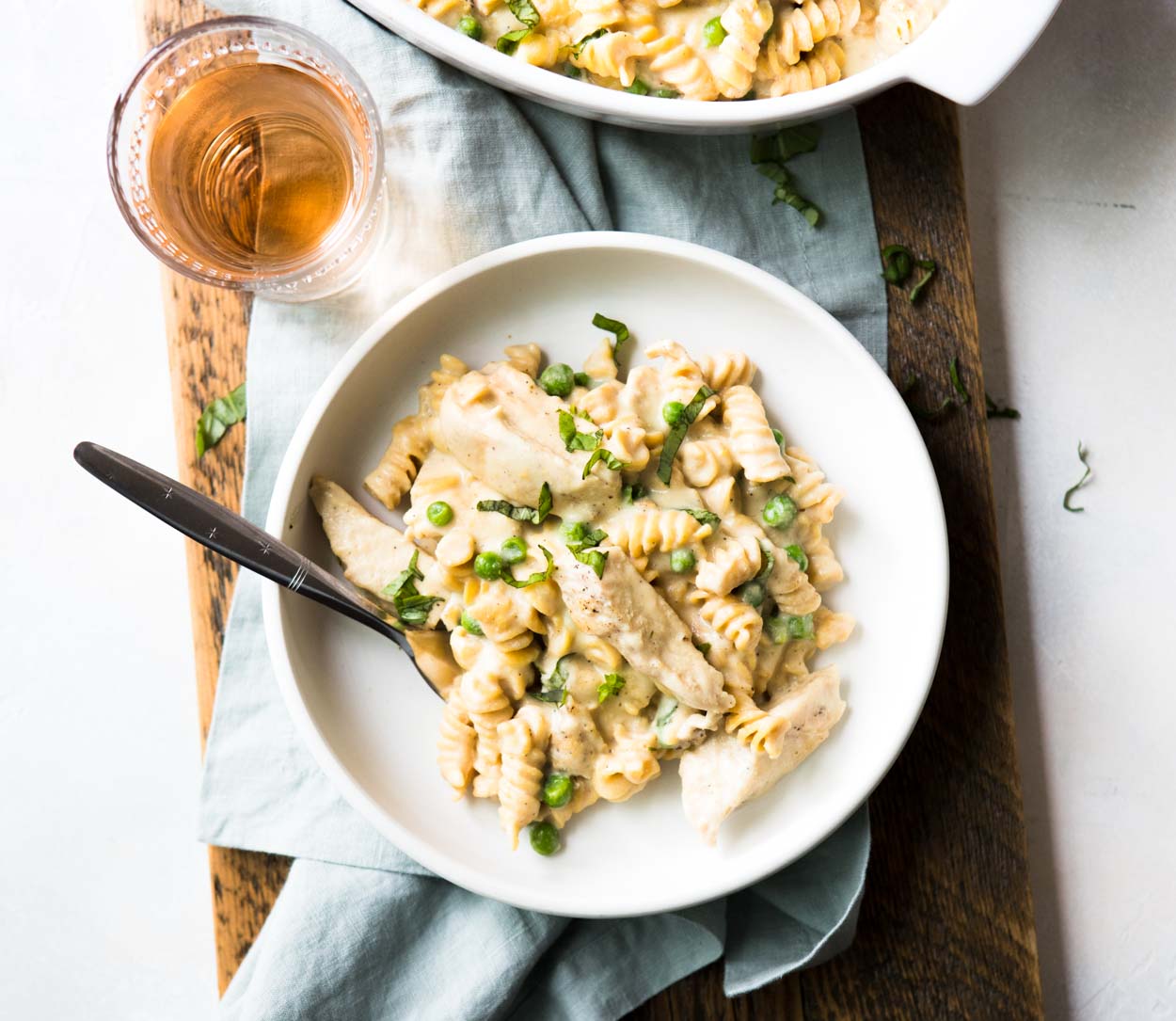 How to Make Dairy-Free Cream Sauce
Using plant based milks, especially coconut cream, is the typical go-to for subbing out milk in recipes, but I wanted this one to not only taste creamy, but also be a bit on the thicker side, so I made a cashew cream sauce of sorts. And to heighten flavor and add a bit of cheesy tang, I included nutritional yeast as well.
The sauce comes together very quickly in a blender or food processor, so feel free to make ahead of time or while the pasta and chicken cook. To make the sauce, combine the cashews (no need to soak unless you're not confident your blender can make them smooth enough), garlic, coconut cream, nutritional yeast, olive oil and salt and pepper to taste in a blender of food processor and blend till creamy and smooth. You can even add a bit of lemon juice if you wish! Set aside while you cook the chicken and pasta.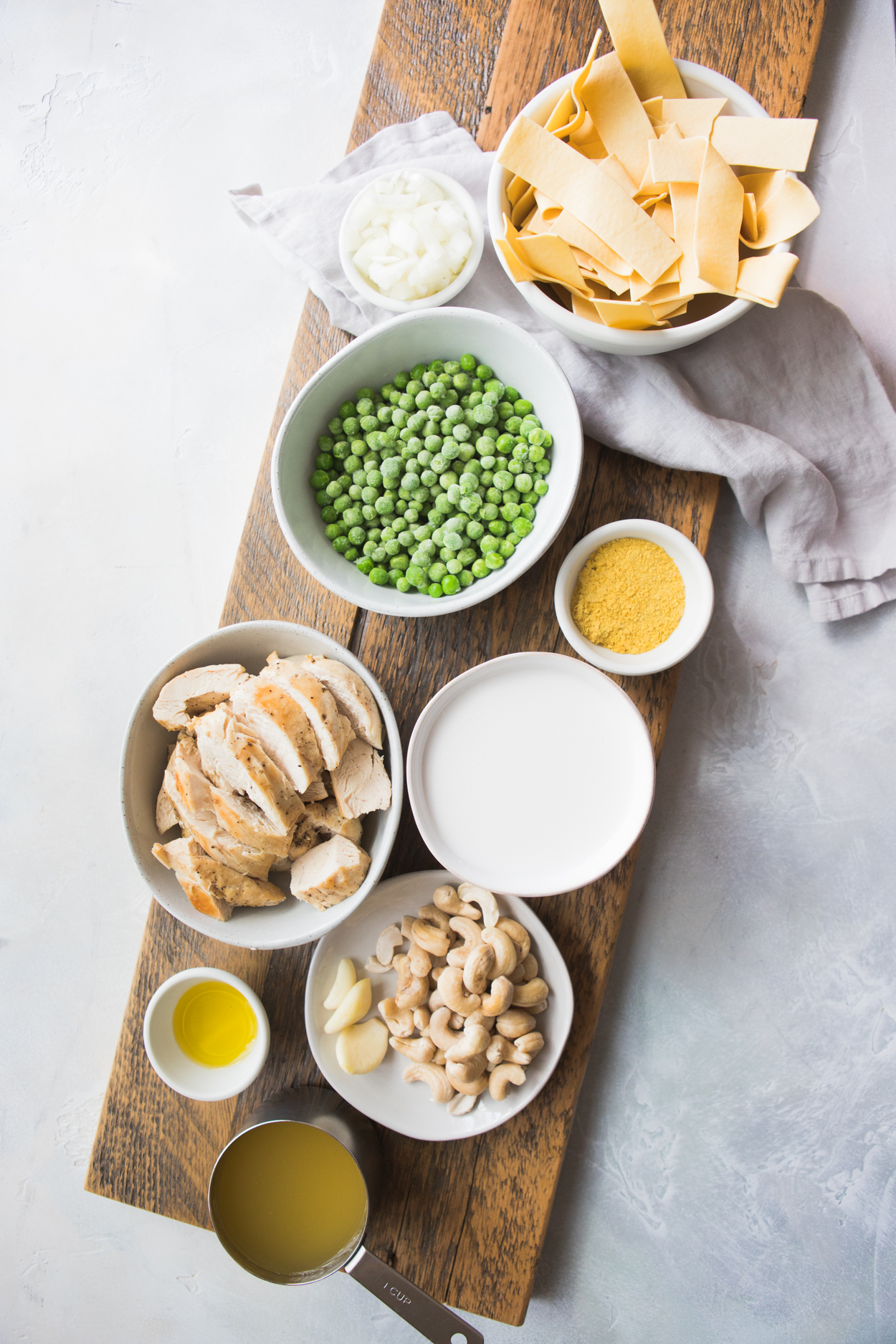 Note that in the ingredient photo above, I have a pappardelle pasta pictured, but in the final shots I used a rotini. I actually tested this recipe a couple of times to see if it would work with different pastas, and both worked well so feel free to use whichever pasta you have on hand!
What is Nutritional Yeast?
Nutritional yeast has for years been a favorite supplement and food seasoning of vegetarians and vegans. It's inactive yeast and has a distinct cheesy flavor, so you'll often find it subbed for Parmesan and cheddar cheese. It's a great, reliable source of B-complex vitamins, including B12 and has no sodium, cholesterol, dairy, sugar or soy, and is typically gluten-free, making it a great alternative for those who have food allergies or follow a strict vegan diet. Nutritional yeast also has a decent amount of protein, coming in at 2 grams per tablespoon.
Nutritional yeast is as I said, often used in place of cheese, so feel free to sub it out for Parmesan cheese when making your favorite pesto, or as used here, in place of cheddar cheese. It also is great sprinkled on salads, popcorn, avocado toast, in your next stir-fry or mixed in to make mashed potatoes taste a bit richer. I use it sparingly here because it does have a strong flavor and I don't want to overpower anyone who hasn't had it yet. So know that it's safe to just use a tablespoon, but any more and it will overpower the flavors of the cashew.
How to Successfully Cook Pasta In the Instant Pot
There is a definite learning curve when trying to go it alone with your Instant Pot. It's why either a) reading your manual is very important or b) read blogs and follow recipes that share helpful tips for using your Instant Pot. The one cooking tip I learned the hard way with cooking pasta in the instant pot, is that you have to have enough liquid to cover your noodles, or else there won't be enough steam to build up and help pressurize the pot.
So for this recipe, begin by sauteing your chicken breasts. Feel free to add a bit of diced onion to the pot if you want to impart a little more flavor into the chicken. Simply hit saute on the IP, add a bit of oil, and saute both sides till browned but no need to cook all the way through. Then remove the chicken, cut it up and add it back to the pot.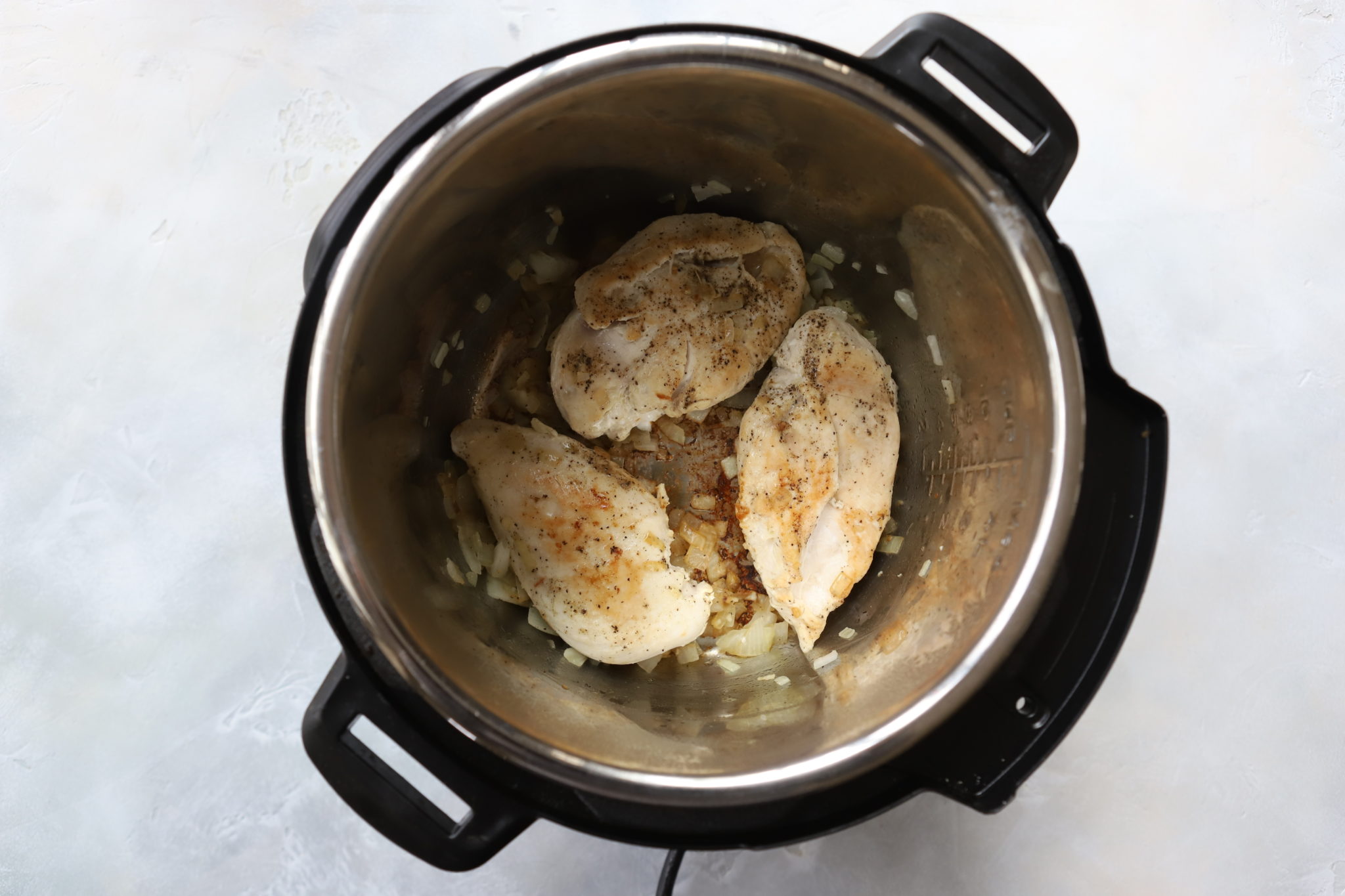 Then add your 8 ounces of pasta, and about 4 cups of water or chicken broth to cover the noodles but they don't have to be fully submerged. You can also press the noodles and chicken down into the broth to help ensure all the noodles are covered and moist.
Then cover the Instant Pot, making sure it is sealed, and set the pot to Manual high pressure for 2-3 minutes. I typically do about 1/3 the cooking time that it directs on the package. So if a pasta is supposed to cook in 9 minutes on the stove top, I cook it for 3. It's always better to under-cook it a bit than overcook it, as you could always set the pot to saute and simmer it a bit more till tender, if you find it's too tough after the initial cooking.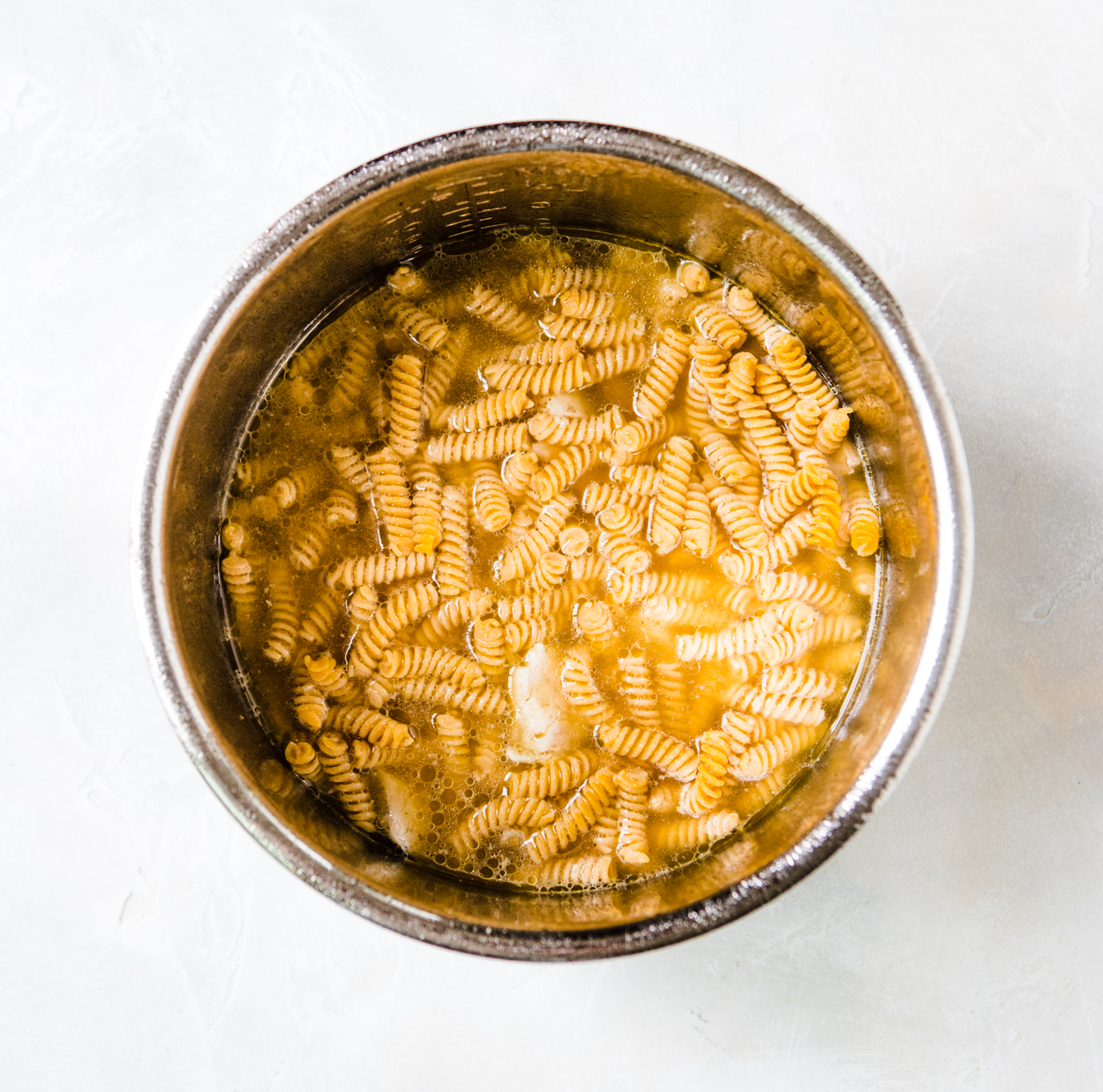 Once the timer goes off, manually release the pot, making sure to use a kitchen mitt or towel to cover the vent and turn it away from your face. Open the lid, and add in your cream sauce and frozen peas. You will notice that there is likely some broth or water still remaining in the pot, and that is just fine. Once you stir in the cream sauce, after a couple of minutes the remaining broth will blend right in and you will get a rich and creamy sauce!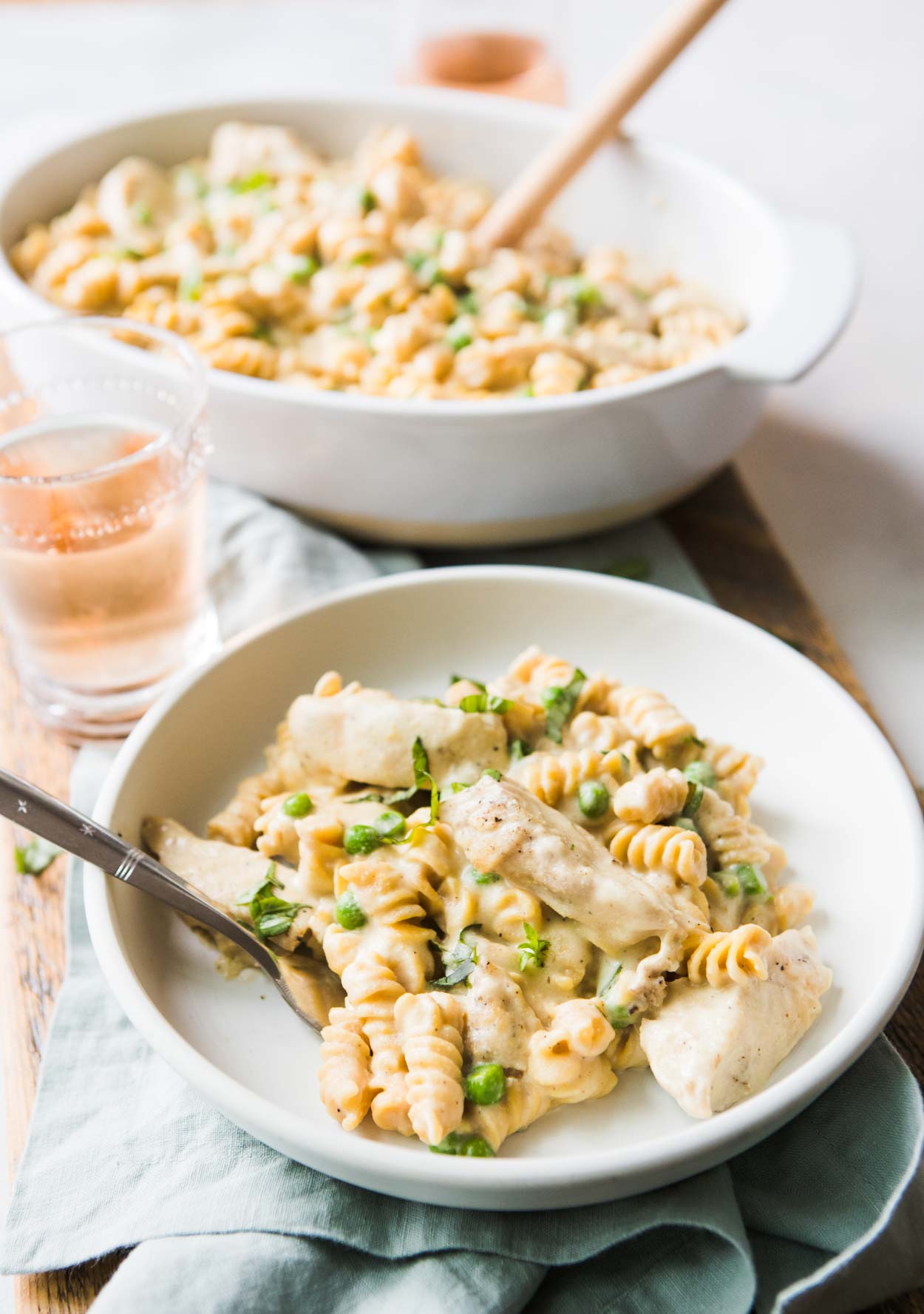 What I love about this recipe is that it is highly customizable. Want it to be vegan? No problem, simply eliminate the chicken and use water or veggie broth in lieu of chicken broth. Hate peas? No problem, skip them or add in some spinach or cooked asparagus. Or I'm sure you can come up with some other wonderful ways to make it your own, always knowing that if you stick to this creamy yummy sauce as the base, you'll be good to go.
See below for the recipe, and as always, if you make it and love it, please do me a solid and consider rating it below. Thanks so much for reading and let me know if you've got questions!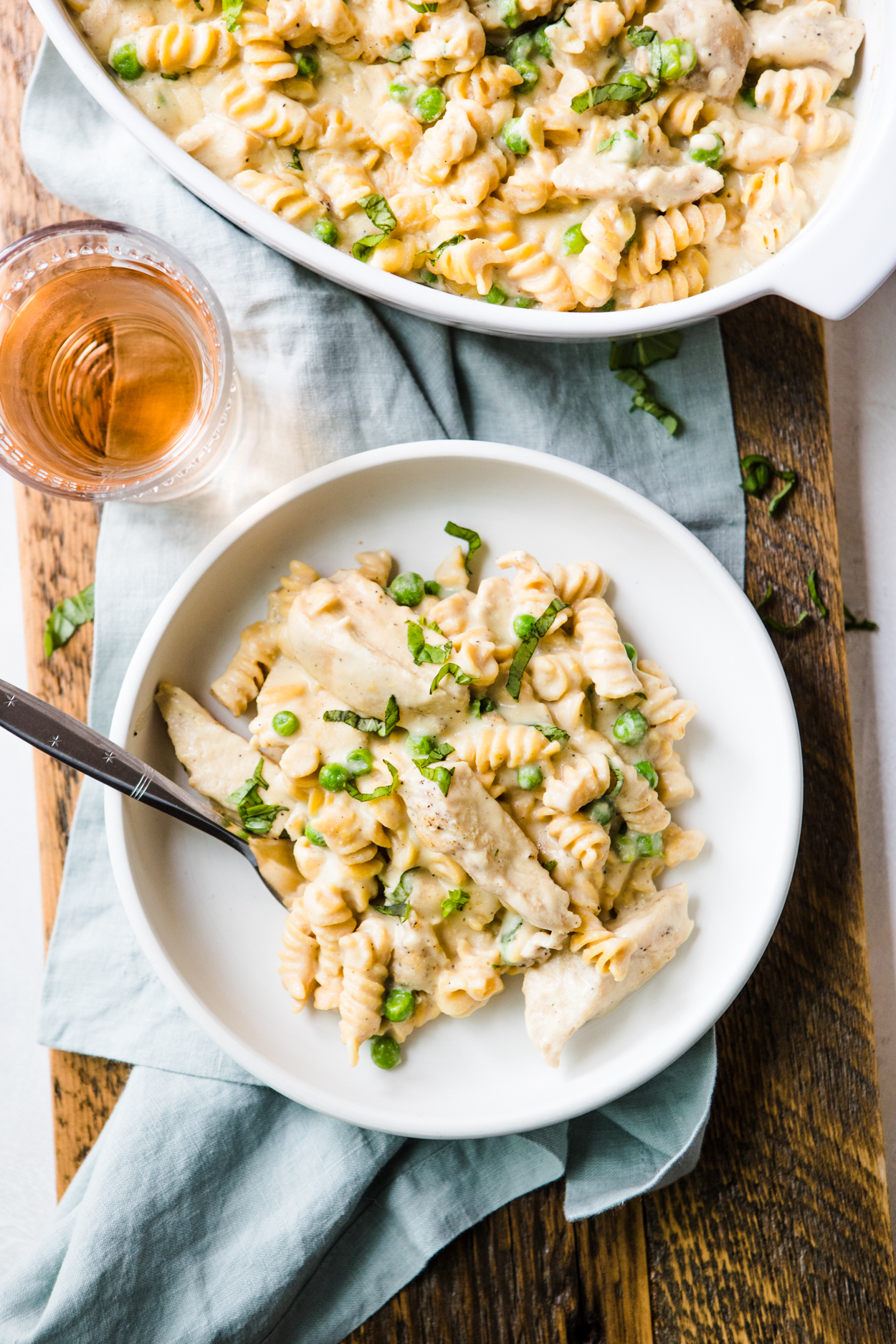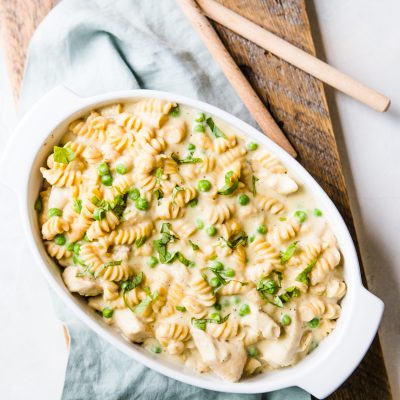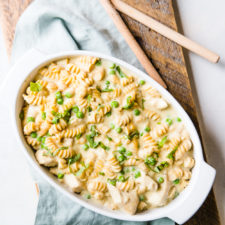 Print Recipe
Instant Pot Chicken Pasta In a Dairy Free Alfredo Sauce
This creamy gluten and dairy free pasta dish is all about comfort, heartiness and ease, since it comes together so simply. Leave out the chicken and sub chicken broth if you'd like a vegan option!
Ingredients
8

ounces

dried pasta of choice

1-1.5

lbs

chicken breasts

3

tbsp

olive oil

divided (2 tbsp for searing chicken and 1 tbsp for cashew cream sauce)

1/4

onion diced to sear with chicken

optional

3-4

cups

chicken broth

1

cup

cashews

1

cup

coconut cream

1

tbsp

nutritional yeast

2-3

small garlic cloves

Salt & pepper

1

cup

frozen peas
Instructions
Season your chicken with salt and pepper, and set the Instant Pot to Saute and add 2 tbsp of neutral oil to heat. Once heated, saute the chicken breasts till lightly browned on each side and their juices begin to release, about 3-5 minutes per side. The chicken does not have to be cooked all the way through, we just want to get a nice sear.

While the chicken is searing, you can blend up the cashew cream sauce by combining the cashews, coconut cream, nutritional yeast, salt & pepper, olive oil & garlic. Blend until smooth and creamy and set aside.

Remove chicken from pot and slice into thin 1' strips and return to the Instant Pot.

Add 8 ounces of dried pasta to the chicken, as well as 3-4 cups of chicken broth, enough to just cover the noodles. Press down the noodles into the chicken and broth to get it as well covered as possible.

Cover and seal the Instant Pot and set it to Manual high pressure and cook for 2-3 minutes; 3 minutes if you're using a thicker, more dense noodle like a fettuccine or pappardelle, and 2 minutes for smaller, more delicate noodles like rotini.

When cooking is complete, use a manual quick release to depressurize the Instant Pot, and open the lid. Add the cashew cream and frozen peas and mix till combined and peas are tender. Serve and enjoy!