This Instant Pot pot roast and gravy is fulfilling all my warm comfort food needs right now! The weather in Southern California is finally starting to feel a bit like Fall, meaning we get to wear sweaters in the morning, and by afternoon we have to rip them off due to sweltering heat. But that's okay because around these parts, we get excited at even the slightest bit of chill, and start busting out hoodies and crock pots, or in this case the Instant Pot.
Read on for the how-to for making this crazy easy, moist and flavorful Instant Pot pot roast with a cocoa & Chipotle gravy. I know you may be thinking to yourself, "what the heck, chocolate and Chipotle chili?!?" but I promise you that it's a classic flavor combo going all the way back to the Aztecs, and has been used to make everything from BBQ sauce and chili infused chocolate to hot chocolate.
Cooking Pot Roast In the Instant Pot Versus Slow Cooker
So I know not everyone has an Instant Pot because you just don't need another kitchen gadget, and I get it! So rest assured, you can absolutely modify this recipe to cook it in the slow cooker. I do advise you to not skip the important first step of browning the meat before you put it in the slow cooker (it locks in flavor and juices and just makes for a prettier end result overall), and then cook on low for 8 hours or high for 6 hours.
But why would one want to own an Instant Pot and cook things like big cuts of meat in it? Well, the most important factor in my purchase was to save time! But it's also incredibly effective at tenderizing even the toughest cuts of meat. The instant pot essentially heats up the liquid in the pot to extremely high temperatures, which produces a ton of steam, and it's the steam that cooks the food. And that steam acts as a really good tenderizer of meat. Because food cooks quickly though, you have to really get your timing right so that it doesn't go from juicy and tender to dry and overcooked. Here's a general time table for all sorts of foods you can cook in the IP, including a meat table by pound.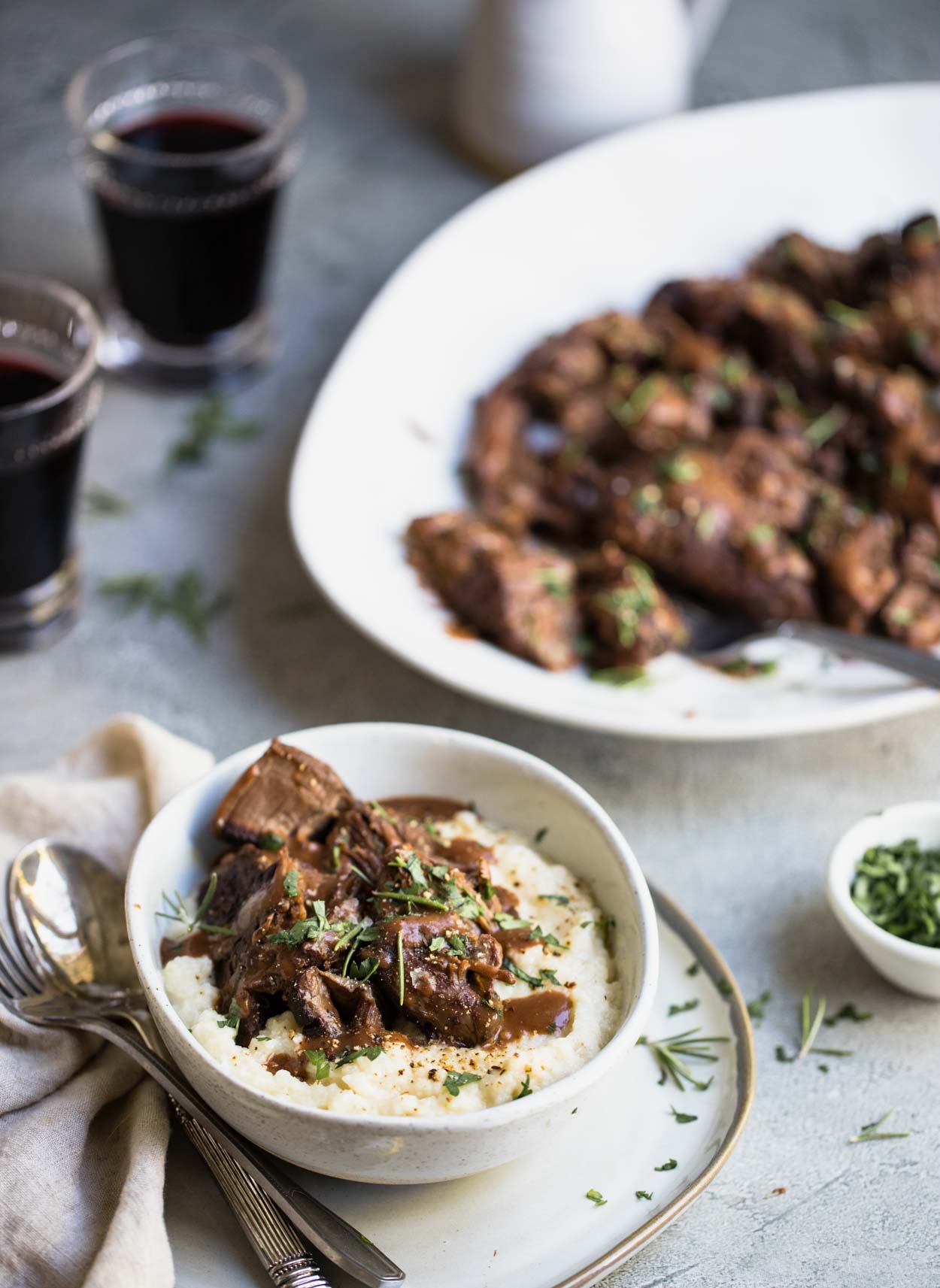 Recipe Tips
*You can use either 1 3lb piece of boneless chuck roast, or 2 smaller pieces that will get you to 3 lbs. I personally found the 2 smaller cuts of meat cooked up better overall, making for a more tender pot roast. But if your grocer only has 1 big piece of roast, you can either cut it in half width wise, or add 15 minutes to the cooking time so that it gets nice and tender.
*Do not skip the browning of the meat! The heat will immediately sear the outside of the meat and prevent the meat juices from leaking. The searing also creates the Maillard reaction, where amino acids and sugars break down large molecules and produce a more intense flavor in the dish overall.
*Sub out beef broth for wine if you don't wish to crack open a bottle.
*Use a small Chipotle chili and just a bit of the adobo sauce if you just want a hint of heat, and a larger pepper if you want more intense heat. If you want to keep this family and kid friendly, I suggest going for a small pepper that when chopped up, will equal about 1 tablespoon of chili + adobo sauce.
*The ratios I have called for will produce a thicker gravy, but if you like a runnier gravy (some people do!), just either add more pan juices or less flour. The gravy will thicken after a few minutes of heating, so if you want thinner, add less flour, and wait a bit, then add accordingly.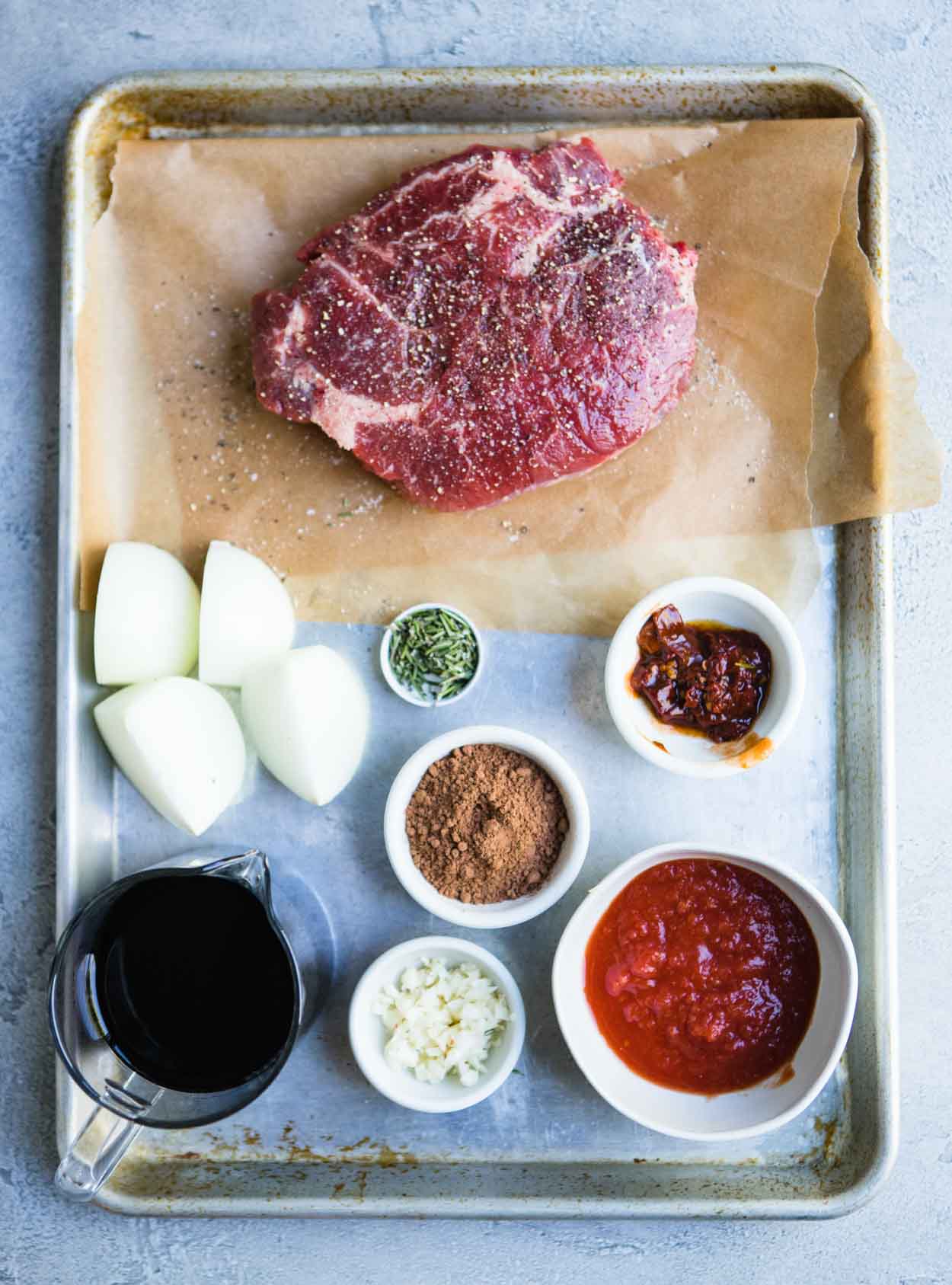 As you can see below, I used 2 pieces of chuck roast, which were roughly 1.5 lbs each, and I fouond the perfect cooking time was 60 minutes with a quick pressure release, but if you are using one single thick 3 lb cut of meat, adjust cooking time by adding 15 minutes.
How to Make An Easy Instant Pot Gravy
Making the gravy when your pot roast is done is really simple and doesn't require another pan. Simply remove the meat from the pot and press cancel, then strain the liquid and reserve at least 2 cups.
Set the pot back to saute and add the reserved pan juices and quickly whisk in ¼ cup of flour, corn starch or arrowroot starch. Whisk until the gravy thickens, and if it appears too runny, add in more flour to create a thicker gravy, or for a thinner sauce, add more pan juices or even a bit of water, wine or beef broth. Finish off by adding in salt and fresh cracked pepper to taste.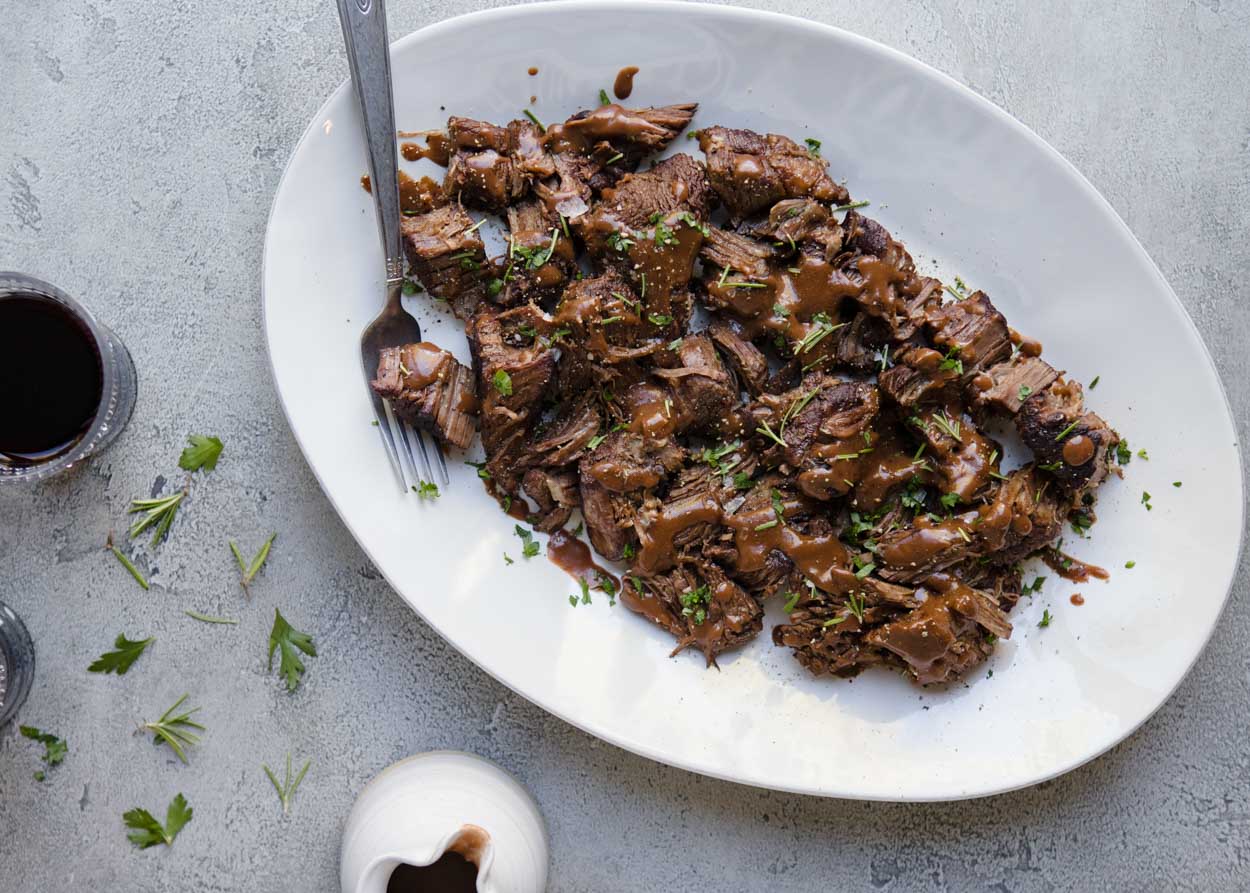 Chipotle Chili & Chocolate – a Flavor Combo Made for Each Other!
This flavor combo may be a bit controversial to some, and are certainly not as overtly obvious as pairing say, peanut butter & jelly, but it still works in that opposites attract sort of way. The mellow and rich flavor of the cocoa is punctuated by the sharpness of the Chipotle, and offers up just a bit of heat as the roast goes down.
Now the reason the flavors work here is because they read more savory than sweet thanks to the red wine (or beef broth), and the fact that we're not really adding any other sugars to the mix.
Cocoa on its own isn't really that sweet, so you just get that deep chocolate flavor, minus the sugary sweetness. I do advise limiting your heat to just a tablespoon of the Chipotle if you plan to serve this to kids, but feel free to add in more if you're serving a crowd that can handle spice.
The heat from Chipotles is different than say jalapenos, where the spice hits you up front and coats your mouth. It's much more subtle up front and you can sense it more in your throat as it goes down, similar to black pepper.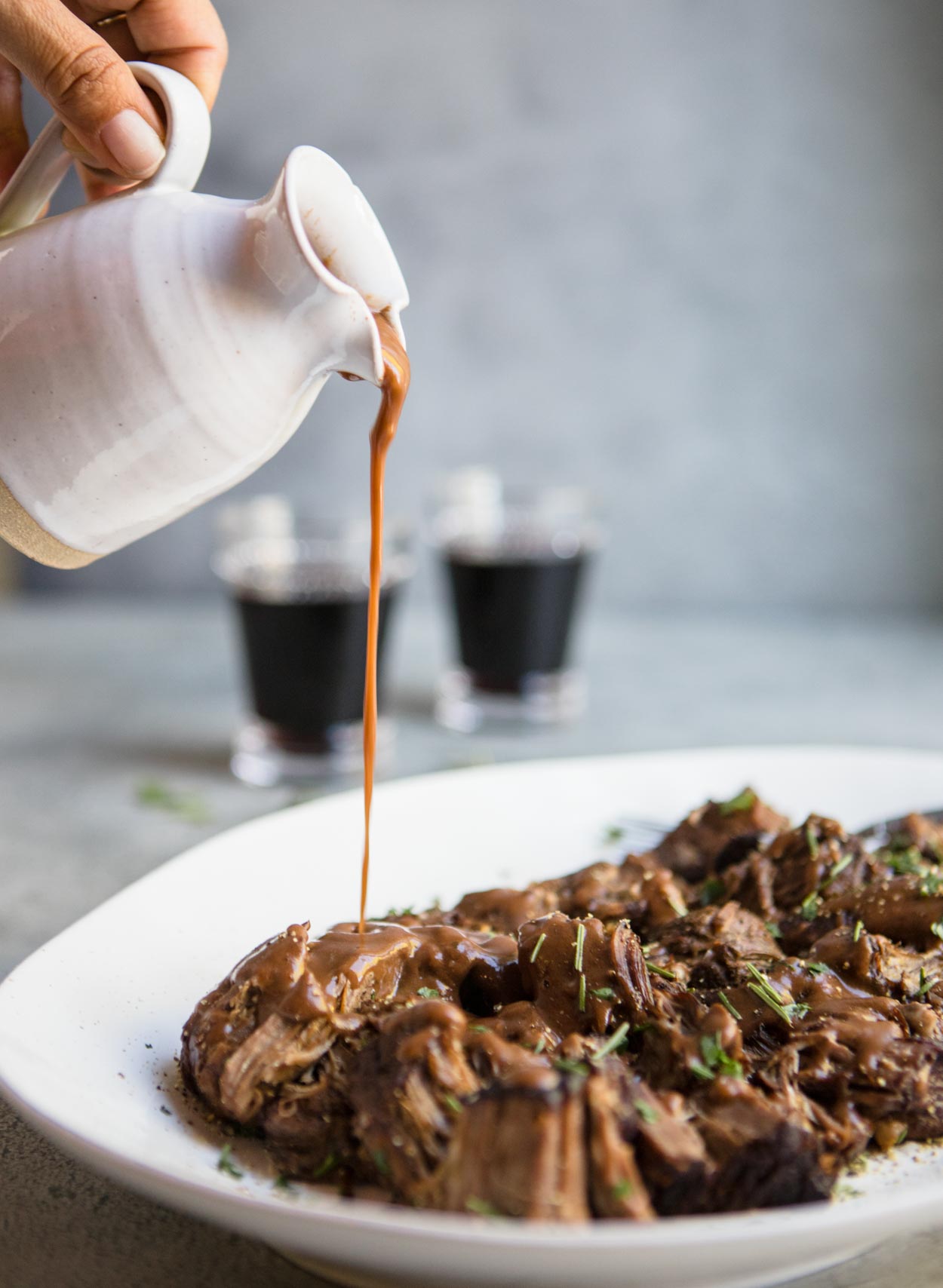 Serving the Pot Roast
Of course there's always the classic option of serving pot roast with potatoes and carrots, or mellow mashed potatoes. But I honestly love them with the earthy flavor of cauliflower mash, and while you can make your own, I am not too proud to admit I like the frozen kind from Alexia foods just as well.
This would also make for an excellent sandwich filling, served with crusty French bread, some of the gravy and a slice of cheese. And if you have leftovers the next day, it would make for a great salad topping. Yum!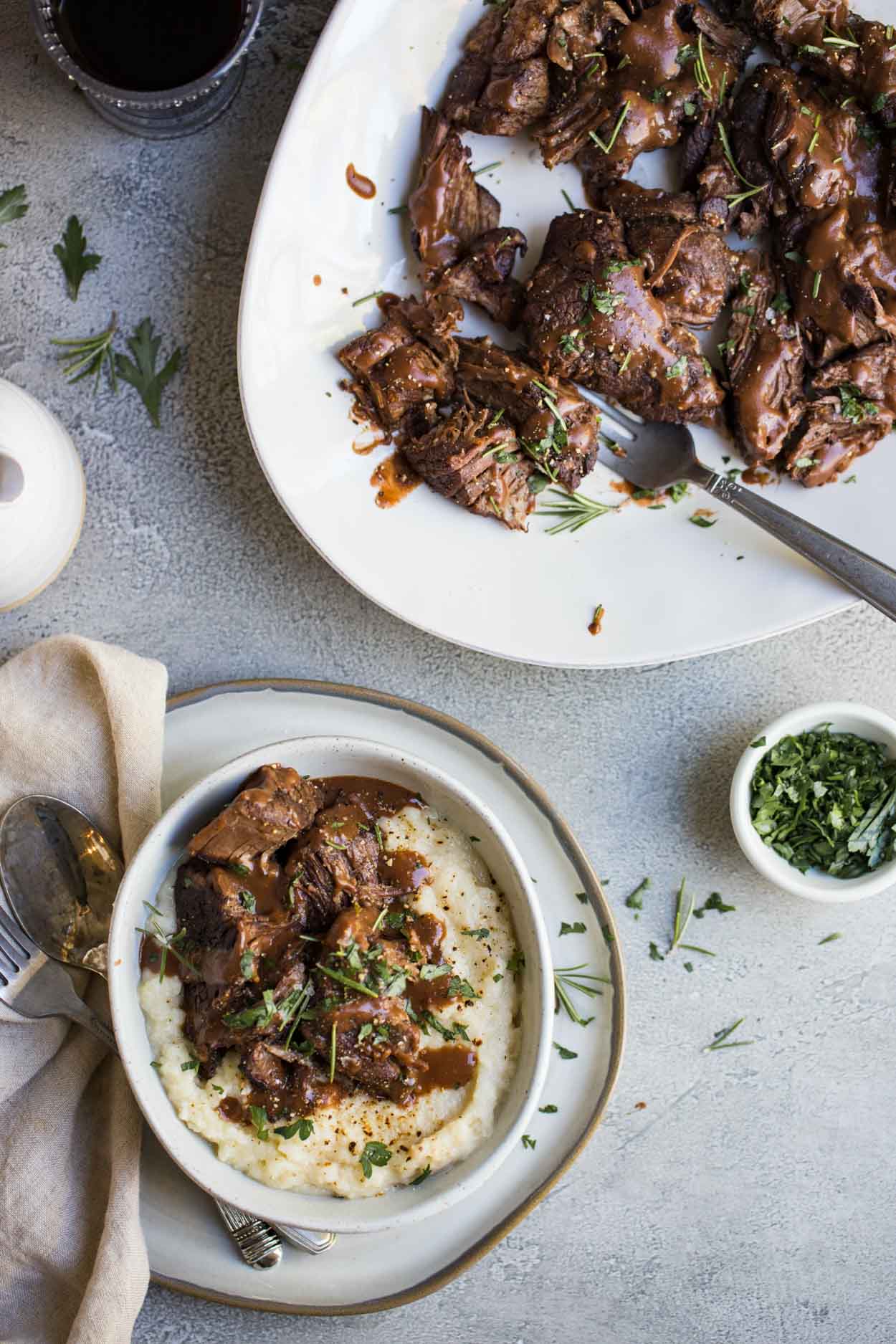 Can You Cook Vegetables With the Pot Roast?
I personally would not cook vegetables with the pot roast, but you can certainly cook them afterwards! Adding vegetables to the Instant Pot (or slow cooker for that matter) tends to result in mushy vegetables. Instead, cook your pot roast and gravy, then when done, cook your desired vegetables in the Instant Pot.
It will only take about 20 minutes total to cook up nice and firm yet soft veggies that will taste a lot better overall than combining them with the pot roast. Just my honest opinion! 🙂
I think I've shared just about all the tips I can think of for making this dish. If I add much more, I'm bound to make it seem a whole lot more complicated than it actually is! I promise this is a no-brainer dish that will work for any day of the week, and will leave you feeling like you conquered the kitchen.
Let me know if you've got any questions, and of course I'd love to hear how you enjoyed it if you do make this pot roast! Please hit me up on IG or leave a comment below if you gave this a try!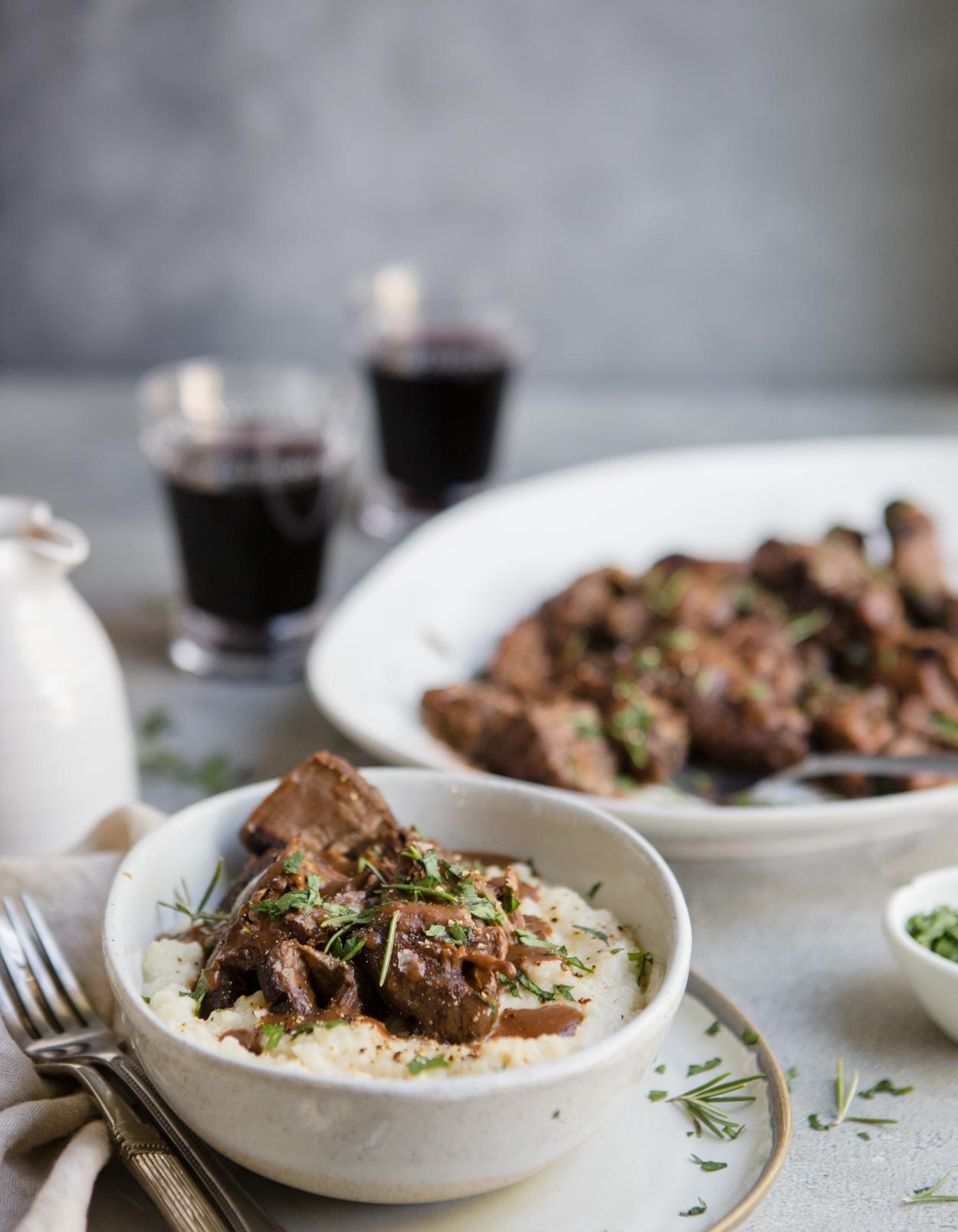 More Instant Pot Recipes
And if you've got the time, I would so appreciate a rating on the recipe card below. This helps other readers like you find me on a Google search believe it or not. Ratings help "legitimatize" a site and its content, so when Google sees that real life people like you have tried the recipe and taken the time to "rate" it, they start making it easier to find. Isn't blogging fun haha?! Thanks as always for reading and cooking alongside me! Here's to good health and tasty eats 🙂
XO,
Andrea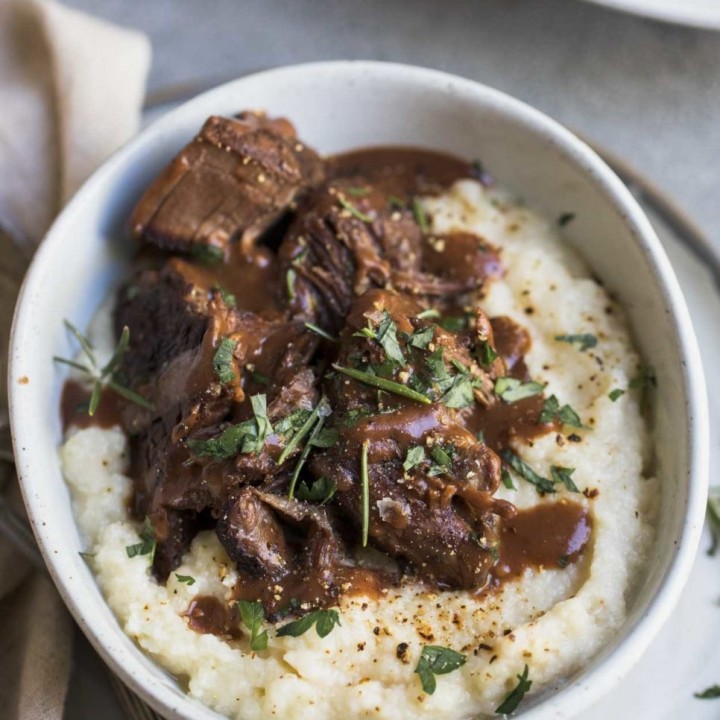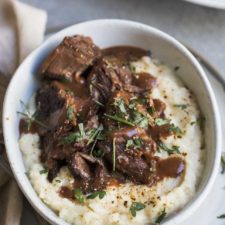 Instant Pot Pot Roast With Cocoa Chipotle Gravy
Get the perfect comfort meal on the table fast with this Instant Pot Pot Roast recipe! This recipe is all about rich and comforting flavors and is so quick and easy to put together. Red wine, cocoa and Chipotle chili lend a mild yet rich warmth, and the gravy is perfect for pouring over mashed potatoes, roast vegetables and the pot roast. To top it all of, it's made in the Instant Pot so it's fast & easy!
Print
Pin
Rate
Ingredients
2

tablespoon

olive oil

3

lbs

boneless chuck roast

either 2 smaller pieces or 1 large piece

1

medium onion

cut into quarters

2.5

tablespoon

unsweetened cocoa powder

1.5

cups

dry red wine like Cabernet Sauvignon

or beef broth

½

cup

crushed tomatoes

2

tablespoon

minced garlic

1

tablespoon

minced fresh rosemary

1

tablespoon

chopped Chipotle pepper in adobo sauce

Scant ¼ cup flour

Kosher salt and fresh cracked black pepper

Fresh parsley optional
Instructions
Bring chuck roast to room temperature at least 30 minutes prior to cooking, and generously coat with salt and pepper.

When it's time to cook, turn on Saute function on the Instant Pot and warm the oil in the inner pot.

Sear both sides of the chuck roast until golden brown, about 3-5 minutes each side, and remove from the pot. Select Cancel on the Instant Pot and add the removable trivet to the pot. Then add the meat and onions back into the pot.

Meanwhile, in a medium bowl whisk together the cocoa powder, red wine or broth, rosemary, garlic, Chipotle and tomatoes.

Pour the sauce mixture over the meat, and cover and lock the pot.

Select Manual High Pressure and set the time to 60 minutes if using 2 smaller pieces, or 75 minutes if using 1 large piece.

When complete, use a Quick release to release pressure from the pot, then remove the roast and set aside.
To make the Gravy:
Strain the cooking liquid out of the pot, making sure to scrape the bottom of the pot to release and stuck bits, and reserve at least 2 cups of liquid.

Select Saute on the Instant Pot, and add the liquid back to the pot, and whisk in the flour. If you are aiming for a thicker sauce, go ahead and add the entire amount, but if you'd like a thinner gravy, start by adding about ⅛ cup of flour, and add to it in small amounts to get the desired consistency. Remember that the gravy will thicken as it heats up, so be patient by stirring in your amounts and checking the consistency before adding more flour.

Add in salt & pepper to taste.

When desired consistency is reached, remove from the pot and set in a bowl.

Shred up pot roast and place on a serving platter. Top with gravy and garnish with fresh parsley.