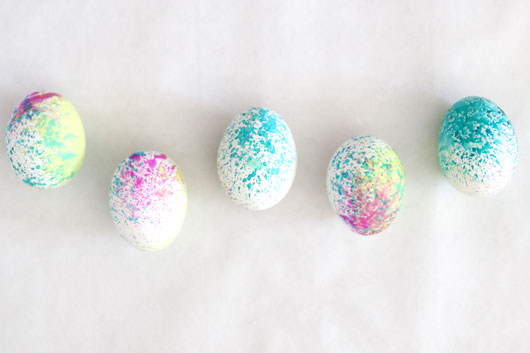 In an effort to keep the kids happy and busy (read, not bugging me to watch TV), I boiled some eggs for them to dye, while I finished up another craft project I was working on. I ended up spending some time getting them started, and it turned out that I loved these eggs even more than the project I was working on and abandoned it to make these with the kids. When it comes to anything artistic or crafty, my kids feel more is better while I take a more subtle approach. You can tell that the lightly sprayed eggs are mine, while the heavily doused eggs are theirs. Either way, they both came out lovely so I thought I'd share them with you. I quite preferred this process to the usual dye method as well.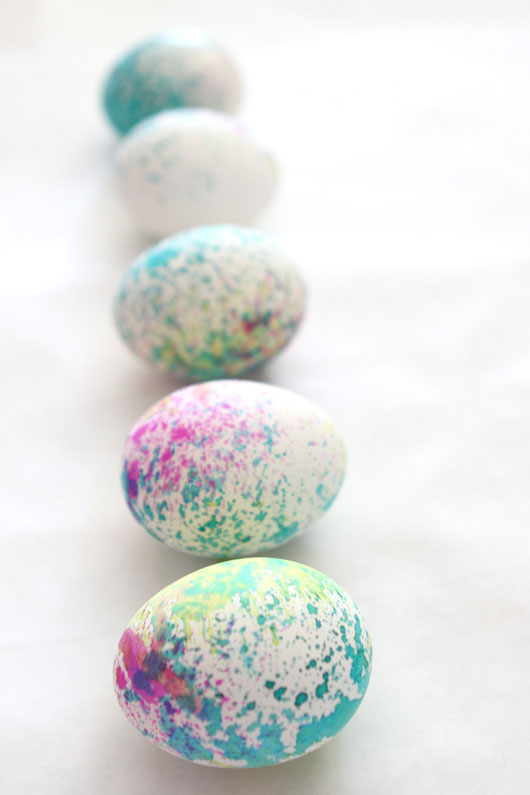 To start you'll of course need some boiled eggs, and then just some non-toxic concentrated liquid watercolors. There's so many options available but they're not always readily available in craft stores, but of course Amazon has several great options to choose from including these fun Fluorescent watercolors from Sargent
 or this Glitter watercolors
set is fab too. Of course a Standard watercolor magic
set is available too with primary colors. The bottles I purchased a few years ago are still going strong, so feel free to invest in a set and know that you'll have them to use for years to come, unless you're running a preschool of course. I  use the metallic gold and silver, or glitter colors to add beautiful shimmer by placing the metallics/glitter in little bowls to paint on, and the regular colors in spray bottles that I got at the Dollar Store.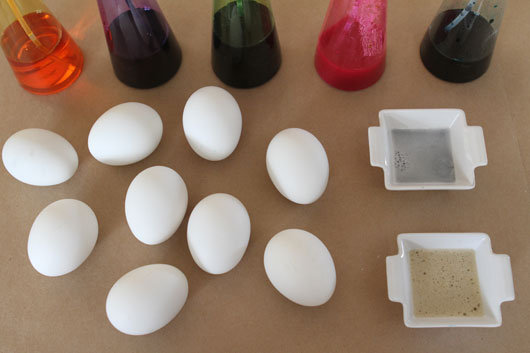 If you want to add a bit of shimmer to your eggs, which the kids did, then brush on some of the metallic on your egg first. It's hard to pick up in the photos, but they do give the eggs a pretty shimmer look to them.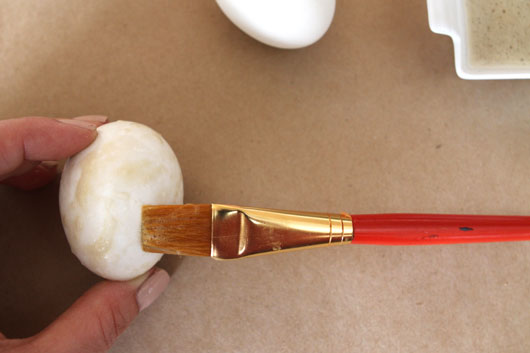 As I said, the kids see this as a free for all and that's fine, so I just let them spray at will. The colors have a nice way of blending together on the eggs so they look like they have a swirly tie-dye effect.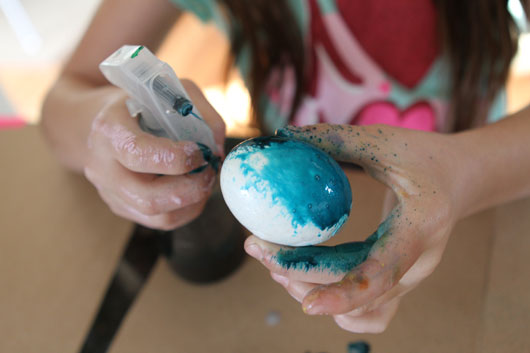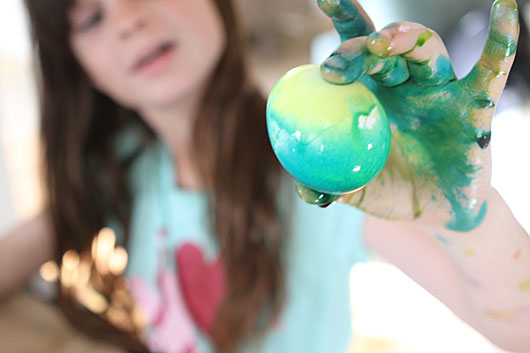 You would think the colors would all just smudge together but they in fact somehow stay separated and create pretty rainbow effects.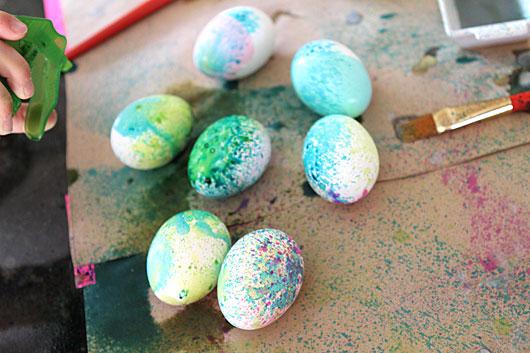 Let the eggs dry for about 30 minutes before handling too much. Lots of dirty hands and messy counters, so lay down lots of paper and wear grubby clothes.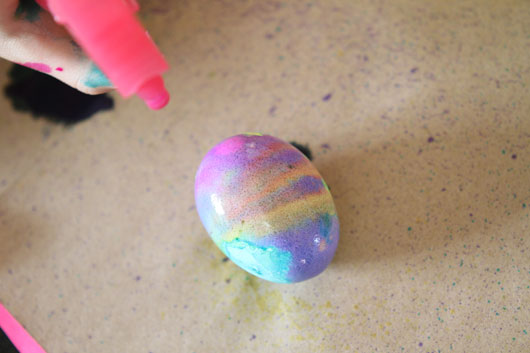 For the more spotted and sprayed look that I achieved, just stand back a bit and give the eggs a light squirt of color.  Make sure to not stand close or else the color will come out in big sprays and cover the whole egg.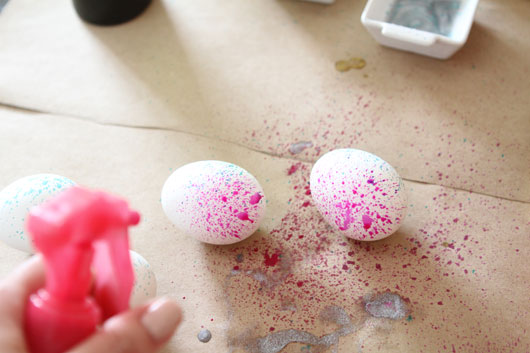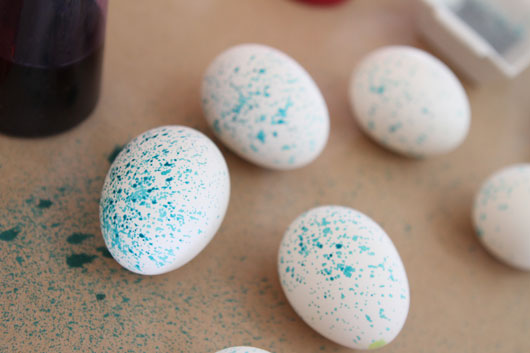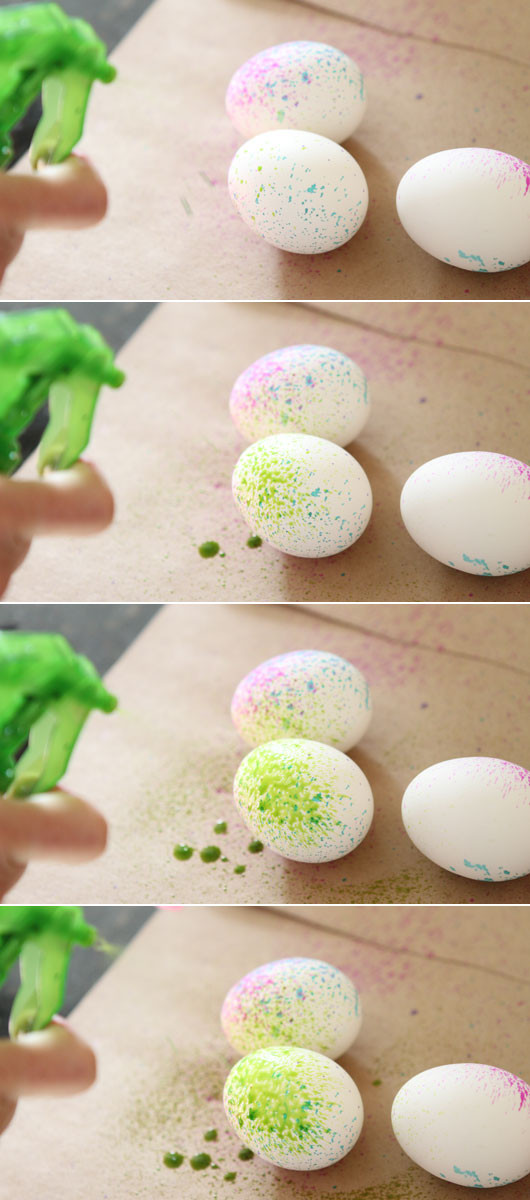 We now have about 1 1/2 dozen hard boiled Easter eggs 1 week before Easter, so we'll be making lots of egg salad sandwiches all week.  But the results were so cool and pretty we just kept on going and I boiled 1/2 dozen more after we made the first batch.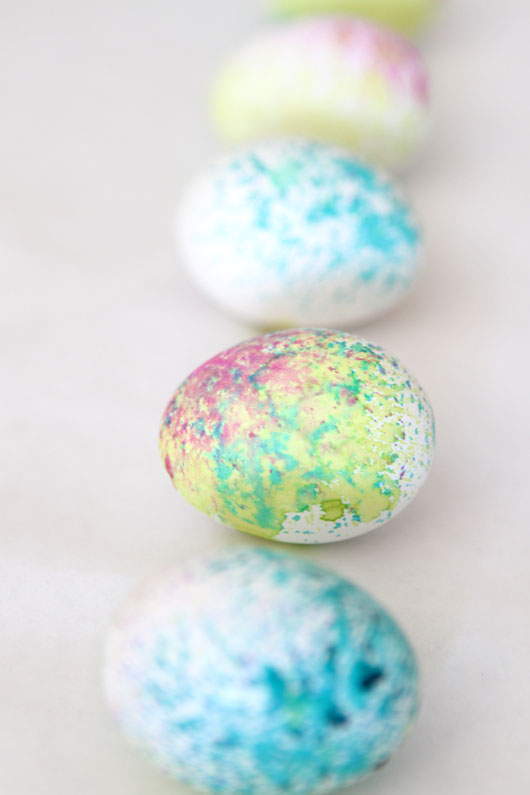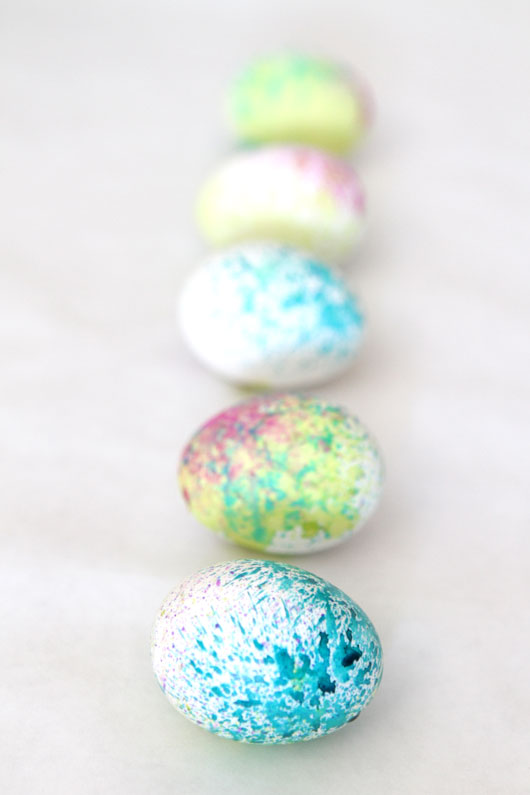 Enjoy and let me know if you try these! Happy Easter!