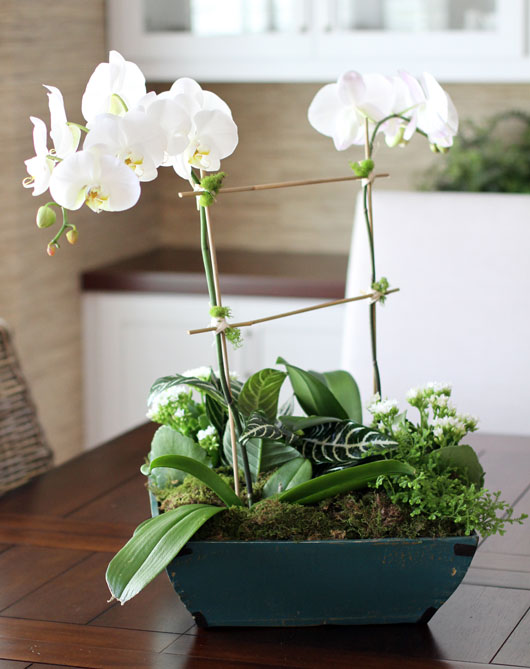 My friend Shelly, of Van Rozeboom Interiors, makes the most amazing orchid centerpieces.  Exactly like the ones you find at high end florist shops, that retail for well over $100.  Using orchids as her focus, she fills large and unique vessels with all types of plants ranging from succulents, to ferns, to create bold and long lasting centerpieces that easily become a statement piece around your home.  She's claimed to recently found her secret to thriving success of her centerpieces, so she came over last week to show me just how simple they are to put together, and how to maintain them so they last you a long time.  Here's the how-to.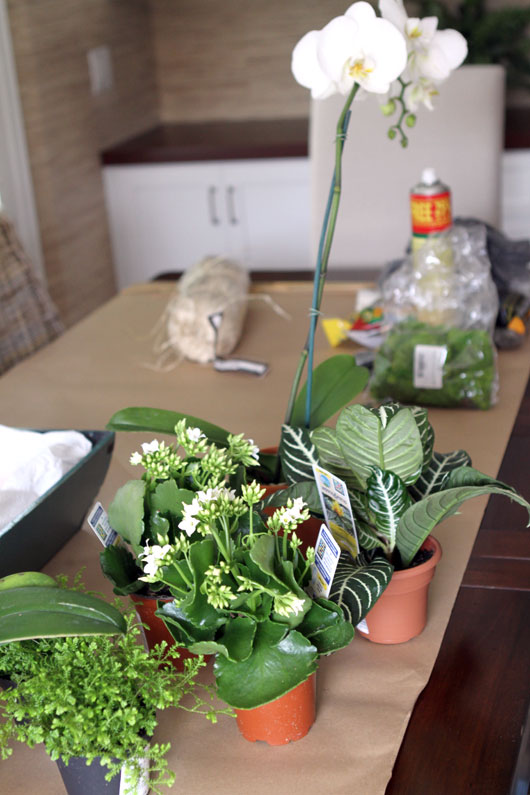 Begin by purchasing 1-2 medium sized orchids, along with some ferns, standard house plants, and/or succulents. Shelly advises picking your filler plants that will all require the same amount of sun and water so that they thrive in the same conditions. My dining room table gets lots of indirect light towards the end of the day, so she picked out hearty houseplants and flowers that will do well with lots of light. We chose Phalaenopsis for the orchids since they are the most common variety, are fairly hearty and reasonably priced. For the filler plants we chose a Zebra Plant (the striped houseplant), a couple of Flaming Katys (the flowers) and a couple of pots of moss.  You'll also want a large vessel to hold your plants; mine is from Home Goods and was $16.99.  2 sticks of bamboo, florist wire, sheet moss and reindeer moss, newspapers, and scissors or clippers.  The raffia and leaf shine are optional but nice touches.  The florist supplies including the moss and wire and sometimes even the bamboo are usually all available at Michael's.  The plants are from Trader Joe's and Lowe's, where you can usually pick up the leaf shine if you need it too.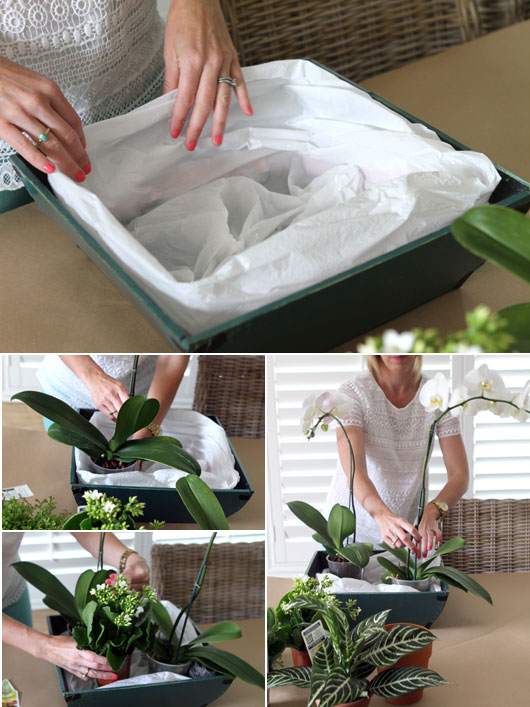 Start by lining your vessel with a trash bag or plastic grocery bag to protect it from drainage from watering the plants.  You are going to leave all the plants in their pots to make it easy to switch out in case any fail, so you want something to serve as a barrier against the water and vessel.  If you want, you could certainly line the bag with dirt and plant your flowers and plants, but Shelly loves doing it this way so I trust her!  After you've lined your vessel, begin arranging your plants.  To help them stand up and to hold in place, ball up sheets of newspaper and stick in between.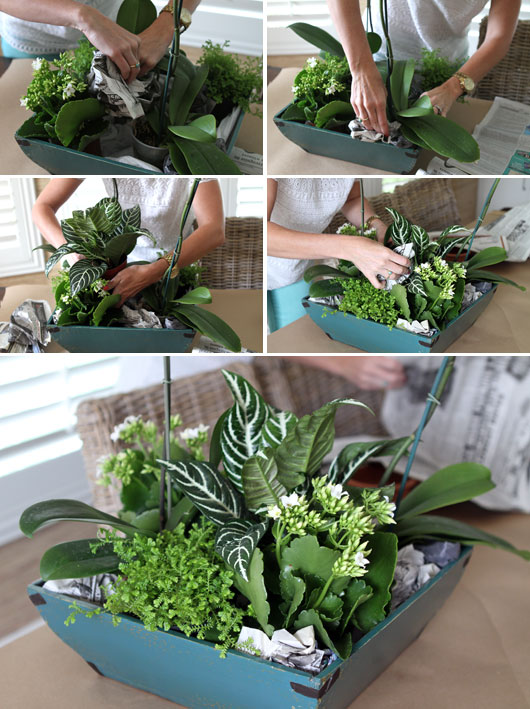 Once your newspaper is in place, remove the green sticks that come with the orchids and, using just the same ties that came with the plant, tie on the bamboo.  You'll notice that the bamboo sticks will be too high for the plant.  Not a problem.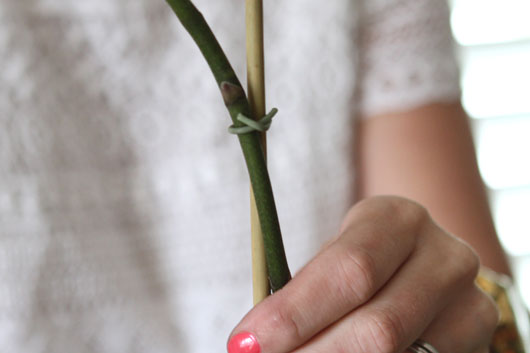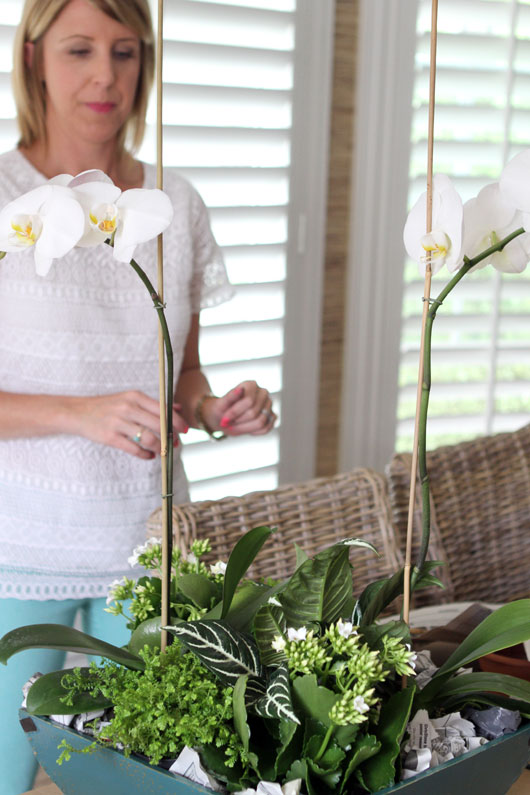 Taking a pair of gardening shears or even heavy kitchen scissors, snip off the tops of the bamboo, and you should have just enough left to make a perfect cross trellis.  Take your florist wire and cut about a 12″ piece and start wrapping your bamboo cross trellis in place, in an diamond pattern.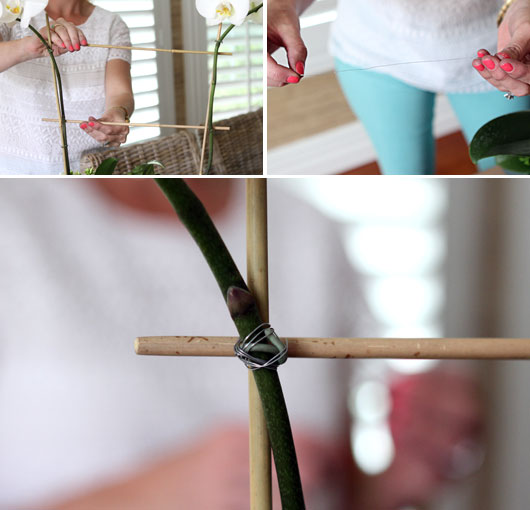 Then it's time to apply the reindeer moss.  Take small bits of it, and a strip of the raffia, and wrap the moss in place with the raffia, covering up each  section of florist wire.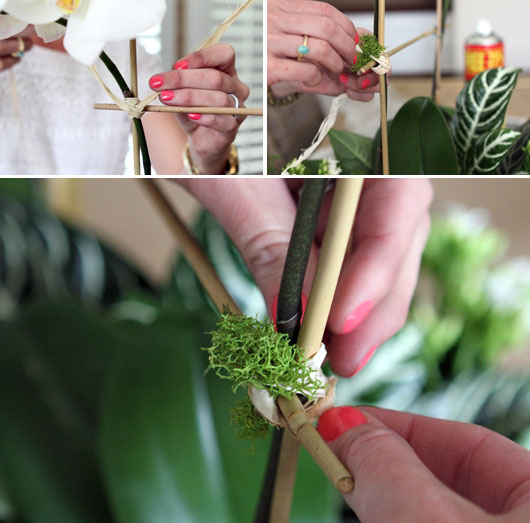 Now you're essentially done for the most part.  You'll want to cover up all that newspaper, so take your sheet moss and break it into pieces to cover up the newspaper.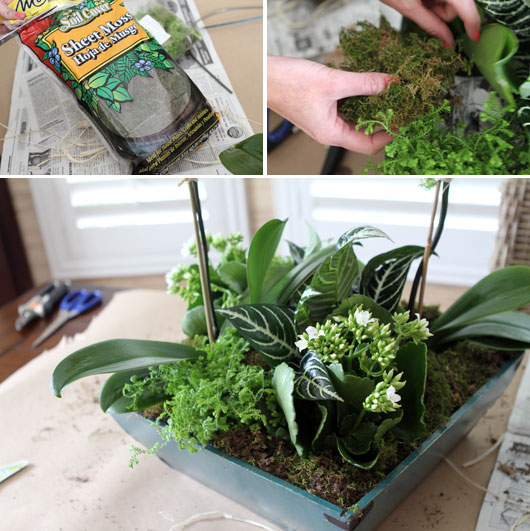 Spray your leaves with leaf shine if you wish, although if you can get a can, it lasts a long time and does make quite a bit of difference.  It gets rid of all those water spots and makes them super lustrous.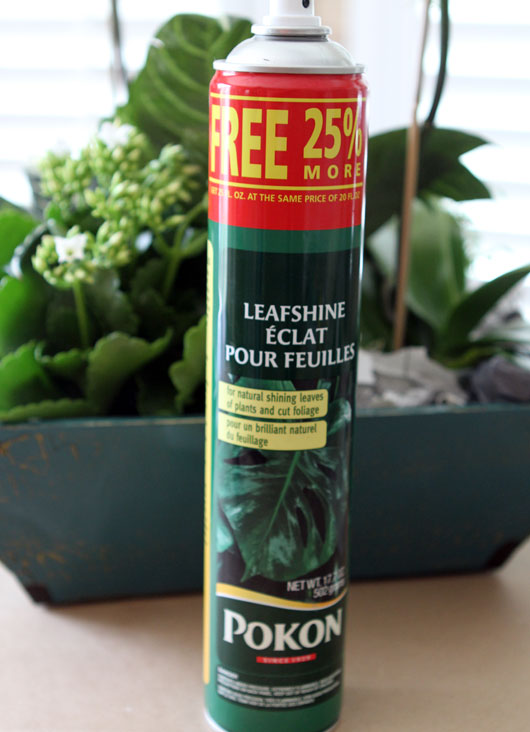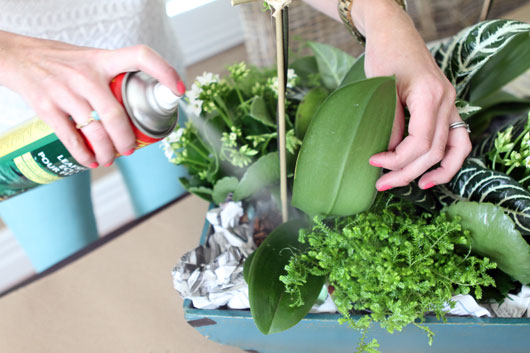 Shelly recommends watering your orchids about every 15 days and really warns against over watering.  She likes to drop a single ice cube at the base of each plant, or a small glass of water, every 10-15 days or so.  For the other plants, follow instructions based off of their variety, but she really likes just feeling the soil every few days and misting with a small water bottle as needed.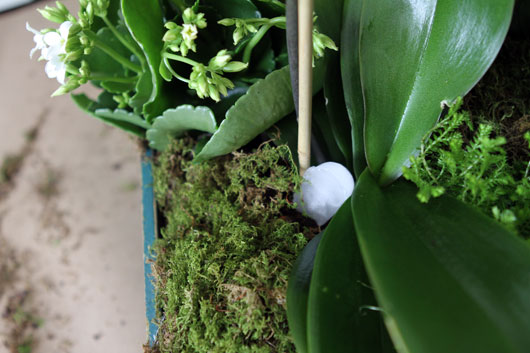 The orchid blooms should last a good 3 months and can possibly bloom twice a year. Once the last blooms fall off, cut your flower spike halfway down the stem. Continue caring for it as usual, it is not dead!, and hopefully it will bloom again. Keep in mind that orchids also love humidity and don't do well in chill temps, so keep it in a spot in your house that gets a consistent temperature range of 75-85 degrees Fahrenheit. To give it some added moisture, place the orchids themselves over a tray or plate of dish water, but separate with some pebbles to make sure the water doesn't directly hit the soil. Shelly also likes placing them in the bathroom during a shower every once in a while.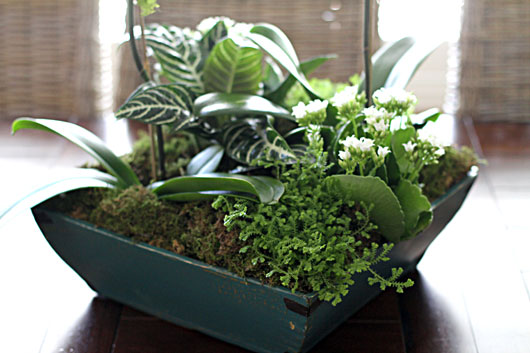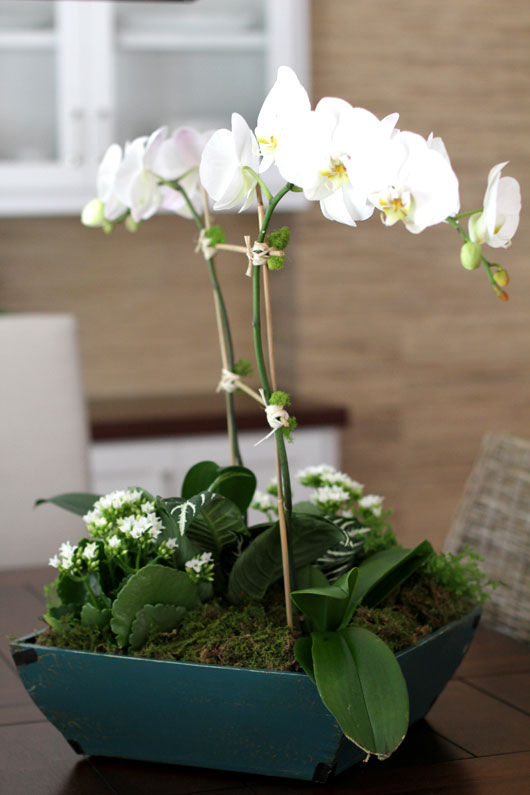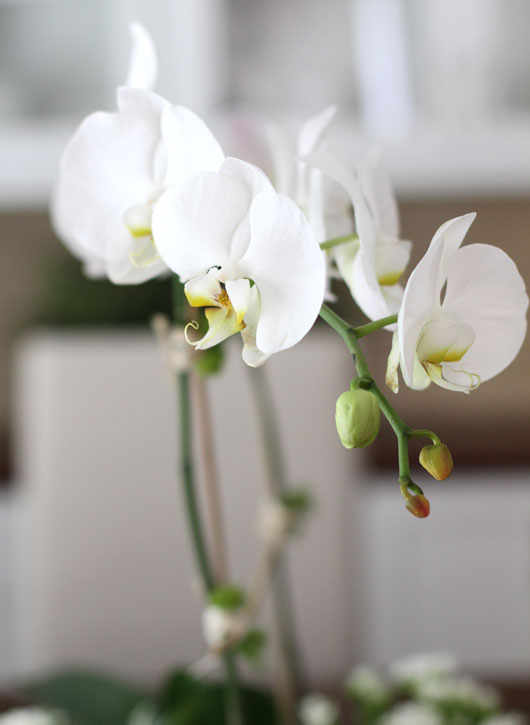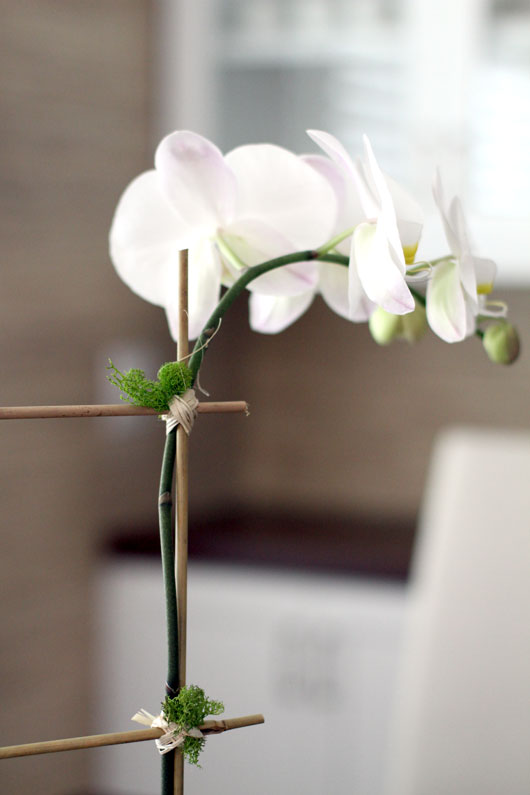 So there you have it.  I know it seems like a lot of steps but trust me, it goes by fast and we had this all put together in less than 30 minutes, including me stopping her to take pictures.  The effort is well worth it because the results are stunning and will save you tons of money if you love this type of arrangement but don't want to spend the kind of money they ask for them at the florist shop.  Thank you so much Shelly for showing me how to make my own DIY orchid centerpiece!