This cheesy potato casserole recipe is the perfect holiday side dish. It's hearty and creamy, without being rich or heavy. And by making your own cream of chicken soup and using a potato ricer or food processor, you'll get the tastiest dish that is both comforting and healthy-ish.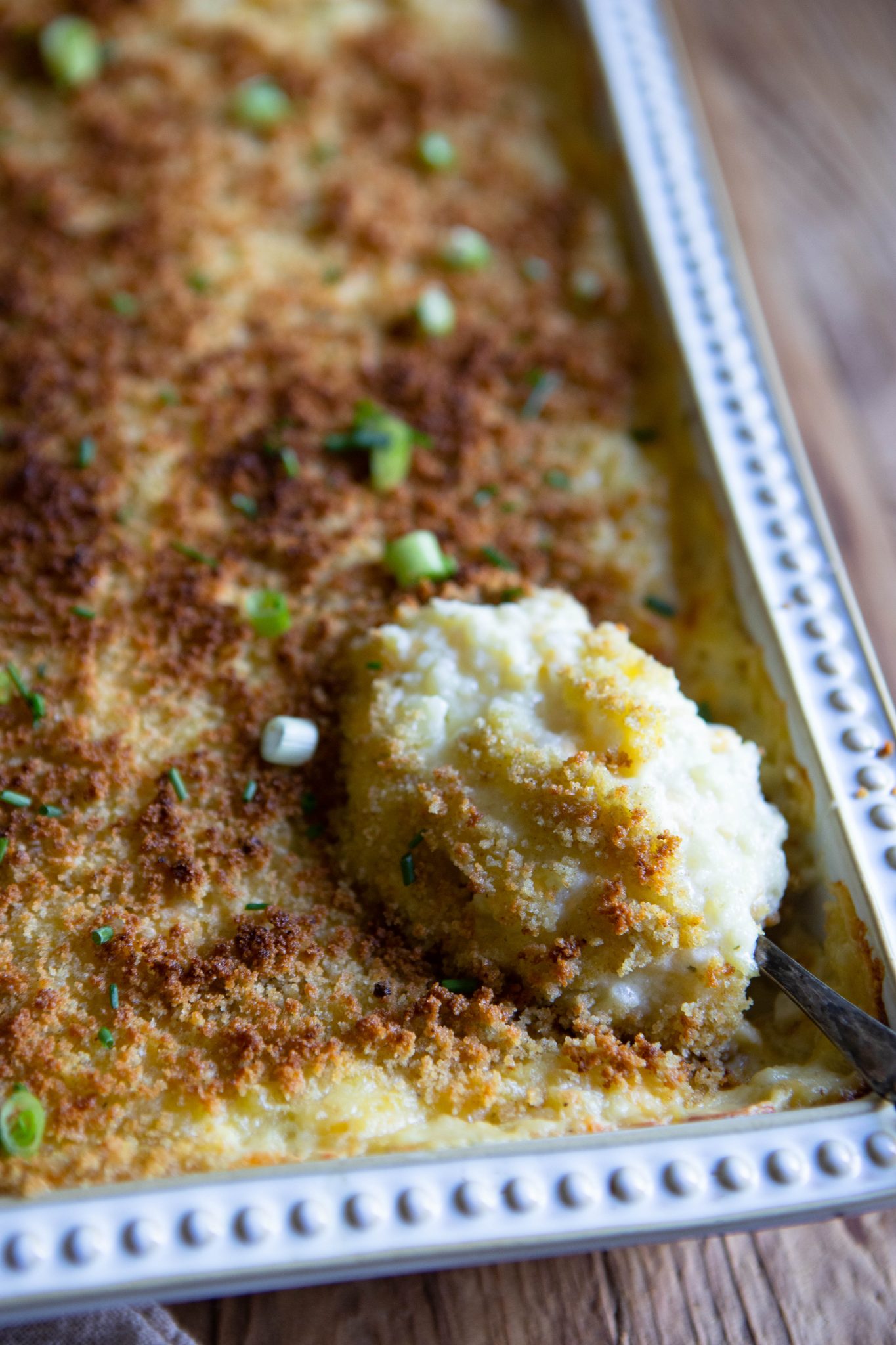 I first tasted this casserole years ago at my in-laws annual holiday party. Of course like any good church party, it was pot-luck style, and the same woman brought the same casserole every year. It was so popular that one year she began bringing 2 of this cheesy potato goodness. My mother-in-law eventually tracked down and gave me the recipe, and I was thrilled to discover how relatively easy it was to throw together. Let's get cooking, shall we?
Ingredients
Potatoes – Yukon golds will work just fine, but I prefer a waxier potato like a yellow or red potato. Their skins are thin and easily peel off and they hold up quite well to boiling and mashing. Or in our case, ricing.
Sour cream or Greek Yogurt
Cheddar cheese
Grated onions – You can finely dice your onion, but grating in a boxed grater is really quite easy and makes for a finer texture.
Cream of chicken soup – canned is fine, but I find it can be a bit too salty for some tastes. If you have time, I recommend making your own cream of chicken soup. It's actually pretty easy to make, is healthier than canned, and you can adjust the flavoring to your family's preference.
Melted butter and bread crumbs – a popular version of this casserole uses corn flakes as the topping, but today we'll be using good ol' bread crumbs.
If you plan to make your own cream of chicken soup, you'll also need:
Chicken broth
Flour
Milk
Seasonings – onion and garlic powder, salt & pepper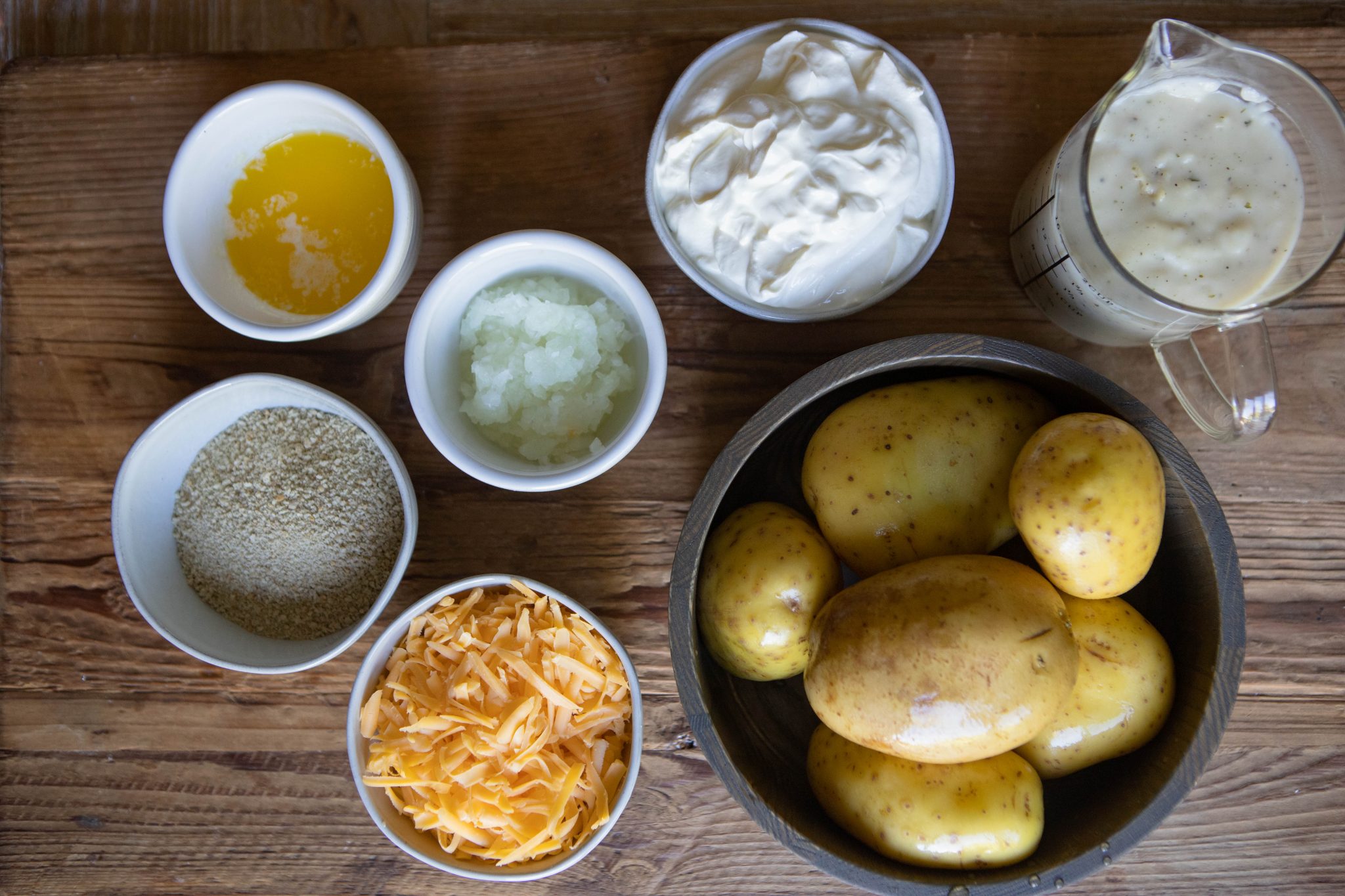 Preparation
Begin by boiling your potatoes till they are fork tender but not totally cooked through. They should hold up to being riced or grated through the food processor without turning into mush. Once done cooking, strain and let cool.
When cool enough to handle, run each potato through the potato ricer, into a large bowl.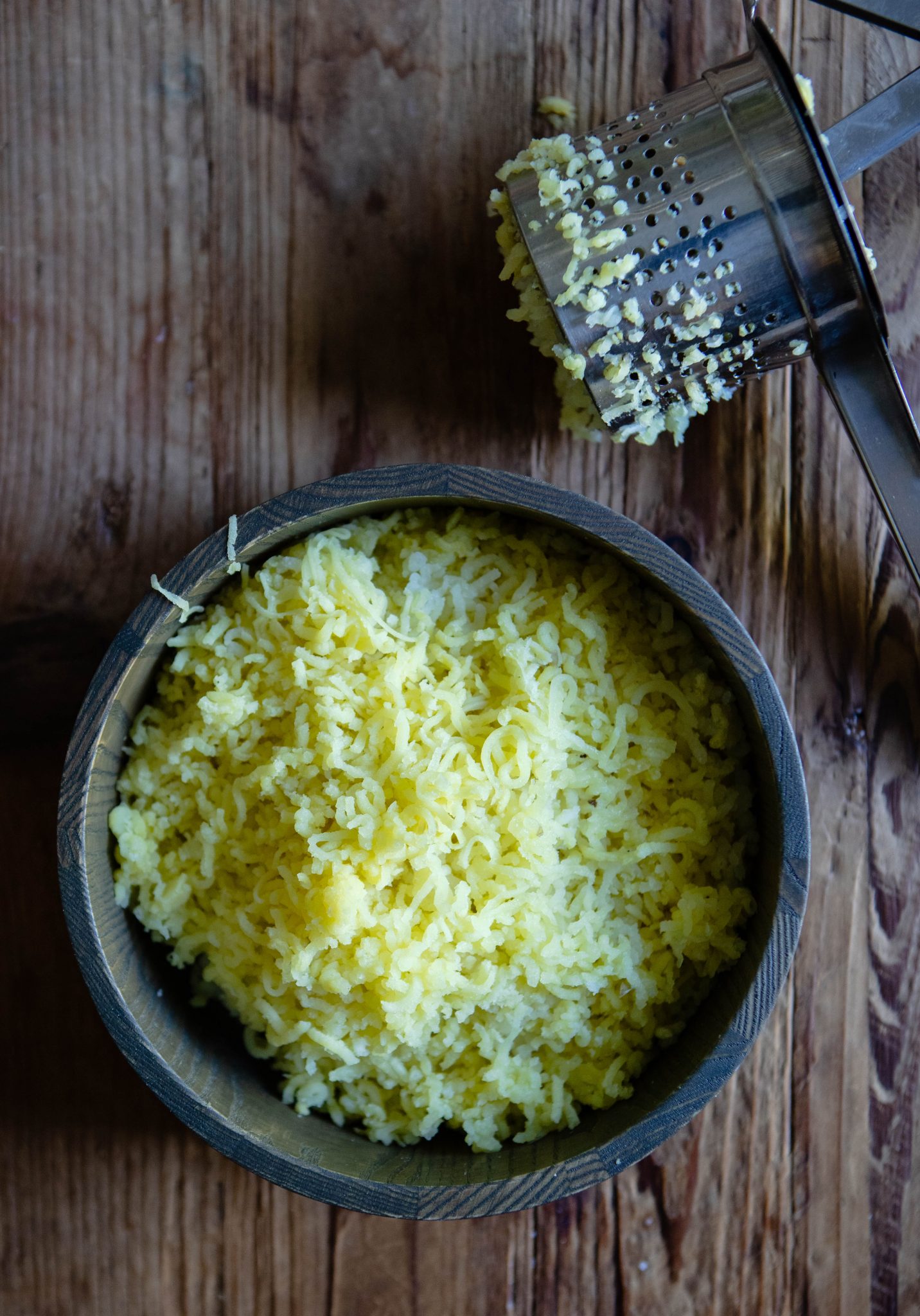 While the potatoes are boiling, combine the grated onions, shredded cheddar cheese, sour cream, half of the melted butter, and cream of chicken soup in a blender. Blend on low till just combined; you don't want a totally smooth texture. It should be a little chunky.
Add the creamy cheese mixture to the riced potatoes, and mix gently till combined and potatoes are totally covered. Spoon into your favorite casserole dish.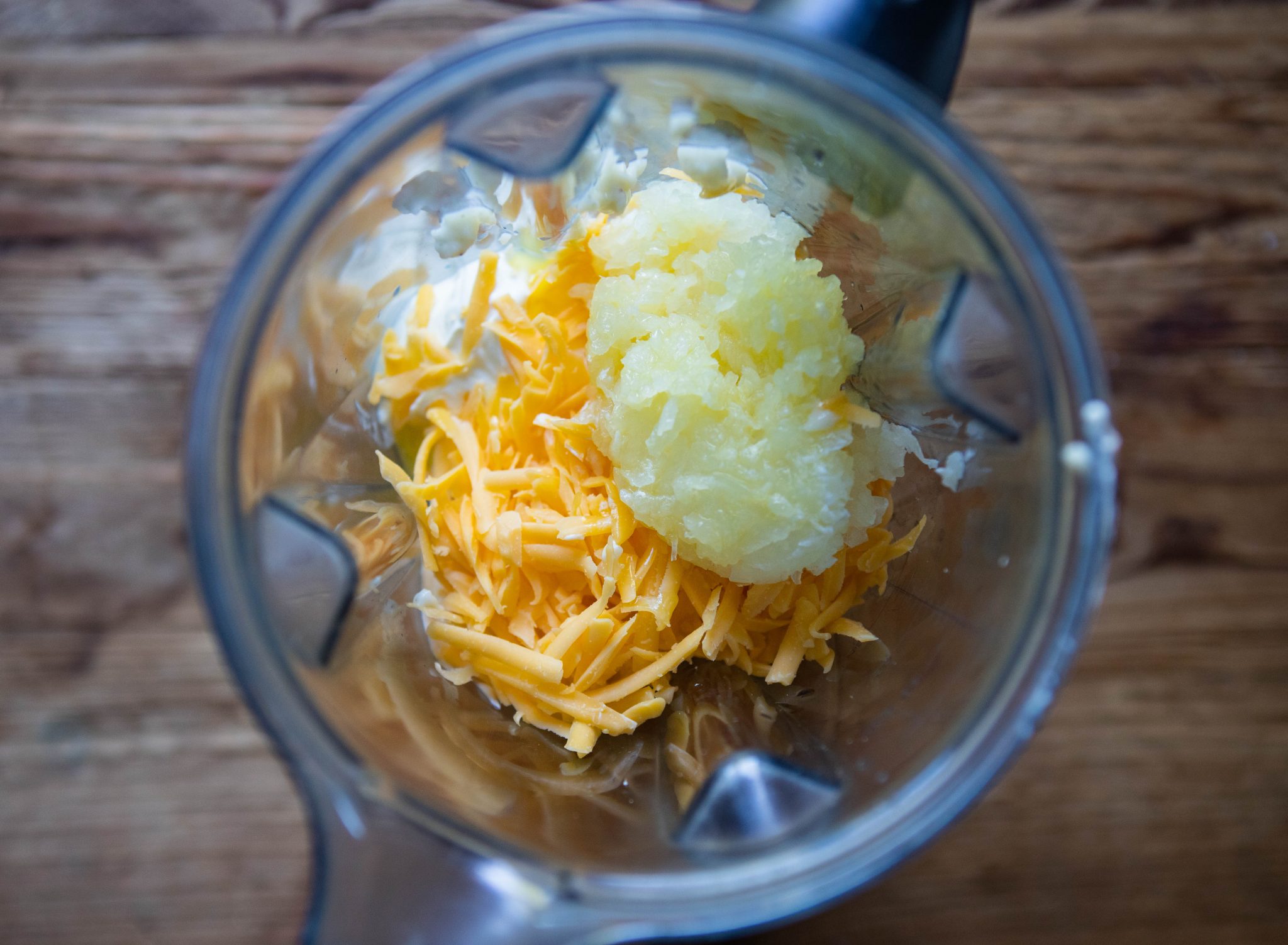 Combine the bread crumbs with the remaining melted butter, and mix with a fork till combined. Sprinkle all over cheesy potato mix, then bake at 350 for 30 minutes.
Serve immediately, or cover and store in the fridge up to 3 days in advance. Reheat in a 300 oven till warmed through, about 20-30 minutes.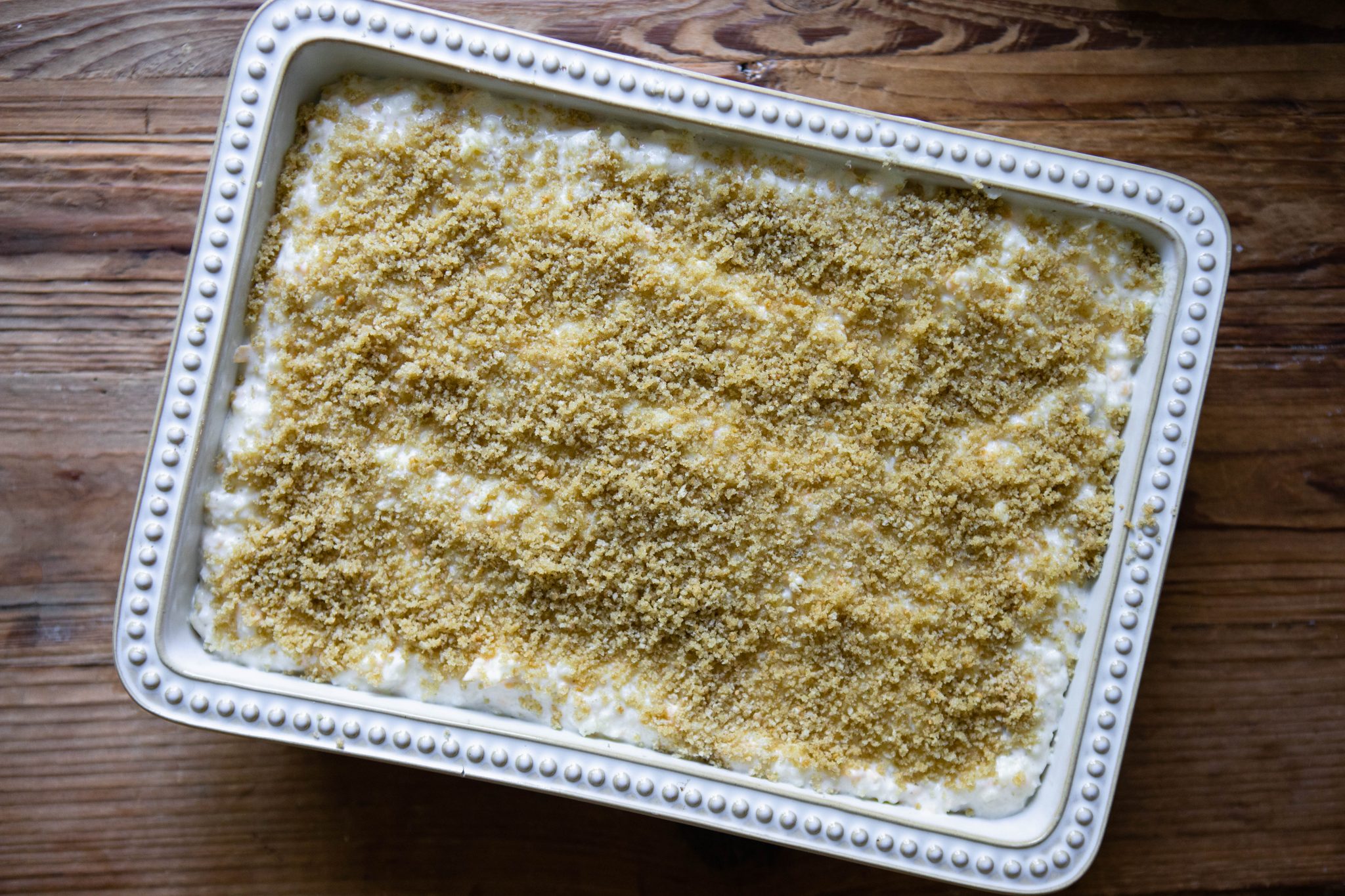 What is a potato ricer and how do you use one?
A potato ricer a kitchen gadget used to process potatoes or other food by forcing it through a sheet of small holes, which are typically about the diameter of a grain of rice. It is relatively inexpensive and is often thought to be a one trick pony in the kitchen, but it does have multiple uses.  Use it to squeeze extra water from foods like zucchini or frozen spinach. It can also be used to puree baby food! When using a ricer for potatoes, you wind up with the creamiest, totally lump-free potatoes. Riced potatoes can be used to make casseroles or good old fashioned mashed potatoes.
Using a potato ricer is really easy! Simply boil your potatoes then place one at a time in the ricer, and squeeze through. One of the best things about using a ricer is there's no need to peel the potatoes before boiling. It easily separates the peel from the potato as you squeeze it through the sieve.
Ricing takes about 30 seconds per potato, and is actually much quicker than mashing them by hand.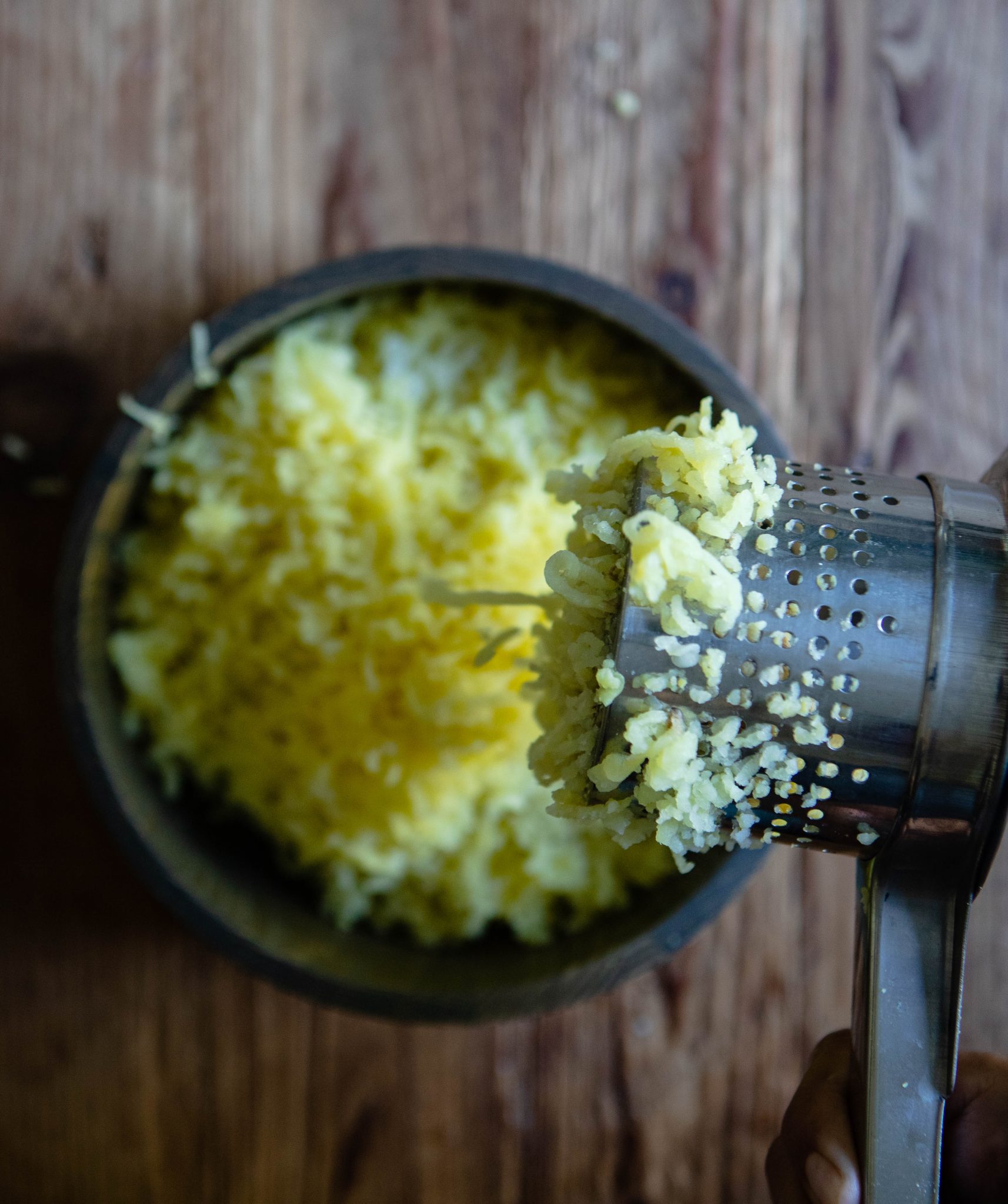 How to rice potatoes without a ricer
If you have a food mill, you can certainly use it here. Mills are a little more aggressive than ricers, so your potatoes may turn out a bit more mashed, but that's okay.
You can also use the grater attachment of a food processor. If you are using a food processor, I recommend parboiling the potatoes. If you overcook them and they are really soft, they will fall apart in the food processor.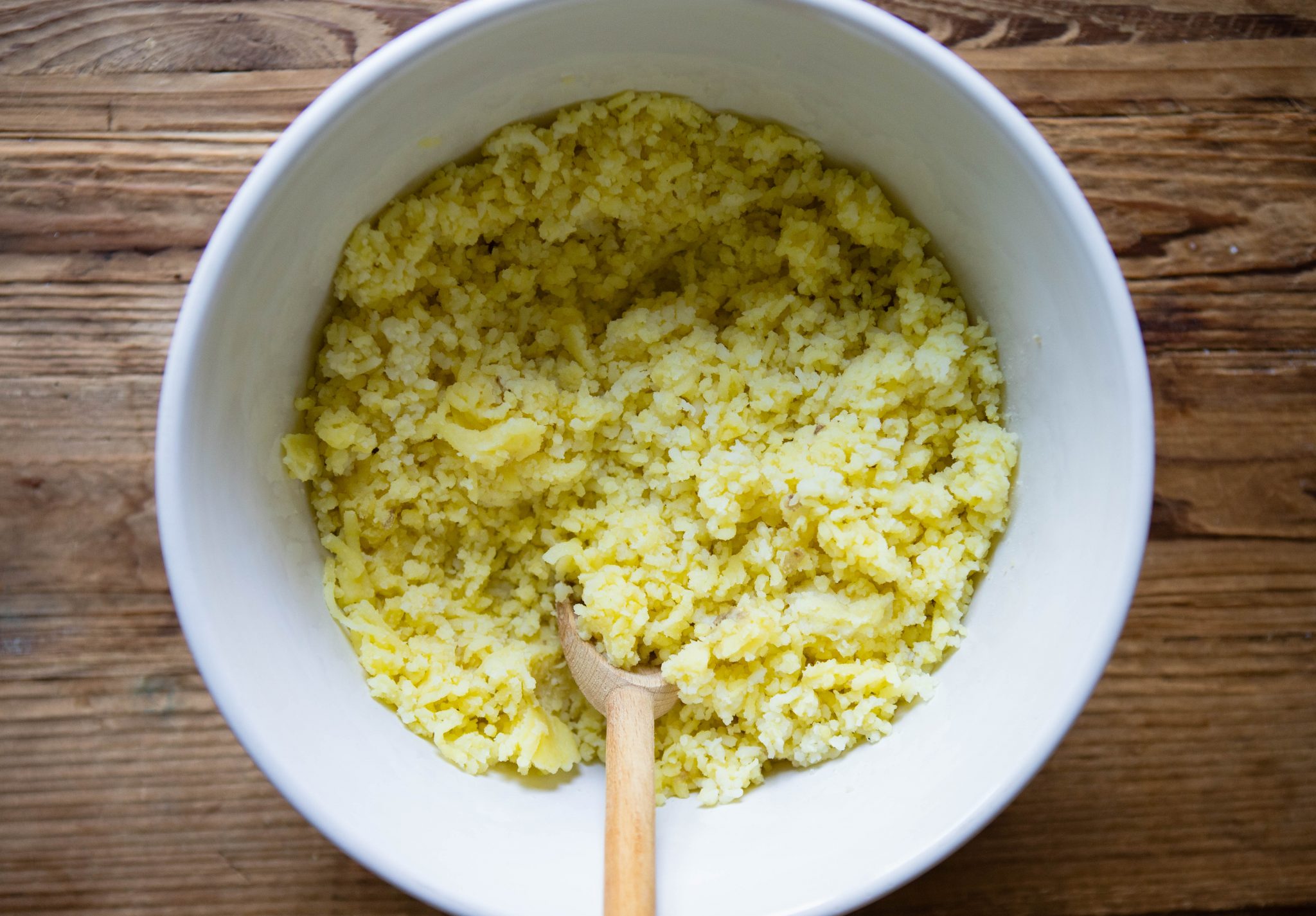 One quick tip I wanted to share is to refrigerate your riced potatoes for a bit, before you mix them with the cheese mixture. This will make the potatoes a little more sturdy so when you're mixing them with the cheese sauce, they hold their structure. Of course if you don't have time to refrigerate, that's fine too!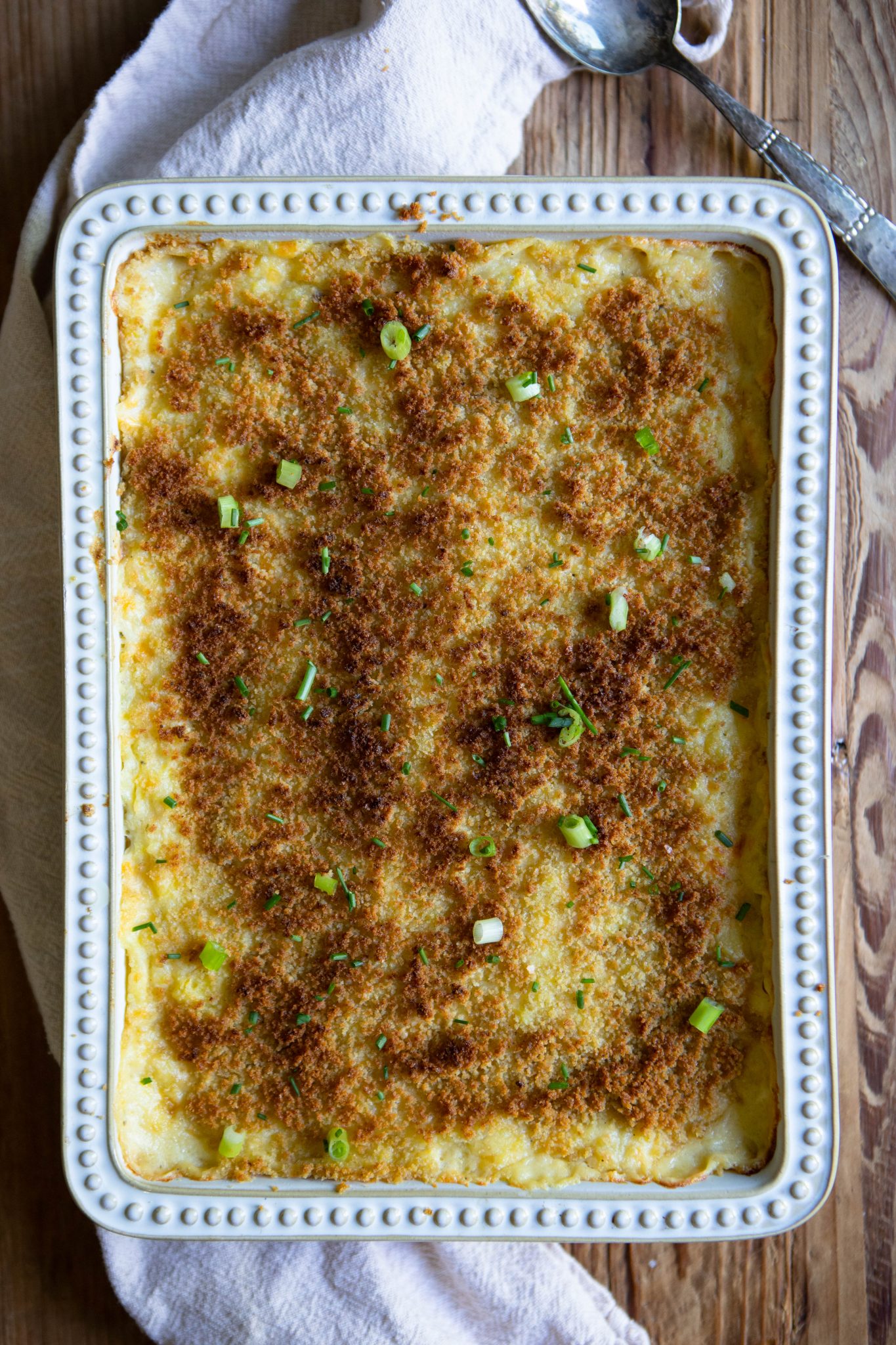 What to serve with this Cheesy Potato Casserole Recipe
I love this dish during the holidays. It just screams good potluck food to serve alongside a baked ham and green bean casserole for Christmas parties. Small ones with your bubble this year of course. 😉 Or it's great as an alternative to mashed potatoes for Thanksgiving. For non-holidays though, it would taste great with a pot roast or baked chicken cutlets.
Cheesy potato casserole recipe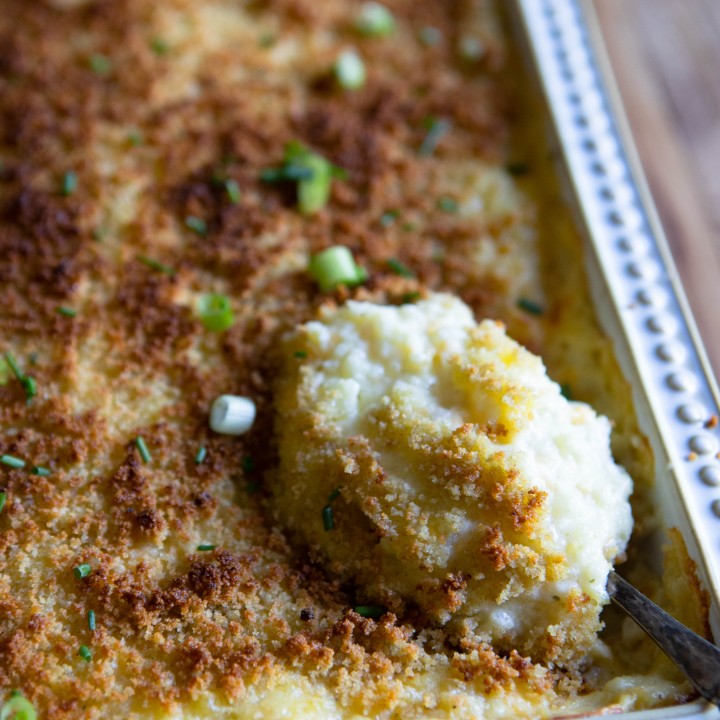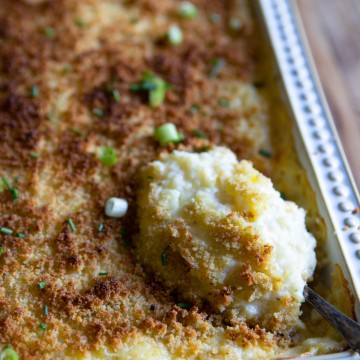 Cheesy Potato Casserole
This cheesy potato casserole recipe is creamy and flavorful, without being overly rich and heavy. The perfect side dish for the holidays!
Print
Pin
Rate
Ingredients
6

Medium Potatoes

Boiled with skins on

¼

cup

Butter

Melted & divided

1

pint

Sour cream

Or Greek yogurt

¼

cup

Onions

Grated

1.5

cups

Cheddar cheese

Shredded

1

can

Cream of chicken soup

or make your own

½

cup

Bread Crumbs
Homemade Cream of Chicken Soup
2.5

cups

Chicken broth

1.5

cups

Milk

¾

cup

Flour

1

teaspoon

Onion powder

1

teaspoon

Garlic powder

Salt & Pepper to taste
Instructions
Boil the potatoes till just fork tender but not cooked all the way through; about 10-12 minutes depending on the size of your potatoes. Strain and set aside to cool

While potatoes are boiling, combine the sour cream, grated onions, cheddar cheese, cream of chicken soup and half of the melted butter to a blender, and process till just combined.

When potatoes are cool enough to touch, push them through the ricer, food mill or food processor, into a large bowl.

Stir in the creamy cheese mixture to the potatoes, and gently mix in till just combined. Place in a casserole dish.

In a small bowl, combine the remaining melted butter with the bread crumbs, then sprinkle on top of the casserole.

Bake for 30 minutes, till heated through and crust is golden brown.
To make homemade Cream of Chicken Soup
Combine the chicken broth and ½ cup of milk to a sauce pan and heat till you achieve a gentle boil.

While broth and milk are warming, in a small bowl, whisk the flour and seasonings into the remaining 1 cup milk until a smooth, thick mixture forms.

Pour the flour and milk mixture into the saucepan with the broth mixture and stir over low heat till the mixture simmers. Continue to simmer and stir until the mixture is smooth and thick, about 5 minutes.
Notes
You can find potato ricers at most home goods stores, including Williams Sonoma, Bed Bath & Beyond, and of course Amazon.
You can swap out crushed corn flakes for the bread crumb topping.
Nutrition
Serving:
1
cup
|
Calories:
488
kcal
|
Carbohydrates:
44
g
|
Protein:
14
g
|
Fat:
29
g
|
Saturated Fat:
17
g
|
Cholesterol:
76
mg
|
Sodium:
844
mg
|
Potassium:
816
mg
|
Fiber:
4
g
|
Sugar:
6
g
|
Vitamin A:
902
IU
|
Vitamin C:
31
mg
|
Calcium:
310
mg
|
Iron:
3
mg