If you're anything like me, you are more than ready to load up on some very healthy, feel good vegetables. Now that the holidays are over you are kinda tired of cakes, cookies, charcuterie and cheese being a regular staple of your diet ha! Well as it so happens, while shopping in Trader Joe's last week I saw a ton of fun new dips in stock, so I was inspired me to create this epic crudite platter with plenty of dip and snack options for you all! As I show below, it is totally vegetarian, and if you subtract the pepper jack cheese, it's vegan. You know I don't subscribe to either way of eating, but I 100% support eating as many veggies as you can!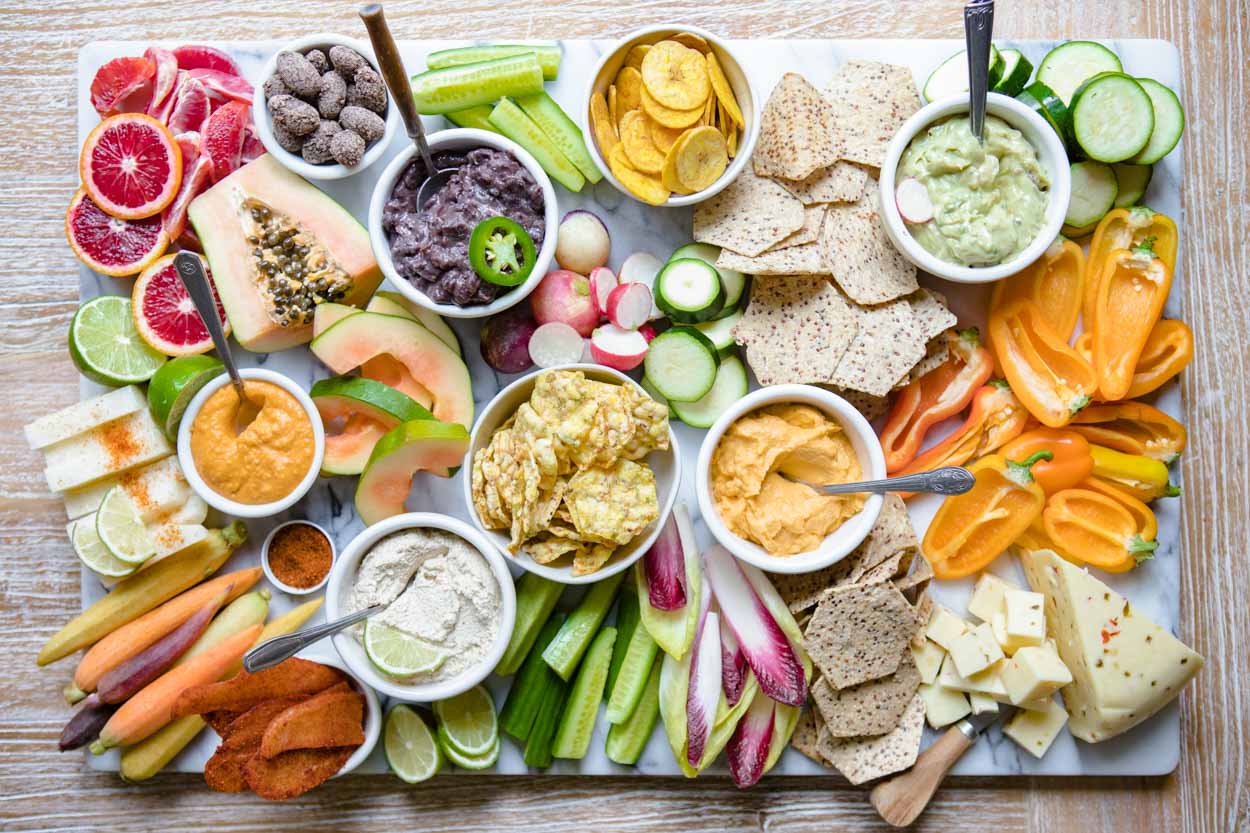 What Makes This Crudite And Dip Platter so Epic?
What I especially love about this crudites platter is that it has a lot of healthy and filling dip options. So swap the salty cured meats found on a charcuterie board, or the typical boring ranch dressing found on every crudite platter, for these adventurous and yummy dips, and you'll be eating healthy & balanced in the process! These dips are all loaded with nutrient dense whole ingredients, from cashews and almonds, to avocado and black beans, and are packed with flavor.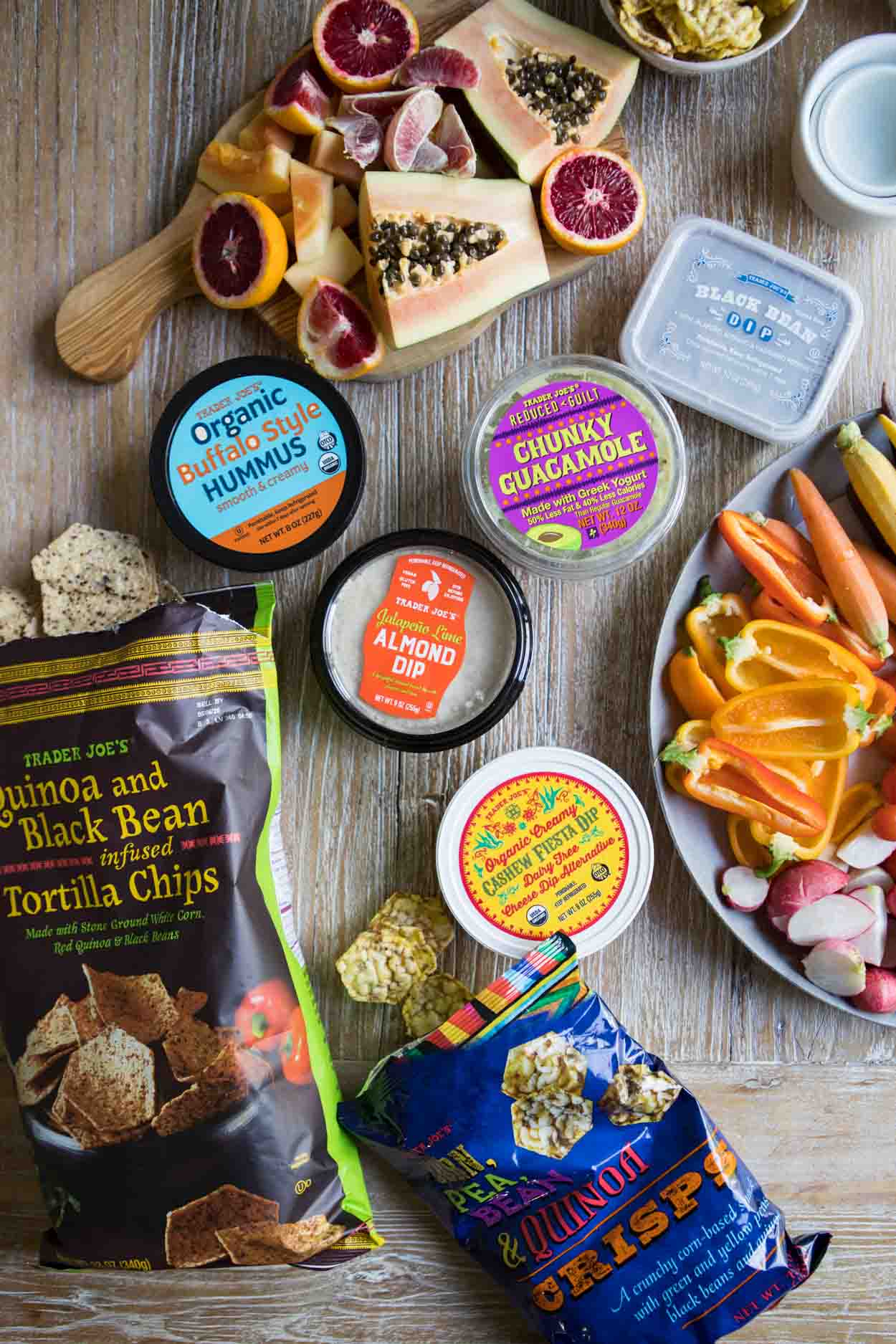 A Crudite Platter With a Latin Twist
I went into Trader Joe's expecting to put together a veggie platter centered around the typical Mediterranean flavors, including olives and artichokes, hummus and sun-dried tomatoes. But Trader Joe's had other plans for me! I instead wound up making this crudite platter with plenty of fun, Latin inspired dip options. The dip options include guacamole, black bean dip, creamy cashew fiesta dip, almond dip with jalapeno and lime, and to add a little more heat, a buffalo style hummus. And instead of using crackers, I went with black bean tortilla chips and bean & quinoa crisps. Add in some lime, Tajin, papaya and blood oranges, and we are ready for a fiesta!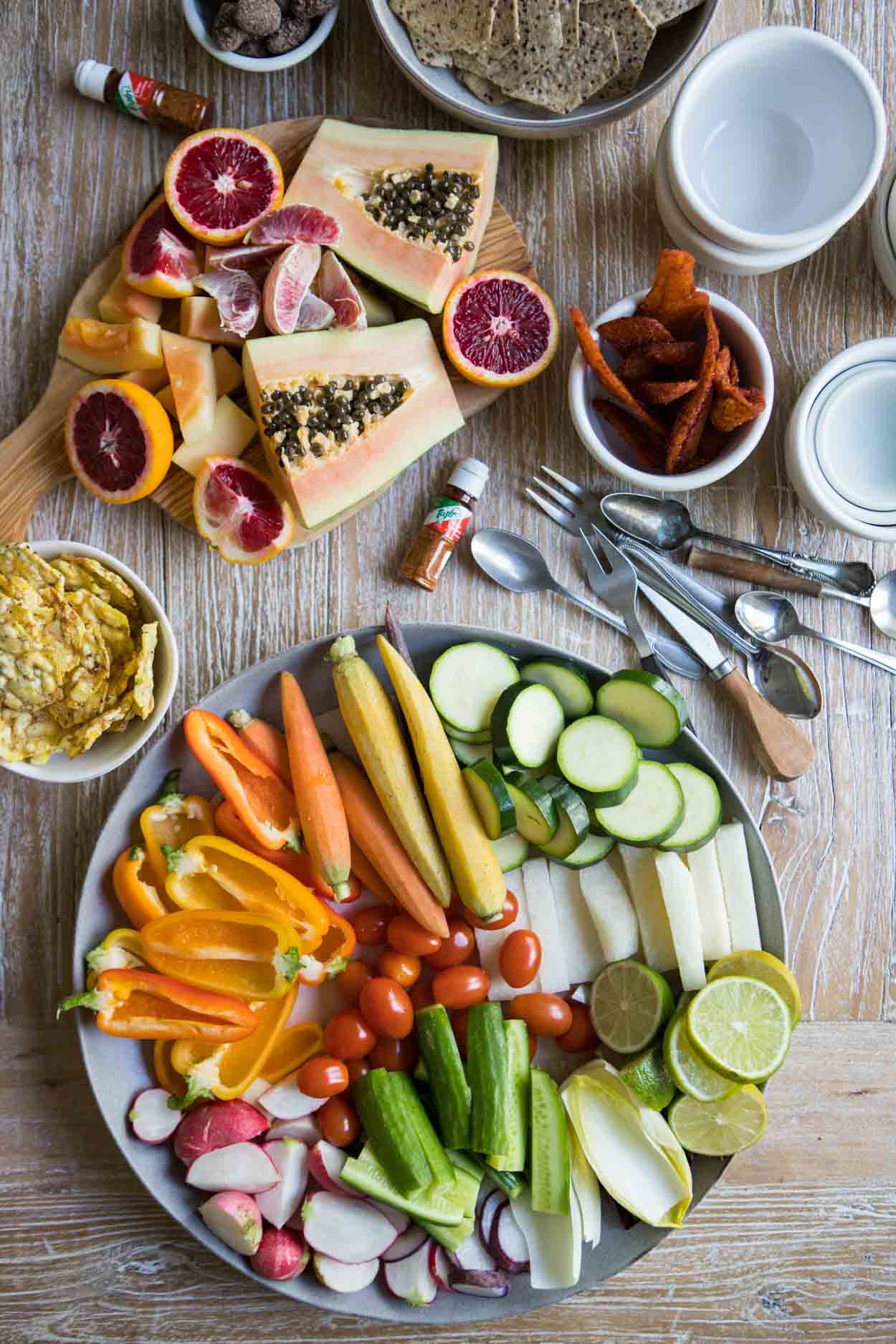 Vegetables & Fruits I Used
I used a total of 8 vegetables and 2 fruits, so a total of 8 dynamic, antioxidant & nutrient packed ingredients that will help you feel amazing. This tray is truly a rainbow of nature's beautiful bounty!
Cherry Tomatoes
Cucumbers (I love English or Persian cucumbers, and feel free to cut in rounds or sliced lengthwise)
Radishes (eaten whole or sliced thin, this beautiful veggie lends a spicy bite!)
Jicama (must try with lime and Tajin!)
 Endive (great for scooping up dips!)
Mini bell peppers sliced in half for scooping (or cut up regular bell peppers lengthwise)
Zucchinis cut into coins
Rainbow carrots (usually always found at Trader Joe's, they are sweet & pretty too!)
Papaya (again, try with lime and Tajin!)
Blood oranges (if these don't get eaten, you can always use them to make a blood orange margarita!)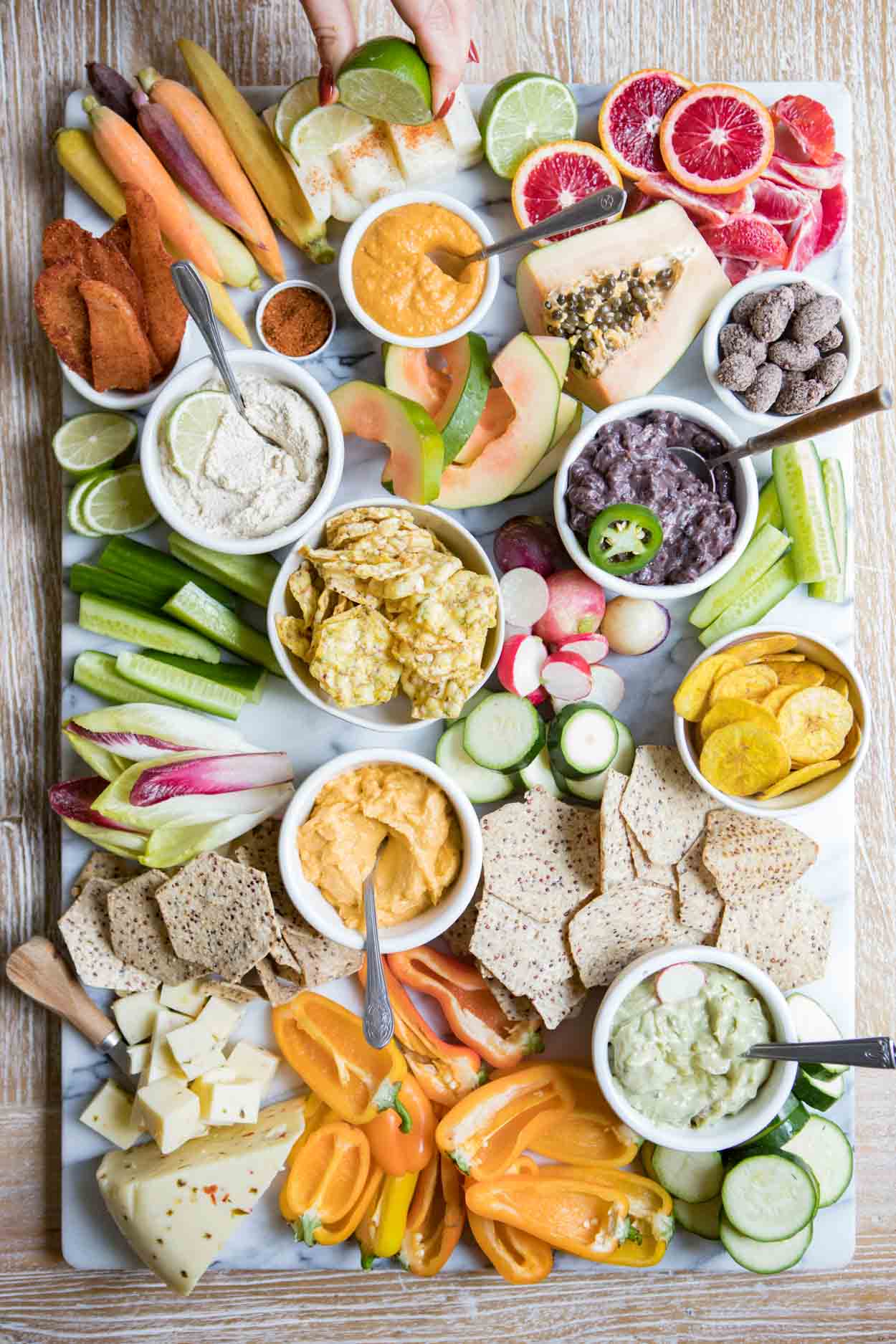 How To Assemble A Great Snack Board using any ingredients
Whether you're assembling a charcuterie board, crudite platter or any other type of snack board, there are a few basic principles that I personally like to observe.
Always start by placing your main ingredients, so cheese on a charcuterie board or dips here on this crudite platter, and work out from there. Don't cluster them together, but rather spread them out so grazers have easy access to a dip no matter where they're sitting or standing.
Add in other fresh ingredients around the board such as fruits, veggies or cured meats (if making a charcuterie), making sure to spread out colors and textures and even repeat ingredients if you have a big space to fill.
Add in nuts, seeds, dried fruits, olives and any sweet snacks like chocolate, towards the end.
The last ingredient to always add are the chips and/or crackers. This will avoid them getting stale and soggy. Only put small amounts out at a time and refresh as needed.
Look for and fill in holes! Now enjoy!
How To Prep & Store Crudites
Wash and cut all fruit and veggies up to 24 hours in advance, store in a closed container and place in the refrigerator. To freshen up veggies that may look a little dry, simple place in a bowl filled with water and give them a quick water bath. Drain and pat dry.
Place all the ingredients, except the crackers or chips, on the platter up to a couple hours in advance, and cover with a paper towel or plastic wrap. Right before serving, place the crackers or chips on the board.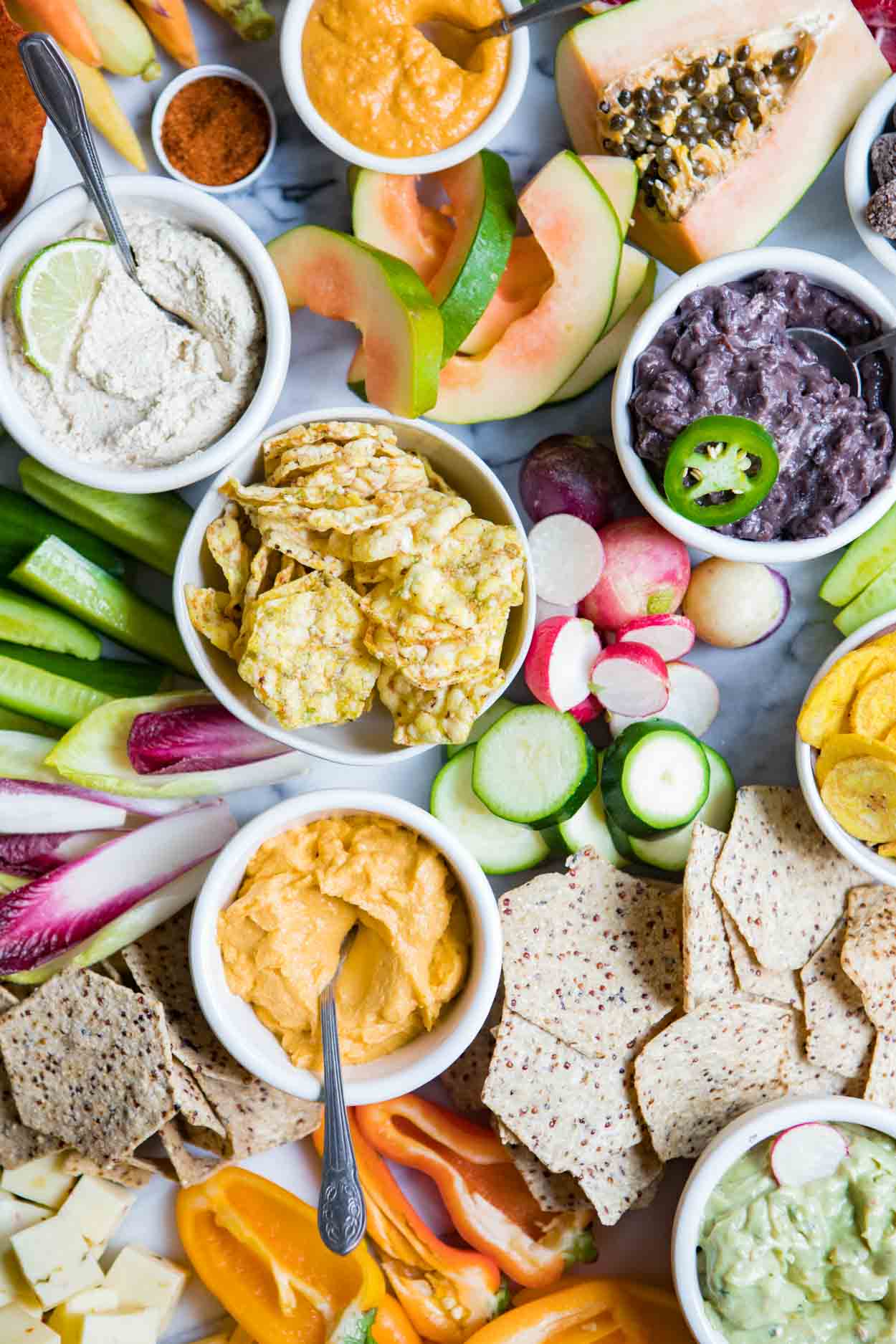 Other Fresh Appetizer Ideas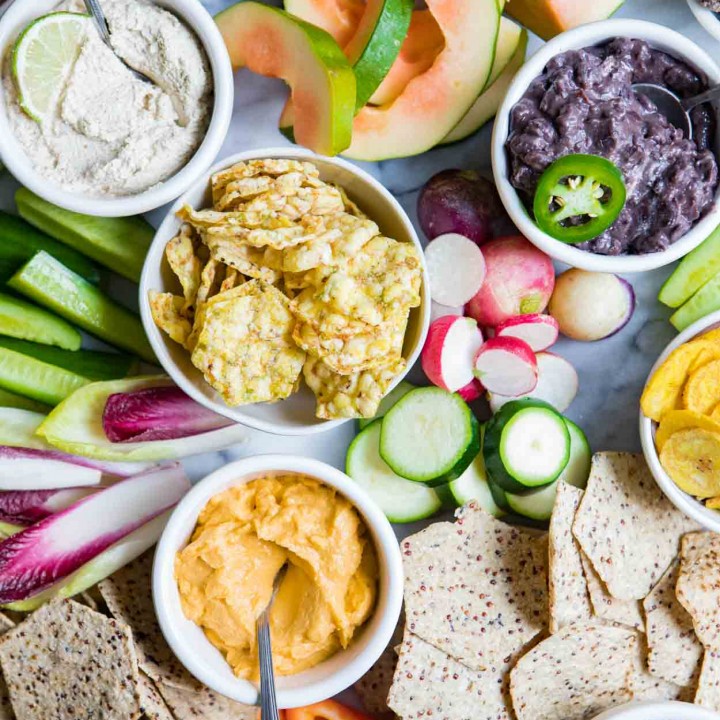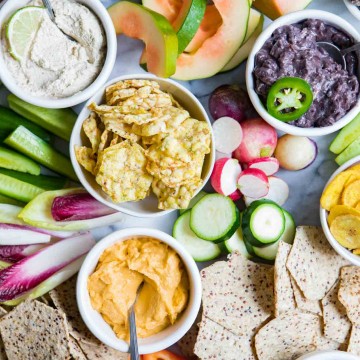 Epic Crudite Platter With Dip
This epic vegetarian crudite platter is loaded with a ton of veggies and vegan dips, to make a tasty and beautiful presentation!
Print
Pin
Rate
Instructions
Prep your fruit and veggies by washing and cutting into appropriate shapes and sizes

Gather a board to assemble your crudite on, as well as small bowls and spoons for dips

Begin by assembling the dips on the board, in a random pattern so that guests can reach to a dip no matter where they are sitting

Now add all the fresh veggies and fruit, keeping in mind to spread out colors and textures so that the board looks colorful and well balanced

Add in nuts, dried fruit and any other type of sweet or savory snack items to nibble on

Lastly, add in the chips and/or crackers at the very end, as to avoid getting stale or soggy. Enjoy!
Notes
Veggies may be cut and prepared up to a day ahead.
To freshen up veggies that may have dried out a bit when prepped ahead, simply place in a shallow water bath for a minute, then pat dry.
When choosing dips, focus on purchasing those made with whole ingredients, and are well balanced between heathy fats, legumes and nuts.