This light and refreshing cranberry smoothie recipe is high in protein, antioxidants and dietary fiber. Well balanced with healthy fats, lean protein and flavorful fibrous fruits, it will fuel your day and help you feel great!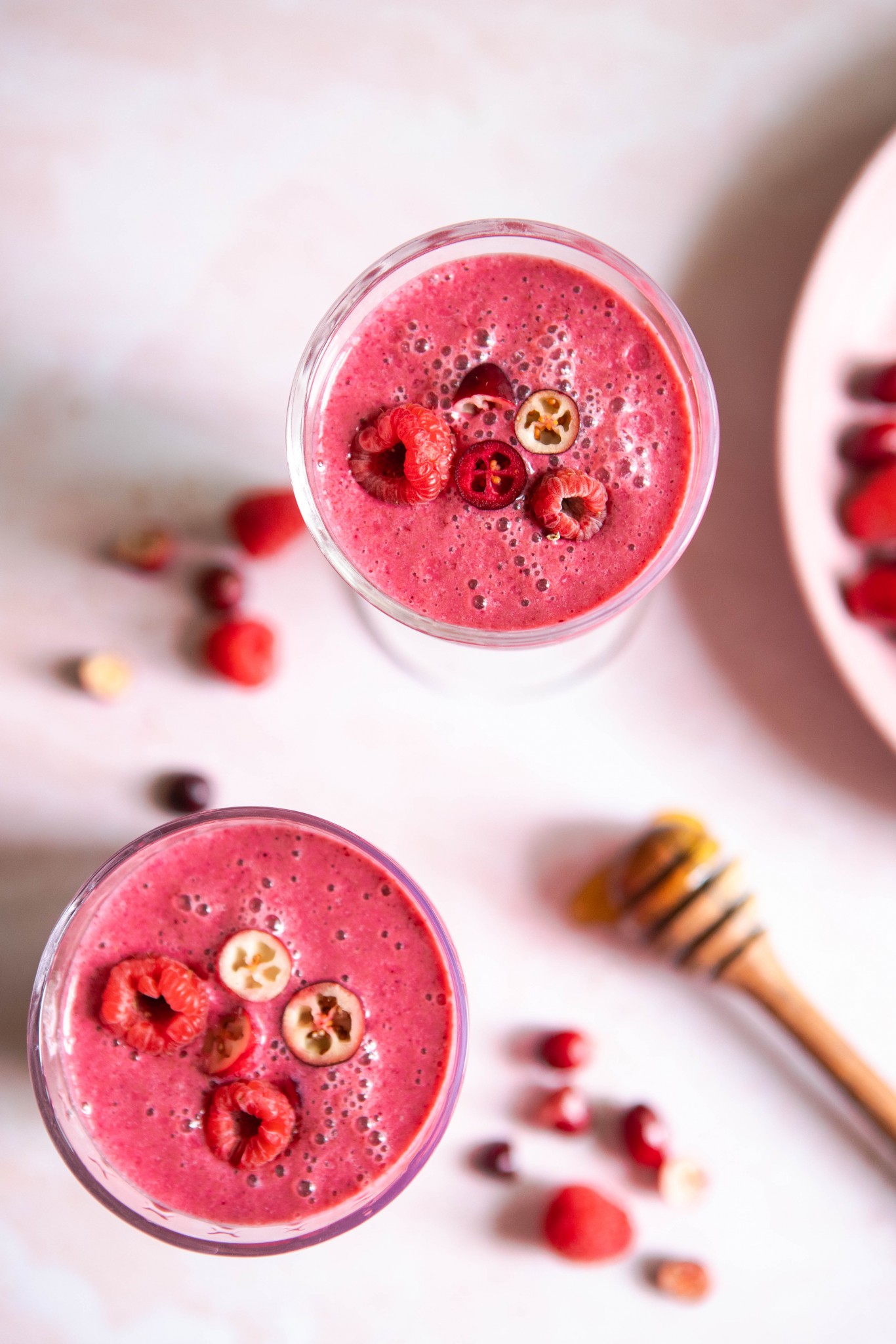 You all know by now that I'm a huge fan of nourishing, healthy smoothies. Heck, I wrote a whole guide to creating healthy smoothies at home! While I have some long time favorites and steady go-to's, I also really love finding new combos, especially when they utilize seasonal ingredients.
Enter this cranberry smoothie recipe. Fresh cranberries last quite a while if stored properly in the fridge. So a few weeks after opening a bag to make homemade Christmas garland, I decided to use up the leftover fruit to make a breakfast smoothie. Here's the recipe for this tart smoothie that is chock-full of protein, healthy fats and filling fiber.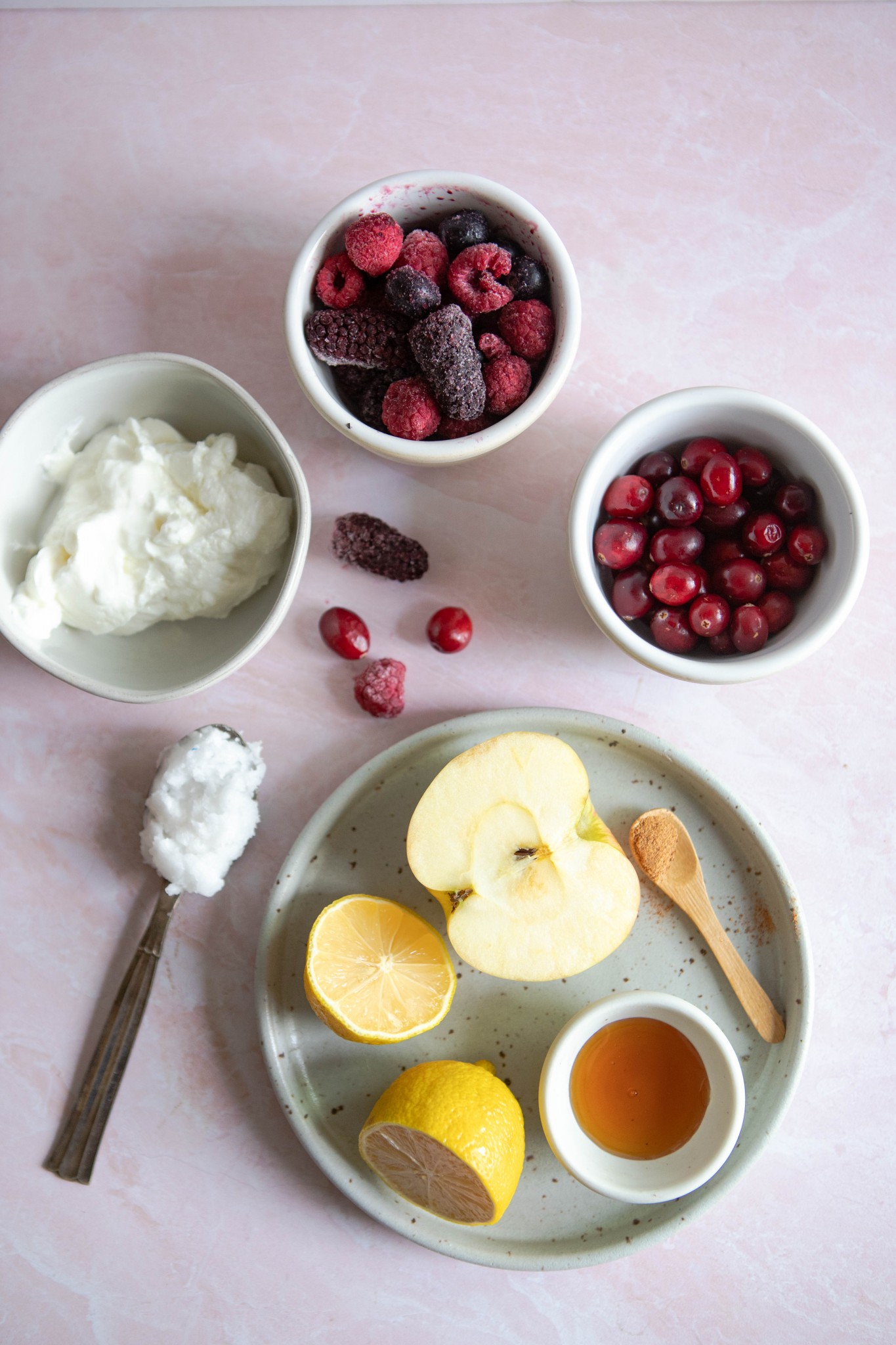 Cranberry Smoothie Ingredients
Fresh or frozen cranberries
Apple
Berries, either fresh or frozen
Whole lemon, peeled
Unsweetened yogurt
Coconut oil
Honey
Nutmeg
Liquid of choice; either coconut water or almond milk both taste great
Directions
Add all ingredients to a high speed blender, along with a handful of ice, and blend till smooth. Couldn't be easier! The quantities given will yield a nice 16 ounce single serving.  This size should be enough to act as a breakfast meal replacement, or excellent post-workout snack. Consider topping with a drizzle of honey and some fresh berries.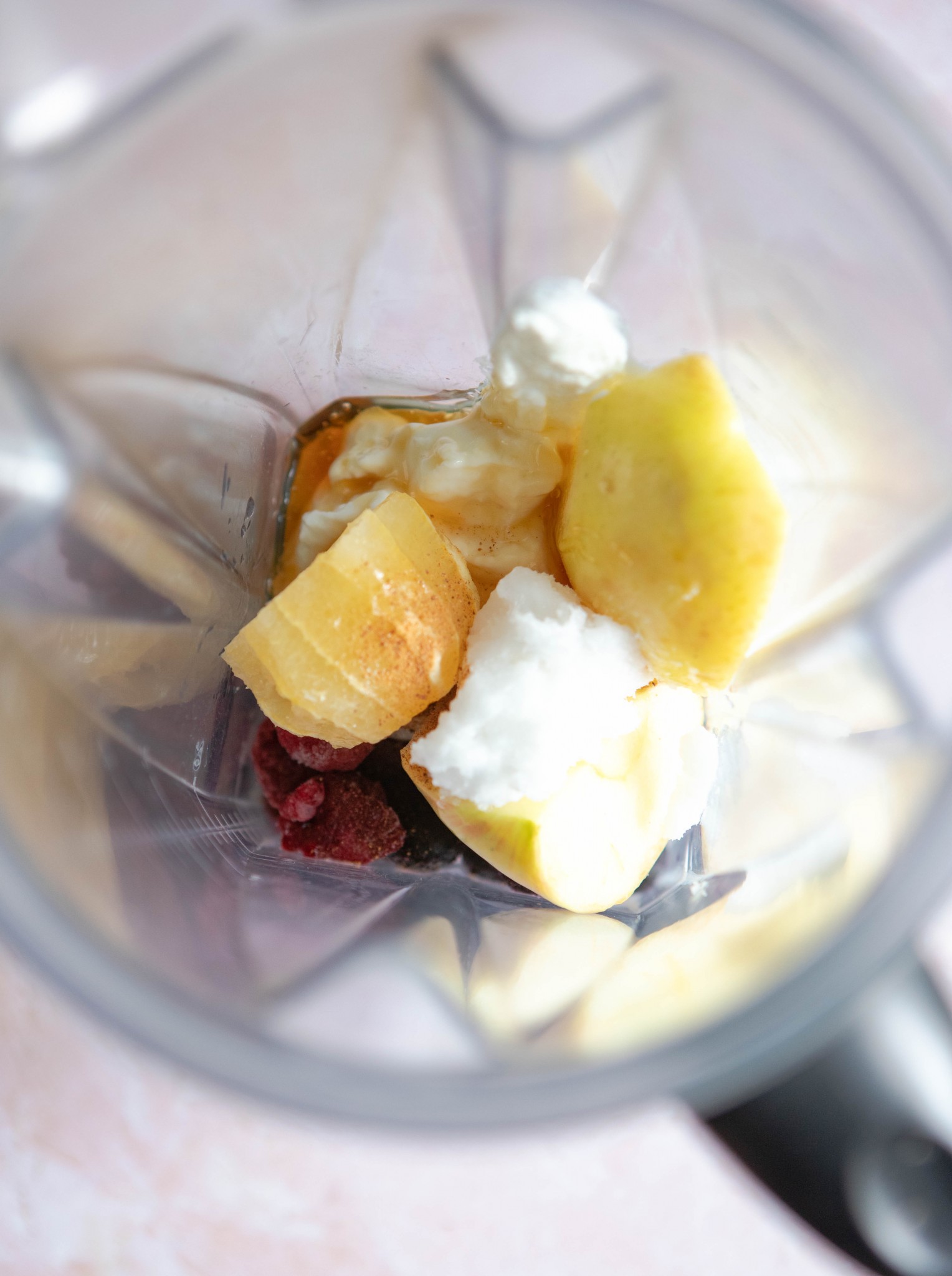 Health benefits of cranberries
Whole cranberries are a wonderful source of:
Fiber – whole cranberries contain insoluble and soluble fiber, which aid in digestion. Eating excessive amounts may cause an upset stomach, but the quantities used in this smoothie are great for your digestion.
Vitamin C – essential for the maintenance of your skin, muscle and bones. And of course it's an immunity booster, which is especially important this time of year. Eating 1 whole cup of cranberries gives you 25% of your daily requirement of Vitamin C. So drinking this smoothie will give you 13% of your daily requirement!
Manganese – found in most foods, manganese is essential for growth, metabolism, and your body's antioxidant system. This smoothie offers 8% of your daily dose of manganese.
Antioxidants – Quercetin, myricetin, peonidin and ursolic acid are all found in abundance in whole cranberries. What's more, of 20 of the most common whole fruits, cranberries are found to have the highest levels of phenols, a type of antioxidant. Red grapes were a distant second.
They also help with urinary tract health. Studies have shown that cranberries can help lessen the risk of urinary tract infection (UTI) in certain people. This includes children or women who get them often.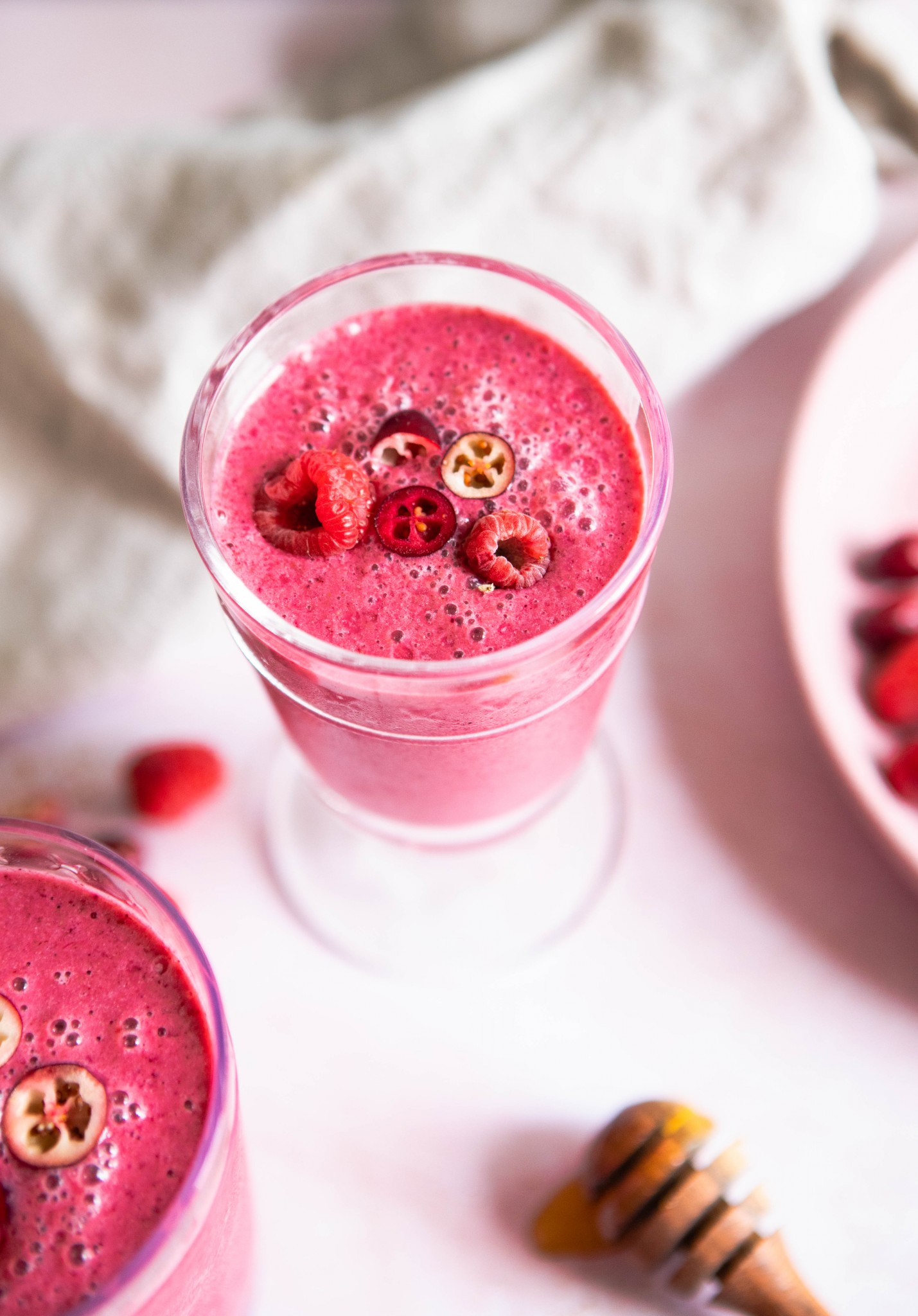 Cranberry smoothie FAQ's
I have a dairy allergy and/or am lactose intolerant. What can I use in place of the yogurt?
You can use a dairy-free yogurt such as oat milk or coconut milk yogurt. Or you can use coconut cream for the added texture and creaminess, as used in my Healthy Strawberry Smoothie Recipe (Without Yogurt). As I advise in that smoothie though, add in a scoop of protein powder too, since coconut cream isn't as high in protein as yogurt.
Can I use dried cranberries or cranberry juice in place of whole cranberries?
I don't recommend it. Dried cranberries have twice as many calories, mainly via carbs and sugar. There are twice as many carbohydrates in dried cranberries as there are in fresh, and more than 4x as much sugar. Drying cranberries cause them to lose most of their vitamins, although they do still hold onto their nutrients. Cranberry juice also has a much higher calorie and sugar content than whole cranberries, and has little nutritional value aside from high levels of Vitamin C.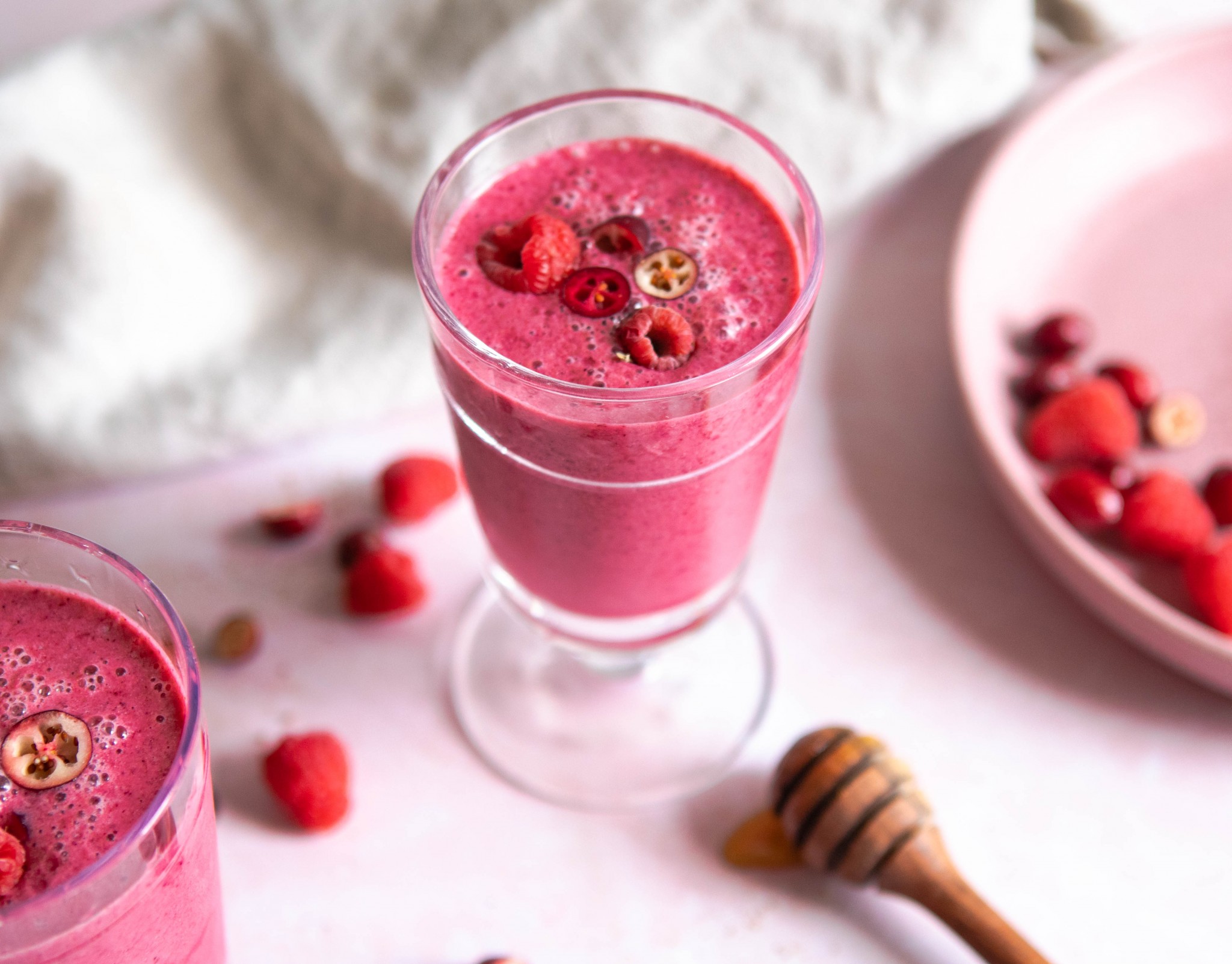 I have lots of unused cranberries from the holidays. Can I freeze them?
Yes, absolutely. Discard any cranberries that have started to wrinkle and/or get too soft. Then store fresh cranberries in the freezer in an air-tight container, such as a Ziploc or reusable storage bag for up to 1 year.
This cranberry smoothie recipe sounds good, but is it too tart?
It definitely provides a bit of tartness, especially since it also has a lemon. But the apple and honey definitely help balance it out. Feel free to add a bit more honey if you find it's still too tart though. Also make sure to use a sweeter apple variety, such as a Gala or Honeycrisp, as opposed to a tart apple like Granny Smith.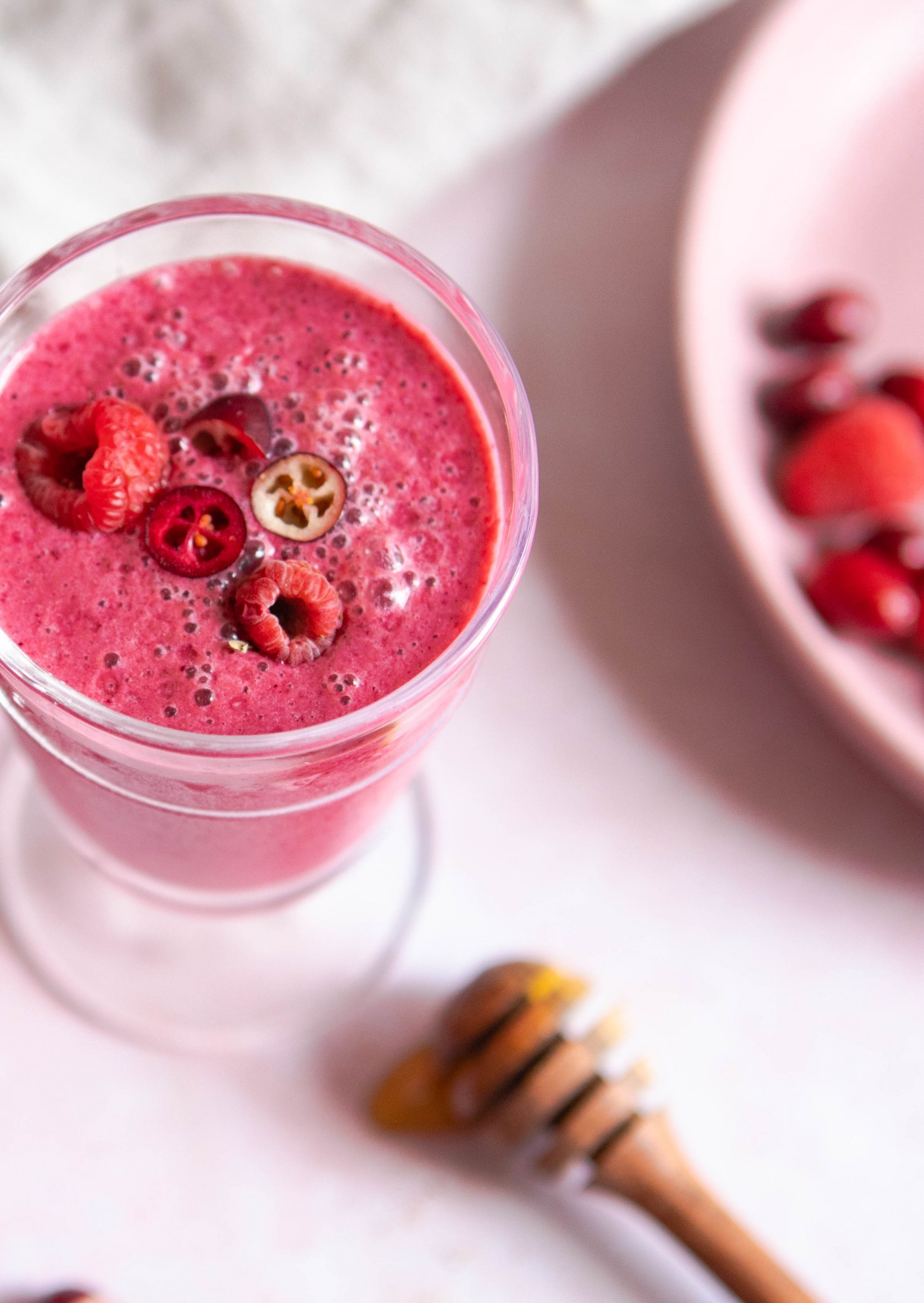 Cranberry Smoothie Recipe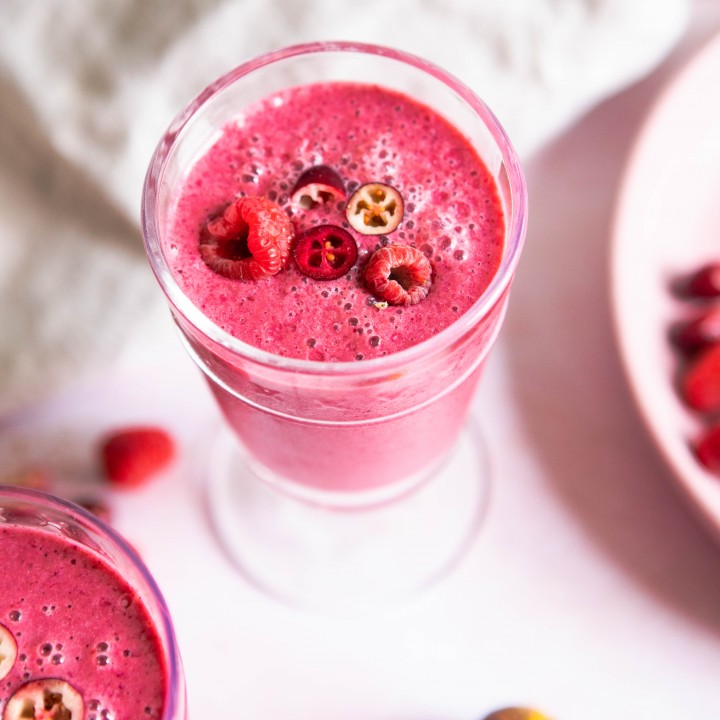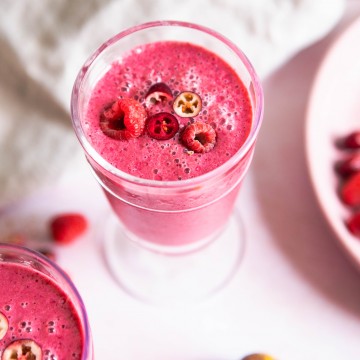 Cranberry Smoothie Recipe (high in protein)
This light and refreshing cranberry smoothie recipe is high in protein, antioxidants and dietary fiber. Well balanced with healthy fats, lean protein and flavorful fibrous fruits, it will fuel your day and help you feel great!
Print
Pin
Rate
Ingredients
½

cup

Cranberries

Fresh or frozen

½

Apple

cored and sweeter variety

½

cup

Berries

any variety, fresh or frozen

½

Lemon

Peeled

½

cup

Greek Yogurt

preferably nonfat & unsweetened

1

tablespoon

Honey

1

tablespoon

Coconut oil

½

teaspoon

Nutmeg

½

cup

water

coconut water or almond milk can also be used

Ice

handful
Instructions
Combine all ingredients together in a high speed blender and blend till smooth
Notes
Make sure to use whole cranberries, and not dried cranberries.
You can substitute Greek yogurt for a dairy-free alternative, or use coconut cream and add 1 scoop of protein powder. 
Nutrition
Calories:
374
kcal
|
Carbohydrates:
55
g
|
Protein:
12
g
|
Fat:
16
g
|
Saturated Fat:
13
g
|
Cholesterol:
5
mg
|
Sodium:
47
mg
|
Potassium:
397
mg
|
Fiber:
8
g
|
Sugar:
40
g
|
Vitamin C:
41
mg
|
Calcium:
124
mg
|
Iron:
1
mg
More Healthy Smoothie & Drink Recipes