I loved gathering these small pantry organization ideas to help make the most of your small space. A well organized pantry aids with healthy eating & limits food waste! These tips will also help those who have a spacious walk-in pantry.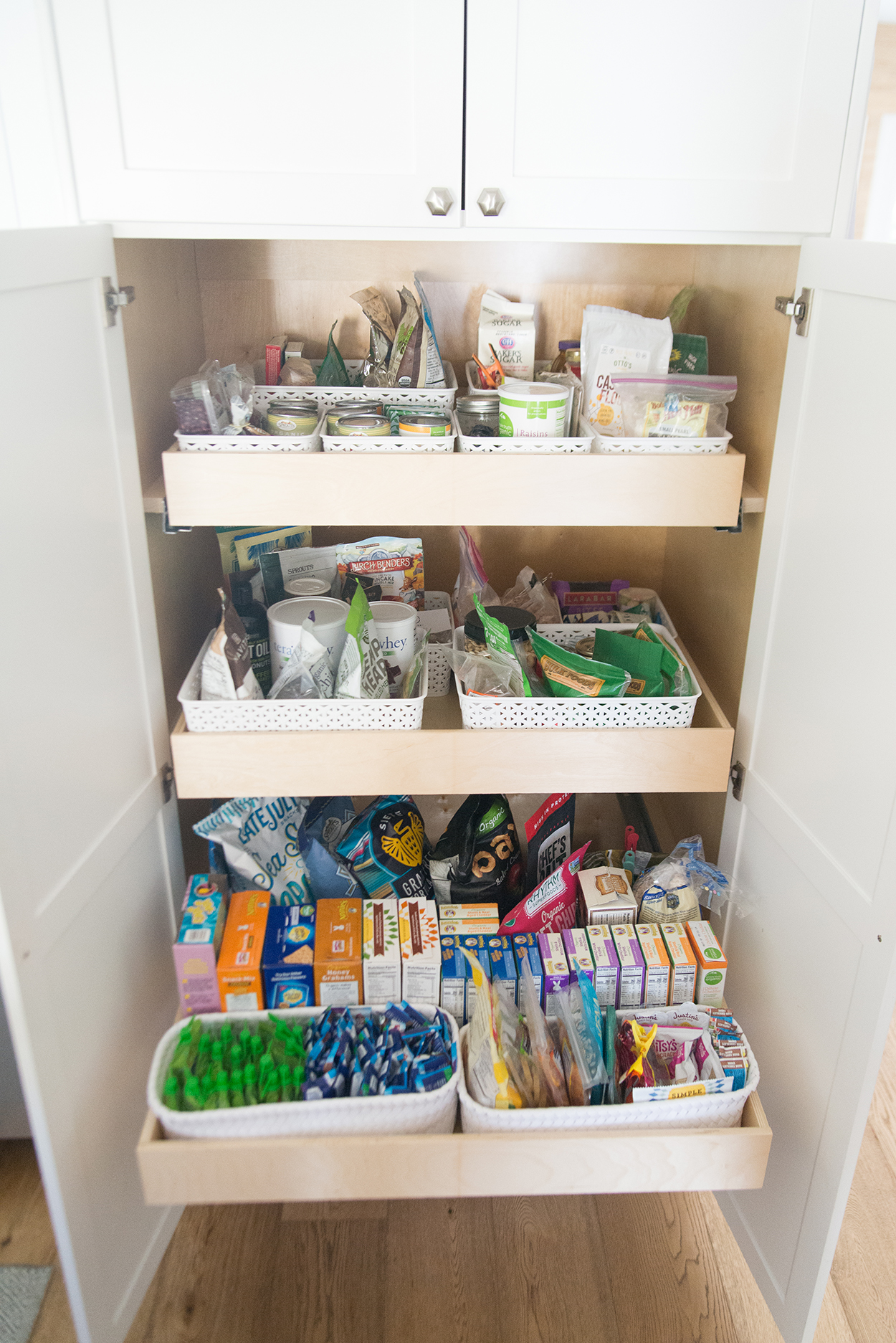 Since the primary focus of my blog is to inspire readers to cook at home, I wanted to share a couple of posts on my complete kitchen reorganization project. We're starting with the pantry since a well organized food storage space makes working in the kitchen 100 times more efficient and enjoyable.
And as you can see from the photo above, I didn't get too Pinteresty by purchasing tons of matching organization containers, but instead opted for mason jars when needed. I know the uniformity of all those matching containers looks amazing, but to be honest I've used them before and found that unless you were buying all your foods in bulk, they were actually a bit impractical. This makes for less pretty pictures, but more realistic living. Hopefully you'll find some helpful tips that you can easily enact at home without having to run out and invest in a ton of containers.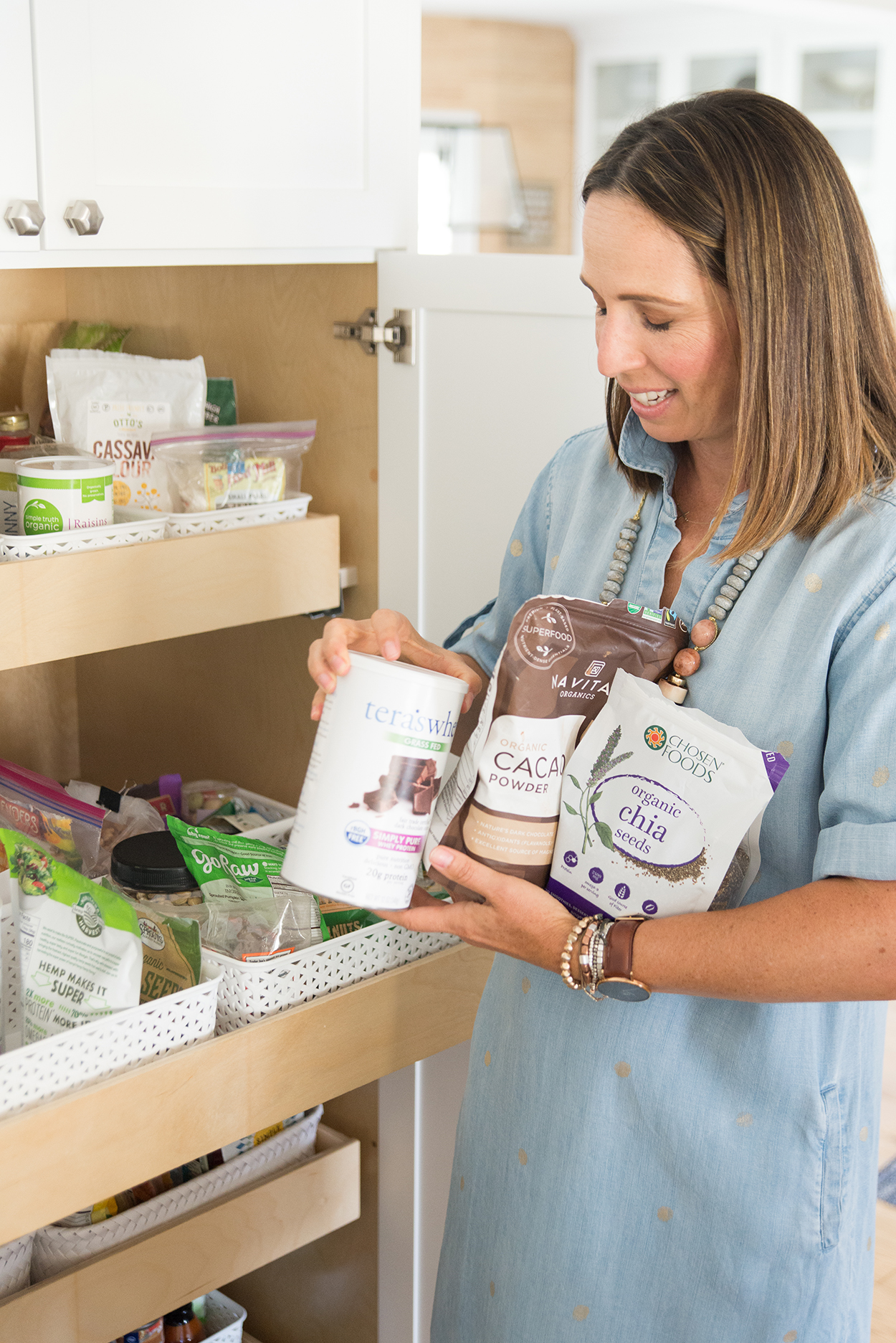 Small Pantry Organization Ideas #1 – Remove and Replace
Our pantry consists of a double door cabinet about 5 feet tall. Relative to the size of the kitchen, it's a small space. We improved functionality and made the most of the space by eliminating shelving and installing low profile pull-out drawers. This makes viewing what you have much easier, and allows quicker access to your food.
If your pantry area does not have pull-out drawers, you can either add stackable storage bins, lazy susans or even install pull-out drawers of your own.
Where to begin
Start by removing everything from your space
Discard any out of code foods and while you're at it, make a list of items that need replenishment
Assess what you have, what you use the most, and jot down a few key categories of things you reach for and use on an *almost* daily basis
Pantry staples for healthy eating
Smoothie making ingredients – between Art & I, one of us makes a smoothie every single day. Visit my Ultimate Guide to Making Healthy Smoothies at Home post for great smoothie tips and ideas.
Nuts & seeds – I eat salads pretty much every day and always toss in 1-2 tbsp of nuts, plus we add them to smoothies, oatmeal and of course snack on them.
Breakfast items – oatmeal, dry cereal and premade nutritious pancake mixes like Birch Benders and Kodiak Cakes
Beans, grains, pastas & other dinner making necessities like tomato sauce, tomato paste, chicken broths, etc.
Nonperishable kids snacks including apple sauce pouches, popcorn and crackers for kids lunches
To see a comprehensive clean eating food list for the pantry, refer to my Ultimate Clean Eating Grocery List post.
Small Pantry Organization Ideas #2 – Storage Bins
Once you've nailed down your key pantry categories, start placing them in storage bins. These containers are from Target, and are affordable and fit perfectly in the pull-out drawers. I used a total of 6 large, 8 medium and 2 long rectangular containers for my pull-out drawers that are 30″ wide and 20.5″ deep.
Pantry Organizing Pro-Tip – plot out your space
Jot down the measurements of your cabinet drawers or shelves. Take your measurements and a measuring tape to the store with you, and plot out your space in the store before you purchase any bins. I do this right on the store floor so I can get a good visual of which bins will fit the most efficiently, so I can make the best use of space. When I did this, I discovered that my drawers would most efficiently fit a combination of 2 different sized bins, so there's very little wasted space.
I love my new smoothie bin since I can just pick up the container and take it over to my blender instead of making a couple of trips. It also saves me time since I'm not digging around for the items I need.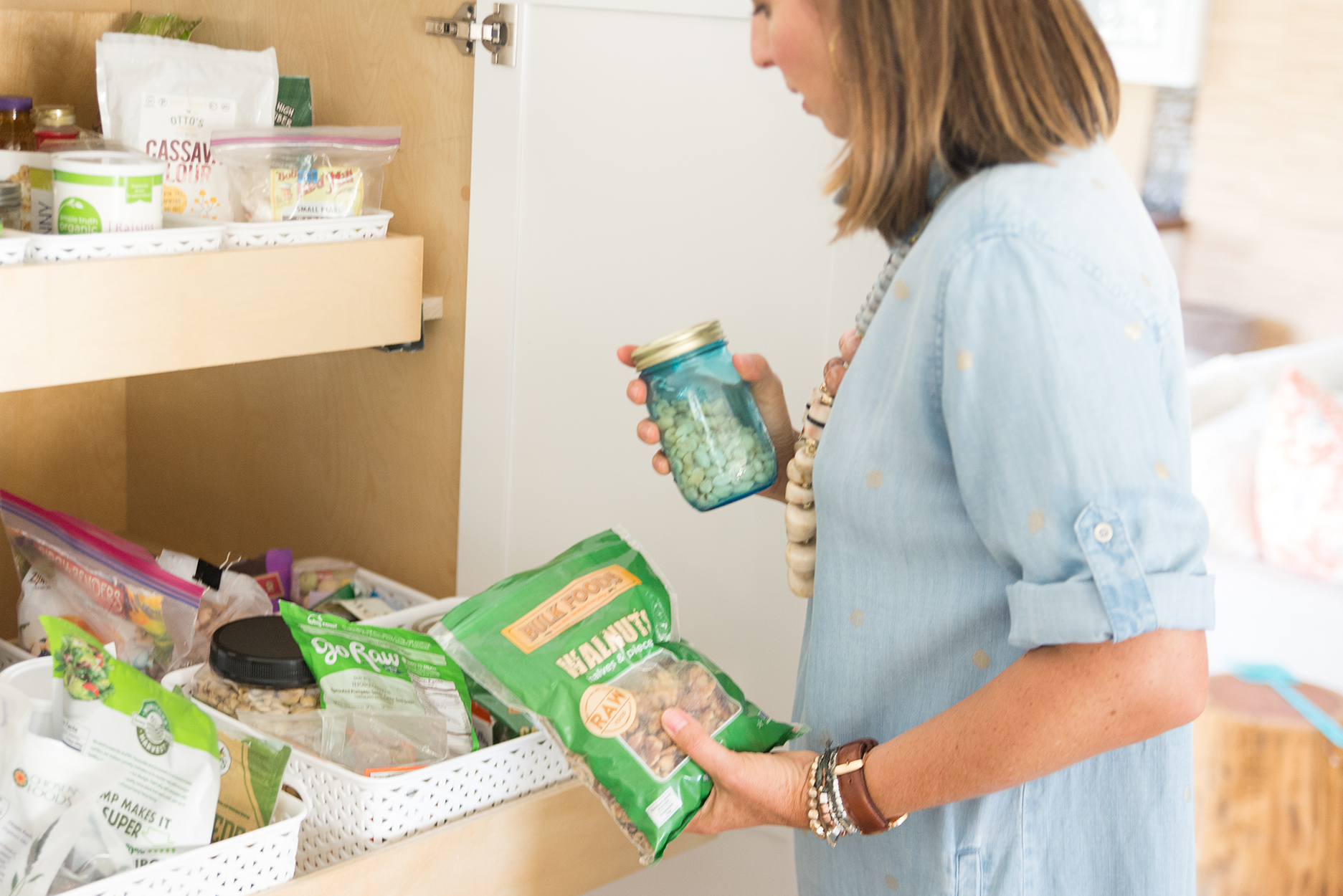 A categorized bin section also makes it so much easier for Art and the kids to put things away after each use and unpack groceries, since they aren't as familiar or particular with pantry organization. 😉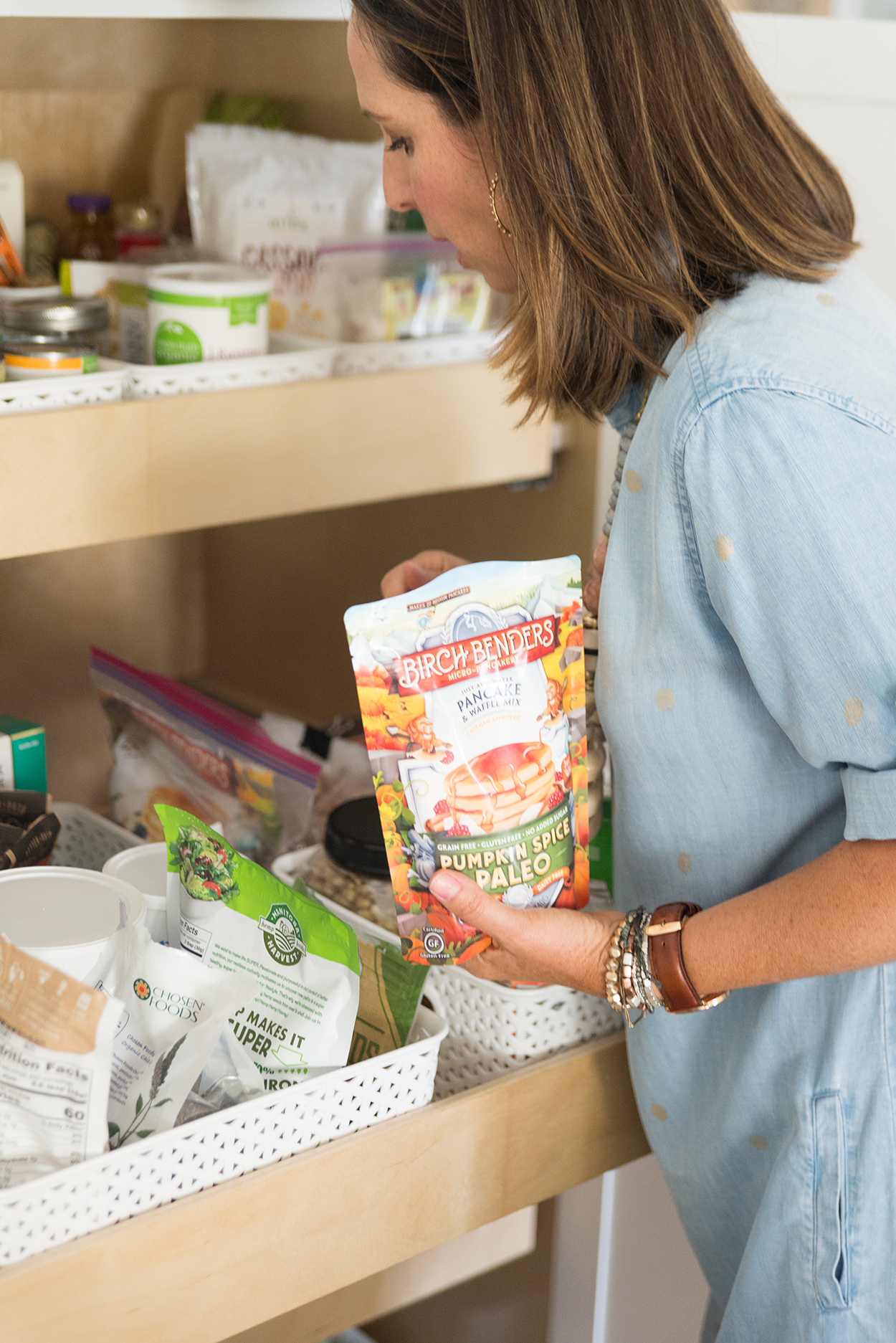 Small Pantry Organization Ideas #3 – Dedicate a Space for Kids
The biggest change I made to the pantry was designating an entire pull out shelf as a snack area. Previously, I kept a few snacks out and kept everything else in the single upper cabinet that was high and difficult to reach. I mistakenly thought that if I kept the extra snacks out of my kid's sight until we had finished what was already out, they wouldn't eat them.
But kids are funny that way! They are old enough and smart enough to know where the extra stash was, and despite my best efforts, they continually snuck into the more appealing snacks housed in the upper cabinet haha! So bags of chips & crackers would often go stale because we had 5 bags open at a time and there was a lot more food waste.
Now that they can see everything we have, they're a lot less interested in opening up every bag of chips. They finish what we have since it's front and center and easy to get to, and I'm noticing there's a heck of a lot less food waste. I know it sounds counter-intuitive, but isn't that often the case with our success stories as parents?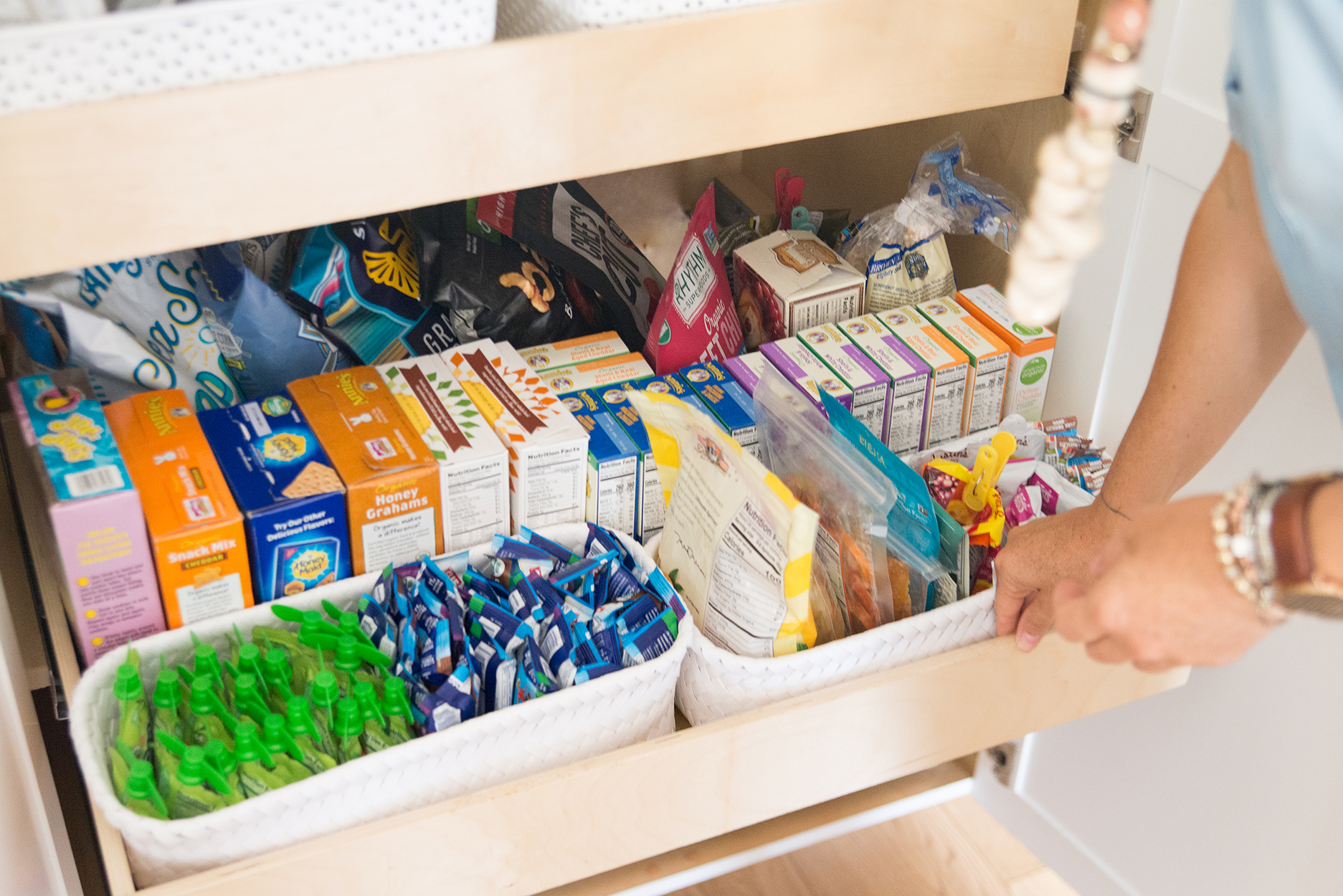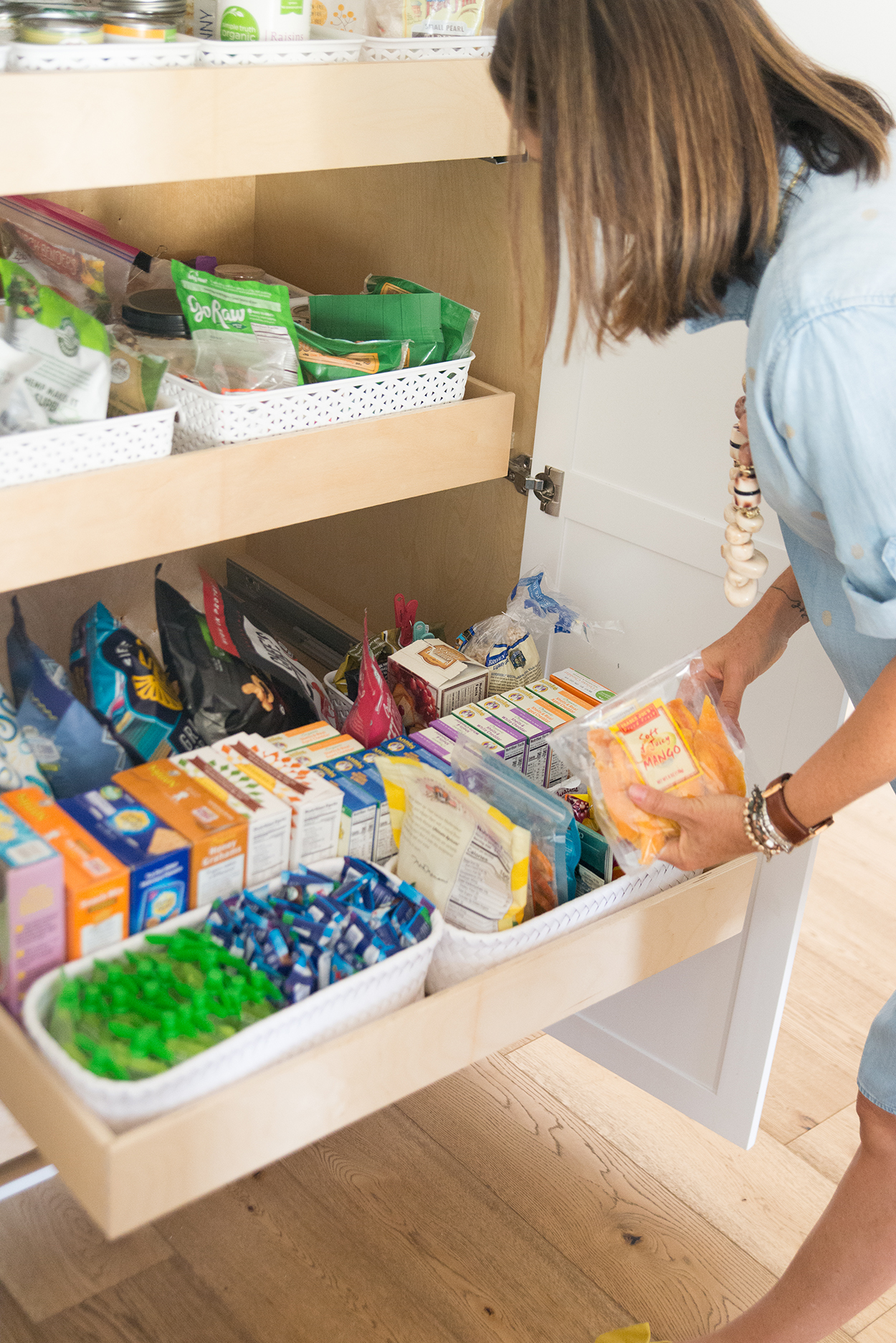 Pantry Organizing Pro-Tip – give pets their own space
The bottom pull out drawer was previously a mish mash of pet food, plates & napkins and a bunch of other random stuff. I found a more logical place for the paper plates & napkins, and now I just have a bin of pet food & snacks.
With the extra bit of space left, I store 2 bins of *extra* food that we often rotate through, such as rice and beans, as well as random cans and jars that don't neatly fit into their own category.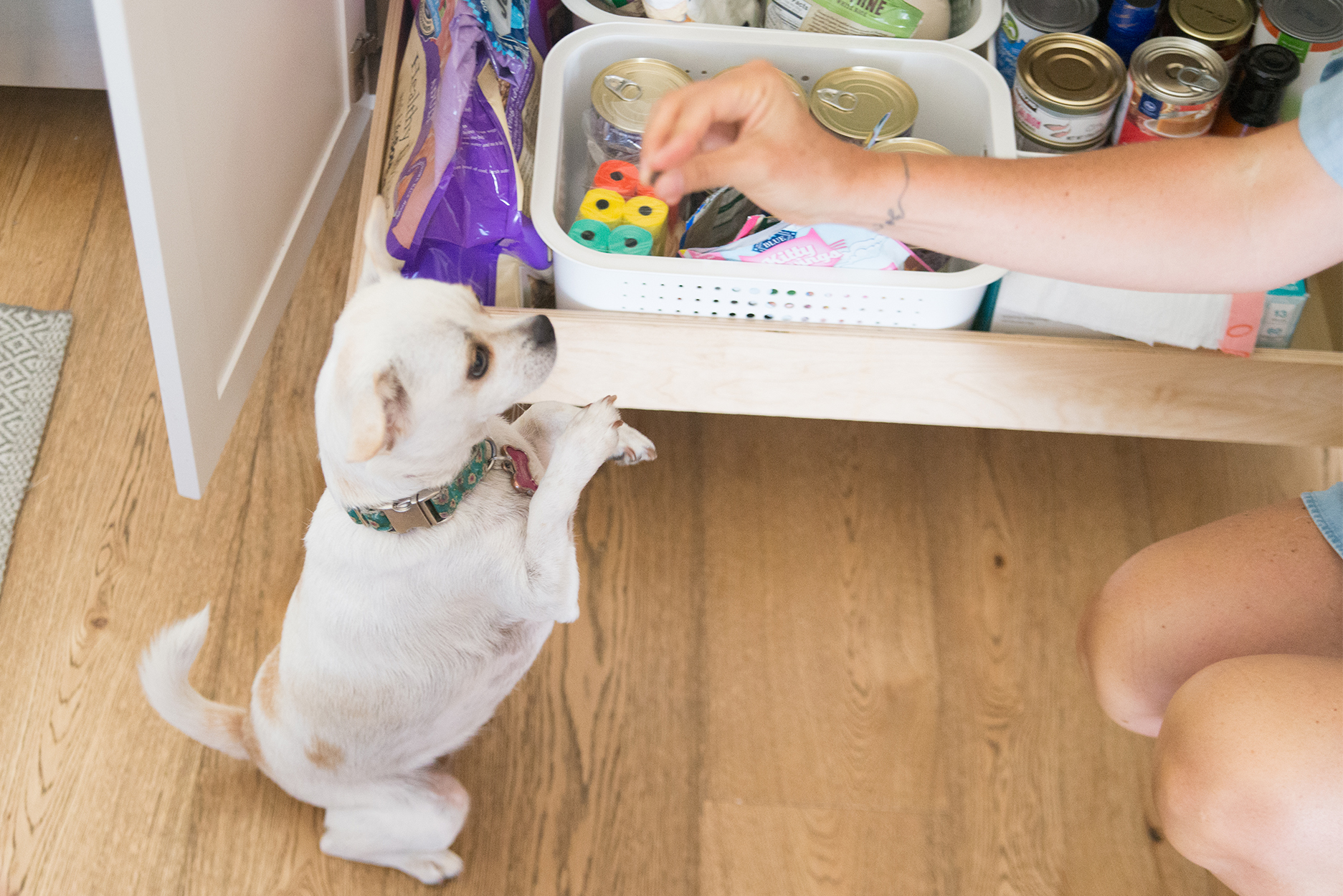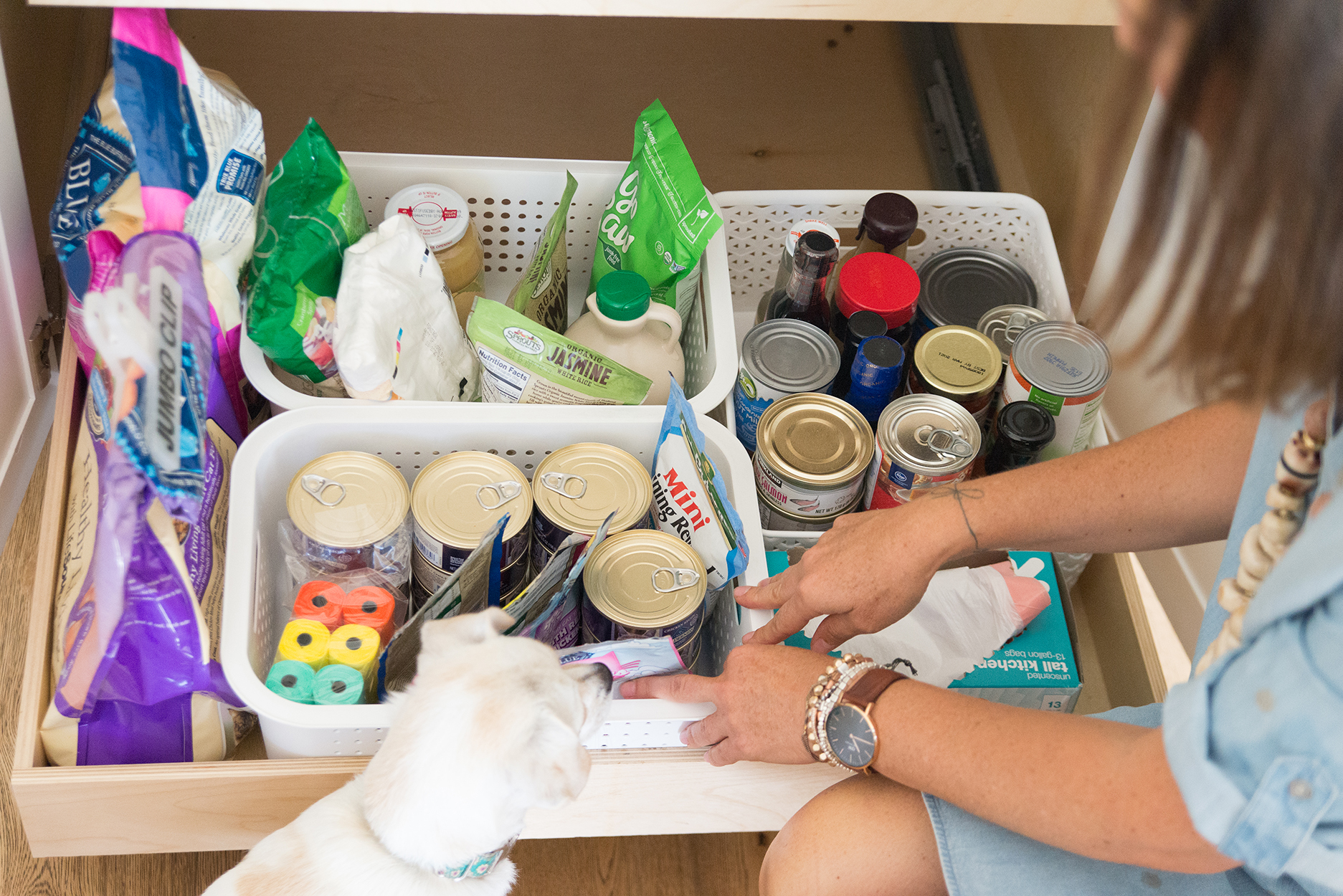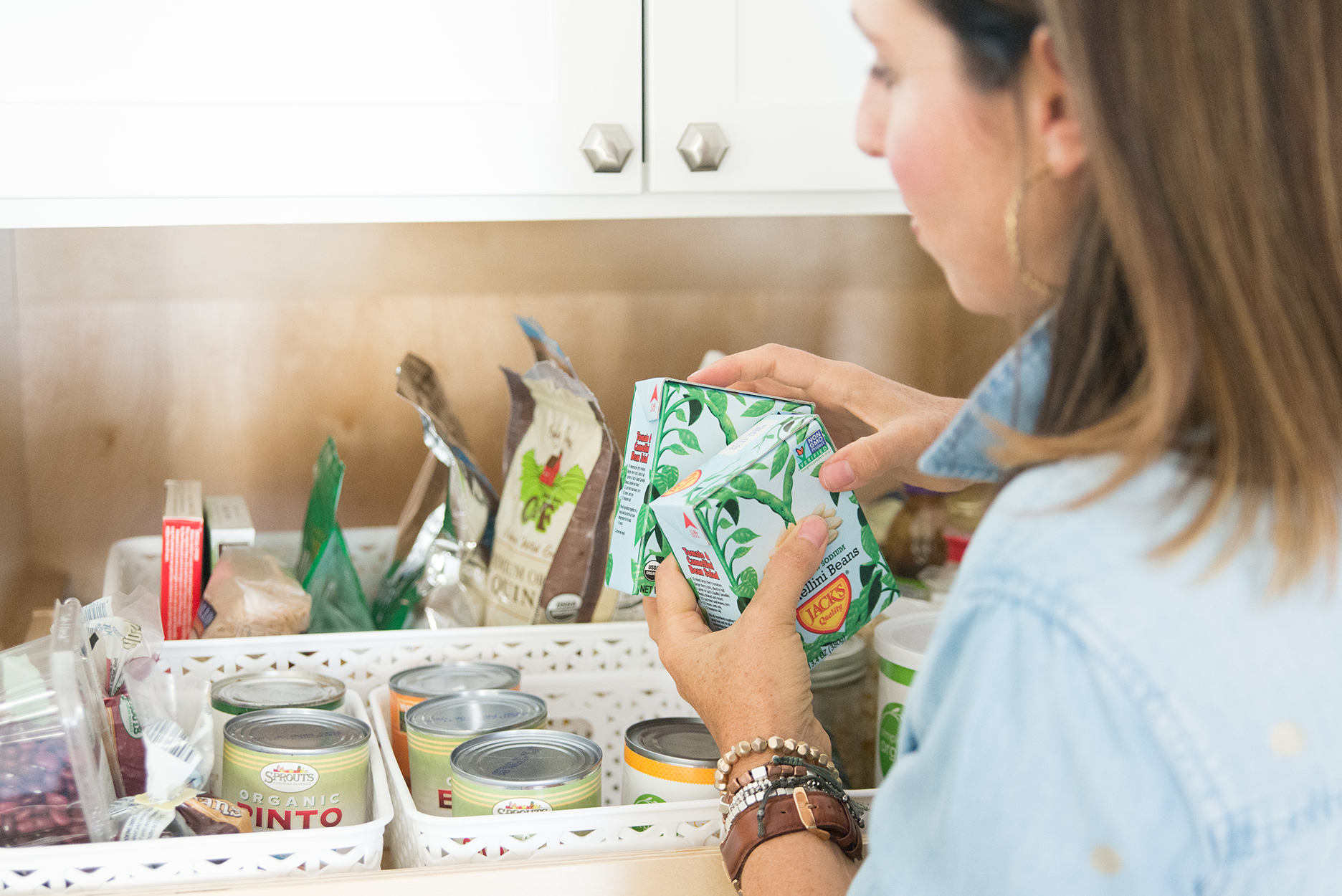 I have 1 large bin for grains, pastas and soup, and 2 smaller bins for beans, which we eat 2-3 times a week at least.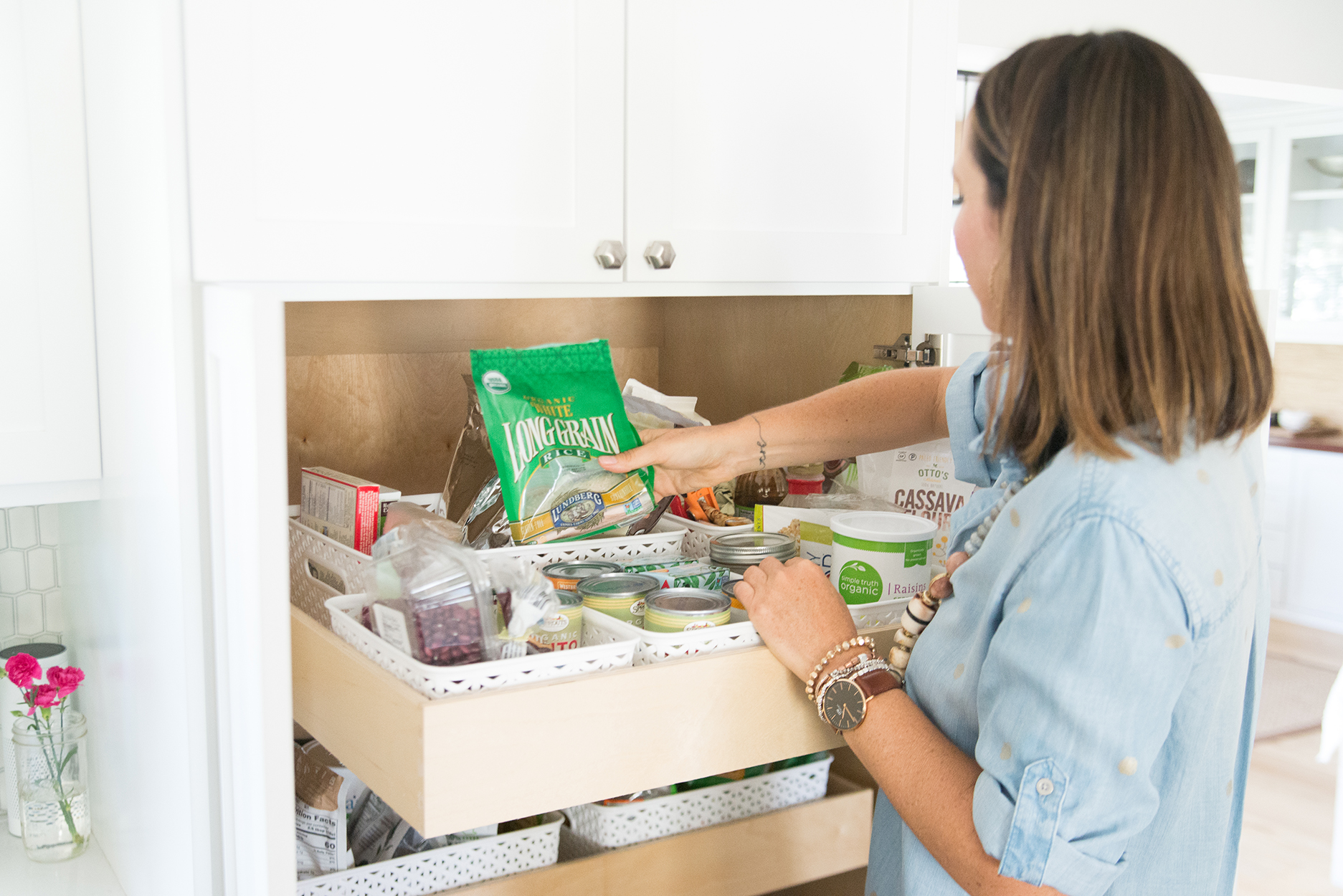 Being this organized has made the need for food storage space in the upper pantry (not pictured) almost unnecessary. The only thing we are keeping up above are a couple of tall boxes of cereal and a few extra stock large items that won't fit below, like the Costco size jug of olive oil and coconut oil. We also throw our extra paper towels & paper plates up there, and have a shelf for alcohol and mixers, but that's about it.
Small Pantry Organization Ideas Recap:
First, take some time to sit down and think about how you use your pantry
This includes thinking about the most used foods you reach for, what frustrates you most about your current set up. Also think about the  "bad habits" your family currently falls into, and how you could hopefully fix them with the right strategy. For us it was continually jamming foods into any corner in the pantry, eventually getting lost and either going stale or unnecessarily buying multiples.
Map out your space and buy appropriate sized bins
Make the most efficient use of your space by taking a measuring tape and dimension notes to the store with you when you purchase your bins.
Remove, assess and replace
Remove everything from your pantry, assess what you have and discard any out of code items, and make a list of items to replace.
Use uniform bins to keep similar food items clustered into key categories
It's not necessary to use uniform food storage containers though. No need to get fancy & cute, but having foods compartmentalized definitely keeps you more organized.
Mason jars work great for random bulk foods since they serve multiple purposes
They're also a snap to clean. Ours double as drinking vessels, and when I need a jar to store nuts, seeds or beans, I just grab one from the shelf and pop on a lid.
Dedicate a snack area out in the open so you can easily assess stock levels
This also empowers kids to make choices for themselves. And as a side note, if you currently "hide" snacks or keep them out of reach, I recommend instead talking your kids through appropriate snack times and amounts. Better for them to learn young than to try and teach them when they're old enough and big enough to reach for the snacks on their own.
Lastly, don't over-shop if you have a small pantry
One of the most important small pantry organization ideas I can share with you is to not over-shop! With stores like Costco and BOGO/stock up sales that markets often run, it's easy to very quickly wind up with more food than you have space for. For me, I have to remind myself as I often do with clothes, "just because it's on sale or a good price doesn't mean I have to buy it." 😉
Overall, I've created a space that is functional and uncomplicated. It reduces waste and increases efficiency. It's also easy to keep clean and organized, which is key, and the rest of my family can also follow along. I think I may have finally hit the pantry organization jackpot.
How do you all organize your pantries? Do you have any additional tips you'd like to share with me? I'd love to hear them! And if you have need a few more tips, I thought this article on pantry organization was great!