Today's post will be all about the Planetbox lunch box, and answering your most commonly asked questions. As many of you know, we've used the Planetbox Rover for years and have been thrilled with their durability and functionality. Read on to learn why they're a household favorite.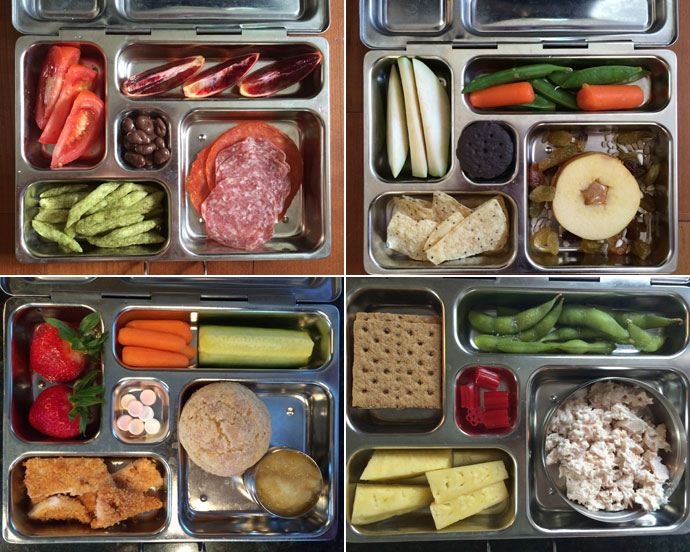 I've been posting photos of the kid's lunches almost daily for a few years now, and they always garner a lot of attention and questions. Not that they were anything extraordinary, in fact they were quite basic, but I think that's what my readers on Instagram appreciate them. I aim for uncomplicated and unfussy, and moms seem to like the easy lunch ideas. By the way, if you'd like to see all of the lunch ideas from this school year, visit the #howekidseat tag on Instagram.
While we have 4 different lunch sets, the Planetbox Rover is our favorite.  The Rover  holds the most variety of food in the most simple way. So while we use all our lunch box systems, the Planetbox garners the most attention. Today I thought I'd do a little FAQ round up on the most commonly asked questions.
How does the Planetbox lunch box keep food cold?
To keep the food cold I simply include a Planetbox ice pack in their lunch box and it does a decent job keeping the temperature low. On super hot days, and because the container is made of metal, the food does heat up. The kids keep their lunchboxes outside in their backpacks, and eat lunch at 11:30 and 11:45 am, so the food doesn't have a chance to get so hot it spoils. But, foods like string cheese and yogurt get a little too warm for their liking on days that are scorchers. I try to keep this in mind then when packing for the day.
Can you keep food warm in the Planetbox?
Keeping foods warm is a little more complicated, but still possible. These containers are not insulated like thermoses, so they will lose heat and cold. When packing foods meant to be eaten warm, I heat up the food nice and hot before hand, and then wrap in foil (tortillas or pizzas), or place in individual lidded containers (noodles).
The food ends up cooling to room temperature by lunchtime. If I've included fruit in the lunch mix along with a hot food, the heat will transfer a bit and everything sort of just warms up or cools down, making all the foods room temperature. If you have a particular child who likes their food a certain temperature, keep this in mind.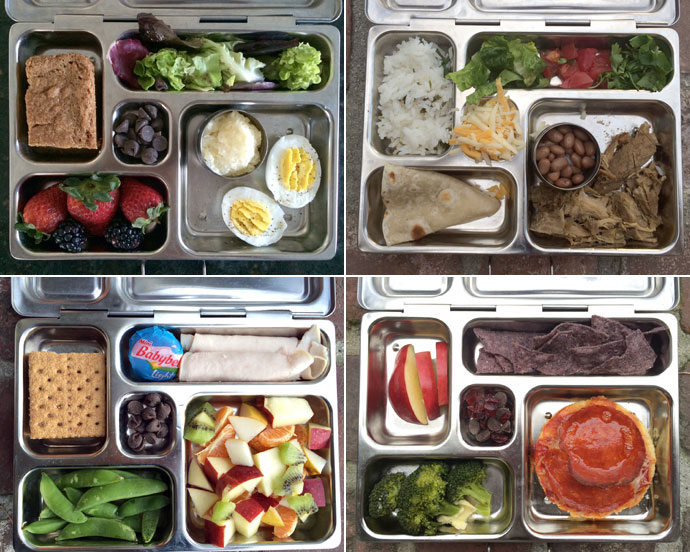 Does the Planetbox Rover fit in any lunchbox container?
I have tried at least 3 different sizes, which are pretty "universal" and it didn't fit in any of them. The Planetbox is a larger rectangle shape, so it was either too wide or too long for many lunchboxes. Therefore I wound up purchasing the standard Planetbox lunch container. Good news though, the Planetbox lunchbox holds all my other lunch containers.
Does the lunch box leak?
When I send foods like applesauce and yogurt, I make sure to always send those in the round lidded containers that come with the Planetbox. So far we haven't had a problem with leakage. They are not leak-proof though, so I certainly wouldn't take my chances with soups, or putting things like applesauce in the divided sections.
Is it easy to clean?
It's incredibly easy to clean, and we actually just stick it right in the dishwasher, with the magnets and all, and have had zero problems. No rusting, no peeling or any other issues.
Does the Planetbox Rover hold enough food to keep kids full?
The Planetbox Rover holds 4.5 cups of food, the most food among all of the major lunch containers. It also holds the most variety, with 5 separate compartments. My kids always had plenty to eat with the amount the Rover holds, especially when I packed an additional morning snack. This lunchbox is great for K-5 elementary school age kids, however as they grow into middle school, keep in mind that you may need to supplement with additional snacks.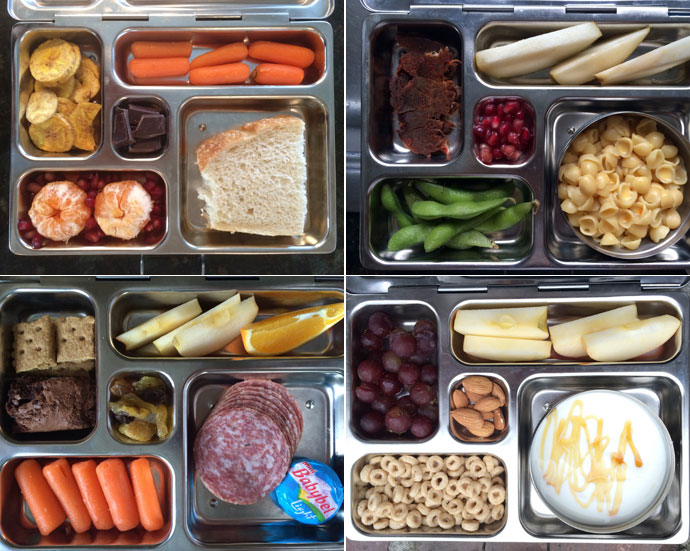 Does the Planetbox lunch container hold up well?
The Planetbox bags are well made, insulated, and easy to clean. It is recommended to  spot clean, however when the bags get extremely filthy, we machine wash them. I first spot cleaned the bag, then put it in a pillowcase and wash in cold water on the gentle cycle and they clean up beautifully with no worse for wear.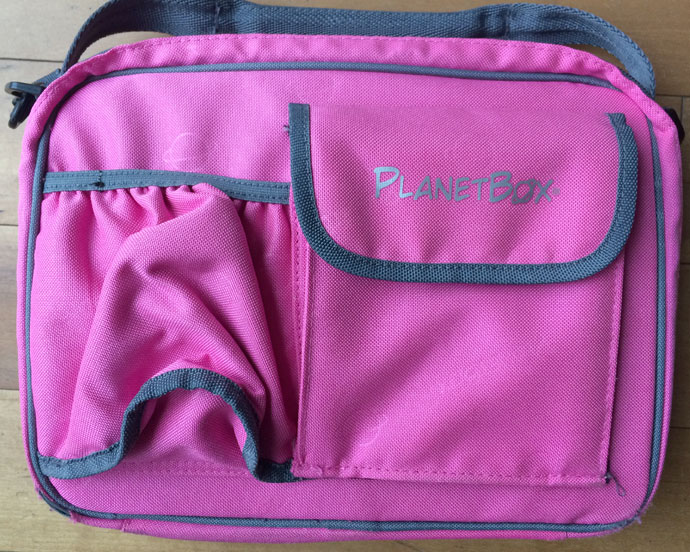 How do you keep apples and pears from browning?
This really has nothing to do with the Planetbox, but I get asked this all the time. I actually do nothing other than let them get brown! I cut them fresh in the morning and the browning process that occurs in the 4 hours till lunchtime is not enough to make them unappealing to eat. If your kids are averse to brown apples though, try soaking them in lemon or citrus water before hand.
Do the kids like their Planetbox lunch box?
They honestly love it. They love helping decide what goes in to each compartment and they love the visual presentation it creates. Nice and neat and orderly, which is a big plus for my child who hates foods to touch. Also, the neat visual presentation and ease of access allows them to eat quicker so they can get to recess quicker.
Do the kids actually eat all the food you pack?
Like all kids, they go through phases, but most of the time they do eat most if not all the food I pack. There's occasional hits and misses, but I know them pretty well so can accurately predict what they'll eat.  I strive for balance though so I don't drive myself crazy!
Does the food stay as neat as when you pack it?
For the most part, yes, the food stays pretty well intact.
How do you come up with lunch ideas?
I use Instagram for inspiration
Pinterest is also a fun place to get new ideas
Taking the kids shopping with me is a great way to find new foods they want to try, or special treats
Serving leftovers is actually a great way to pack foods you know they'll love, and avoid food waste
What are some of your favorite lunch box foods to include?
Strive for a well-balanced lunch that includes a healthy protein, a fruit and veggie, and some sort of crunchy carb like chips
Use the little square in the Rover to also pack a sweet treat
Deli meats and salami are wonderful to have on hand
String cheese, yogurt or hard boiled eggs are also great protein sources
If you need 31 Bento box lunch ideas, you can visit this post for inspiration! 
Despite the Planetbox being a big initial investment, we used them for years and they held up beautifully. My only regret is not investing in them sooner!
I hope all your questions were answered, but leave a comment if you still have more!