Do you need to add a simple appetizer to your arsenal of recipes? Then these easy bread knots with everything but the bagel seasoning are the perfect trick to have up your sleeve. Made with just 3 ingredients; refrigerated biscuit dough, olive oil and seasoning, they are quick to assemble and bake and absolutely foolproof. Want to add these to your weekly meal rotation? Read on for the easy how to.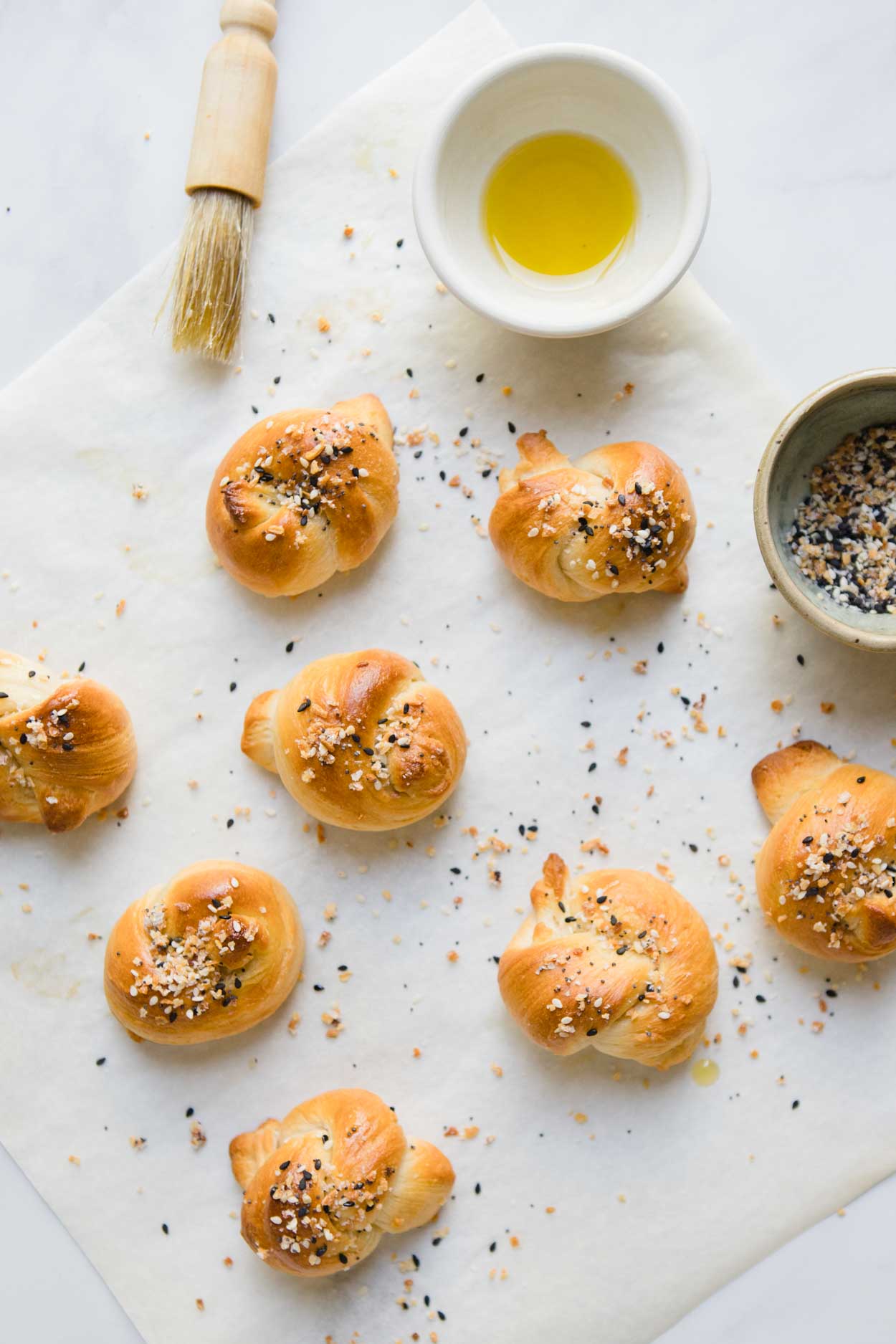 The first thing you'll need to do is take a cold package of refrigerated biscuit dough, and cut each biscuit in half. I love the Immaculate Baking Company refrigerated bread products (I buy mine at Sprouts), but any biscuit tube will do. Assuming your tube has 8 biscuits, you'll have 16 mini bread knots ready to devour in less than 20 minutes.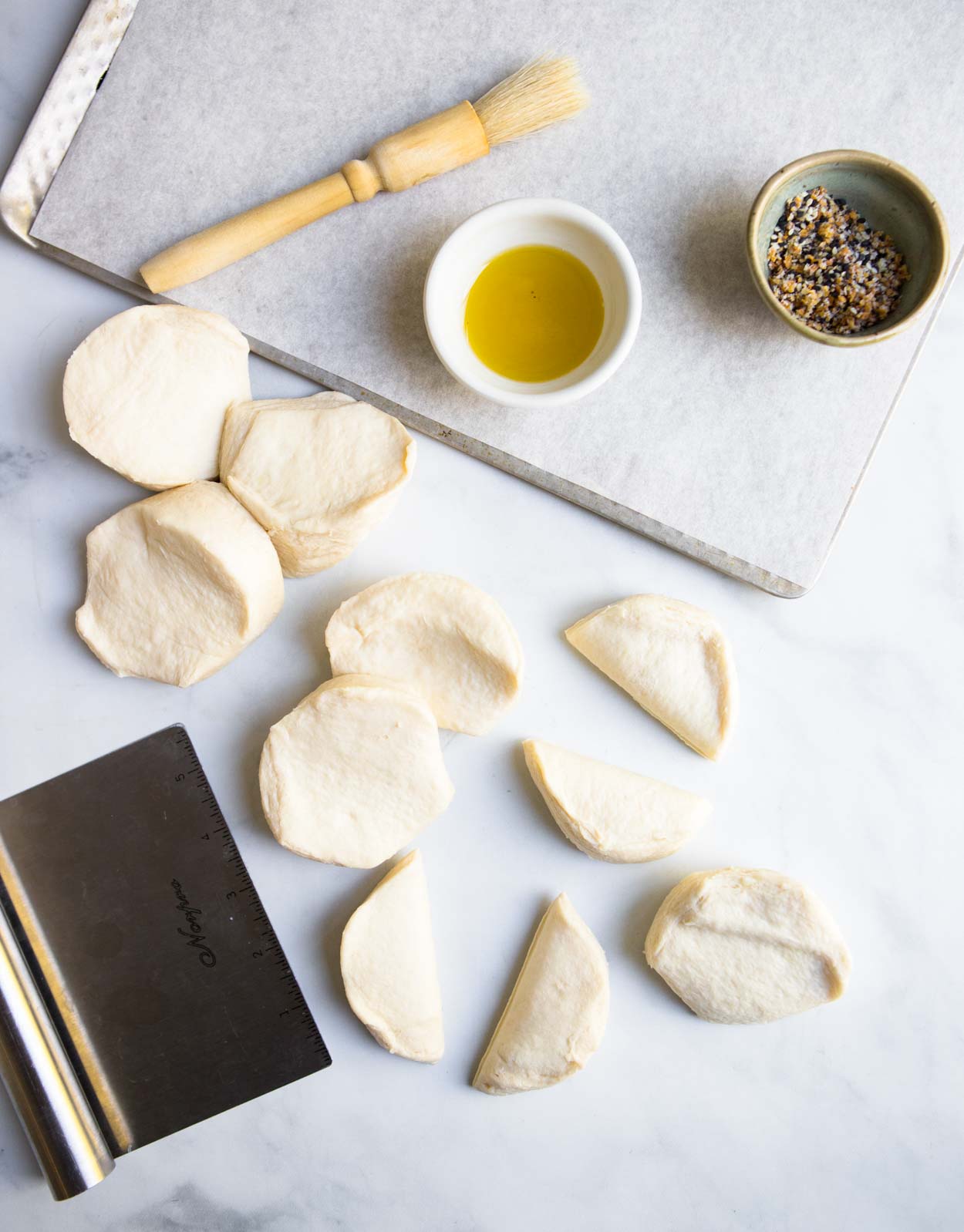 How to Make This Quick & Easy Bread Knots
Take each half and roll it into at least a 6 inch length of rope. The handy little tool pictured here is the Norpro scraper/chopper and is used almost daily in our kitchen. It's actually one of the kitchen gadgets I can't live without 😉 I primarily use it as a second hand, to scoop up large amounts of chopped up ingredients and move them from one place to another (counter to pan or counter to trash), easily and efficiently. I am by nature a bit sloppy, and this little tool helps me present as a much neater cook than I am 😉 As you can see here though, it also works quite well as a dough cutter and measuring guide.
Once you've cut and rolled out your dough, wrap one end of the dough over the other end, and then tie in a knot as pictured. Easy peasy. Set on your baking sheet and bake at 375 for about 15 minutes.
Keep in mind that you'll want to bake these a little less time than the package directions suggest because they are smaller and will bake faster, so take off at least 2-3 minutes off the package directions and bake more if need be.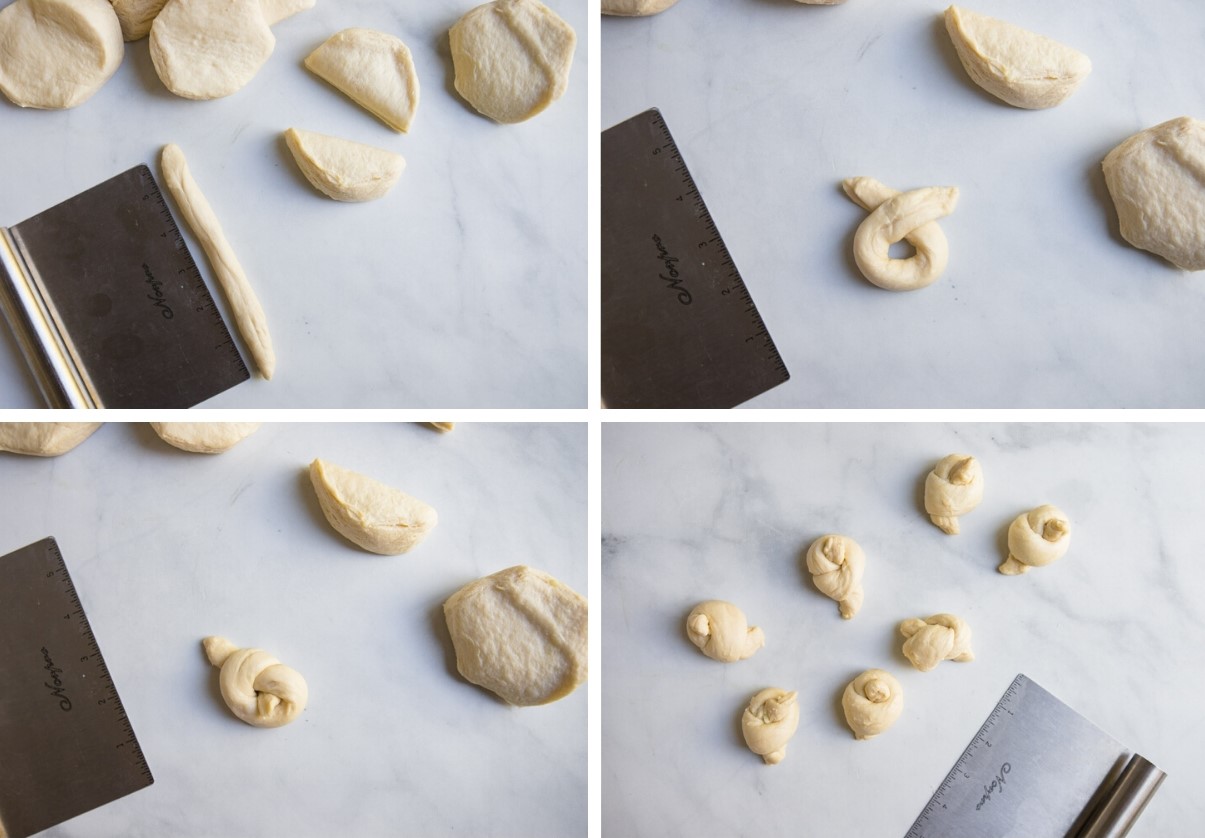 Once they are done baking, remove from the oven and immediately brush with a bit of olive oil (or melted butter), and sprinkle on your everything but the bagel seasoning. And you're done. That's it!! These couldn't be easier to make, and look so cute, and are also the perfect size to nibble on so you just get your appetite going but don't ruin it with a bunch of bread before dinner. It's the perfect size for kiddos as well.
Where to Buy Everything But the Bagel Seasoning
I believe it was Trader Joe's that started the whole everything but the bagel seasoning craze, so we must pay thanks and respect to them. But since then, most stores/spice brands have crafted their own seasoning blend so you should be able to find it at most markets. I just recently discovered that you can also order the TJ's version straight from Amazon if you're really stuck on staying OG.
You could also make your own by mixing  poppy seeds, sesame seeds, black sesame seeds, minced dried onion, minced dried garlic and flaky sea salt.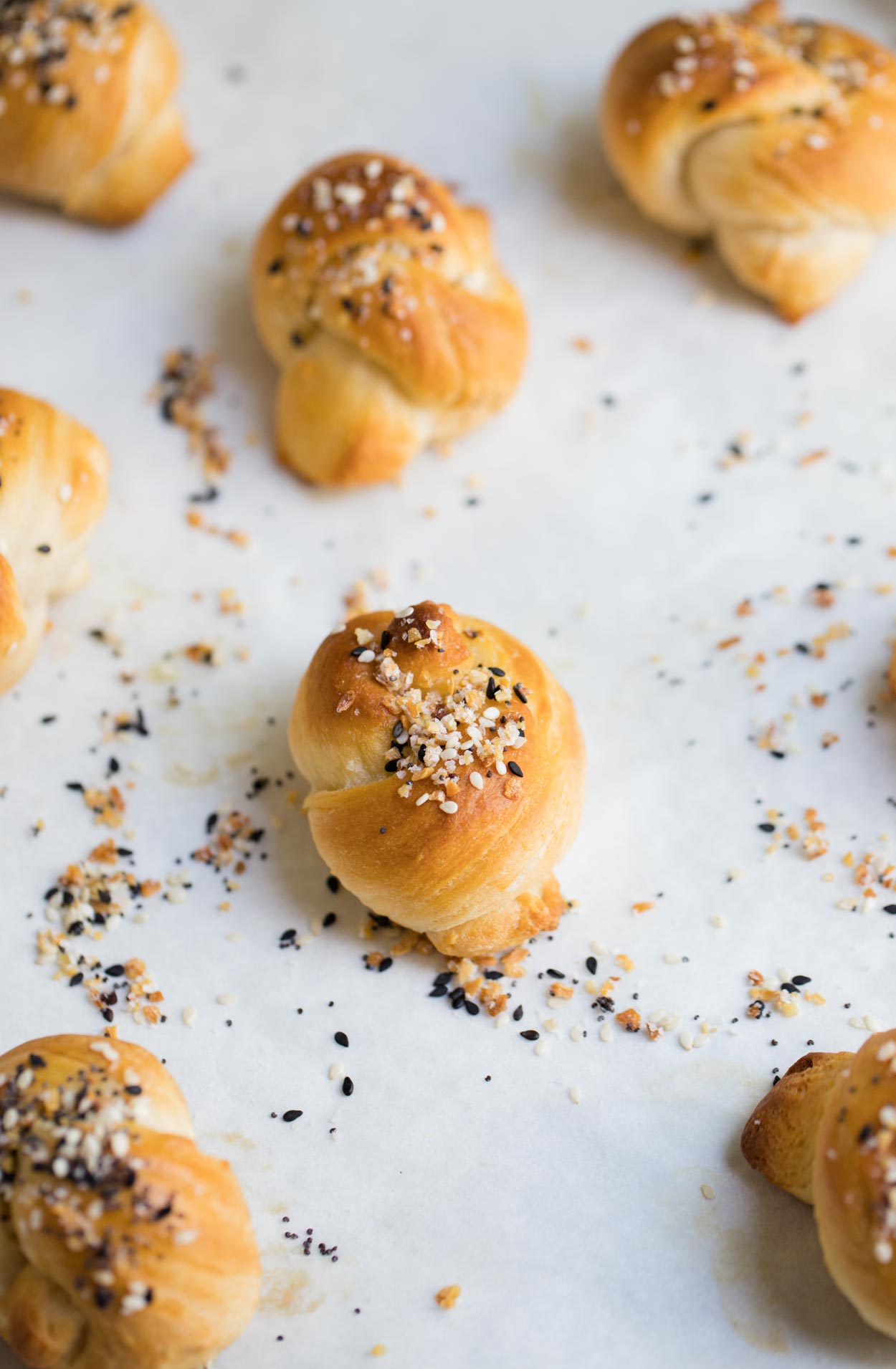 And there you have it lovely readers! You are done and you look like a baking rock star, and no ones got to know you didn't make these with biscuit dough made from scratch. Or you could be honest and fess up because really, who cares, and let everyone know how smart you are that you are an efficient chef who knows that taking short cuts in the kitchen are 100% worth it and 100% delicious.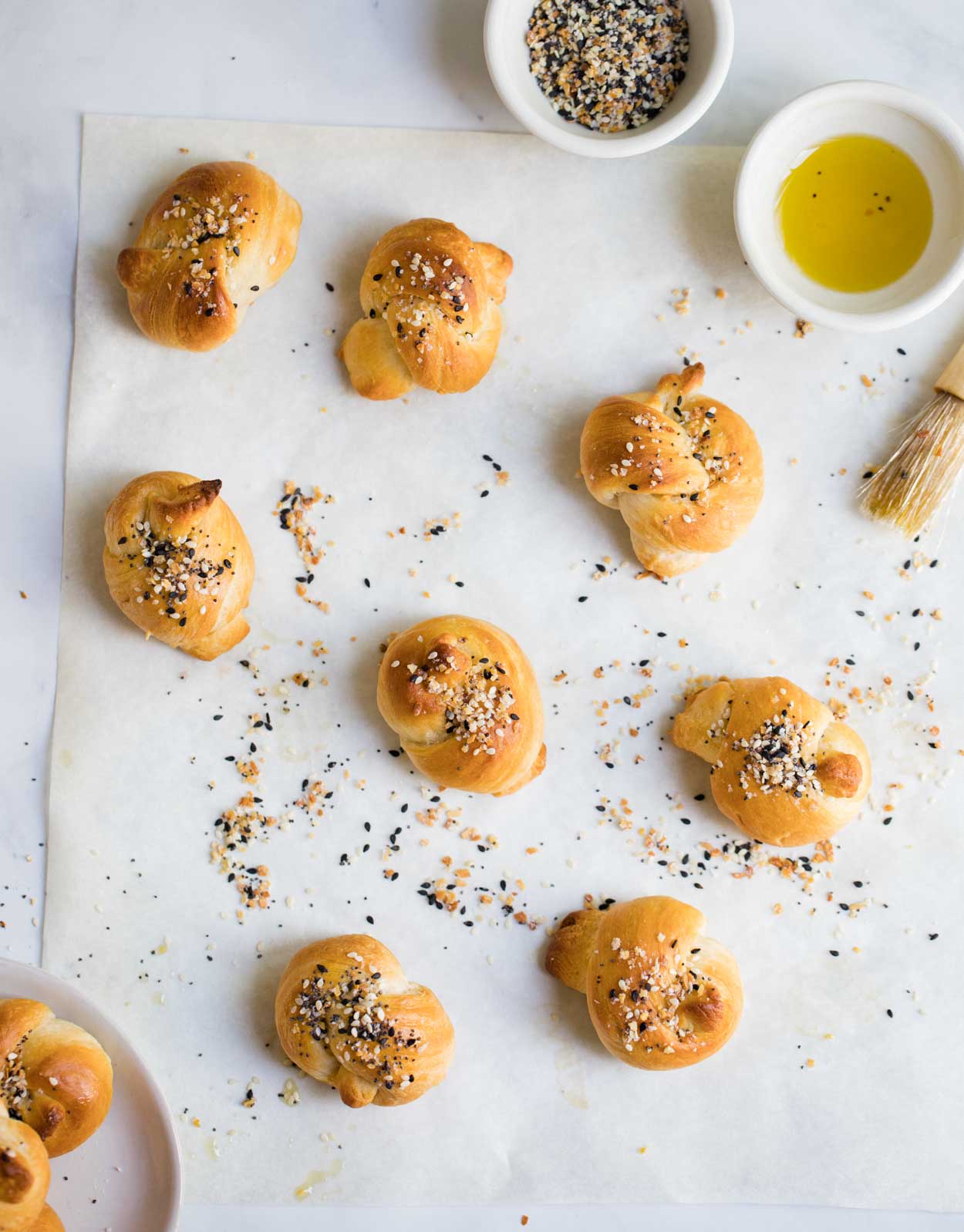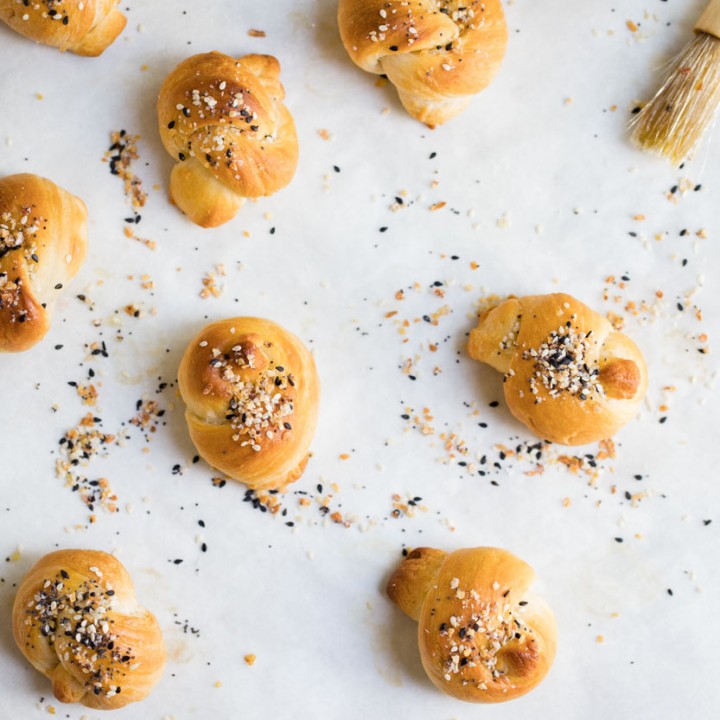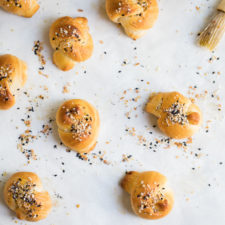 Easy Bread Knots With Everything Seasoning
These tasty little bread knots, topped with everything but the bagel seasoning and using refrigerated biscuit dough, are so quick & easy to make! The perfect dinner starter guaranteed to please!
Print
Pin
Rate
Ingredients
1

tube refrigerated biscuit dough

2

tablespoon

olive oil

2

tablespoon

everything but the bagel seasoning
Instructions
Preheat oven to 375.

Take each biscuit and cut in half, and roll each piece of dough into a 6 inch rope.

Cross one end of the rope over the other, and tie in a knot. Place on a baking sheet and bake for 12-15 minutes.

Remove from the oven and immediately brush with olive oil and sprinkle with the seasoning. Serve warm for tastiest results.