A delicious and fresh salad that is full of early spring greens mixed with the hearty root vegetables of winter, like beets and celery root. Crunchy hazelnuts and tangy goat cheese are added for flavor and texture. This Spring Salad is finished with a light dressing of olive oil and lemon juice. Fresh & Light!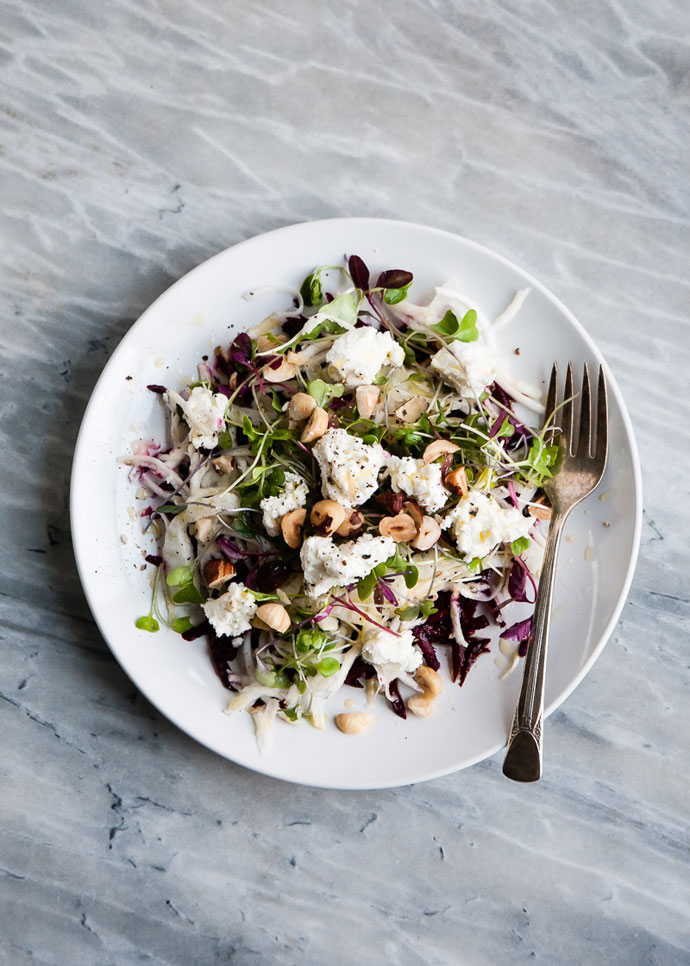 Spring is wonderful, isn't it? I feel like it's a small gift from the universe to keep me going until summer arrives. As someone who loves to cook (and eat) it also means fresh fruits and veggies will soon start appearing at the farmers market. After the winter months I grow weary of roasted root vegetables and squash. I'm tired of hearty soups and stews. (Well, almost.) What I really want is raw, bright salads.
During the early weeks of spring, I know I can rely on mixing winter and warmer weather produce – it kinds of bridges the gap in a way. So I'll keep eating tasty root veggies a little bit longer, but I might just give them a little springtime flair by adding microgreens.
This Early Spring Salad is wonderful. I haven't been a fan of beets for very long, but I will tell you that if I hadn't already started trying to love them, this salad would have been Cupid's arrow.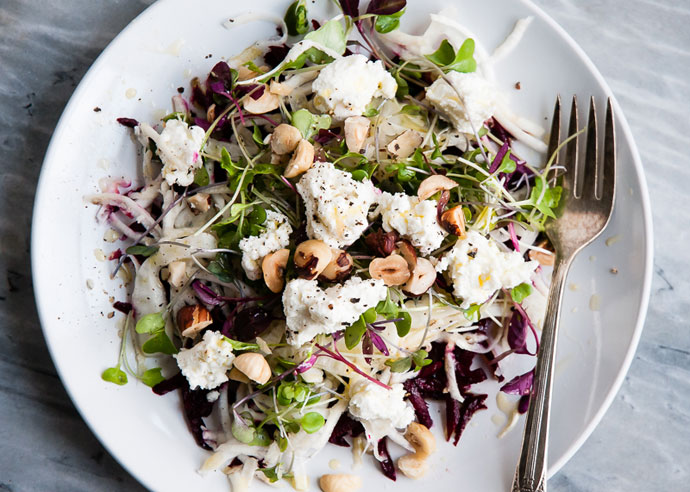 Fresh Spring Salad
I like salads with crunch. I like salads loaded with different flavors, textures, and colors. This salad fits my criteria. Celeriac (celery root) is one ugly root veggie, but it's absolutely incredible. I love it cooked – it goes well with potatoes, but it is refreshing raw. The light celery flavor goes splendidly with the shaved fennel and shredded beets.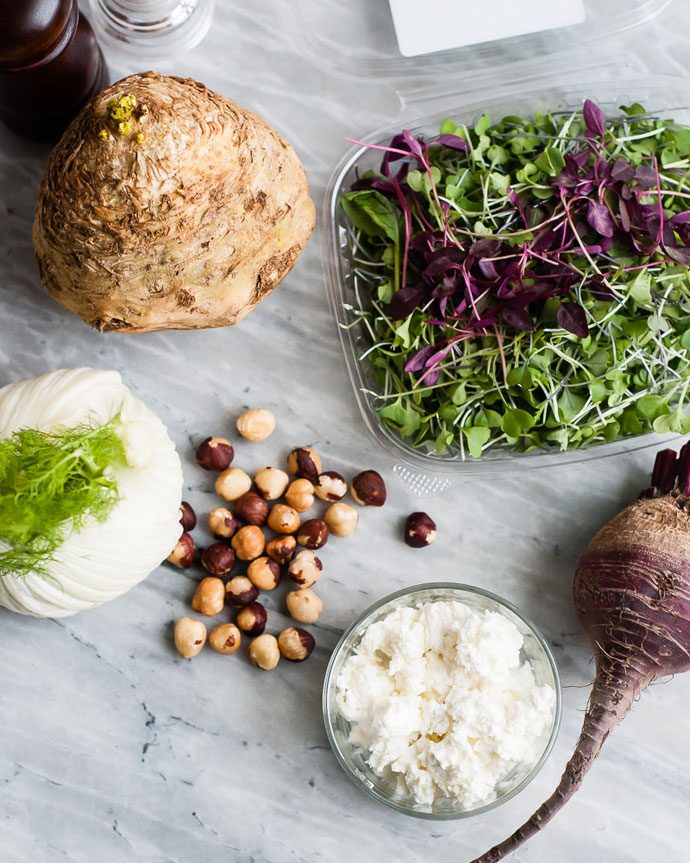 The goat cheese adds a nice creamy, tangy element and the nuts are for texture. It's great with hazelnuts, but just about any nut would do. And really, after that, all it needs is a little coarse sea salt, fresh ground black pepper, a squeeze of fresh lemon juice (orange would work too!), and a drizzle of good olive oil. It's pretty simple and tastes fantastic. It's also good served over your favorite baby greens.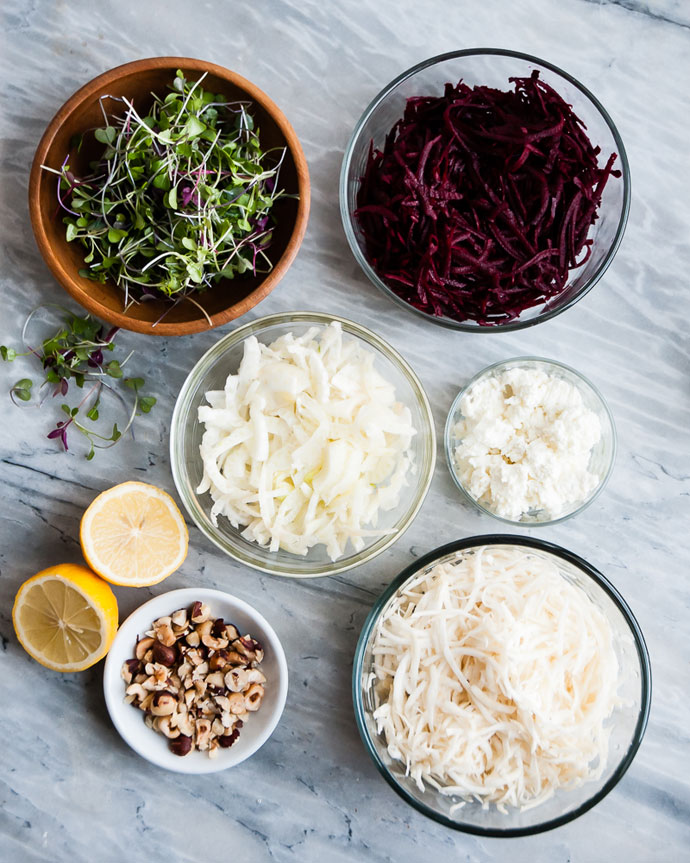 Tell me – how do you bridge the gap between winter and spring? What are you most looking forward to?
What Do I Serve This Spring Salad With?
This salad recipe would be great served with this Instant Pot Chicken Alfredo (with Dairy Free Alfredo Sauce). It's made with spring peas, so the two would go great together!
Early Spring Salad
This early spring salad combines the best of winter; crunchy root vegetables, with just a hint of Spring added in, by way of microgreens. It lets your taste buds know Spring is on its way.
Print
Pin
Rate
Ingredients
1

small celery root

1

large beet

1

medium fennel bulb

1

cup

microgreens

or other sprouts

3-4

ounces

fresh goat cheese

crumbled

½

cup

chopped nuts

hazelnuts, almonds, walnuts, pecans

Juice of 2 lemons

divided

Olive oil

for drizzling

Coarse sea salt and fresh ground black pepper

to taste
Instructions
Prepare the veggies - peel the celery root and beet. Shred or grate into separate bowls. (I used the grating disk for my food processor.) Squeeze half of one of the lemons over the shredded celery root and toss to coat. This will prevent it from turning brown. Cut the stalks and leafy top of the fennel off of the bulb. Cut the bulb in half and cut a V into each half to remove the hard core. Discard the core. Using a mandoline or a sharp knife, very thinly shave or slice the fennel. (It doesn't matter if it's cross- or lengthwise.) Place in another bowl and squeeze the other half of the lemon over the top and toss to coat. This will also prevent browning.

Assemble salad - have four salad plates ready. Layer the beets, celeriac, and fennel onto the plates. Top with some of the microgreens, crumbled goat cheese, and nuts. Season well with salt and pepper, then squeeze a little fresh lemon juice over the top. Finish by drizzling with the olive oil. Serve immediately.

Note: You can prepare the salad components ahead of time and assemble at the last minute. Keep them covered and refrigerated until assembly time. The celeriac and fennel will probably turn brown (like apples and pears), but it won't affect the taste. Add a little more lemon juice to the bowls and toss to help prevent that.
Other Salad Recipes on Howe We Live
If you are like me and always on the lookout for great salad recipes to add to the lunch and dinner rotation, check these out too:
Leek White Bean and Tuna Spring Salad
Moroccan Chicken Salad (CPK Copycat)
Farmer's Market Salad