It's been 95+ degrees I'm desperate for Fall around here, so this butternut squash pasta sauce recipe I worked on in the last week is just perfect for a Southern Californian pining for cold mornings and sweaters. And so if it works for us here in this sweltering heat, I know it will be just perfect for all of you in the parts of the country where Fall is in full swing. Rich and creamy with a whole host of flavors from sage to walnut, this dish is the perfect meal for the months ahead.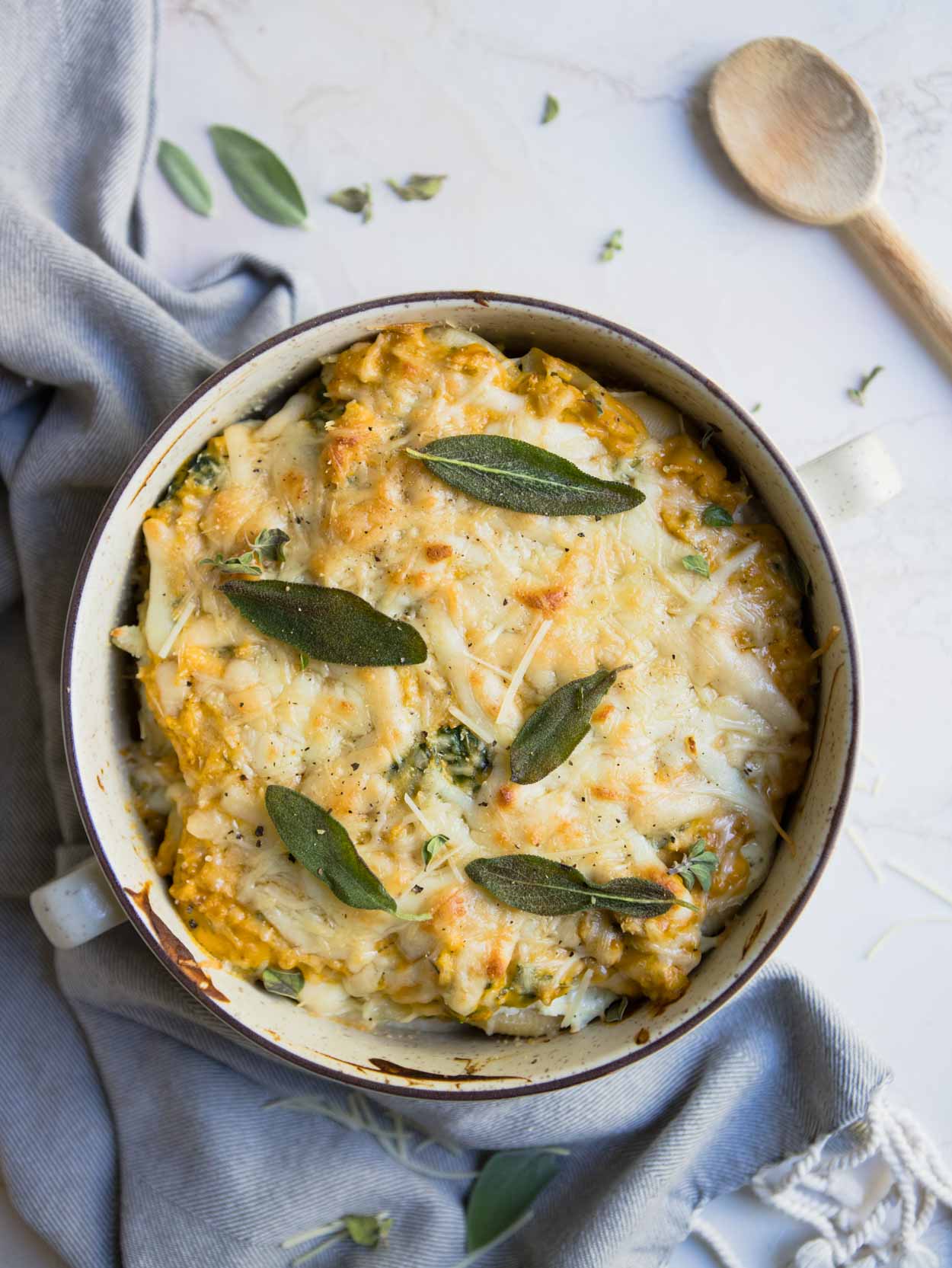 A while back I ordered the Flavor Thesaurus, a book that details out flavor combos that pair well together, and aims to take a home cook from just being competent to more adventurous and intuitive. I felt like she was in my head while reading the intro to the book and wondered if I too was more of a "very good recipe follower" versus an actual good cook. This book has helped give me the confidence to take more chances with pairing unique flavor combinations I wouldn't typically try, and I think I'm starting to lean more "good cook" versus "good recipe follower." 😉 Only time will tell though!
So anyhow, I bring this up because the book helped me come up with this dish! Butternut squash and sage are a pretty common flavor pairing, but I wanted to give this pasta dish a more savory flavor offset by some tang. Because ricotta and mozzarella cheese can be pretty bland tasting, I decided to add in a small log of goat cheese to the filling, and then I also needed something to offset the sweetness of the squash, so I roasted the squash in walnut oil and added turkey sausage. So now, each bite has some sweet, some salty savoriness, and just the slightest bit of tang from the goat cheese. Let's get cooking shall we?!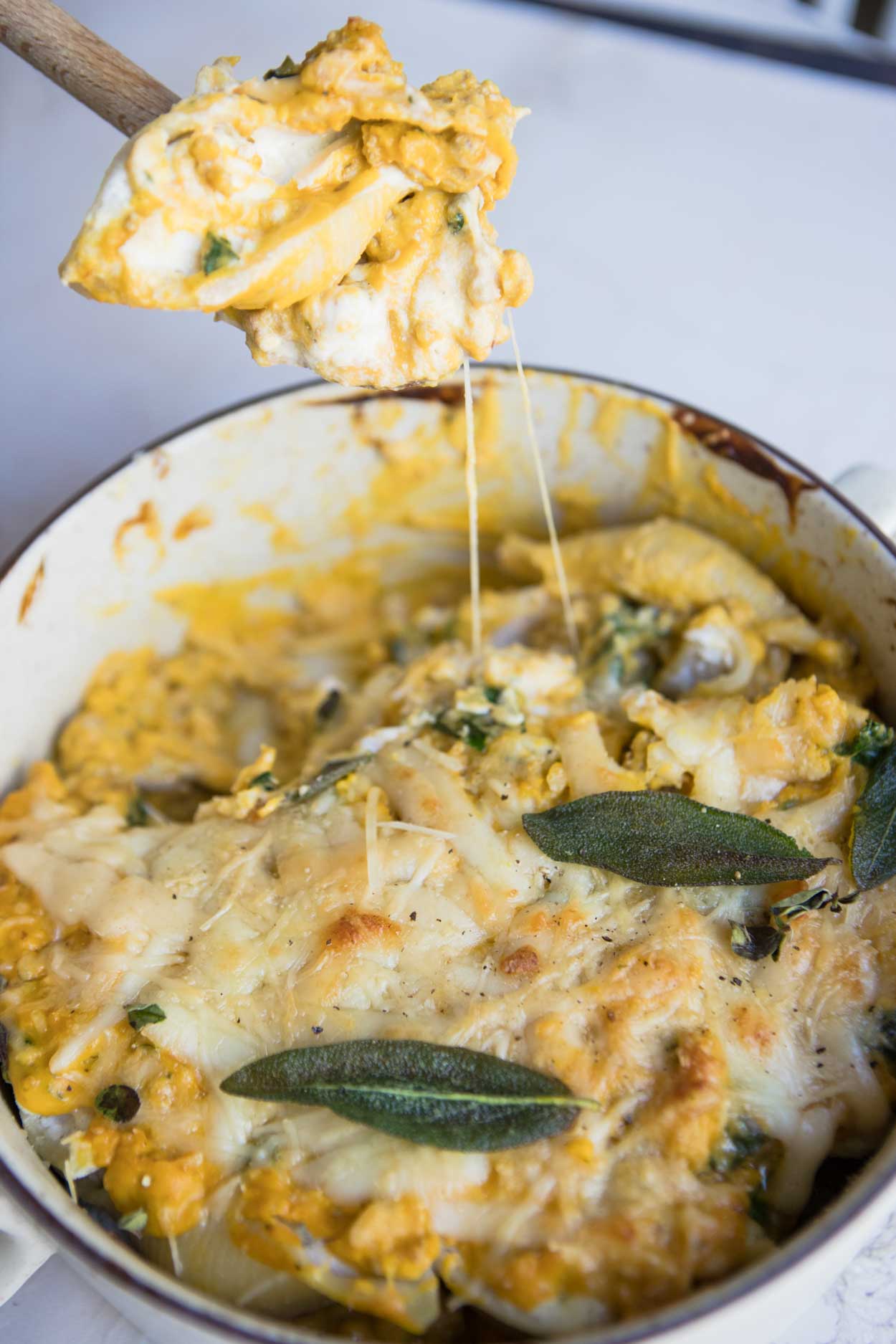 Preparing the Butternut Squash Pasta Sauce
You can buy either pre-cubed butternut squash, which is sold in almost every market (Target even has it when in season), or you can peel and cube your own. You'll need just 1 medium sized squash for this job. Lay out your squash on a roasting pan and drizzle with walnut oil, salt and pepper and roast until nice and tender.
Once your squash is roasted, simply dump it into the blender or food processor along with the other ingredients, and blend away till smooth. You'll the add it to your already cooked turkey sausage and kale. Stir to combine and you've got your sauce.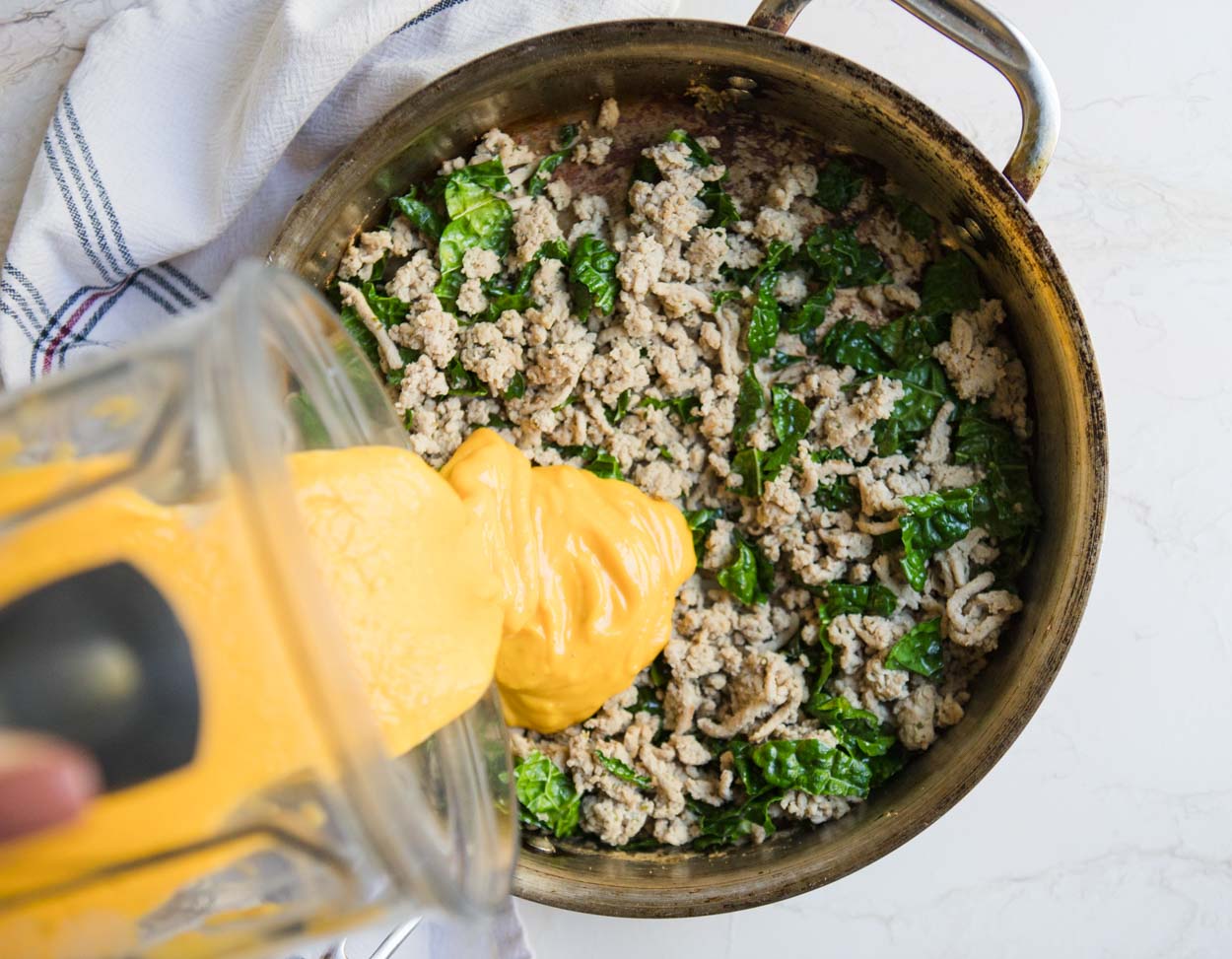 Do You Have to Use Walnut Oil?
Of course with cooking, you don't "have to" do anything when it comes to flavor enhancing ingredients, because that is really all the walnut oil is. The dish does not fall apart if you don't use walnut oil. Therefore, you don't have to go out and buy walnut oil if you don't have it, and you can of course sub olive oil instead.
But you will notice a distinct flavor that is more nutty than EVOO. So with that being said, if you don't want to buy walnut oil because you're afraid it will go rancid before you finish the bottle, you can instead add in a small handful of walnuts to the blender when you begin making the sauce, and you'll get a similar flavor.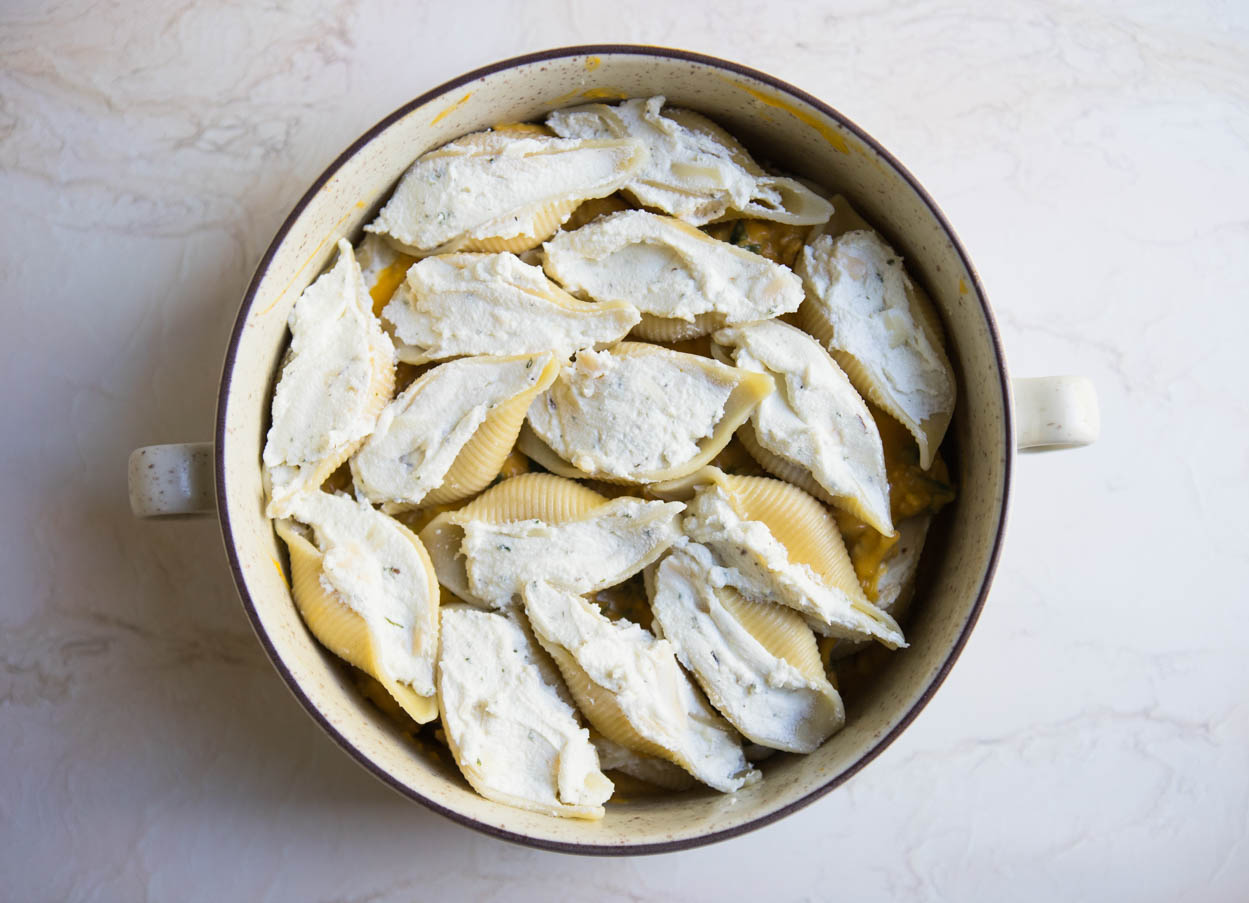 Tips for Cooking & Stuffing Shells
Standard pastas like spaghetti and penne are a little more forgiving when it comes to cooking, in that if they get slightly overcooked, it's not the end of the world. When you're cooking shells though, you want to make sure to get the timing right as to not overcook them and have them fall apart while you're trying to stuff them. Therefore make sure to cook them to barely al-dente. Set the timer to 1-2 minutes less than the package directions suggest, and start testing a shell for doneness. If it's firm but still tough, let it cook a minute more and then test once more. By then they should be done.
Once the shells are done cooking, drain and rinse with cold water to stop them from cooking even more, and set aside.
To stuff them, I just carefully used a tablespoon to dollop them in, but if you want them to look super clean, you can also fill a pastry or ziploc bag with the tip cut off, and squeeze the mixture in. This is one step too many so I just did mine the old sloppy way 😉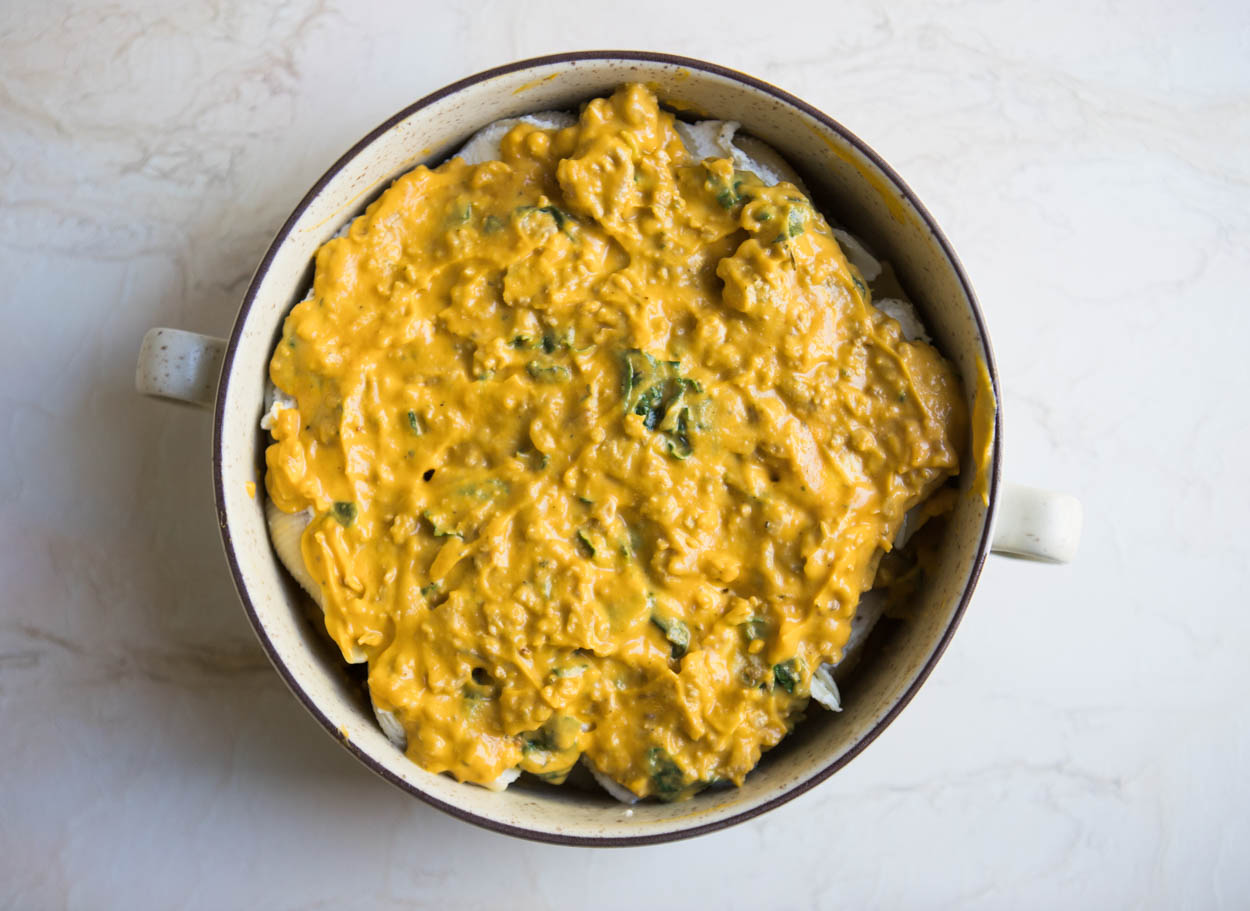 Assembling the Shells In Your Baking Dish
If you're using a standard 9″x 13″ baking dish, you'll wind up with 1 layer of shells. I, however, used a smaller round casserole dish because it's a new toy I was just itching to use, so I ended up layering 2 stacks of shells, and assembled it as more of a lasagna with layers. Either way works!
No matter what size pan you're using though, you'll start by spooning in about half the butternut squash sauce on the bottom of the pan, then placing down a layer of shells and top with the remaining sauce and cheese. If using a smaller dish, simply layer sauce, shells, sauce, shells and top with the remaining sauce and cheese.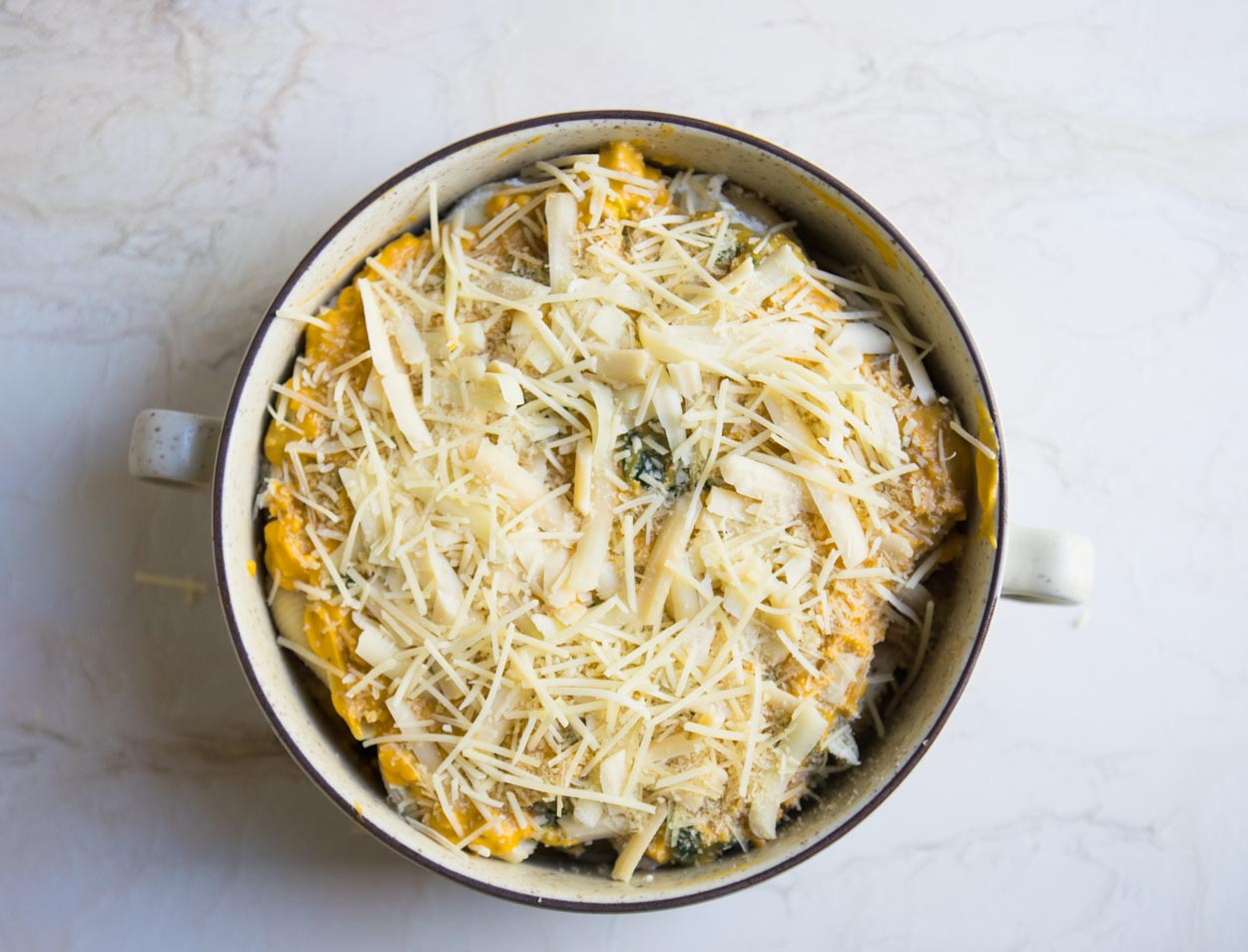 Can You Make This Recipe Vegetarian?
Yes, you can easily delete the ground turkey from the recipe and just saute up some kale alone (or spinach for that matter), and add it to the ricotta mixture. You can also make it vegan by subbing out the half and half and using a dairy milk alternative, and using vegan cheese instead.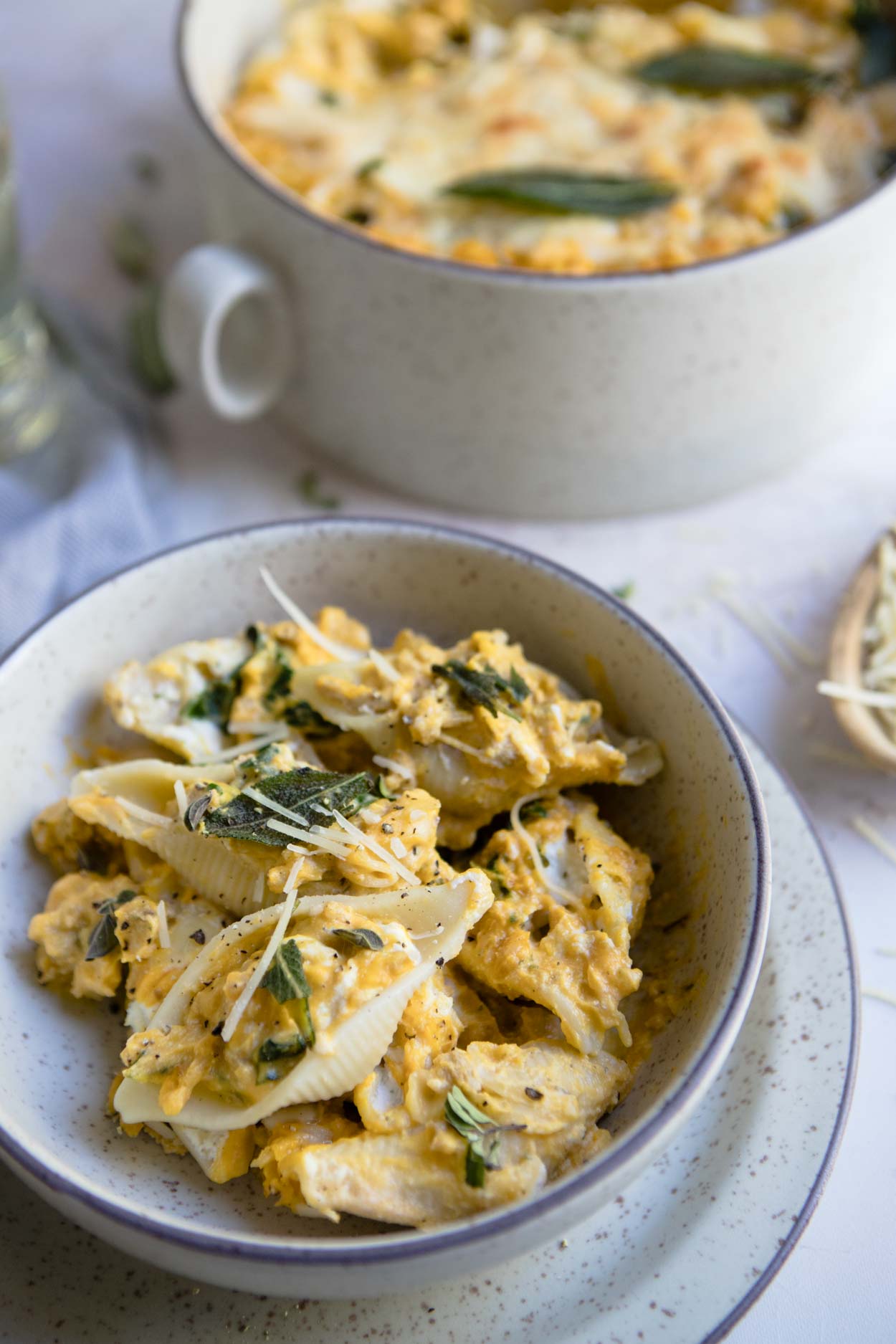 A Tip About the Sauce & Reheating
The ratios I use in the recipe will make a fairly thick and rich sauce. If you want your sauce a little runnier, especially if you plan to bake ahead of time and then reheat to serve, I suggest adding about ½ cup more water. When served immediately, the sauce is the perfect consistency, but when reheated, it definitely thickens up and doesn't feel as creamy. Still delicious of course, don't get me wrong! It's just a suggestion if you want a more moist/runny sauce.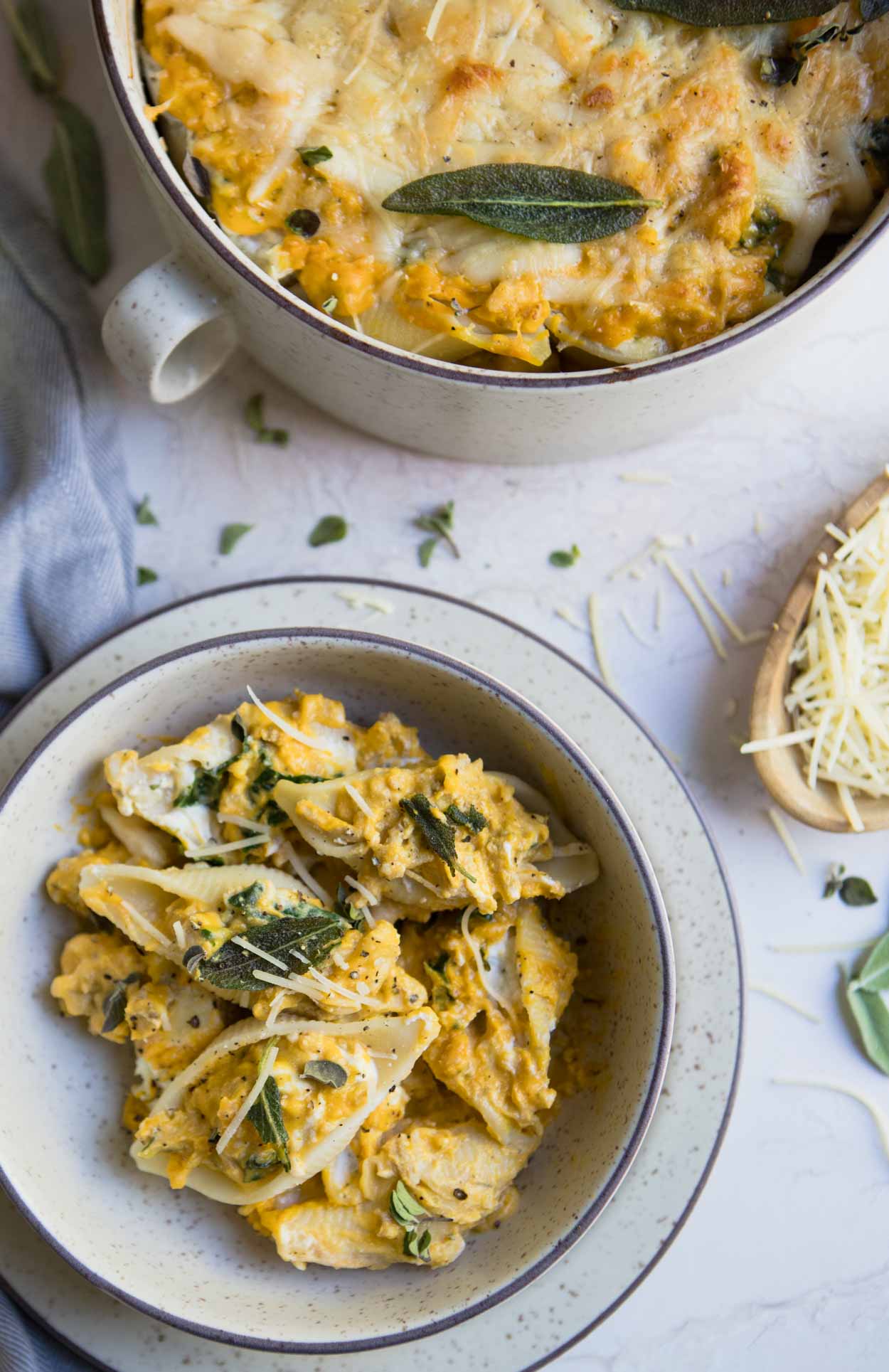 So I know this dish is a bit more work than my usual one pan/instant pot dinners, but I promise it is so worth it. It's rich and creamy, but not overtly heavy because the sauce is primarily butternut squash and not cream, and the ricotta filling is so light, this recipe will feel so special to serve. Please let me know if you make it and what you thought of it! And if you enjoyed it, or have a suggestion for improvement, please rate and leave a comment below 🙂 Those ratings and comments help me grow as a cook and blogger, so I can continue to share great recipes with you all. Thank you for reading!
OTHER SQUASH DISHES TO ENJOY
Butternut Squash + Kale Frittata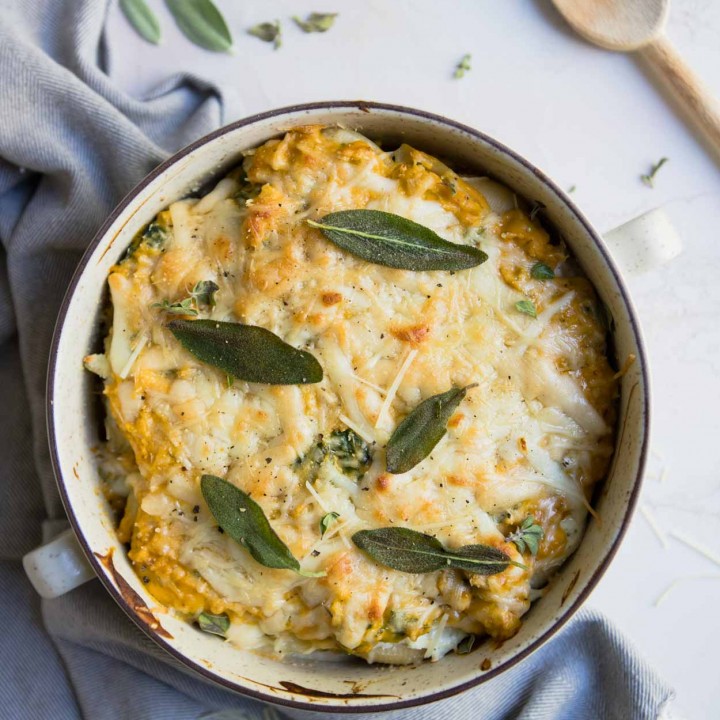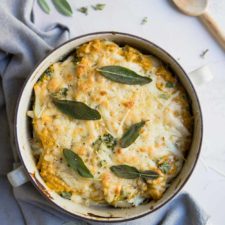 Butternut Squash Pasta Sauce Over Stuffed Shells
The most creamy and delicious roasted butternut squash pasta sauce recipe, with sausage and hints of walnut, smothered over ricotta and goat cheese stuffed shells. The perfect comfort food dinner dish!
Print
Pin
Rate
Ingredients
1

medium butternut squash

peeled and cubed, or 1 package precubed squash

4

tablespoon

walnut oil preferred

or olive oil

½

cup

half and half or whole milk

1.5-2

cups

water see recipe note

1

lb

ground turkey

6

stems lacinato kale

finely chopped

1

lb

large pasta shells

16

ounces

ricotta cheese

4

ounces

plain goat cheese

8

ounces

shredded mozzarella cheese

divided

1

cup

shredded Parmesan cheese

divided
Instructions
Preheat oven to 400 degrees.

Toss butternut squash with 2 tablespoon of the walnut or olive oil, and salt and pepper. Place on a baking sheet and roast till cooked through, about 20-25 minutes. Remove from oven and lower oven to 350 degrees.

Meanwhile bring a large pot of salter water to a boil. When water boils, add in shells and cook till al dente. Drain and rinse with cool water and set aside.

Saute sausage in a large skillet until cooked through, and add in the kale, cooking till just wilted.

Once the butternut squash is done roasting, add to a blender or food processor, along with the half and half, water and 2 tbps of walnut or olive oil and a generous pinch of salt and pepper. Blend on high until smooth. Add in butternut squash to saute pan with sausage and kale, and stir till combined.

In a medium bowl, combine the ricotta cheese, goat cheese and half of the mozzarella and Parmesan cheese, along with a generous pinch of salt and pepper. Stir till combined.

To assemble the dish, start by spooning half the butternut squash and sausage mix into the bottom of the baking dish. Stuff each shell with about 1-1.5 tablespoon of the ricotta cheese mixture, and lay down in the pan. Proceed till filling is gone and pan is filled with the shells, tightly packed together. Top with the remaining sauce. If using a smaller pan, you can also layer the shells starting with ½ of the sauce, shells, ¼ sauce, shells and topping with remaining ¼ sauce.

Top with remaining mozzarella and Parmesan cheese, and bake until cheese is melted, about 20-25 minutes.
Notes
If you want a thinner sauce, add in an additional ½ cup water
You will likely have some shells left over, so you can either cook about ¾ of the bag of shells, or you can use the extra shells by placing them in a smaller baking dish, tossing with plain marinara sauce and topping with mozzarella and Parmesan cheese. Bake in a 350 degree oven for 20 minutes.