Hello there friends. Today I'd like to introduce you to a new contributor, Alix Adams of A Ruffled Life, who will be sharing DIY  and craft projects with us, on a regular basis. I met Alix last year at Alt Summit, and we've stayed in contact over the past year, only to be reconnected again at this year's Alt, where she hosted one of the beautiful Friday night mini parties. Alix is charming, funny, and has a great sense of creativity and style, which makes for some awesome DIY and craft projects. I feel beyond fortunate to have Alix on board here, and I think when you see her very first project, you'll understand why.  Thanks so much for creating this sweet floral wreath for all of us, just in time for Valentine's Day. I love it Alix, and I know my readers will too!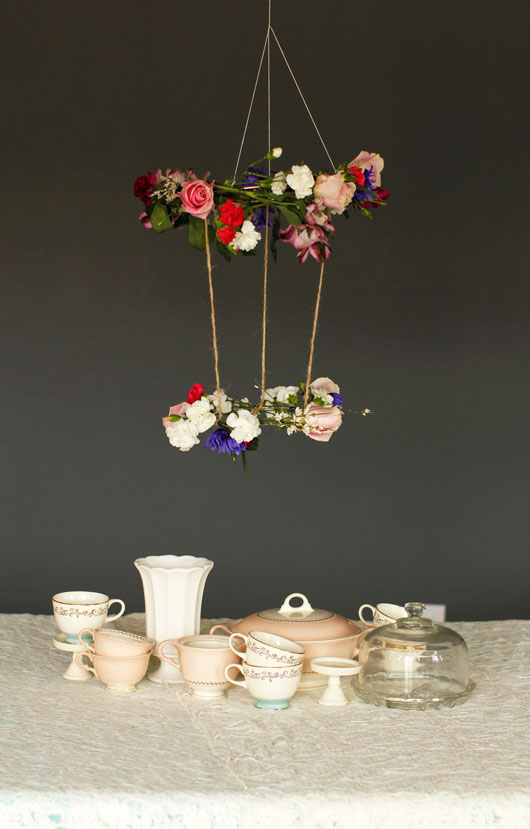 Every Valentines Day I try and come up with new ways to glob on the glitter, warm up my hot glue gun, and cut out an obscene amount of paper hearts. But this Valentine craft is different. This Valentines I made a floral chandelier that is stylish and lovely. It is far more mature than glitter, if you know what I mean. A floral chandelier made from romantic roses, carnations, and some daises (for good measure) is prefect for a sentimental dinner with that special hunk…but it also says a sweet "Happy Love Day!" to everyone running around your house.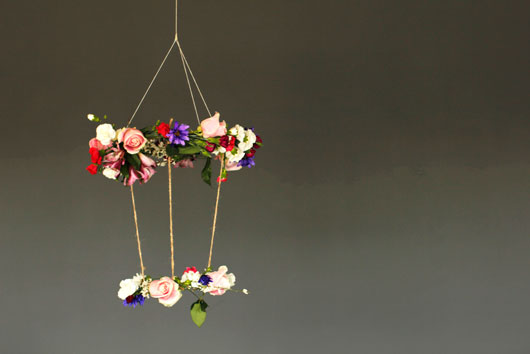 Supplies:
– Metal hoops in 2 sizes (I bought these at my local craft store)
– Floral wire to attach the flowers
– Twine or string to tie the hoops together
– Wire cutters
– Fresh flowers!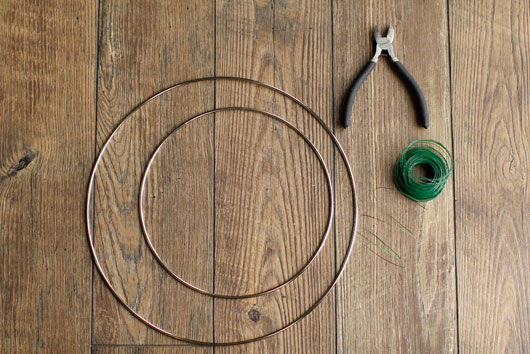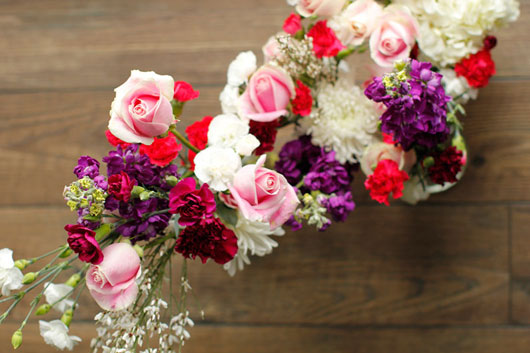 The first step is simple and you get to flirt with flowers…so it's a good place to start. Take all your flowers and cut their stems down to about 4 inches. This will make it possible for you to attach them to the metal hoop.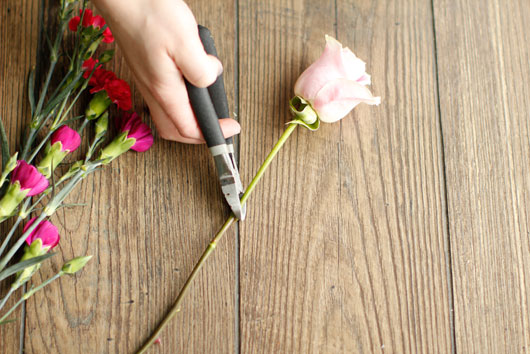 Next, you will want to cut a few clips of floral wire to prepare to attach the flowers. The floral wire should be cut in 4 to 6 inch sections using wire cutters.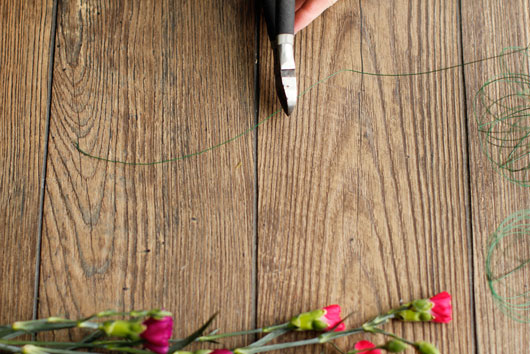 To wire the flowers to the ring it is easiest to lay the wire under the hoop and the flower to begin. Then carefully wrap the wire around both the flower stem and metal hoop several times so that the flower is securely fastened to the hoop.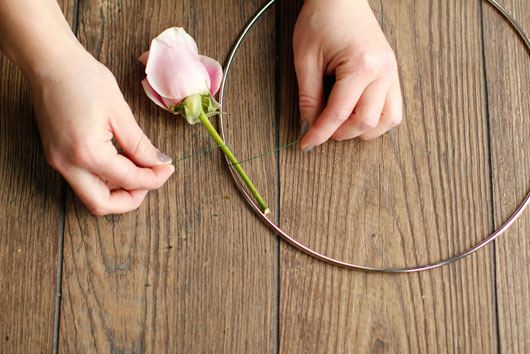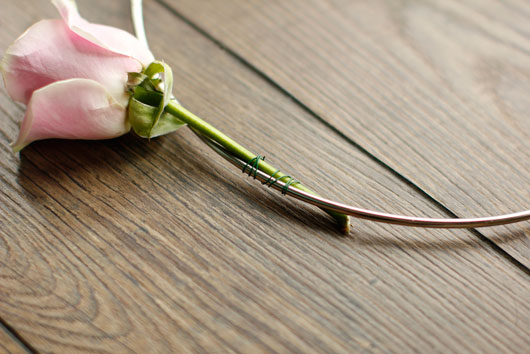 Now it's time to let your inner florist blossom. This is some love day self-therapy crafting. For step four repeat step 3 with varying flowers all the way around the hoop until your hoop is completely covered in flowers. You may want to add greenery here and there. Like I said…it's your craft/therapy/self-love DYI.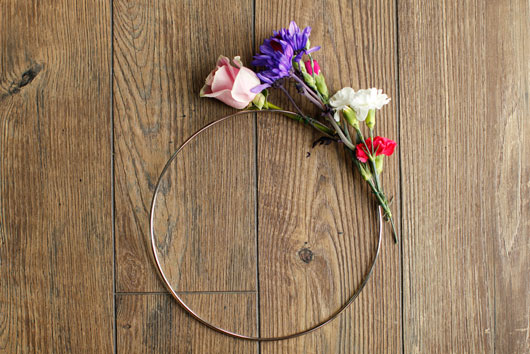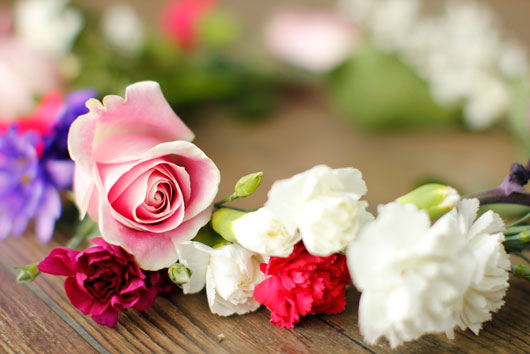 Now repeat steps 1-4 on your second metal hoop so you have a pair to transform into a chandelier.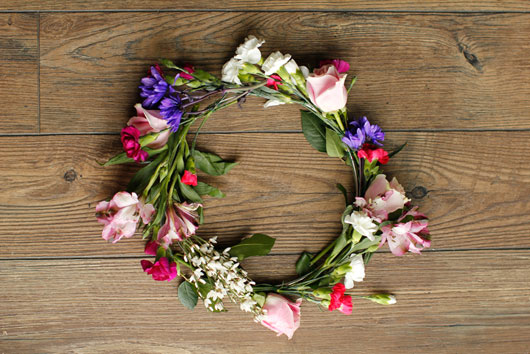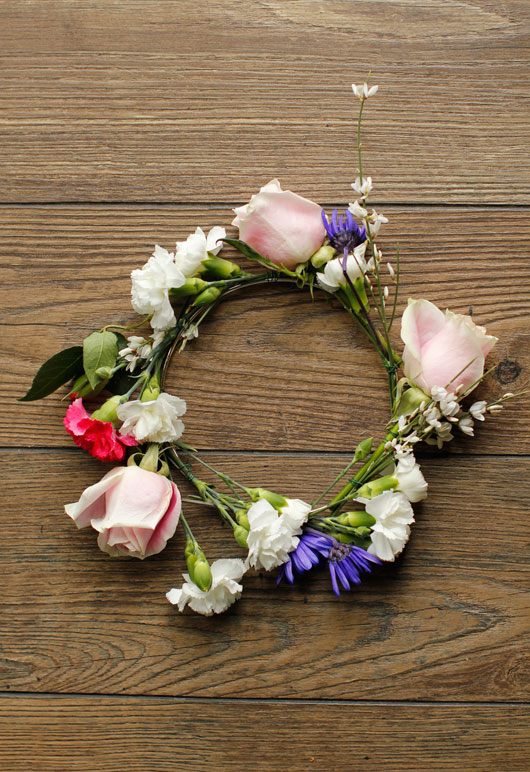 For the final step you will need to connect the hoops and string them up. I used a pretty twine (or jute). I tied 3 strips of twin measuring 18 inches long on three different parts of my first hoop. I made sure the twine knots were even spaced on the hoop with a third of the hoop in between each knot. Then I tied the opposite end of the twine (the end not tied to the first hoop) to the second hoop, again making sure that they were evenly spaced by thirds. To hang the chandelier I tied white string (but you can use twine or fishing wire or whatever you prefer) to several spots on the larger hoop, tied those strings in a knot, and then stuck the end of the white strings into the ceiling using a pushpin.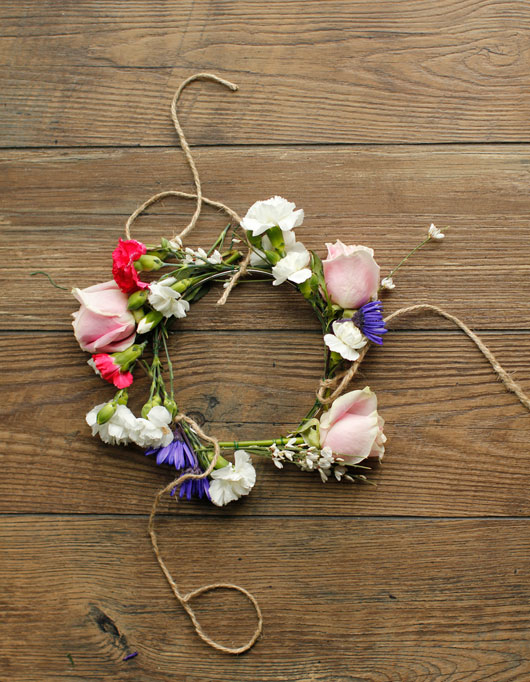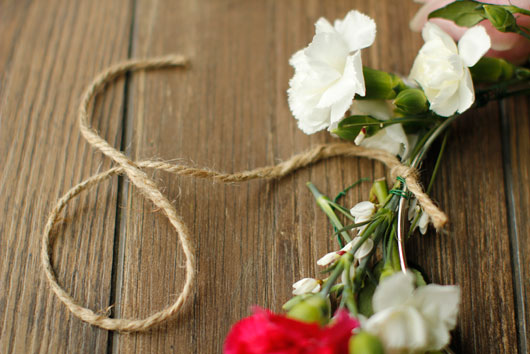 Let me just say, were are all in love with our little floral chandelier. My husband walked in and immediately said, "I like what you did with those plant things hanging there." Which I roughly translate as being, "Wow babe you are a wonderful florist! You are so beautiful and talented. I sure am lucky to be your Valentine."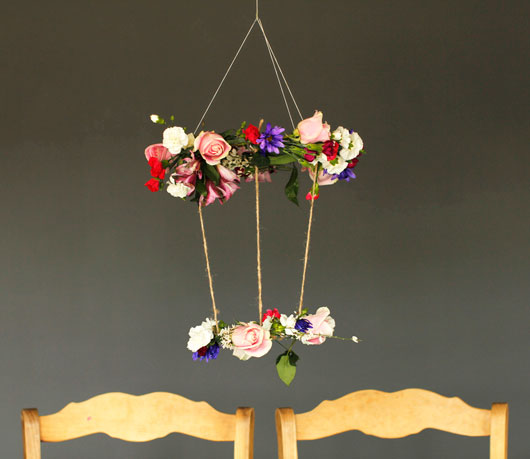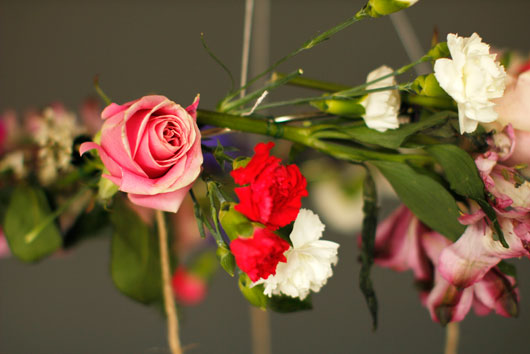 The details on this chandelier are really quite stunning, in their very own simple way.  Thanks again Alix!  I love this and will have to sneak out to the store tonight for some fresh flowers.  I know Taylor would especially love this hanging in her room.