If you're a sucker for a (family) Valentine's Day celebration, then I think you'll love these Valentine's Day breakfast ideas. Create a sweet and savory spread with fresh fruits & veggies, cured meats, and buttermilk cheddar heart waffles as the centerpiece!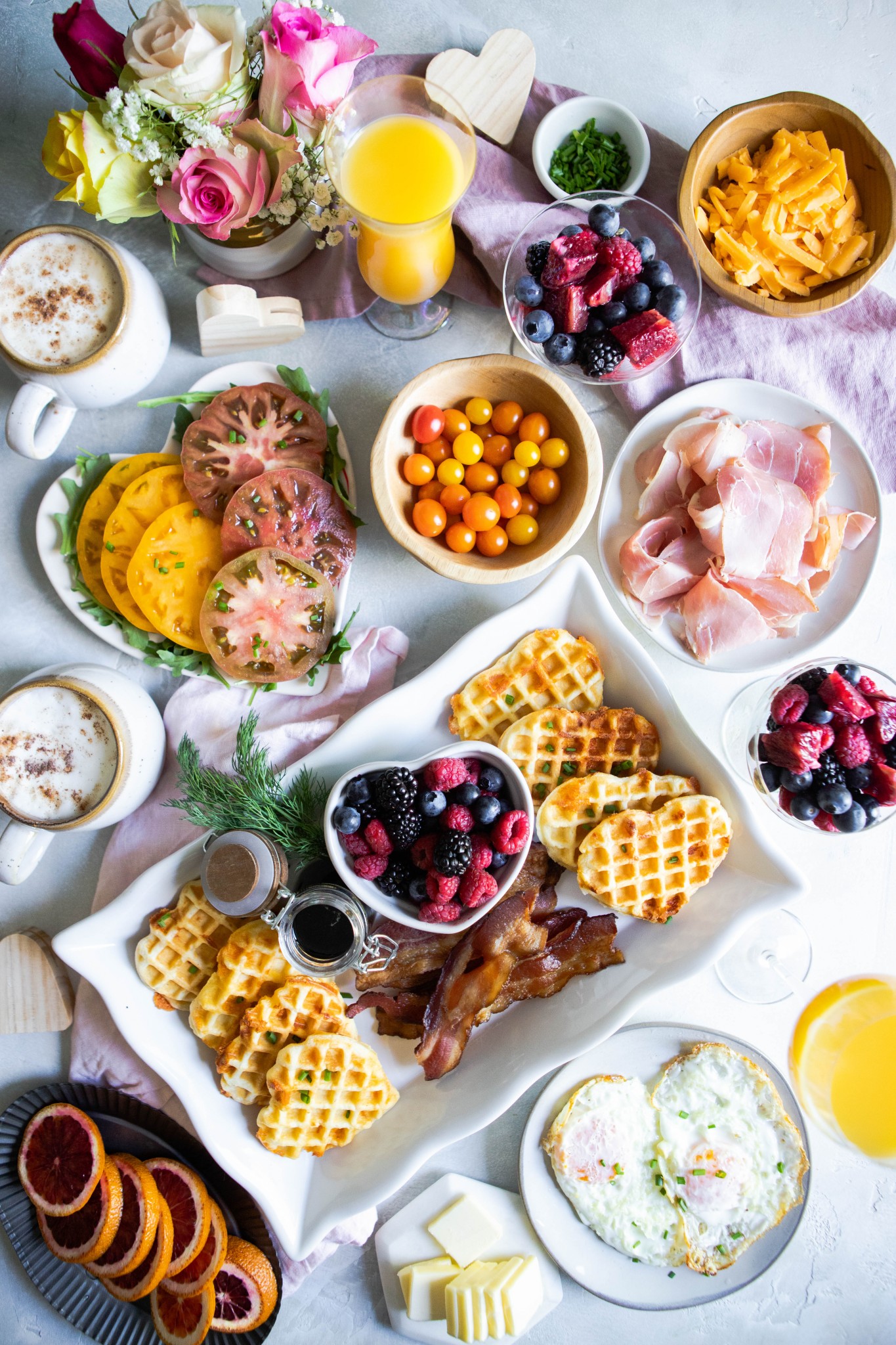 For the first few years of marriage, I sorta always felt disappointed in Valentine's Day. Did my husband make a reservation, did he buy me flowers or even a card, was he romantic enough? How silly! Soon after we started a family though, my priorities changed and expectations evolved. We now keep things relatively simple in the romantic department, and celebrate as a family instead. I typically put together a fun breakfast, and my husband cooks dinner. Nothing extra fancy, but I do try to make it special with decorations and fun treats.
Since I'm always in charge of breakfast, I did a trial run this week that was a hit! The kids loved the new waffles and we grazed off the board and had a royal lunch! Let me share all the fun details of this Valentine's day breakfast spread.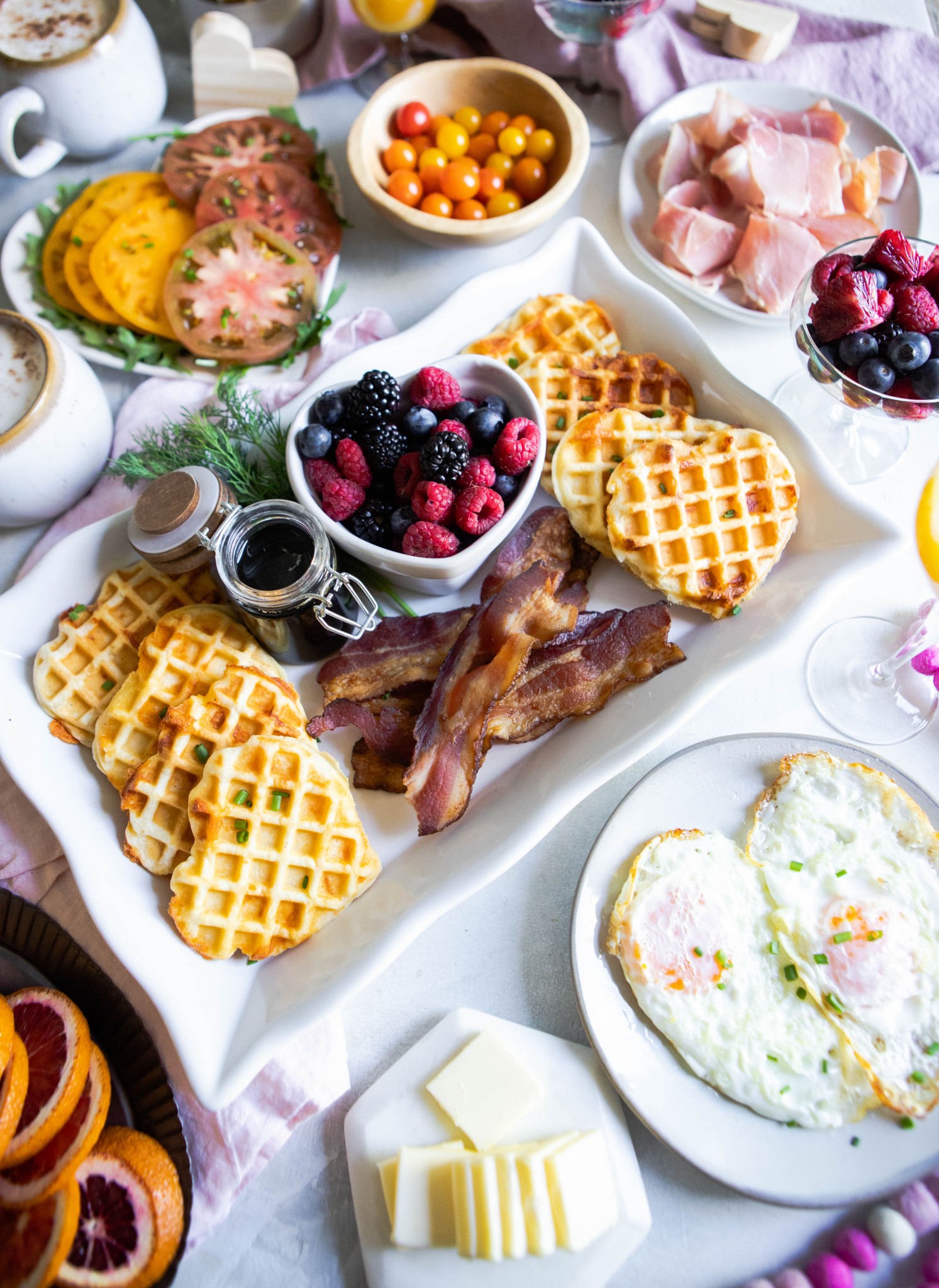 Valentine's Day breakfast spread
Homemade savory buttermilk cheddar heart waffles were the centerpiece. Everything else worked around these fun savory waffles.
Eggs and bacon are always a must for any special breakfast! We chose over easy, but poached or hard boiled would be excellent as well.
Fresh fruits to brighten up the palate! Bright red and purple berries, as well as deep ruby red blood oranges.
Tomatoes and arugula to cleanse the palate. I went with swanky heirlooms, but any variety would work!
Prosciutto, cheddar cheese and chives are extra accoutrements that make the spread a bit more special.
Don't forget butter and maple syrup! Yes, these savory waffles are excellent when offset with sweet syrup.
If it's just you or you and your partner, mimosas or bloody Mary's would be so fun for a lazy and relaxing brunch. Since we're typically up bright and early though, I stuck with flutes of orange juice for the kids and lattes for mom and dad.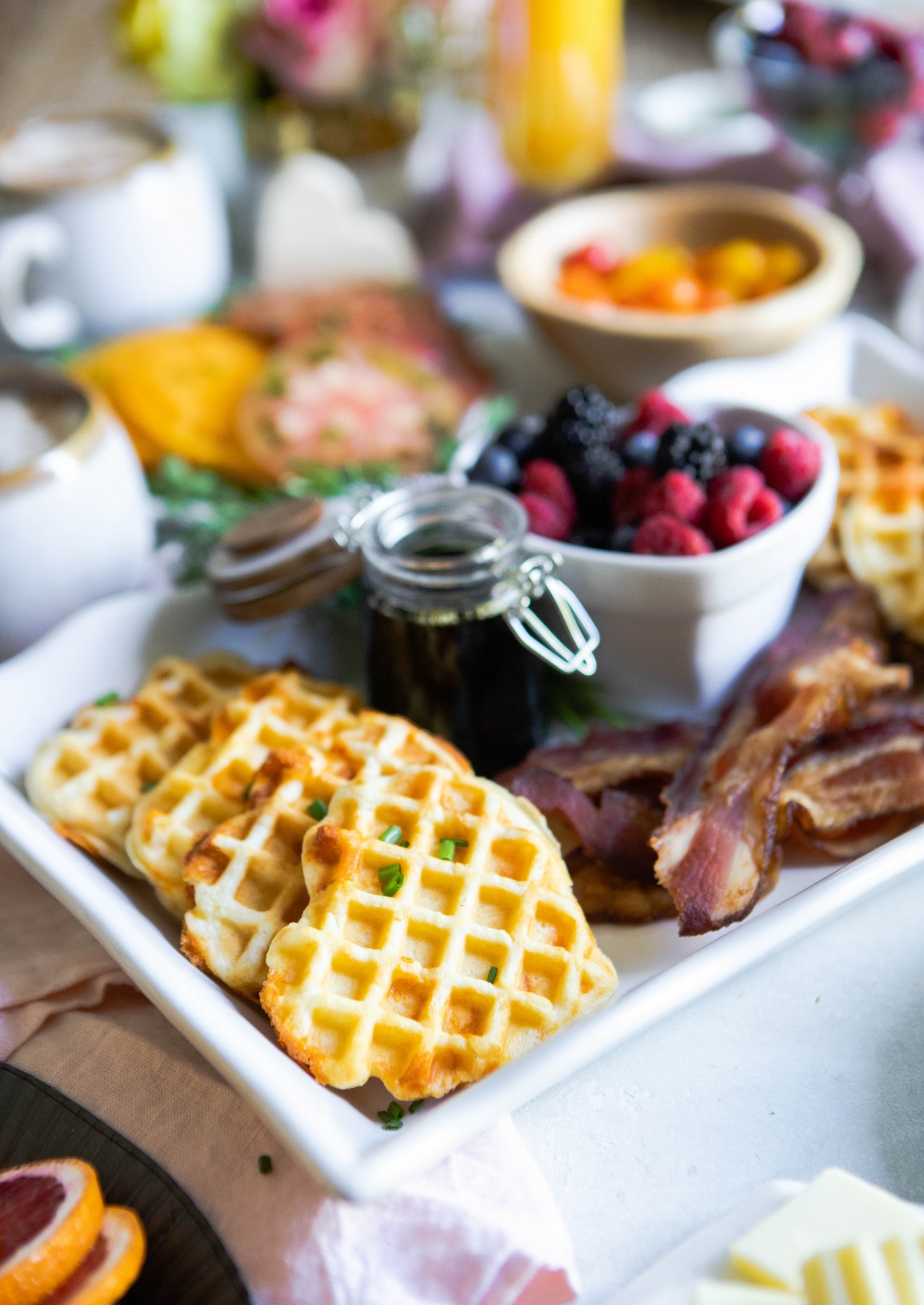 Tips for putting together the perfect breakfast spread
Put out both savory and sweet foods
Do you ever go out to eat for breakfast, and torment yourself trying to decide between sweet or savory? I know I do, so my most important tip is to put out both salty and sweet foods, so you don't have to choose! Get a mix of sweet pastries, fruits and juice, and offset it with eggs, breakfast meats and a vegetable or two.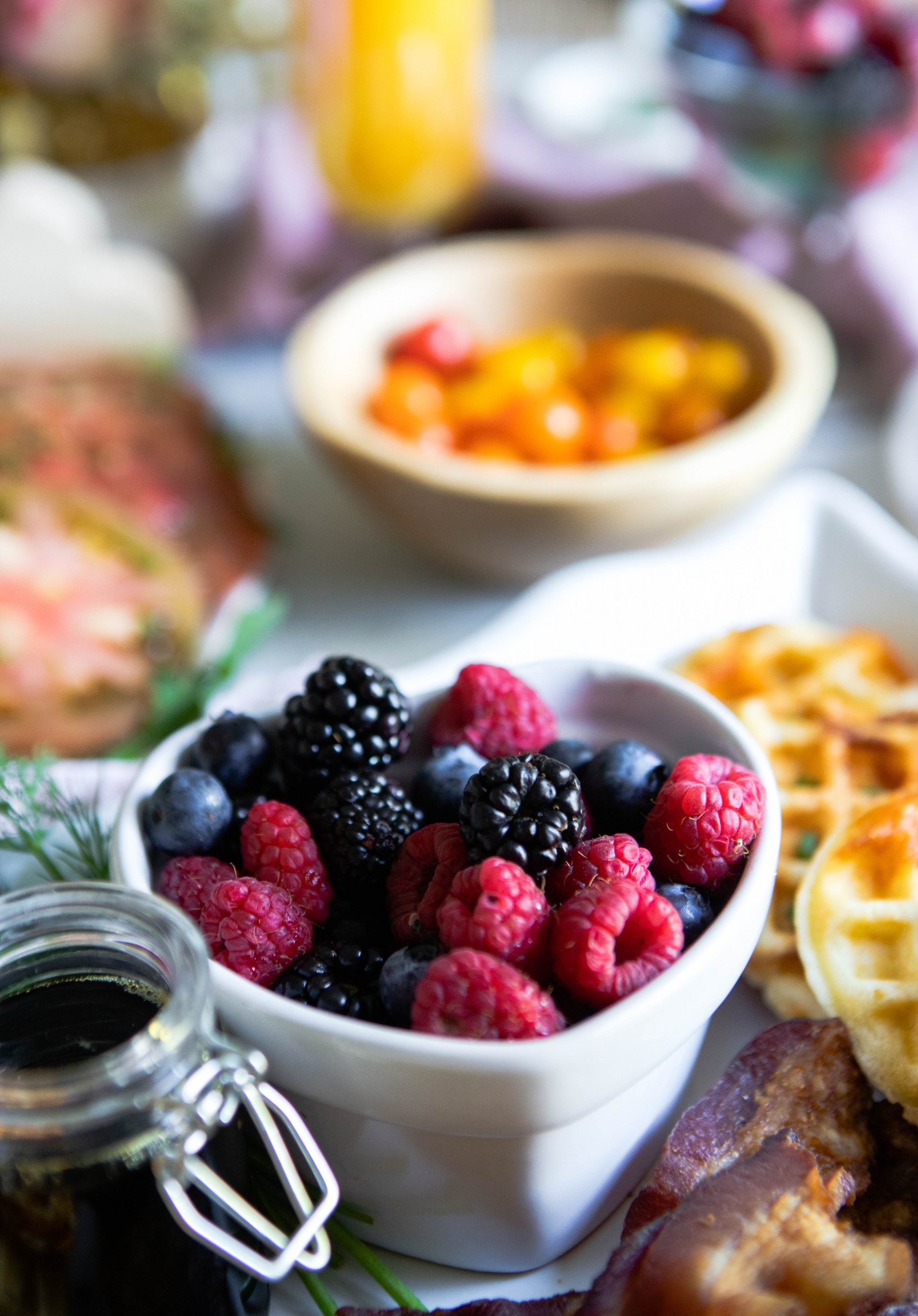 Commit to making 1-2 foods and everything else is store bought or requires no cooking
Next, put out just a couple of things that you have to "make" and cook. If possible, these items can also be made in advance. For everything else, use foods that you can either buy premade, or require no cooking. The last thing you want to do is get it up the crack of dawn to make every single item. My favorite easy and make ahead breakfast items are baked donuts, a crumble cake that can be made with various fruits, and of course my buttermilk and cheddar savory waffles.
Mix healthy with indulgences
Create a spread that has a mix of delicious carbs, fresh & healthful fruits and veggies, and delicious proteins like eggs and bacon. Make the meal fun and delicious, but also a healthful start to your day!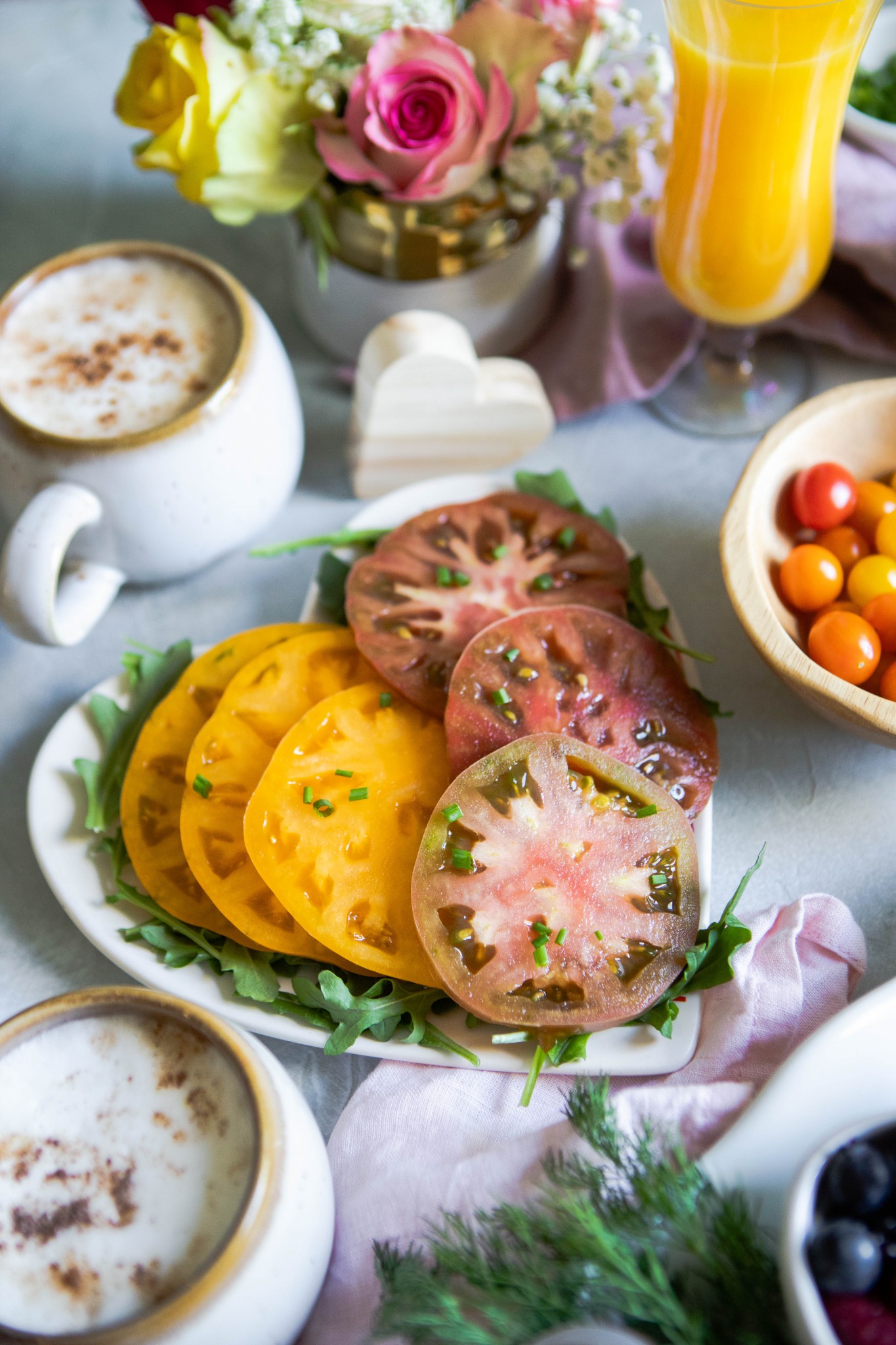 Assemble foods on separate plates and dishes
There's a plethora of fun breakfast board inspo out there, but I personally find them a little impractical. Assembling a standard charcuterie spread on a "board" is relatively easy because many add-ons, like nuts and olives, are made to nibble. You can store them in cute teeny tiny bowls and plates and they still work on the board. But with breakfast foods, most of the items are larger, and of varying textures and sloppiness.
In short, I trued assembling this spread on a big beautiful platter, and it created a rather big mess haha! Keep it simple and stick to old-fashioned plates and bowls and assemble in a eye pleasing fashion, as seen below.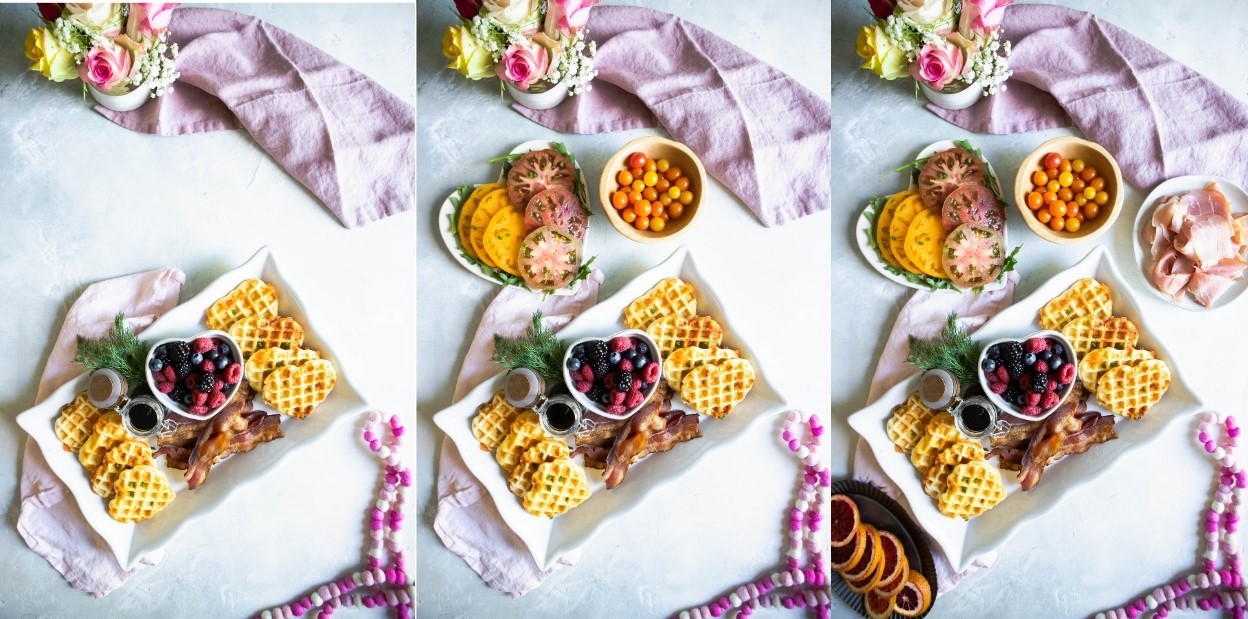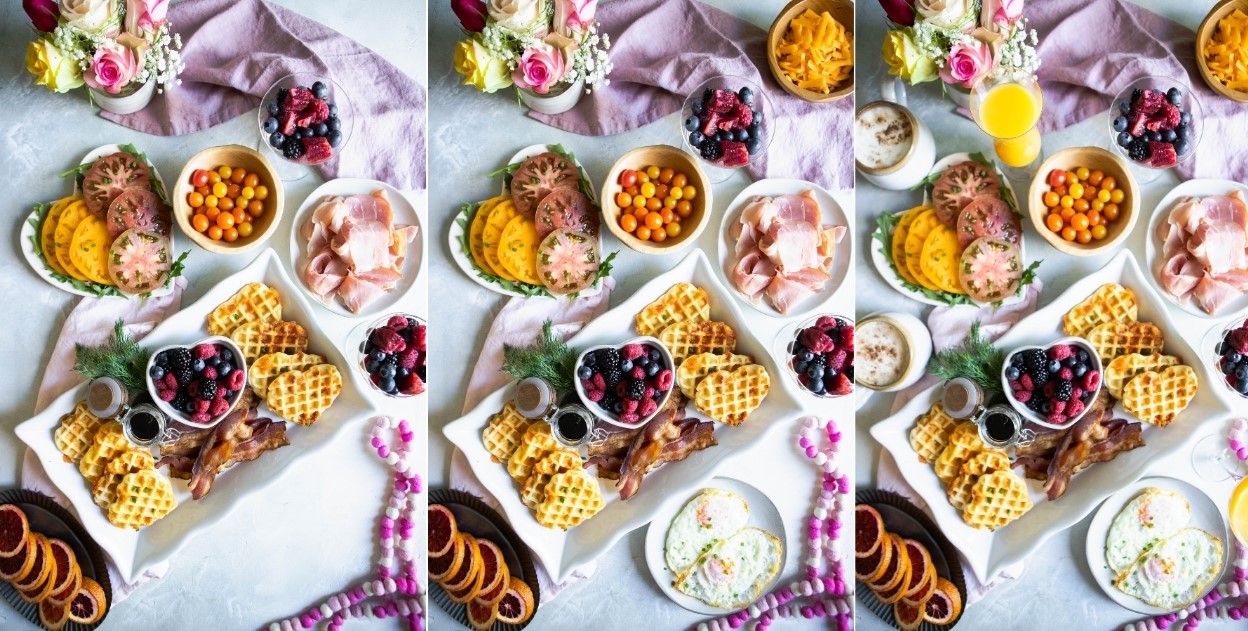 Other Valentine's Day breakfast ideas
Create a smoothie bar, where you have a ton of ingredients on display and let everyone create their own special concoction. Serve alongside yogurt parfaits or a beautiful frittata. Check out my Ultimate Guide to Creating Healthy Smoothies at Home for some ideas.
Turn my everyday pancake recipe into customized favorites by putting out various ingredients and toppings, and letting everyone choose their own combo.
Keep it super simple and pick up donuts from your favorite local shop, and just focus on the decor! Get reusable plates and cups (Target always has a great selection), throw out some confetti and buy a few red balloons, and call it done!
Valentine's Day breakfast décor ideas
I have a small box of simple Valentine's Day decor that I can quickly throw out the week of. After just coming down off Christmas, the last thing I want to do is try and decorate the whole house ha!
Reusable melamine Valentine's Day plates and cups instantly make the breakfast table look festive.
A couple of paper tassel garlands in red and pink that I hang above the kitchen window and mantel.
A select few heart decorations, including a couple of accent plates, confetti and wooden heart blocks. I set them on the table and leave them there for the day, as we enjoy our family meals together.
Maybe if I have time, I'll get some red and pink balloons and/or flowers at the grocery store the morning of! One year I even made a flower chandelier, and that was really fun!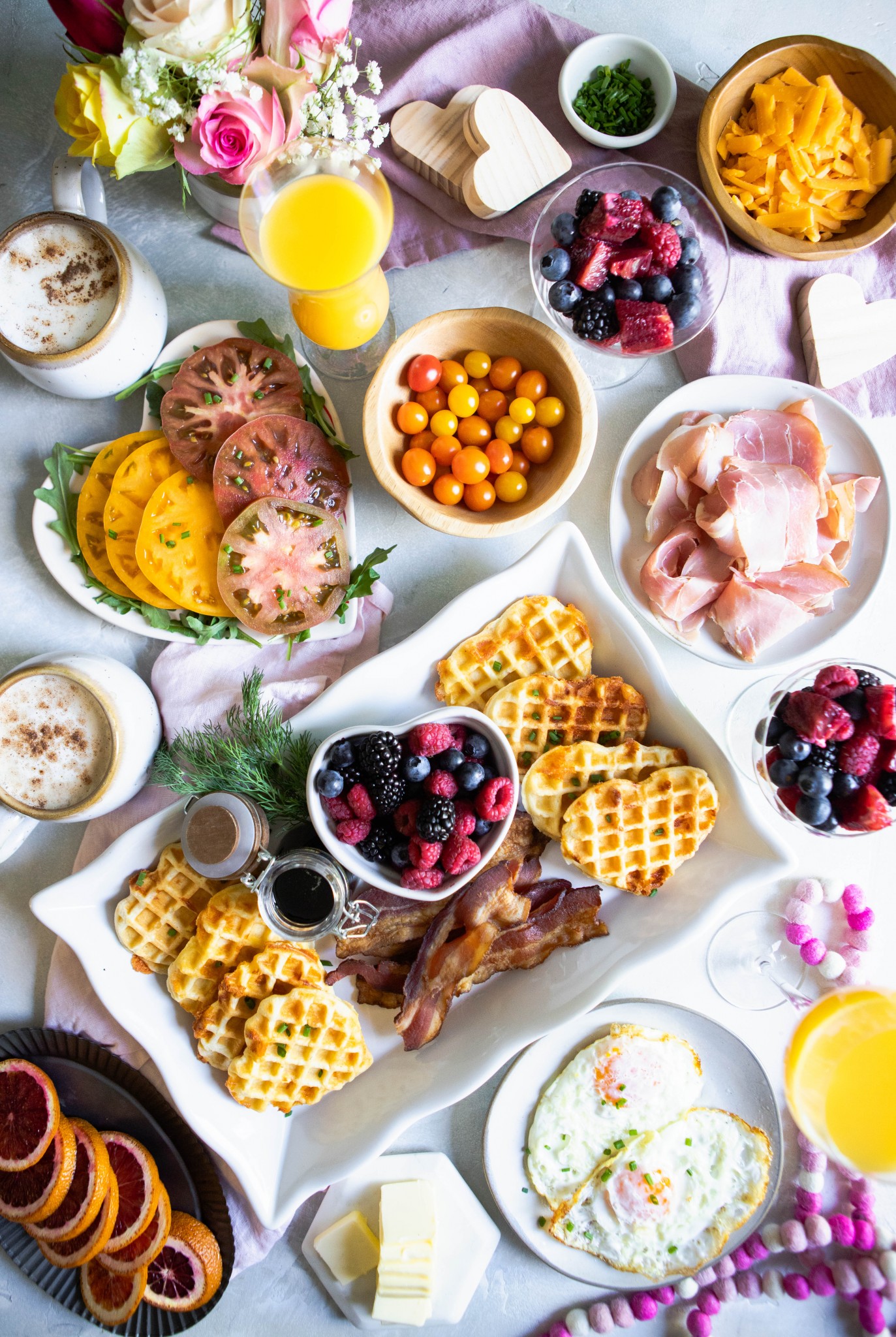 Valentine's Day Breakfast Spread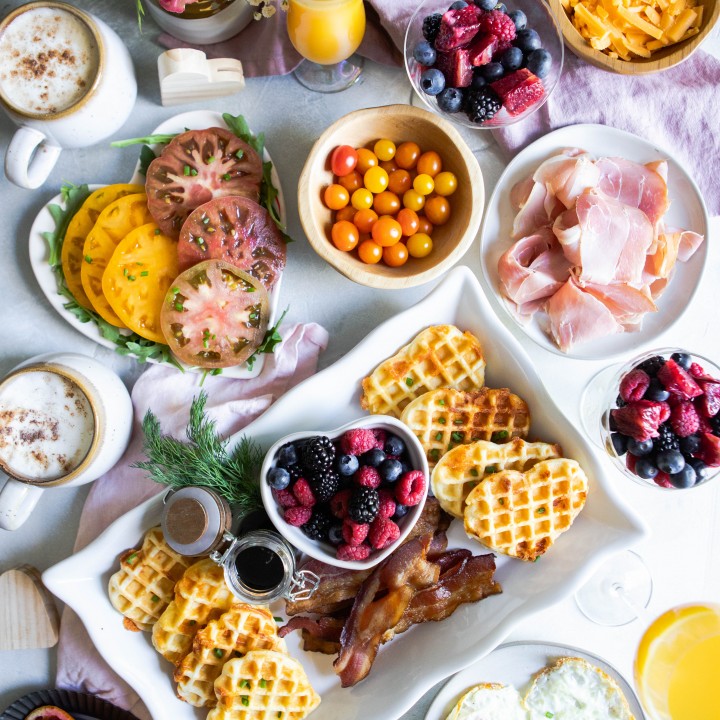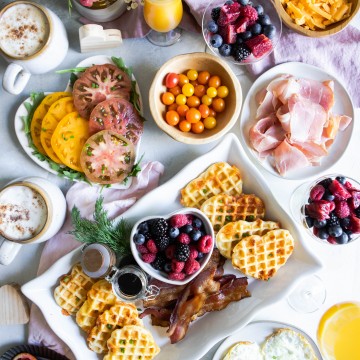 Valentine's Day Breakfast Spread, with Buttermilk Cheddar Waffles
Create a sweet and savory spread with fresh fruits & veggies, cured meats, and buttermilk cheddar heart waffles as the centerpiece!
Print
Pin
Rate
Equipment
Waffle Iron

Various platters and dishes
Ingredients
Buttermilk Cheddar Waffles

Fresh Fruit

berries and blood oranges

Fresh Veggies

tomatoes and arugula

Bacon & prosciutto

Eggs

over easy, poached or hardboiled

Butter, maple syrup & cheddar cheese

to garnish
Instructions
Make a batch of Buttermilk Cheddar Waffles

Assemble fresh fruits and veggies on medium sized plates and bowls

Place garnishes in little bowls and serving dishes

Place all items on table in an appealing eye catching way, and don't forget to include serving utensils!

Complete your spread with fresh orange juice and homemade or store bought lattes. Enjoy your Valentine's Day breakfast feast!
Nutrition
And that's about it! I hope you find some fun ideas in this spread, and feel inspired to create something uniquely you! Please let me know if you have any questions, and happy Valentine's Day!