My full Vermont travel post will be coming up next week, but for now I wanted to share a bit about our special time at the King Arthur Flour HQ, taking a New England Desserts baking class, including an adaption of one of the recipes we learned, Blackberry Buckle Cake.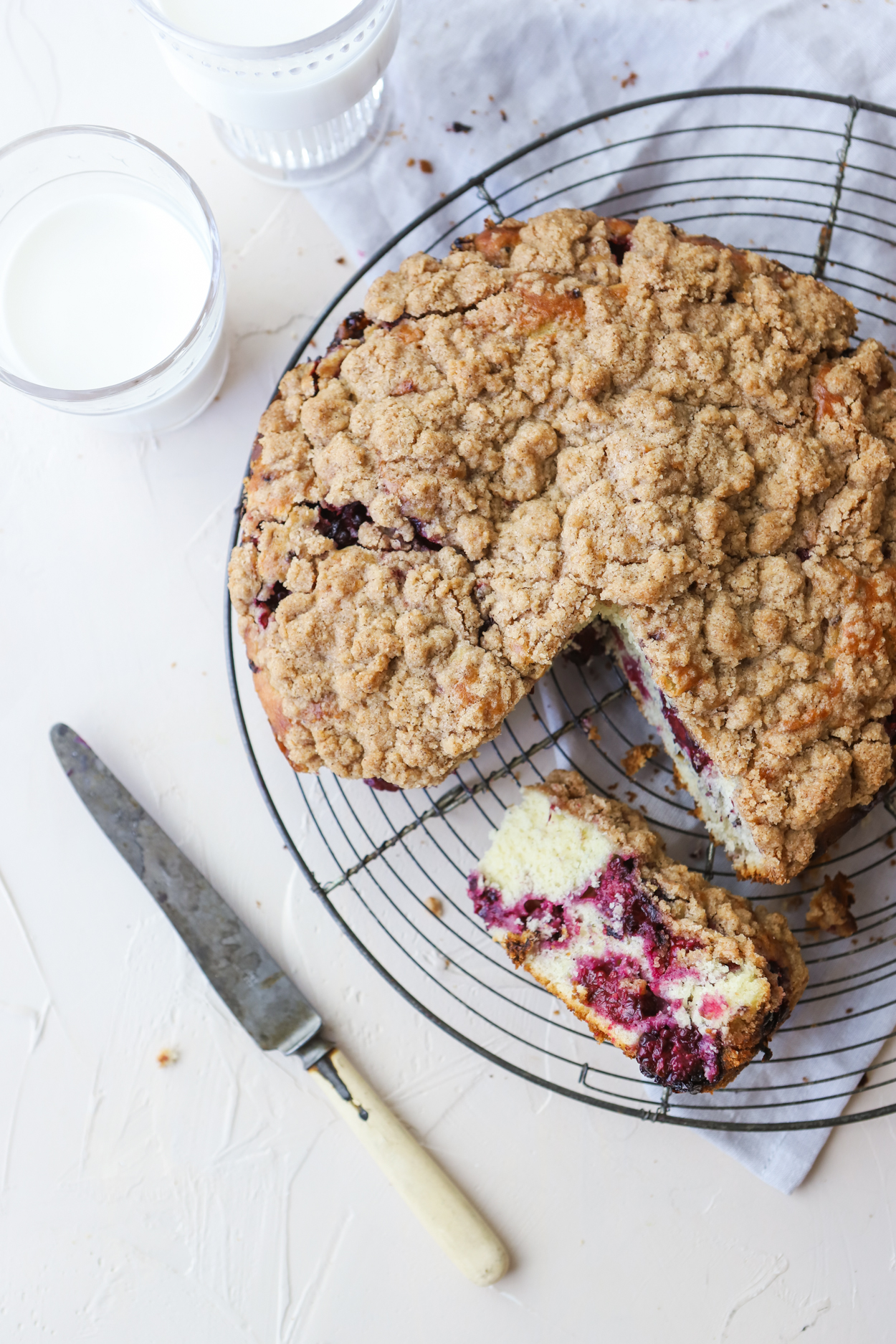 So as we were in the plane getting ready to head out to Vermont, I posted on Facebook that we were traveling back East and although we had a pretty good idea of what we wanted to do, I asked for recommendations of anything else that may be missing from the "must do" list. A reader keyed me into King Arthur Flour and indicated that it was a highlight not to be missed. So our first night in town as we were sitting at dinner and figuring out our itinerary for the next day, I looked up KAF and saw they were less than an hour away from where we were staying. On a whim I decided to look up their class schedule, and was surprised to see they offered baking classes 7 days a week, and they just happened to have 2 spots left for their New England Desserts class happening the next day, which was a Sunday. So Taylor and I signed up and oh my gosh we had such a great time baking together for 3 hours and I learned so much because I bugged the instructor with all the baking questions I could think of. I learned so much in fact that I think my enhanced knowledge should go in a completely separate blog post titled "Everything I Learned at the King Arthur Flour Baking School." For now though let's get straight into the recipe.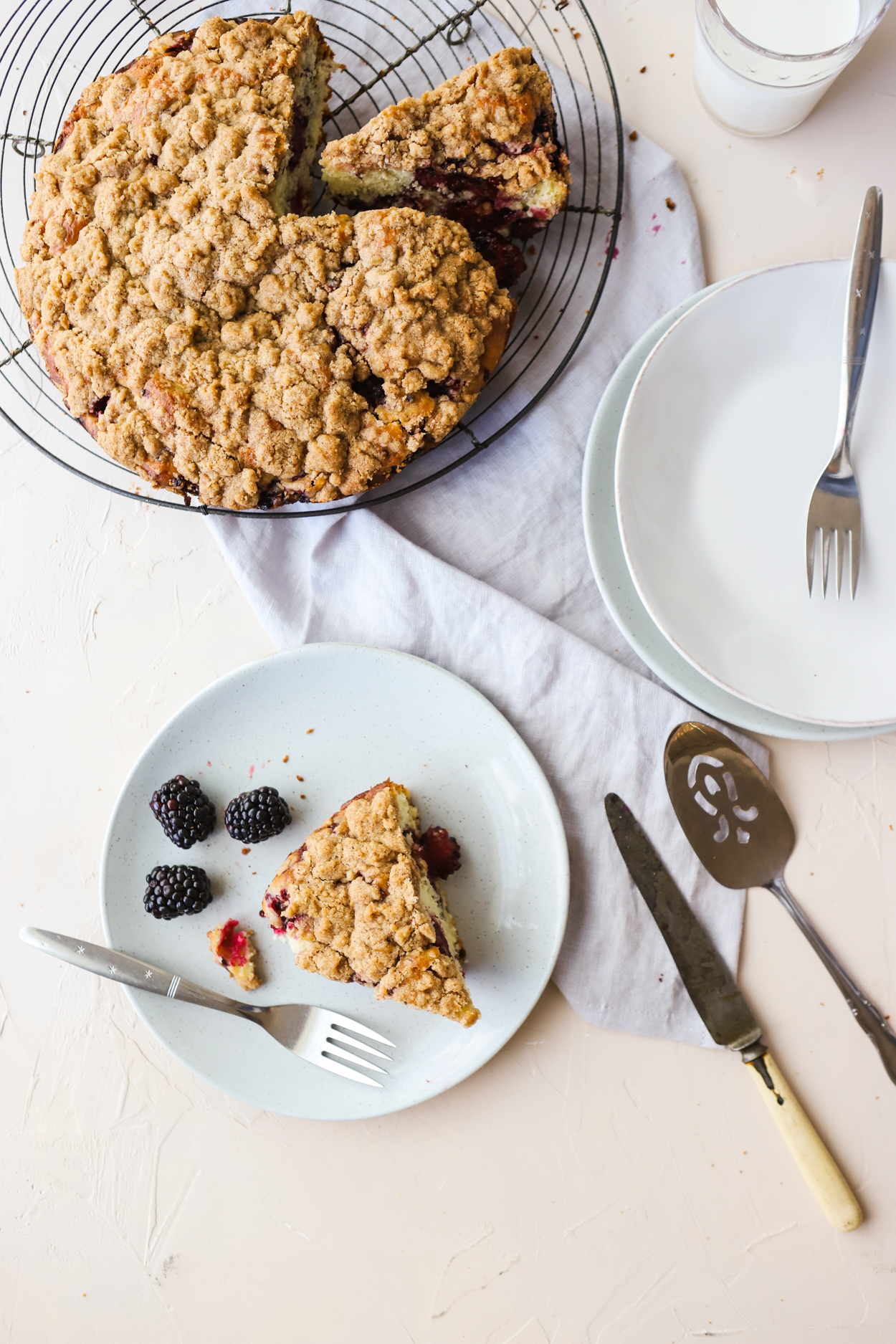 So a buckle is basically a crumble, but the moist cake is so loaded down with fruit that the crumbly top "buckles" under the weight. You can also see big nice pockets of fruit when you slice into the cake, and because of the coffee-cake like crumble top, it works just as well for breakfast alongside some scrambled eggs and a cup of coffee (or milk), as it does for dessert. For a full run down on the differences between all the typical New England style desserts, visit this handy guide in My Recipes.
A buckle is often made with blueberries, and that's exactly how we made it in baking school, but the instructor assured us that this cake works well with just about any dessert, especially berries and stone fruits. I would assume that apples may be the only fruit it may not pair as well with, since the apples may be a bit too dry thanks to their enhanced pectin content over most other fruits (thanks KAF baking school for teaching me that little nugget ;). I decided to make mine back home with blackberries because our farmer's market was overflowing with containers of gorgeous, juicy blackberries last week. They worked beautifully with this cake and it was gone in under 48 hours.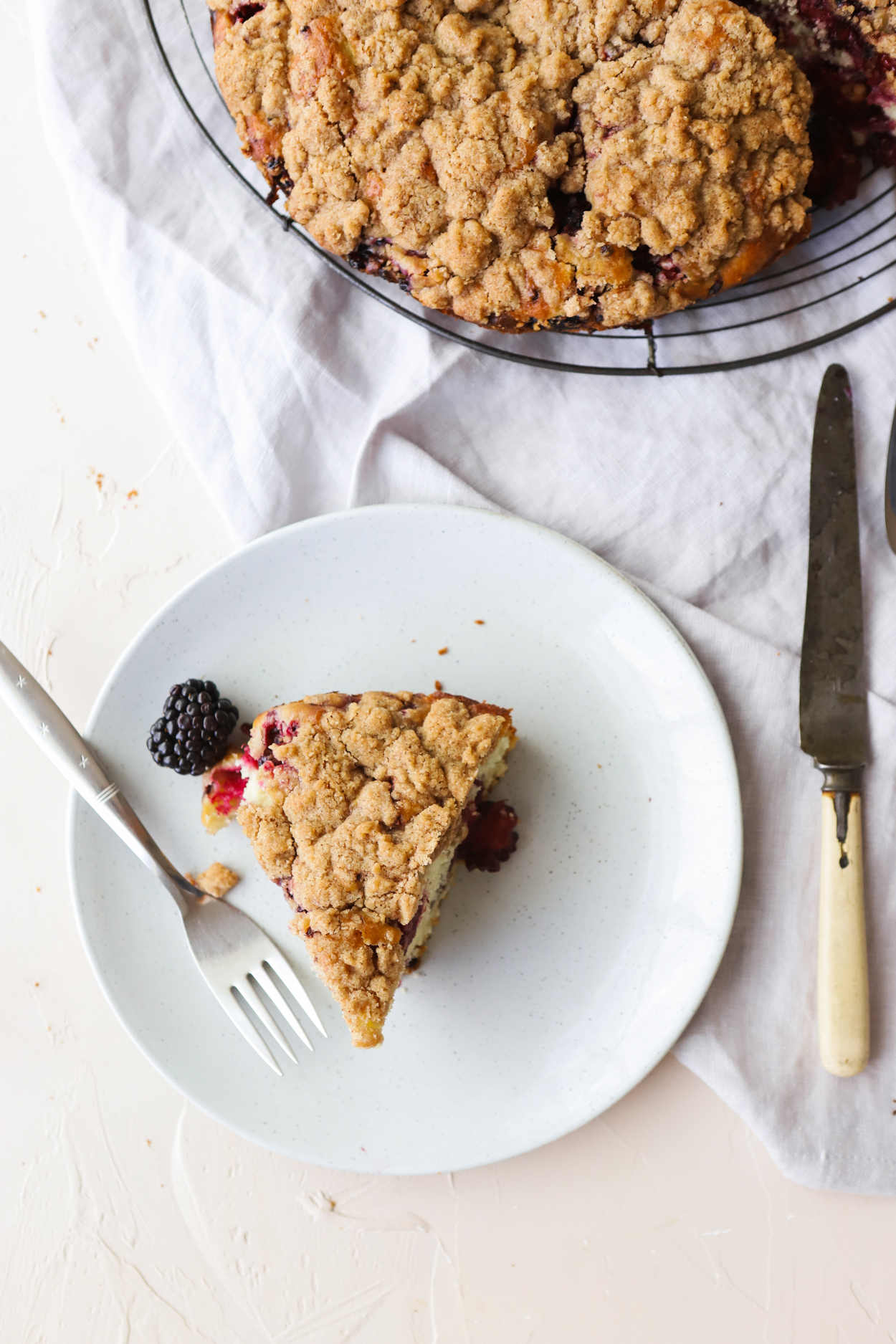 The main enhancement I made to the recipe besides switching out the fruits, was increasing the amount of crumble topping so there was more of it to enjoy. Not at all a bad move on my part. Other than that I followed the recipe as we learned it in class and it was full proof. I hope you enjoy it and you most likely have all the ingredients on hand to make it to enjoy over the weekend. Keep in mind that you can also use frozen fruit, just make sure the fruit is defrosted (and drained a bit if need be) before adding to the cake batter. Enjoy, and please let me know if you make it! If you share it on social, use the tag #howewedobaking so I can see your creation!
And so that you don't miss a post, make sure to sign up for my newsletter, which goes out just once a week on Fridays!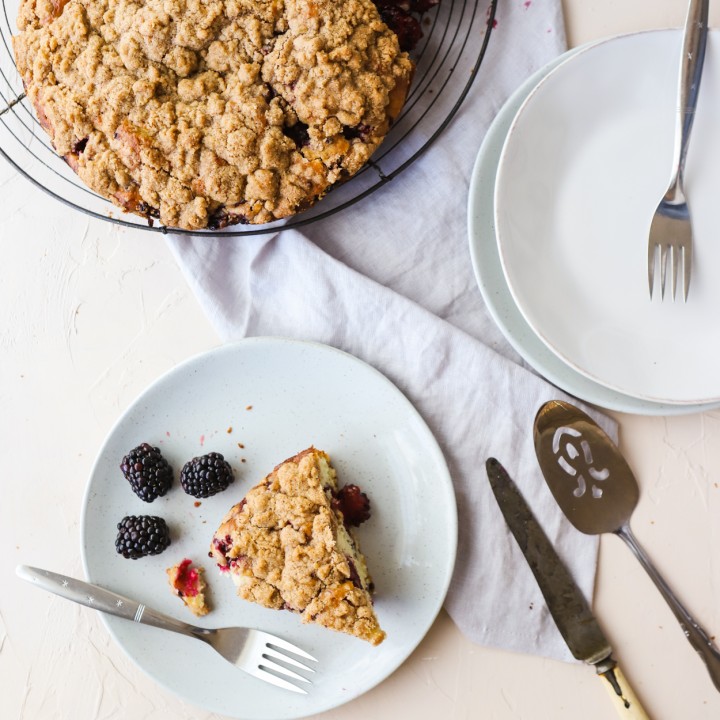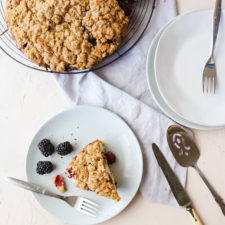 Easy Blackberry Crumble Recipe
This traditional New England cake is made with fresh blackberries but can be made using any fruit! Delicious, quick and easy, this is a yummy new family favorite everyone loves! Adapted from King Arthur Flour
Print
Pin
Rate
Ingredients
For the Batter:

57

grams

¼ cup unsalted butter, room temp

160

grams

¾ cup sugar

2

teaspoon

baking powder

½

teaspoon

salt

1

teaspoon

vanilla extract

1

large egg

room temp

227

grams

2 cups KA Unbleached All-Purpose Flour

118

grams

½ cup milk, room temp

340

grams

2 cups blackberries, fresh or frozen

For the Topping:

70

grams

sugar

70

grams

all purpose flour

1.5

teaspoon

ground cinnamon

70

grams

unsalted butter

room temp
Instructions
Directions for the batter:

Preheat oven to 375

Spray 9" cake pan with non-stick spray and line bottom with parchment paper

In the bowl of an electric mixer fitted with the paddle attachment, cream together the butter, sugar, baking powder, salt, and vanilla on medium-high speed until well combined and there are no butter clumps remaining.

Add the egg, mixing to combine, making sure to scrape the paddle and sides of bowl well.

Alternately add the flour and milk to the butter mixture, starting and ending with flour. Mix just until combined.

Gently fold in the blackberries.

Transfer the batter to the prepared pan and now make the topping.

Directions for the topping:

Combine sugar, flour and cinnamon in a medium bowl, rubbing everything together with your fingers until it reaches a crumbly state.

Sprinkle the topping evenly over the batter and bake for 40-45 minutes until a cake tester comes out clean.
Notes
For the crumble topping: The more you rub the ingredients together, the darker the topping will become as the butter takes on the color of the sugar and cinnamon, and it will stick together quite well in large clumps. Working it together till it reaches this stage will deliver those large crumbly chunks that are so delicious. The less time you mix together, the less crumbly it will be and the smaller your chunks will be. In my book, large crumble chunks = better 🙂