When I did my great kitchen clean out a few weeks ago, I came across my old donut pans that I had forgotten all about. The kids caught sight of them as well and asked me to make a batch of donuts, so I had to do it for them. Because I was making these so close to the start of Fall, pumpkin donuts seemed in order, and then one thing led to another and I suddenly was making pumpkin donuts with a brown butter and sage maple glaze with a candied pecan topping. I really don't know what happened but happy for the development nonetheless.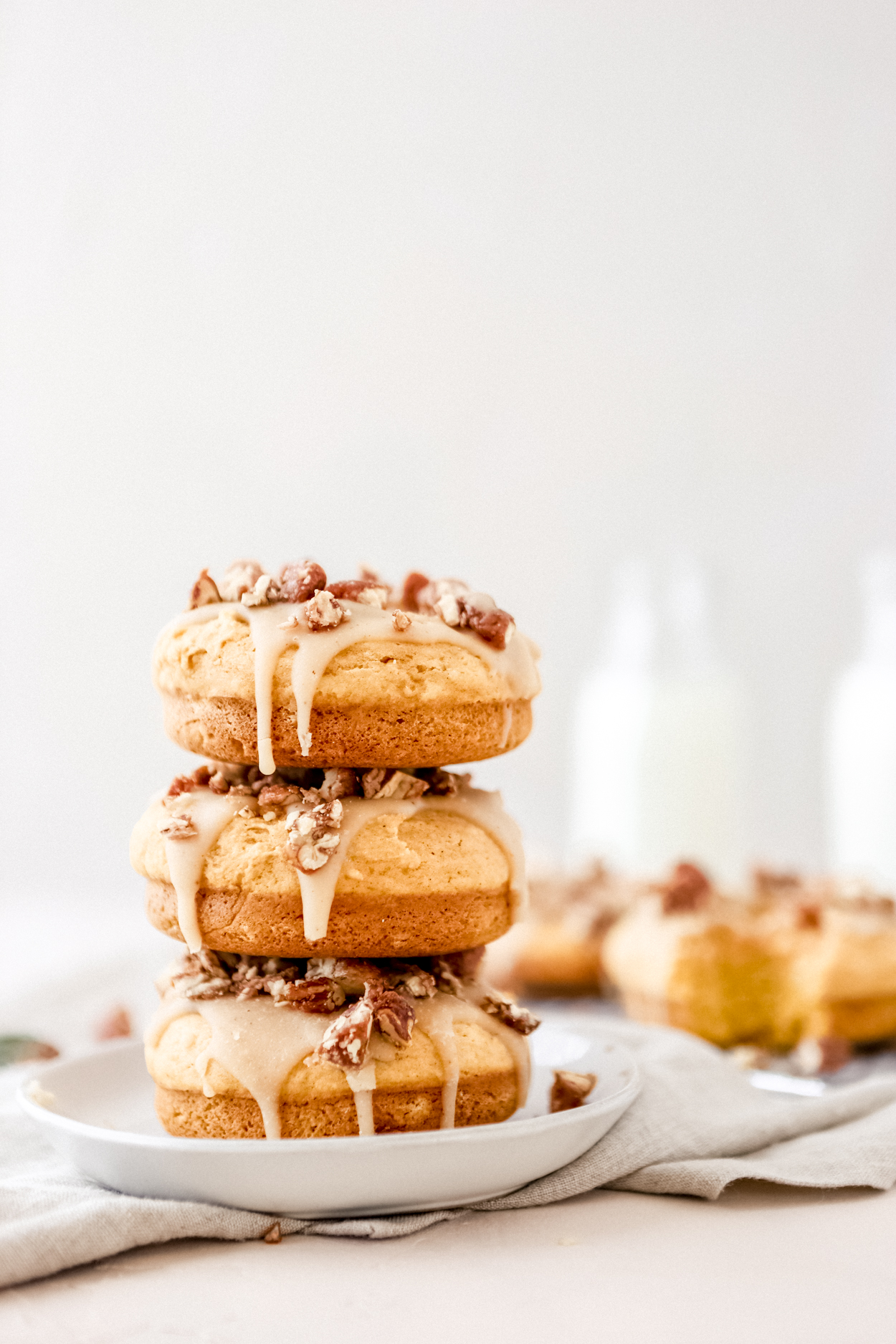 Don't kid yourself, these aren't "healthy" by today's standards, but they are baked not fried, and they're homemade with no weird ingredients, and for being so rich, overall they don't have a ton of sugar. So let's call them healthy-ish. When we ate these for breakfast, we made sure to also eat some eggs for protein so that we didn't go about our morning and experience a sugar crash. But when eaten for dessert, they are perfectly acceptable all on their own.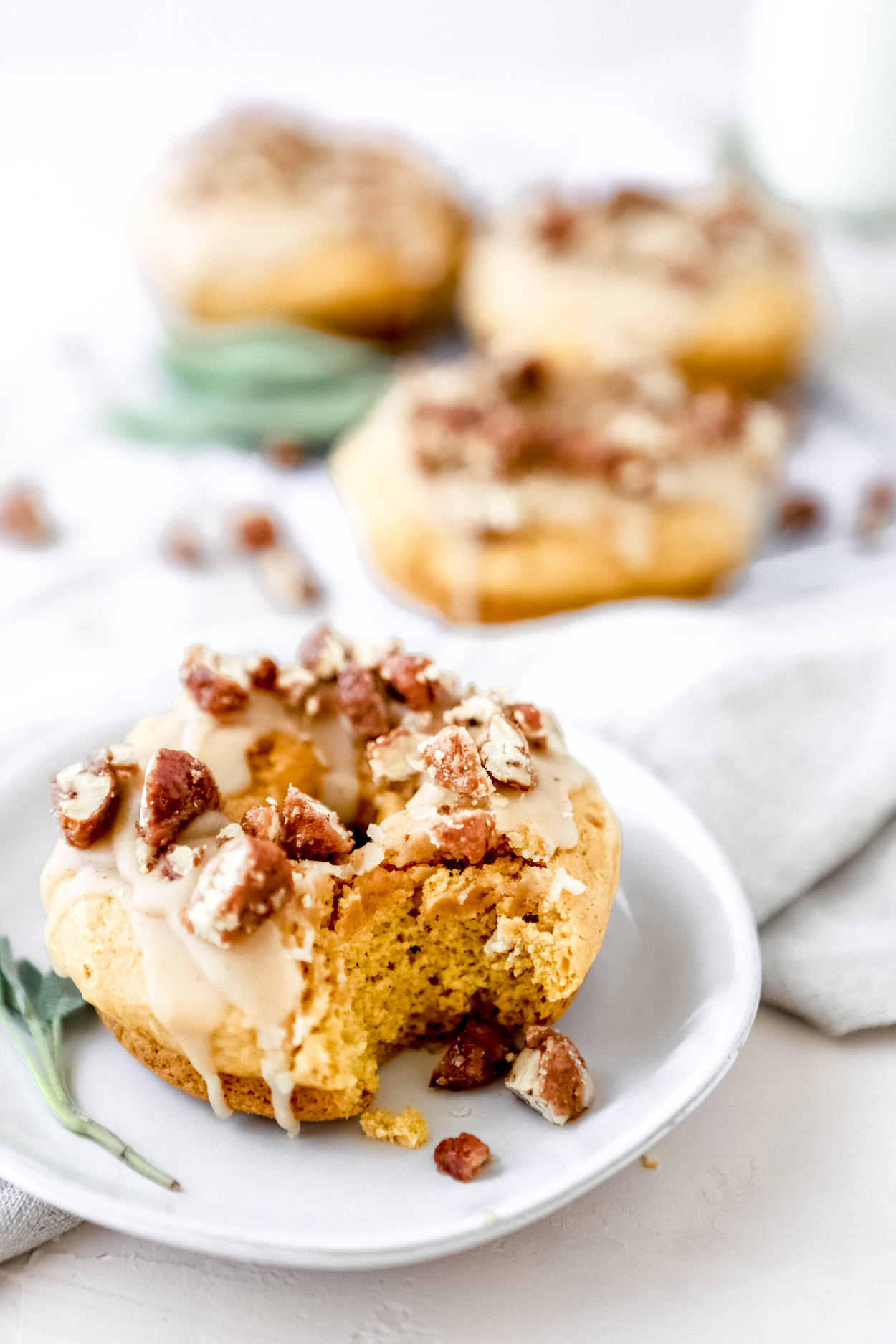 The hardest part about donut making is forming them in the molds. My first couple of batches came out sloppy as heck, but after I got the hang of it, I learned to pipe them out in one thick, long, even swipe and if I had to go back and add in more filling, smooth it out on top a bit with the back of a spoon.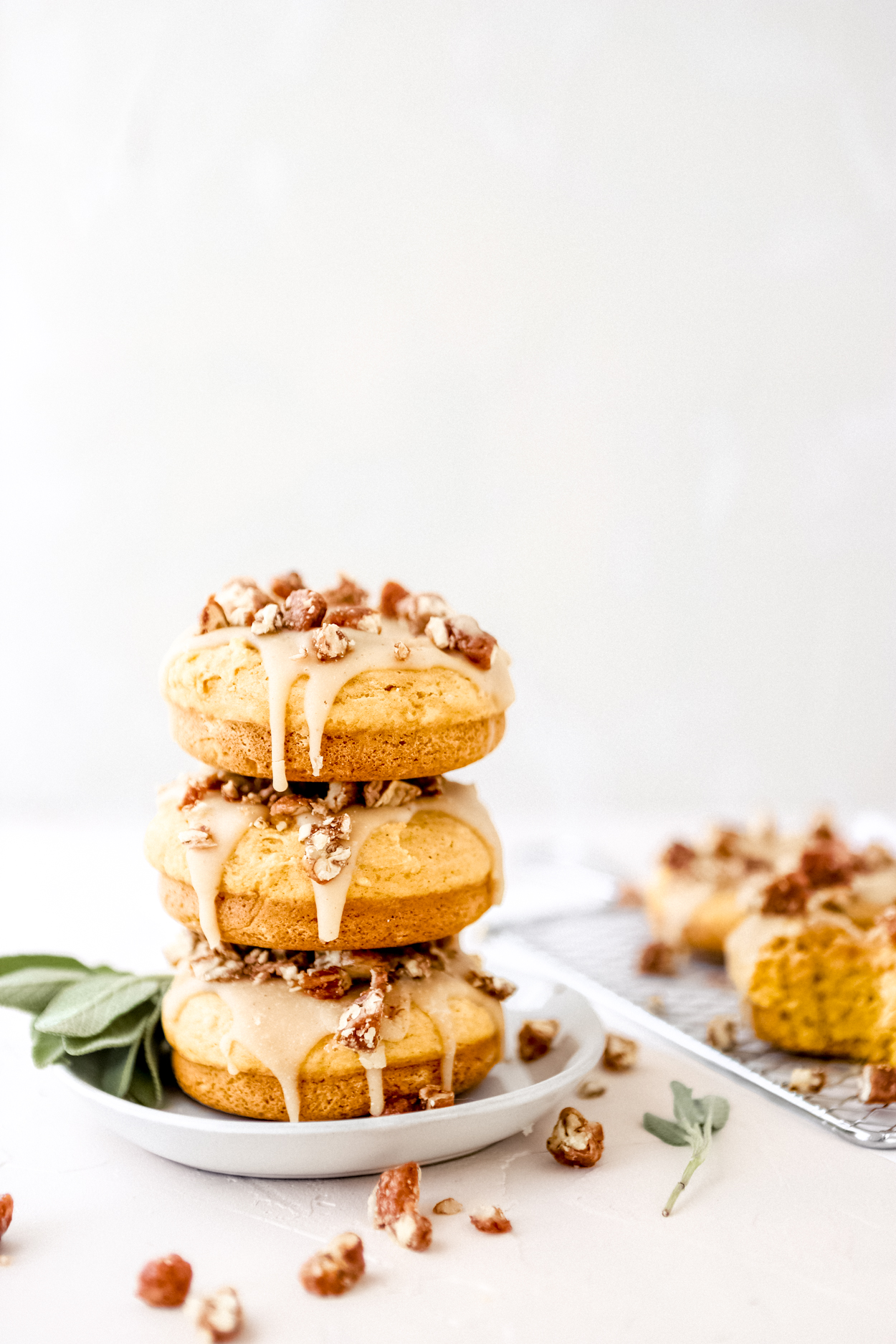 The sage brown butter is undetectable in the donuts themselves, but the flavor is definitely noticeable in the glaze. I love the combo of the herb & sugar, but just be sure not to use too much sage because it will start to get very earthy tasting and the sage will overpower. So start with just a couple of leaves, then taste and add more if needed. The flavor imparts rather quickly so don't worry if you need to add more.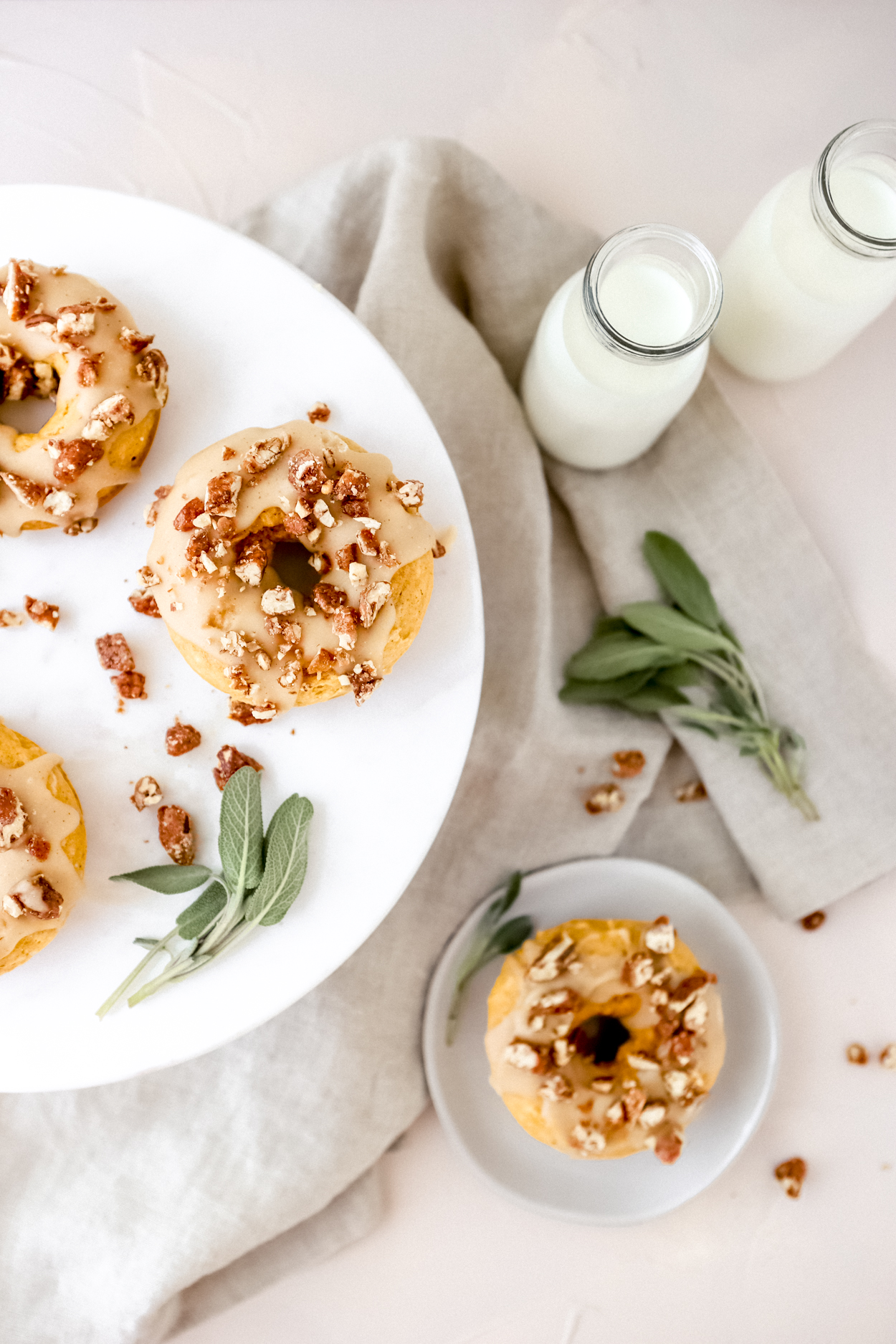 Overall, my first venture back into the world of donut making went okay, and I'm ready to try more flavor combinations as baking season goes on. If you make them, please make sure to let me know what you thought and use the tag #howeweeat if sharing on social media. Happy donut making!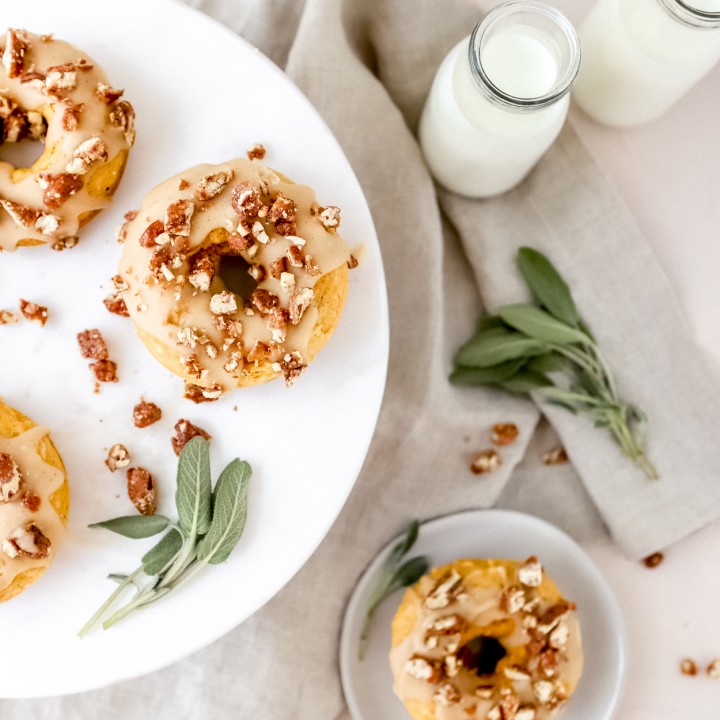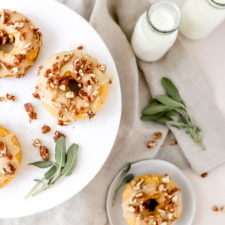 Baked Pumpkin Donuts With Brown Butter Maple Sage Glaze
These baked pumpkin donuts are surprisingly easy to bake and perfect for the Fall season. Enjoy them in the morning for a special breakfast treat, or as a dessert.
Print
Pin
Rate
Ingredients
2

cups

pastry flour

2.5

tsp

baking powder

½

tsp

fine sea salt

1.5

tsp

pumpkin pie mix

⅔

cups

fine baking sugar

1

stick unsalted butter

4

small sage leaves

2

eggs

¾

cup

canned pumpkin

2

tsp

vanilla

For glaze:

½

cup

maple syrup

1

cup

confectioners sugar

Chopped pecans for topping - optional
Instructions
Preheat your oven to 375 and prep your donut pan by lightly spraying or coating with butter or vegetable oil.

Brown your stick of butter along with your sage leaves in a small saucepan set over medium heat. Stir frequently until butter begins to brown, about 4-6 minutes. This will happen slowly at first, and then very quickly it will turn and brown, so keep an eye on it and take it off the heat as soon as it browns and releases a nutty aroma. The sage butter will not impart much of a flavor into the donuts, but will definitely be noticeable in the glaze. Skip the sage if you aren't partial to the flavor. Strain sage and pour butter into a measuring cup.

Combine flour, baking powder, salt and pumpkin pie mix in a medium bowl.

Mix together sugar and eggs in a large bowl until light and fluffy, then stir in the canned pumpkin and vanilla.

Add the flour mixture and ½ of the brown butter, about ¼ cup, to the egg mix and stir just to combine, making sure not to over-stir.

For best formed donuts, I recommend piping them out as opposed to spooning the mix into the donut pan, but you do you. If you're piping, go ahead and add donut mix to the piping bag and cut out a large hole at the tip.

To get nice full and fluffy donuts, pipe in the donut mix in an even motion and fill completely. Many recipes say to fill just ¾ way full but this yields puny looking donuts, so go ahead and fill completely.

Bake for 8-10 minutes until a cake tester comes out clean. Remove from oven and let cool in pan a couple of minutes before removing from donut mold and transferring to a cooling rack.

For the glaze, heat the remaining brown butter back up in a small sauce pan over medium low heat, and stir in the maple syrup. Remove from heat and sift in powdered sugar and whisk to combine completely to get a nice smooth glaze. Don't skip the sifting unless you want your glaze to crack a bit. I skipped the first time and my glaze came out much prettier after sifting.

Spoon glaze over each cooled donut, working quickly as glaze will begin to cool after a few minutes and lose its pretty sheen. Top with chopped pecans, or if you're feeling really wild, top with sugared pecans.

Enjoy!