If you're looking for a new way twist on preparing cauliflower, try this quick and easy dish. Combined with tangy preserved lemons (or capers) and creamy tahini, it's uniquely flavorful and healthy!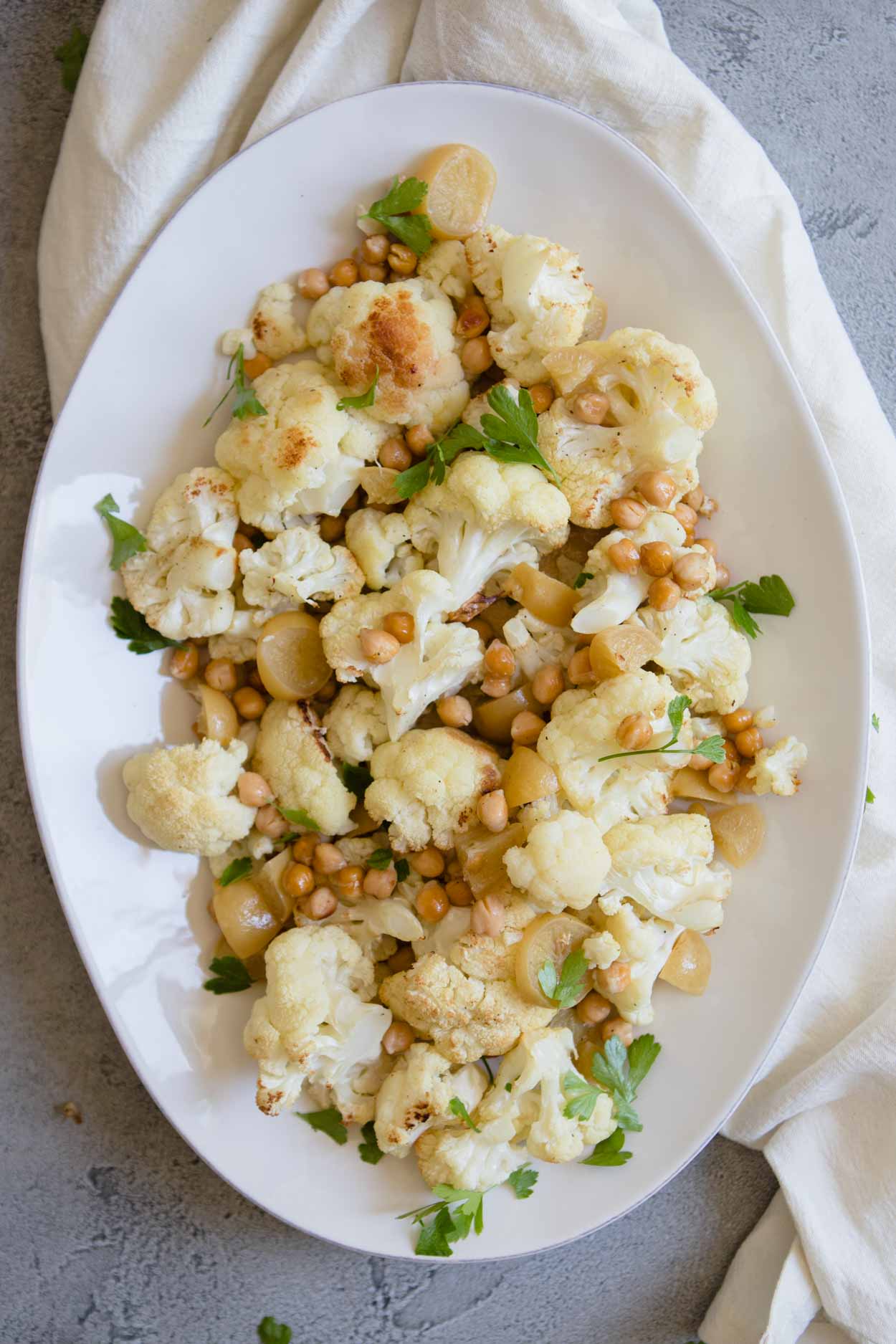 So you're tired of boring old cauliflower? I get it! Cauliflower is one of those veggies that have plenty of great healthy qualities, but flavor isn't necessarily one of them. And not that its flavor is *bad*, rather, the flavor is rather plain. It's one reason why cauliflower has been turned into everything from pizza crusts to wraps; its flavor is so mild that it can rather easily be disguised! But when cooked and prepared right, I absolutely love the texture and heartiness of cauliflower. This dish is a bit of a mash-up of 2 different recipes from Alison Roman and Gwyneth Paltrow, so credit where credit is due. Roman taught me to add tahini, and Paltrow taught me to add garbanzo beans. Let's get started!
Why You Will Love This Roasted Cauliflower Recipe
Ready In A  Hurry – Yup, this side dish is ready in about 25 minutes!
Only 5 Minutes To Prep – So not only is it ready in a hurry, it only actually takes 5 minutes of prep work on your end. After that, let the oven do the rest!
Just 6 Ingredients – Ok well eight, if you're counting salt and pepper. But beyond those two staples, it's only 6 ingredients to prepare this side dish.
Gluten, Vegan, Dairy, and Vegetarian Free – All the "frees"! Except flavor. It's packed with flavor.
Ingredients For This Roasted Cauliflower With Tahini Side Dish
Cauliflower – You will need 1 head of cauliflower. And then cut it into large florets.
Tahini – Tahini is usually found in the ethnic foods aisle or with other condiments. It is made from ground sesame seeds and is used in hummus.
Olive Oil – To help roast the cauliflower and beans.
Garbanzo Beans – Or otherwise known as chickpeas. Keep in mind that these are optional! I add them when I want the dish to be a bit more filling and add more fiber, but the dish tastes great without too.
Preserved Lemons – Also known as pickled lemons, these give a wonderful briny flavor; they add the acid that a dish needs to really "pop off." But you could also use capers if you don't have these on hand.
Seasoning – We used a combination of cumin, salt, and pepper.
What Is Tahini?
Tahini, a staple in Mediterranean and Middle Eastern cooking, is a sesame seed paste. It's kind of like a peanut butter, but instead of peanuts it's made with sesame seeds. You may have heard of it before because it's a key ingredient in hummus.
Of course I recommend buying it, but it can be expensive so,The Kitchn will show you how you can make it yourself. Tahini can also have a strong flavor depending on the sesame seeds used. I don't love the Trader Joe's brand, as I find it a little too bitter. Instead, I recommend the brand Al Arz Tahini It is the brand both Ottolenghi and Saveur suggest. The Tarazi brand is also excellent and one I've purchased as well.
If you're scared of tahini, this is where as always I give you permission to modify the recipe! 🙂 It's really used here as an add-on and will make the dish a bit more unique and creamy. But it's totally fine to omit.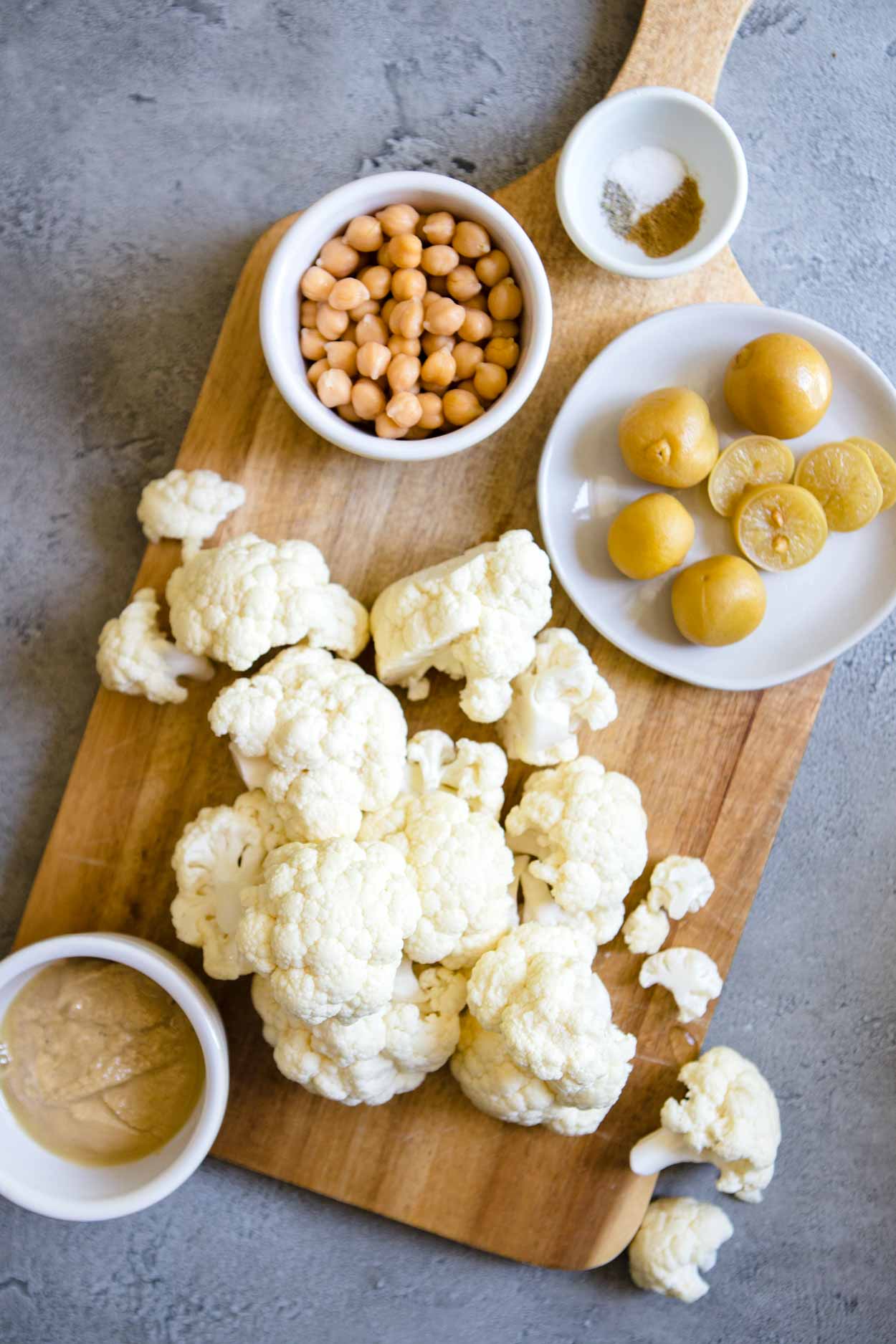 How To Make This Roasted Cauliflower Tahini Recipe
Step One: Roast The Cauliflower And Garbanzo Beans
Start by roasting the cauliflower and garbanzo beans on your baking sheet. You want to roast them for about 20 minutes. You are looking for the cauliflower to be fork tender, but still firm.
Pro Tip: To get good caramelization, it's better to use cauliflower that isn't straight from the fridge. Cold cauliflower will not get as caramelized.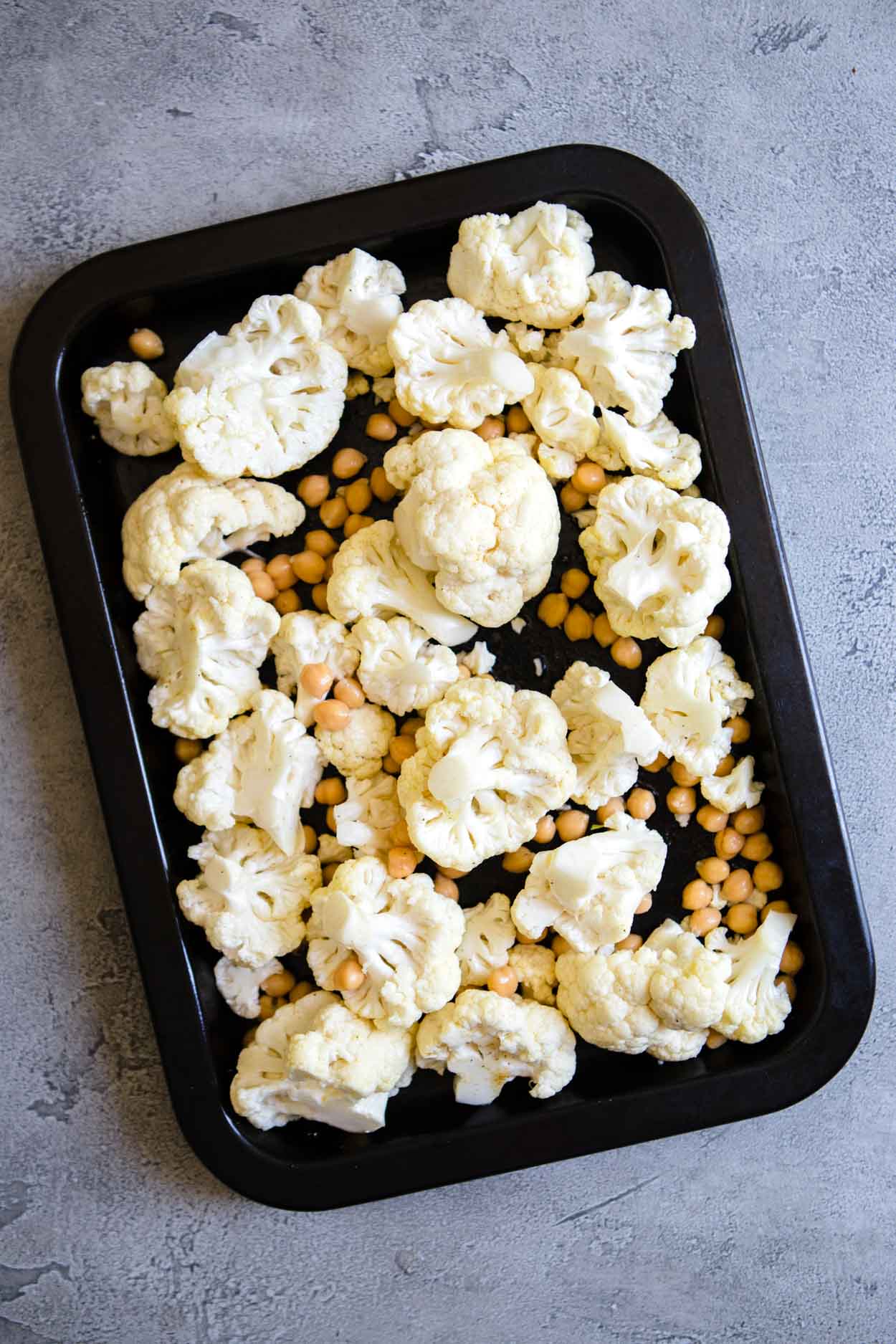 Step Two: Tahini Time!
First start by thinning out the tahini with a little water first. Make sure to whisk in some water, about 1-2 tbsp, to get a slightly runnier texture that will meld with the cauliflower when you scoop up a serving. Then on a serving platter, you want to give it a spread with the tahini.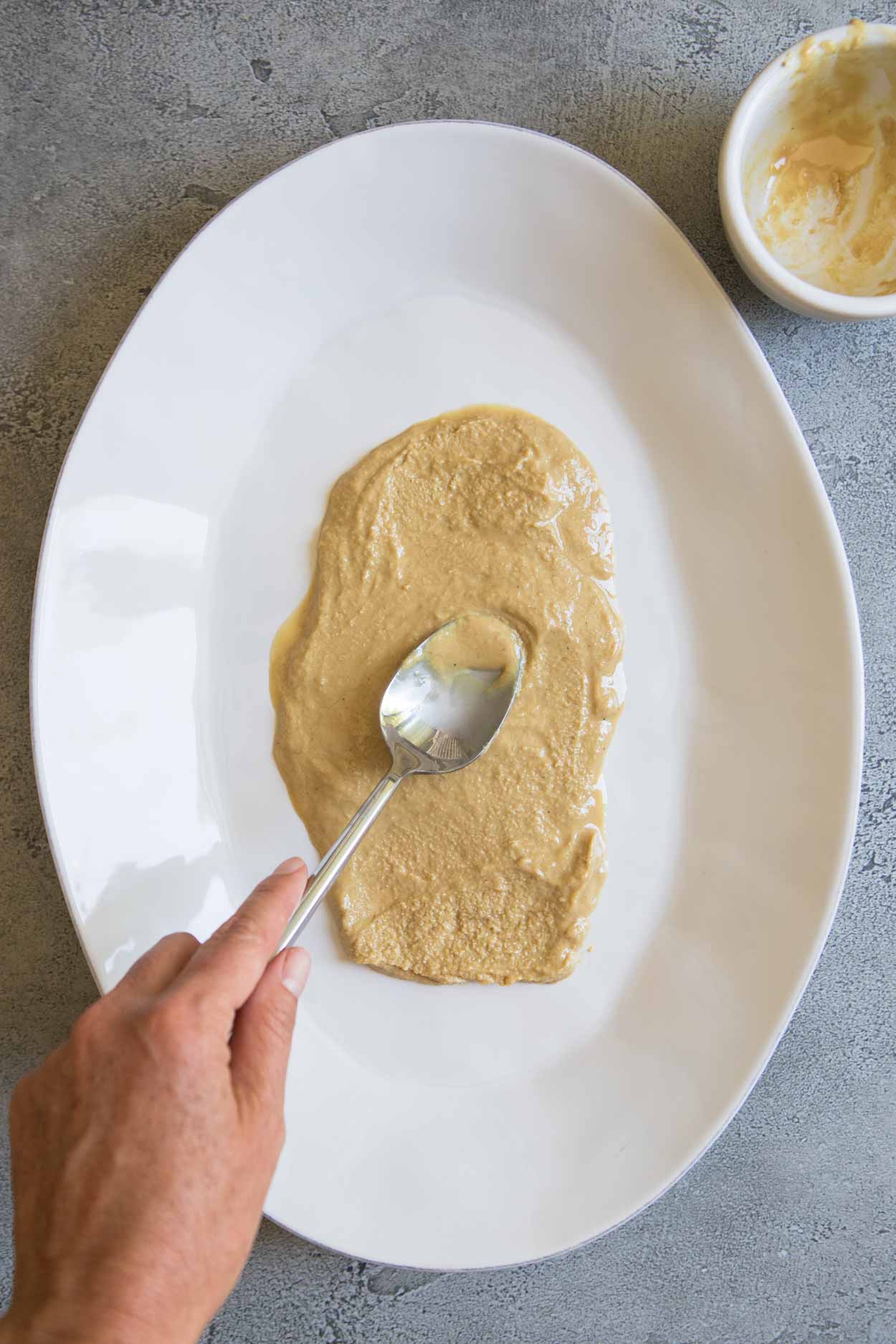 Step Three: Add The Lemons
When the cauliflower is done roasting, toss in the preserved lemons, or capers if you're using those instead.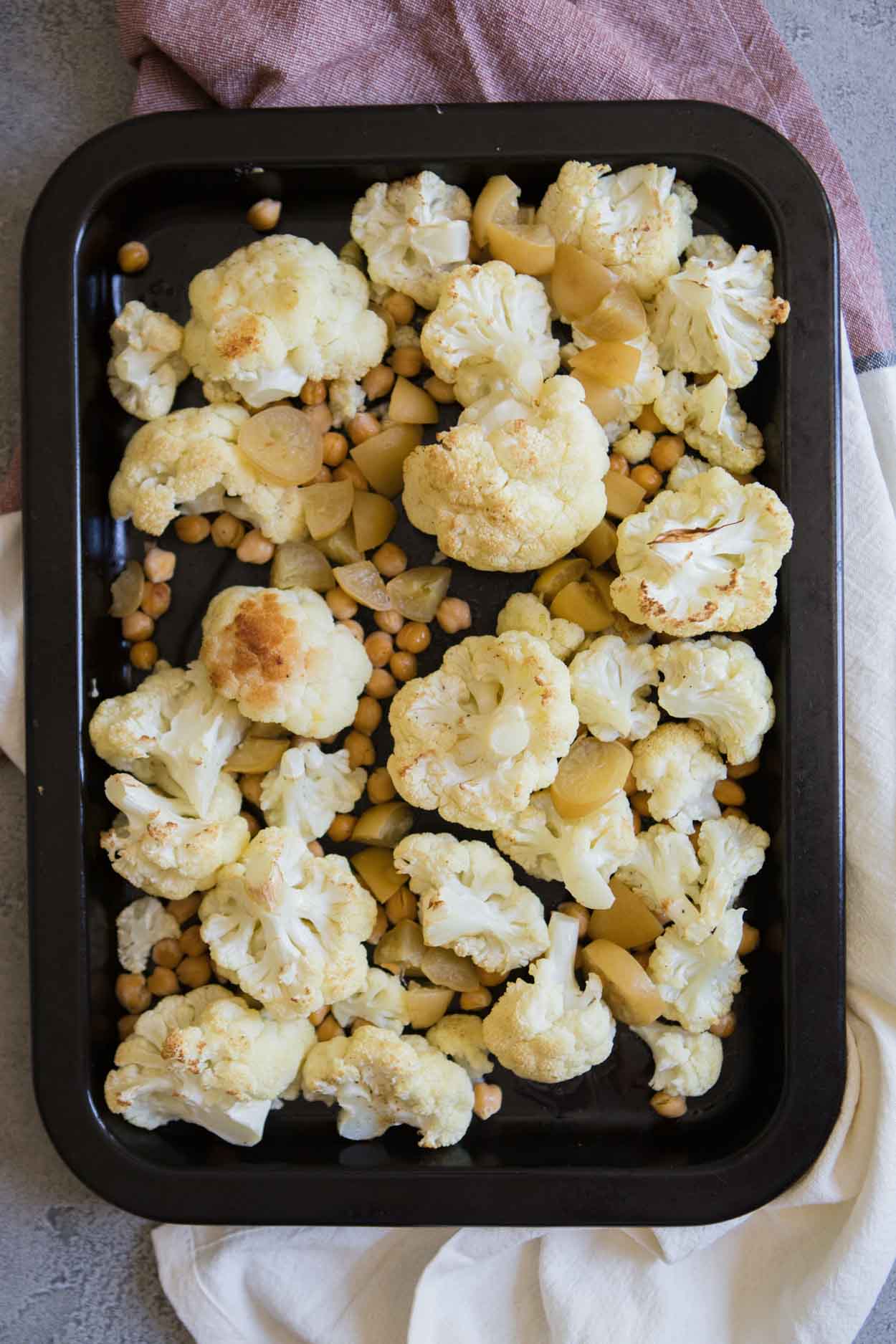 Step Four: Top The Tahini
Once everything is tossed together, spread the cauliflower mixture on top of the tahini.
I recommend sprinkling on a little fresh parsley and more salt & pepper to taste.

What If I Don't Have Preserved Lemons?
Preserved lemons are basically a pickled lemon. So if you don't have them in your pantry, capers make a great substitution. Capers will bring that salty, briny flavor to the dish that the preserved lemons do.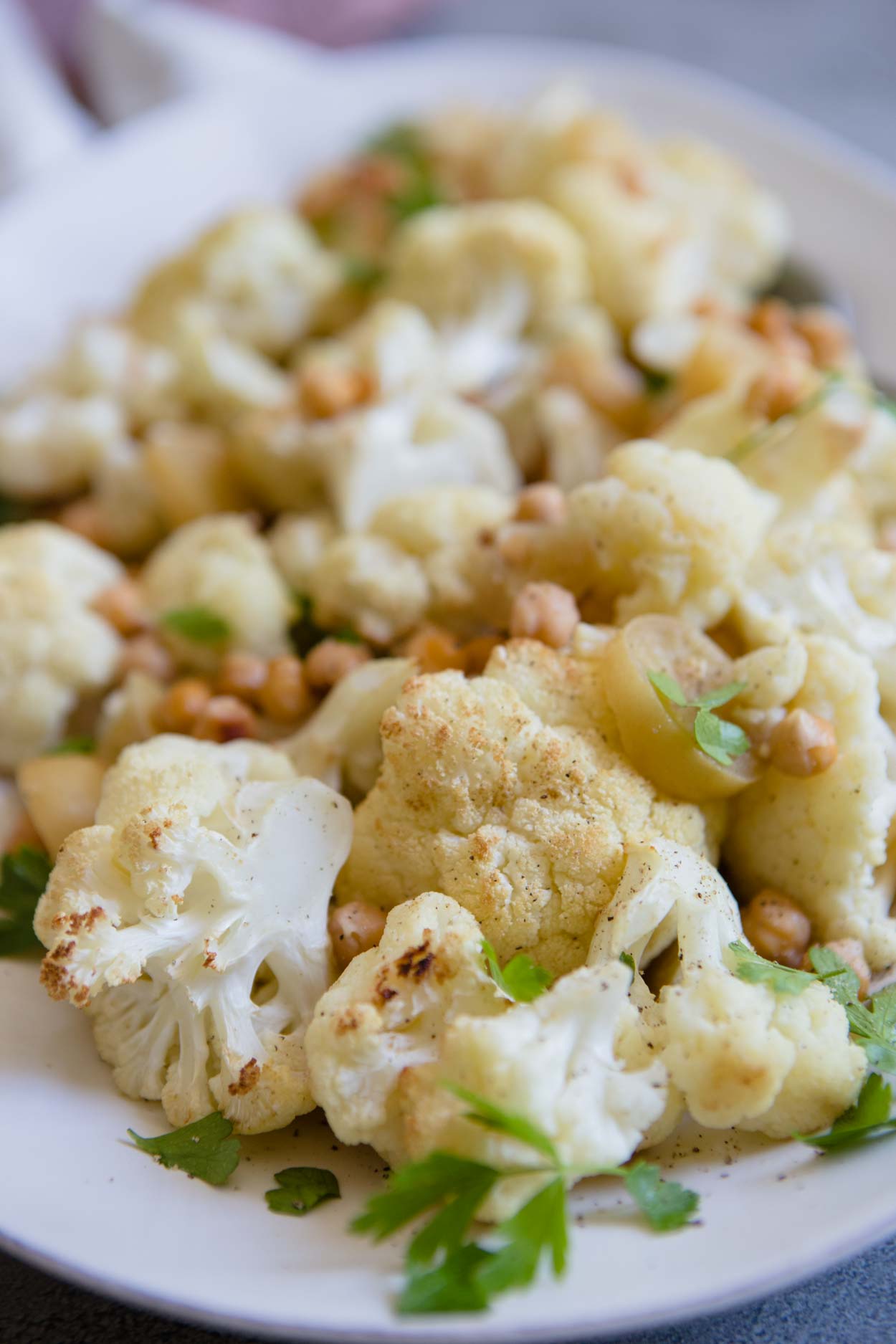 What Can I Serve This Roasted Cauliflower Tahini Recipe?
This is a wonderful side dish to add to any dinner you whip up! But if I can suggest a few recipes I would recommend pairing this recipe with my Garlic Parmesan Crusted Baked Pork Chops or my Oven Baked Chicken Cutlets.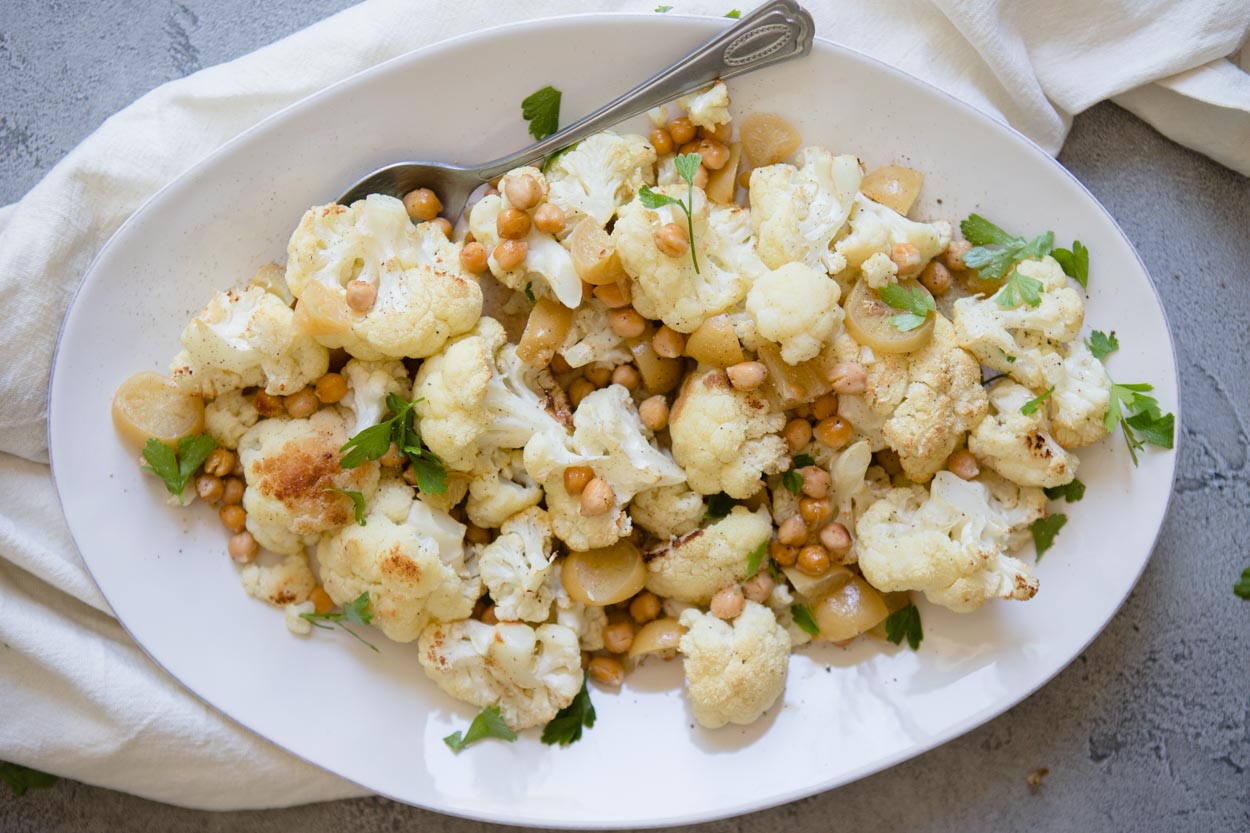 More Vegetarian Recipes To Enjoy
TOOLS TO MAKE THIS RECIPE
Sheet Pan
Whisk
Serving Platter
LET'S CONNECT!
Follow along with me on Instagram! And if you make this recipe be sure to tag me @howe.we.live so I can see! I love seeing what you're making!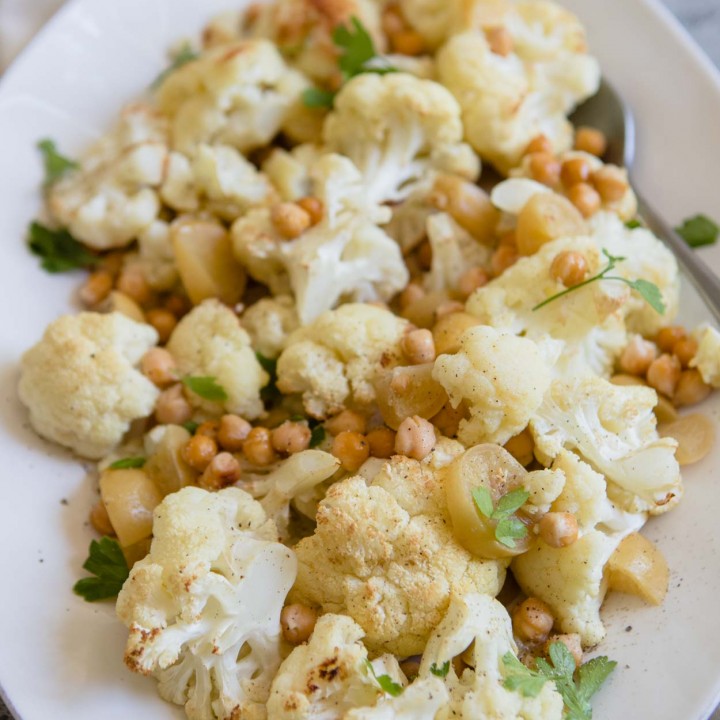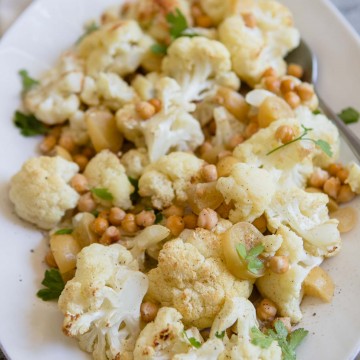 Roasted Cauliflower With Tahini
A flavorful and unique way to serve up cauliflower that is quick and easy!
Print
Pin
Rate
Ingredients
1

head

Cauliflower

cut into large florets

¼

cup

Tahini

3

tablespoon

Olive Oil

extra virgin

1

cup

Garbanzo beans

drained and rinsed (optional)

½

cup

Preserved lemons

cut into medium pieces

1

teaspoon

Cumin

salt & pepper
Instructions
Preheat oven to 400 degrees. Add cauliflower and garbanzo beans if using them, to a large roasting sheet and toss with olive oil, cumin and salt and pepper.

Roast for 20 minutes, or until florets are fork tender but still somewhat firm.

Meanwhile whisk the tahini with 3-4 tablespoon of water and salt and pepper to taste. Consistency should be like a thick salad dressing. Spread on the bottom of a serving platter.

When cauliflower is done roasting, immediately toss in the preserved lemons.

Transfer roasted cauliflower dish to the platter and set over the tahini. Top with fresh parsley and more salt and pepper to taste.
Notes
What If I Don't Have Preserved Lemons?
Preserved lemons are basically a pickled lemon. So if you don't have them in your pantry, capers make a great substitution. Capers will bring that salty, briny flavor to the dish that the preserved lemons do.
Nutrition
Serving:
2
Cups
|
Calories:
295
kcal
|
Carbohydrates:
23
g
|
Protein:
9
g
|
Fat:
20
g
|
Saturated Fat:
3
g
|
Sodium:
52
mg
|
Potassium:
627
mg
|
Fiber:
8
g
|
Sugar:
6
g
|
Vitamin C:
70
mg
|
Calcium:
78
mg
|
Iron:
3
mg