These oven baked chicken cutlets are one of those recipes that are so simple to put together, after making them once or twice, you won't really ever need me again! I'll try not to be too hurt 😉 I love making these when I just can't think of what else to make and I know my kids are tired of my usual sheet pan baked chicken. The one little trick I share below makes them nice and crispy while also incredibly moist, and they taste delicious as is, dipped in a barbecue or ranch sauce of sorts, or as the base for Chicken Parmigiana.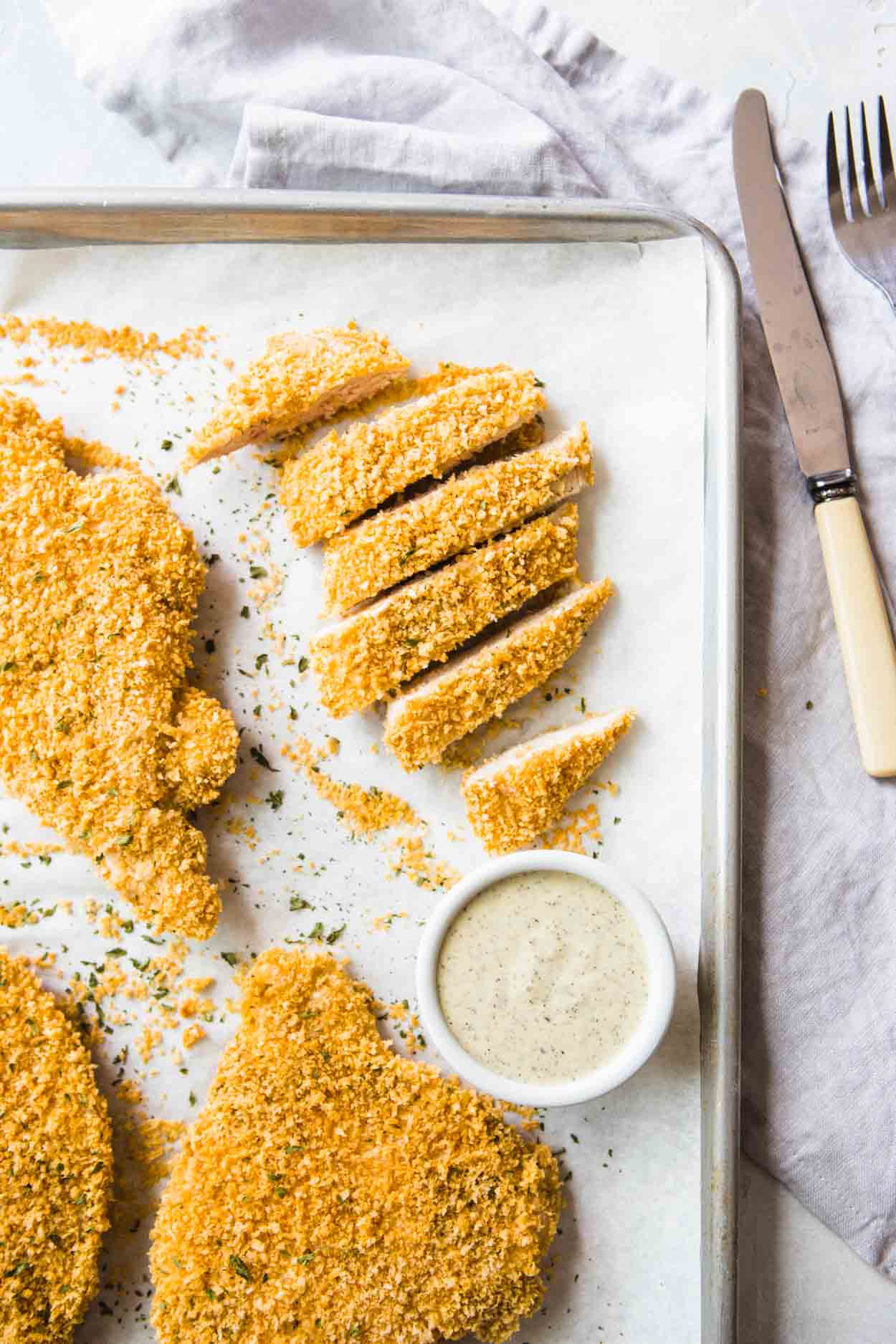 The trick to getting a nice crispy texture
I learned this in a cooking class I took years ago, and that is to bake your bread crumbs ahead of time, before you bread your chicken (this works really well if you're making fish sticks too). Simply spread them out on your baking sheet, and bake them for about 7-10 minutes, making sure to check on them half way through to see how they're doing. If you're using Panko bread crumbs which is what I recommend, you want them to be a light golden brown. Panko bread crumbs by the way, are just bread crumbs made with crustless bread.
Baking the bread crumbs in advance not only gives the cutlets a really pretty golden color, but it makes for a crispier texture since the pre-bake locks in even more crunch as well as a more rich flavor. And you may be saying to yourself, "ugh, I don't want to wash another dish," but all you'll do is bake them on this sheet, then immediately transfer them to a bowl for breading, and use this same baking sheet to bake the chicken in, so really no extra sweat at all. And the quick prebake is something you can do while you're getting your other side dishes ready.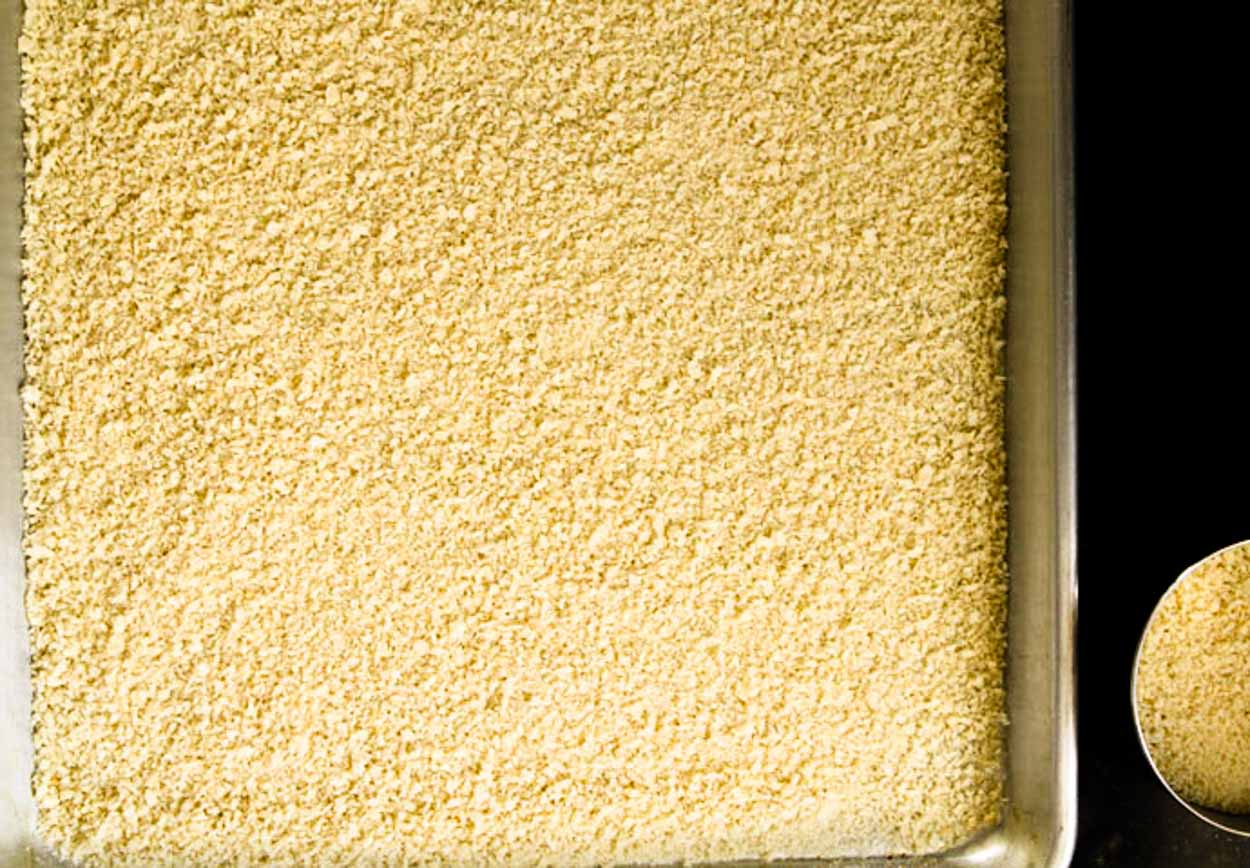 How to make your own chicken cutlets
Now you want to use cutlets for this recipe, as they bake so much quicker, hence allowing you to get dinner on the table even faster. Plus, I find they are much more tender than using a whole breast. Speaking of tenders, don't buy those little tender packs you often seen sold in the market, as they're too small. Tenders are that little piece of flap meat on an actual breast, which I personally find are too small to serve much purpose, other than making kiddie chicken tenders.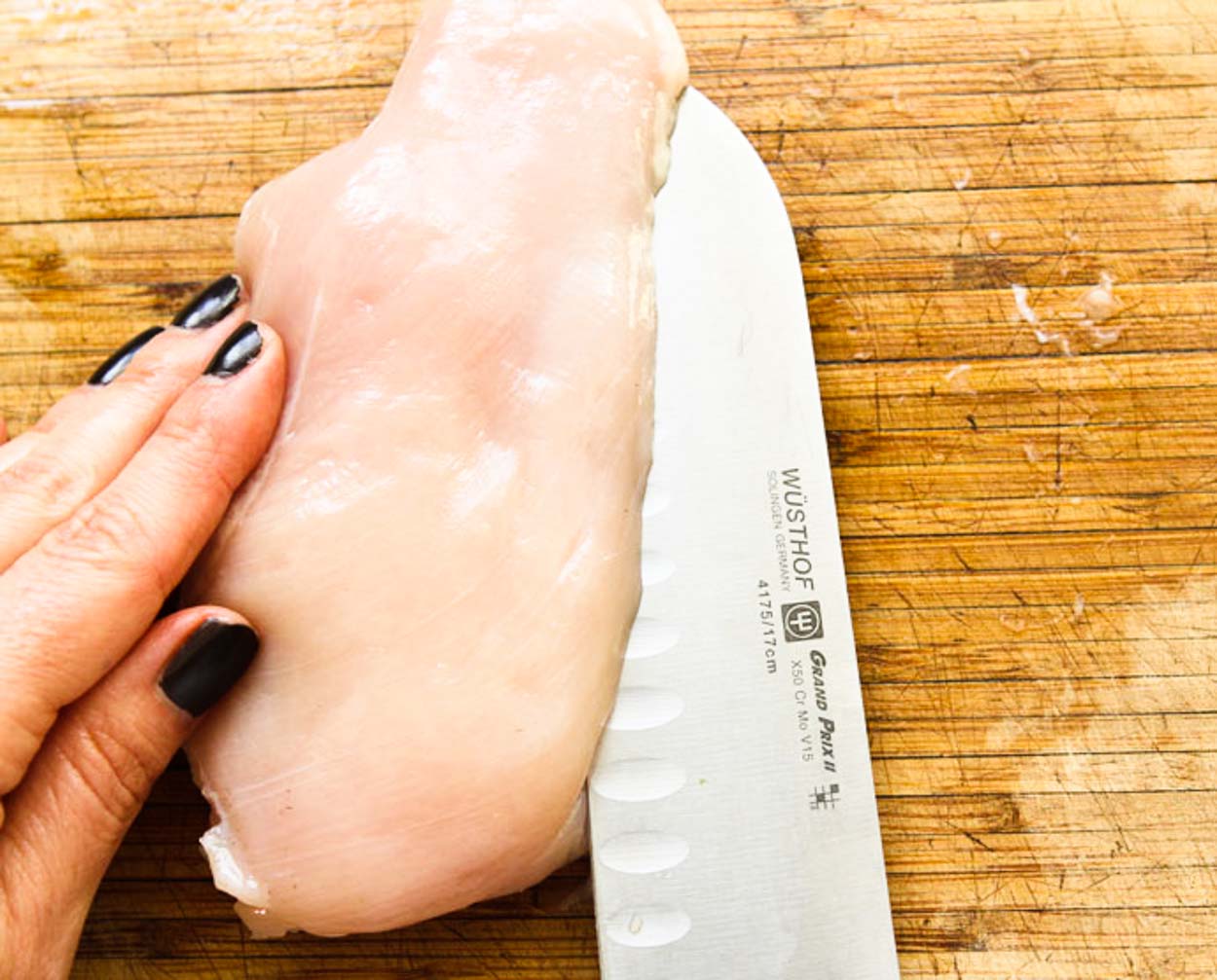 Cutlets are made by simply inserting a sharp knife into the middle of your breast, and slicing it in half. Easy peasy, and the extra 5 minutes it takes to cut each breast in half, saves you at least 15 minutes in cooking time.
If you want them extra tender, another optional step is to place your cutlets either in a ziploc bag or between two sheets of plastic wrap, and pound into submission. Okay, actually don't pound too hard, just a few little whacks will do, as you don't want to demolish your beautiful cutlets, just tenderize them. But again, this additional tenderizing step is optional so don't stress if you ain't got time. Regardless if you tenderize or not, add some salt and pepper to each cutlet and get ready to bread.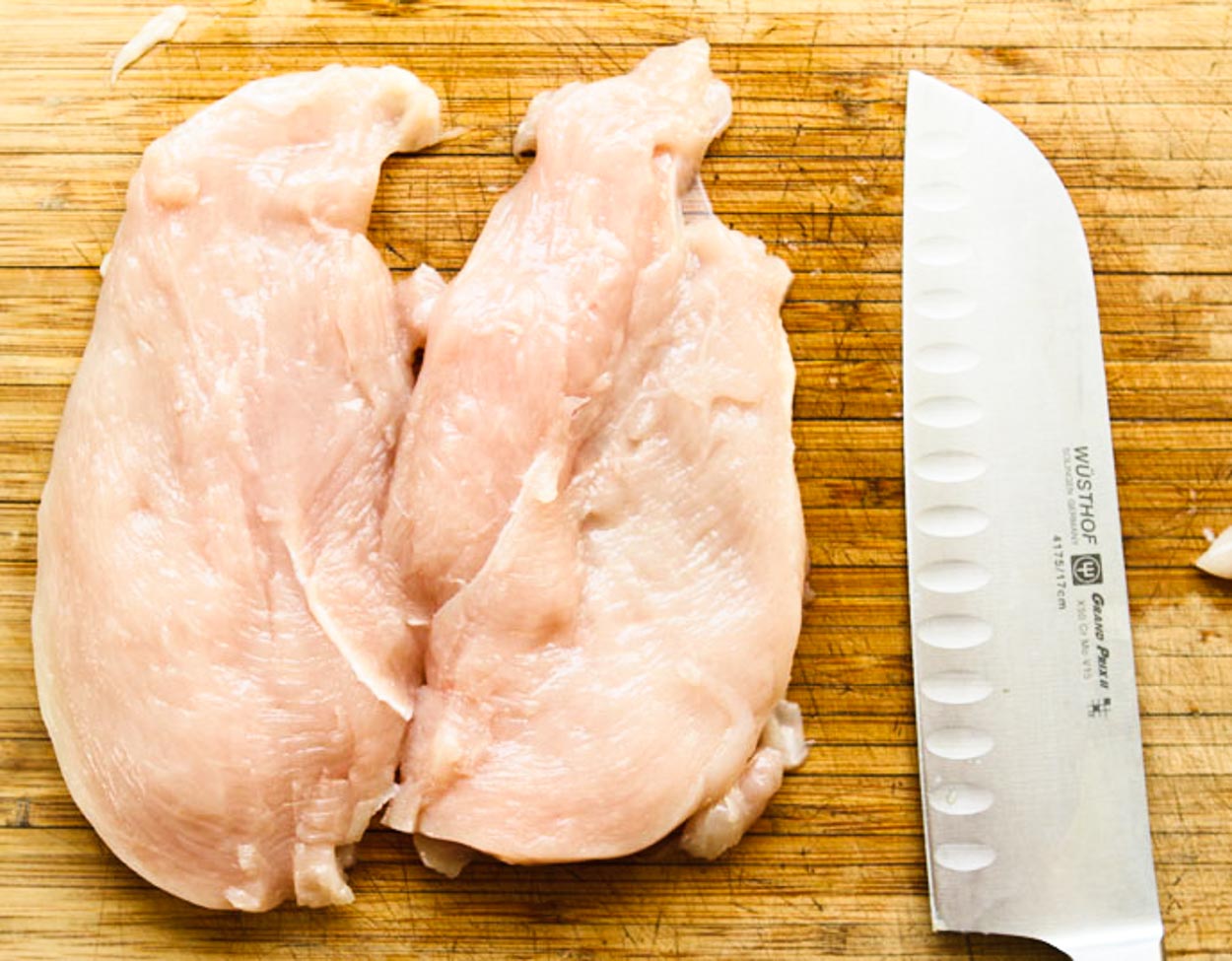 Get your flour or flour substitute, eggs and crumbs all together in a space that allows you to work efficiently, and dip each cutlet first in flour, then in the egg wash, and then roll around in the bread crumbs to evenly coat. Place each cutlet on a parchment lined baking sheet, and set em in the oven. I recommend flipping each cutlet half way through the cooking process to ensure even cooking on both sides, carefully using a pair of tongs or fork to flip with minimal breadcrumb collateral.
I really love the way the bread crumbs lock in the flavor and juiciness of the cutlets, and did you all notice not a drop of oil was used in the baking of these? Not that there's anything wrong with oil, but if you just want a really simple, healthful version of baked and breaded chicken, this is definitely the way to go.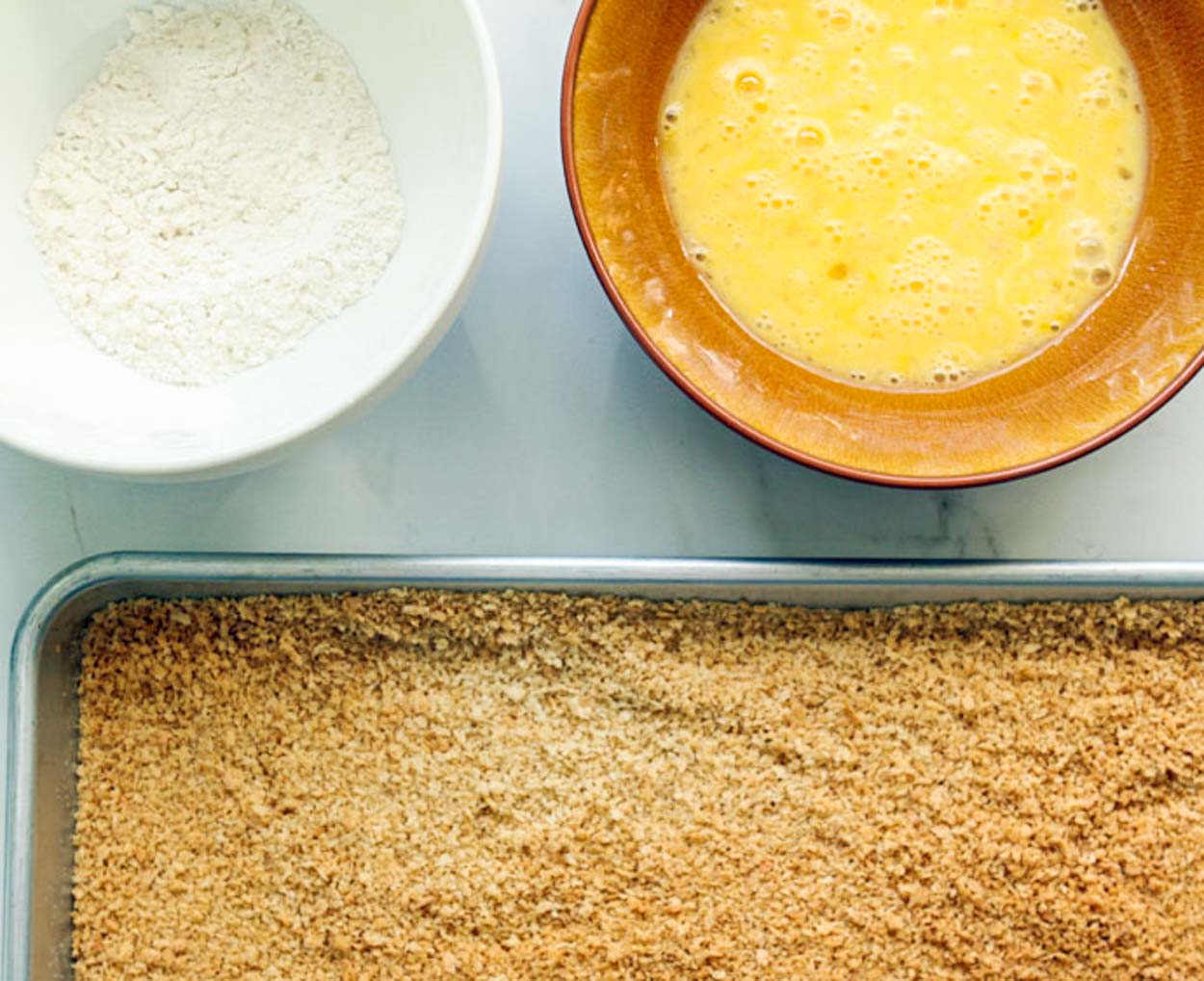 Reheating leftover baked chicken cutlets
These honestly taste heavenly straight out of the oven, but I have definitely had to reheat them a few times and the trick to making them taste as good the second time around is the broiler. To get them nice and crispy again after being stored in the fridge, simply place the cutlets on a foil lined baking sheet and heat in the oven with the broiler set on low. You'll have to watch them carefully though and cook for about 5 minutes.
If you tend to be forgetful about things cooking in broiler mode though (I've had a few whoopsie moments myself), just reheat them in a 350 degree oven for about 10-12 minutes. Of course the microwave works fine, you will just lose some of the crispy texture.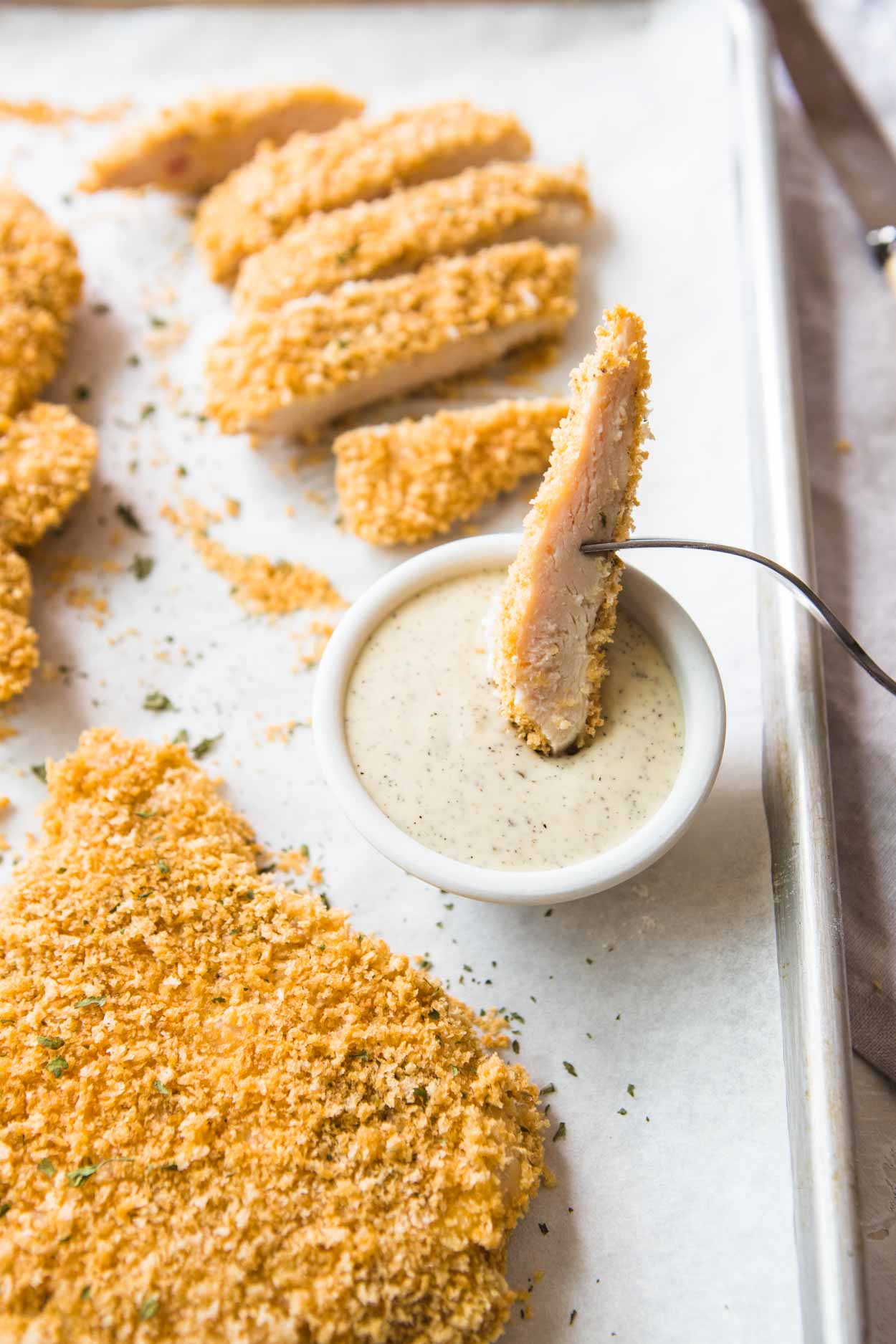 How to make these Gluten Free
Fret not, it's really easy to make these baked chicken cutlets gluten free. Simply coat your chicken in a flour substitute like arrowroot powder or rice flour, and substitute almond meal, not almond flour, for the panko breadcrumbs, as almond meal has a crispier texture and finish. I have gone through the process of baking the almond meal first, like I do with the breadcrumbs, and have found no difference in taste or color, so just skip that part, and bake the rest as usual. See, no big deal at all?!
Good luck and I hope you enjoy these as much as we do!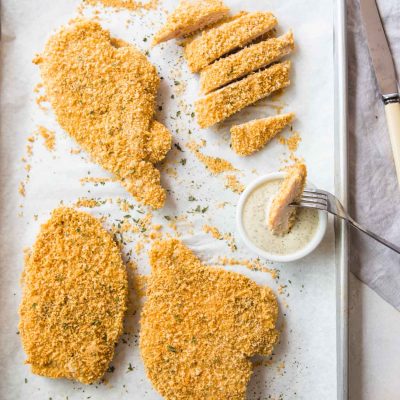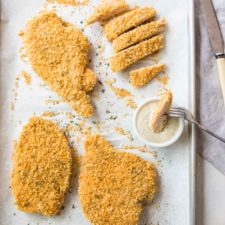 Print Recipe
Oven Baked Chicken Cutlets
These easy breaded and baked chicken cutlets make for the perfect healthy, weeknight meal.
Ingredients
2-3

chicken breasts

depending on size, cut into 4-6 chicken cutlets

3

cups

plain Panko bread crumbs

3

large eggs

1/3

cup

flour or flour alternative of your choice

arrowroot powder works well too

salt & pepper for seasoning
Instructions
Preheat your oven to 375.

Season your bread crumbs with a generous amount of salt and pepper, and the spread out in a single layer onto a large baking sheet. Bake in the oven for about 7-10 minutes, until golden brown but not dark brown. Place in a shallow bowl or plate when done baking.

While your breadcrumbs are baking, pat your chicken breasts dry, and cut them into cutlets by inserting a sharp knife into the center of the breast, and slicing in half, creating two thin breasts, or cutlets. You will want to slice off the little tender piece of meat found on most breasts, and either reserve that for another use, or to make a really small version of these breaded cutlets.

Optional tenderizing step is once you have your cutlets ready to go, either wrap in plastic wrap or place in a Ziploc bag, and tenderize them till soft and thin, but not see-through.

Season the cutlets with a bit more salt and pepper.

Whisk your eggs in one shallow bowl, and place your flour in a separate shallow bowl.

Dip your cutlets one at a time in the flour or flour substitute, and then in the egg wash. Then dip in the browned bread crumbs. Make sure the cutlets get an all-over even coating of the crumbs.

Place cutlets on a parchment lined baking sheet and bake in a 375 oven for 10-15 minutes, flipping half way through cooking, until internal temperature reaches 160 degrees. Serve immediately.