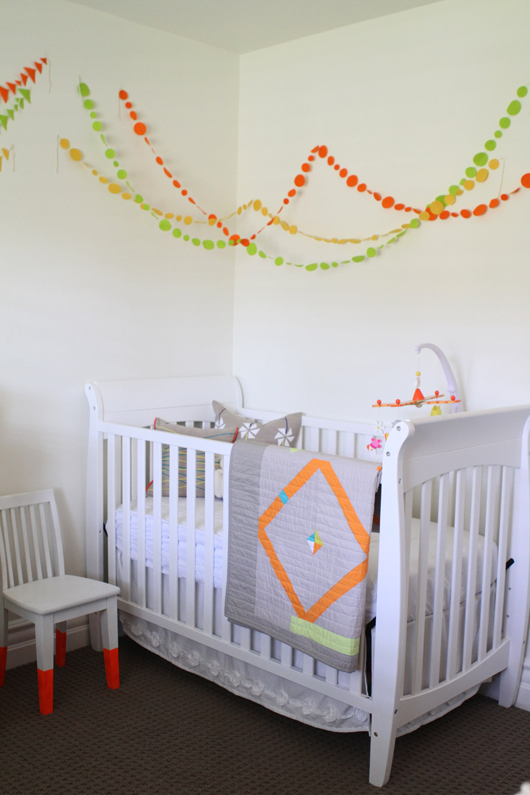 We finally finished Hayden's nursery over the weekend, just shy of him turning 11 weeks old.  It had been complete for the most part, but I was going back and forth about placement of some artwork.  I'm still not sure I love the placement of the pieces above the bed, but for now I can call it done, and can always change it later.  Hayden's room was our old office, and I'll share pictures next week of how we transformed the office into his nursery, because it involved about 4 weeks of construction, including tunneling through an existing wall to make a hallway, and closing off one point of entry to make another point of entry.  It was a lot of work for not a lot of sexy; meaning we went through 4 weeks of construction and all we did was change the point of entry of the room, but a change that was much needed and will improve resell value down the road.
Anyhow, Hayden's room ended up being the largest of the kid's room, measuring about 8'x11′, and lots of long wall space that I struggled with.  I wanted to keep the walls feeling light and airy, so I was mindful of trying to not hang too much crap on them, something I tend to do.  Some corners feel a little busy, but also busy cheerful.  I love rooms with lots of blank space, that whole minimalist look, but when it comes down to it I guess we're just not minimalist people.  This is the first room I've ever gone with all white walls, and I can finally see the appeal.  The room gets great light, and with the white walls and all white furniture, it is the brightest and airiest room of the house.  We all congregate here and love spending time in here.  And if you recall, I originally wanted it to be all white with pops of neutral beige and neon, but finding all neon was a bit difficult, so when I didn't find neon pieces I liked, I went with bright colors that read like neon.  Overall, the bright pops of color really are what make the room so cheerful.
It's definitely become one of the favorite rooms in the house, and we love how light and bright it came out. I've never painted a room all white because I was always afraid it would come across as too cold and barren, but now I get why designers go goo-goo ga-ga over all-white rooms. So without further adieu, here you go. Enjoy!  And you can see the source for most of the items at the bottom of the post.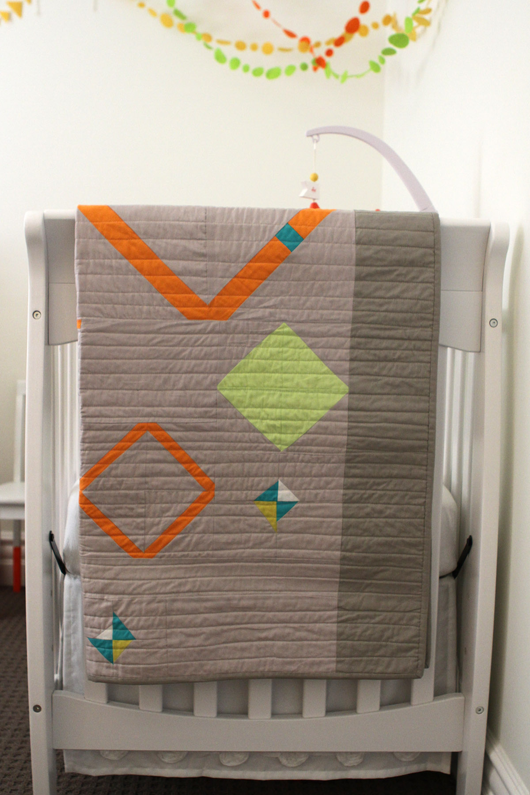 The crib is tucked away in a corner of the room and is adorned with the most colorful felt garland I could find, from The Land Of Nod.  The quilt is probably the thing I love the most though in the whole room.  It was designed by Miranda from One Little Minute and handmade by Katie of Swim Bike Quilt.  It's a work of art. The crib skirt and sheet are from Land of Nod as well.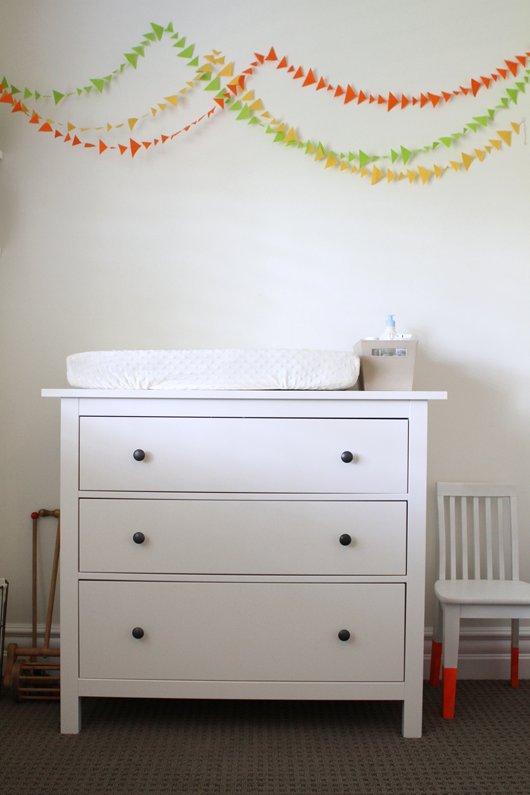 In the corner opposite his crib, we have the dresser and changing table combo and the rocker, both from Ikea.  A separate changing table fit into the room, but it felt a bit crowded, and having it on top of the dresser is actually the perfect height for us since we're tall.  I debated recovering our old glider but the cost to do far exceeded the cost of the Ikea Poang rocker.  It's not as comfortable as a glider, but at about ⅛ the cost, it suits us just fine.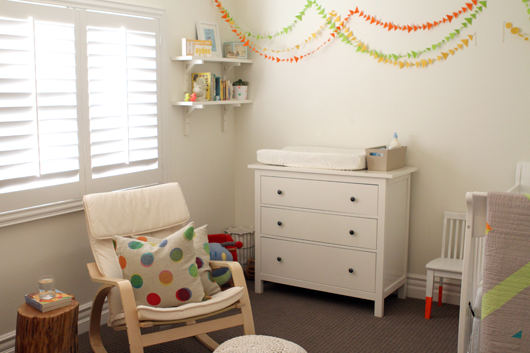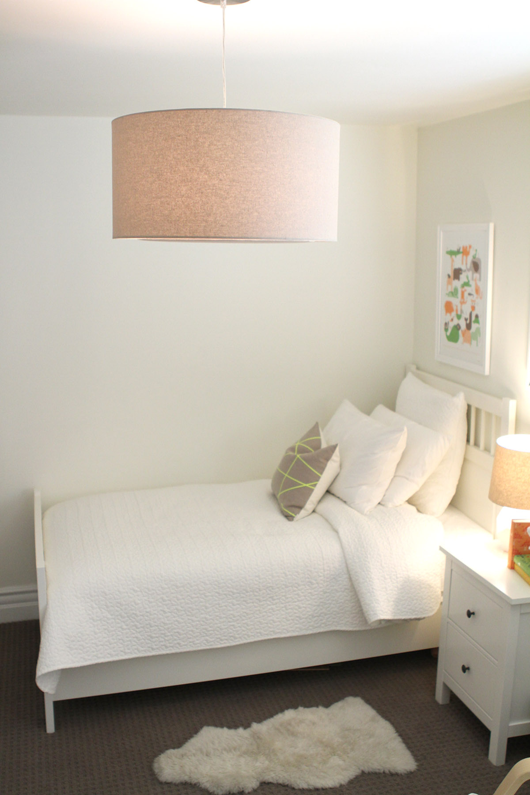 On the opposite of the room, right when you walk into it, is a twin bed and nightstand, also from Ikea.  Since we had the space, I knew I wanted a twin bed for the middle of the night when he was restless and I didn't want to run back and forth.  It also comes in handy when my mom spends the night.  We've already used it quite a bit, and it's the perfect spot to swaddle him at night.  The bedding is all from Ikea as well.  The lighting fixture is from Land Of Nod.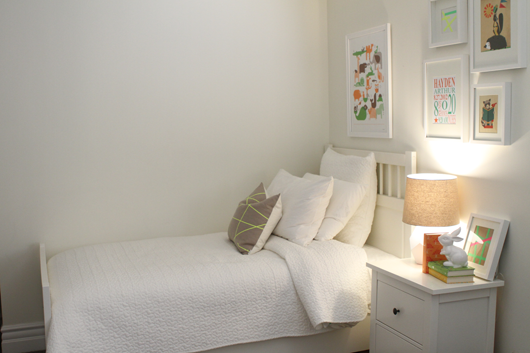 I wanted a wooden mobile that didn't light up or have music, more of a decorative piece than one that gives a light show.  I found this one on Amazon.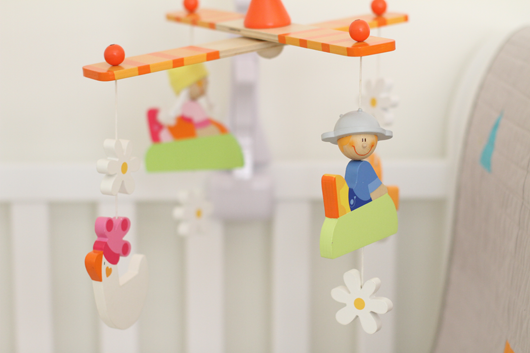 The garland is from Land of Nod and comes in a few other colors, as well as in triangles, which hang above his changing table.  Someone with a lot of patience could probably DIY this, but at $8 a strand, it's a great affordable decorative element and is really well made.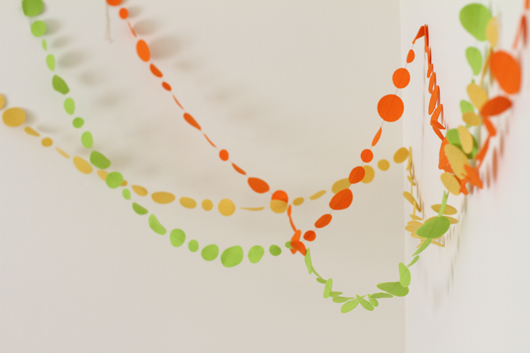 The Between a Rock lamp from Land of Nod is the cutest piece in the room.  I love the shape and the sleek shade.  Colorful books from Penguin, a cute bunny bank and some DIY artwork sit atop the Ikea nightstand.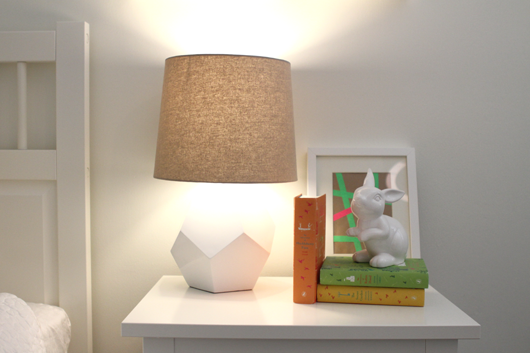 My sister found this girl on Etsy that makes these amazing linen pillows and had to have a few for his room.  I love the graphics and bright colors.  The little owl is Jellyfish and was a gift from my friend Rachel.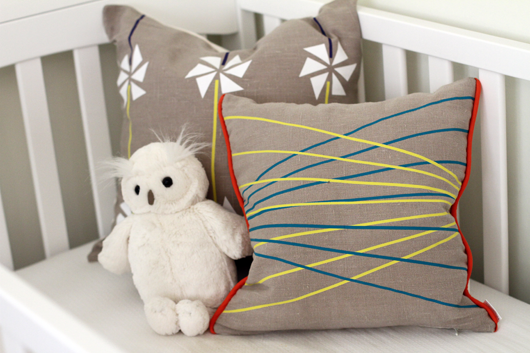 My favorite pillow in the room, from the Etsy shop Paleolochic.  Linen front with neon graphic and cotton backing.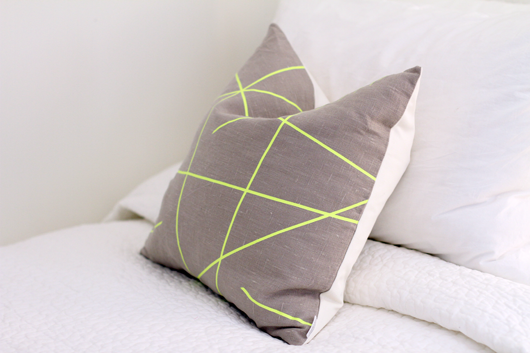 The poof is probably the funnest and most versatile piece in the nursery, and is from Joss & Main.  I use it as a foot rest when I'm nursing, and the kids use it as a place to sit, or as a toy to roll around the house and roll around on.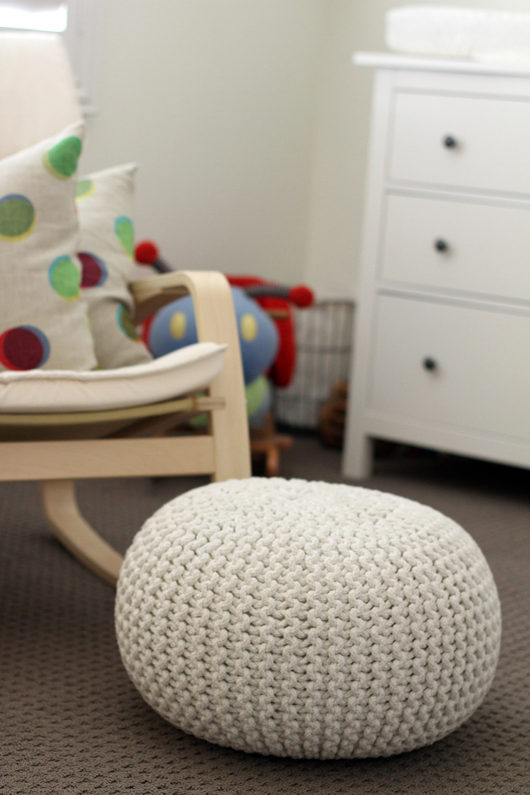 I needed a spot to place a glass of water, a bottle, some books, etc, but I wanted a different element other than white, so I found this tree stump from West Elm and patiently waited till it went on sale.  The dot pillow covers are from Ikea.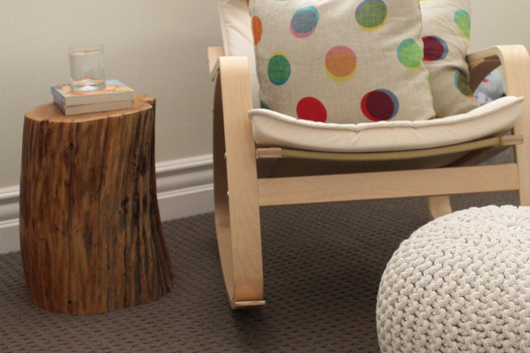 I'm still not 100% sure I love the placement of the artwork, but for now it's good enough.  I am really bad at artwork placement actually, so if any friends out there have some suggestions for a different arrangement, I'm all ears!  The piece above the bed is from Petit Collage and was a gift from my friend Jules.  My sister gave us the Hayden print, and the hedgehog is from Lisa Congdon.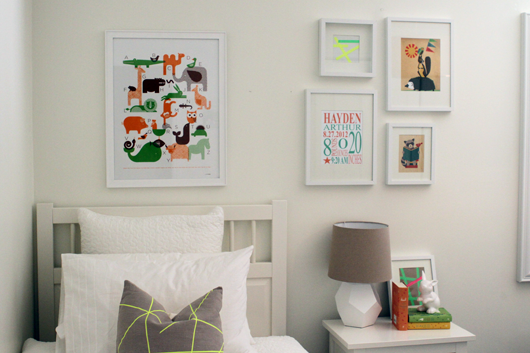 You all remember the DIY project I posted a while back right? If you need a refresher visit here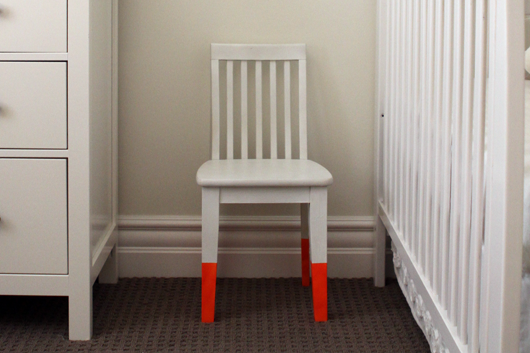 Eventually I'd like to find a spot to fit a bookcase into the room, but for now we hung a couple of shelves from Ikea to hold books and fun tchotchkes. The bull book ends are from Target and the neon polka dot pot is a DIY I posted here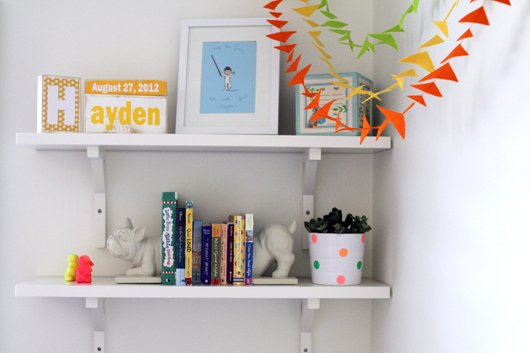 A gift from my friend Anne, this is definitely Art's favorite piece in the room.  Via Etsy.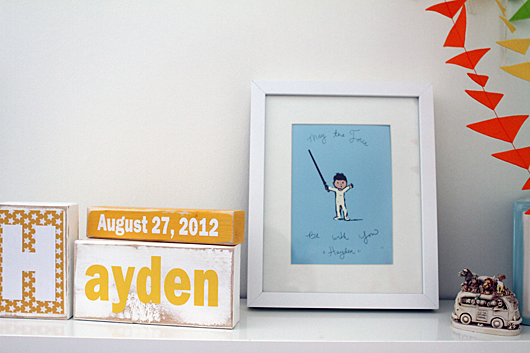 Source List:
Hemnes Bed, Dresser & Nighstand from Ikea
Alina Bed Spread from Ikea
Ekby Wall Shelves from Ikea
Poang Rocking Chair from Ikea
Between a Rock Geometric Lamp c/o Land Of Nod
Hanging Around Lamp from Land Of Nod (both lamp shades in Khaki)
Garland in Circles and Triangles from Land Of Nod
Crib Bedding c/o Land Of Nod
Neon bed & crib pillows from Paleolochic on Etsy
Natural Stump Side Table from West Elm
Handmade Custom Quilt by Katie of Swim Bike Quilt
Mobile by Sevi
May The Force Be With You & Hayden's birth stats prints were gifts from Etsy and I have asked my friend and sister for the source so I can credit here.