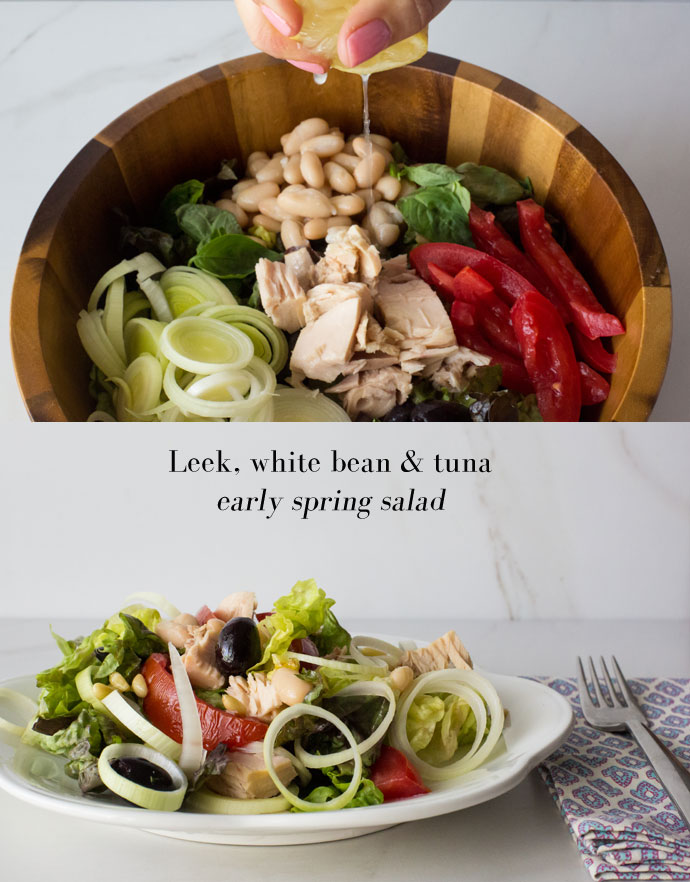 We have Taylor to thank for this salad. Last week when she made this dinner, she added it to the menu at the last minute and it may have been my favorite part of the whole meal, I loved it so much I practically licked the bowl clean. The original recipe is from The Silver Spoon for Children
 cookbook, and I adapted it just a bit because the only thing lacking in this salad were some salty kalamata olives, which I remedied with this version.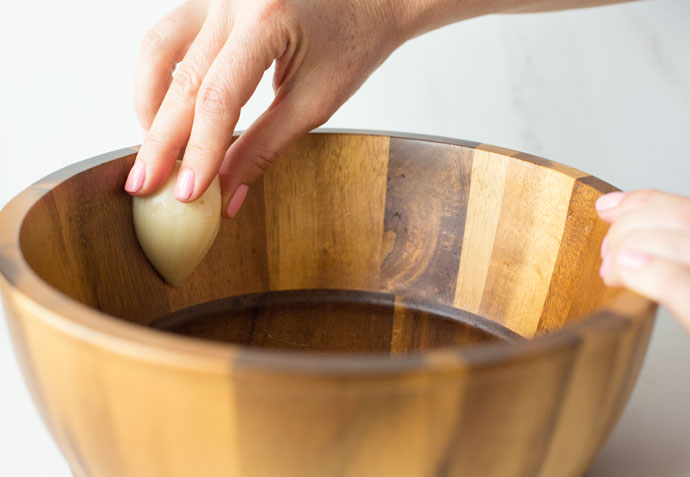 What I love most about this cookbook is the use of simple yet ingenious techniques that children can fully complete, which yield great results. Case in point being the way the dressing comes together; by rubbing the salad bowl in garlic, then adding the olive oil to the bottom along with the pine nuts, and then adding all other ingredients on top. So simple, yet something I had never thought of. 
Another great technique they have the kids use is for de-seeding tomatoes. Simple cut in half and scoop out with a teaspoon. I've been using that great little tip everyday since learning it; and to think I've taken several fancy cooking classes and never once learned to de-seed a tomato that way.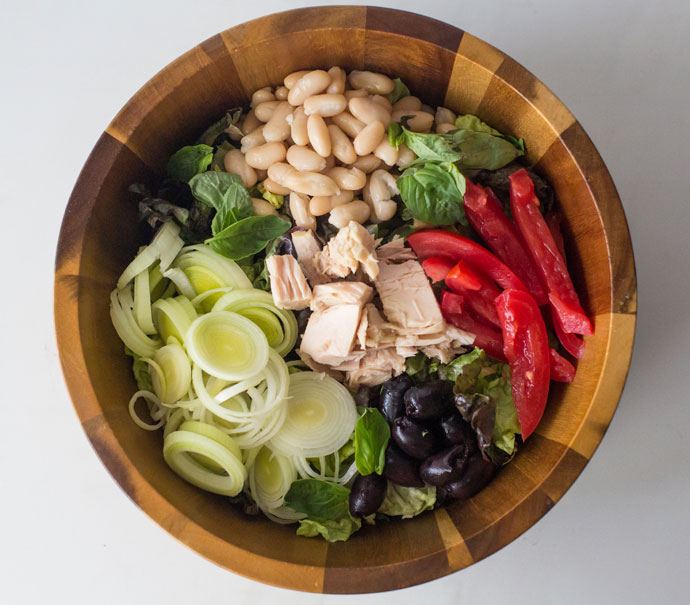 Raw leeks may seem like an odd addition for a child friendly salad, but I can assure you they're on the super mild side, and are much less pungent than standard onions, and even small green onions. They really add an unexpected hint of sweetness.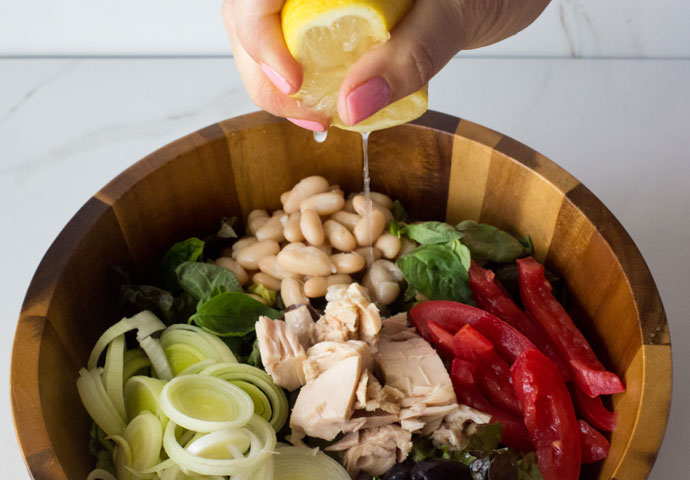 Once all your ingredients are placed in the bowl, you simply squeeze your lemon juice on top, and then toss to combine. Believe it or not, but you definitely get a hint of garlic.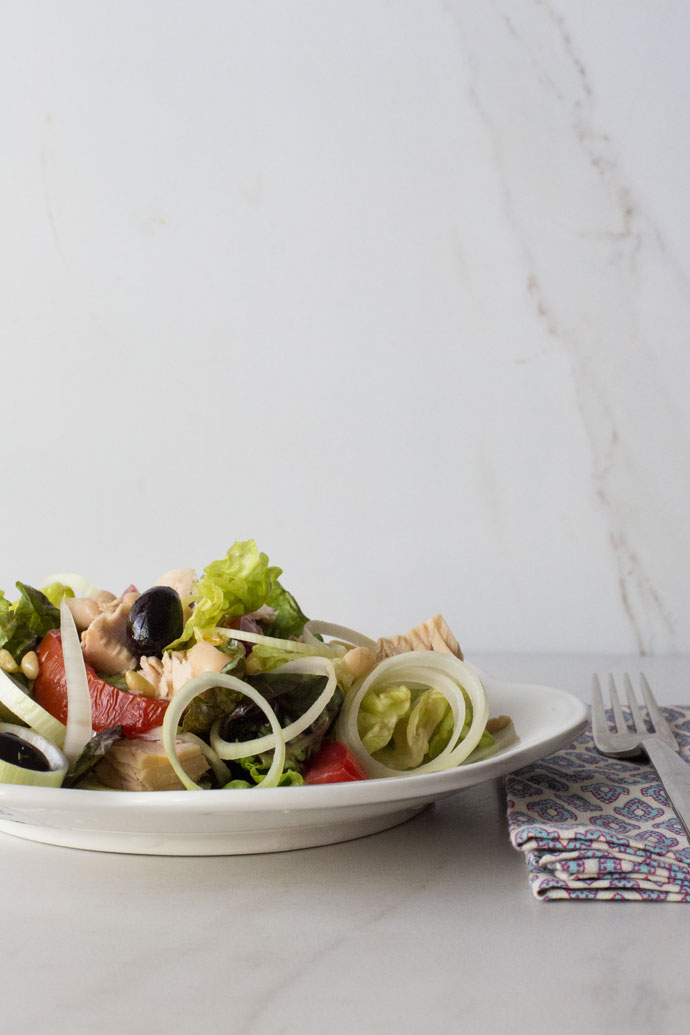 The leeks add the prettiest bit of interest to the plate when tossed and separated all about, almost like teeny tiny onion rings. And the tuna is an easy and affordable way to add in protein, allowing this salad main dish status when eating in its entirety, or serves as a satisfying appetizer when divided into smaller portions.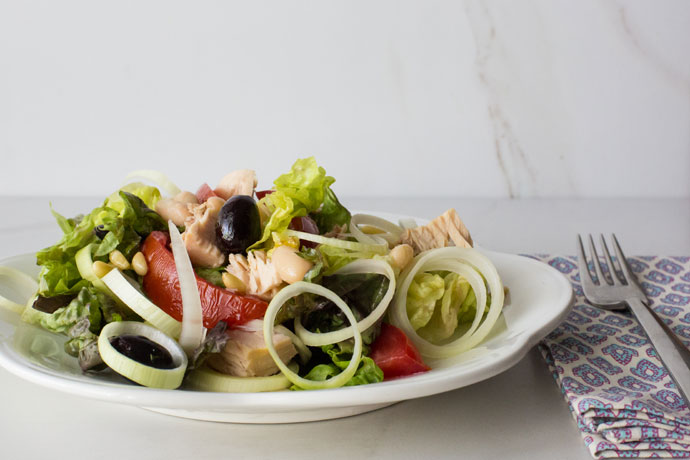 I couldn't think of a tastier way to welcome the arrival of Spring, and the wonderful bounty we have to look forward to in the coming months. Enjoy, and as always, please let me know if you give this a try. Print out the recipe below.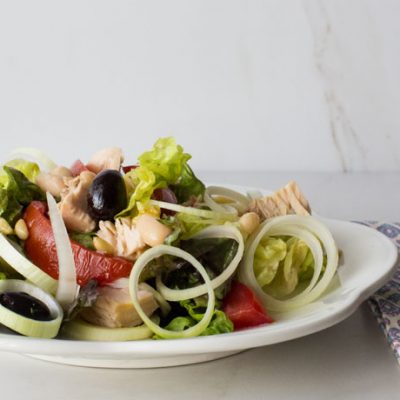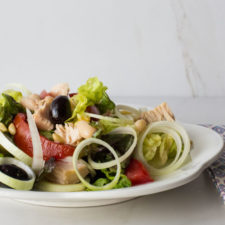 Leek, White Bean & Tuna Spring Salad
A refreshing yet satisfying salad to welcome in Spring. Adapted from The Silver Spoon for Children cookbook
Print
Pin
Rate
Ingredients
1

small head of baby lettuce like bib or green leaf

shredded

1

small leek

thinly sliced white part only

1

can of tuna packed in water

drained and broken in chunks

1

Roma tomato de-seeded and thinly sliced

¼

cup

cannelini beans or great northern beans

¼

cup

pine nuts

¼

cup

kalamata olives

1

large garlic clove

2

tablespoon

olive oil

juice of ½-1 lemon

to taste

salt and pepper to taste
Instructions
Rub garlic all along sides and bottom of salad bowl.

Pour olive oil and pine nuts in bottom of salad bowl and toss to combine

Place all other ingredients in the salad bowl, and squeeze lemon juice on top, and toss to combine.

Sprinkle with salt and pepper, to taste. Serve immediately.