These sugared cranberries only require four ingredients to make, and are a gorgeous treat for the holidays! Use them in a holiday drink as a garnish, top a pie for a festive touch, or simply enjoy as is! Made with fresh ginger, these cranberries are super simple to make.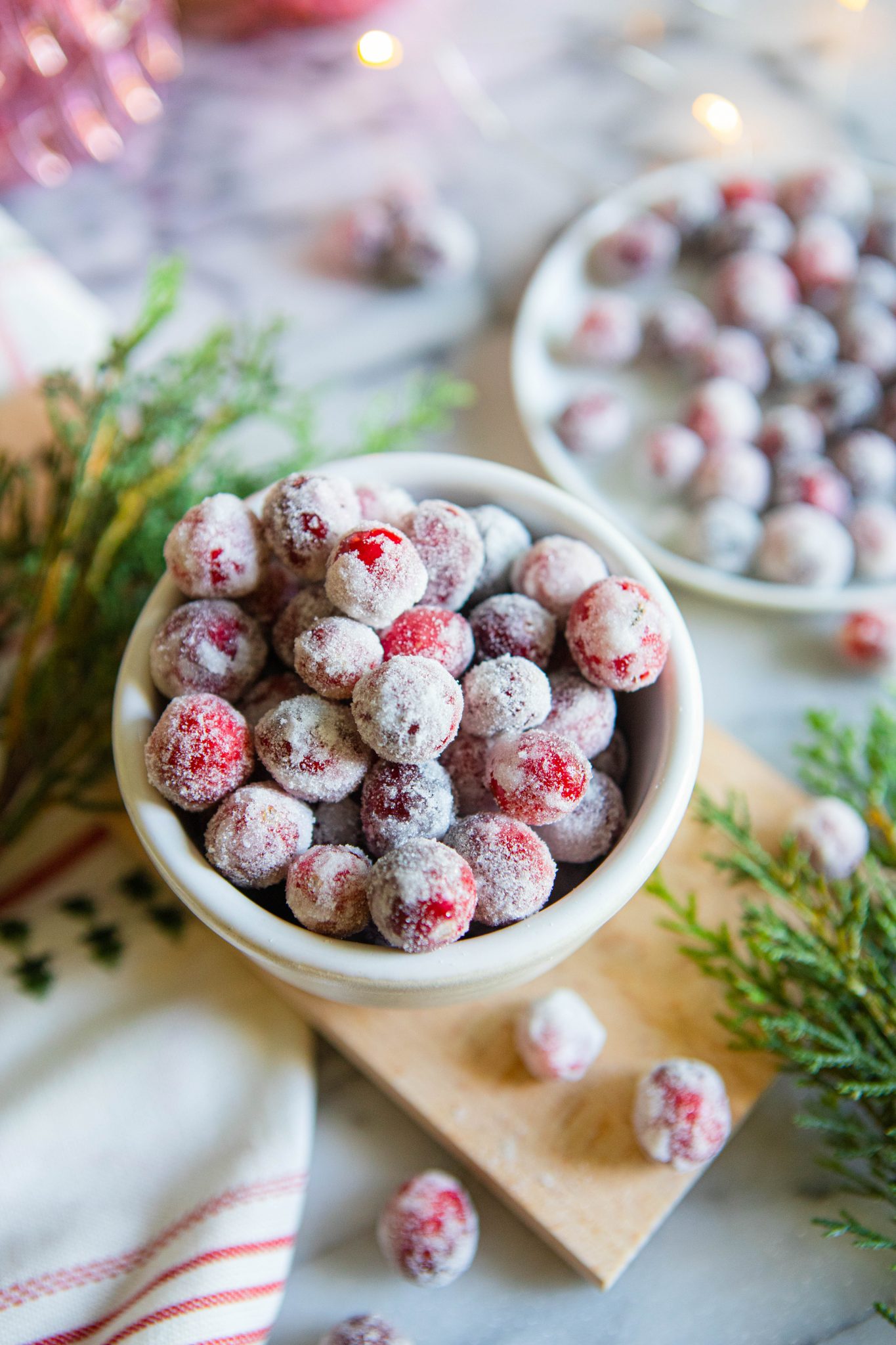 Right now you may be decking the halls, and your Christmas tree. So why not deck your drinks and pies too with a little sparkle as well? Tis' the season for sparkle, right? And I think we could all agree this year in particular could definitely use a little something extra.
And these easy sugared cranberries made with fresh ginger are the perfect sparkly solution. Usually sugared cranberries are made with just cranberries, sugar and water but I decided to put my own fun twist on it (because that's what we do around here!) with adding a little fresh ginger. The cranberries are tart. The sugar is sweet. And the ginger helps bring a little zip to the party.
Your tastebuds will definitely do a little dance when you bite into one of these sparkly jewels.
Why You Will Love This Recipe
MADE OVERNIGHT – That's my favorite part of this recipe is that most of the time to make this is done overnight!
MINIMAL INGREDIENTS – Basically 4 ingredients – cranberries, sugar, water, and ginger is all you need!
CAN BE USED IN SO MANY WAYS – I'll give you some wonderful ways to use these beauties from pies, to cocktails and more!
Ingredients for these sugared cranberries
Cranberries – I've only tested this with fresh cranberries, so I recommend using fresh vs. frozen.
Sugar – I used granulated sugar in the simple syrup, and then coated these in superfine sugar. If you only have granulated sugar, I'll show you how you can easily make your own superfine sugar so no needed extra trips to the store.
Water – Yup, just good old water to make the simple syrup.
Ginger – This is what makes these cranberries special! I used one knob of fresh ginger in the simple syrup to give these cranberries a little extra flavor.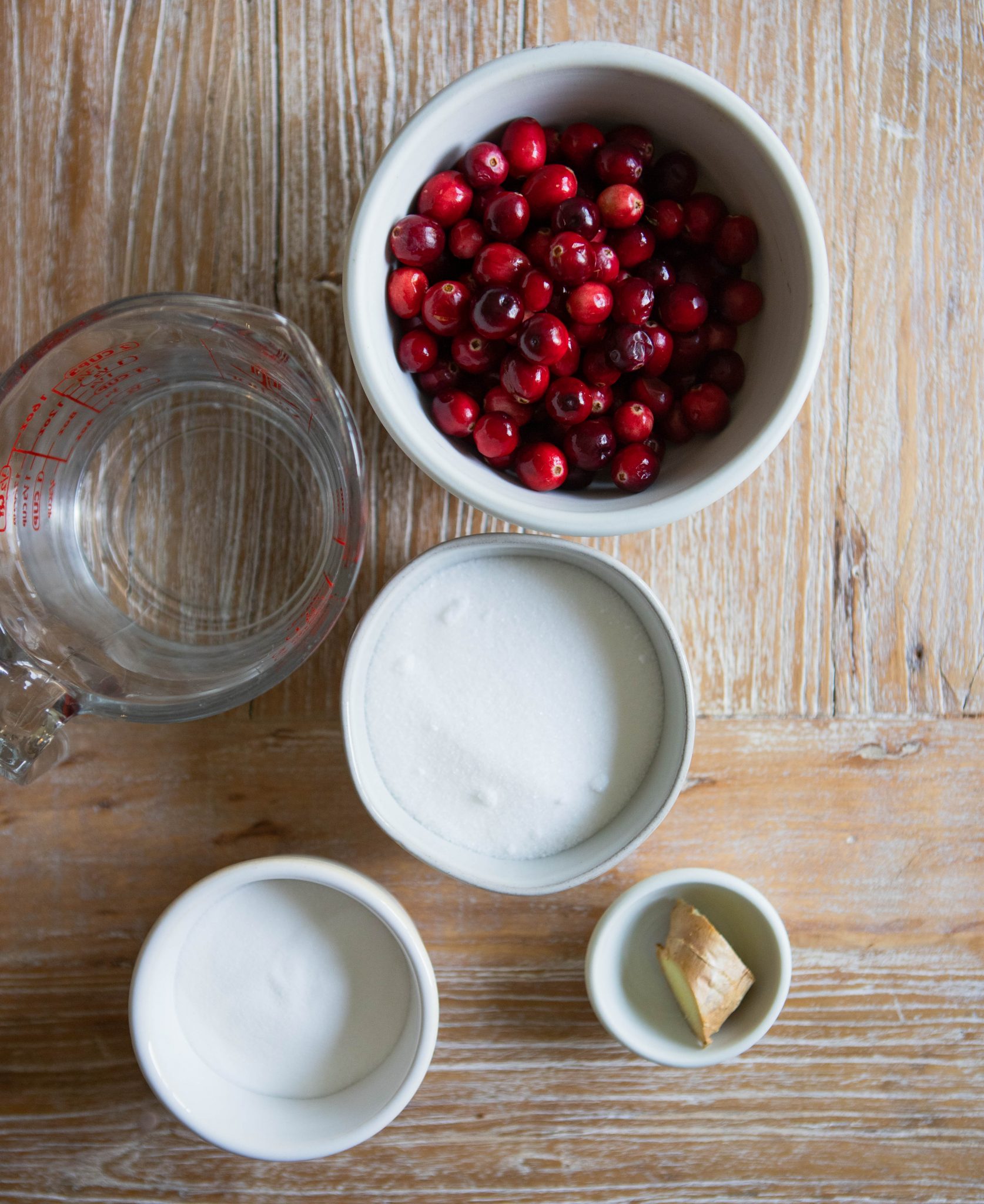 How to make
You need to start by making a ginger simple syrup. A simple syrup is basically equal parts sugar and water that is boiled together so it becomes a sweet syrup. I added in a knob of fresh ginger to the pot so the flavor can be infused into the syrup. All you need to do is combine the sugar, water, and ginger into a saucepan and let it warm over low heat until the sugar is dissolved. When the water reaches a low simmer then remove the saucepan from the heat.
Pro Tip: You want to make sure to NOT boil the water as this can cause the cranberries to pop open!
Go ahead and place your cranberries into a large bowl and pour the ginger syrup over your cranberries. Then just simply cover and let the two get merry together overnight in your fridge. In the words of Ina Garten, how easy was that?!

Then the next day drain the liquid from the cranberries. You can save the liquid and use it as a cocktail syrup! Then you will need to work in batches, but basically you are going to roll these red gems around in a bowl of superfine sugar so they get all nice and coated.
At this point, you need to transfer these to baking sheet to dry. Just spread them out and let them dry for an hour.  And there you go! Ginger sugared cranberries, perfect for the holidays.

Tips For Making perfectly coated Cranberries
Fresh Is Best. I recommend using fresh cranberries not frozen as they might not hold up quite like fresh once thawed and not work well.
Don't Rush The Process. Yes it's best to let these soak overnight so they can be completely coated in the sugar syrup and have maximum ginger flavor.
No Superfine Sugar? No problem. Make your own by simply putting granulated sugar in a food processor, or high speed blender and grinding it to a finer texture.
No boiling! Do not boil the sugar water, or the cranberries will pop as you add them.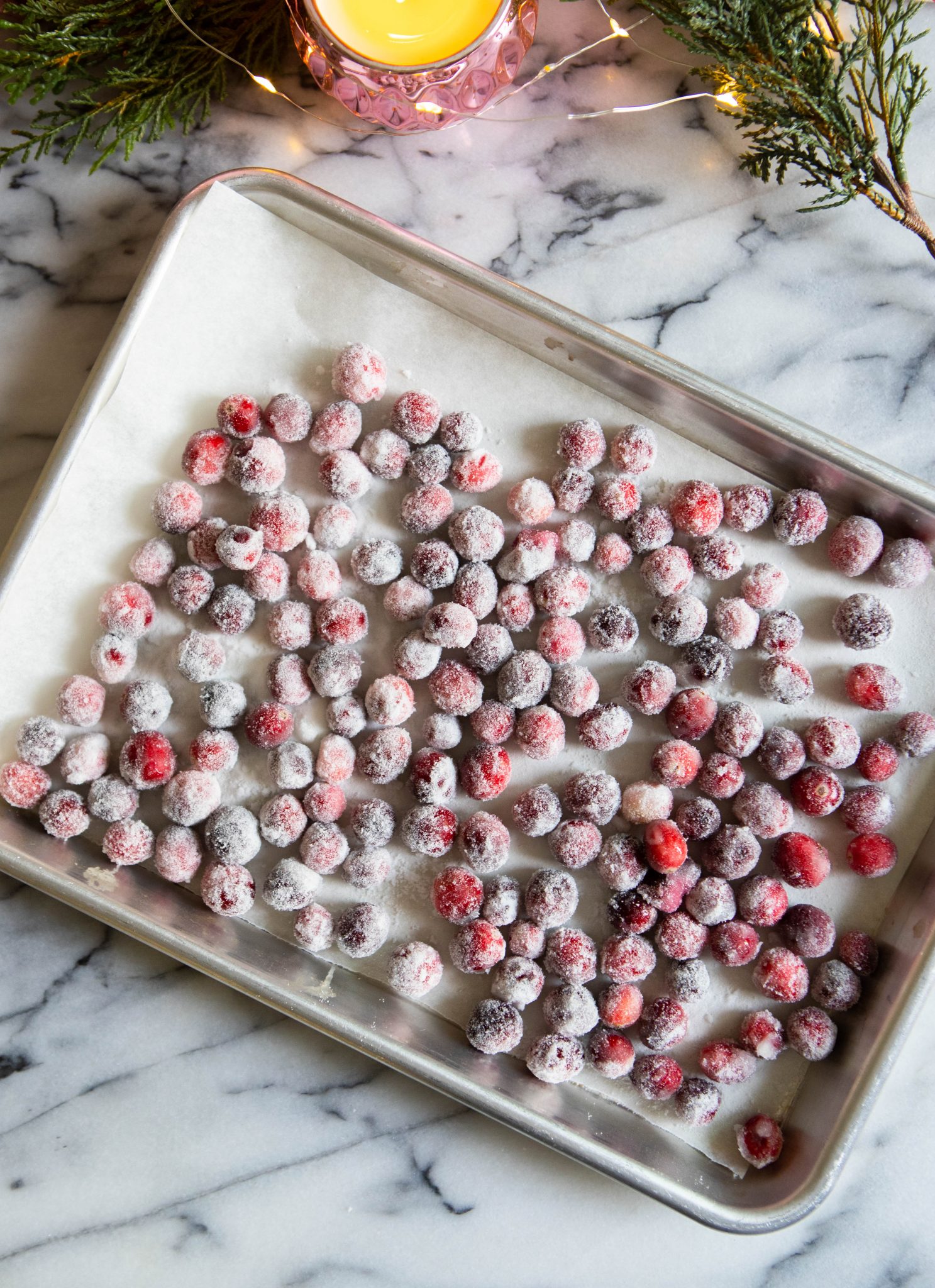 What Can I Use These For?
There are so many wonderful ways to use these sugared cranberries! Here a few fun ways:
A Tasty Snack! – Yup, just go ahead and pop these in your mouth for a healthy sweet snack this holiday season.
Garnish A Cocktail – These look lovely floating around in a glass of bubbly, or try them as a topper to my Pink Lady Cocktail.
Sprinkle On A Charcuterie Board – Go ahead and sprinkle them all over a Christmas Charcuterie Board for a garnish you can eat!
Top A Pie – Sugared cranberries are always an easy way to decorate the top of a pie.
Turkey Platter – Presenting the bird this year has never looked so pretty when you decorate the platter with some of these beautiful cranberries.
Ice-Cream Topping – These would be delicious on top of a few scoops of vanilla!
On Top Of Cranberry Sauce – What says fresh like a few of these as tasty garnish?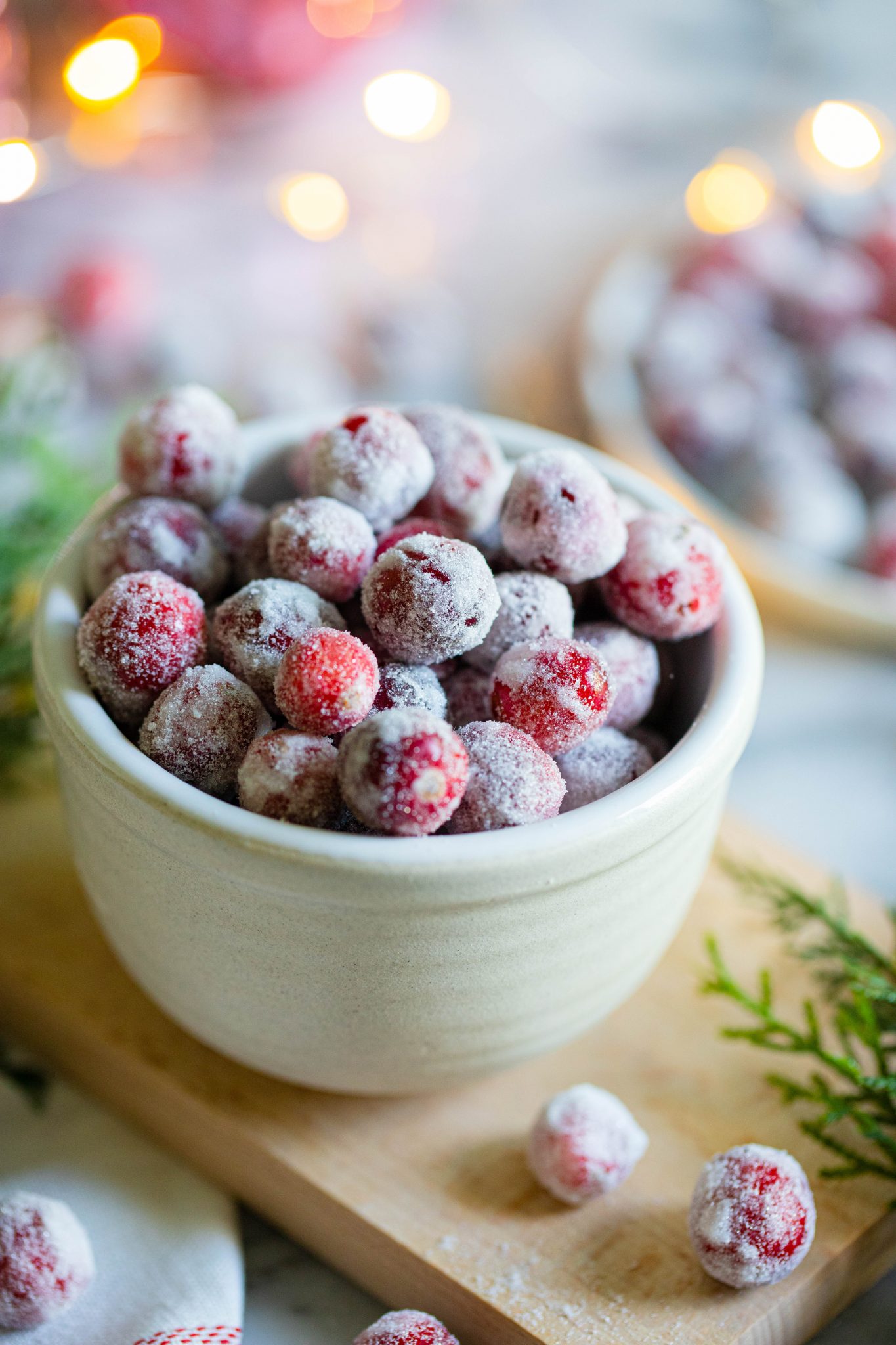 No Superfine Sugar?
No problem. Superfine sugar is basically granulated sugar that's been ground down to a finer texture. I find it's much better to coat these into superfine sugar than regular granulated sugar. That being said, there's no need to go out and purchase superfine sugar.
You can just grind down regular sugar in a food processor (or high speed blender, or very clean coffee grinder) until it's finer in texture.
Storing Leftovers
I recommend storing any leftovers in an airtight container in your refrigerator for up to a week.
Can I Freeze These?
These don't freeze well so it's best to store in your refrigerator!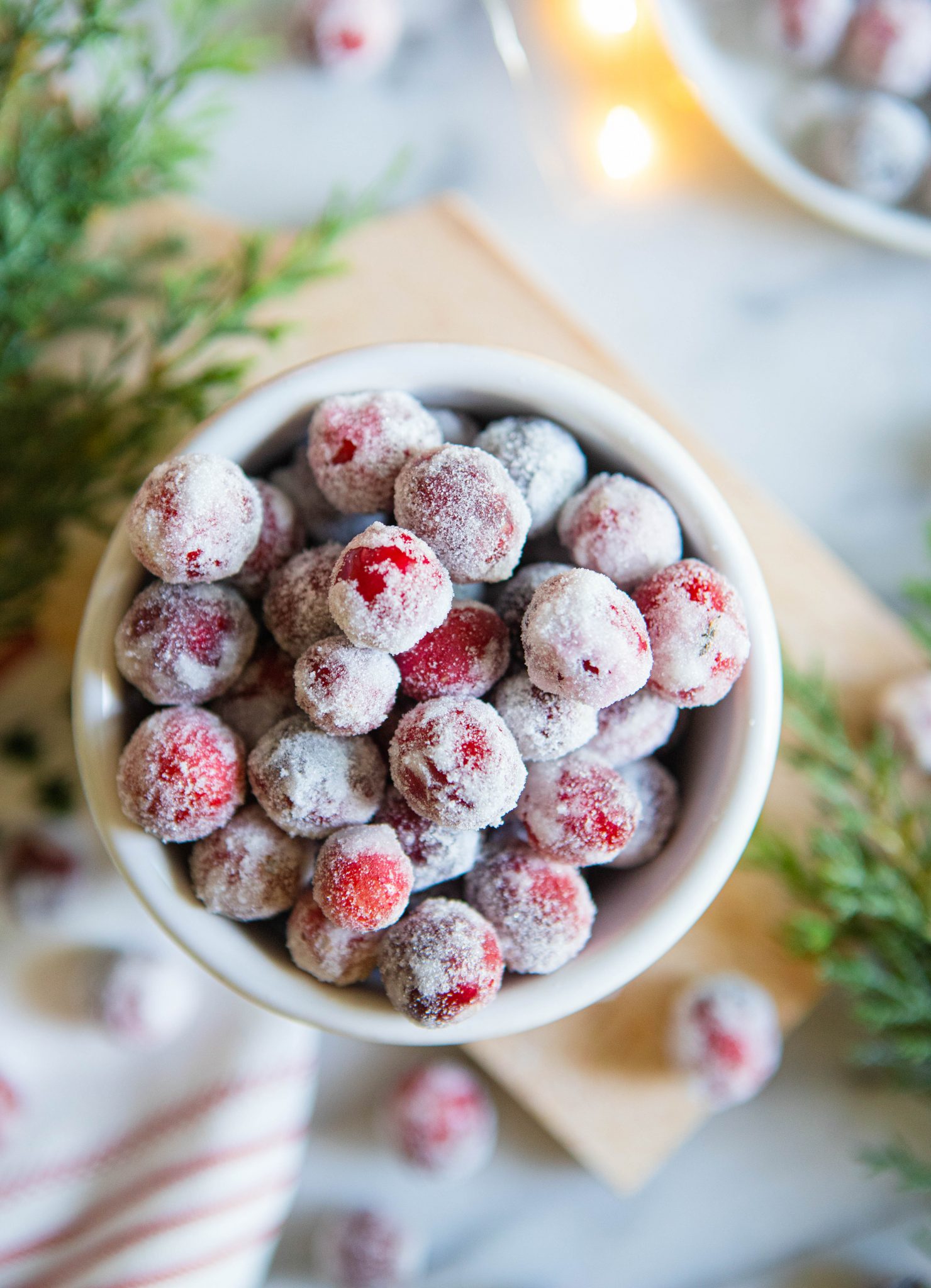 More Holiday Posts To Enjoy
sugared cranberries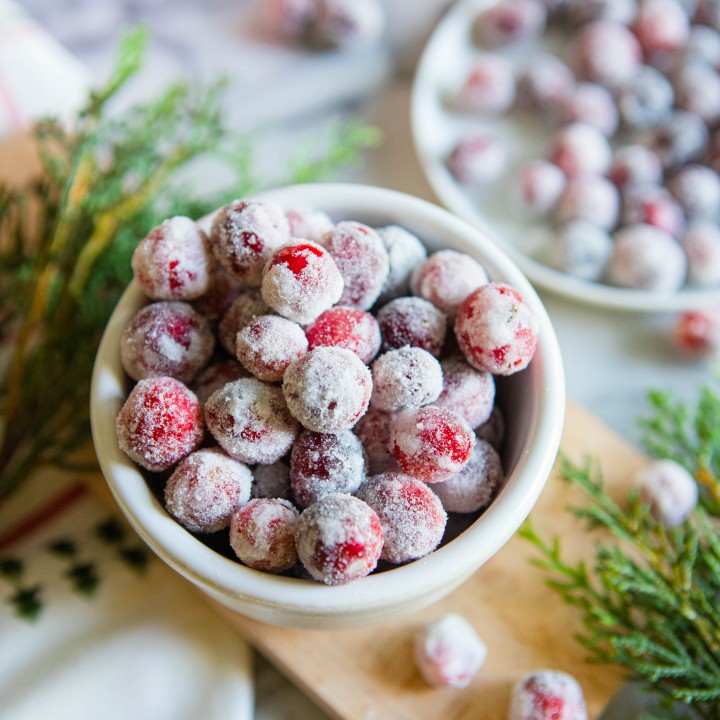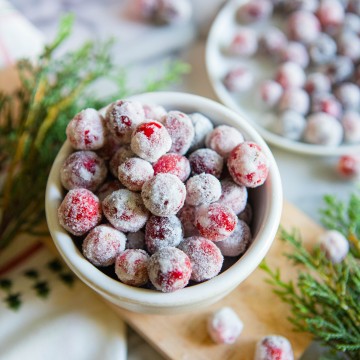 Ingredients
2

cups

granulated sugar

2

cups

water

2

cups

fresh cranberries

1

large knob of fresh ginger

½

cup

superfine sugar
Share by Text
Instructions
Combine granulated sugar, water and ginger in a small saucepan and warm over low heat, stirring until the sugar is dissolved, until your water just reaches a low simmer. Immediately remove from heat.

Place cranberries in a large bowl, and pour syrup mixture to cover the cranberries. Cover and refrigerate for 8 hours or overnight.

Thoroughly drain cranberries over a bowl. If you wish you can reserve the steeping liquid (it makes a good cocktail syrup).

Place superfine sugar in a shallow bowl, and working in batches, add cranberries. Roll them around the sugar until well coated, then transfer them to a baking sheet to completely dry, at least an hour. Store in an airtight container in a cool place for up to a week.
Notes
Storing any leftovers in an airtight container in your refrigerator for up to a week.
Do not boil the sugar water, or the cranberries will pop as you add them.
If you do not have superfine baking sugar, you can add granulated sugar to a high speed blender or food processor and pulse till a super fine texture is achieved.