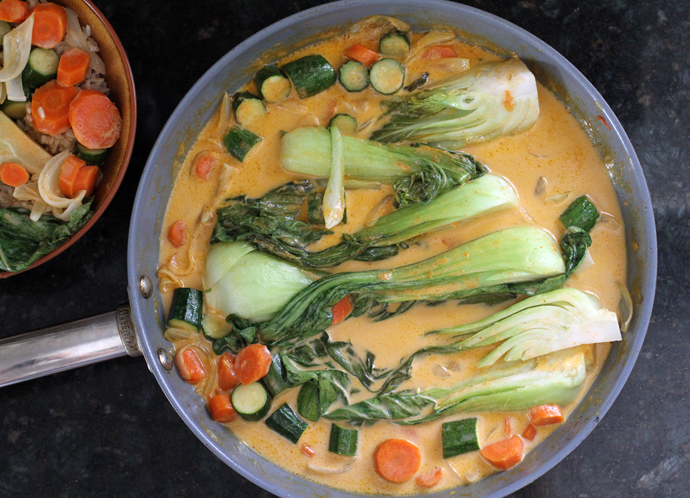 If I had a nickel for every time someone asked me what the heck I was eating on my detox, I'd have at least $1. I did get asked a lot, because when you roll out the list of things you *can't* eat, it seems like the list of what you *can* eat would be teeny tiny. But in reality, if you're cooking at home, your possibilities are abundant. Eating out is another story, as I've already told you all about. But at home, for the most part I felt free to cook, or modify, foods I was craving.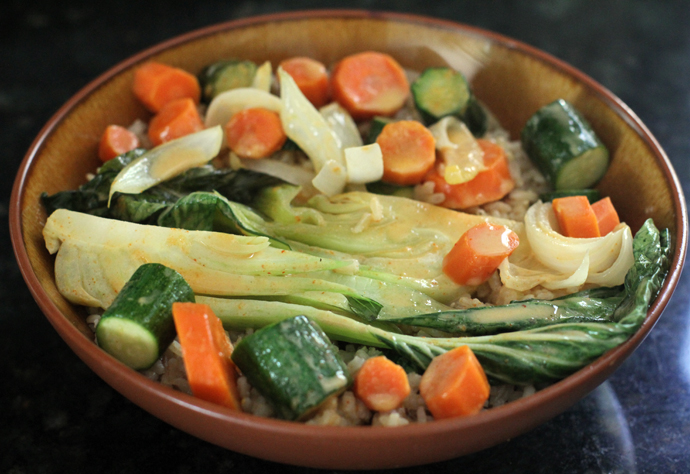 Curry is one of those things I go in and out of craving. I won't think about it for months, and then I get a craving and I have to have curry right this very second! The other day, my friend Candace sparked my craving when I ran into her at Sprouts and she told me what she was making for dinner. From then on out, it was curry for lunch and dinner, for about 4 days straight.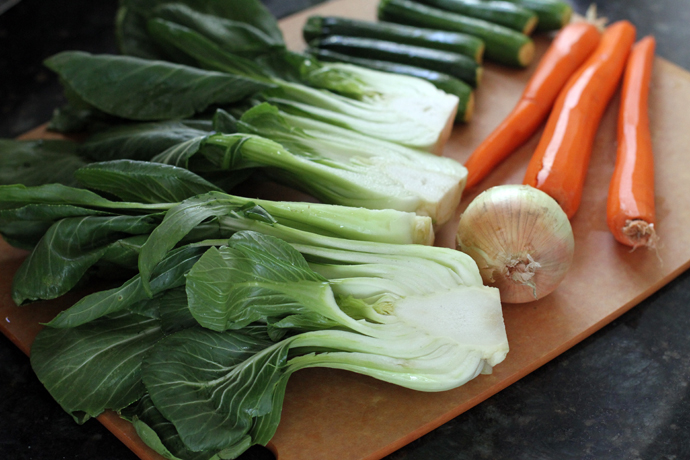 Of course my family doesn't love curry as much as I do, or really not at all, so this was the perfect dish for me to make myself during the detox, since it would ensure I had lunch and dinner covered on the nights I made something that wasn't detox-friendly. This recipe lasted myself for 4-5 meals, and would easily serve a family for one night or a couple of 2 days, especially serving it on top of rice or noodles.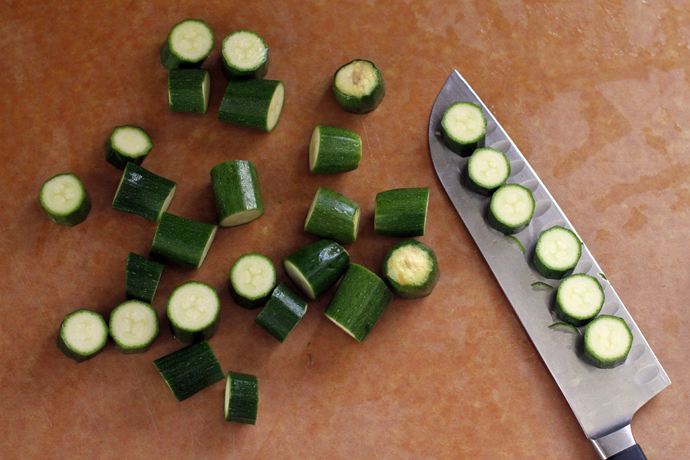 The types of vegetables you use are all up to you, but standard curry usually involves carrots, a squash of some sort, potatoes and a green. Potatoes, since they are a nightshade, were off limits for me during the cleanse, but normally I would've added those in a heart beat. The mixture of baby zucchini, baby bok choy, carrots and onions was wonderful though, so adjust as you wish and include or leave out according to your tastes and preferences.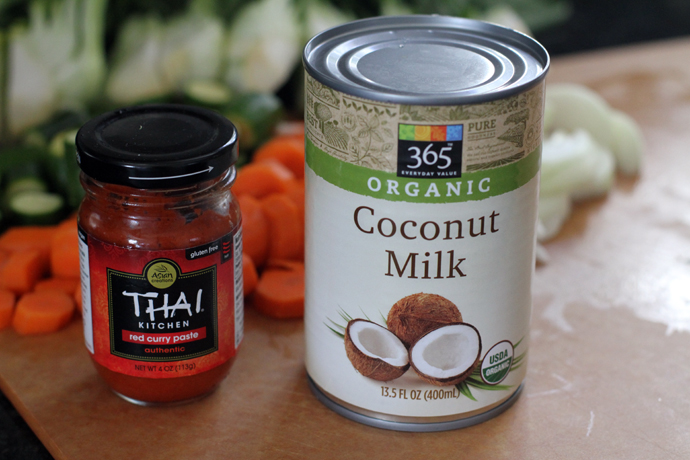 If you want to make your curry vegan, use these 2 simple ingredients which are widely available just about anywhere. Full fat coconut milk will give the best richness and flavor, and the Thai Kitchen red curry paste is as clean as they come, and sure is convenient. I read reviews that the paste didn't have a strong enough curry flavor for some, so if you like strong flavor, consider adding in some curry powder as well, but this was plenty tasty for me.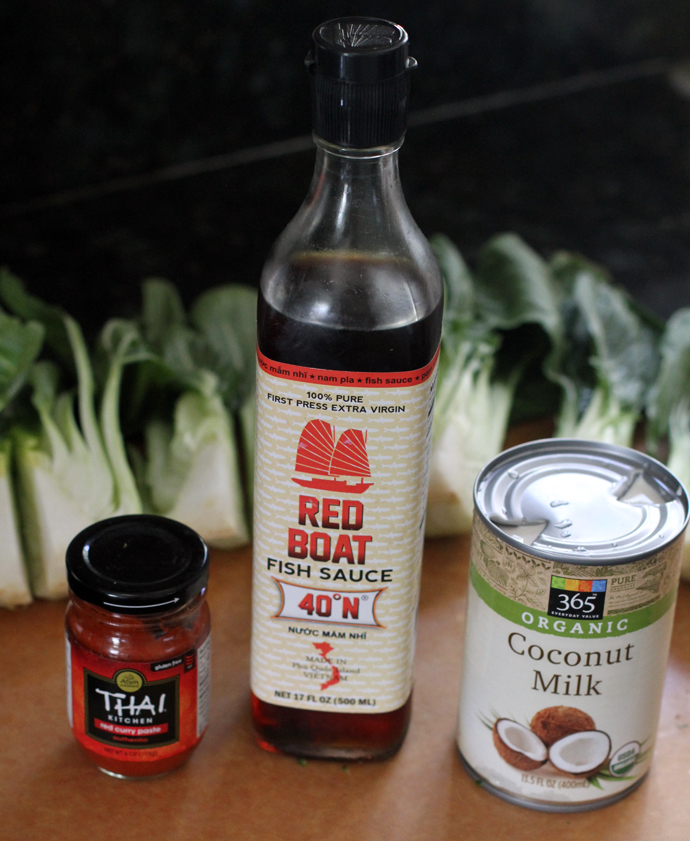 To take the flavor up a notch though, if you're not concerned about this dish being vegan, adding in a good tablespoon full of Red Boat Fish Sauce
, which is outstanding and adds a nice flavor you wouldn't get otherwise. Never in a million years would I think I'd own and use fish sauce as much as I do now. Beware though, it has a strong odor when you first pour it, but it burns off after cooking.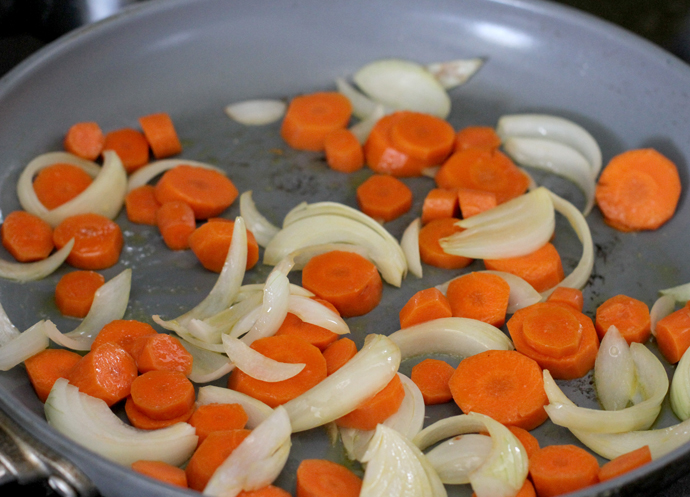 You want to saute your carrots and onions first, before adding your more delicate veggies like squash and bok choy. If you're using potatoes, add these in here as well.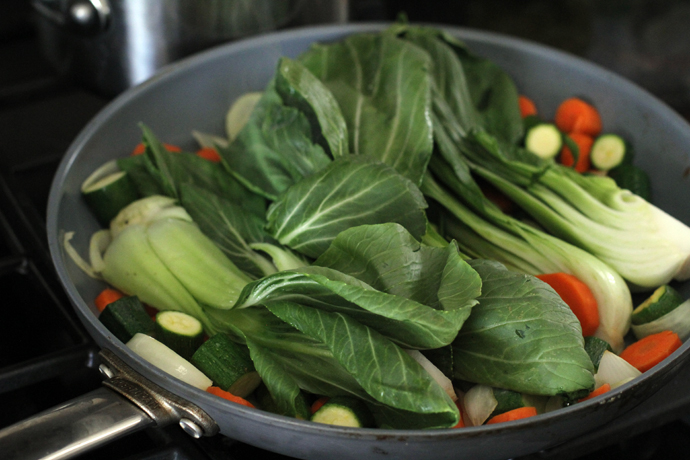 Once you've cooked the heartier veggies, add in your softer veggies and let cook for about 10 minutes, perhaps even covering the pan to trap in some heat and steam.
While you're cooking your veggies, you are warming your coconut milk and curry paste in a small saucepan over medium-low heat. You can skip this step and just add in your coconut milk straight to the pan of veggies, then stir in your curry paste, but your coconut milk may look a little curdled. Still tastes as good, just doesn't look as pretty. If you're going for speed and less dishes, just do it this way, but if you want it to be purty, definitely heat separately.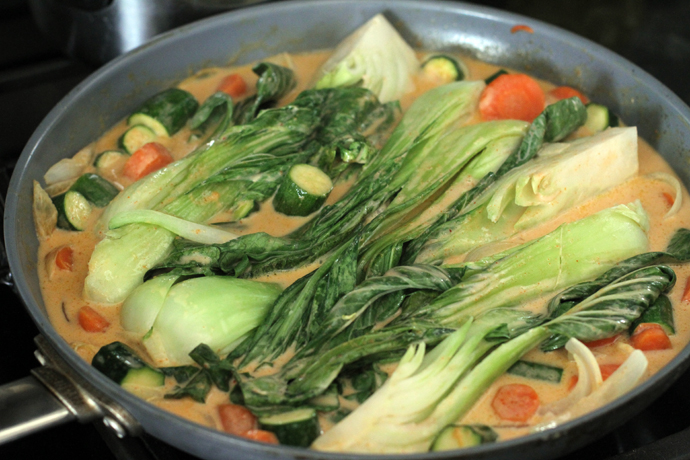 Let the curry mixture and veggies simmer together for a few minutes, just to mainly let the flavors coat and meld into the veggies, and then you're ready to serve. I really love this over brown rice, or the Tinkyada Brown Rice Spirals
.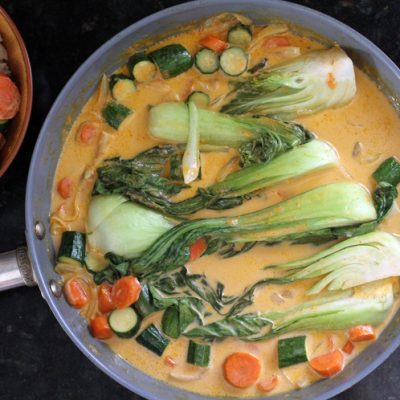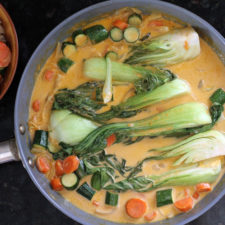 Ingredients
2-3

heads of small baby bok choy

cut in half or quarters

3

carrots chopped in 1 inch slices

1

whole onion thinly sliced

2

small zucchinis or 4-5 baby zucchinis chopped in 1 inch slices

Optional add other vegetables like potatoes or cauliflower

1

can full fat coconut milk

3

tbsp

Thai Kitchen red curry paste or other similar curry paste

2-3

tbsp

coconut oil

optional 1 tbsp fish sauce
Share by Text
Instructions
Heat coconut oil in a large and deep skillet on medium heat. Add onions and any hearty vegetables like carrots and potatoes and cook for 7-10 minutes, until slightly soft.

Add in zucchini and any other more delicate vegetables, and cook for another 5 minutes.

Add in the bok choy or other greens like spinach, at the end, cover and cook for 10 minutes, or until wilted.

Meanwhile, warm coconut milk and curry paste in a small saucepan on medium heat, allowing for a gentle simmer and stirring occasionally.

Pour curry sauce over vegetables, and add in the fish sauce if using. Stir to coat and heat through.

Serve over brown rice or brown rice pasta.
Whatever you top this on though, I promise you this is one of the easiest, yummy dishes you will make yourself this week! Recipe below.